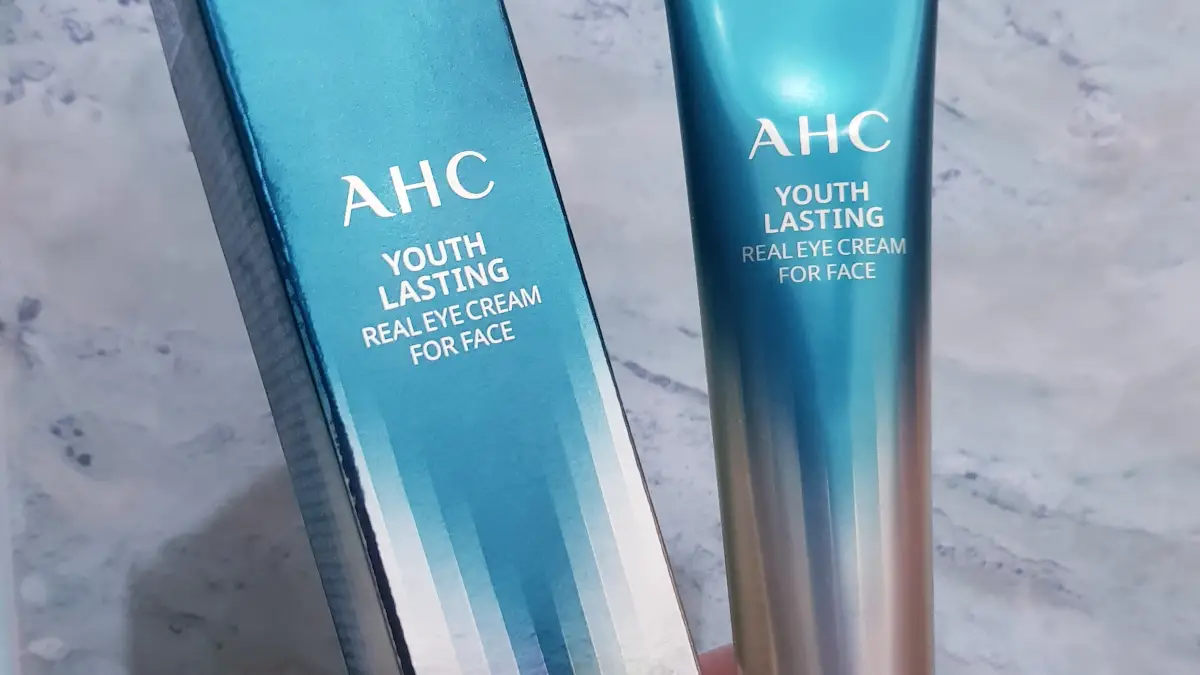 AHC was created in 1999 as a professional skincare line for aesthetic clinics and beauty salons in Seoul, Korea. After having great success, they started making their products more available for people to use.
The AHC Youth Lasting Real Eye Cream For Face is one of the best selling eye creams in Korea (and Asia) with a cult following. They reformulate it every year to include the latest cosmetic innovations and the one I'm reviewing today is their Season 9 version released in 2021! You'll see how impressive the technology and the list of ingredients actually is.


Where to Buy: If you're interested in purchasing it, you can find it at Oshen Skin. You'll get 15% OFF on regular priced items. It's also available at Stylevana US / Stylevana EU (You can also find it in a set of 2 for less $).
Price: $15 – $25
Volume: 30ml (1.01 fl.oz.)
PAO: 12 months after opening.
Packaging: It comes in a 30ml squeeze tube.


What is the AHC Youth Lasting Real Eye Cream For Face
An anti-aging eye cream that can also be used on the whole face or the other areas that need anti-wrinkle action! The latest version of this product contains "human-like" collagen (9 types of collagen!) and elastin which are recognized by the skin and can penetrate deeper since they have a small molecular size.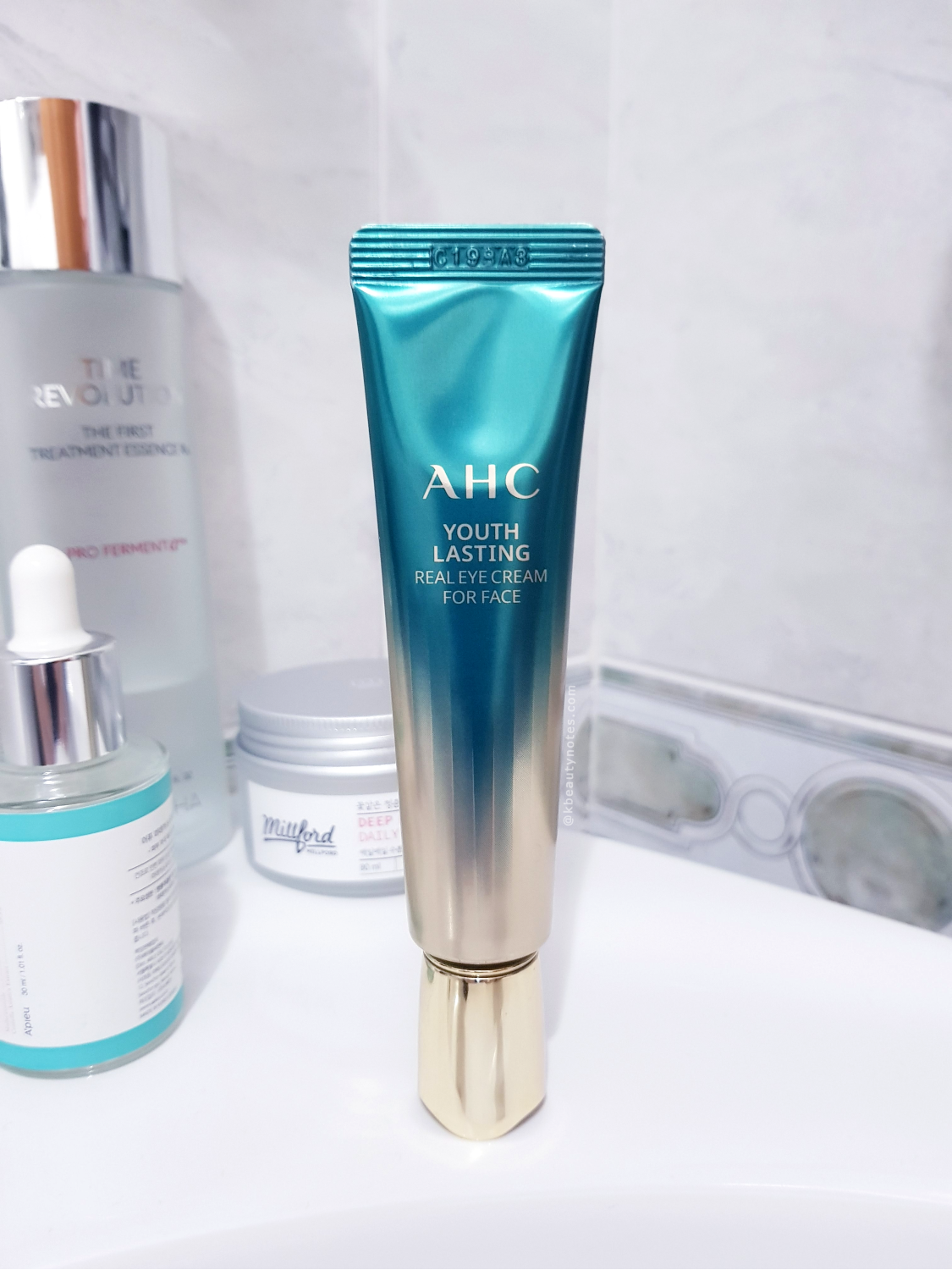 What's also special about this formula is the AHC 20s Biome; a probiotic complex that is supposed to be similar to the microbiome of a 20 year old. As if this is not impressive enough, 35 different peptides and 17 different amino acids are included in this eye cream for more anti-aging and repairing benefits!
Let's not forget to mention some other goodies such as: Niacinamide, Vitamin C (Sodium Ascorbyl Phosphate), Centella, Panthenol, Hyaluronic acid and Retinal.
You'd expect this to be expensive, but can be found for less than $15 when on sale!


Application
Squeeze out a bit of product, dot it on the needed areas and gently massage it into the skin. It can be used after your essences/serums and before or instead of your face cream. I use it only in my evening routine.


Consistency
The texture of this eye cream feels rich and luxurious, but it isn't sticky. It has just a bit of tackiness, but leaves a smooth, soft and dewy finish (picture below).


Scent
I don't know how to describe the scent, but it's so pleasant that I always look forward to applying this on my face. It's definitely a plus for me.


Performance
The cream is nourishing and glides beautifully on the skin. It has such a luxe texture that it feels amazing while applying it. The eye area feels instantly moisturized, so this would be great for those with drier skin types. It's not greasy, but definitely on the dewy side with a shiny finish. Hence, I only use it in my nighttime routine (besides it contains retinal). It takes a couple of minutes to completely absorb, but I like that silky film that is left behind.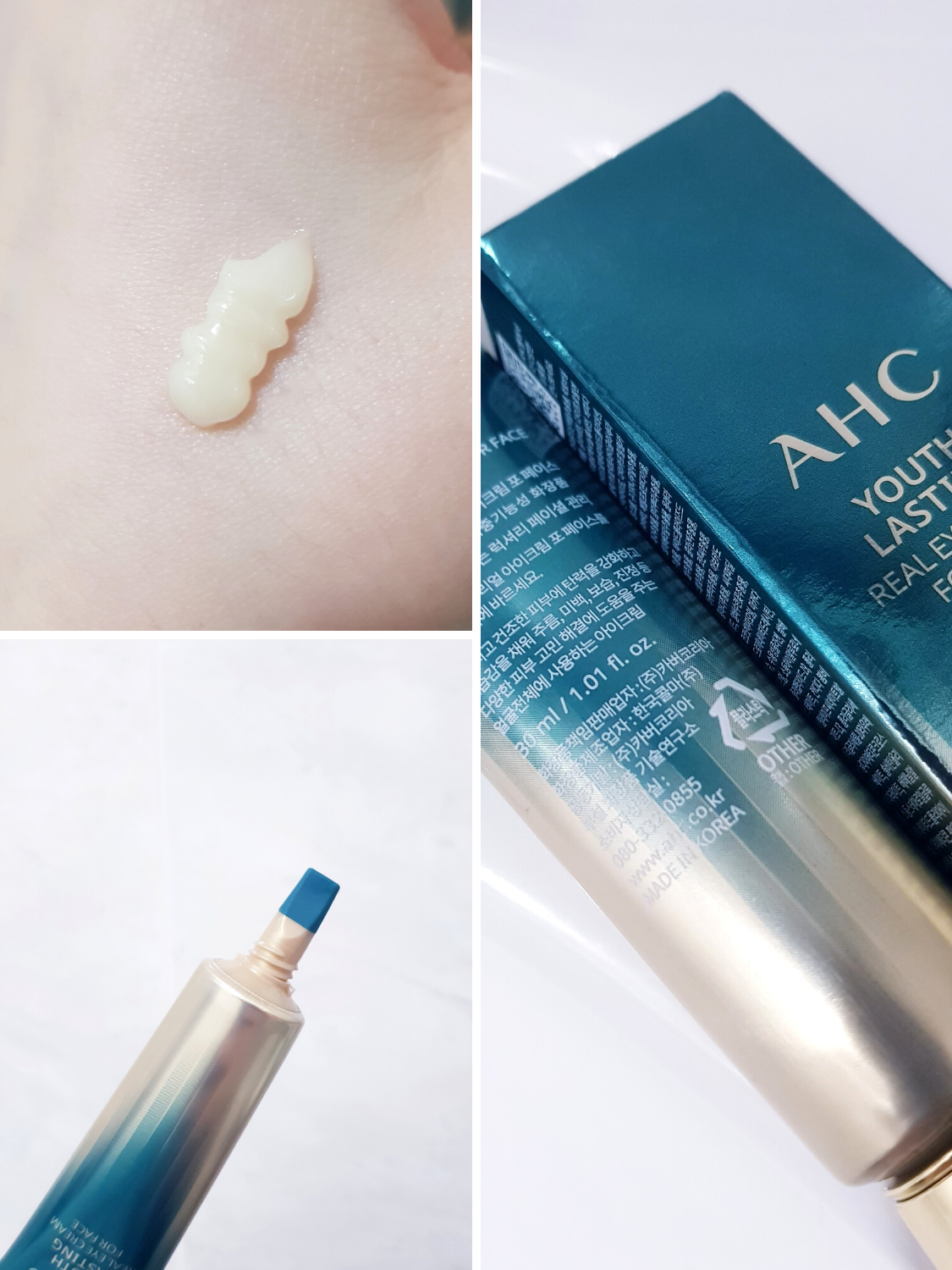 The fine lines appear less visible and stay like that for a long period of time. The plumping effect is not super dramatic, but it is there! For me, it's a bit more moisturizing than I'd like to use for the whole face, so I only used it on my smile lines and forehead to prevent wrinkles. Those parts of our face need as much care as the eye area.
Eyes appear well rested the next morning and less puffy. Since the consistency is not lightweight, those prone to milia should be cautious. I haven't noticed any milia forming, but I also do not use much product and apply it in a very thin layer.
No irritation has occurred from using this eye cream.


Ingredients
Some great skin brightening ingredients to have for those who are concerned about dark circles: Niacinamide, Salicornia Herbacea Extract, Pancratium Maritimum Extract, and Hexapeptide-2.
Except for plants extracts (Calendula, Camellia, Centella etc) as antioxidants, other ingredients with this property and more are included, such as:

Carnosine (it also has anti-glycation properties for preventing/reversing skin damage), Hydroxydecyl Ubiquinone (protects cells from environmental damage), Sodium Ascorbyl Phosphate (the sodium salt form of Vitamin C), Rutin (a polyphenol flavonoid with similar antioxidant activity as Vit C), Copper Tripeptide-1 (unique wound healing and skin remodelling properties).
Retinal – Although I don't know what the concentration is, retinal is also present to treat the signs of photoaging. Even better than retinol since it only needs to be converted only once by the skin into retinoic acid.
Soothing: Calendula, Camellia, Centella, Aloe Extract, Panthenol, Beta-Glucan etc.
If you'd like to get more nerdy, you can find all the ingredients of this eye cream below.


The ingredients list is very long so I'm leaving it in this link here: AHC Eye Cream Full Ingredients List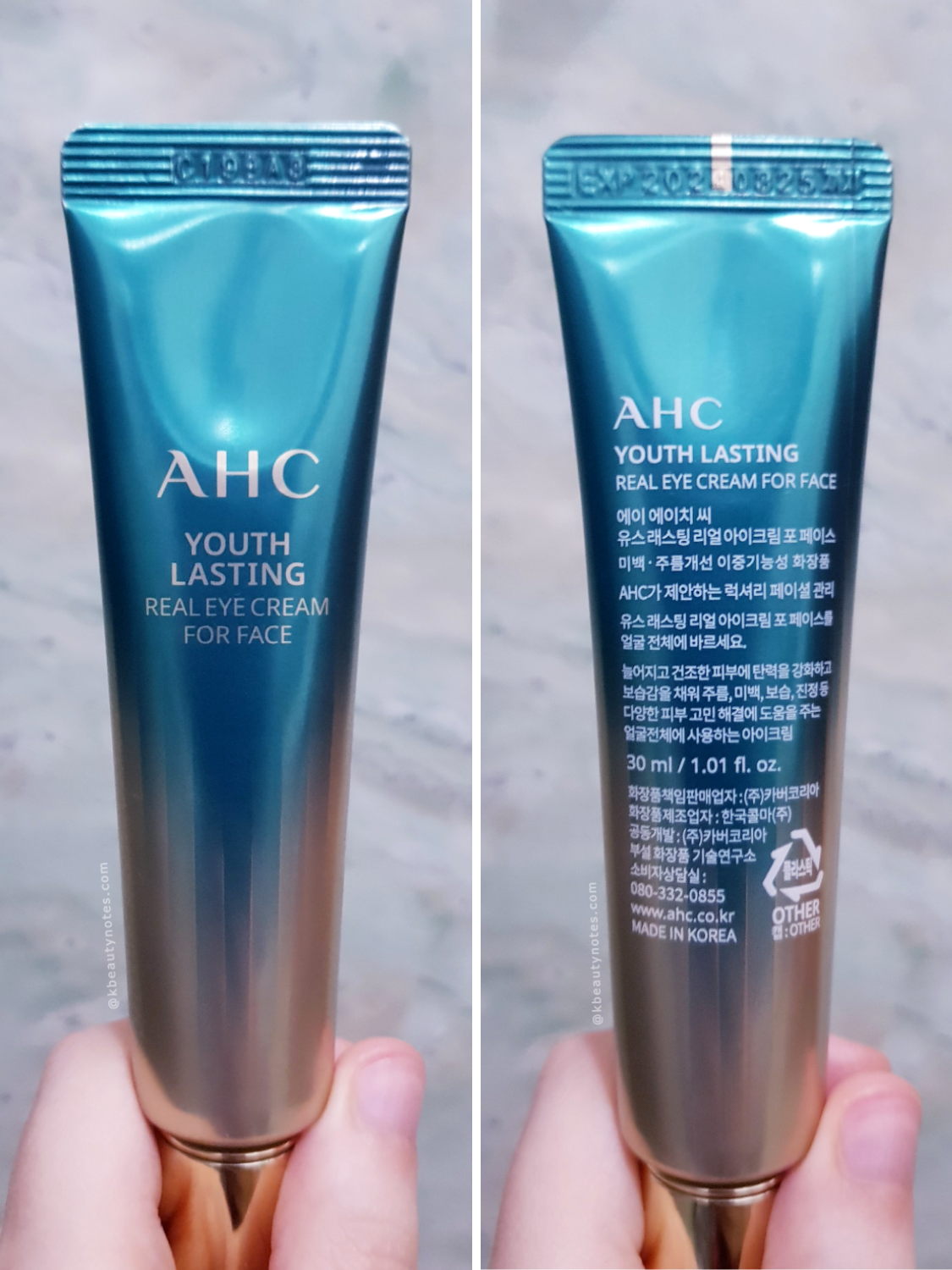 Final Verdict on the AHC Youth Lasting Real Eye Cream For Face
Pros
Very moisturizing (long-lasting), rich texture.
Silky smooth finish.
Fine lines appear less visible.
Eyes look less tired.
Most suitable for normal, combo, dry/dehydrated and mature skin.
Innovative formula.
Packed with anti-ageing and repairing ingredients.
Affordable.
Cons
Maybe not the most sensitive skin-friendly due to the number of ingredients (it also contains fragrance for those who react to it).
Now I see why this line of eye creams from AHC is one of the best selling in Asia. This would be for anyone who's looking for a nourishing eye cream with anti-aging and brightening properties. Most suitable for normal to dry skin types and most importantly, mature skin. It can be used all over the face, too! Honestly, the innovative formulation is very impressive and unlike any other product I've used so far. I truly enjoy using this eye cream and would highly recommend it. Also for the price point, it's a steal!


Did you find the AHC Youth Lasting Real Eye Cream For Face Review helpful? Have you tried this eye cream before?

---

*PR Sample – kindly gifted by Oshen Skin, but opinions are completely my own.
*Affiliate Links – For more information, see Disclosure Policy.

Related posts
Follow blog via Email
Get the latest posts from this blog delivered to your inbox!
About Me
Hi and welcome to Kbeauty Notes! :) I'm Ledia and I'm very passionate about everything skincare. I created this blog to share my thoughts and experience with many amazing and not so great products out there, hoping to help you make better decisions regarding your skin. I'm very happy to bring you on this journey with me and I hope you enjoy it! <3

My Skin Type: Oily, acne prone, dehydrated, a little sensitive, large pores.

Skincare Concerns: hydration, pore care, anti-ageing, PIE (acne marks), brightening.

Contact: kbeautynotes@gmail.com