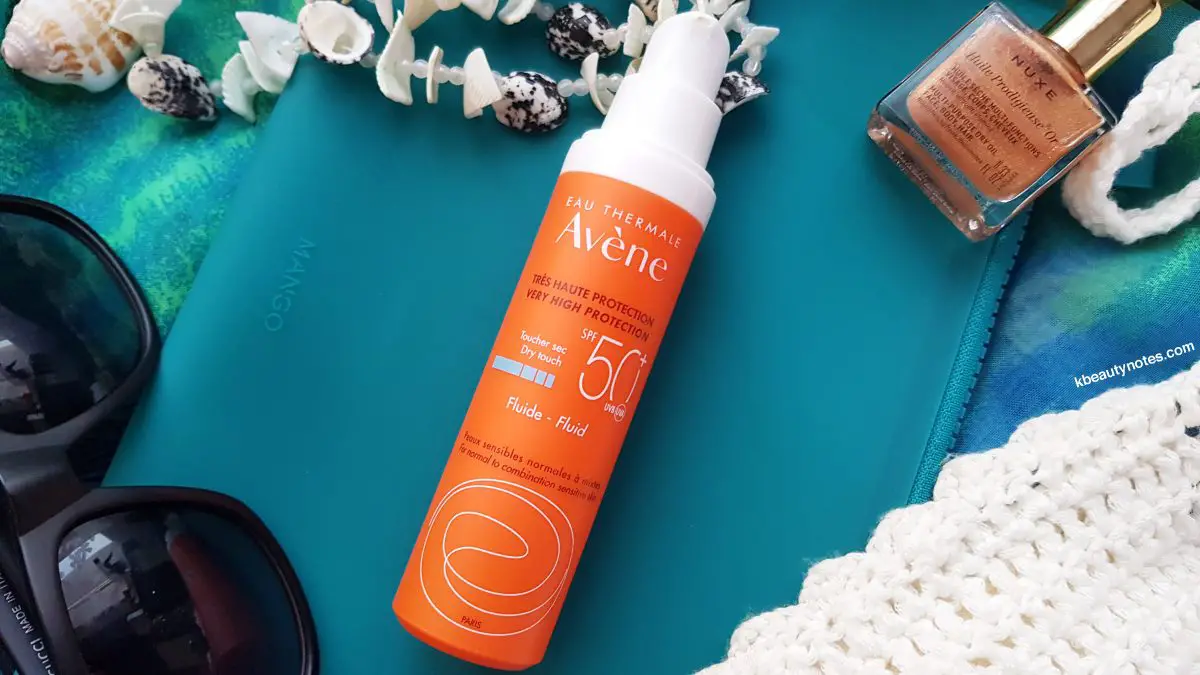 This time I'm coming back with a review for the Avene Very High Protection Dry Touch Fluid SPF 50+. Do you see a pattern here? I know, another French pharmacy brand. This Avene chemical (organic) sunscreen has spf 50+ and I saw it listed as a PA++++ for UVA protection which is good! You may already know that the PA system is used in Japan and South Korea and stands for Protection Grade of UVA. PA++++ would be equivalent to PPD of 16 or greater. You can read more about the sunscreen labels here.


Description
Very high sun protection for normal to combination sensitive skin on the face. Rapid absorption and light texture. Extremely broad-spectrum UVB-UVA protection. Photostable. Dry touch.


Application
This sunblock comes in a pump bottle, so it's easy to dispense. Apply generously on the face after your morning skincare routine. Let the products absorb completely and then continue with the sunscreen.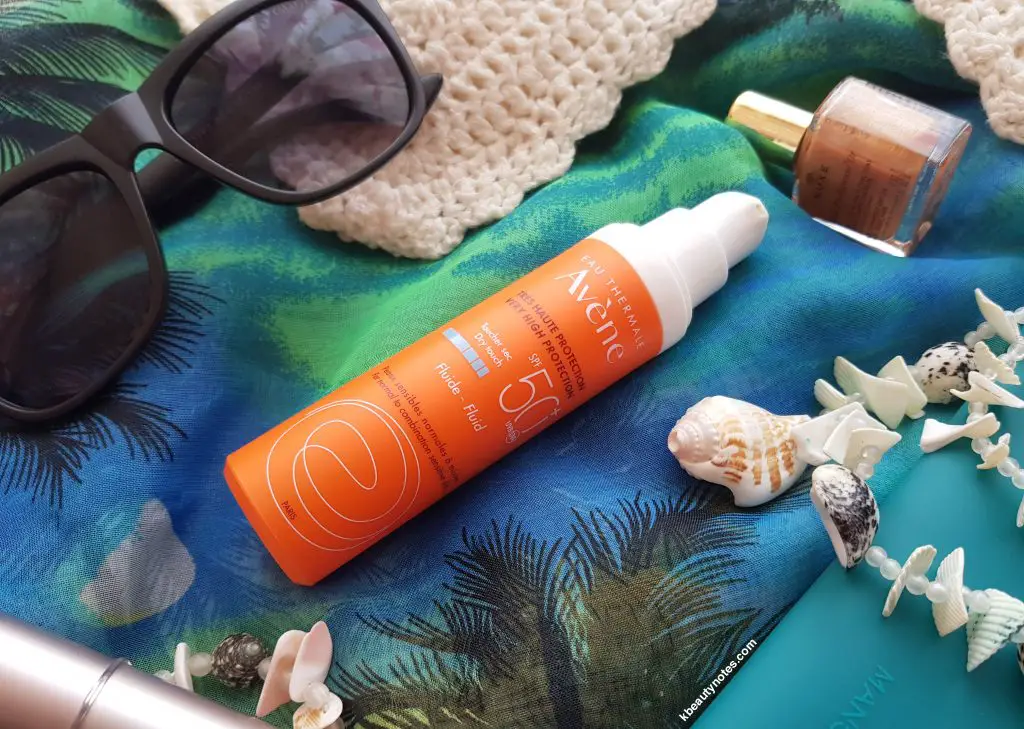 Performance
Does it leave a whitecast? The moment I applied this it left a very noticable whitecast all over my face. But after 30-40 minutes it tones down and I cannot spot it anymore. But since my skin is fair, I'm reluctant to recommend this for darker skin.
How's the finish like? First, the adherence on the skin is great! It set quite quickly so I had to apply it fast. However I didn't notice it lifting or pilling while I was blending it. In addition, I found myself applying more sunscreen that I usually do, due to 3 factors: Adheres well, sets fast and has a semi-matte silky finish. With other sunscreens sometimes I may feel like my skin may become more greasy than I'd like to, so I apply less than what's recommended. But, applying more means more protection, so this was a plus. There is no oily film or stickiness with this one.
My skin is oily and dehydrated. I applied 2 layers of hydrating toner and then used this sunscreen. Just like the name says it dries down into a semi-matte finish. You may know by now I'm not a fan of mattified skin. It also doesn't help that my pores are large and skin easily gets dehydrated. You'd think a matte texture would give you a more blurred effect, but these kind of products usually get in my pores and make them more prominent. Probably they kind of clump with my hydrating base. I did notice this slighly setting into the pores when applied after letting my skincare fully absorb. The rest of my face looked good, actually I was surprised at the finish and how it sat on the skin.


In my experience it's not the best when used under makeup. When I see my face close in the mirror I notice that my makeup doesn't sit uniformly, but it's slightly cakey overall. It doesn't become more cakey later, but kind of melts and disappears. It also doesn't pill, but not my favorite sunblock to use with makeup.
Did not experience any irritation and didn't sting my eyes at all. Also had no breakouts from using it. Despite the "Dry touch" semi-matte finish, it didn't dry out my skin. So this won't be bad for dry skin if other sunscreens leave you looking dewy and you don't like that kind of finish. Offers better oil control than other sunscreens I've tried. Would be really good for exercising as well.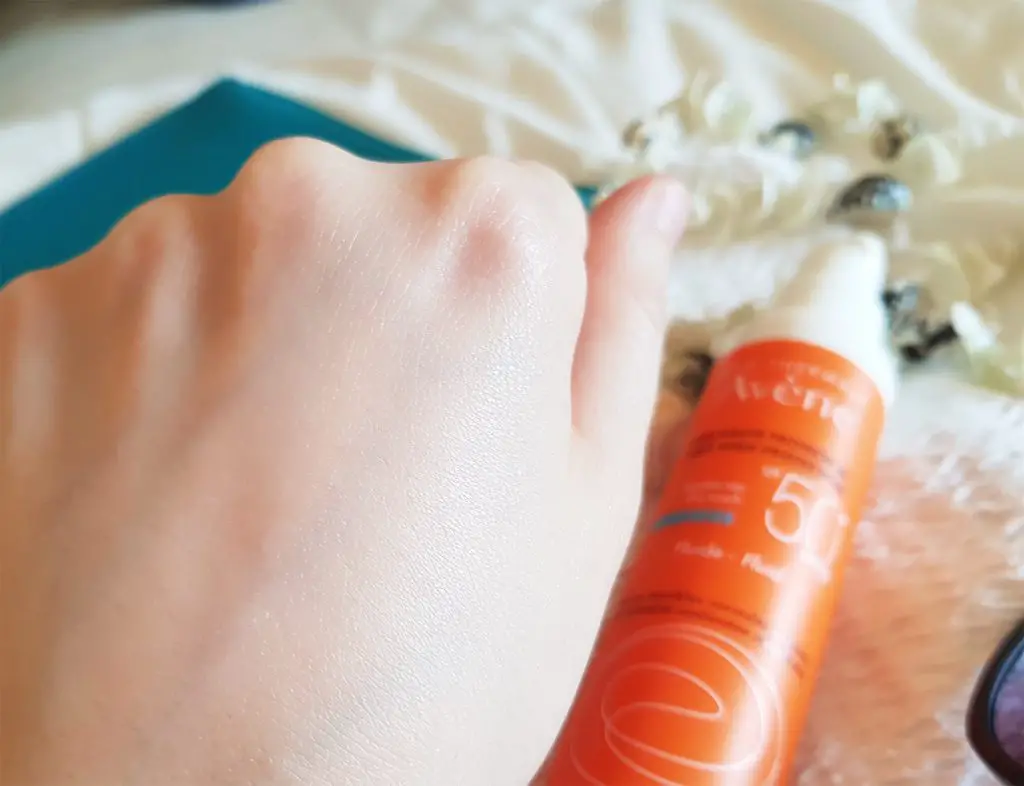 Ingredients
Contains 4 UV filters: Tinosorb M, Tinosorb S, Uvasorb HEB, Avobenzone.
Antioxidant complex (Pre-tocopheryl + Thialidine). Avène Thermal Spring Water, recognized for its soothing, anti-irritating and softening properties.

It does contain fragrance but it's listed very far down the list. I didn't really like the scent when I first applied this, but after a couple of uses it doesn't bother me at all. Avene does have a fragrance-free version of this sunscreen, which is good if you'd like to avoid it.


Final Verdict
Pros
SPF50+ PA++++
Adheres very well to the skin.
Leaves a soft, non sticky finish.
Most suitable for normal, combination, oily and sensitive skin types.
Doesn't sting the eyes.
Doesn't pill.
Good to use when exercising.
Didn't cause me breakouts.
Water resistant.
Photostable.
Cons
Whitecast.
Not the best option for seriously dry, dehydrated or mature skin.
Not a very good performance under makeup.
Overall, this Avene sunscreen with spf 50 is a good sunscreen that doesn't feel sticky or greasy and absorbs almost immediately. The finish is very silky and has good oil control. They also have a fragrance free version of this for those that can have sensitivities. Would be suitable for everyone, except seriously dry or mature skin. For these skin types I'd rather use a more moisturizing suncream, than try to make up for hydration with skincare and then apply this on top. Unfortunately, it leaves a white cast, so I cannot recommend it for darker skin. I'm on the fair side and it becomes unnoticeable on me after some time, so I don't mind it that much. I personally don't really prefer to use this under makeup as I've stated above. Would be great for the beach or when working out.


Have you tried the Avene Very High Protection Dry Touch Fluid SPF 50? Or any of the Avene sunscreens before? Kindly share your experience below!

Also read: [Review] Bioderma Photoderm MAX Cream spf 50+.


Related posts
Follow blog via Email
Get the latest posts from this blog delivered to your inbox!
About Me
Hi and welcome to Kbeauty Notes! :) I'm Ledia and I'm very passionate about everything skincare. I created this blog to share my thoughts and experience with many amazing and not so great products out there, hoping to help you make better decisions regarding your skin. I'm very happy to bring you on this journey with me and I hope you enjoy it! <3

My Skin Type: Oily, acne prone, dehydrated, a little sensitive, large pores.

Skincare Concerns: hydration, pore care, anti-ageing, PIE (acne marks), brightening.

Contact: kbeautynotes@gmail.com