Introducing another beloved K-beauty SPF – the Be Plain Clean Ocean Moisture Sunscreen SPF50+ PA++++. This sunscreen has garnered significant recognition, securing the second position in the Hwahae Beauty Awards for two consecutive years, both in 2021 and 2022. And it comes as no surprise, given that it's formulated by Kolmar.


What is it: Organic (chemical) sunscreen.
Where to buy: Available at Jolse and Stylevana – Be Plain Set (discount code INF10LED).
Price: $17-$28
Volume: 50ml (1.69 fl.oz.)
PAO: 12 months after opening.
Packaging: Plastic squeeze tube.
How does the Be Plain Clean Ocean Moisture Sunscreen SPF50+ PA++++ perform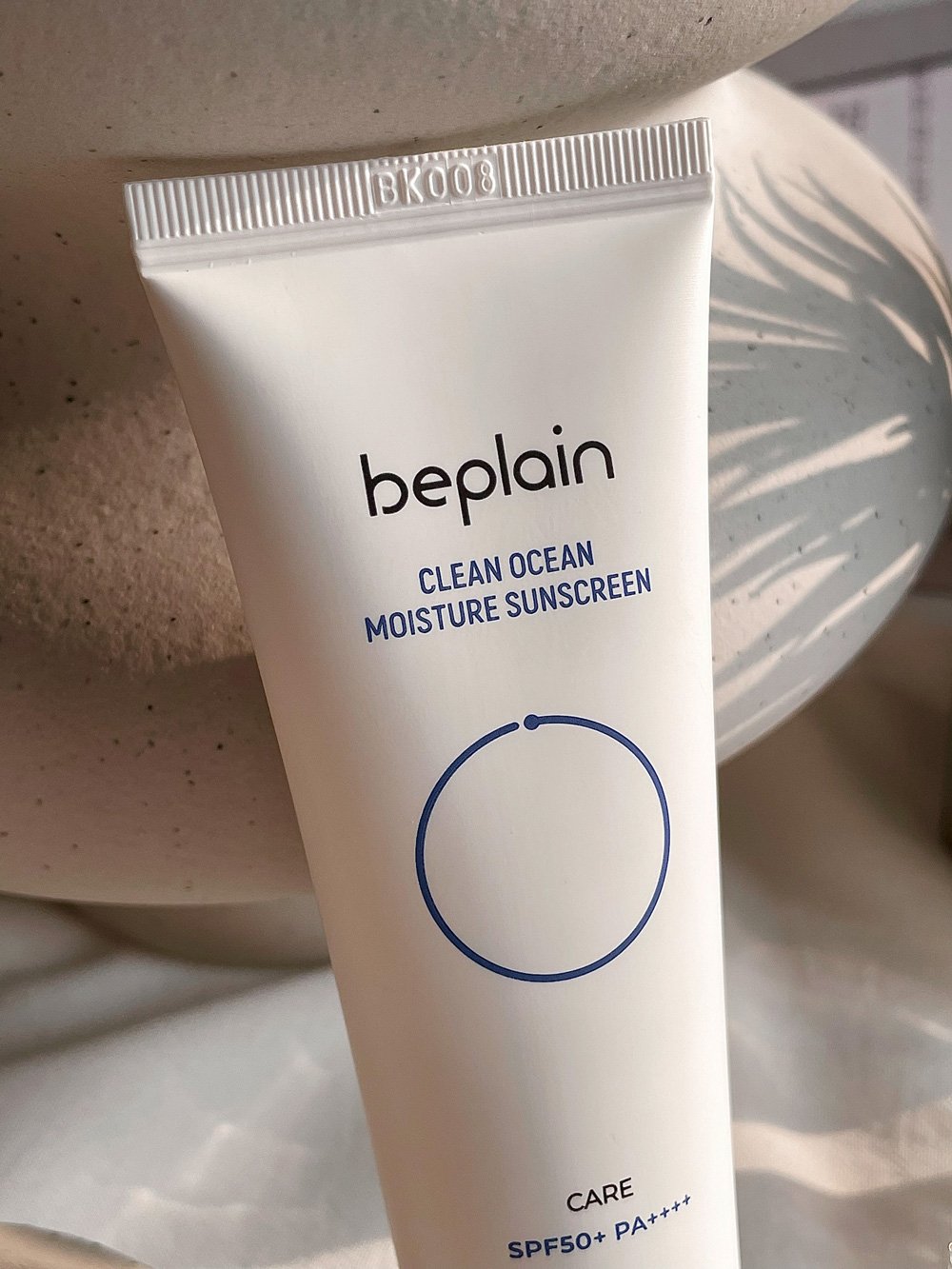 Protection:
SPF 50+, PA++++
Texture and finish:
Similar to a lot of Kolmar formulations like the Skin1004 Hyalu-Cica Water-fit Sun Serum and Beauty of Joseon Relief Sun: Rice + Probiotics Sunscreen, but with very subtle differences. It has a lotion-like consistency and ample slip, making application effortless. However, upon application, you may notice that it feels slightly denser and offers a bit more grip on the skin compared to other formulas. Once it sets, there isn't a noticeable difference, though.
Around the 20-minute mark, this sunscreen takes on a light and skin-like finish. While it may not be extremely dewy, it provides a comfortable and natural look to the skin. These qualities make it particularly well-suited for normal, combination, and dry skin types. However, even those with oily skin might find it appealing, as preferences can vary.
Also Read: Be Plain Cicaful Ampoule Review
During winter, this sunscreen can work nicely in your morning routine, potentially replacing the need for a separate moisturizer. The only exception is if you prefer a matte finish, as this product leans more towards a subtle glow.
Does it contain alcohol?
No. It contains T-Butyl Alcohol which is used as a solvent in the formula, but it's non-drying.
Fragrance/Scent?
No.
Is it drying?
No.
Does it leave a white cast?
No. While the hybrid filter Tinosorb M might give a slight impression of a white cast upon initial application, fear not, as it quickly fades away.
Irritation or breakouts?
Neither.
How does it work with makeup?
The Be Plain sunscreen works beautifully with makeup, creating a smooth canvas without causing any annoying pilling issues.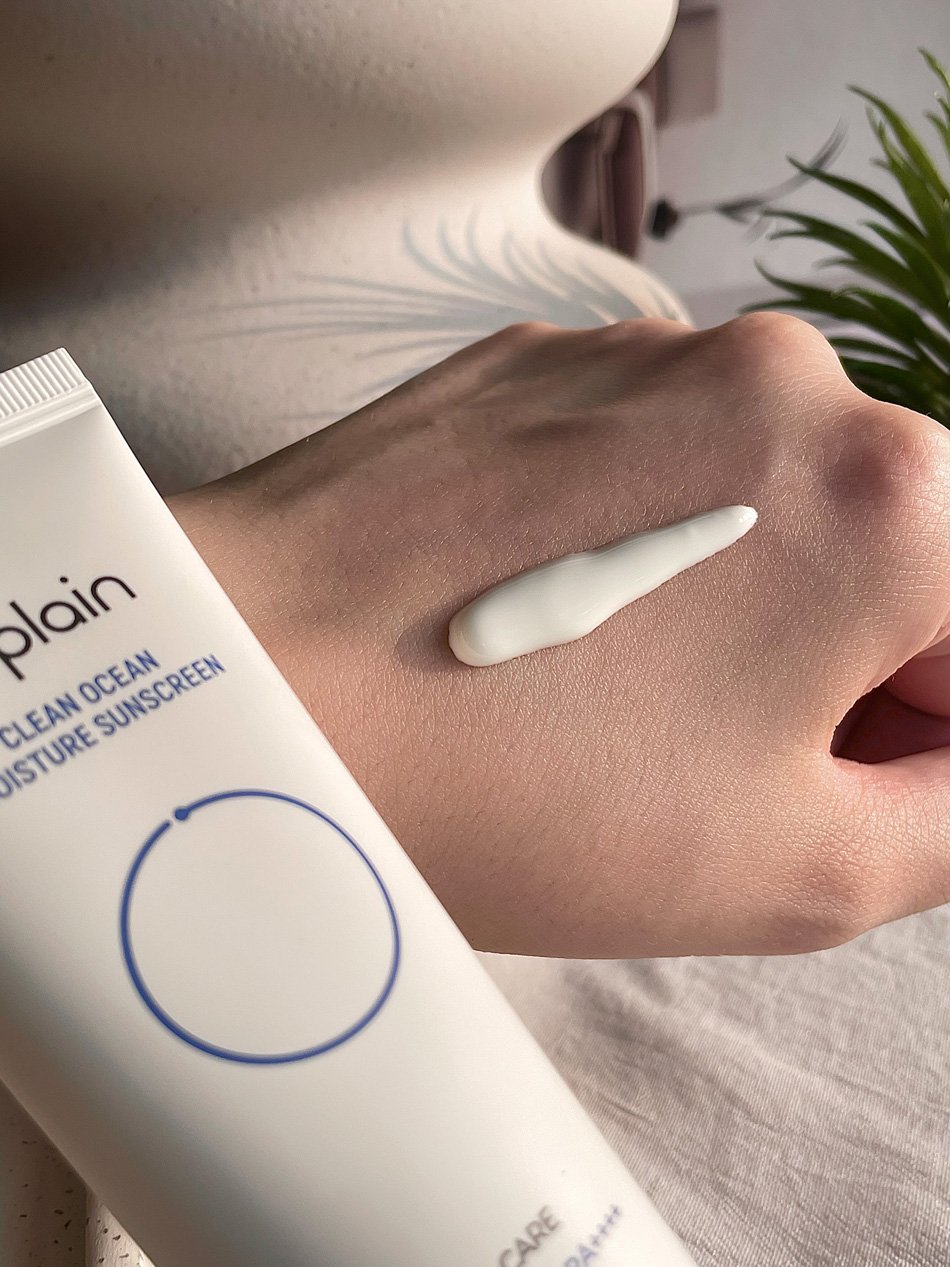 Does it sting the eyes?
There is a slight uncomfortable feeling IF it gets into the eyes like most SPFs, but it's not an intense stinging feeling.
Easy to re-apply?
Yes. Easy to re-apply without getting heavy on the skin.
Be Plain Sunscreen Ingredients
These are the UV filters of the Be Plain sunscreen:
Uvinul A Plus (high UVA protection), Uvinul T 150 (highest photo-stable absorption of all available UVB filters), Tinosorb M (broad spectrum – highly photostable), Iscotrizinol (UVA II and UVB).
Other ingredients: Niacinamide, Vitamin E, Adenosine.
Free of alcohol, fragrance & EOs.
Full ingredients list HERE.

Final Verdict
Pros
SPF 50+, PA++++.
Lotion consistency.
Moisturizing, but not heavy.
Satin/dewy finish, non-sticky or greasy.
No pilling.
It didn't irritate my skin or cause acne.
Works well with makeup.
Most suitable for normal, combination, and dry skin types.
Cruelty-free.
Cons
Not the best for oily skin in hot humid weather as it can make you look shiny.
It's no wonder this sunscreen is a best-seller in Korea. It's smooth, applies thinly, not overly dewy, and has no whitecast. I don't think it has any downsides. Ultimately, the decision to get this sunscreen will depend on personal preference. I personally love this type of lightweight lotion-like formula as it works well for me all year round.

Did you find the Be Plain Clean Ocean Moisture Sunscreen review helpful? Share your favorite sunscreen below!

---
*PR – gifted, but all opinions are entirely my own.
*Affiliate Links – It means I may earn a small commission when you purchase a product through the links I have provided, at no extra cost to you.

Related posts
Follow blog via Email
Get the latest posts from this blog delivered to your inbox!
About Me
Hi and welcome to Kbeauty Notes! :) I'm Ledia and I'm very passionate about everything skincare. I created this blog to share my thoughts and experience with many amazing and not so great products out there, hoping to help you make better decisions regarding your skin. I'm very happy to bring you on this journey with me and I hope you enjoy it! <3

My Skin Type: Oily, acne prone, dehydrated, a little sensitive, large pores.

Skincare Concerns: hydration, pore care, anti-ageing, PIE (acne marks), brightening.

Contact: kbeautynotes@gmail.com