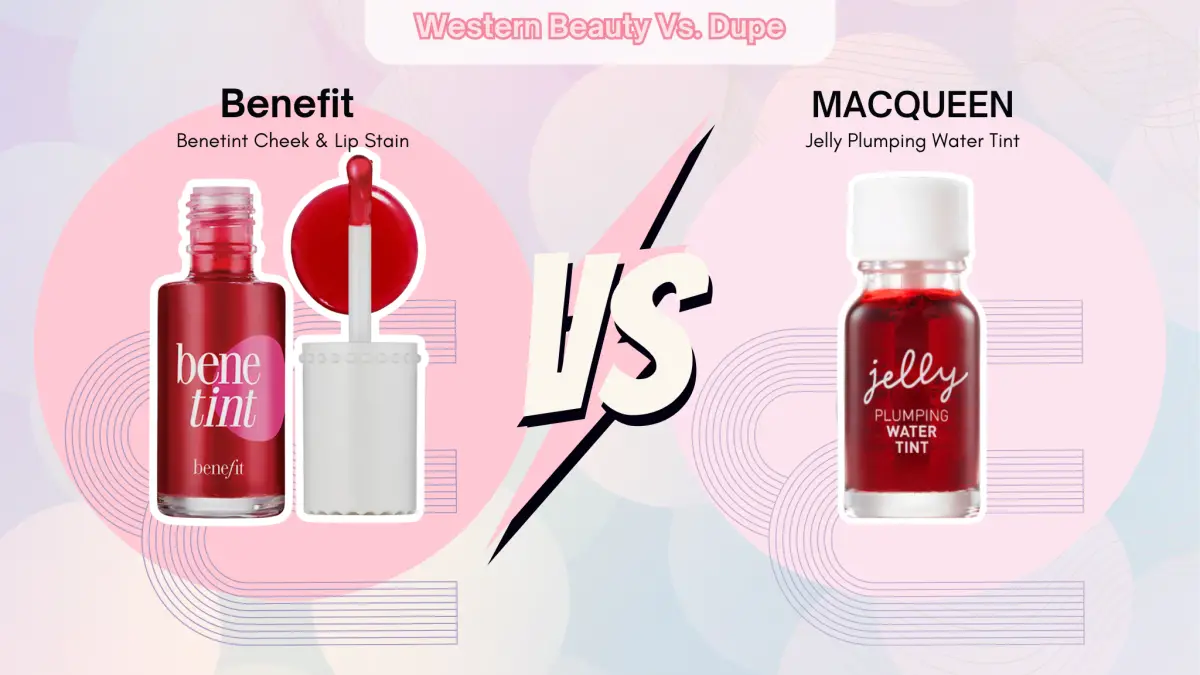 Welcome to the latest post of this ongoing "Western Beauty vs. K-Beauty Dupe" series, where I take you on a journey of product discovery and comparison. Having recently explored the world of lip oils and uncovered an impressive dupe, we're now turning our attention to another makeup essential – lip stains. Lip stains are a makeup staple that can effortlessly elevate your look with a natural, long-lasting pop of color.
In this ongoing quest to find affordable alternatives that perform just as well as their high-end counterparts, I've stumbled upon an intriguing matchup. On one side, we have the well-loved Benetint Cheek & Lip Stain from Benefit, a tried-and-true favorite in the beauty community. On the other, we have the newcomer on the block – MACQUEEN, a K-Beauty brand that's gaining attention for offering similar results at a more wallet-friendly price point with their Jelly Plumping Water Tint.
If you're curious to try out MACQUEEN's Jelly Plumping Water Tint for yourself, you can find this K-Beauty gem on Yesstyle. New customers can enjoy an extra 10% OFF after spending US$35 with the code "YESSTYLE". And for an even sweeter deal, be sure to apply the reward code "KBEAUTYNOTES" during checkout to snag an extra 2-5% discount on your entire order!
What is the Benefit Benetint Cheek and Lip Stain
The Benefit Benetint Cheek & Lip Stain is a beloved beauty staple renowned for its versatility. This iconic rose-tinted stain offers sheer color payoff that is natural and flattering on all complexions, making it a favorite for both lips and cheeks.
Its long-lasting wear ensures your flush of color stays fresh for hours, and it doesn't transfer once it sets. Apart from the original, it now comes in a range of other shades, each offering its own unique charm, allowing you to tailor your look to be as subtle or bold as you desire with easy application.
K-Beauty Dupe: MACQUEEN Jelly Plumping Water Tint
The MACQUEEN Jelly Plumping Water Tint is a bold and daring lip tint designed to give you lustrous lips with ease. Its innovative water-like gel texture is not only lightweight but also quick-drying, ensuring a comfortable and non-sticky wear throughout the day. One remarkable feature is its staying power; it clings to your lips even after meals, making it a reliable choice for a long-lasting vibrant lip color.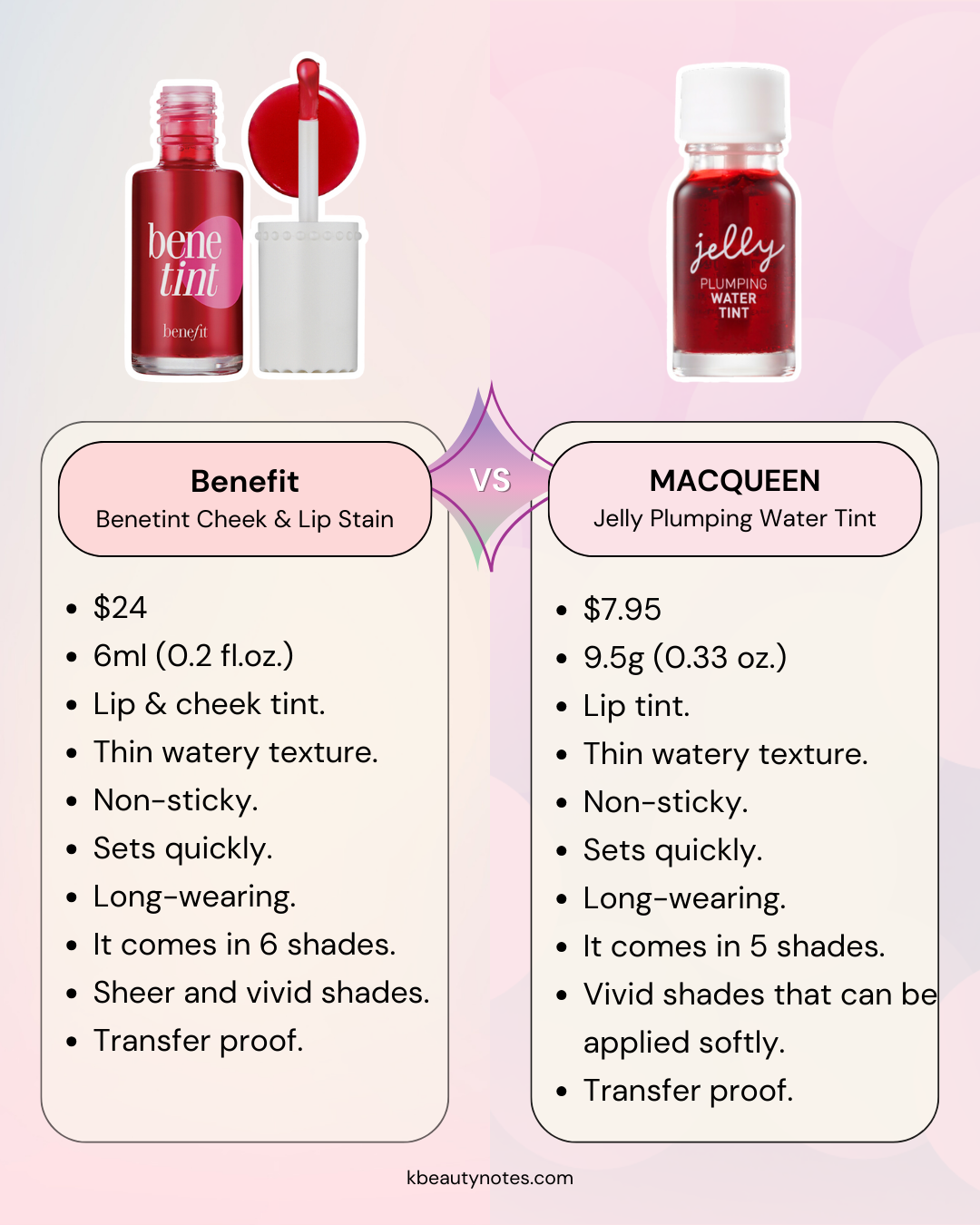 Comparing Performance
When it comes to performance, both the Benefit Benetint Cheek & Lip Stain and the MACQUEEN Jelly Plumping Water Tint share several impressive qualities.
Both products feature a thin and watery texture that spreads effortlessly on the skin, creating a weightless and comfortable feel without any stickiness. However, it's important to note that they tend to set relatively quickly, so immediate blending is key for achieving a seamless look. This fast-drying feature is advantageous for those on the go, making them perfect choices for busy mornings when you need your complexion to look lively with minimal effort.
One standout performance characteristic is their ability to stain the lips exceptionally well, leaving behind a long-lasting color that doesn't transfer easily. This quality ensures that your lip color remains intact throughout the day.
Packaging
The Benefit Benetint Cheek & Lip Stain and the MACQUEEN Jelly Plumping Water Tint share similar packaging features. Both are presented in small, elegant glass bottles, and they have a built-in applicator integrated into the cap.
This design element enhances precision during application, whether you're adding a flush of color to your cheeks or lips. The compact size of their glass packaging makes them travel-friendly and convenient for on-the-go touch-ups.
Application
No brush is required. Simply apply a few dots on your lips and blend with your fingers for a seamless and natural flush of color. While blending is a breeze, it's important to work swiftly before the product sets.
It's worth noting that watery lip tints like these ones may accentuate dryness, so proper lip prep is crucial for achieving the best results. Exfoliating your lips and ensuring they are well-hydrated can make a significant difference in how the product sits on your lips.
If you find that your lips need extra hydration, you can apply a lip balm after using the stain. This will help keep your lips comfortable and prevent any dryness, as these stains are known for their long-lasting properties.
Also Read: Is The Saem Eco Soul Lip Oil the Ultimate Dior Lip Oil Dupe?
Value for Price
The Benefit Benetint Cheek & Lip Stain is offered in a 6ml format, but it's worth noting that the original stain is also available in a larger 10ml size. The smaller 6ml version is priced at $24, offering a reasonable amount of product at a moderate cost. Additionally, there's a larger 10ml variant available for $33, which, while pricier, offers a better value in terms of the price per milliliter.
This larger size may be particularly appealing to those who adore the product and intend to use it frequently. The Benefit Benetint is celebrated for its longevity and its versatility, serving as both a lip and cheek stain, which can enhance its overall value.
The MACQUEEN Jelly Plumping Water Tint truly shines when it comes to providing exceptional value for its price. With a regular price of $7.95, this lip tint offers budget-conscious beauty enthusiasts an incredibly cost-effective option. Despite its affordability, the quality remains top-notch. It's a budget-friendly gem that proves that you don't need to spend a fortune to enjoy a high-quality lip stain and its outstanding performance.
---
*Sponsored – by YesStyle, but opinions remain my own.
*Affiliate Links – It means I may earn a small commission when you purchase a product through the links I have provided, at no extra cost to you.
Related posts
Follow blog via Email
Get the latest posts from this blog delivered to your inbox!
About Me
Hi and welcome to Kbeauty Notes! :) I'm Ledia and I'm very passionate about everything skincare. I created this blog to share my thoughts and experience with many amazing and not so great products out there, hoping to help you make better decisions regarding your skin. I'm very happy to bring you on this journey with me and I hope you enjoy it! <3

My Skin Type: Oily, acne prone, dehydrated, a little sensitive, large pores.

Skincare Concerns: hydration, pore care, anti-ageing, PIE (acne marks), brightening.

Contact: kbeautynotes@gmail.com