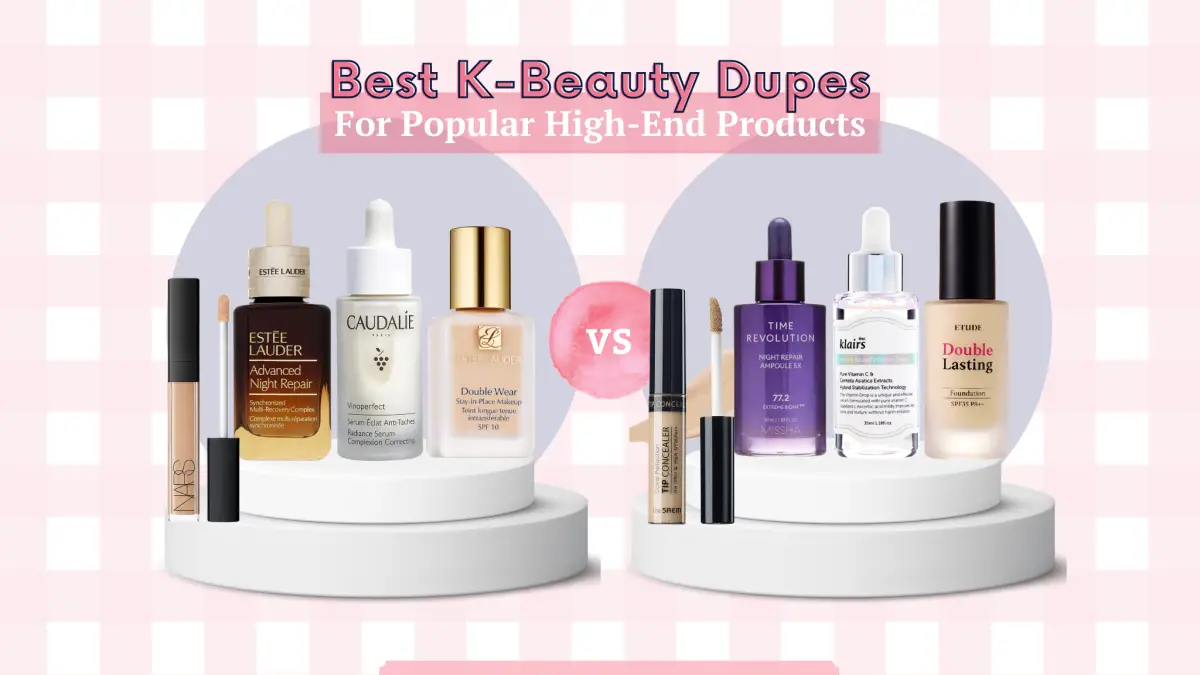 Who doesn't like a good skincare or makeup dupe for high-end brands? Dupes are a great way to try out popular cosmetics at more affordable prices. If you're a longtime reader of my blog, you know that most of the products I review fall on the more affordable side, because I believe that beauty products don't have to be expensive to be of great quality, effective, and enjoyable at the same time. And this is exactly what attracted me to Korean Cosmetics in the first place. I was able to solve many of my skin problems without breaking the bank.
Moreover, in K-Beauty you can find some great alternatives to some cult-favorites from luxury brands, as well as other products which can be as effective as higher end products in tackling the same skin concerns.
The same goes for makeup. There are some true gems out there like foundations, lip products, and more!
Let's have a look at some great K-Beauty dupes for popular western luxury products.
You can find these at YESSTYLE and save at least 50% when you shop at their store (plus reward code KBEAUTYNOTES will get you extra discount on your entire order!).


Esteé Lauder's Advanced Night Repair VS MISSHA Time Revolution Night Repair Ampoule 5X
Missha is known for their dupes! This is their Time Revolution Night Repair Ampoule 5X ($35 – regular price) – the 5th generation version of this anti aging classic. It is considered a popular dupe of the Esteé Lauder's Advanced Night Repair Synchronized Multi-Recovery Complex Serum ($115).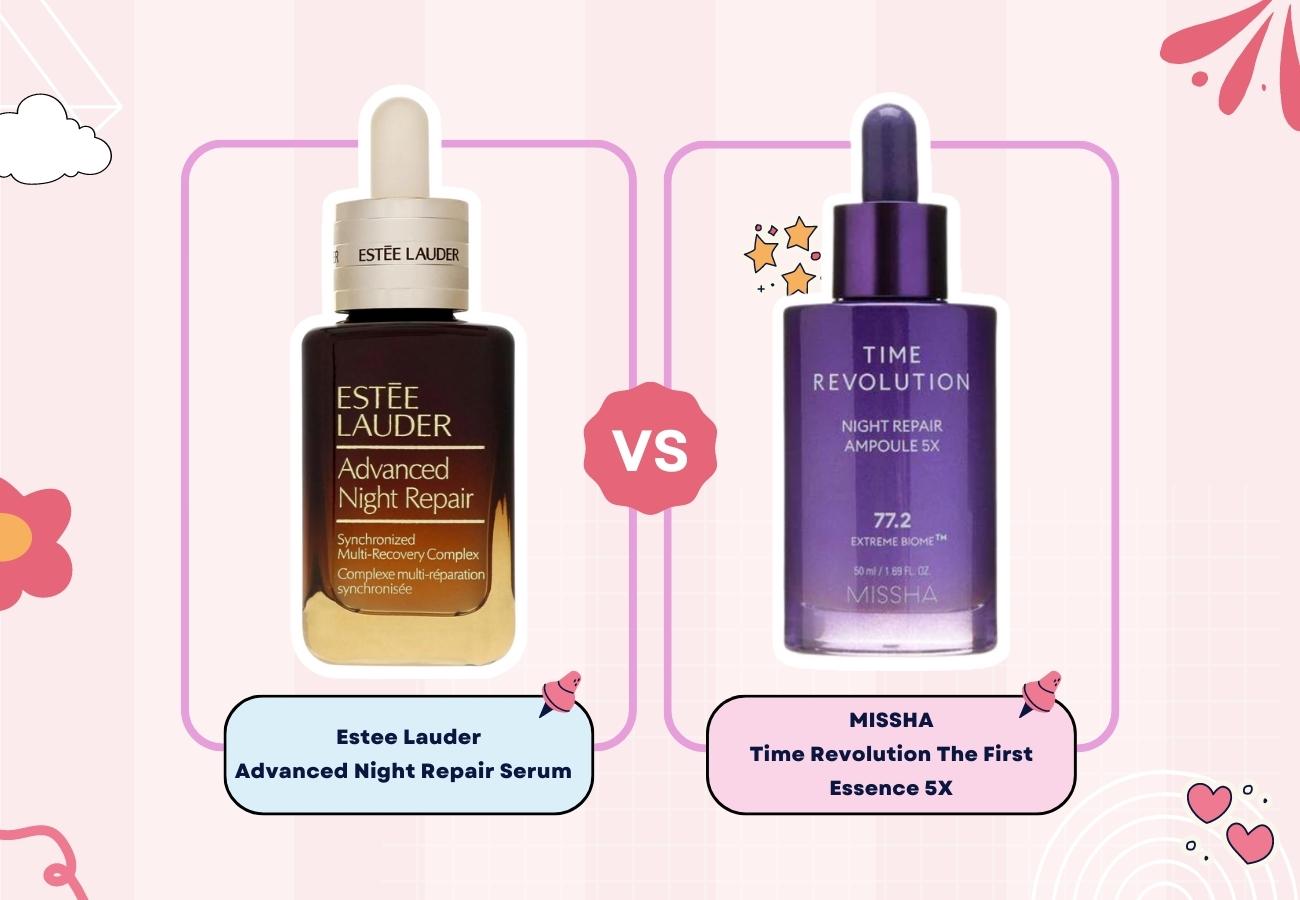 The key ingredient these two products share is Bifida Ferment Lysate, a probiotic fermented yeast that offers numerous skin benefits including great antioxidant action, reducing skin inflammation, deep hydration, and strengthening the protective barrier by balancing out the skin's microbiome. According to manufacturer, it also protects against UV-induced damage in the skin and helps with DNA repair.
But Missha doesn't stop here. Apart from the "extreme biome" complex (a mix of 10 different probiotics), the formula contains 5 purple vegetable and fruit extracts that are known to have high levels of antioxidants. These antioxidants help to protect the skin from within from environmental damage and sun damage.
There's also a good mix of moisturizing ingredients like Glycerin, Squalane, Sodium Hyaluronate, Ceramide NP, and Cholesterol in the overnight treatment of MISSHA.
The consistency is runny but has some viscosity to it. It's on the richer side while not feeling greasy. I think this serum makes the perfect choice for normal, dry, and mature skin to add glow, improve the appearance of wrinkles, and replenish the skin with moisture.


Caudalie Vinoperfect Anti-Dark Spot Radiance Serum VS dear, klairs Freshly Juiced Vitamin Drop
Looking to get rid of hyperpigmentation? Pick the Klairs Freshly Juiced Vitamin Drop ($27 – regular price) as an alternative to the Caudalie Vinoperfect Anti-Dark Spot Radiance Serum ($53). The french brand uses Palmitoyl Grapevine Shoot Extract (a grape-derived ingredient) in its formula to target brown spots, whereas the Klairs serum uses 5% Ascorbic Acid (Pure Vitamin C).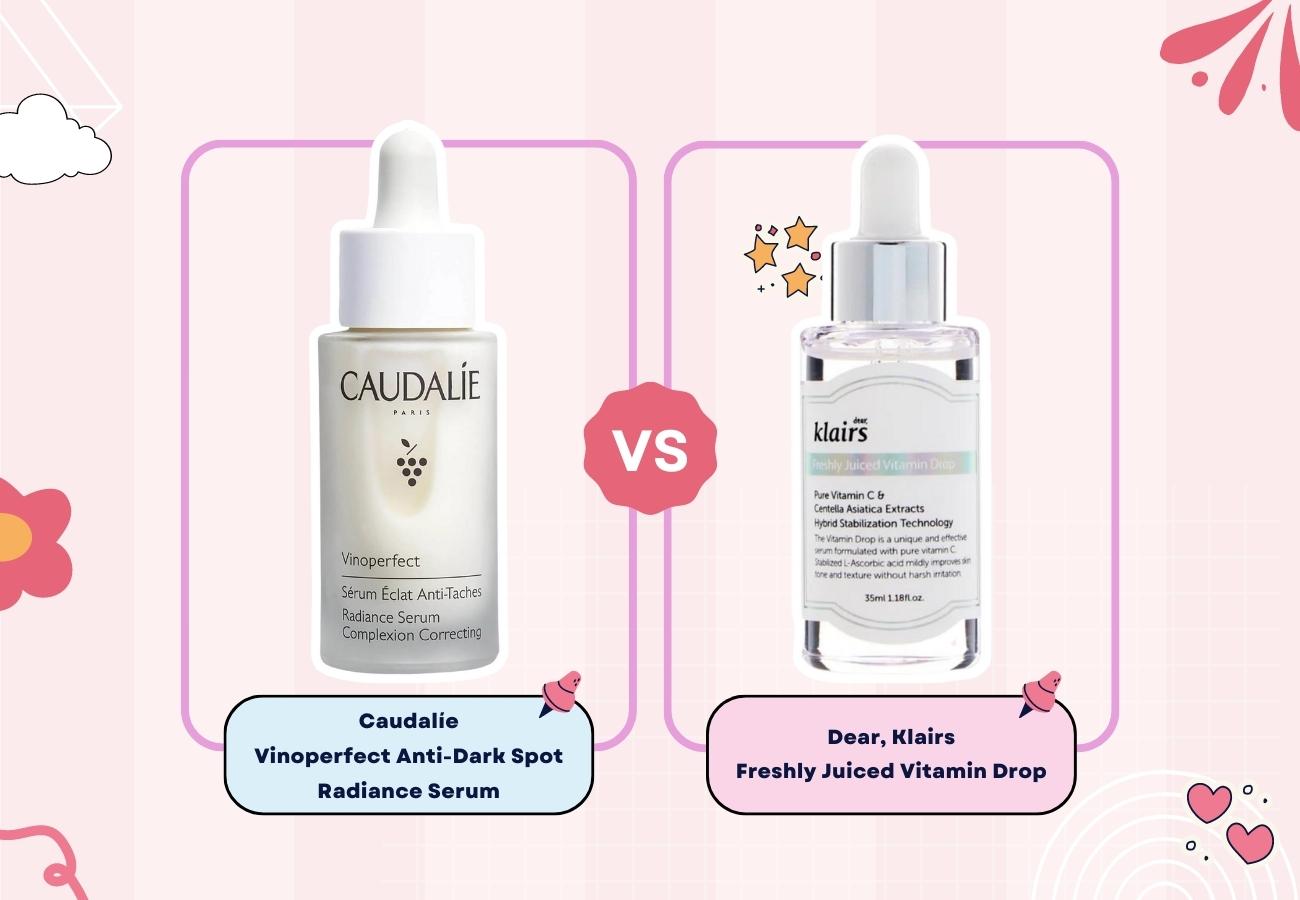 I love this Vitamin C Serum. The 5% concentration seems like the sweet spot for me as it's effective but gentle enough to be used often. Higher concentration of active ingredients is not always better as it can lead to increased irritation if your skin is not resilient. How consistent you are with using the product is what really matters in helping you achieve the desired results.
Pure vitamin C has a lot of research backing up its effectiveness and comes with other benefits apart from fading dark spots. First, it's a great antioxidant and has photoprotection properties against UV rays! That's why dermatologists recommend for Vitamin C to be used under your sunscreen in your morning routine.
Did you know that it also helps the skin produce more collagen? Collagen is what keeps our skin firm and free of wrinkles. But this serum contains even more skincare goodies. The formula is packed with 5 types of peptides, plant extracts, and another vitamin c derivative that works as an anti-acne agent – Sodium Ascorbyl Phosphate (SAP).
The consistency of the Klairs Freshly Juiced Vitamin C is oil-like but still feels lightweight on the skin. Leaves a beautiful soft finish and a brighter-looking complexion with consistent use.
It's more suitable for normal, combination and dry skin types.


Esteé Lauder Double Wear Foundation VS Etude House Double Lasting Foundation
Now on to some Korean makeup! Just as with skincare, when it comes to makeup, Koreans are constantly innovating – from bb creams, to cushion foundations, to lip tints and more. The quality is comparable to expensive makeup, but again, the products come at unbeatable prices.
The Etude House Double Lasting Foundation SPF34 PA++ ($23 – regular price) makes a great dupe for the Esteé Lauder Double Wear Stay-in-Place Foundation ($48). A lightweight liquid foundation that offers medium to full coverage without being thick or feeling heavy on the skin.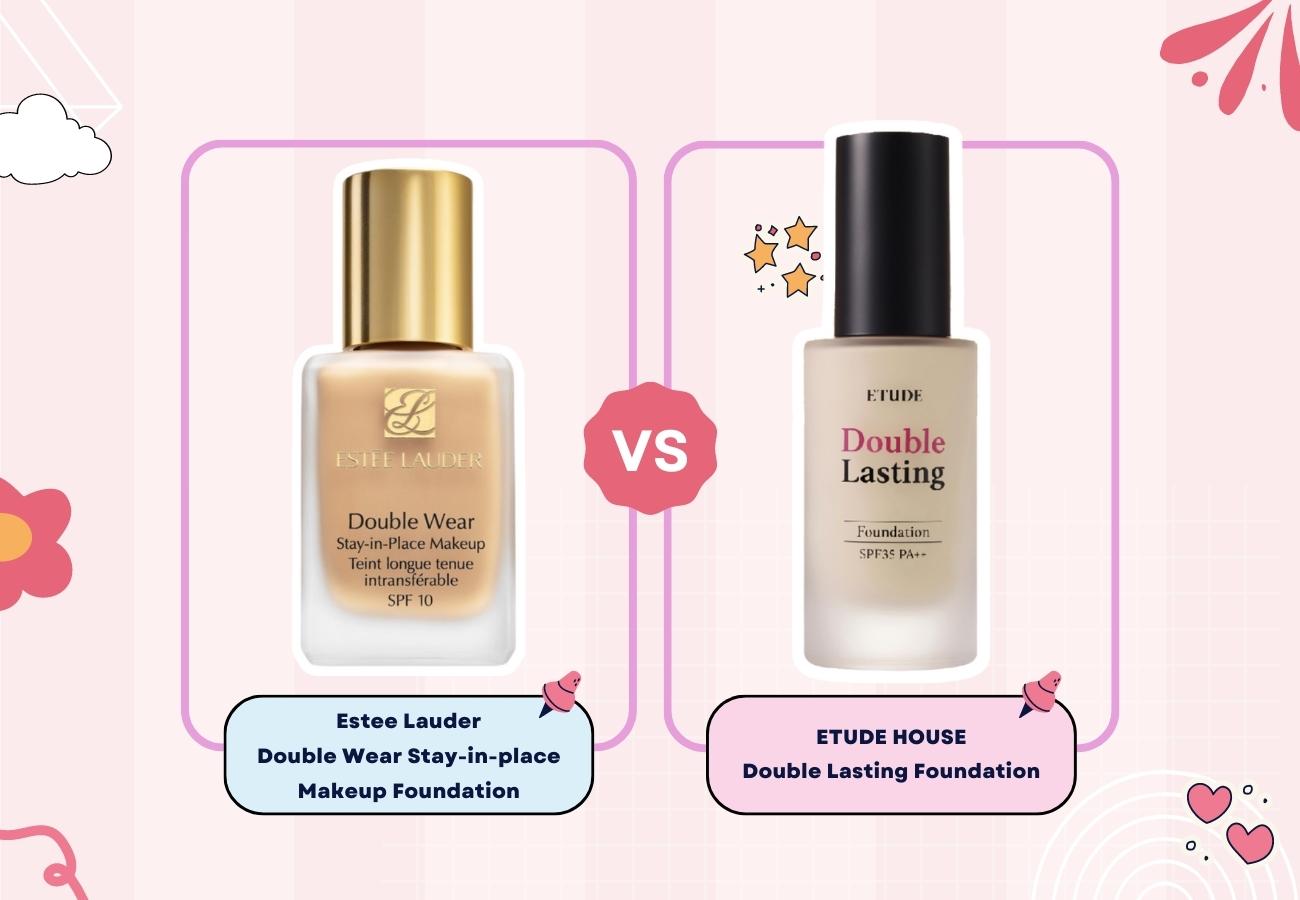 Korean base makeup often lacks in shade range, but this one comes in 12 different shades. Since it's a liquid formula, it's best to use a brush, puff, or sponge for application. While I simply use my fingers to apply bb cream, it simply doesn't work as well as a method with a liquid foundation.
Beautiful semi-matte finish. Even for dehydrated-prone skin like mine it didn't emphasize texture with proper skin prep. This point is important for me since I have big pores around my cheeks. It does a solid job in keeping the oily areas under control without drying out the skin or becoming cakey. The lasting power is really good too! But more importantly, it fades naturally and leaves no patchy spots.
The added SPF of 34 PA++ just makes this foundation even better. And the cherry on top for me – No pimples! Drugstore foundations have always broken me out, but that rarely happens with Korean base products.
This foundation is more suitable for normal, combination and oily skin types.


NARS Radiant Creamy Concealer VS THE SAEM Cover Perfection Tip Concealer
Wondering whether to splurge on a high-end concealer like the NARS Radiant Creamy Concealer? You don't need to. Not without trying this best-selling K-Beauty concealer first – THE SAEM Cover Perfection Tip Concealer ($6 – regular price). So inexpensive, right? And despite being very affordable, it's still on sale for less! But this is not the only reason why this concealer is so well-loved. It's because it works just as well as the more expensive ones at the fraction of the price!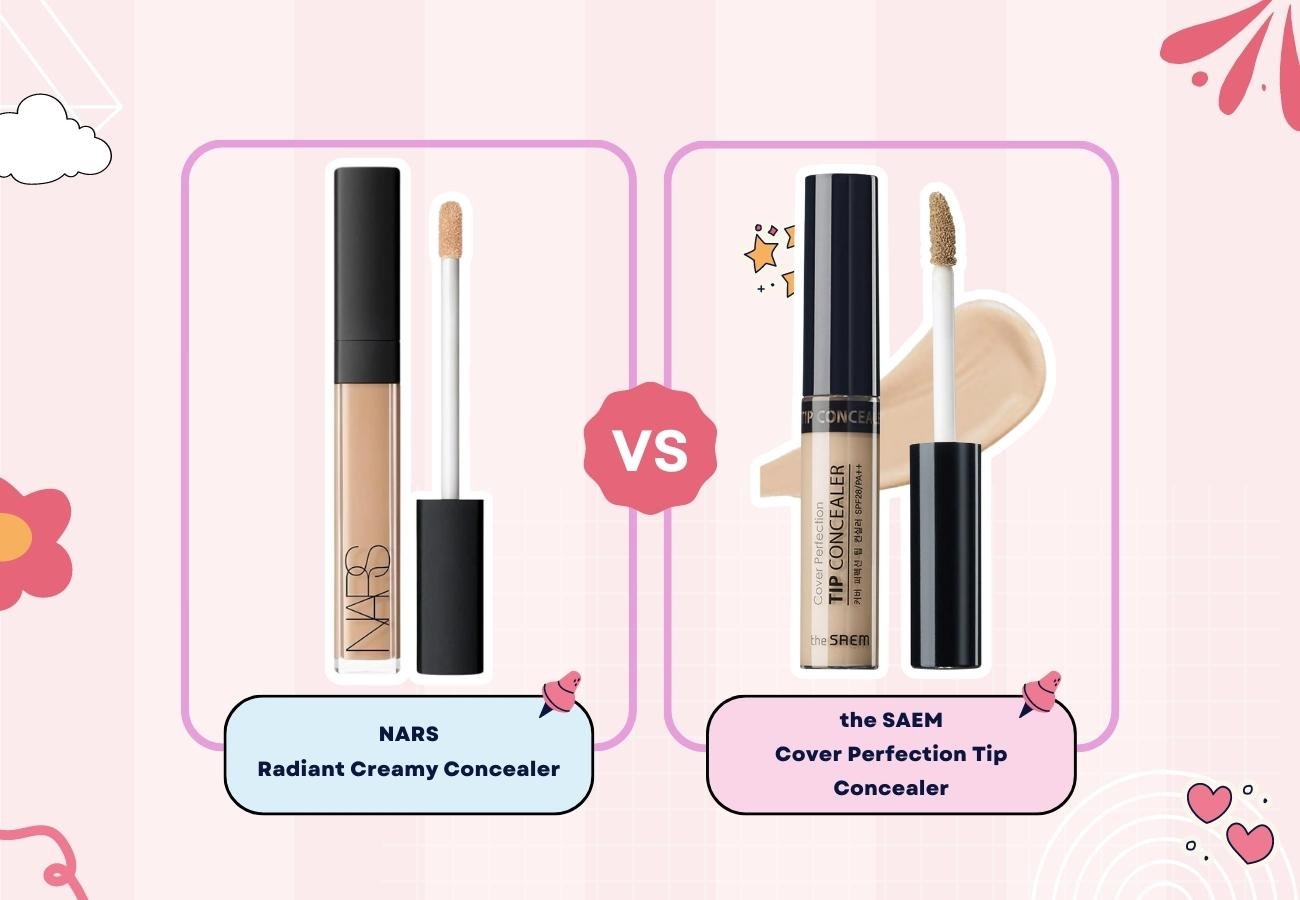 The Cover Perfection Tip Concealer comes in 10 different shades where 4 of them are targeted for color correcting, highlighting, and shading. I have mine in the shade 1.5 Natural Beige and it leans on the warm side because it has a yellow undertone.
Why is it a best-seller? Well, it's a full coverage liquid concealer and feels like you have nothing on the skin! It goes on a thin layer while maintaining the level of coverage. Very lightweight, adheres well, covers blemishes, and dark circles. I thought my dark circles were not that bad, but that was until the moment I put this on. The difference is just amazing! It covers them almost completely. It doesn't settle in my fine lines either.
The finish is velvety smooth and semi-matte as it still looks natural on the skin. Oily, combination and normal skin types would like this better. It's non-drying but it could cling onto dry patches a bit, so skin prep is important as with most base makeup products.
Wear time is also great, especially if you usually go for a more matte look.


Do you know any other good K-Beauty dupes or alternatives to western luxury skincare and makeup brands? Feel free to share them in the comments.


---
*Sponsored – by YesStyle, but opinions are completely my own and products have been previously self-purchased*.
*Affiliate Links – It means I may earn a small commission when you purchase a product through the links I have provided, at no extra cost to you.
Related posts
Follow blog via Email
Get the latest posts from this blog delivered to your inbox!
About Me
Hi and welcome to Kbeauty Notes! :) I'm Ledia and I'm very passionate about everything skincare. I created this blog to share my thoughts and experience with many amazing and not so great products out there, hoping to help you make better decisions regarding your skin. I'm very happy to bring you on this journey with me and I hope you enjoy it! <3

My Skin Type: Oily, acne prone, dehydrated, a little sensitive, large pores.

Skincare Concerns: hydration, pore care, anti-ageing, PIE (acne marks), brightening.

Contact: kbeautynotes@gmail.com