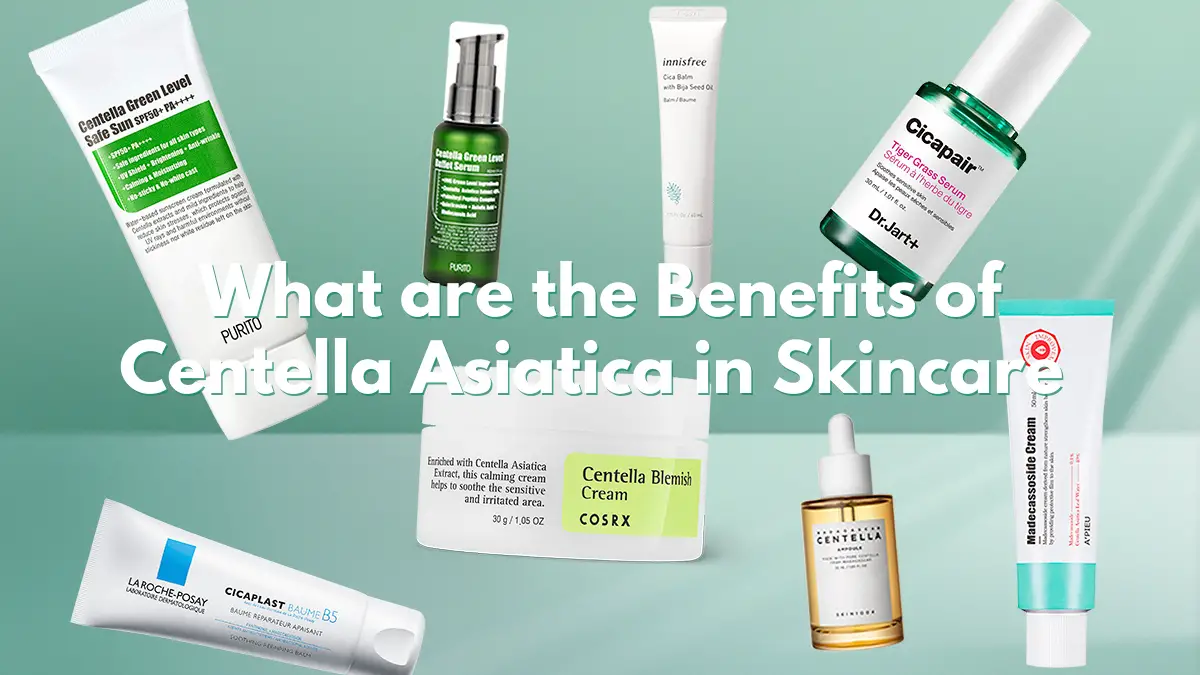 If you are into K-Beauty, then you've probably heard of Centella Asiatica or Cica in skincare. Korean skincare brands have come out with many Cica products in recent years. And western brands have followed suit, as well. But, what's all the buzz around this ingredient recently? What are the benefits of Centella Asiatica that many brands are including it in their products?


What is Centella Asiatica?
Centella Asiatica is a plant that is known as Indian pennywort, Asiatic pennywort, Gotu kola, brahmi or Tiger Grass. It's native to Asia and grows in the Indian subcontinent, Southeast Asia, as well as Southeastern US and other regions. Centella has been used in culinary in many asian countries and as a medicinal herb in traditional medicine to heal minor wounds due to it's healing properties and treat some disorders and skin conditions such as: psoriasis, eczema, varicose ulcers etc.
The most important ingredients of the plant are called triterpenoids saponins. The four isolated compounds that are tested and included in skincare are: asiaticoside, asiatic acid, madecassic acid, and madecassoside. Sometimes they're used on their own in formulations and sometimes labeled as Centella Asiatica extract.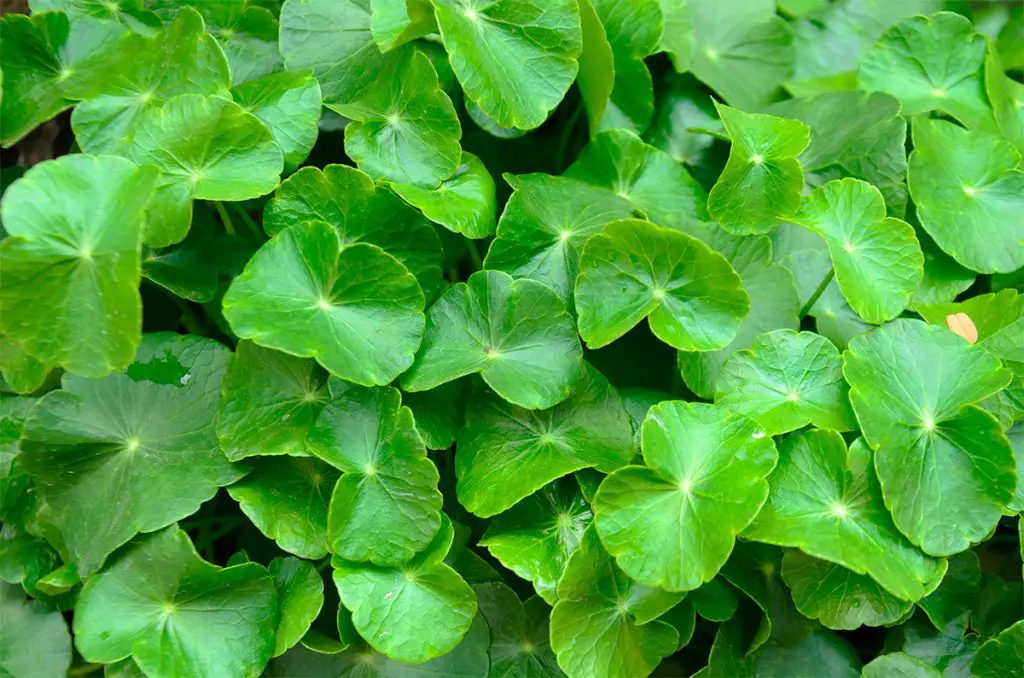 Centella Asiatica Benefits for Skin
Centella Asiatica extract is able to penetrate the skin well enough to be utilized effectively and has been known to treat wounds and burns for centuries. This has been shown in both in vitro and in vivo studies which back its effectiveness in wound healing. The way it does that is by promoting fibroblasts proliferation and collagen synthesis, as well as inhibiting the inflammatory phase of scars. It has also been observed that the triterpenoid components stimulate glycosaminoglycan, especially hyaluronic acid production.


Anti-Ageing
Due to this ability of CA to increase collagen (type I & III) production, research suggests that it can have anti-ageing capabilities and can be used in treating photoageing skin as well. It can help the skin retain a plump and youthful appearance.


Soothing
Moreover, the Centella Asiatica extract has shown to reduce skin irritation by repairing the skin barrier function. Its constituents help decrease redness, inflamation and relieve itchy skin due to their soothing and healing properties. This is one of the reasons why it's used in products for people with sensitive and acneic skin. It speeds healing, improves overall acne severity and prevents future blemishes and scarring.
More benefits of the Centella Asiatica extract include:  antioxidant-boosting effects, antibacterial properties, hydration and reduced transepidermal water loss, as well as photoprotection.


Hydrating
CA can be good for those which use medication or ingredients that can be drying to the skin, like acne-fighting products, to not only soothe inflamation, but hydrate the dry areas, too.
Other than products labeled as centella asiatica or cica, you may have also noticed skincare formulated with only Madecassoside. Madecassoside is a very popular ingredient for acne-prone skin because it controls inflamation and stimulates production of type III collagen, which is the second most abundant collagen in human tissues (whereas asiaticoside stimulates type I collagen). One study has also demonstrated significant benefits of Madecassoside use in the inhibition of hyperpigmentation caused by UV irradiation.


So, to sum up the benefits Centella Asiatica extract could have when applied to skin:
Combats and reduces inflammation.
Speeds wound healing and recovery.
Improves circulation.
Boosts collagen.
Hydrates.
Increased skin resilience.
Antioxidant-boosting effects.
Antibacterial properties.
Pigment-fading and photoprotection.


Which are some of the most popular products with Centella Asiatica?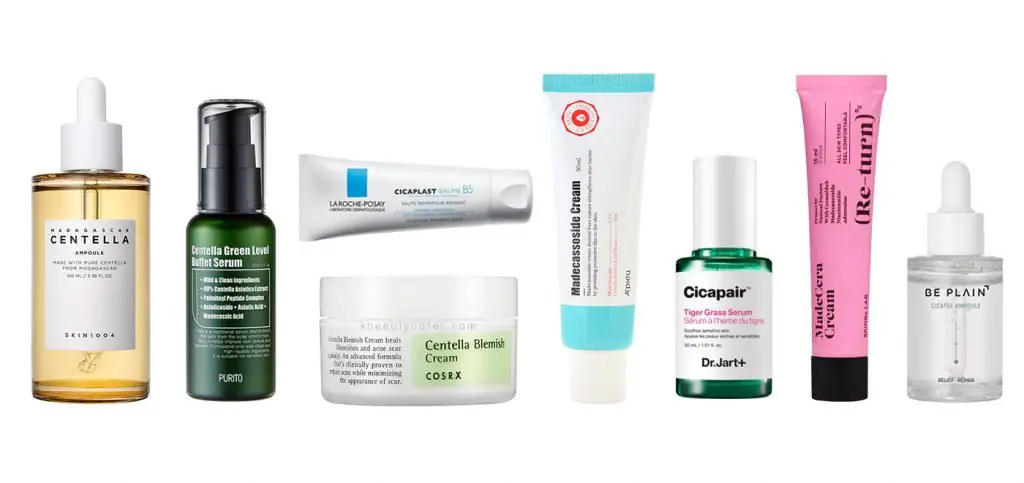 1. SKIN1004 Madagascar Centella Asiatica 100 Ampoule 100ml
Available at Yesstyle, Jolse and Stylevana
2. Purito Centella Green Level Buffet Serum 60ml
Review – Available at Yesstyle, Stylevana and Jolse
3. COSRX Centella Blemish Cream 30ml
Available at Stylekorean, Yesstyle and Jolse
4. A'PIEU Madecassoside Cream 120ml
Available at Yesstyle and Jolse
5. Dr Jart+ Cicapair Tiger Grass Re.Pair Serum
Available at Stylekorean, Stylevana and Jolse
6. SkinRx Lab MadeCera Cream ​
Available at Stylekorean
7. La Roche-Posay Cicaplast Baume B5
Available at La Roche-Posay (not affiliate)
8. Be Plain Cicaful Ampoule (30ml – 50ml)
Review – Available at Stylevana, Yesstyle and Jolse

(You can use the code KBEAUTYNOTES on Yesstyle for an extra 2-5% discount)

What do you think about centella asiatica in skincare? Does it work for your skin? Please share your favorite products!


---

*Affiliate links. It means I earn a small commission when you purchase a product through the links I have provided, at no extra cost to you. Sincerely thankful to all of you that support my blog! For more information, see Disclosure Policy.
Related posts
Follow blog via Email
Get the latest posts from this blog delivered to your inbox!
About Me
Hi and welcome to Kbeauty Notes! :) I'm Ledia and I'm very passionate about everything skincare. I created this blog to share my thoughts and experience with many amazing and not so great products out there, hoping to help you make better decisions regarding your skin. I'm very happy to bring you on this journey with me and I hope you enjoy it! <3

My Skin Type: Oily, acne prone, dehydrated, a little sensitive, large pores.

Skincare Concerns: hydration, pore care, anti-ageing, PIE (acne marks), brightening.

Contact: kbeautynotes@gmail.com