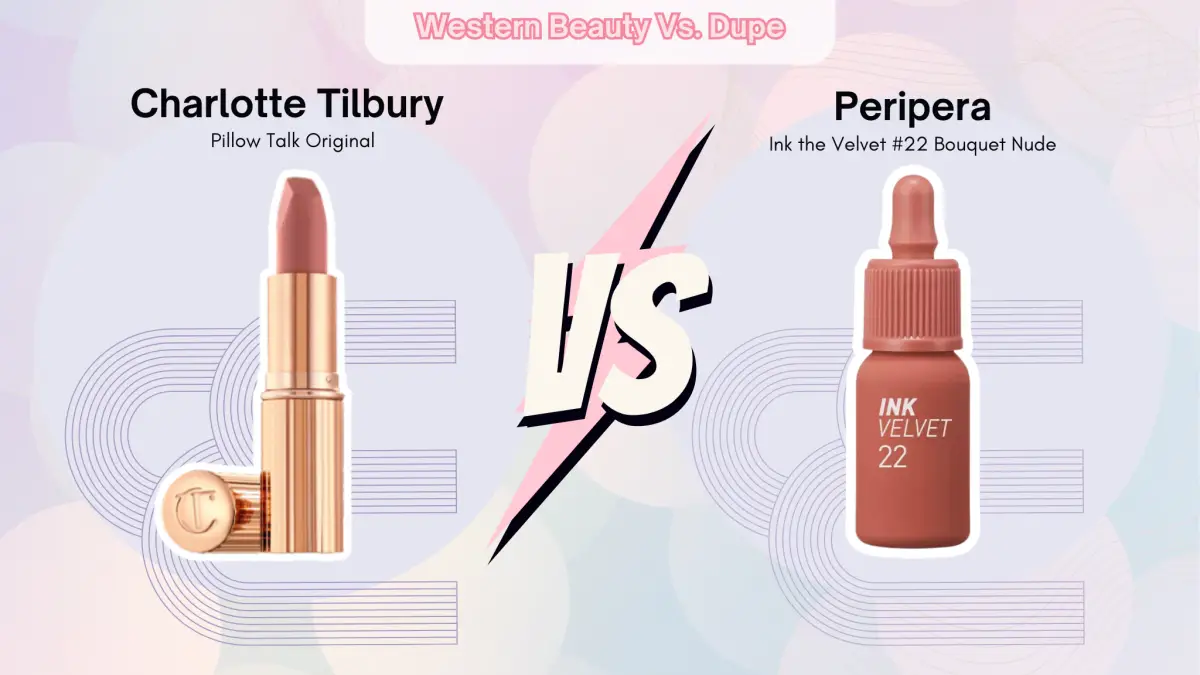 Welcome back to the Western Beauty Vs. K-Beauty Dupe series! Throughout this journey, we have explored a few incredible products from Peripera, which I must say, has solidified its spot as one of my all-time favorite Korean makeup brands. In this post, I am excited to introduce you to a dupe that can be a great match for the beloved Charlotte Tilbury Pillow Talk Original.
Say hello to the brand's best-selling lip product, the Peripera Ink the Velvet, in the shade #22 Bouquet Nude. If you've been on the hunt for that flawless nude-pink lippie to achieve that "My Lips But Better" look, your search ends right here.
When it comes to finding Peripera's fabulous products, look no further than Yesstyle. If you're a new customer looking to make a purchase totaling over US$35, here's a fantastic offer for you: Enter the code 'YESSTYLE' during checkout to enjoy an extra 10% OFF your order. And that's not all – for an added bonus, don't forget to apply my reward code 'KBEAUTYNOTES' as well. This exclusive code can save you an additional 2-5% on top of everything else in your cart.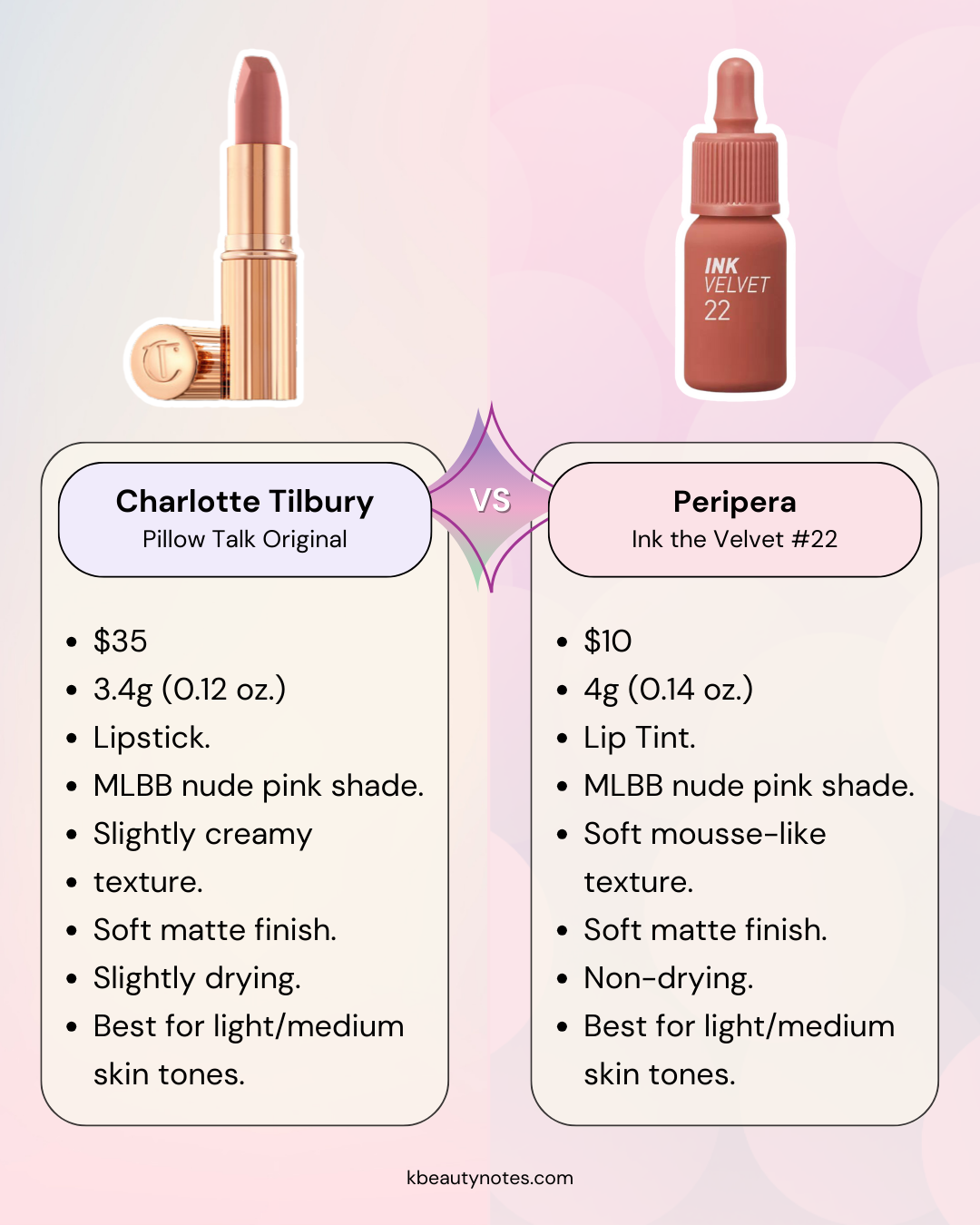 What is the Charlotte Tilbury Pillow Talk
Charlotte Tilbury Matte Revolution Pillow Talk Original is an iconic matte lipstick known for its beautiful nude-pink shade. It effortlessly creates fuller, more defined lips, giving you that sumptuous, pillow-like pout in an instant. Enriched with nourishing orchid and Lipstick Tree extracts, along with light-reflecting pigments, it leaves your lips looking softer, smoother, and more youthful.
K-Beauty Dupe: Peripera Ink the Velvet no.22 Boutique Nude
The Peripera Ink the Velvet is a versatile lip tint that allows you to create a variety of lip looks, from a soft, gradient effect to a bold, full-on lip makeup. Blended with nourishing ingredients like jojoba oil, hyaluronic acid, and marine collagen, this lip tint provides essential moisture, keeping your lips hydrated and comfortable throughout the day.
The velvety texture of the tint ensures a smooth and effortless application. It has a soft whipped cream-like texture, which helps fill in fine lines on your lips, giving them a more even and youthful appearance.
The shade no. 22 Bouquet Nude is a close Charlotte Tilbury Pillow Talk dupe – a gorgeous nude pink that's perfect as a "My Lips But Better" (MLBB) shade, especially for those with light and medium skin tones. It's a versatile and universally flattering color that enhances the natural beauty of your lips. This shade is an excellent choice for achieving that effortless and natural look, making it a go-to option for a wide range of makeup styles and occasions.
Also Read: Benefit Hoola Matte Bronzer vs Peripera Ink V Shading – Which is Better?
Comparing Performance. Is Peripera Ink the Velvet no.22 Boutique Nude a worthy dupe for Charlotte Tilbury Pillow Talk?
Charlotte Tilbury Pillow Talk Original has a slightly creamy formula that initially feels soft on the lips. However, despite being marketed as moisturizing, it can become drying over time, so proper lip preparation is essential. It offers a matte finish, which can accentuate lip texture. The shade, a slightly warm nude pink, complements a wide range of skin tones.
On the other hand, Peripera Ink the Velvet features a soft, mousse-like texture that glides effortlessly onto the lips, providing exceptional comfort. It leaves the lips feeling soft, and while lip preparation is optional, it's not necessary for a comfortable wear. This lip tint also offers a blurring effect, making it a great choice for those with texture on their lips.
The shade 22 Bouquet Nude is a warm nude pink. Although it swatches more like a nude with a prominent brown tone it appears more pinkish on the lips, resembling the Pillow Talk Original very closely.
Both products share a common downside in terms of longevity, often requiring re-application throughout the day.
Packaging
The packaging of Charlotte Tilbury's Pillow Talk Original and Peripera Ink the Velvet differs significantly in terms of design and aesthetics.
The packaging of Pillow Talk is luxurious and sleek. It comes in a metal-like, rose gold-colored tube with a ribbed design and a squared-off cap. The overall design exudes a sense of high-end, classic glamour, aligning with Charlotte Tilbury's premium brand image.
Peripera's Ink the Velvet packaging is more playful and youthful in comparison. The product is housed in a compact, plastic tube with a matte-colored twist-off cap that matches the shade of the lipstick. The brand's logo and product name are prominently displayed on the tube in a fun and modern font. Peripera's packaging often incorporates cute and whimsical elements, appealing to a younger and trendier audience.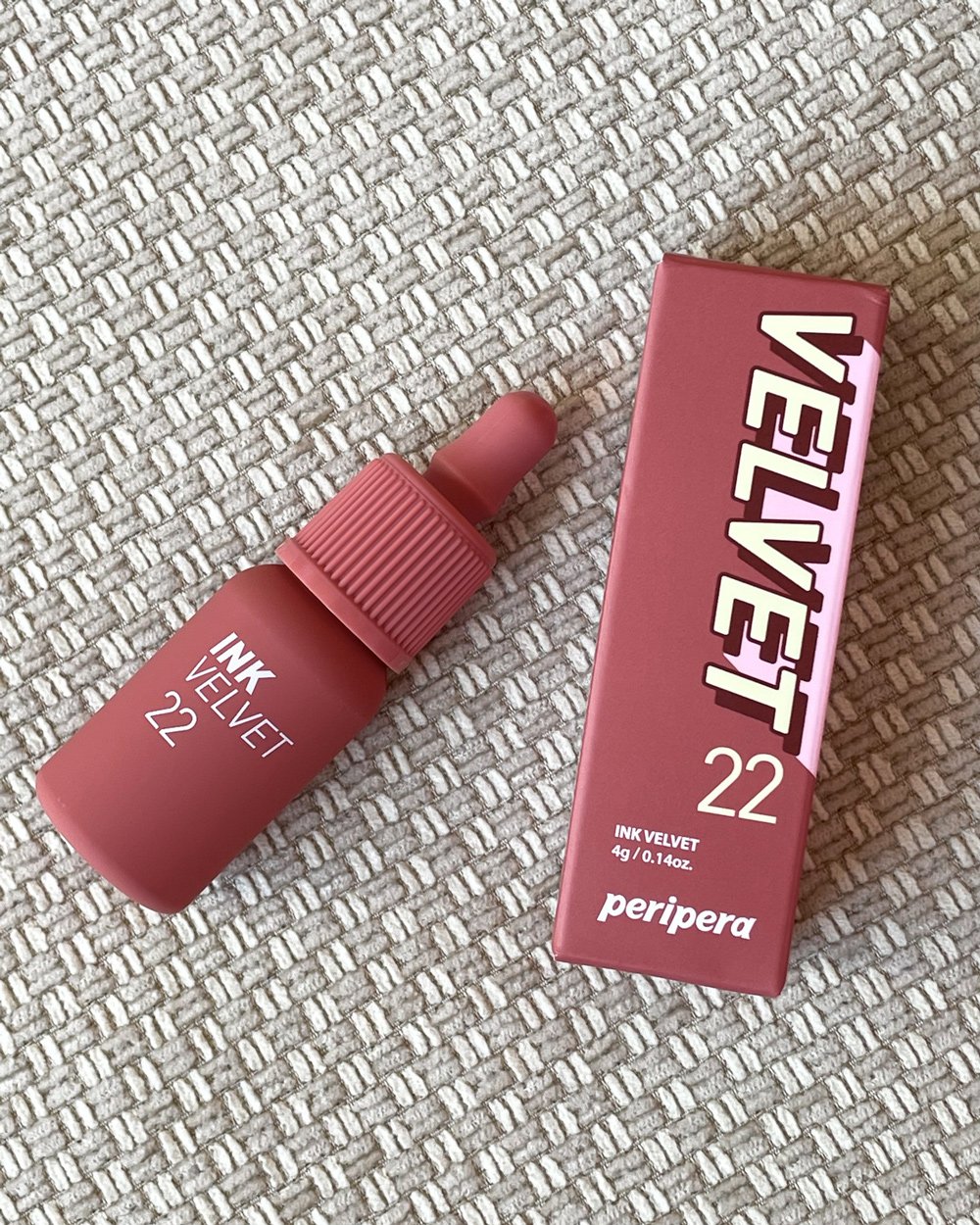 Application
The Pillow Talk Original comes in a traditional lipstick format with an angled square tip, which allows for precise and effortless application. The lipstick can be applied directly from the bullet. It provides full coverage in one swipe, making it easy to achieve a bold and defined lip look.
Peripera Ink the Velvet comes with a small, slightly angled doe-foot applicator. To apply the lip tint, you start from the center of your lips and gradually blend outward. The lip tint provides buildable coverage, making it ideal for achieving gradient lips. And this gradual blending technique allows you to control the intensity of the color.
Value for Price
Charlotte Tilbury Pillow Talk Original is priced at $35 for 3.4g of product, which equates to approximately $10.29 per gram. In contrast, Peripera Ink the Velvet is available for just $10 for 4g of product, making it approximately $2.50 per gram.
As it has been evident with all the dupes posts, K-Beauty takes the crown when it comes to affordability while still bringing amazing quality products. And the Peripera Ink the Velvet is no exception. When comparing prices and value for money, Peripera stands out as the clear winner. While Charlotte Tilbury's higher price reflects its luxury brand image, Peripera offers a better overall choice if you're seeking an MLBB shade with a fantastic formulation. So, for those looking for both budget-friendly and quality makeup options, Peripera is the go-to choice in this comparison.
It's worth noting that this line from Peripera has garnered significant attention. With a remarkable 8100+ reviews on YesStyle and an impressive rating of 4.7, it's clear that Peripera has not only won on the affordability front but also in terms of customer satisfaction and product quality.

Did you find this post on Charlotte Tilbury Pillow Talk dupe helpful? Let me know your favorite MLBB lippie in the comments!
---
*Sponsored – by YesStyle, but opinions remain my own.
*Affiliate Links – It means I may earn a small commission when you purchase a product through the links I have provided, at no extra cost to you.
Related posts
Follow blog via Email
Get the latest posts from this blog delivered to your inbox!
About Me
Hi and welcome to Kbeauty Notes! :) I'm Ledia and I'm very passionate about everything skincare. I created this blog to share my thoughts and experience with many amazing and not so great products out there, hoping to help you make better decisions regarding your skin. I'm very happy to bring you on this journey with me and I hope you enjoy it! <3

My Skin Type: Oily, acne prone, dehydrated, a little sensitive, large pores.

Skincare Concerns: hydration, pore care, anti-ageing, PIE (acne marks), brightening.

Contact: kbeautynotes@gmail.com