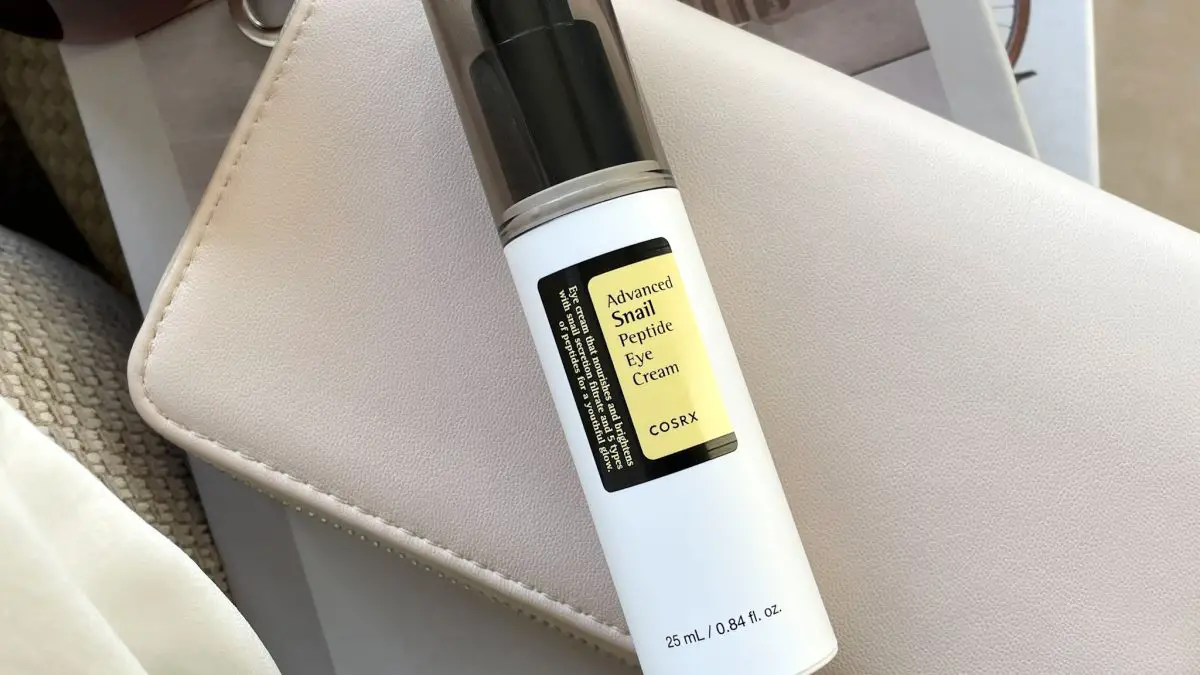 In the realm of K-beauty, there are two words that virtually everyone recognizes: COSRX and snail mucin. The COSRX Advanced Snail 96 Mucin Power Essence, a staple in Korean skincare routines, has garnered immense popularity, to the point where it's likely to have found its way into your regimen, even if you're not a devoted K-beauty enthusiast. Following the resounding success of this iconic essence, COSRX has now introduced a specialized eye cream: the COSRX Advanced Snail Peptide Eye Cream.


Where to Buy: You can find the Cosrx eye cream at Yesstyle (use reward code: KBEAUTYNOTES for an extra 2-5% OFF your order), Stylevana (discount code: INF10LED), BeautyNetKorea (discount code: BNKLEDIA).
Price: $12 – $28
Volume: 25ml (0.84 fl.oz.)
PAO: 12 months after opening.
Packaging: The eye cream is presented in a sturdy white container with a convenient pump dispenser.
About the COSRX Advanced Snail Peptide Eye Cream
Packed with 72% Snail Secretion Filtrate, skin-loving Niacinamide, and a powerhouse quintet of peptides, including Copper Tripeptide-1, Argireline, Matrixyl, Palmitoyl Tripeptide-1, and Palmitoyl Tetrapeptide-7 (the dynamic duo of Matrixyl 3000), this eye cream is designed to hydrate, rejuvenate, and firm the delicate eye area. Importantly, it's formulated without alcohol, fragrance, and essential oils, making it suitable for those with sensitive skin and eyes.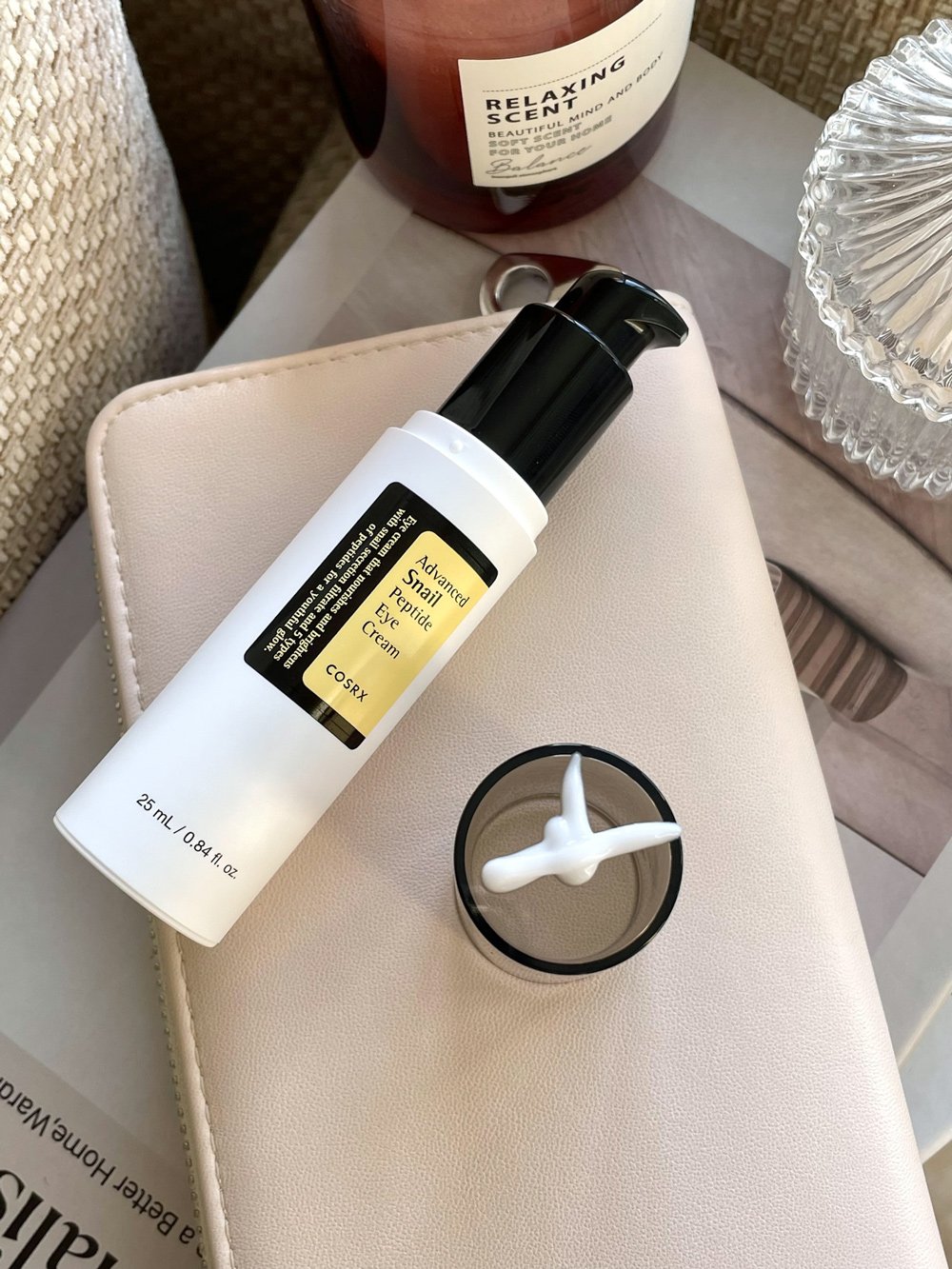 Application
This can be applied morning and night directly on cleansed skin or after your lighter consistency products like toner/essence and before moisturizer or sunscreen in the AM.
Consistency
Lightweight lotion-like consistency, slightly stringy, that glides smoothly on your skin since it has a lot of slip. Like other snail-based products, it might feel a bit tacky initially (very little), but that sensation disappears completely once it sets.
Scent
The product is not scented.
Performance – What does COSRX Peptide Eye Cream do?
This eye "cream" provides essential nourishment to the delicate under-eye area while maintaining a lightweight texture that's suitable even for those with oily skin. It effectively reduces the visibility of fine lines and enhances skin texture, leaving it smooth and soft.
At first, I began using this eye product twice a day, but due to my morning laziness, I've now integrated it solely into my nighttime skincare routine or under makeup. I've found that using this product under makeup is a real game-changer. Its smooth, lotion-like texture does wonders in preventing makeup from creasing and settling into fine lines.
I also appreciate the subtle firming effect it provides to the under-eye area. Initially, I did notice a revitalizing effect, but recently, with my disrupted sleep schedule, I haven't felt that it makes a significant difference in that aspect.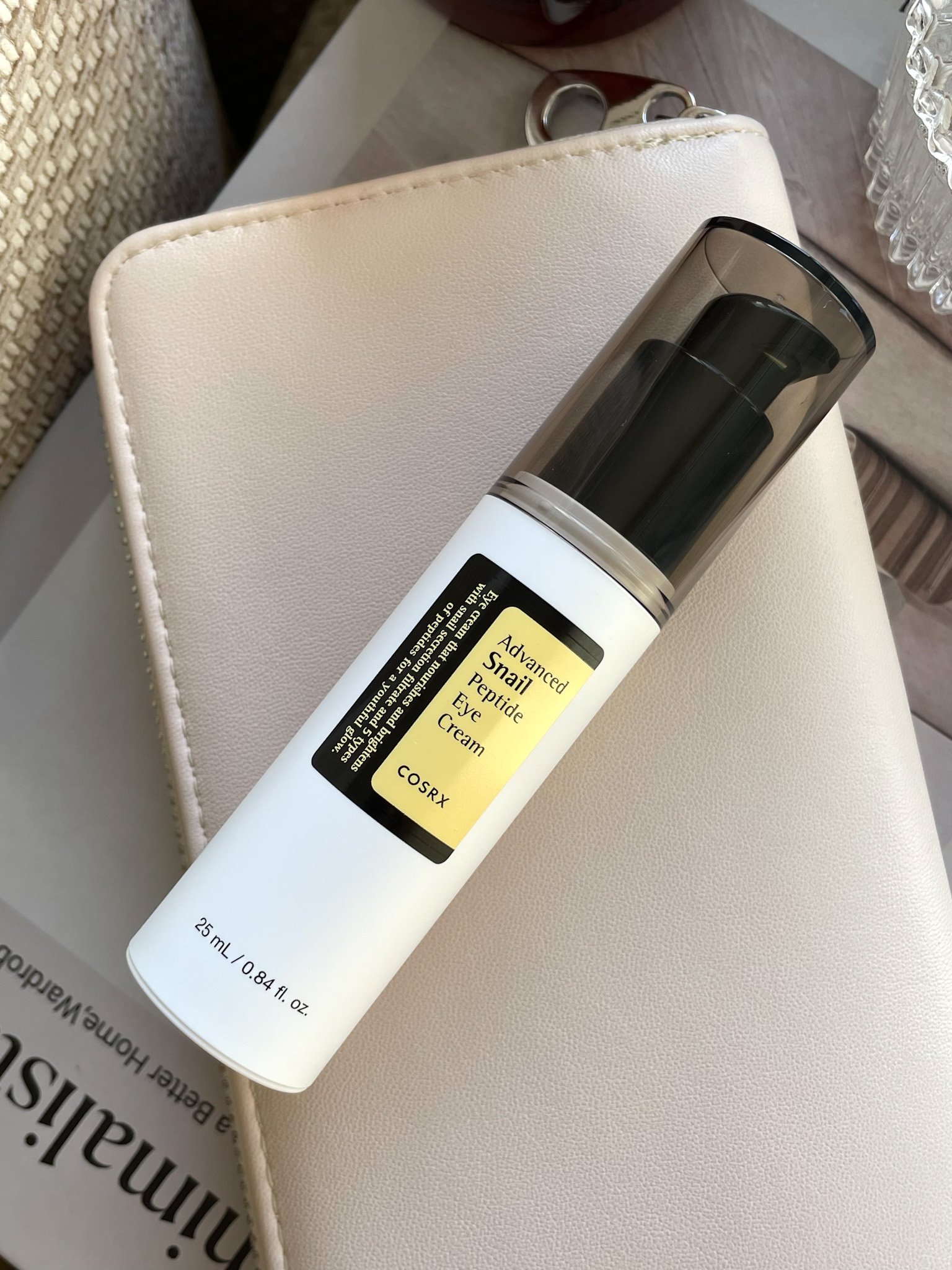 Now, the million-dollar question – is this product truly necessary? If you're already incorporating a product enriched with snail mucin or peptides that's also fragrance-free, this eye cream might not be essential. Nevertheless, it serves as an excellent option for individuals looking for a dedicated solution for their delicate eye area, especially if they have sensitivity concerns.
I personally don't face such issues, and I've ended up using it not just under my eyes, but as a serum all over my face too.
If having a dedicated eye cream is your preference, I would particularly recommend it to skincare beginners and individuals in their twenties and early thirties.
Additionally, it didn't cause milia for me, which is a big plus for us who tend to experience this with heavier products.
Ingredients
There is no alcohol, fragrance, or EOs.
Snail Secretion Filtrate, Butylene Glycol, Glycerin, Helianthus Annuus (Sunflower) Seed Oil, 1,2-Hexanediol, Niacinamide, Water, Palmitic Acid, Arginine, Carbomer, Stearic Acid, Betaine, Cetearyl Olivate, Sorbitan Olivate, Sodium Polyacrylate, Allantoin, Tocopheryl Acetate, Panthenol, Hydroxyethyl Acrylate/Sodium Acryloyldimethyl Taurate Copolymer, Sodium Hyaluronate, Adenosine, Xanthan Gum, Myristic Acid, Copper Tripeptide-1, Acetyl Hexapeptide-8, Palmitoyl Pentapeptide-4, Palmitoyl Tripeptide-1, Palmitoyl Tetrapeptide-7
Final Verdict on the COSRX Peptide Eye Cream
Pros
Lightweight lotion texture.
Hydrating and antioxidant effect.
Non-sticky smooth finish.
Skin softening.
No irritation or breakouts.
Didn't cause milia.
Prevents makeup from settling in fine lines.
Suitable for all skin types.
Cruelty-free.
I don't experience eye sensitivities, and I already have other products with similar ingredients that I use all over my face. As a result, I don't personally find it necessary to have an eye cream like this in my skincare routine.

However, it's important to note that this doesn't make it a subpar product by any means. The COSRX Advanced Snail Peptide Eye Cream delivers on its promises – it's hydrating and softening for the eye area while providing antioxidant benefits.

And, it can also serve as a serum for the entire face, thanks to its generous volume that closely matches that of other face serums. What sets it apart from the typical 15ml eye creams that might not be as cost-effective, is that it offers more value and versatility. In some cases, these smaller eye creams might not deliver anything particularly special that a good serum or essence couldn't achieve.

Did you find the COSRX Advanced Snail Peptide Eye Cream Review helpful? What's your favorite eye product?
---
*PR Sample – opinions remain completely my own.
*Affiliate Links – It means I may earn a small commission when you purchase a product through the links I have provided at no extra cost to you.
Related posts
Follow blog via Email
Get the latest posts from this blog delivered to your inbox!
About Me
Hi and welcome to Kbeauty Notes! :) I'm Ledia and I'm very passionate about everything skincare. I created this blog to share my thoughts and experience with many amazing and not so great products out there, hoping to help you make better decisions regarding your skin. I'm very happy to bring you on this journey with me and I hope you enjoy it! <3

My Skin Type: Oily, acne prone, dehydrated, a little sensitive, large pores.

Skincare Concerns: hydration, pore care, anti-ageing, PIE (acne marks), brightening.

Contact: kbeautynotes@gmail.com