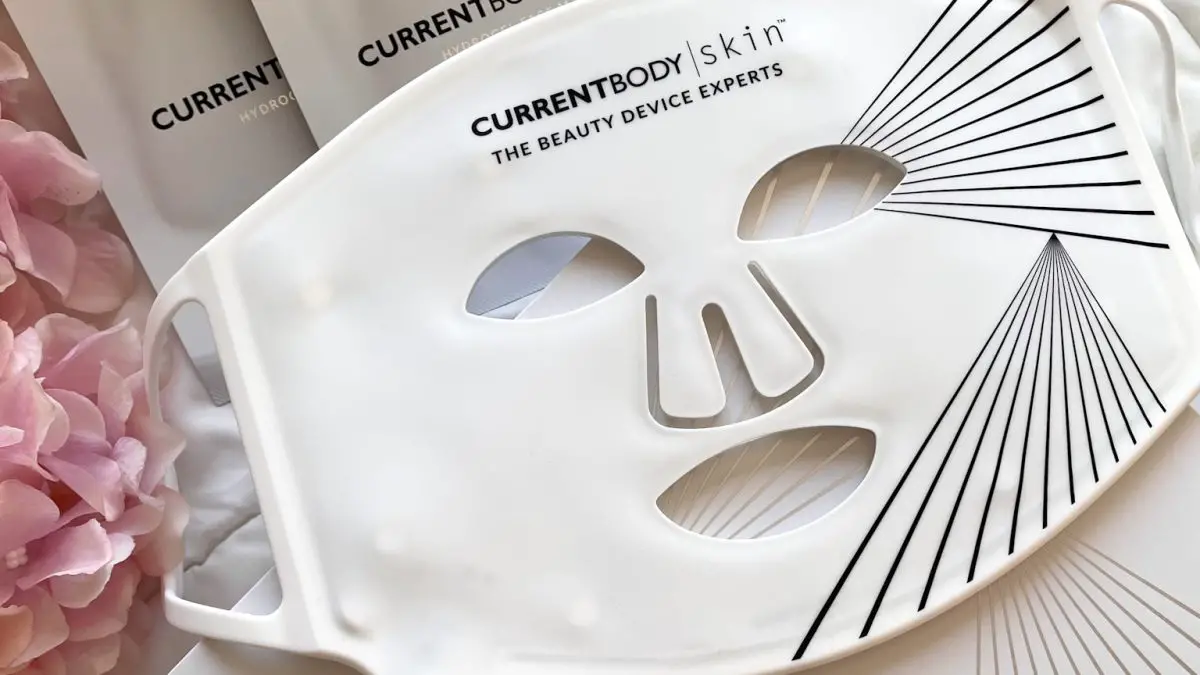 The CurrentBody Skin LED Light Therapy Mask is the first beauty device that I have ever used due to a couple of reasons. When it comes to home devices I'm a bit sceptical and my initial thought is: Does it actually work and will it be able to address my skin concerns?
Second, what's the reputation of the brand? The last thing you would want is to purchase a beauty devide that you have no idea how it's made and risk damaging your skin. This is actually a true fear of mine which keeps me from trying devices in general. Hence, I try to be as informed as possible when it comes to picking one.
Third, home devices are actually expensive and you have to consider if they are actually worth the investment. Am I going to be consistent with it and use it for a long period of time? We all have skincare or tools that we have purchased that sit somewhere unused although we initially thought we needed them.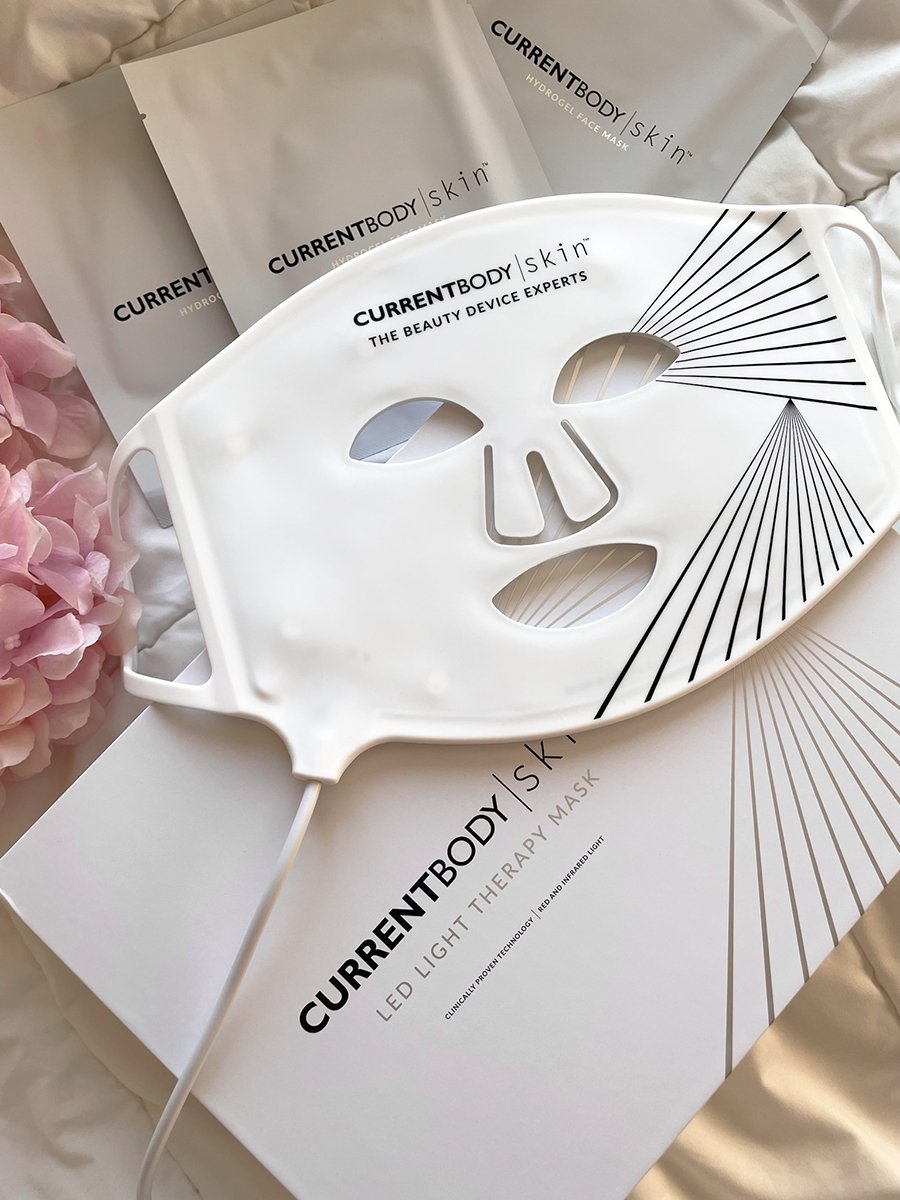 At the beginning of 2022, LED mask therapy came to my attention and after reading on its benefits, I was keen on trying it! Since I had my eye on it for some time, I gladly accepted when CurrentBody offered to send me their LED Light Therapy Mask to try.
For those that don't know, CurrentBody was established in 2009 and is an online retailer dedicated to home-use beauty devices which are science-backed and clinically proven for their efficacy.


What is the CurrentBody LED Therapy Mask?
This anti-aging LED (Light Emitting Diode) mask combines two wavelengths of red light and near infrared light spectrums which work below the skin's surface to stimulate the natural rejuvenation process, creating a visibly glowing and noticeably healthier-looking complexion.


Where to Buy
Available at CurrentBody.com for $380 USD – You can get 15% OFF the LED range (all LED devices) with code "LEDIA".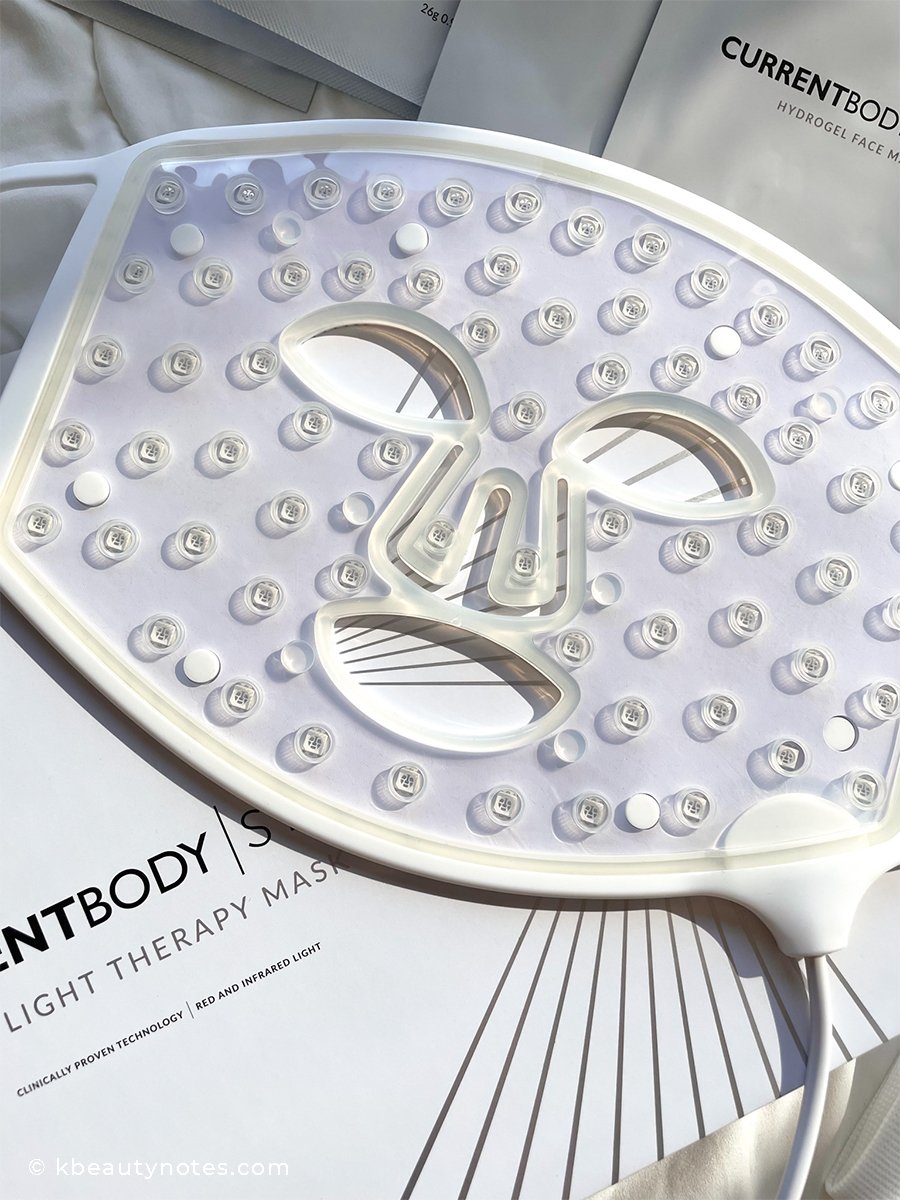 What's Inside
CurrentBody Skin LED Light Therapy Mask comes with a pouch for storing the mask, an adjustable velcro strap which secures it around the head, the power bank, protective goggles (optional), and the user manual. Carefully read the manual before use!


Specifications
Wavelength: Red Light 633nm and Near Infrared Light 830nm.
Irradiance: 30 mW/cm2
Fluence: 18J/cm2
I will be explaining the meaning of these specifications below.


Treatment Time
Treatment time is 10 minutes and the device turns off automatically. Recommended to be used 3-5 times a week. I personally use it 4-5 times. There is no sensation on the skin while the device is working.
As per instructions, before using it, you need to perform a test on your arm to see if there's any sensitivity to red light that you may have. If that's the case, CurrentBody allows you to return the device within 14 days.


Material and Fit
This is a soft and flexible mask made of silicone which I prefer since it can fit the curves of the face better than a rigid mask. Sits snug on my forehead and cheeks but not the chin area. Sometimes I clip the velcro strap higher on the back of my head and this makes the mask sit closer to the chin.


What are the benefits of Red Light Therapy?
When choosing an LED mask keep in mind that it needs to satisfy some conditions in order to yield the desired results: Wavelength and irradiance/fluence.
The types of light used in photo-therapy are red light, blue light, and near infrared light. These operate at different wavelengths which can reach different depths of the skin and treat various skin conditions.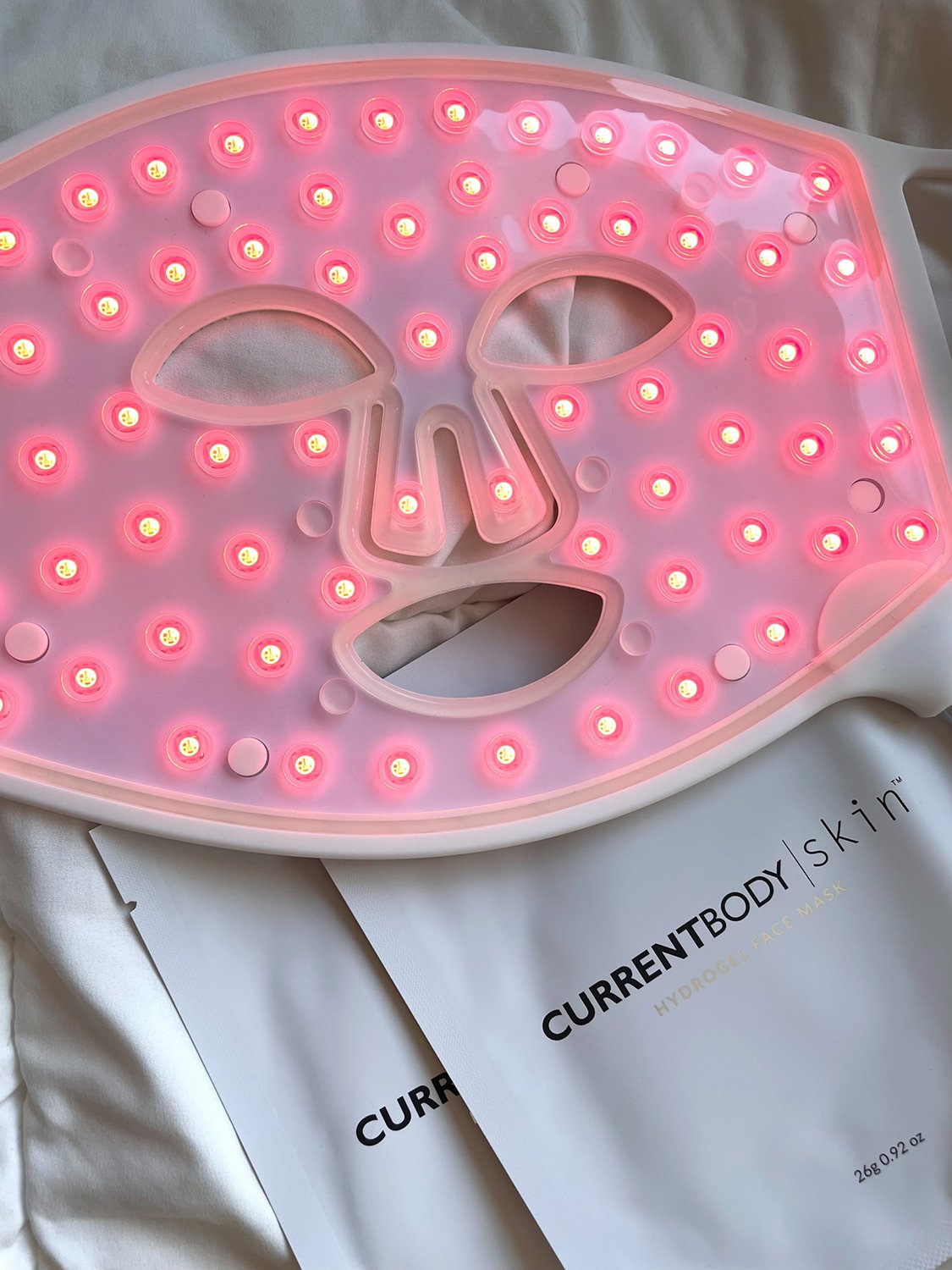 Light therapy has been used in the medical and scientific fields for decades.
The two different wavelengths this mask uses are 633 nm from red light and 830 nm from the near infrared light. These are both the ideal wavelengths that clinical studies1 have shown to have these effects on the skin:
Stimulate fibroblasts to increase collagen and elastin production to smooth fine lines and wrinkles.
Increase the cell renewal process and stimulate anti-inflammatory cytokines.
Improve skin texture and increase blood circulation to the tissue.
Accelerate wound healing.


There is no blue light present in the mask. Although devices that use blue light are meant to destroy acne-causing bacteria, there is a risk of causing hyperpigmentation for those that are prone to it. So, in my opinion, it's better that's not included.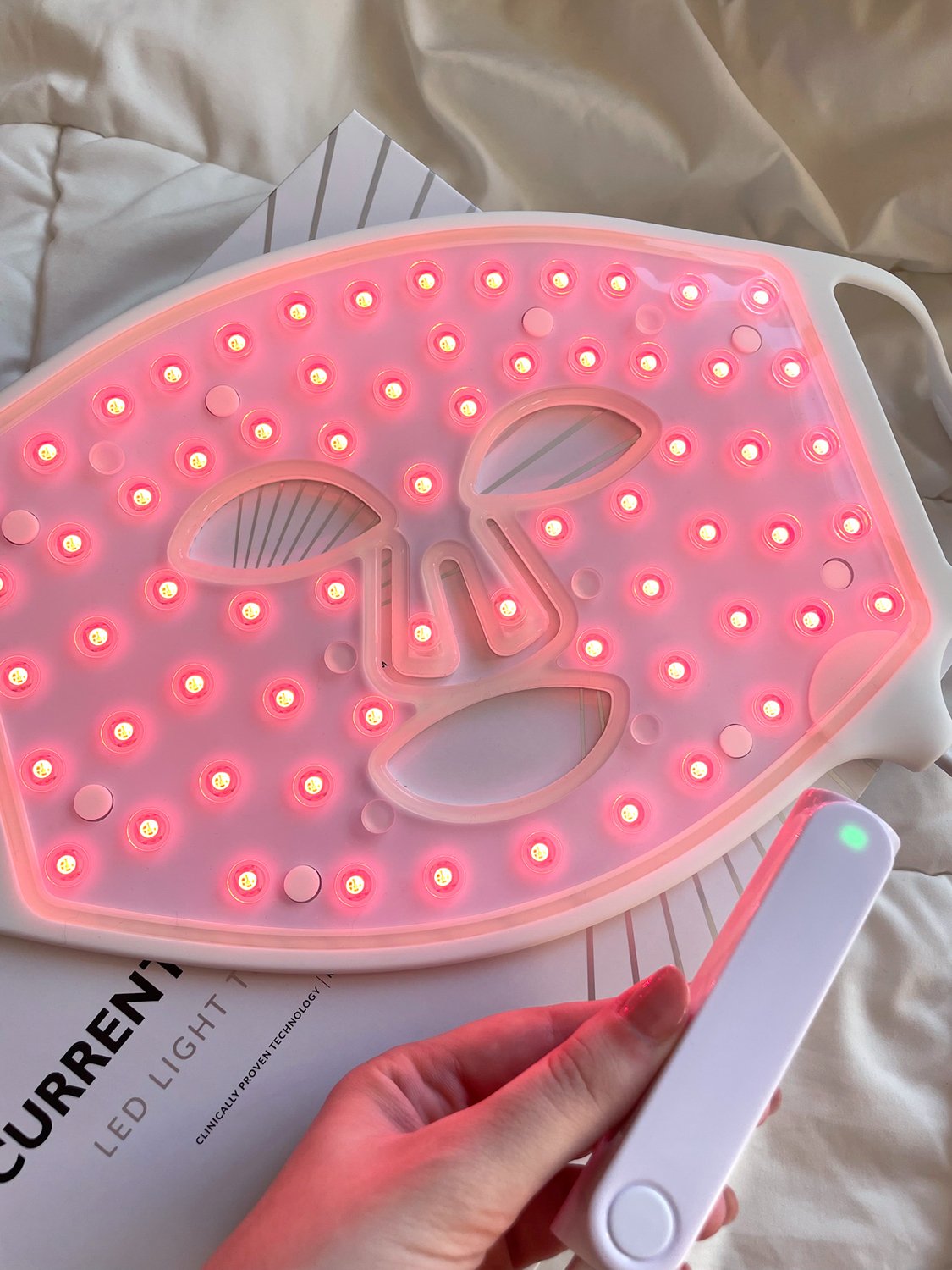 Irradiance
The power of this LED mask is 30 mW/cm2 (energy per square centimetre received per second.). 40-150 mW/cm2 is the ideal range. The higher this number, the higher concentration of photons that are passing through your device. However, home devices don't usually go above 50 due to the risk of overheating. This avoids potential side effects and makes this mask safer to use.
The treatment will not be as intense as getting it done professionally, but the effects of the mask are cumulative, so you can get results with regular use!
Fluence is another variable and measures the total amount of energy delivered per area. The effective amount of Joules/cm2 is proven to be anywhere from 10-50J/cm2 and the CurrentBody LED mask falls within that range at 18J/cm2.


How to use the CurrentBody LED mask?
The mask doesn't cause any sensitivity from the sun so it can be used any time during the day or night. I prefer to use mine before doing my nighttime routine after cleansing the face.
1. Should be put on cleansed dry skin with no product on. CurrentBody does provide face masks and different serums which you can use beneath the LED (or on their own) to enhance its benefits.
I did try their Hydrogel Face Mask. Surprisingly, these stay on so well without sliding off. They make the skin smooth, plump, reduce redness significantly, and leave no sticky residue. They contain fragrance though, so if you are sensitive to it, these are not for you.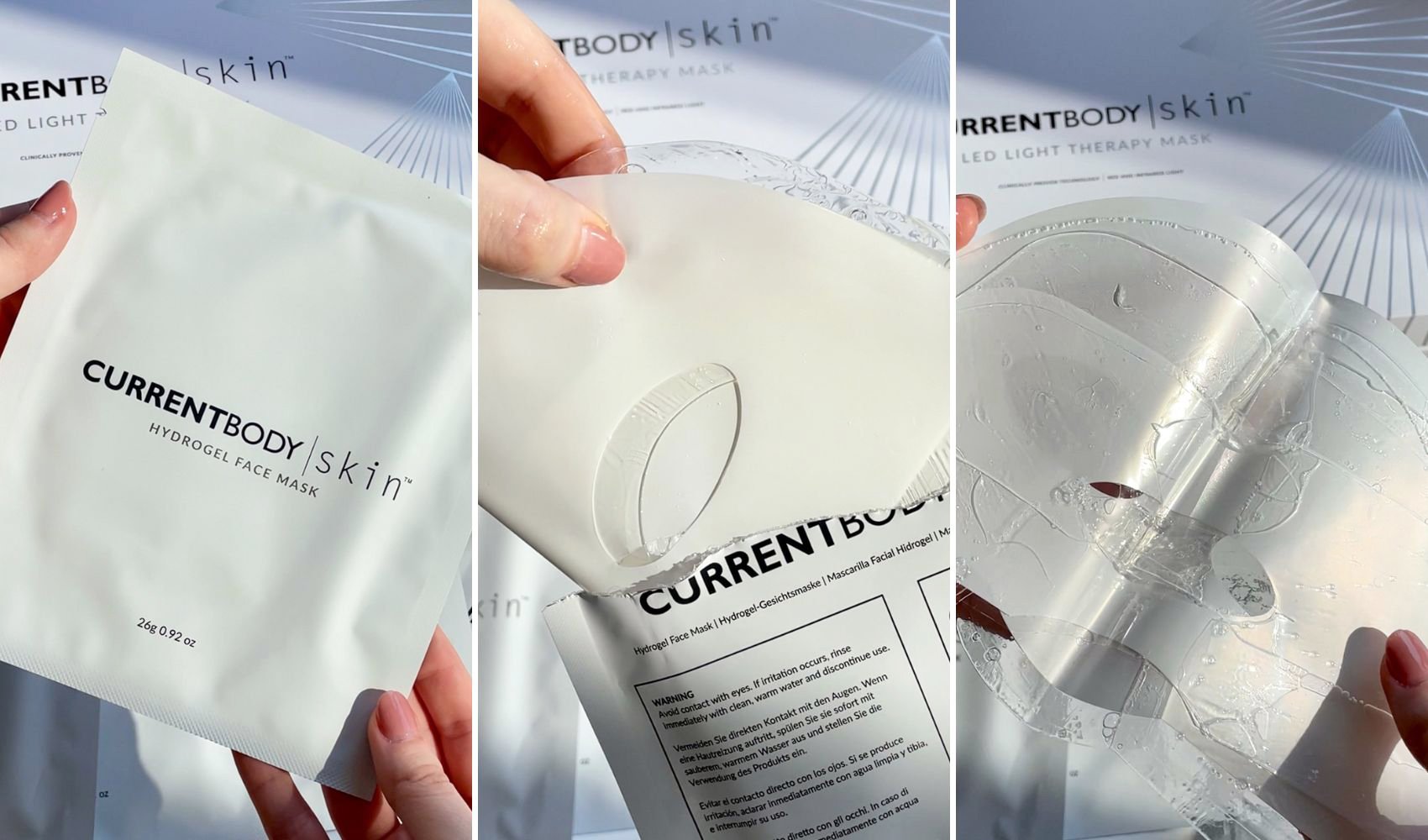 Not only do these stay well on their own, but don't budge even under the LED mask! At first, I thought the process would be messy, but that wasn't the case.
I personally use the LED mostly on its own since I'm lazy. But the hydrogel masks are a really nice addition sometimes.
2. Put on the LED mask and secure the strap so it fits snug on the face.
3. Turn on the device by pressing the power button. I like that it's a simple process and I don't have to figure out complicated instructions.
4. Put on the protective goggles if the light is too strong for you. The light is safe for the eyes, however, if it bothers you, it's nice to have the goggles on hand. I only used them once in the beginning.
5. Have the treatment done for 10 minutes. You can easily move around the house with the mask on.
6. Proceed with your skincare routine. It's okay to use your actives after LED treatment.


What results did I notice from the LED mask?
I have been using the CurrentBody Skin LED Light Therapy Mask consistently for 5 weeks and the most visible results for me are: smoother skin texture and reduced redness! It has a great anti-inflammatory effect on my skin which in turn makes my skin look brighter and more even. Due to the reduced inflammation, my acne don't appear as angry either and seem to be going away faster.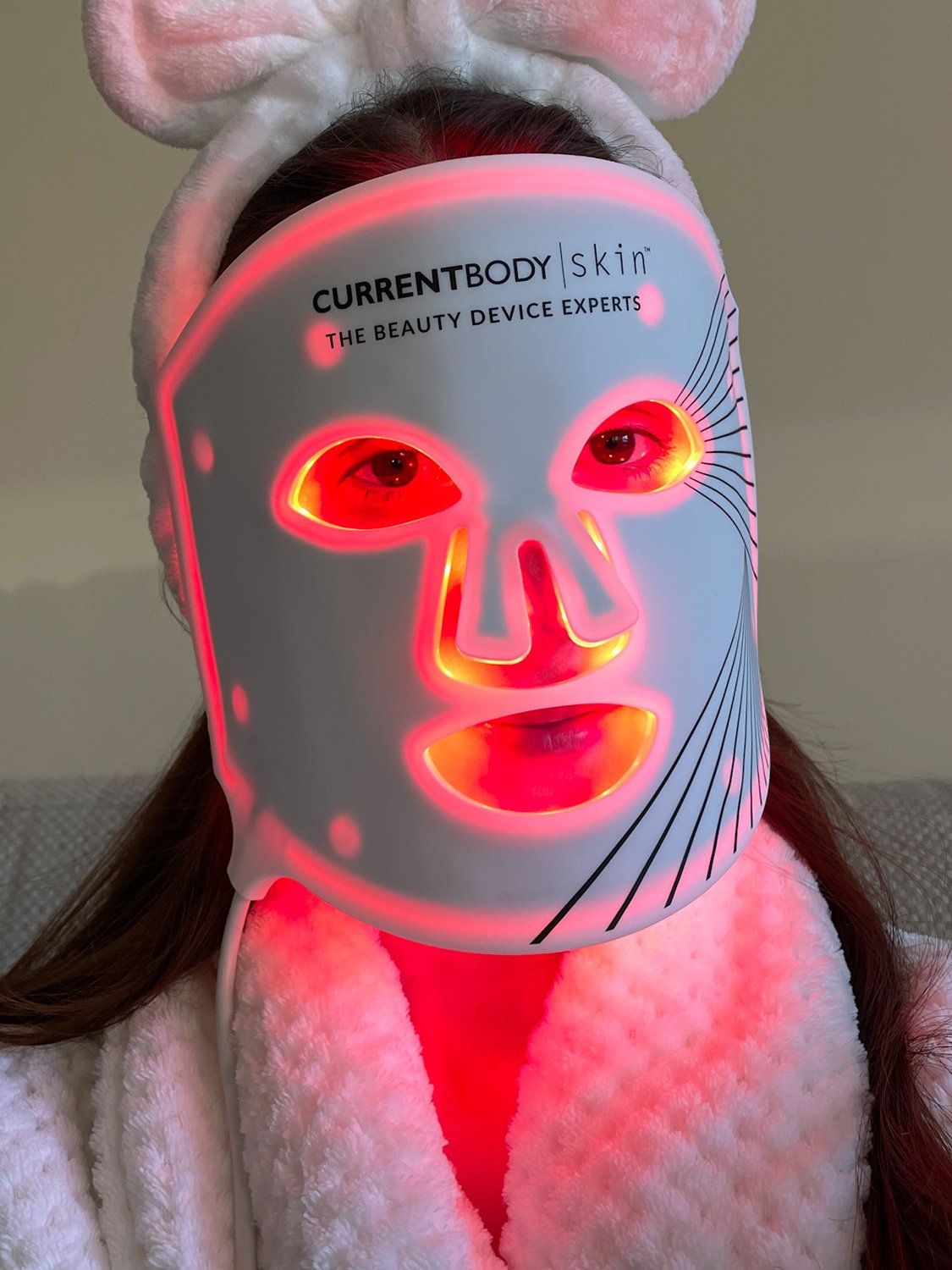 This is a noninvasive treatment and with such treatments you need to be consistent and use them long-term to notice results regarding fine lines and skin elasticity. As we age, collagen production slows down and sun damage further breaks it down. So, although I haven't noticed any visible results on my existing lines, except for the undereyes where I think the difference is very subtle, I do believe its effects on antiaging.
Sometimes, I say I'm lazy with skincare routine, but I have been consistent with the LED mask because I actually really enjoy using it! It's very easy and convenient to use, requires almost no effort, and you only need to put it on for 10 minutes! Cannot get easier than that!
I'm happy I incorporated this in my skincare routine. I feel it provides something extra that cannot be achieved with skincare alone. If you have the money to splurge and feel like you are at a stage where you need something more than just skincare products, (but you are not ready for invasive treatments either) then this mask would be a great choice!


---
*Sponsored – by CurrentBody, but opinions remain my own.
*Affiliate Links – It means I may earn a small commission when you purchase a product through the links I have provided, at no extra cost to you. I greatly appreciate your support for the blog!
Related posts
Follow blog via Email
Get the latest posts from this blog delivered to your inbox!
About Me
Hi and welcome to Kbeauty Notes! :) I'm Ledia and I'm very passionate about everything skincare. I created this blog to share my thoughts and experience with many amazing and not so great products out there, hoping to help you make better decisions regarding your skin. I'm very happy to bring you on this journey with me and I hope you enjoy it! <3

My Skin Type: Oily, acne prone, dehydrated, a little sensitive, large pores.

Skincare Concerns: hydration, pore care, anti-ageing, PIE (acne marks), brightening.

Contact: kbeautynotes@gmail.com