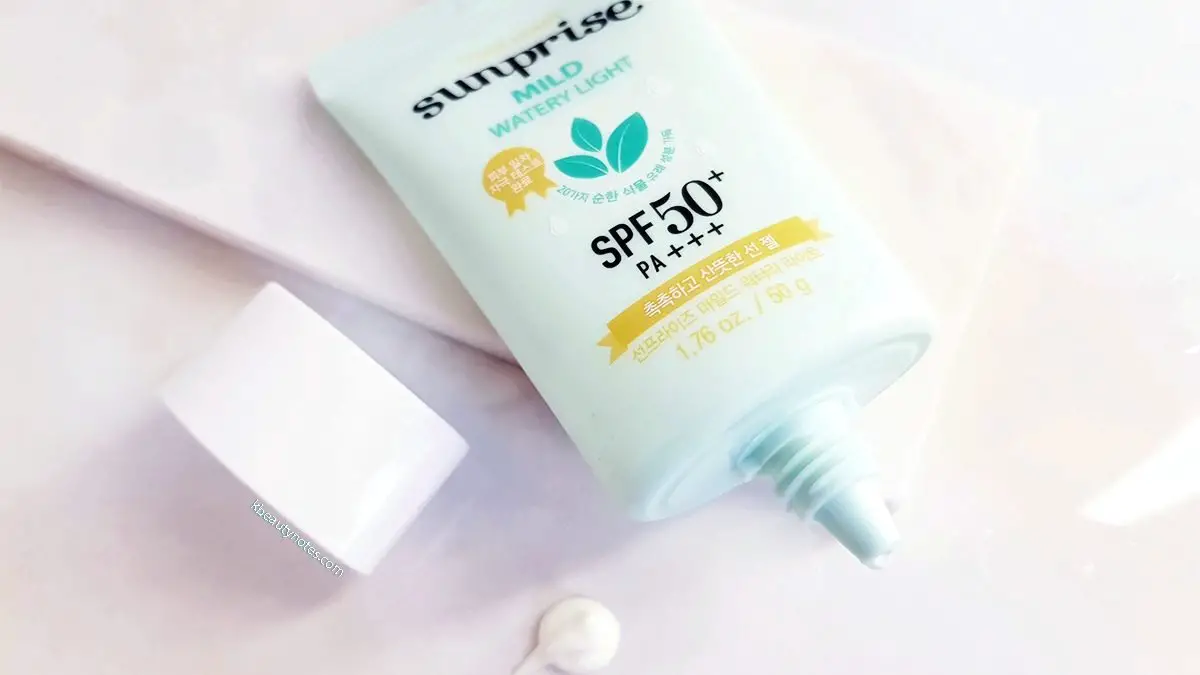 Where is my sunscreen squad at? Have you noticed I'm a big fan of organic sunscreens? I just love them! The textures are great, they wear well and actually none of the ones I've tried has caused any kind of irritation to my skin. The Etude House Sunprise Mild Watery Light has been on my wishlist for a very long time and I'm very happy I decided to get it. Not only have I heard great things about it, but it's also very affordable. I got this together with the Purito Comfy Water Sun Block which is a physical sunscreen (review coming soon) to see how'd they compare or if I'll have a change of heart for inorganic sunscreens.


What is the Etude House Sunprise Mild Watery Light?
The Etude House Sunprise Mild Watery Light is an organic (chemical) sunscreen with SPF50+ and PA+++ rating for UVA protection (should range from PPD 8 to 16). The tube contains 50g (1.76 fl.oz.) of product. I see it described everywhere as a light and gentle sun gel type, but it is not a gel.


Application
Apply this sunscreen after all the skincare of your morning routine has been absorbed. Then, proceed with makeup. Sometimes you cannot control the amount of product you get out from squeeze tubes. I always shake the product inside so it gathers at the opening and there are no air bubbles.


Consistency
Just like the name suggest this is light, smooth and non-greasy. Applies super easily and fast. You don't have to rub into the skin. The less you rub your sunscreen and move it around, the better.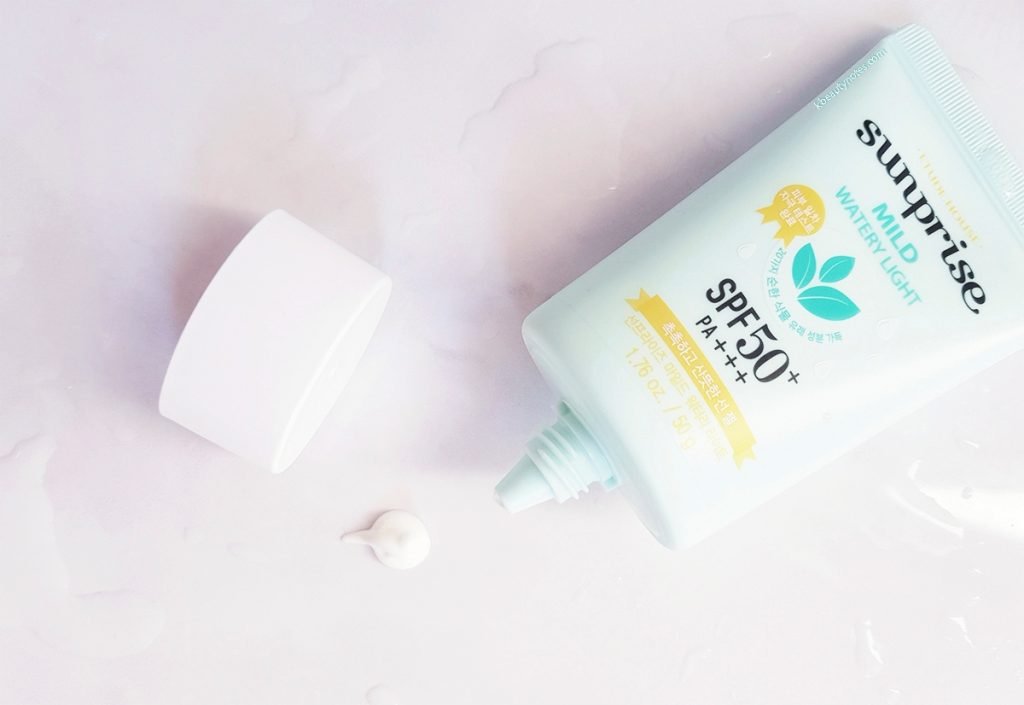 Performance
Probably the most lightweight creamy texture I've tried, which goes beautifully on the skin. The finish is silky smooth and it leaves a subtle healthy glow. It doesn't have that greasiness that usually sunscreens have, but feels like an emulsion almost. Moreover, it doesn't sit on fine lines or creases, and despite applying it close to the eye area I didn't experience any stinging.
Absolutely zero white cast and no pilling! Hence, I can confidently recommend it for darker skin types. Due to its lightweight consistency, it's so easy to re-apply! I've always found this to be a struggle with western sunscreens, so I wouldn't bother to re-apply my sunscreen at all. I'm sure this is an issue we all face.
This worked great under my makeup. There was no creasing or separating. Used it during summer weather and usually my skin looks oily at the end of the day, but I was surprised it still looked decent. Only 2 layers of toner, essence or serum are enough to use for my oily dehydrated skin before applying sunscreen. But even adding an emulsion hasn't actually changed its perfomance.
It didn't break me out or cause any irritation on my skin. I think it would be suitable for all skin types whether you're oily, normal, combo or dry. You oily skin gals like me will love it. It's more difficult for us to find a sunscreen that doesn't make our skin super shiny. The formula contains alcohol, but it hasn't dried out my skin. I would've noticed that immediately due to my dehydration issues. If you have acne prone or sensitive skin please always check out the ingredients carefully.
It does have a scent that lingers for some time, but for me it's very tolerable. It doesn't bother me and I actually kinda enjoy smelling it. This is something to consider, if you're sensitive to scents.


Ingredients
The Etude House Sunprise Mild Watery Light chemical filters are: Octinoxate (UVB), Homosalate (UVB), Ethylhexyl Salicylate (UVB), Uvinul A Plus (UVA) – New generation UVA filter with high UVA protection and photostability , Octocrylene (UVB/UVA II).
Below you have the current ingredients as listed on the packaging it came with and the Etude House official website. The formula no longer contains Bergamot Fruit Oil, Lemon Peel Oil, Eucalyptus Leaf Oil, Scot'S Pine Leaf Oil, Lime Oil, Orange Peel Oil. Great news for those that react to essential oils! I noticed that most websites have not updated this info yet.
It does contain a couple plant and fruit extracts like Centella Asiatica (Gotu Kola) Extract, Portulaca Oleracea (Green Purslane) Extract, Cactus Extract and Kakadu plum Extract, Aloe Barbadensis (Aloe Vera) Leaf Juice, which have antioxidant and soothing properties. Hyaluronic acid is part of the mix, too.
The formula still contains alcohol and fragrance.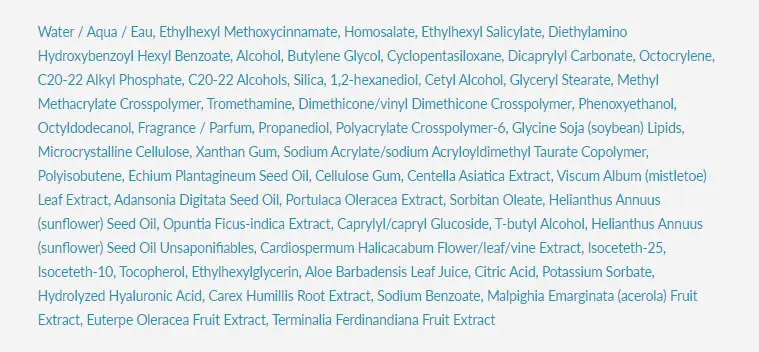 Final Verdict
Pros
Zero whitecast (would be suitable for darker skin).
It doesn't pill.
It's very easy to spread and re-apply.
Leaves a soft non-sticky finish.
Feels hydrating for my oily dehydrated skin but not greasy at all.
Suitable for all skin types. (check ingredients if you have sensitive/acne prone skin.)
It didn't cause breakouts or irritation.
It doesn't sting my eyes.
Wears well under makeup.
Affordable.
Cons
Contains alcohol and fragrance (for those that can be sensitive to these two ingredients).
Not waterproof.
In conclusion, this sunscreen has won a Holy Grail status for me. It's everything you can wish for in a daily sunscreen: No whitecast, no pilling, great texture, soft finish, moisturizing but not greasy, works well under makeup and you can find it for less than $15 online. Sunscreen is something we must use everyday, so I think brands SHOULD make them affordable! If I were to go to the beach or excercize outdoors I would opt for a sunscreen that is labeled waterproof or water resistant instead. I would only feel confident wearing a sunscreen like the Bioderma Photoderm MAX at the beach or in extreme conditions.
In addition, it didn't break me out or irritate my skin, but everyone's skin is different. Therefore, if you have these skin concerns please check out the ingredients carefully. I would definitely repurchase this sunscreen and I highly recommend it!

Where to buy: If you're interested in getting the Etude House Sunprise Mild Watery Light SPF50+ PA+++, you can find it at Stylekorean* currently on sale for $8.40. It's also available at Jolse* and Yesstyle* (For some reason Yesstyle doesn't ship Etude House to the US and Korea).
Have you tried this sunscreen or the Sunprise Mild Airy Finish? Please let me know your experience! And drop your HG, too!


---

*Affiliate links. It means I earn a small commission when you purchase a product through the links I have provided. You will not be charged extra if choosing to do so. I have purchased the product with my own money and I will always share my honest opinion and experience. Sincerely thankful to all of you that support my blog! For more information, see Disclosure Policy.


Related posts
Follow blog via Email
Get the latest posts from this blog delivered to your inbox!
About Me
Hi and welcome to Kbeauty Notes! :) I'm Ledia and I'm very passionate about everything skincare. I created this blog to share my thoughts and experience with many amazing and not so great products out there, hoping to help you make better decisions regarding your skin. I'm very happy to bring you on this journey with me and I hope you enjoy it! <3

My Skin Type: Oily, acne prone, dehydrated, a little sensitive, large pores.

Skincare Concerns: hydration, pore care, anti-ageing, PIE (acne marks), brightening.

Contact: kbeautynotes@gmail.com