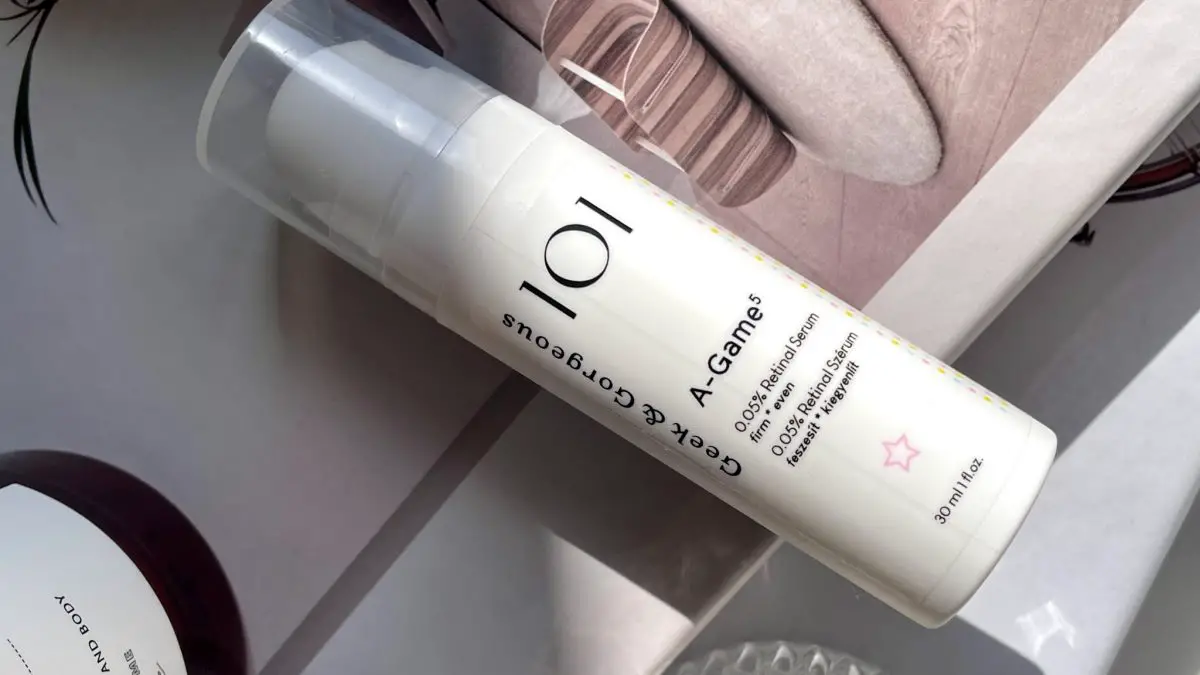 I'm back with another review from the Hungarian brand Geek & Gorgeous. After reviewing their Jelly Joker Low pH Gentle Cleanser and the C-Glow Vitamin C Serum, this time, I'm sharing my thoughts on a potent antiaging retinoid product – the Geek & Gorgeous A-Game 5 Retinal Serum.


Where to buy: You can purchase the Geek and Gorgeous Retinal (0.05%) on the G&G website. This serum also comes in 0.1% retinal strength – A-Game 10. They offer free shipping for Europe for orders over €50 and the US for orders over $60.
Price: €13.80
Volume: 30ml (1.01 fl.oz.)
PAO: 6 months.
Packaging: It's a simple airtight pump bottle with a cap. Nothing fancy.
What is Retinal
It is known that retinoids hold the crown when it comes to skincare. These antiaging superstars help reduce the signs of aging, such as fine lines, wrinkles, and age spots. They stimulate collagen production, improve skin elasticity, and promote a smoother, more youthful complexion.
Retinal (a.k.a retinaldehyde) is a form of Vitamin A and a direct precursor of Retinoic Acid (tretinoin) – the active form that our skin can use. To reach this active form, retinal needs only one conversion step, unlike its smaller brother, retinol which needs two steps. This makes retinal more effective than retinol, but irritation can be greater.
Geek & Gorgeous A-Game 5 Retinal Serum
A lightweight emulsion-type product that contains 0.05% retinal, which is designed for antiaging, loss of skin elasticity, and hyperpigmentation. It can also help with acne-prone skin.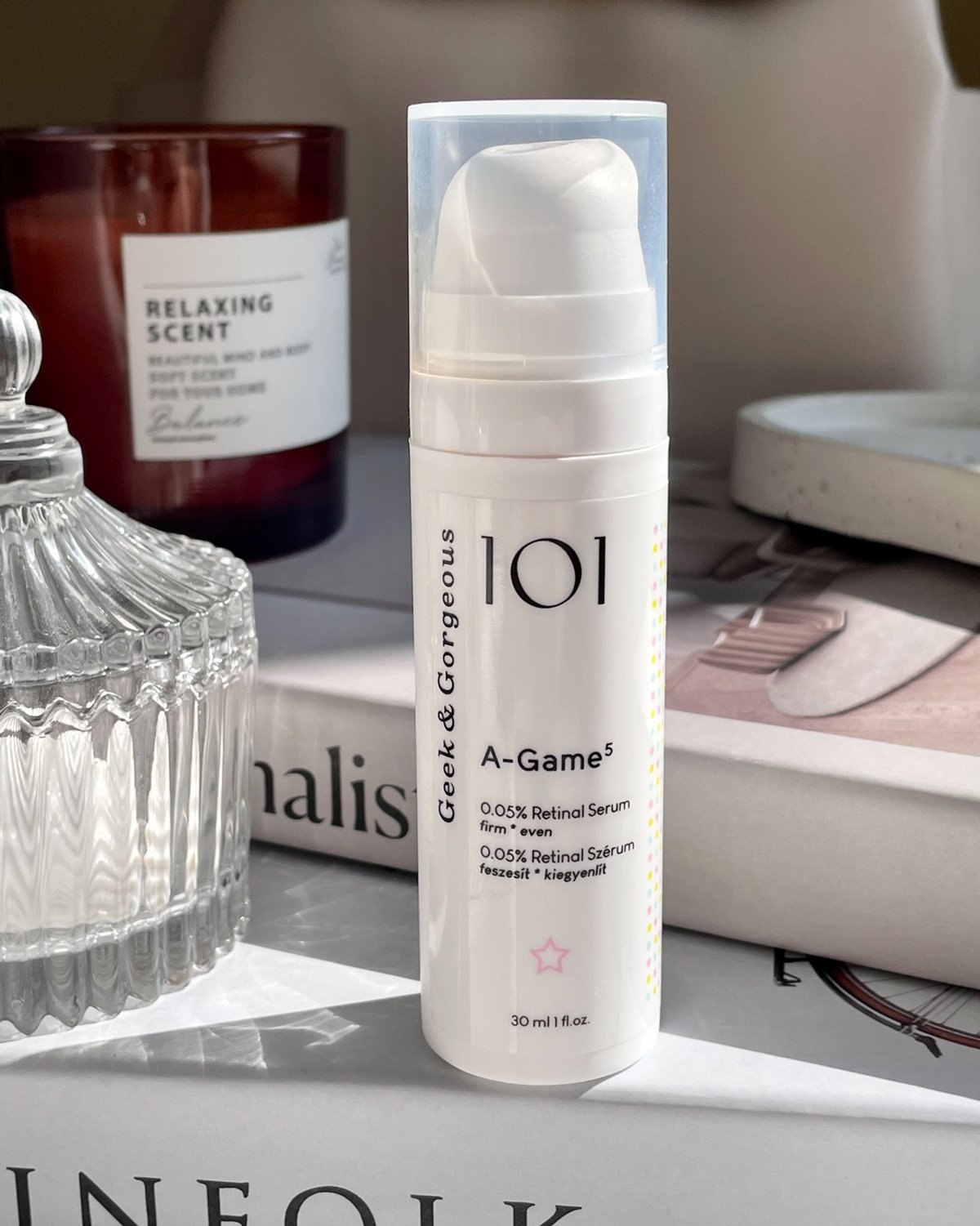 Application
Just like with all retinoids, the method of usage is very important.
Only a pea-size amount (half a pump) is needed for the whole face in the PM. If you're a beginner, taking extra steps to prevent irritation is always recommended. Start every 72 hours, and if your skin tolerates it well for the first 2-3 weeks, you can increase the frequency.
This goes after your liquid-type products, which should have dried down completely, and before moisturizer. Allow 20-30 minutes before and after using the retinal. Wet skin increases penetration, and when using active ingredients, irritation can increase.
Give it time to absorb before bed, as it could stain your pillowcase.
Sunscreen in the AM is necessary!
Consistency
As described, the consistency feels like a lightweight lotion and spreads easily on the face. Absorbs well without any sticky residue or greasiness. Also, the yellow color of the serum comes from retinal.
Scent
Subtle scent from its ingredients since the formula is fragrance-free.
My Impressions
First, I like the consistency of this serum. When the consistency is not right, the product becomes unusable since you're less likely to reach for it. But this has a silky and lightweight feel that is very comfortable on the skin.
I think all skin types would like it, but dry skin would certainly need something extra to replenish moisture. Unlike a typical serum, you cannot apply a lot of product, so you need to follow with a moisturizer if you see that you need it.
One mistake I made while using this was applying it directly on the skin after cleansing. I thought I could tolerate it, but I was wrong. My skin started stinging in some places, especially around the nose area. I felt it more when I cleansed my face, so I had to stop using it for a few days.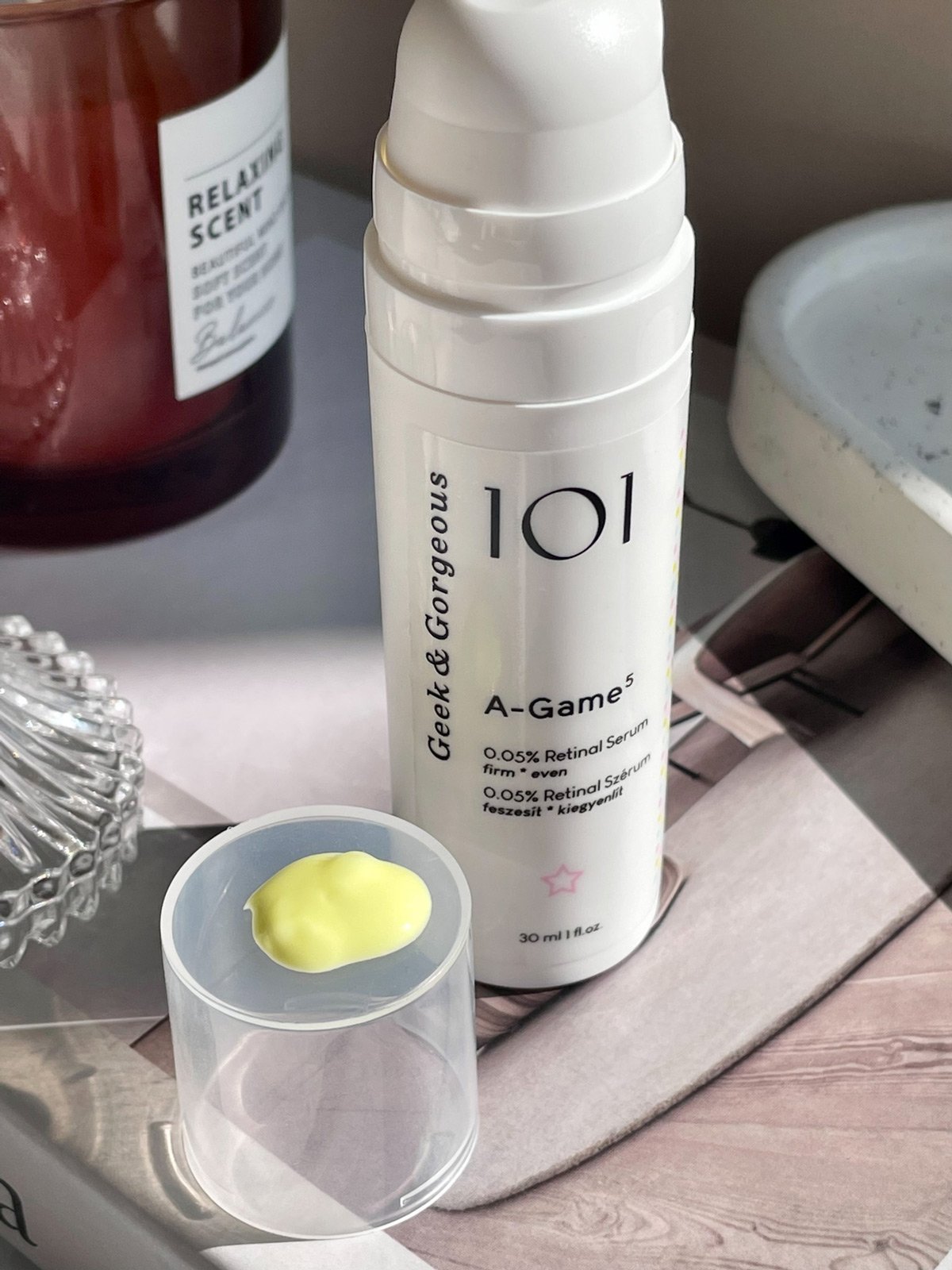 Sometimes it may look like your skin is fine until it starts to turn red and peel, so it's important always to start slow with an active ingredient, especially retinoids. After I gave my skin time to restore, I started using it after another serum that I used as a buffer once every 3-4 days, and it was fine.
The improvement in skin texture is evident with retinoids, because they help speed cell turnover. The face feels so much smoother, and the makeup sits better too. This is the change that you will notice fast.
I can't even think of using a separate exfoliant (not on the same day, of course!) since that would be too much. I know my skin is not built for so much stimulation. And many of you will probably not need an AHA/BHA while on retinoids, not only because of the irritation that can follow but also because they'd cause more dryness.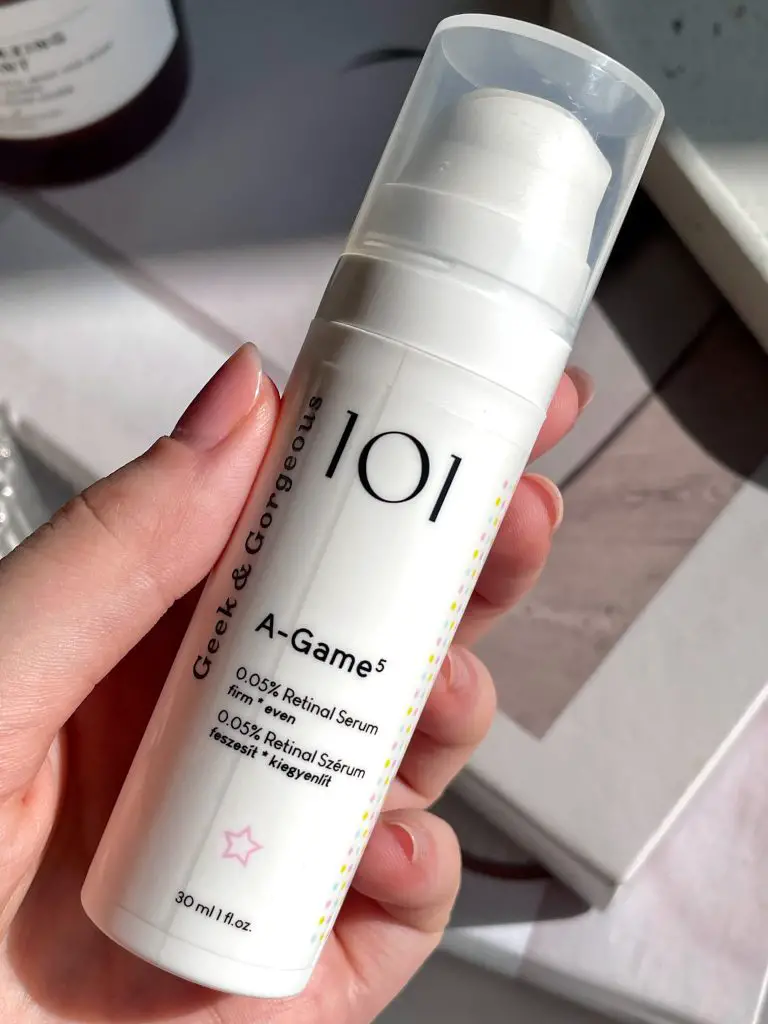 I do notice that some brown spots I have are lighter in color, but I cannot attribute it only to this product. This is certainly effective if used long-term, but I am also constantly testing other actives and not skipping on sun protection.
I love using it with snail mucin or a niacinamide serum since it helps lower the risk of irritation while simultaneously strengthening the skin barrier.
If you're already on tret, there's no need to use retinal. But if you've been using retinol and do not see more improvement, you can increase its % or upgrade to retinal.
Geek and Gorgeous Retinal Ingredients
Retinal 0.05% (antiaging), Biosaccharide Gum-1 (moisturizing and soothing, which lowers retinal irritation), Allantoin (soothing), Panthenol (barrier repair).
Cyclodextrin (stabilizes retinal).
Free of alcohol, fragrance, & essential oils.
Aqua (Water), Caprylic/Capric Triglyceride, Oleyl Erucate, Glycerin, Triheptanoin, Cetearyl Olivate, Sorbitan Olivate, Cyclodextrin, Hydroxyethyl Acrylate/Sodium Acryloyldimethyl Taurate Copolymer, Biosaccharide Gum-1, Allantoin, Retinal, Rubus Chamaemorus (Cloudberry) Seed Oil, Panthenol, Citric Acid, Tocopheryl Acetate, Disodium Edta, Pentylene Glycol, Lonicera Japonica (Honeysuckle) Flower Extract, Lonicera Caprifolium (Honeysuckle) Flower Extract, Ethylhexylglycerin, Phenoxyethanol
Final Verdict on the Geek & Gorgeous A-Game 5 Retinal Serum
Pros
Lightweight lotion consistency.
Soft finish, non-greasy or sticky.
Potent antiaging properties.
Improves skin texture.
Didn't cause breakouts.
Suitable for oily, combination, and dry skin types.
Free of alcohol, fragrance, and essential oils.
Cruelty-free & Vegan.
Affordable.
Comes in 0.05% and 0.1% strength.
There's no doubt that this product is fantastic for an antiaging routine, but whether you can tolerate it will depend on your skin. Using it as directed is very important. This can also be a good choice if you'd like to upgrade from retinol. Did I mention that it's also very affordable? Like all Geek & Gorgeous products are. Definitely do not sleep on this brand!

Did you find the Geek and Gorgeous Retinal Serum Review helpful? What products have you tried from G&G?
---
*PR Sample – gifted by Geek & Gorgeous, but opinions are entirely my own.
*Affiliate Links – It means I may earn a small commission when you purchase a product through the links I have provided at no extra cost to you.
Related posts
Follow blog via Email
Get the latest posts from this blog delivered to your inbox!
About Me
Hi and welcome to Kbeauty Notes! :) I'm Ledia and I'm very passionate about everything skincare. I created this blog to share my thoughts and experience with many amazing and not so great products out there, hoping to help you make better decisions regarding your skin. I'm very happy to bring you on this journey with me and I hope you enjoy it! <3

My Skin Type: Oily, acne prone, dehydrated, a little sensitive, large pores.

Skincare Concerns: hydration, pore care, anti-ageing, PIE (acne marks), brightening.

Contact: kbeautynotes@gmail.com