What do you think of hydrogel eye patches? Are you a fan? Although I've seen countless posts on eye patches on social media, for some reason I wasn't very drawn to them. I just thought, well, they're pretty for sure but how effective can they be? Let's jump into this Heimish Bulgarian Rose Water Hydrogel Eye Patch review to find out!


Where to buy: These are available at Yesstyle (reward code: KBEAUTYNOTES for 5% off your order, can be used together with other coupons), Stylevana US / Stylevana EU, and StyleKorean.
Price: $12-$16
Volume: 1.4g x 60 pieces.
PAO: 12 months after opening.
Packaging: The product comes in a tub with a screw cap and a spatula to help pick up the eye patches hygienically.


What are the Heimish Bulgarian Rose Water Hydrogel Eye Patches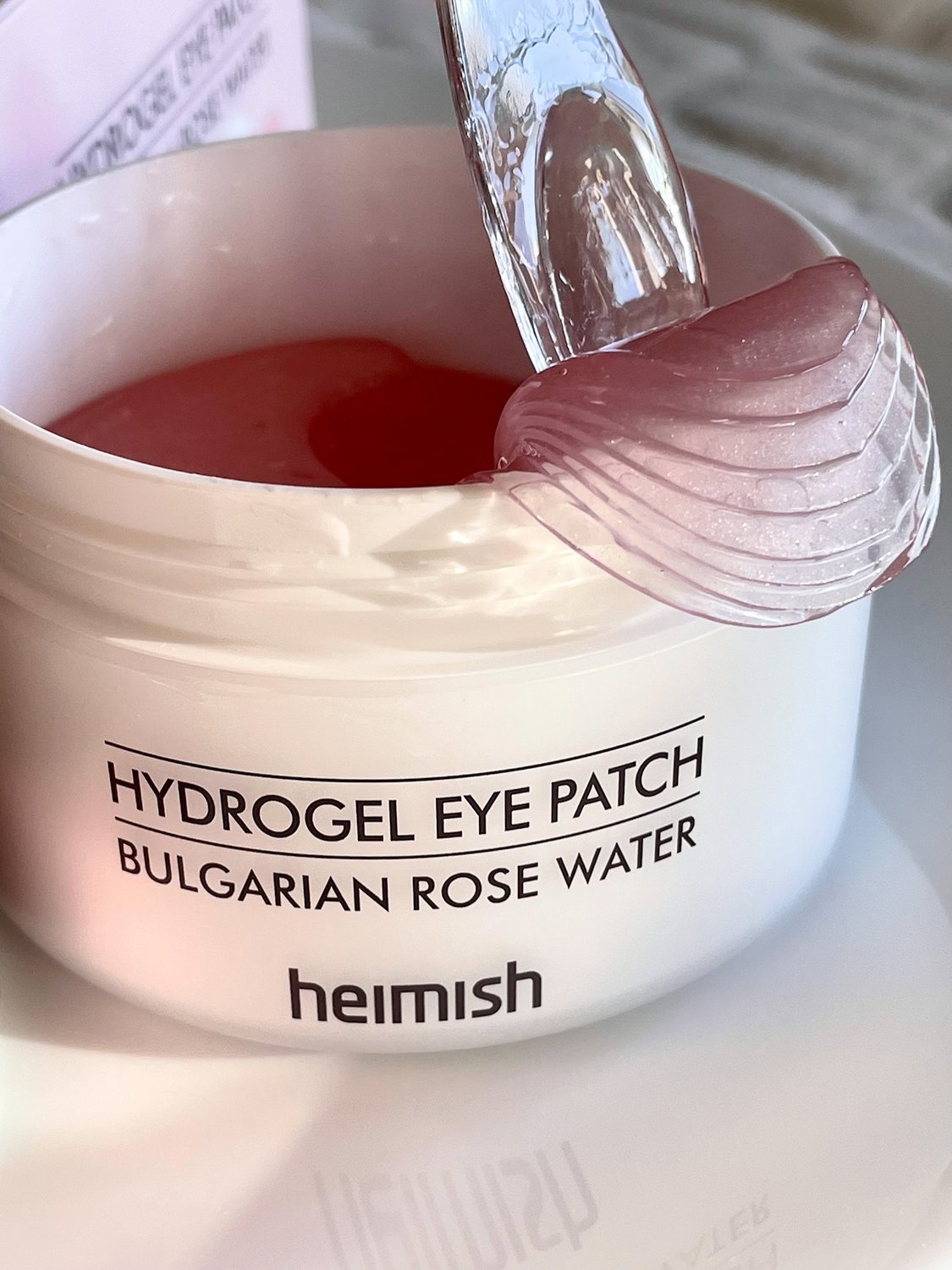 These soft multifunctional eye patches keep the delicate under eye area hydrated, brightened and firm for healthy looking skin. It's formulated with Bulgarian rose water that is rich in vitamins and has antioxidant properties. The elastic hydro-gel material of the eye patches allows for better absorption of the essence.


Application
Use the spatula to pick up two pieces and place them under the eyes. The rounded part should be placed in the direction of the inner corner of the eye in order to cover a bigger area (as per instructions). I see many people do the opposite, but I think you don't get proper coverage that way. However, eye shapes also vary so you can use them in whatever way is more suitable for you.
They can be used on the nasolabial folds or forehead lines as well. Leave on for 20-30 minutes. Then remove and pat the essence until it's absorbed completely.
At first I thought it would make more sense to have plastic tweezers included to be able to pick them up more easily, but they can tear the patch due to its soft material.


Consistency
Soft hydrogel patches soaked in a generous amount of essence. They feel like jell-o and a bit slimy, but overall fun to use. I love the hydrogel material. Unlike other masks, it keeps the essence on the skin for much longer without drying out.


Scent
A light rose scent that is not overpowering. Rose is not exactly my favorite scent, and I wouldn't be able to use it if it was too strong but this has the right balance.


Performance
If you place them on the skin in one go and don't move them around, they stay put. If you try to adjust them, the patches will tend to slide down. I don't do any activities when I have them on but they're not as restrictive as sheet masks or wash-off masks that can sometimes drip.
In terms of results, I didn't have high expecations in the beginning. I was expecting some hydration and maybe a bit of a cooling effect, but here's what surprised me: After leaving them on for 30 minutes, the fine lines under my eyes were almost invisible and the area looked so firm!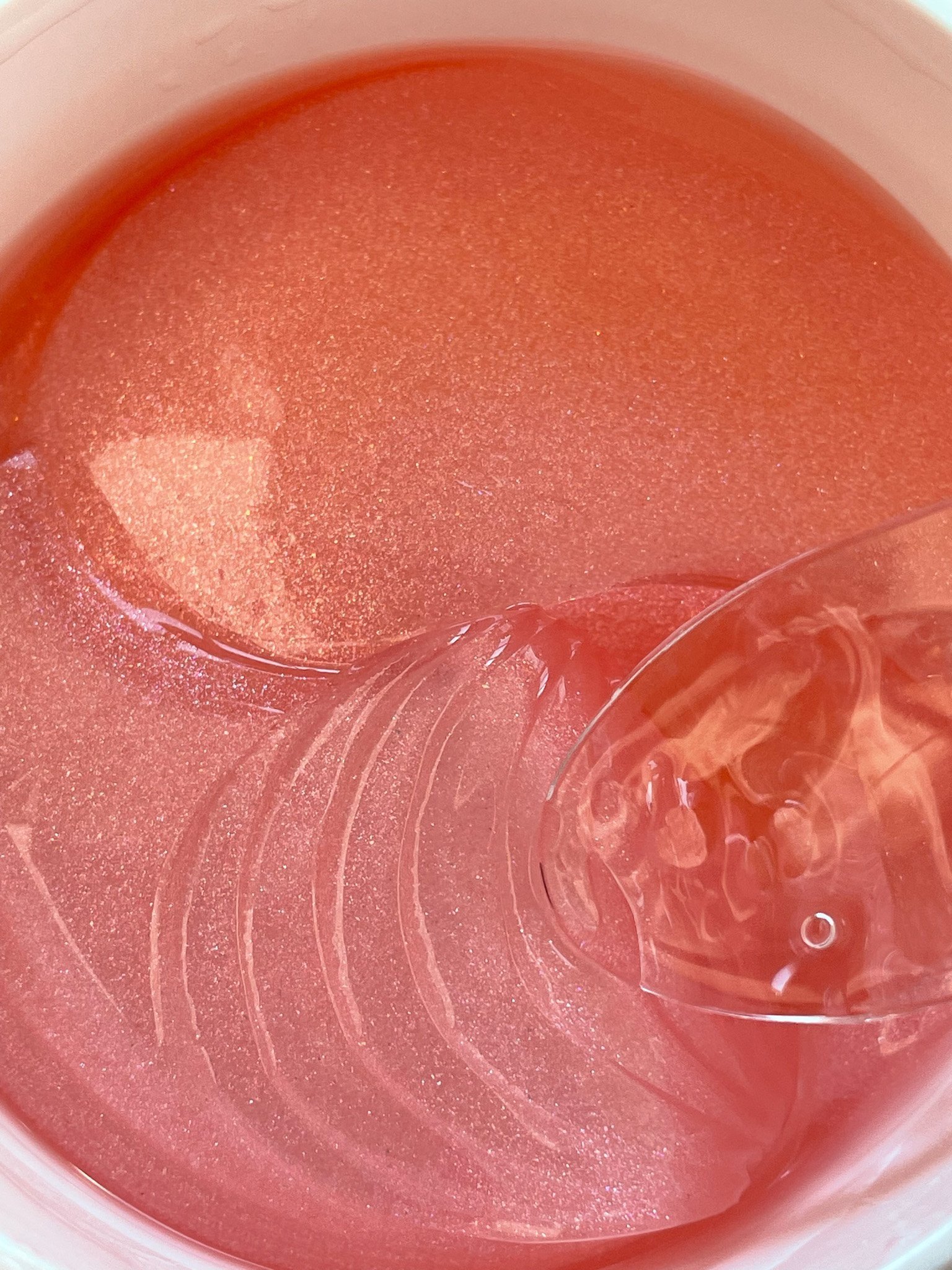 I have a lot of toners and serums that do a great job at plumping up the lines, but these impressed me. Are these the solution to removing wrinkles though? Of course not. The results are temporary due to the hydration, however if the skin stays well hydrated, it can help delay their formation.
Love using them before makeup aplication because the base and concealer go on more smoothly. The patches also feel cooling on the skin and I like putting them on when my undereyes look tired. They're very refreshing. I don't normally get puffy eyes, but I think they would definitely help a bit to de-puff. Maybe putting them in the fridge for a couple of minutes can be more effective.
Another great way to use the Heimish Bulgarian Rose Water Hydrogel Eye Patch? Sometimes I don't wait for the full 30 minutes, but after 15 minutes I slide them on other areas I need to plump up like my smile lines and forehead lines!
The only downside I have noticed is that after removing the patches, unless you pat the remaining essence until it's absorbed, it has a tendency to ball up. I almost always use these after cleansing the face so the product can be absorbed better and they can adhere better to the skin.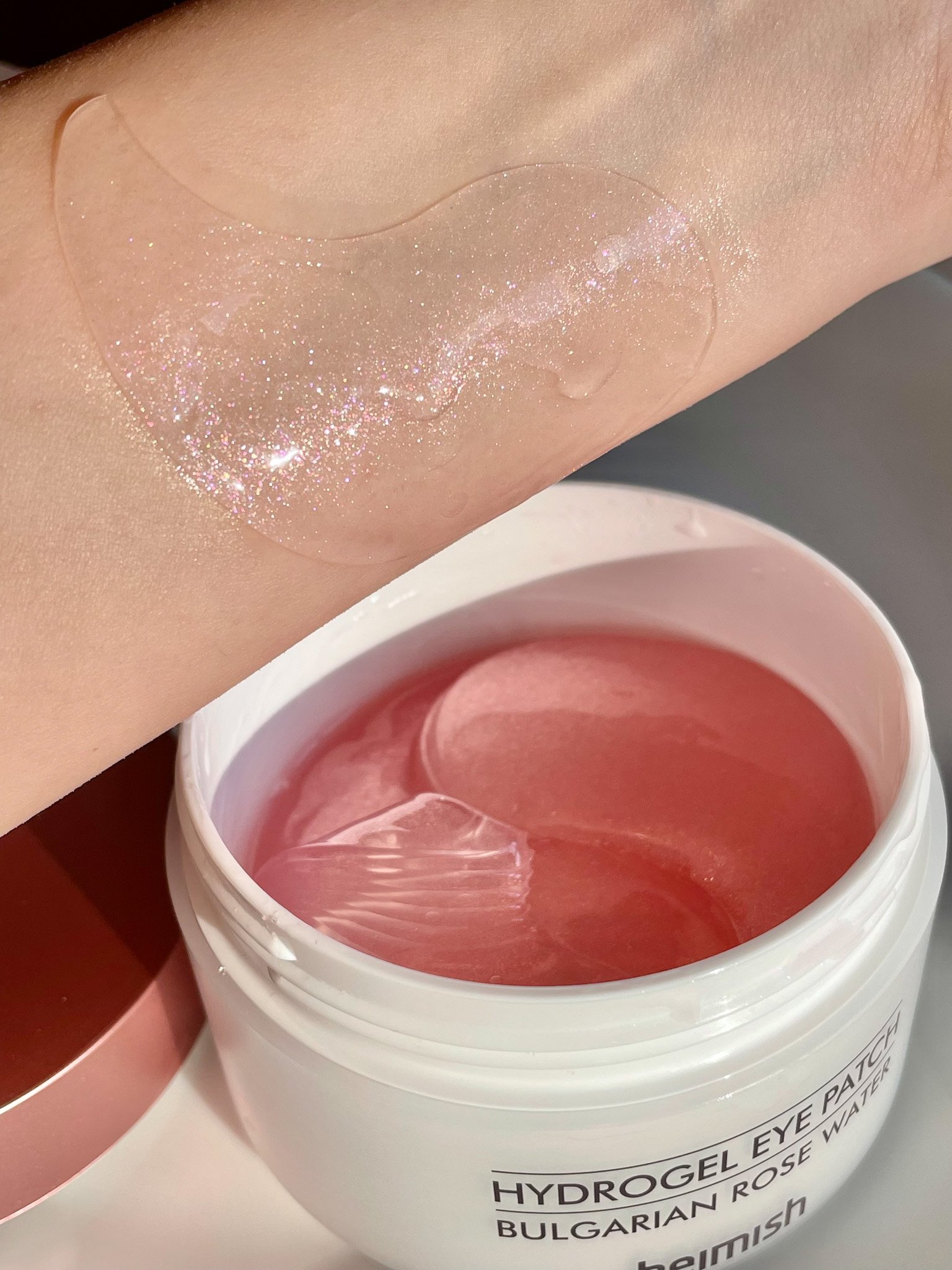 Ingredients
Besides the Rose Water, it contains a bunch of other ingredients with anti-acne (Niacinamide), antioxidant and soothing properties (Portulaca Oleracea Extract, Centella Asiatica, Witch Hazel, Dipotassium Glycyrrhizate, Allantoin).
Hydrating: Glycerin, Sodium Hyaluronate, Arginine.
Alcohol free, but contains fragrance.
Water, Glycerin, Niacinamide, Chondrus Crispus (Carrageenan), Butylene Glycol, Cocos Nucifera (Coconut) Fruit Extract , Pinus Sylvestris Leaf Extract, Propanediol, Pentylene Glycol, Rosa Damascena Flower Water(1000ppm), Nelumbo Nucifera Flower Extract, Portulaca Oleracea Extract, Hamamelis Virginiana (Witch Hazel) Extract , Centella Asiatica Extract, Ethylhexylglycerin, Sodium Hyaluronate, Dipotassium Glycyrrhizate, PEG-60 Hydrogenated Castor Oil, Ceratonia Siliqua Gum, Sucrose, Potassium Chloride, Cyamopsis Tetragonoloba (Guar) Gum, Calcium Chloride, Allantoin, Tripropylene Glycol, Dipropylene Glycol, Cellulose Gum, Chondrus Crispus Powder, Ricinus Communis (Castor) Seed Oil, Calcium Aluminum Borosilicate, Tin Oxide, Carmine, Calcium Lactate, Adenosine, Synthetic Fluorphlogopite, Titanium Dioxide, Disodium EDTA, Ethyl Hexanediol, 1,2-Hexanediol, Chlorphenesin, Arginine, Fragrance

Final Verdict on the Heimish Rose Water Hydrogel Eye Patches
Pros
Very hydrating.
Plump the fine lines considerably.

Feel cooling and refreshing.

Great to use before makeup.
Didn't cause milia or irritate the eyes.
Generous amount of essence.
Cons
The essence has a tendency to pill if not pat to absorb.
Contains fragrance for those that are sensitive to it or would like to avoid it.
l see why many like these. First, the hydrogel material is great for keeping the area moisturized for a longer time than regular masks. I love how they plump my fine lines and have a cooling effect! Makes the eye area more refreshed. Applying them directly on cleansed skin and not moving them around, would make them stay in place and not slide down. Also, I personally like the light scent. What I don't like is that you need to pat the essence otherwise if it dries on the skin surface, it will pill.
Although I don't consider products like this absolutely necessary, they're fun to use, especially on days you want to pamper yourself.

Did you find the Heimish Bulgarian Rose Water Hydrogel Eye Patch Review helpful? Have you tried them? Check more reviews from Heimish: HERE.

---
*PR Sample – Product provided by Heimish, but opinions are completely my own.
*Affiliate Links – It means I may earn a small commission when you purchase a product through the links I have provided at no extra cost to you.


Related posts
Follow blog via Email
Get the latest posts from this blog delivered to your inbox!
About Me
Hi and welcome to Kbeauty Notes! :) I'm Ledia and I'm very passionate about everything skincare. I created this blog to share my thoughts and experience with many amazing and not so great products out there, hoping to help you make better decisions regarding your skin. I'm very happy to bring you on this journey with me and I hope you enjoy it! <3

My Skin Type: Oily, acne prone, dehydrated, a little sensitive, large pores.

Skincare Concerns: hydration, pore care, anti-ageing, PIE (acne marks), brightening.

Contact: kbeautynotes@gmail.com