When the weather gets colder, my skin definitely gets more dehydrated and not as oily as in the summer. And that's when I start to look for products that'll provide that extra hydration without making my skin greasy. I had heard good things for a long time about the Isntree Hyaluronic Acid Toner so I thought maybe it's time to give it a shot and see how it'll work for my skin.


Where to buy: You can find it at Yesstyle (reward code: KBEAUTYNOTES for 5% off your order, can be used together with other coupons). You can find it both in 200ml and 400ml at Stylevana, Stylekorean (200ml size* / 400ml size*) and Jolse (200ml size* / 400ml size*).


The Isntree Hyaluronic Acid Toner – What it does
Formulated with 50% Hyaluronic Acid , Birch Sap, and Phyto Oligo to create a moisture barrier that deeply moisturizes your dehydrated skin and prevents from moisture loss for a long time. A clear gel type liquid without much stickiness or greasiness. It is a refreshing toner that is suitable for all skin types, ideal for dry and sensitive skin types.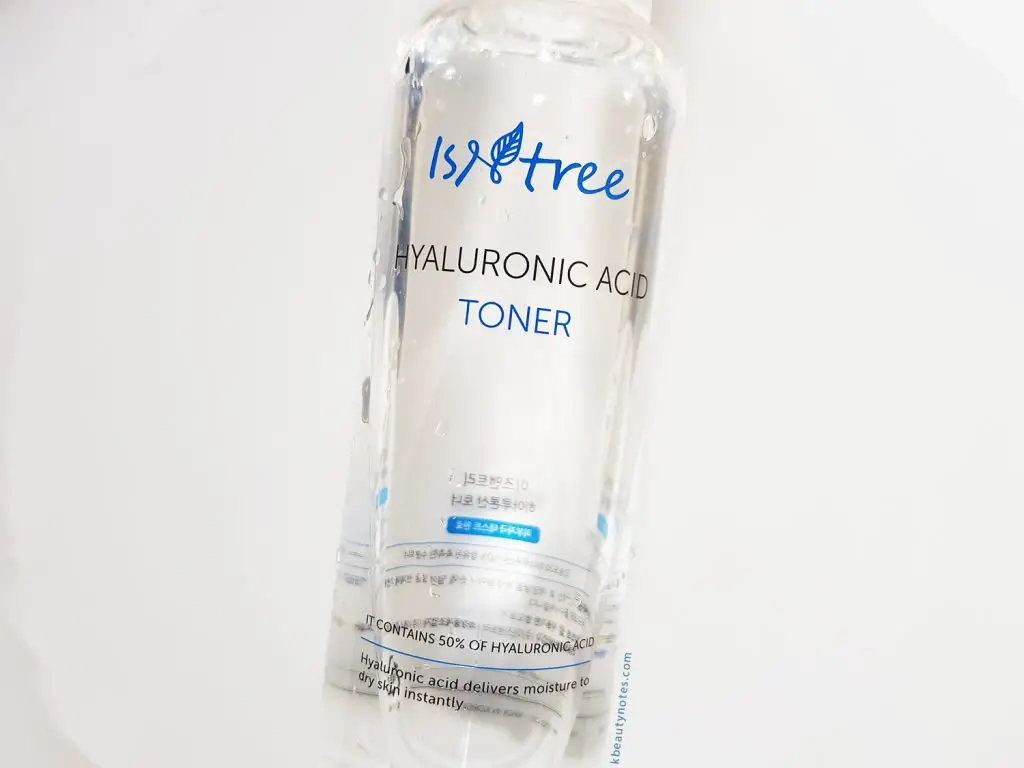 pH Level : 5.5 (+ -). It comes in a 200 ml clear plastic bottle and it's very easy to dispense. (The newer version comes in 200ml and 400ml as well.)


Application
Use this toner as the second step of your skincare routine, after cleansing and before applying the rest of your products. I apply this while my skin is still damp, because hyaluronic acid pulls in moisture and holds on to it. Even better if you apply this while you're still in the bathroom after a shower. Pour just a little onto your hands and gently massage your skin while you apply it on your face. Pat it for quicker absorbtion.
I personally do not like applying toners with cotton pads, because I solely use them for hydration, not to "cleanse" what's left of my makeup. So I think it's just a waste of product. But you can however, soak the pads and use them on your face as a mask once in a while.


Consistency
The consistency of this toner is definitely on the thicker side and it has a slippery feel. It is viscous and somewhat gel-like, however absorbs completely into the skin.
One of the reasons I like it is because it's easier to apply it without wasting any product.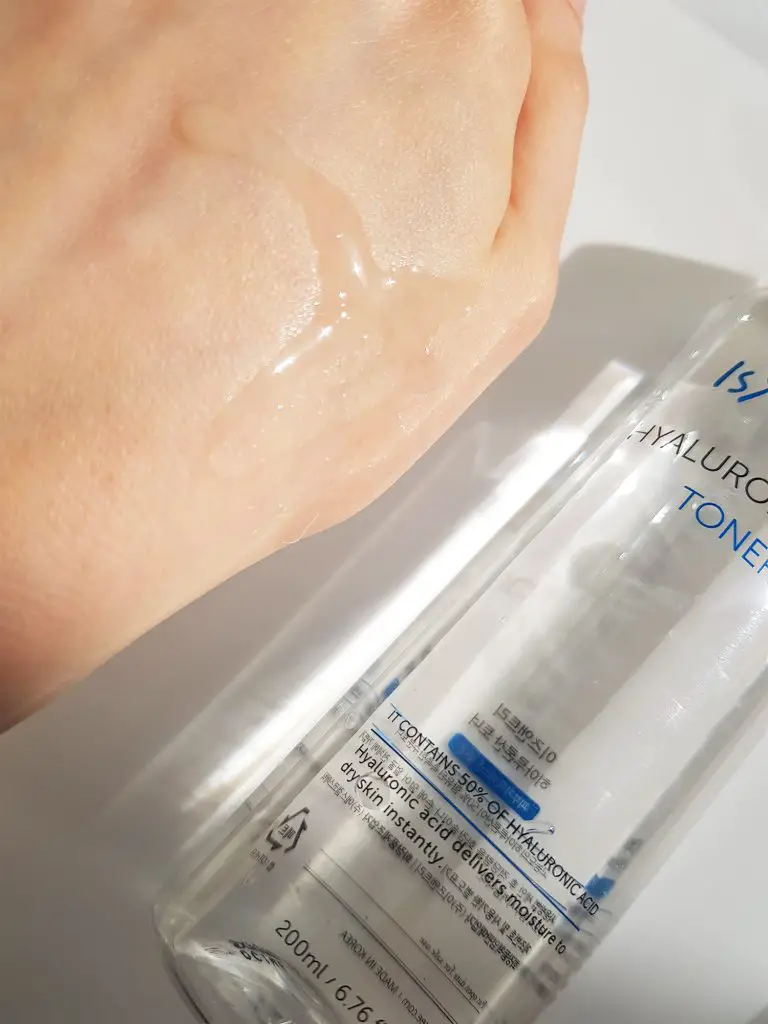 Performance
Although the texture is viscous I can do 3 layers of this toner, especially when my skin is feeling more dehydrated than usual. Leaves no tacky residue. It only feels a little sticky while it's being absorbed. Once fully absorbed, the finish is smooth and the skin feels plump.
Takes care of the small flakes you may have on the skin and provides good hydration. I've also noticed that the skin gets less oily when I use this. This means it's doing a great job at balancing the oil-water content of the skin.
Hyaluronic acid is a very safe ingredient since it's a naturally occurring substance in our body. Hence, there was no irritation and hasn't caused any breakouts so far. Not only that, but I feel like it also reduces redness.
It doesn't dirupt makeup. Overall, I'm satisfied how this performs on my oily dehydrated skin during cold weather. Still need to test it during warm seasons.
*Something that's important that I should mention:
Humid weather is ideal for hyaluronic acid, as HA pulls water from the air and binds it to the skin. Otherwise you risk having your skin become even more dehydrated since the HA will try to draw in that moisture from your skin. To avoid this, you can apply an occlusive at the end of your routine to prevent that water loss.
Also, if you use a humidifier at home, you're good to use it.


Ingredients
Isntree Hyaluronic Acid Toner has a very minimal and gentle formula. Apart from hyalyronic acid, this toner contains some other great humectants and extracts ( with antioxidant, anti-inflammatory and soothing properties). Doesn't contain anything that would trigger acne or irritation.
Alcohol-free, fragrance & essential oil-free.
Sodium Hyaluronate, Water, Glycerin, Butylene Glycol, Trehalose, Betula Alba Juice, Beta-Glucan, Hydrolized Collagen, Althaea Rosea Root Extract, Aloe Barbadensis Leaf Extract, Portulaca Oleracea Extract, Panthenol, Zanthoxylum Piperitum Fruit Extract, Pulsatilla Koreana Extract, Usnea Barbata (Lichen) Extract, Hydroxyethylcellulose.
Final Verdict
Pros
Good hydrating power.
Smooth finish.
Plump looking skin.
Suitable for all skin types.
Doesn't cause breakouts.
Calming, reduces redness.
Alcohol-free, fragrance & essential oil-free.
Cruelty-free.
Cons
HA is depended on the environment regarding its effectiveness. Needs humidity to work well.
(Could be a little on the heavier side for oily skin during humid summer weather)
This toner has been relaunched in mid 2019 containing 3 different hyaluronic acids with 3 different molecular weights. This helps the toner penetrate much deeper into the skin and be more effective. I like the hydrating power of this toner as it works well for my oily dehydrated skin. Also acne is a concern for me and this doesn't break me out, nor does it irritate the skin. Would be suitable for any skin type. Would recommend and would repurchase, especially since I'm curious to test out the new improved formulation.

Did you find this Isntree Hyaluronic Acid Toner Review helpful? Do you have any favorite products from the brand?

Also read:
ISNTREE Hyaluronic Acid Watery Sun Gel Review
Onion Newpair Essence Toner
C-Niacin Toning Ampoule

---

*Affiliate links. It means I earn a small commission when you purchase a product through the links I have provided. You will not be charged extra if choosing to do so. The product has been purchased with my own money and I will always share my honest opinion and experience. Sincerely thankful to all of you that support my blog! For more information, see Disclosure Policy.


Related posts
Follow blog via Email
Get the latest posts from this blog delivered to your inbox!
About Me
Hi and welcome to Kbeauty Notes! :) I'm Ledia and I'm very passionate about everything skincare. I created this blog to share my thoughts and experience with many amazing and not so great products out there, hoping to help you make better decisions regarding your skin. I'm very happy to bring you on this journey with me and I hope you enjoy it! <3

My Skin Type: Oily, acne prone, dehydrated, a little sensitive, large pores.

Skincare Concerns: hydration, pore care, anti-ageing, PIE (acne marks), brightening.

Contact: kbeautynotes@gmail.com