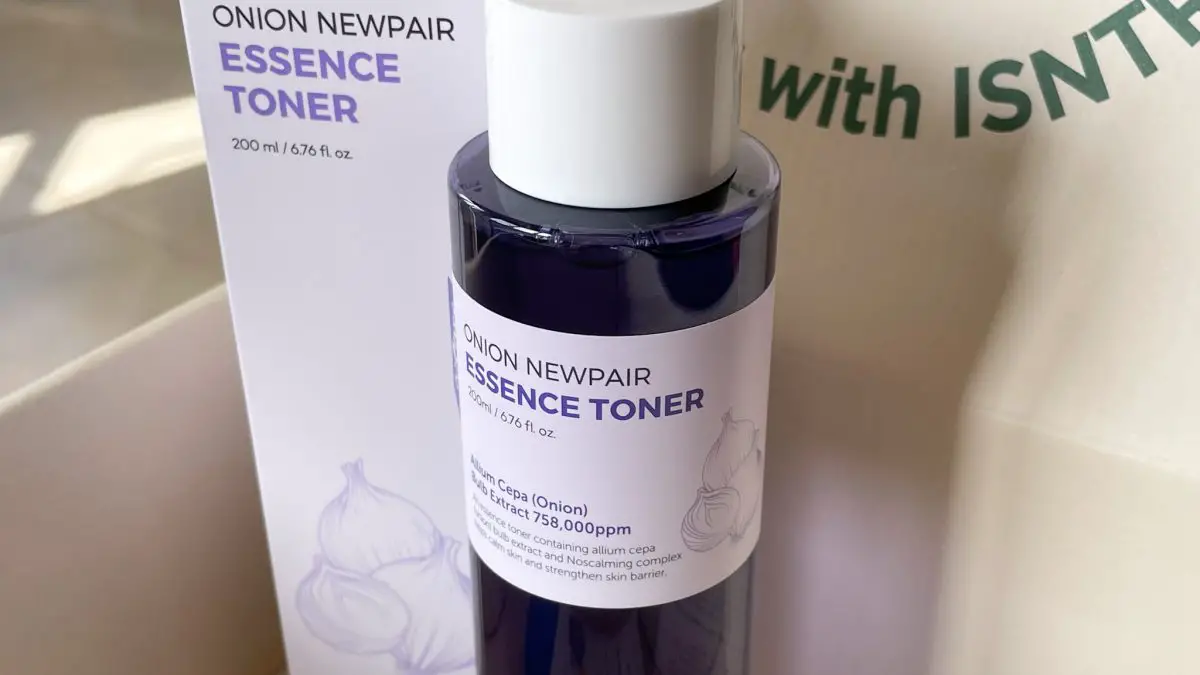 Onion in skincare? It doesn't sound inviting, right? However, onion extract has been used for the longest time as an ingredient to treat scars, so it's not exactly a new concept. You may have seen it before in gel or cream form sold in pharmacies. But, you don't often see it in skin care products, so I'm glad that K-Beauty has once again included an ingredient like this one in cosmetic formulations.
Isntree is the brand that has come up with their Onion Newpair line including 3 products that contain onion extract: a cleanser, essence toner and a gel cream. I chose the Isntree Onion Newpair Essence Toner as it sounded like the most interesting option out of the three.


Where to buy: You can find this at Yesstyle (You can use KBEAUTYNOTES for % off your order, can be used with other coupons), Stylevana US / Stylevana EU, Stylekorean, Jolse.
Price: $15-$32 (depends on the site and sales)
Volume: 200ml (6.76 fl.oz.)


What is the Onion Newpair Essence Toner
An essence toner formulated with extract from red onions that are grown in Muan. Red onions are chosen because they are 30-40 times richer in flavonoids than regular onions. Also contains Sodium Heparin+3 Complex which is a mix of sodium heparin, allantoin, panthenol, and Heartleaf Houttuynia to reduce skin irritation and protect the skin barrier.
Recommended mainly for blemished skin, dull, dry and sensitive skin.
Looking at the list of ingredients you can tell this is by no means a basic product, which is why it's not called simply a toner but a combination of a toner and essence. (Check out the ingredients below.)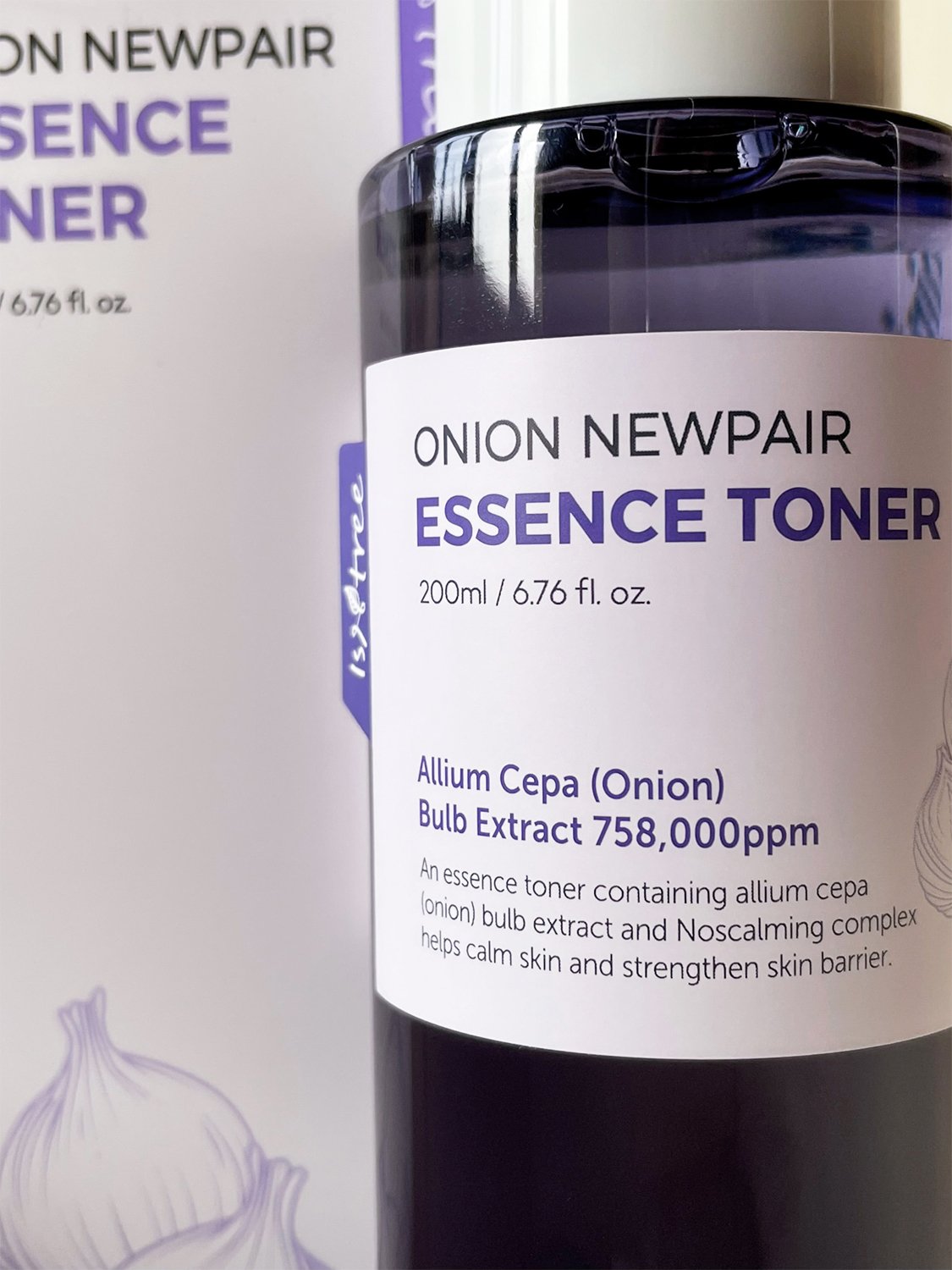 Application
Just like all products of this category, this is applied right after cleansing the face. You can either pour some on the palm of your hand and apply it directly onto the face, which is the method I mostly use, or you can use a cotton pad, gently wipe the skin with it and then tap for better absorption.
This way you can also remove any residue or dirt that's left on the skin. However, if you do a good job with cleansing I don't think it's necessary. Although, it could be useful if you're someone that can get away with washing the face only with water in the morning.


Consistency
The consistency is almost watery (maybe semi-viscous) and runny. My experience with watery toners is that they disappear into the skin without providing enough moisture, at least for me. Those with oily skin in humid climates usually prefer them because their skin mostly only needs the hydration and a light gel moisturizer in the AM to lock that all in.
I was surprised to see that despite the texture, this has some slip to it which makes it have an emollient property to soften the dry surface of the skin. Hence it won't disappear into thin air, but hydrate and moisturize at the same time. There is absolutely zero stickiness from this essence toner even when layered! Those of you that cannot stand that sticky feeling in skincare products will enjoy this.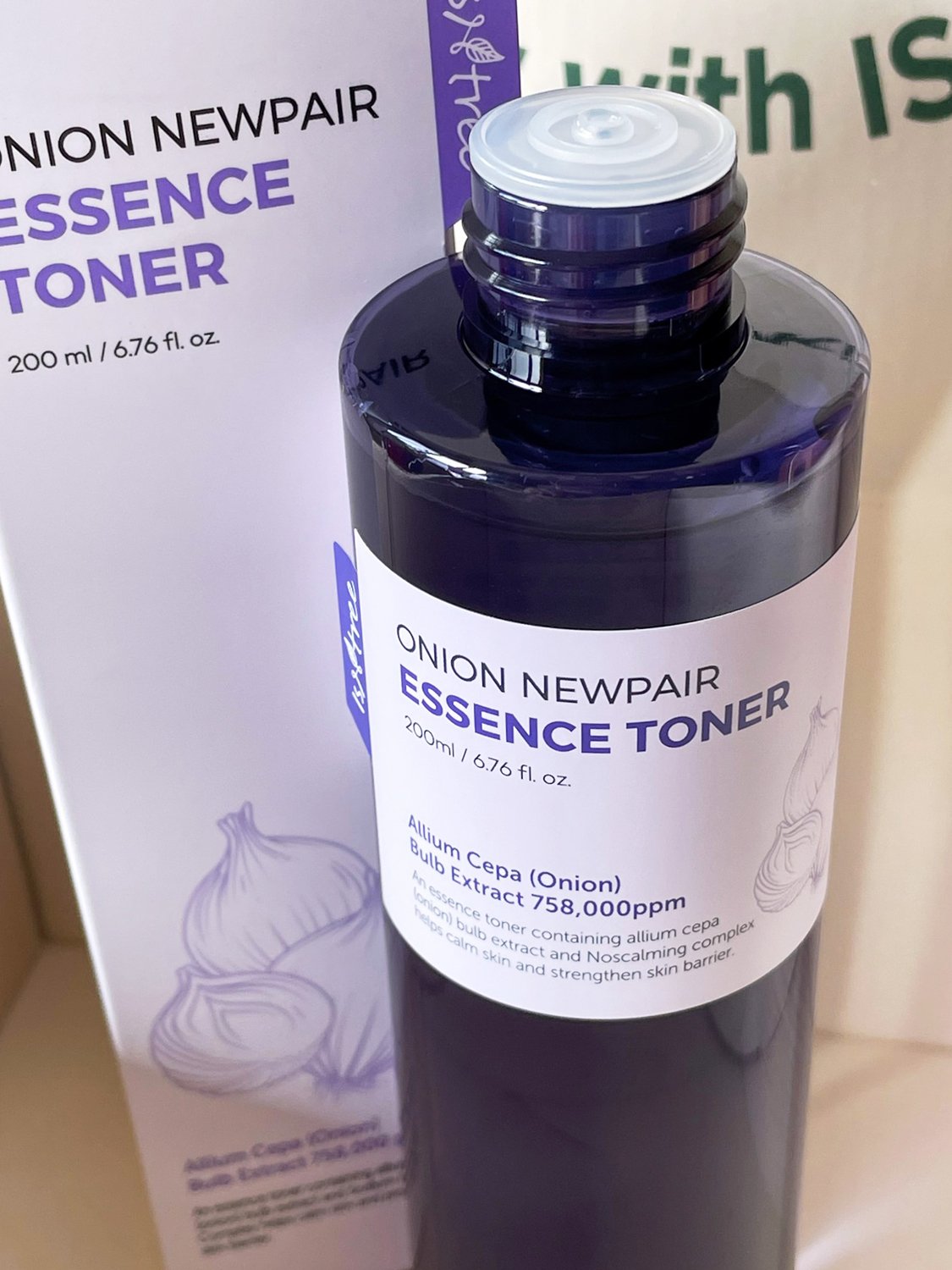 Scent
Probably the thing you're most curious about. Does this smell like onions? No! Not only it doesn't smell like onions, but also the scent it has is so faint, as there is no added fragrance either. To me, this smells like some kind of ointment that I can get in a pharmacy, but very subtle and it's not unpleasant at all.


Performance
One of my favorite things about this toner is how it feels on the skin. Very smooth and there is no stickiness at all. Hence, it can be layered easily. Now that temperatures are getting high though, I get more oily so one layer of this in the morning is enough for me.
The fine lines under my eyes become less visible, I'd say by half, although I hoped this performed a bit better in this regard. I say this because with viscous toners lines become almost invisible and stay like that for a longer time. You will follow with other skincare anyway, so it's not like a deal breaker, but it's something I observerd.
Right after application you can notice softer and bouncier looking skin. Because it moisturizes well, pores even have a tighter appearance. Hence why makeup sits so beautifully everytime I include this in my routine. So, it's great as a first step to prep the skin, because it improves texture by smoothing out the skin surface.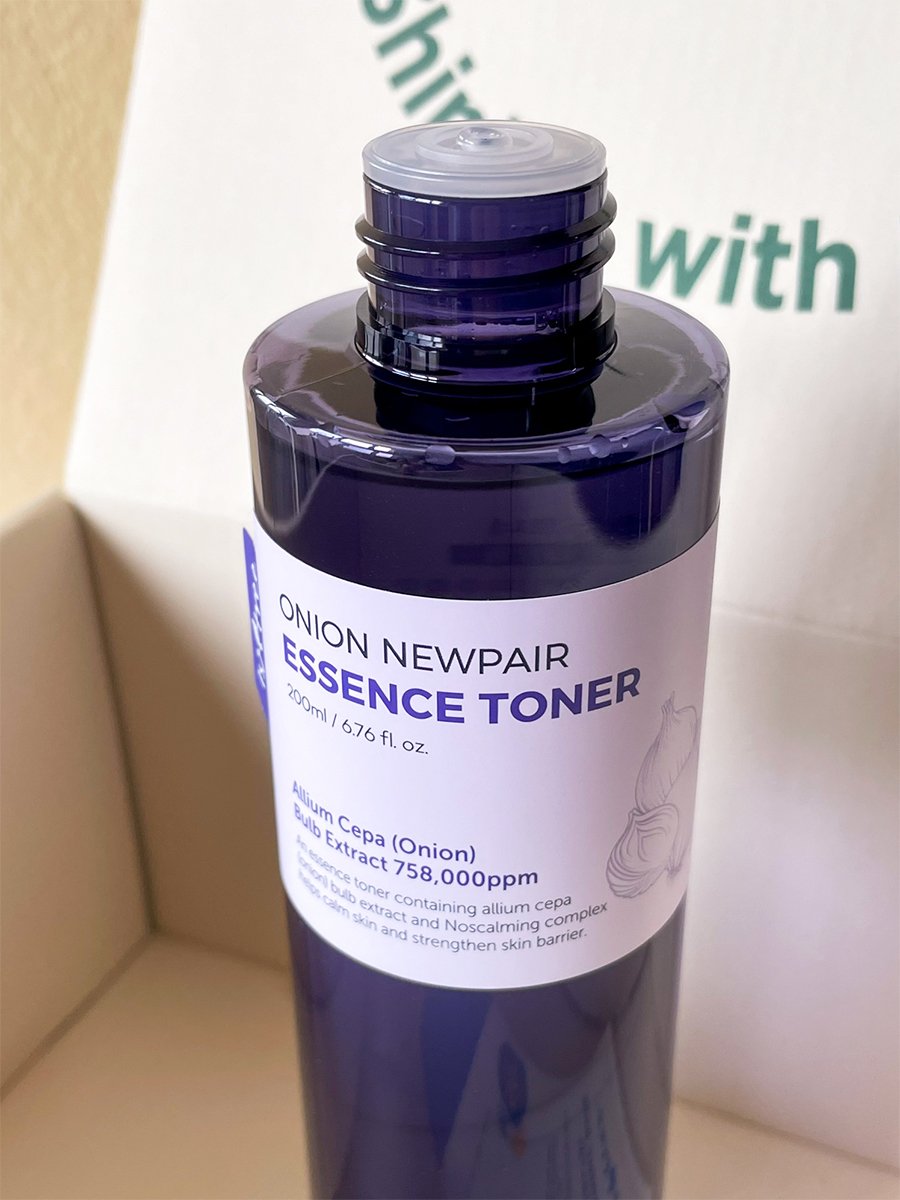 There is a soothing effect as my face is a bit less red when I use it. In terms of acne, I don't notice them fading faster than usual. Probably because "my usual" is already pretty fast as I use other products to combat them, too. This has niacinamide though, and I know for sure that it's helping me to prevent them as well.
As an anti-acne ingredient there's also Sodium Ascorbyl Phosphate (SAP) added in the formula. This is the sodium salt form of Vitamin C. Way less potent than pure Vitamin C in terms of anti-aging effects, but has shown in vivo (real people) tests that can strongly reduce common acne and closed commedones.


Ingredients
The formula contains 75.8% (758,000Ppm) Onion extract which can improve the cosmetic appearance of postsurgical scars. Other benefits include antibacterial/antifungal properties and acne reduction.
Two other ingredients with anti-acne activities are Niacinamide and Sodium Ascorbyl Phosphate, which is the sodium salt form of Vitamin C.
Glycerin, Betaine and 3 types of HA ( Hyaluronic Acid, Hydrolyzed Hyaluronic Acid, Sodium Hyaluronate) hydrate and moisturize the skin.
This toner also has antioxidant, soothing and skin brightening benefits thanks to other ingredients like: Houttuynia Cordata Extract, Turmeric Root Extract, Biosaccharide Gum-1, Sodium Ascorbyl Phosphate, Tranexamic Acid, Allantoin, and Panthenol.
There is no alcohol, fragrance or EOs in it.
Allium Cepa (Onion) Bulb Extract (758,000Ppm), Propanediol, Glycerin, Methylpropanediol, Niacinamide, 1,2-Hexanediol, Butylene Glycol, Water, Hydroxyacetophenone, Ethylhexylglycerin, Carbomer, Adenosine, Disodium EDTA, Biosaccharide Gum-1, Tromethamine, Melia Azadirachta Leaf Extract, Melia Azadirachta Flower Extract, Citric Acid, Sodium Citrate, Hyaluronic Acid, Hydrolyzed Hyaluronic Acid, Sodium Hyaluronate, Glycereth-26, Coccinia Indica Fruit Extract, Hydroxyethylcellulose, Betaine, Allantoin, Houttuynia Cordata Extract, Panthenol, Solanum Melongena (Eggplant) Fruit Extract, Corallina Officinalis Extract, Ocimum Sanctum Leaf Extract, Curcuma Longa (Turmeric) Root Extract, Sodium Heparin, Ammonium Polyacryloyldimethyl Taurate, Sodium Ascorbyl Phosphate, Tranexamic Acid

Final Verdict on the ISNTREE Onion Toner
Pros
Semi viscous and hydrating.
Soft and bouncier-looking skin.
Improved appearance of pores.
Improves skin texture.
Zero sticky feeling even when layered.
Suitable for all skin types, especially those with dry/dehydrated skin.
Free of alcohol, fragrance and essential oils which makes it more suitable for sensitive skin.
Cruelty-free & Vegan.
Beautiful essence toner which I see working for all skin types, except for very dry skin. The consistency is so good and the finish is not sticky in the least. Skin appears softer, bouncier and more elastic, while texture is improved, too. Works great with other skin care products and sunscreen without balling up. Which really goes to show that it is possible for niacinamide to be formulated properly in a product. With some soothing effect and acne-fighting ingredients, this would be most suitable for blemish-prone skin, sensitive skin and those looking for hydration and texture improvement.

Did you find the ISNTREE Onion Newpair Essence Toner Review helpful? What products you have tried from this brand?
More Isntree reviews:
Hyaluronic Acid Watery Sun Gel Review
Hyaluronic Acid Toner Review
C-Niacin Toning Ampoule Review
---
*PR Sample – kindly gifted by Isntree, but opinions are completely my own.
*Affiliate Links – It means I may earn a small commission when you purchase a product through the links I have provided at no extra cost to you. Sincerely thankful to all of you that support my blog! For more information, see Disclosure Policy.


Related posts
Follow blog via Email
Get the latest posts from this blog delivered to your inbox!
About Me
Hi and welcome to Kbeauty Notes! :) I'm Ledia and I'm very passionate about everything skincare. I created this blog to share my thoughts and experience with many amazing and not so great products out there, hoping to help you make better decisions regarding your skin. I'm very happy to bring you on this journey with me and I hope you enjoy it! <3

My Skin Type: Oily, acne prone, dehydrated, a little sensitive, large pores.

Skincare Concerns: hydration, pore care, anti-ageing, PIE (acne marks), brightening.

Contact: kbeautynotes@gmail.com