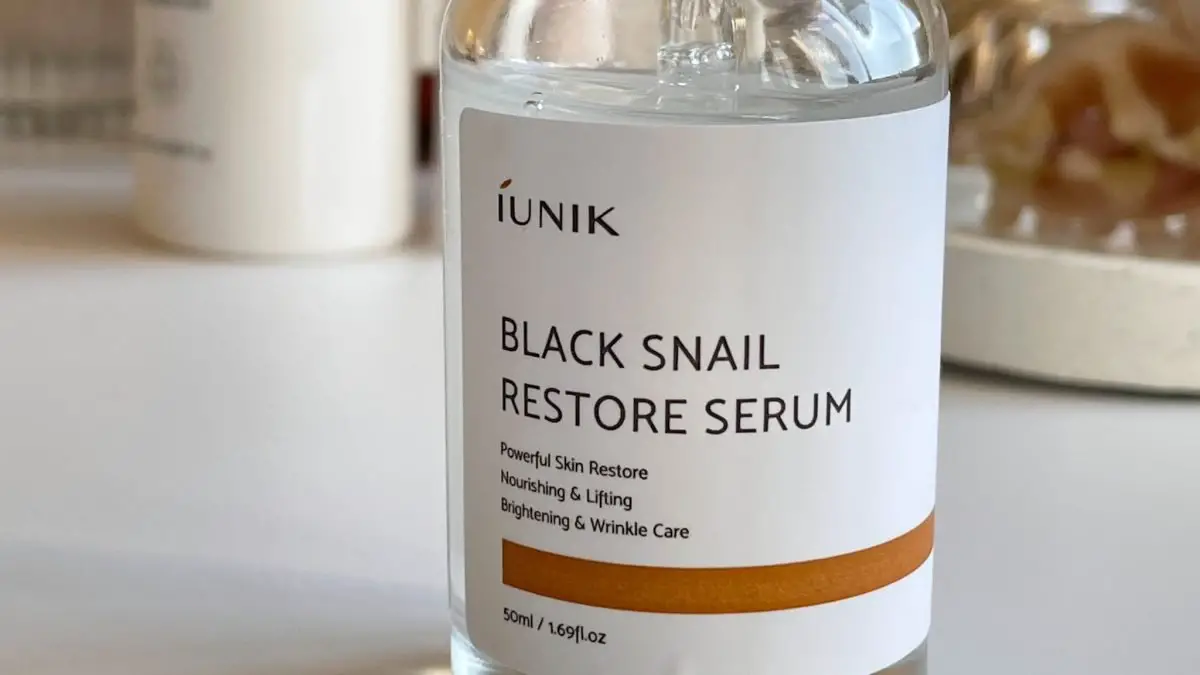 Snail mucin continues to be one of my favorite K-Beauty skincare ingredients. Other ingredients or trends may take the spotlight right now, but most who have tried snail mucin extract, know how good it really is! But as with most skincare products, although they may share the same inci, it doesn't mean they perform the same way. The formulation is what matters most! While the Cosrx Snail Essence didn't really work for my skin, this iUNIK Black Snail Restore Serum has become my holy grail!


Where to buy: You can find this serum at Yesstyle (You can use KBEAUTYNOTES for % off your order, can be used with other coupons), Stylevana US / Stylevana EU.
Price: 15$-23$ (depends on the site and sales)
Volume: 15ml (0.5 fl.oz.) and 50ml (1.69 fl.oz.)
PAO: 12 months after opening.
Packaging: Glass bottle with a dropper. All iUNIK serums come in glass packaging and I love it. You need to be extra careful to avoid dropping it though.


What does the Black Snail Restore Serum do?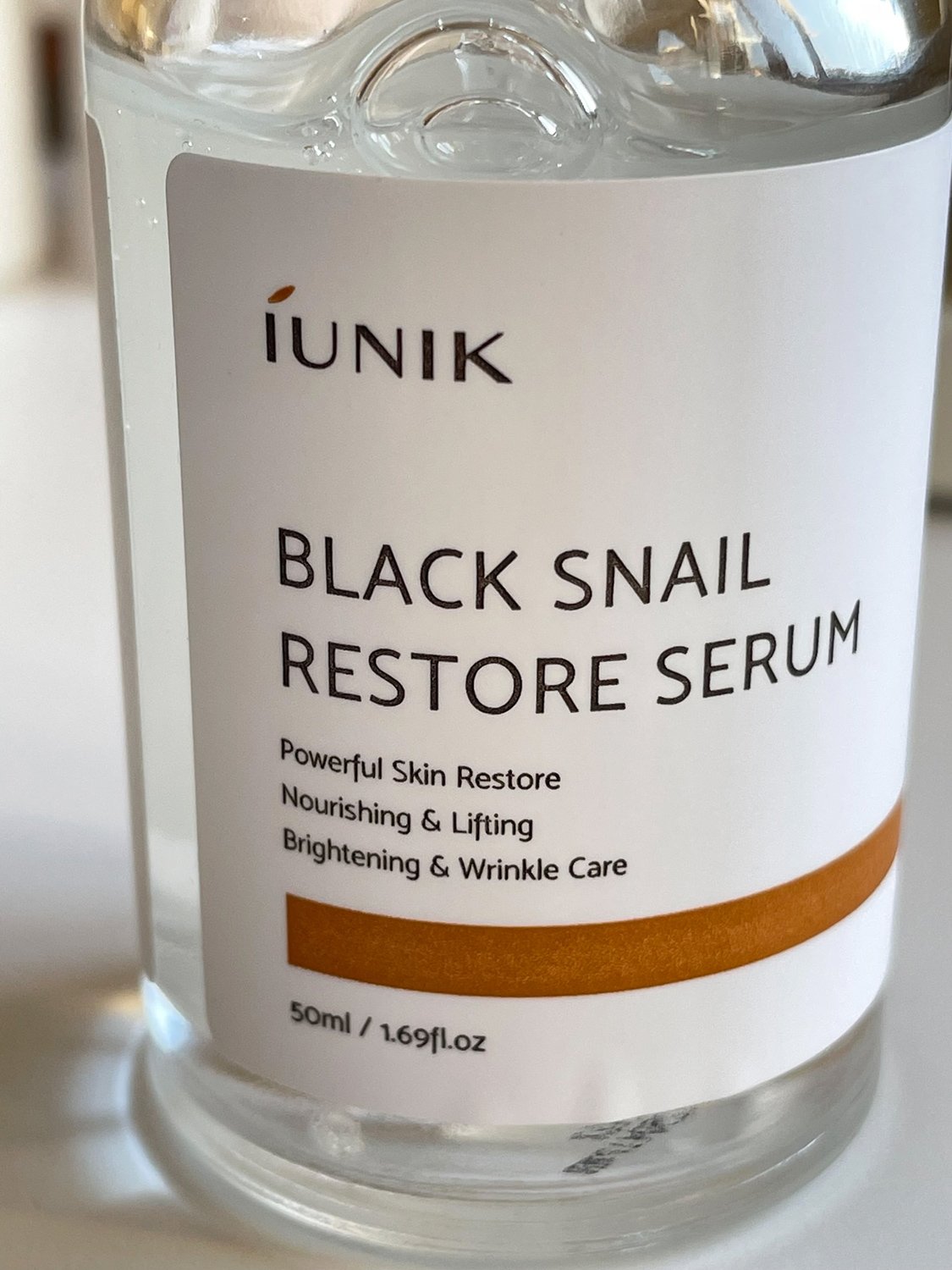 This is a highly concentrated (water-less) snail serum that contains 70% Snail Secretion Filtrate to help repair the protective barrier, improve skin elasticity, and deeply hydrate the skin for a healthier looking complexion. Enriched with 7 antioxidant and soothing extracts, Centella Asiatica, and the multi-functional superstar – Niacinamide, it targets dryness, dull-looking skin, healing blemishes, and texture.


Aplication
Apply a couple of drops after cleansing and/or toning the skin. I find that you don't need to use a separate hydrating toner before this, because it provides enough moisture.
Suitable for daily use. I use it both in my morning and evening skincare routine.


Consistency
The Black Snail Restore serum has a bit of that slimy-looking texture, but to my surprise it was lightweight and easily spreadable. The consistency is not as stringy as the Cosrx essence though. I find the viscosity level to be just perfect. Not too viscous to hinder absorption, but not too runny either. Feels like a burst of of instant hydration on the face and absorbs quickly with no sticky residue on my skin.
It has a very similar finish on the skin as the iUNIK Beta Glucan serum, although the later has a more viscous consistency. Both are equally good in my opinion!


Scent
As with most fragrance-free skincare products, the scent is very neutral. I don't mind fragrance a lot, but sometimes I don't miss it either especially when the product performance impresses me. Plus the product becomes more available for other skin types like those with sensitivites.


My Impressions
I said it at the beginning that the iUNIK Black Snail Restore Serum has become a holy grail. It's a serum that does most of the things I look for! Textures and how the product feels on the skin are very important to me. And you may have figured that out by the way I write my reviews. The only time I would opt for another morning serum, would be during hot summer days! Oily skin should avoid it as a morning serum in this case.
I didn't experience any skin congestion as I did with the Cosrx essence. On the contrary, my skin texture has become smoother and more even. I also reach for this everytime my redness acts up and I pair it with the brand's Beta Glucan Daily Moisture Cream. Somehow they work great together to decrease inflammation.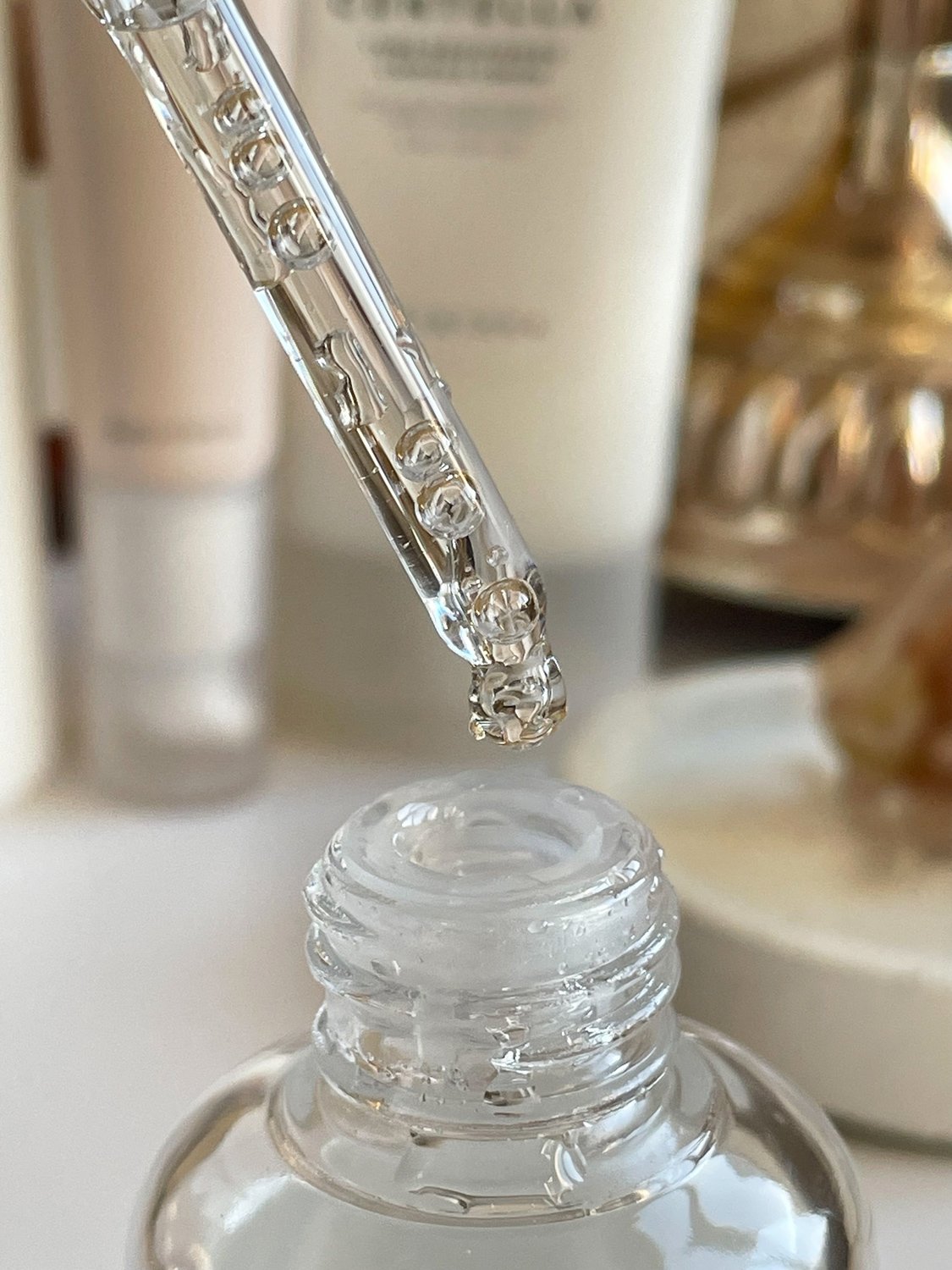 I love the plumping effect it has on my undereye lines. It makes base makeup look much better too.
Not only it's fragrance-free, but the formula itself and snail mucin as an ingredient, work great in a routine where you use exfoliants or retinoids to help the moisture barrier stay healthy.
Niacinamide keeps my acne at bay as always! I'm always happy to see it in formulations because sometimes I break out a lot due to my bad eating habits.


Ingredients
Apparently the formula has changed a couple of times. I got this at the end of 2022, so this is most updated version of the ingredients list you will find up to now:
70% Snail Secretion Filtrate – Snail slime is a mix of a bunch of elements that are great for the skin like proteoglycans, glycoprotein enzymes, HA, copper peptides, and trace elements including copper, zinc, and iron. It's a great antioxidant and hydrator.
7 botanical extracts for antioxidant and soothing: Green Tea, Centella Asiatica, Chamomile, Japanese knotweed, Rosemary, Scutellaria Baicalensis, Licorice (Dipotassium Glycyrrhizate).
Niacinamide – helps with a bunch of things like pore care, acne, brightening, and antiaging.
Alcohol-free, fragrance and essential oil-free.
Snail Secretion Filtrate (70%), Centella Asiatica Leaf Water (10%), Glycerin, Butylene Glycol, 1,2-Hexanediol, Niacinamide, Glycereth-26, Centella Asiatica Extract, Scutellaria Baicalensis Root Extract, Polygonum Cuspidatum Root Extract, , Camellia Sinensis Leaf Extract, Cynanchum Atratum Extract, Chamomilla Recutita (Matricaria) Flower Extract, Rosmarinus Officinalis (Rosemary) Leaf Extract, Oryza Sativa (Rice) Extract, Coffea Arabica (Coffee) Seed Extract, Laminaria Japonica Extract, Solanum Melongena (Eggplant) Fruit Extract, Sesamum Indicum (Sesame) Seed Extract, Arginine, Carbomer, Adenosine, Sodium Polyacrylate, Xanthan Gum, Sodium Hyaluronate

Final verdict on the iUNIK Black Snail Serum
Pros
Hydrating and skin plumping.
Makes the skin smoother.
No sticky feeling.
Feels calming.
Suitable for all skin types, including sensitive and mature skin.
No alcohol, fragrance or EOs.
Cruelty-free.
If you're looking for a serum to revitalize, give you a beautiful (non-greasy) healthy glow and improve skin texture, I wouldn't think twice about getting this. It's also suitable for acne-prone skin and free of fragrance. For some people snail mucin may not be as exciting anymore, but it's an ingredient that works! And in most cases, products containing snail extract are on the affordable side. So, what's there not to like?


Did you find the iUNIK Black Snail Restore Serum Review helpful? What products have you tried from the brand?


---
*PR Sample – Product provided by iUNIK, but opinions are completely my own.
*Affiliate Links – It means I may earn a small commission when you purchase a product through the links I have provided, at no extra cost to you. Thankful to all of you that support my blog!
Related posts
Follow blog via Email
Get the latest posts from this blog delivered to your inbox!
About Me
Hi and welcome to Kbeauty Notes! :) I'm Ledia and I'm very passionate about everything skincare. I created this blog to share my thoughts and experience with many amazing and not so great products out there, hoping to help you make better decisions regarding your skin. I'm very happy to bring you on this journey with me and I hope you enjoy it! <3

My Skin Type: Oily, acne prone, dehydrated, a little sensitive, large pores.

Skincare Concerns: hydration, pore care, anti-ageing, PIE (acne marks), brightening.

Contact: kbeautynotes@gmail.com