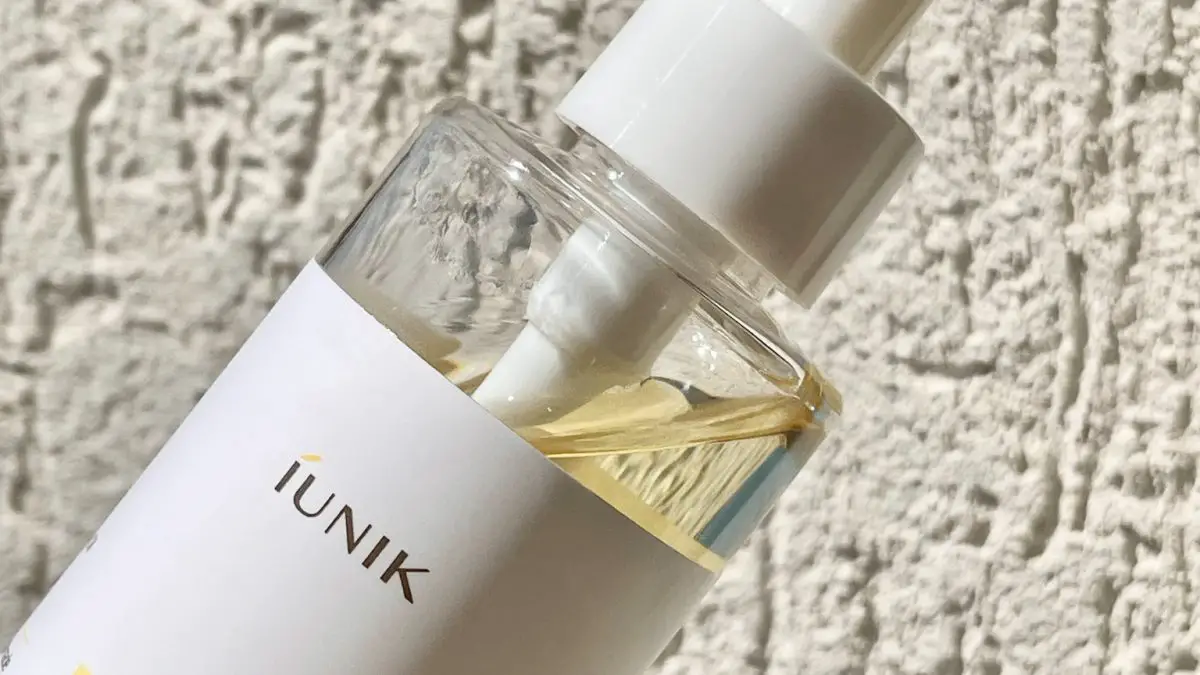 Before starting my review on the iUNIK Calendula Complete Cleansing Oil I want to ask you: Are you team cleansing balm or cleansing oil? For the longest time I was only using cleansing balms (my HG is the Heimish All Clean Balm) as my first step of cleansing or to remove makeup and sunscreen, because I had the impression that oils would be very messy to use. I was also worried they would leave behind a residue.
However, I've also heard people saying the opposite: that balms are messy and leave an oily film. The latter is something that a second cleanser can easily fix though.
After having tried both balms and oils I have to say they're not that different and it really depends on the product itself and sometimes your skin type. There are both balms and oils that rinse off completely as there are balms and oils that leave a film on the skin.
There is, however, one shortcoming that oil cleansers have: The packaging usually leaks, so they're not travel friendly. You will have to move them to a different container to avoid this.


Where to buy: You can find this at Yesstyle (You can use KBEAUTYNOTES for % off your order, can be used with other coupons), Stylevana US / Stylevana EU.
Price: $15-$25
Volume: 200ml (6.76 fl. oz.)
PAO: 12 months after opening.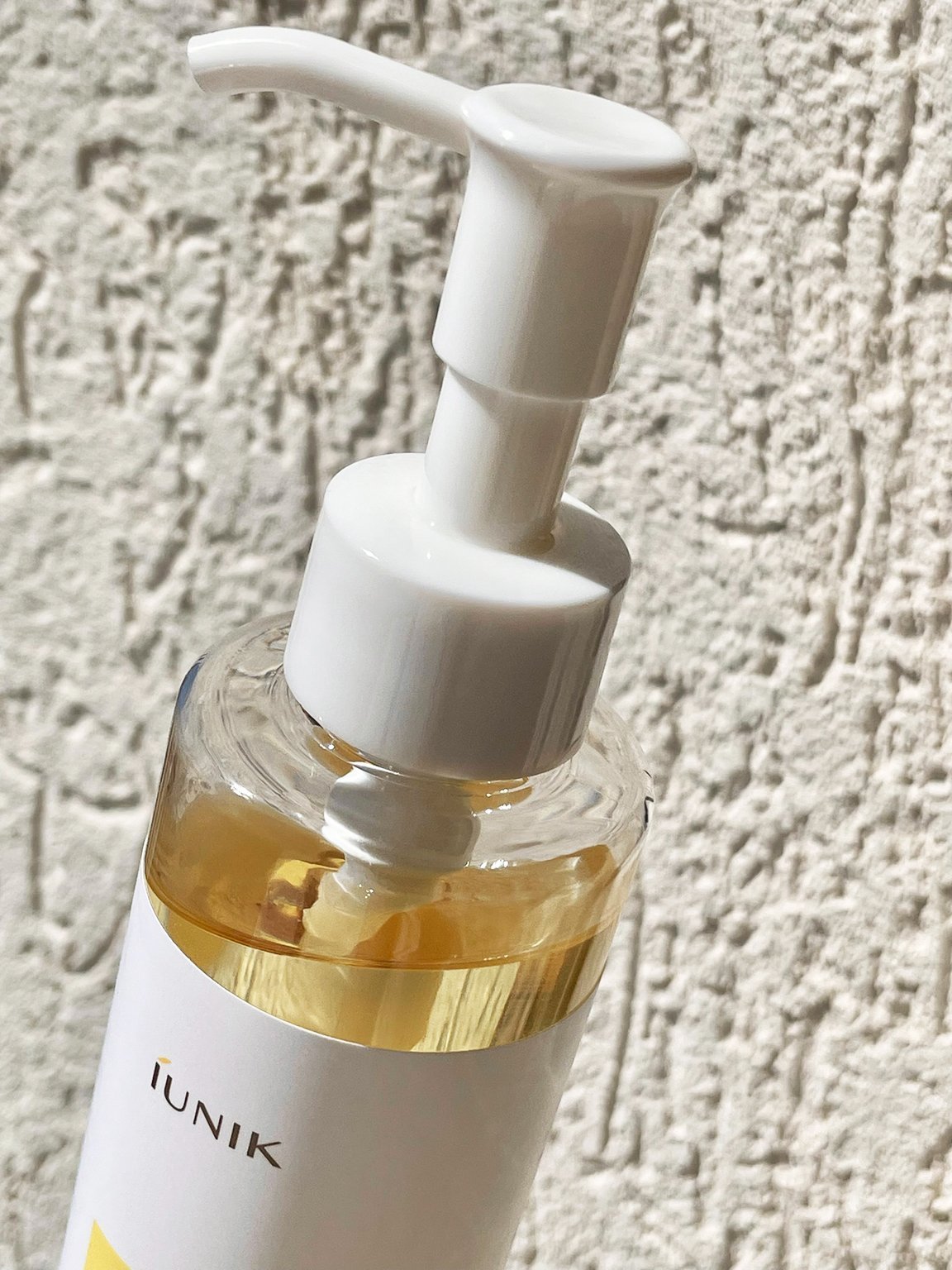 What is the Calendula Complete Cleansing Oil
A mild oil-based cleanser infused with Calendula extract and other plant oils that effectively removes makeup, dirt, and other impurities all at once. It deeply penetrates into pores to clean build-up, remove blackheads and prevent acne, revealing a healthy and fresh appearance.


Application
Dispense one full pump or one pump and a half on the palm of your hand, rub hands together and gently massage the face in circular motions. Remember that with cleansing oils and balms this is always done on dry skin. After having melted your foundation and eye makeup, add some water to emulsify. Then keep massaging and rinsing it off.
Tip: I see most people start applying this type of cleanser (and balms) on the eye area to melt eye makeup first, but since you initially have a lot of oil/product on your hands it's easier to get it inside your eyes and irritate them.
So, I recommend to leave the eyes for last and massage them with the thin layer of oil that's left on your hands. For me, this method works almost 100% of the time. Maybe eye shape can also play a role, but it's worth trying it as a method.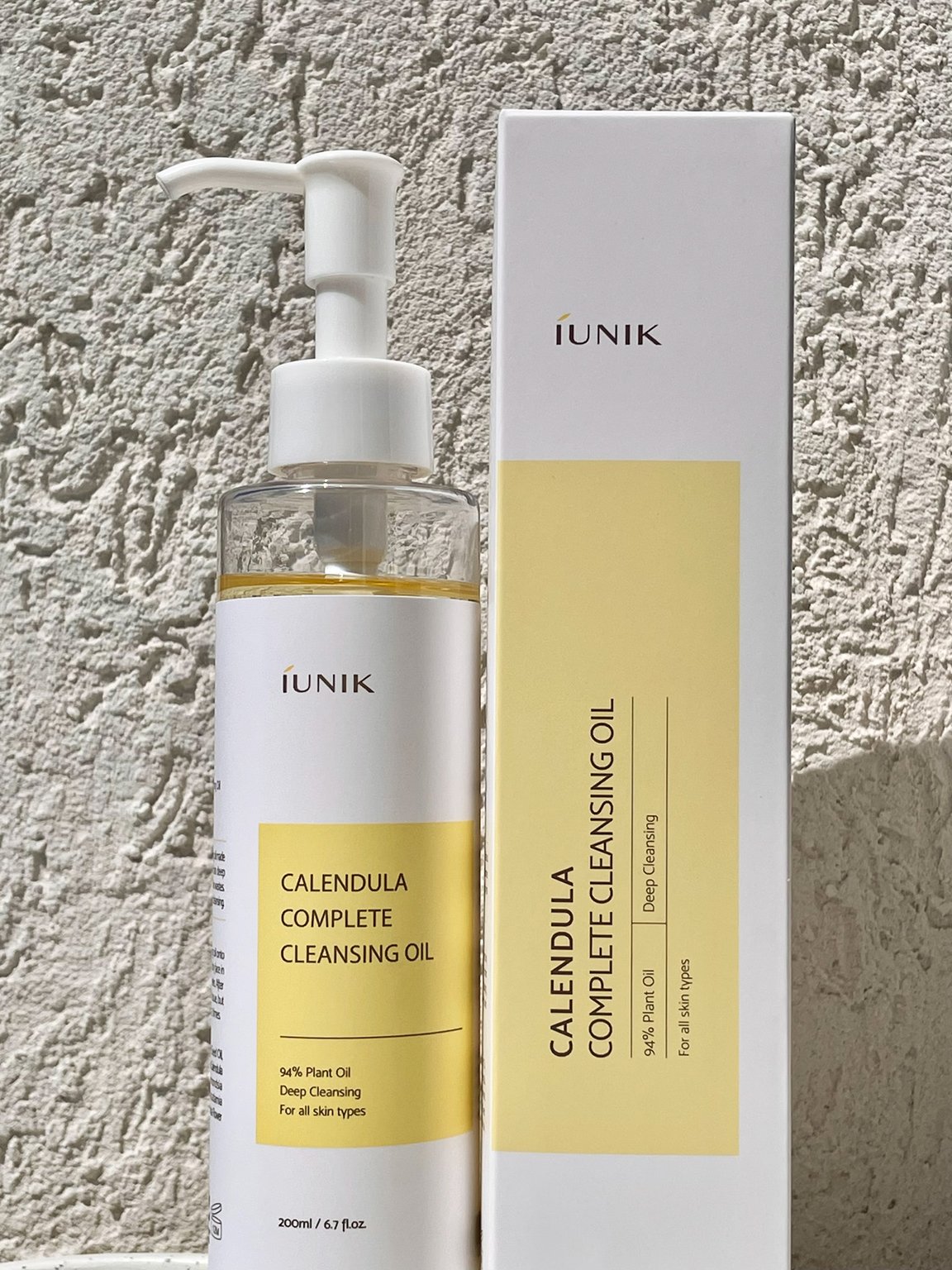 Consistency
The texture of this oil is neither lightweight nor heavy, but falls somewhere in the middle. Spreads easily on the skin without tugging and emulsifies well. Compared to the Celimax cleansing oil, it is definitely thicker in consistency.


Scent
The scent is very noticeable (on the strong side) and can be sensed immediately due to the presence of the Ylang Ylang essential oil, but I personally like it. It makes my cleansing ritual feel luxurious.


Performance
One of the things that caught my attention is how well this oil cleanser removes blackheads! For a couple of days I was only using a gel-based cleanser since I wasn't wearing any makeup and I started to see a lot of blackheads on my nose and cheeks.
Besides, during hot weather I notice my skin produces more sebum than usual. So, I picked this up, massaged the areas for 1 minute and when I rinsed it off, blackheads were gone by 80%. Loved the immediate results! So, if you have oily skin and it's difficult for you to keep the pores clean, this oil cleanser is for you! This way you also avoid acne that forms due to clogged pores.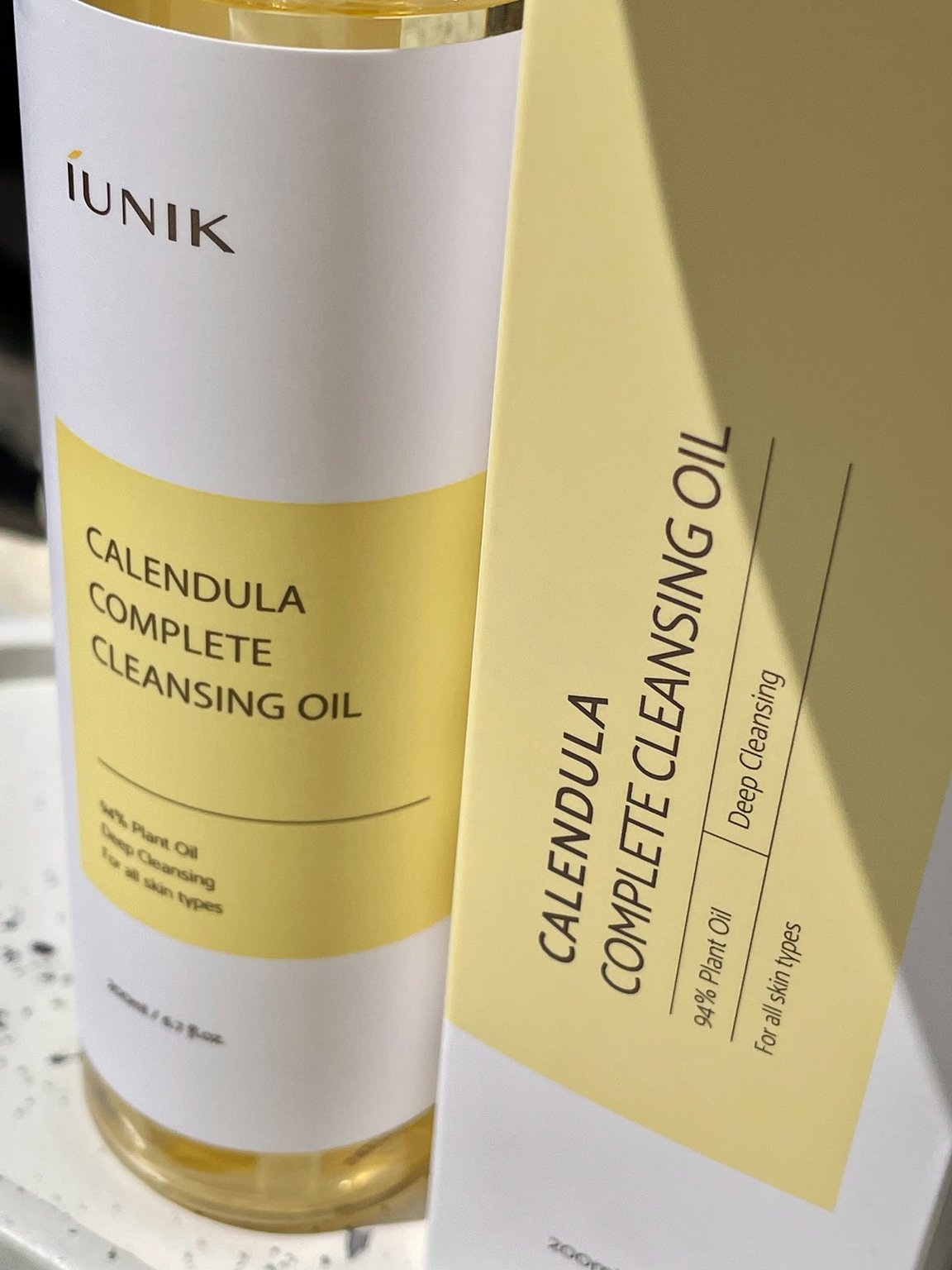 Second, works well as a makeup remover too. I had to massage the lips and eye area a bit longer than I would with a cleansing balm to remove my lip product and eyeliner, but eventually cleanses everything off. I only noticed a very faint hue of my lip tint, but it was barely noticeable. Also, lip products get worn for hours and would naturally fade anyway.
Please note that I haven't tested this on waterproof makeup as I don't usually wear it. The swatches below are: lip crayon, eyeliner, bb cream, lip tint, bronzer and dark eyeshadow.
Emulsifies very well and I don't notice any residue or weird film on the skin after I rinse the cleansing oil. I think it would work well for all skin types. It's not moisturizing but doesn't overly strip the skin either.
No eye stinging, breakouts or skin irritation occurred.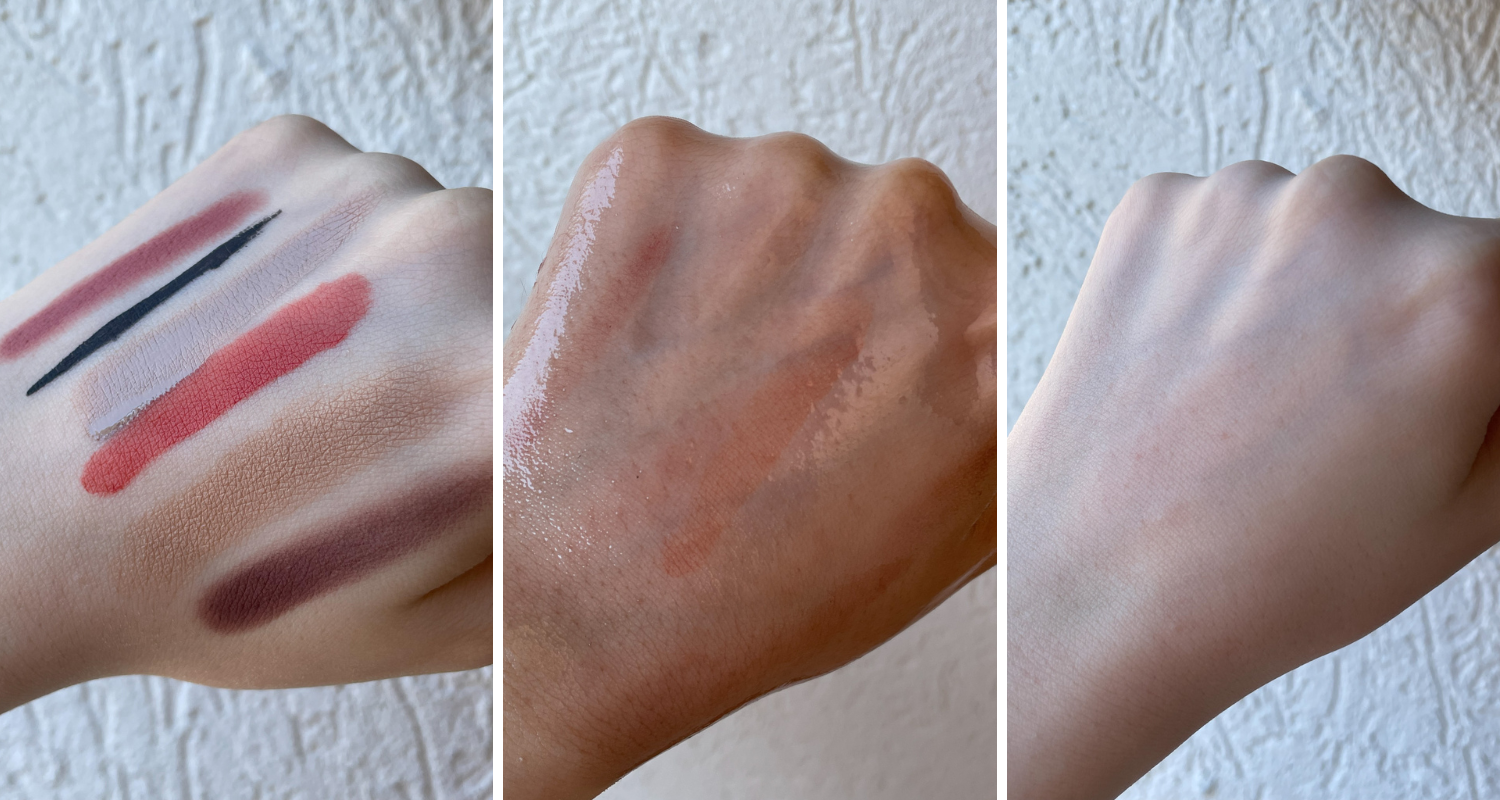 Ingredients
This iUNIK Calendula Complete Cleansing Oil is formulated with 3 plant oils and Calendula extract:
Sunflower Seed Oil – emollient that protects the skin barrier. Calendula Officinalis Flower Extract has both antioxidant and soothing properties.
Jojoba Seed Oil – a wax ester that is very similar to our natural sebum. Macadamia Ternifolia Seed Oil – highly emollient and gives the skin a cushiony feel.
No alcohol, but contains Ylang Ylang essential oil.
Helianthus Annuus (Sunflower) Seed Oil, Canola Oil, Sorbeth-30 Tetraoleate, Calendula Officinalis Flower Extract, Simmondsia Chinensis (Jojoba) Seed Oil, Macadamia Ternifolia Seed Oil, Cananga Odorata Flower (Ylang Ylang) Oil, Sorbitan Sesquioleate

Final Verdict on the Calendula Complete Cleansing Oil
Pros
Effective at removing makeup.
Removes blackheads.
Keeps the pores clean.
Improves skin texture by removing dirt and flaky skin.
Doesn't dry out the skin.
No residue.
Didn't break me out or cause irritation.
No eye-stinging.
Suitable for most skin types.
Cruelty-free.
Cons
Contains Ylang Ylang essential oil for those that may be sensitive to it.
This oil cleanser give you such a beautiful sensorial experience. Not everyone would like the strong scent, and some might be sensitive to the EO, but would work for most skin types. It's amazing for pore care and removing blackheads for oily skin that struggles with clogged pores. Doesn't overly strip the skin from moisture so dry skin can use it, too. Emulsifies well, effective at removing makeup/sunscreen and leaves no residue. I really like it and would definitely get it again.


Did you find the iUNIK Calendula Complete Cleansing Oil Review helpful? What are some of your favorite products from the brand?

---
*PR Sample – Product provided by iUNIK, but opinions are completely my own.
*Affiliate Links – It means I may earn a small commission when you purchase a product through the links I have provided at no extra cost to you. Sincerely thankful to all of you that support my blog! For more information, see Disclosure Policy.
Related posts
Follow blog via Email
Get the latest posts from this blog delivered to your inbox!
About Me
Hi and welcome to Kbeauty Notes! :) I'm Ledia and I'm very passionate about everything skincare. I created this blog to share my thoughts and experience with many amazing and not so great products out there, hoping to help you make better decisions regarding your skin. I'm very happy to bring you on this journey with me and I hope you enjoy it! <3

My Skin Type: Oily, acne prone, dehydrated, a little sensitive, large pores.

Skincare Concerns: hydration, pore care, anti-ageing, PIE (acne marks), brightening.

Contact: kbeautynotes@gmail.com