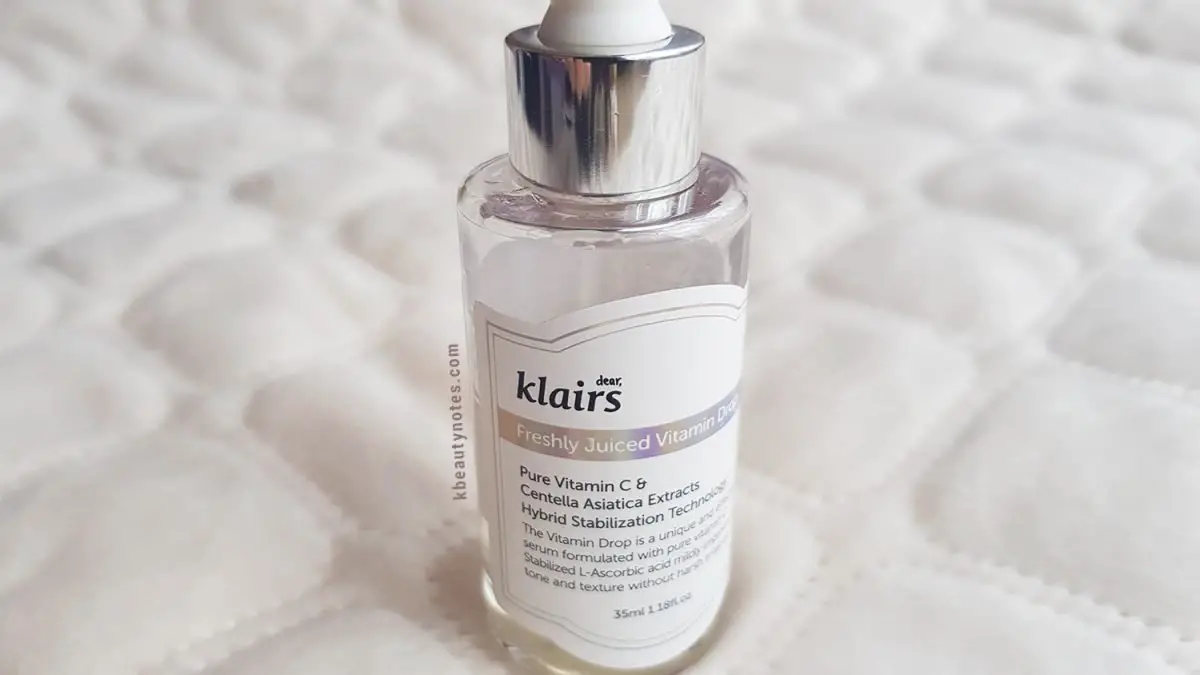 You've probably heard of Klairs Freshly Juiced Vitamin C Serum by now. It's talked about a lot in the K-Beauty community, so I really wanted to try it out. If you've read my blog, you know that I love the Supple Preparation Facial Toner from Klairs, so I had high hopes for this serum. It's recommended to be used together with the Klairs Freshly Juiced Vitamin E Mask for better results, but I still haven't got my hands on it yet. Will definitely review it, if I decide to get it in the future.


Description
Designed with naturally effective ingredients that are safe and non-irritating, the Freshly Juiced Vitamin Drop energizes and rejuvenates your skin with the power of pure Vitamin C! Containing key ingredients directly from nature and concentrated pure Vitamin C, this innovative multi-solution, non-irritating formula revitalizes, maintains, and transforms your skin! No need to stress over dull skin tone and enlarged pores anymore.

The Serum contains Vitamin C at a concentration of 5% and a pH level of 3.81.


Vitamin C
Vitamin C (known as ascorbic acid) is a water-soluble vitamin that has multiple skin benefits: protects the skin from UV damage, inhibits melanin formation – corrects hyperpigmentation, brightens and evens out the skin tone. It also promotes the growth of collagen (a protein that provides structure and elasticity to the skin). However, it takes time and consistent application to see results.


How to Store
Vitamin C has a short shelf life because it is water-soluble and breaks down when it's exposed to oxygen. It's not easy to formulate and maintain its effectiveness once the bottle has been opened. Heat and humidity can ruin your Vitamin C serum. Hence, to extend the product's life, it needs to be stored properly: in a cool place away from direct sunlight.
*My serum got a slightly yellowish tint after some time, so now I store it in the fridge. And I recommend you store it in the fridge once you get it.
*Discontinue use if your Vitamin C has turned completely yellow or brown!


Application
Apply about 2-3 drops on the face, after cleansing with a low pH cleanser. Those with very sensitive skin can continue with the serum after you've applied your balancing/hydrating toner to avoid potential irritation.
Vitamin C is acidic, so if you're using it for the first time, use it every other day and gradually increase to daily applications. This will help ease tolerability.
Note: You should follow up with sunscreen when using it during the day!
In addition, if you're incorporating other active ingredients in your routine, please refer to my post: How to Layer your Skincare and active ingredients.


Consistency
Klairs Freshly Juiced Vitamin C has an oil-like consistency and it needs some time for the skin to absorb it. It is lightweight though. The finish is very smooth and not sticky at all.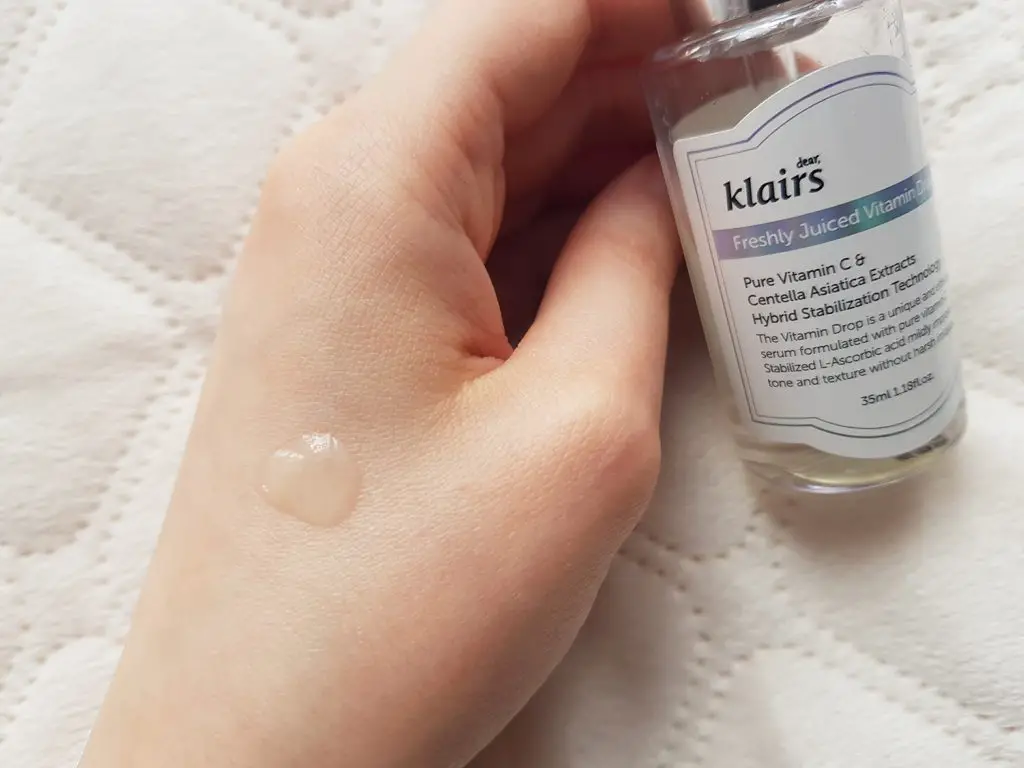 Performance
For those of us with oily skin it can be a little difficult to apply sunscreen or makeup on top without getting greasy after a few hours.
Using an antioxidant such as vitamin C under sunscreen can protect the skin from further photo damage caused by UV rays. Therefore, they make a powerful combo. However, because of my oily skin I prefer to use it during the night or with minimal skincare in the morning. There are days when I simply use toner – the vit c serum – sunscreen.
Dry skin types will probably not have any problem using it as a day serum.
I feel a slight tingling and warmth while the product soaks in. And this is normal. I have only experienced stinging and a bit of redness when my skin has been oversensitive, for example when I have used an AHA the night before. This is a reminder, to not be too harsh on the skin with actives and try to find a balance. Sometimes you can be using too much and overwhelming your skin.
The first 2 times that I used this I got 2-3 pimples, but after that my skin adjusted and I've had no breakouts at all.
I've used this serum consistently for more than a month, and as with most actives, it takes some time until you start noticing some results.
There has certainly been improvement on overall texture. The skin feels much smoother.
When I use it during the night, the next day my complexion appears brighter. Moreover, I've noticed my acne spots fading faster than usual. Regarding sun spots, there hasn't been any noticeable change yet.


Ingredients
Ascorbic Acid 5.0% – The pure form of Vitamin C that is proven to boost collagen production in concentrations 5-20%. Boosts UV protection when used under sunscreen. It also has brightening properties and fades pigmentation.
Sodium Ascorbyl Phosphate – The salt form of Ascorbic Acid that has antioxidant properties and can help with acne.
Soothing and antioxidant ingredients include: Centella Asiatica Extract, Scutellaria Baicalensis Root Extract, Coptis Chinensis Root Extract.
This serum also includes 5 types of peptides: Sh-Oligopeptide-1, Sh-Oligopeptide-2, Sh-Polypeptide-1, Sh-Polypeptide-9, Sh-Polypeptide-11.

Final Verdict
Pros
Brightens the skin.
Evens out the complexion.
Improves skin texture.
Smooth finish (not sticky).
Fading of acne spots.
Suitable for most skin types, especially combo, normal and dry skin.
Cruelty-free & Vegan.
Cons
Doesn't work well under sunscreen/makeup for oily skin.
Contains EOs for those that are sensitive to them.
With active ingredients, to be able to see results in terms of anti-ageing effects, improving elasticity or correcting hyperpigmentation, I personally think that you have to use them consistently over a long period of time. This is a great Vitamin C serum to start with, if you don't have a lot of experience with actives. Brightens, improves skin texture, fades acne spots faster. Vitamin C is a great antioxidant and this one is gentle, yet effective. I would repurchase for sure!

Important advice: Patch test any product before fully applying it on the skin, especially if it's an active ingredient.

Where to buy: Want to purchase the Klairs Freshly Juiced Vitamin C Drop? You can find it at Wishtrend* for the regular price of $23, but they often have sales. Or, you can grab it at Yesstyle*.

Have you tried this serum? If yes, how did it work for your skin? Let me know below 🙂


Check out my other reviews from the brand:
Klairs Rich Moist Soothing Serum Review
Klairs Midnight Blue Youth Activating Drop Review


---

*Affiliate links. It means I earn a small commission when you purchase a product through the links I have provided. You will not be charged extra if choosing to do so. The product has been purchased with my own money and I will always share my honest opinion and experience. Sincerely thankful to all of you that support my blog! For more information, see Disclosure Policy.


Related posts
Follow blog via Email
Get the latest posts from this blog delivered to your inbox!
About Me
Hi and welcome to Kbeauty Notes! :) I'm Ledia and I'm very passionate about everything skincare. I created this blog to share my thoughts and experience with many amazing and not so great products out there, hoping to help you make better decisions regarding your skin. I'm very happy to bring you on this journey with me and I hope you enjoy it! <3

My Skin Type: Oily, acne prone, dehydrated, a little sensitive, large pores.

Skincare Concerns: hydration, pore care, anti-ageing, PIE (acne marks), brightening.

Contact: kbeautynotes@gmail.com