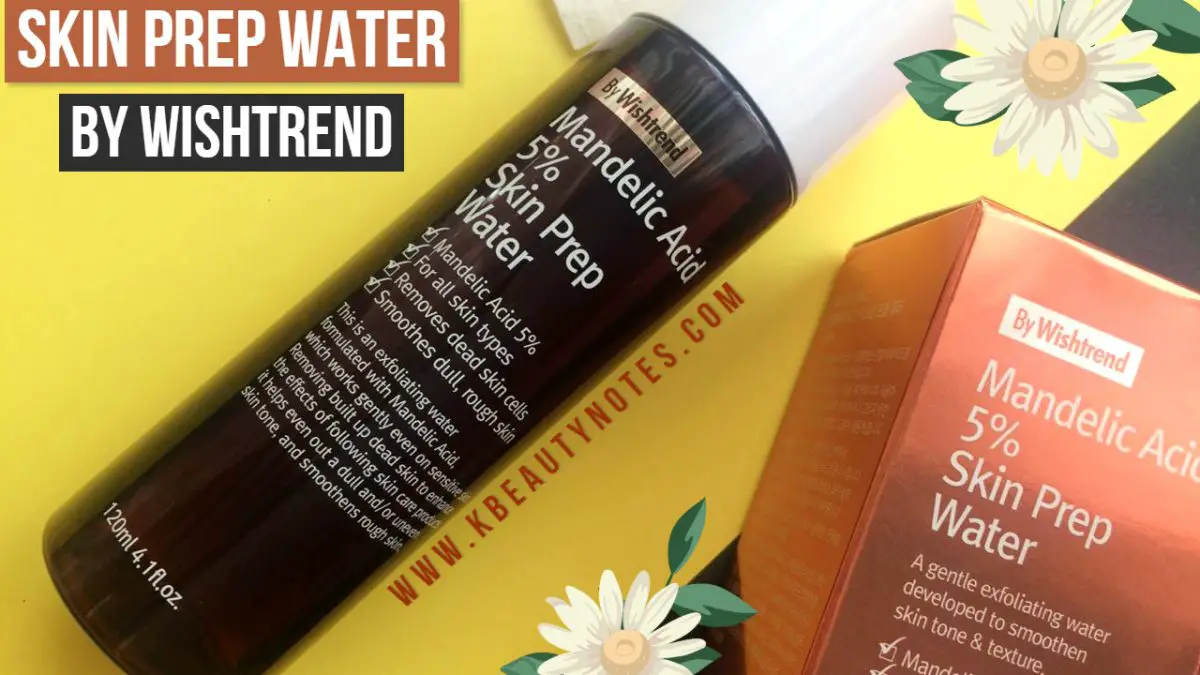 Don't you just hate it when your skin is flaky and rough in texture and even your makeup doesn't sit right? After looking around for a solution this is the main reason I decided to try and add an AHA in my skincare routine. There were a couple of options, but I chose mandelic acid as it is a bit more gentle than glycolic acid. I was worried I would irritate my skin if I went for something more potent since the beginning. Before getting into the review of the Mandelic Acid 5% Skin Prep Water, let's shortly take a look at what AHAs are.


What are AHAs and how do they work?
Mandelic Acid 5% Skin Prep Water is an AHA. But what are AHAs?
Alpha Hydroxy Acids – are chemical compounds which may be naturally occurring or synthetic. You may have heard of glycolic acid (found in sugar cane), lactic acid (found in sour milk), malic acid (found in apples) and citric acid (found in citrus fruits).
AHAs act to "unglue" the bonds and lift off the build up of dead skin cells. The can be found in toners, serums, creams etc. They are water soluble so they cannot penetrate the skin as deep as BHAs ( Beta Hydroxy Acids ).


Mandelic Acid 5% Skin Prep Water – What is it
Description: The By Wishtrend Mandelic 5% Skin Prep Water is a hydrating and non-irritating exfoliant that can be used daily. Formulated with Mandelic Acid, it acts as an exfoliating treatment that improves the skin tone and texture while boosting the effectiveness of other products.
Mandelic acid is derived from bitter almonds. It has a larger molecular weight than glycolic and lactic acid and penetrates the skin slower and not so deep like other acids. For this reason it is very gentle and suitable for all skin types, including sensitive skin.


Application – How to use it
Directions: After cleansing, apply an adequate amount of product to the skin and pat lightly to absorb. If more effective exfoliating is desired, saturate a cotton pad with product and use it to wipe the skin.
This toner is very watery, so I personally always soak a cotton pad and gently wipe my face after cleansing. Helps to achieve a more even distribution of the product and exfoliation. My favorite cotton pads to apply it are the sponge pads from Klairs (Toner Mate 2 in 1 Cotton Pad*). The compressed ones are also good, but with the sponge pads I feel like you use up way less product. I like to use them to apply essences as well since they're typically very watery.
*Do not use acids on your eyelids or very close to the eyes.
*Let the AHA absorb completely before following up with other products in your routine such as serum, moisturizer, sunscreen etc.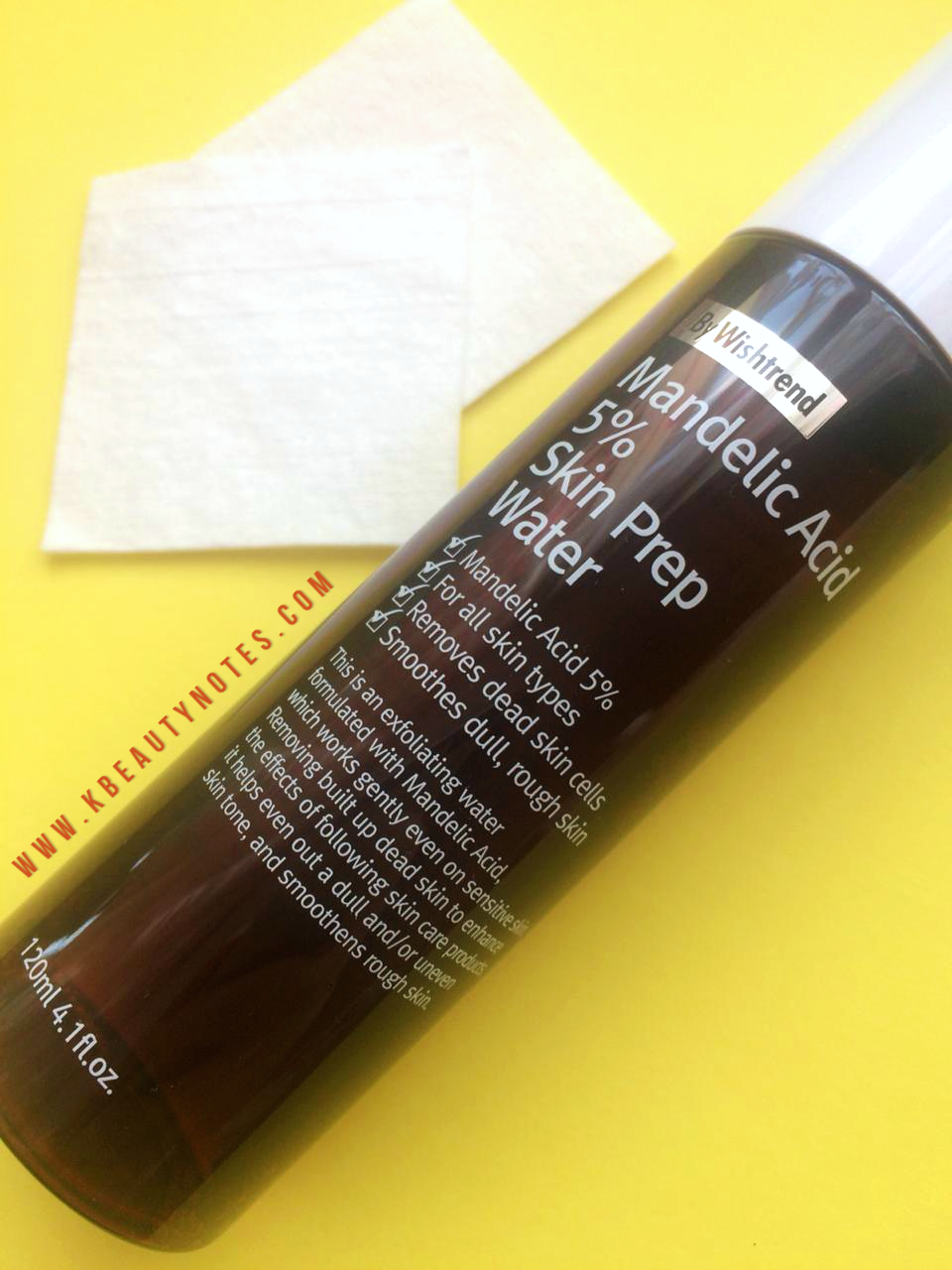 Performance
I've only experienced a little tingling the first 5-6 times that I've used it. Which is not a bad thing, as long as your skin isn't stinging or burning! But this is a very gentle exfoliator so I doubt there would be any intense tingling. I would advise doing a patch test before usage! (*No matter what products you're using, but especially with actives, it is advised that you perform a patch test beforehand!)
Exfoliates the skin pretty well and leaves it very smooth. You'll notice the effect almost immediately. Improves skin texture within a very short time, so you won't need to use it for 3 months to see visible results.
Makeup looks and feels so much better on the skin; goodbye flakiness and rough skin!
Heals any acne spots much faster. I have noticed acne fading faster than usual whenever I have used it and this is a huge plus.


Things to be aware of when using AHAs:
On days you want to use your AHA, avoid using other actives right after it such as Vitamin C, retinol or other AHAs/BHAs. Let your skin work with a single active ingredient at a time avoiding this way overstimulating it.
AHAs can make your skin sun-sensitive. Use them only at night time and always apply sunscreen (daily)! Even if it's been a week that you have exfoliated your skin, you must use sun protection during that time.
There is such thing as overexfoliating the skin which can make it photosensitive, thin out and feel dry. You don't want to risk irritating it, increasing chances of pigmentation and causing premature aging.


How often should you use it?
Although low concentrations of acids like 5-10% make possible for daily application, I wouldn't suggest it because of the reasons I explained above.
I personally like to use the mandelic acid 2 times a week and sometimes during the summer time even once a week. (Update: I've even started using it once in 2 weeks!) Experiment and see what works best for your skin, but try not to overdo it.


Ingredients
In addition to mandelic acid, it contains hydrating ( butylene-glycol ) and skin soothing agents like beta-glutcan for sensitive skin. Licorice root extract which also helps with soothing irritated skin and brightning. Centella Asiatica for boosting antioxidant activity and strengthening the skin barrier.
Water, mandelic acid, butylene-glycol, beta-glutcan, panthenol, glycyrrhiza glabra (licorice) root extract, prunus amygdalus dulcis (sweet almond) fruit extract, sodium hyaluronate, sorbitan sesquioleate, centella asiatica extract, houttuynia cordata extract, sorbitol, di methyl sulfone, chlorphenesin, sodium citrate, arginine, peg-60 hydrogenated castor oil, ethylhexylglycerin, natto gum carbomer.

Final Verdict
Pros
Exfoliates and removes the dead skin cells well.
Gentle.
Improves skin tone and the overall texture.
Fades acne scars faster.
Suitable for all skin types.
Cons
Can dry out and irritate the skin if used frequently, so especially those with sensitive skin should be aware.
Since I have incorporated the Mandelic Acid 5% Skin Prep Water in my skincare routine, I have noticed improvement especially in my skin texture and acne scars fading faster. I really enjoy applying makeup after my skin becomes so smooth. Those of you who experience a lot of dead skin build up would understand (oily skin types like myself). And considering that this is a very gentle acid it can be a good choice for those who have never used AHAs, before jumping to more potent exfoliators like glycolic and lactic acid. As well as for sensitive skin types if you think you need some exfoliation but are intimidated by the stronger and higher concentration AHAs out there. I would definitely repurchase this!

Where to buy:
If you want to purchase the Mandelic Acid 5% Skin Prep Water, you can find it at Wishtrend* for the regular price of $22 for the 120ml bottle, but it's often on sale. It's also available at Yesstyle* (there is a 30ml version as well, so check the options carefully) (You can use KBEAUTYNOTES for 2-5% off your order).

What AHA product are you currently using in your routine? Please share <3


---

*Affiliate links. It means I earn a small commission when you purchase a product through the links I have provided. You will not be charged extra if choosing to do so. The product has been purchased with my own money and I will always share my honest opinion and experience. Sincerely thankful to all of you that support my blog! For more information, see Disclosure Policy.


Related posts
Follow blog via Email
Get the latest posts from this blog delivered to your inbox!
About Me
Hi and welcome to Kbeauty Notes! :) I'm Ledia and I'm very passionate about everything skincare. I created this blog to share my thoughts and experience with many amazing and not so great products out there, hoping to help you make better decisions regarding your skin. I'm very happy to bring you on this journey with me and I hope you enjoy it! <3

My Skin Type: Oily, acne prone, dehydrated, a little sensitive, large pores.

Skincare Concerns: hydration, pore care, anti-ageing, PIE (acne marks), brightening.

Contact: kbeautynotes@gmail.com