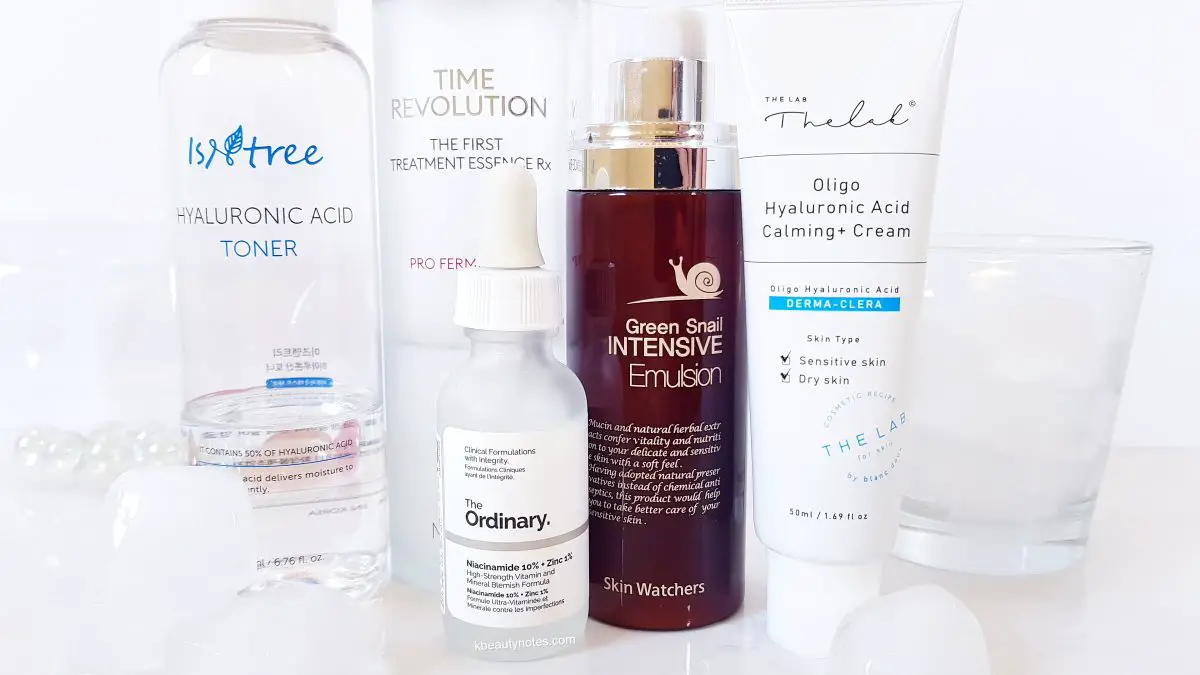 I have done plenty of reviews on my blog, but never actually posted a skincare routine before. And I thought it was about time to share with you all My Simplified 5 Step Korean Nighttime Skincare Routine! When I came back from vacations this year my skin got really dry/dehydrated because of the sea water. I like to swim a lot, so especially the skin on my face, hands and feet got dry and uncomfortable.
I also broke out on the sides of my face and other places. It was really upsetting at first, because I've managed to keep my skin almost acne free for a very long time. And although I had skincare with me, I would skip it as I was very tired at the end of the day and would simply go to bed. Let alone all the junk food I was eating… Too much sugar or dairy is a sure way for me to get pimples.
So, my PM skincare routine these past couple of weeks has consisted mostly of adding hydration and combating acne. In cases like this it's good to go back to skincare that you know works best for your particular concerns. So, let's get into my simplified korean nighttime skincare routine!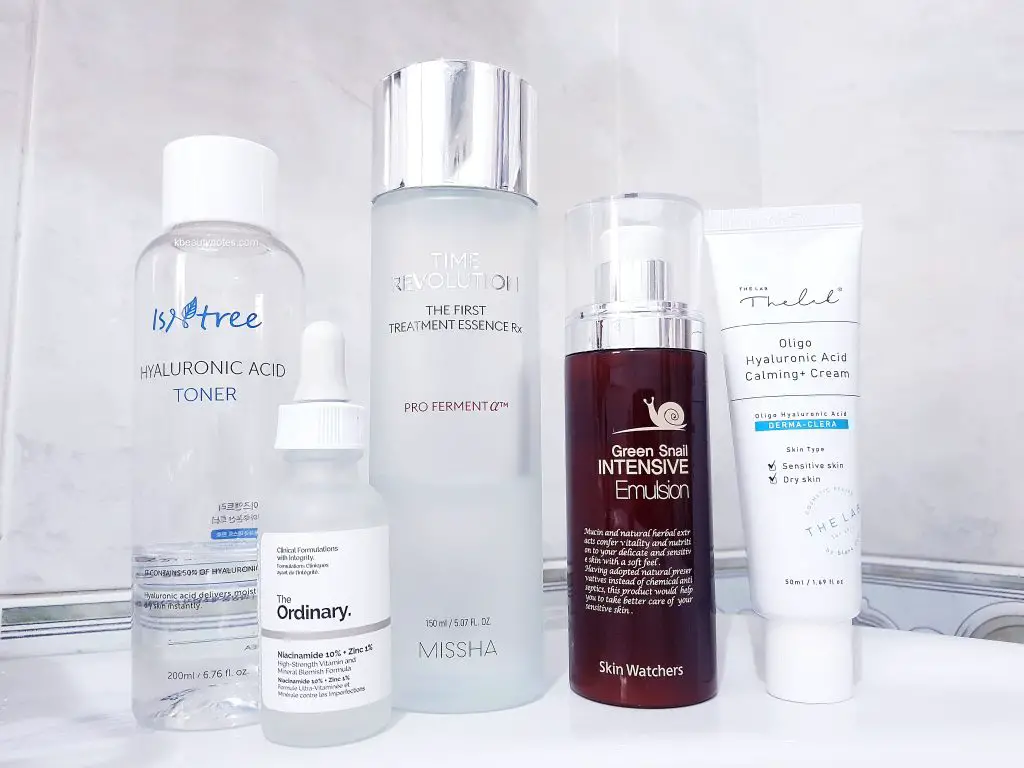 While preparing this post I realized I forgot to count the cleansing step (oops), so… let's just leave it at 5 Steps… Because I didn't want to make my acne worse I haven't worn makeup all this time and have not double cleansed. Washing my face only once does the job when I go makeup-free. I have alternated between a balm cleanser and a gel cleanser – The COSRX Low pH Good Morning Gel Cleanser. I've used this one because it's really good for acne prone skin, although not ideal for dry/dehydrated skin.


1. Isntree Hyaluronic Acid Toner
The Isntree Hyaluronic Acid Toner is a hydrating toner and it's on the viscous side, so it's great if your skin is feeling dry or dehydrated. Despite being on the thicker side, this toner absorbs on my skin completely. I would do 2 layers of this during my nighttime routine. The finish is smooth and it's alcohol-free, fragrance & essential oil-free.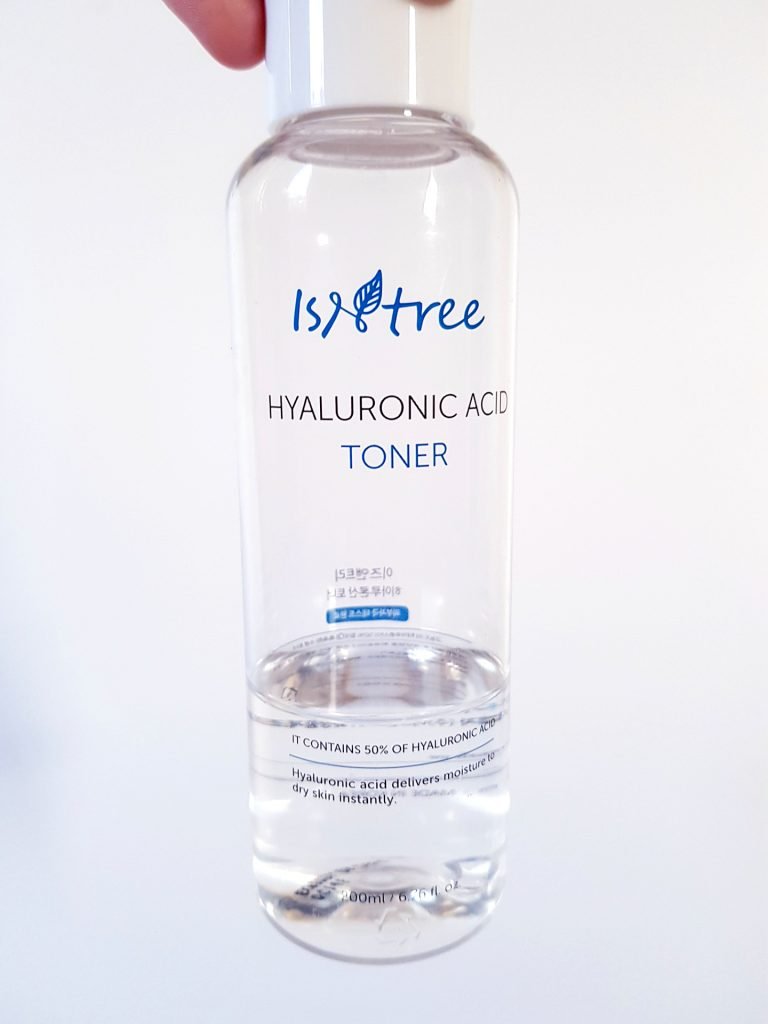 Read full review here: Isntree Hyaluronic Acid Toner Review

Where to buy: Yesstyle* / Stylevana* / Stylekorean* / Jolse*
(You can use my code KBEAUTYNOTES on Yesstyle for an extra 2-5% OFF.)


2. The Ordinary Niacinamide 10% + Zinc 1%
I know… The Ordinary is not a korean brand, but the Niacinamide 10% + Zinc 1% is my holy grail when it comes to combating acne. Not only it prevents new breakouts for me, but it calms down inflammation fast. It's not intensely hydrating, but it adds a much needed layer in there. Sometimes I don't apply it all over the skin, but only on my troubled areas. I know some people have problems with pilling, but I have only noticed that if I use something that is heavily oil-based on top. It didn't budge at all when used together with the other products in my routine.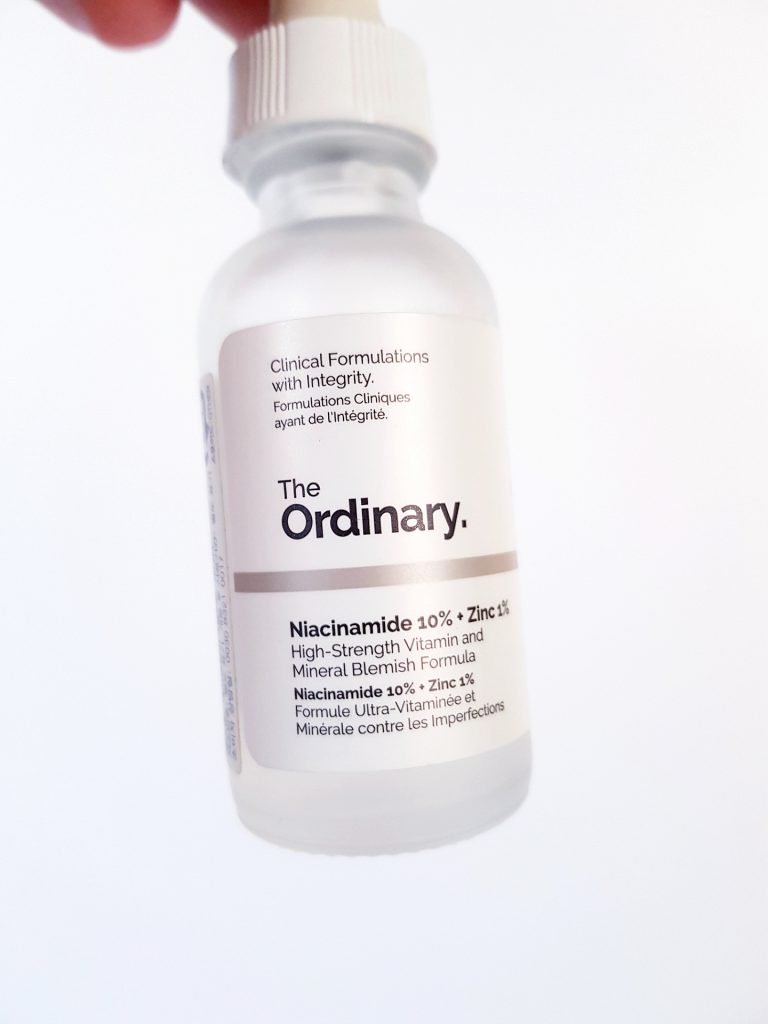 Read full review here: The Ordinary Niacinamide 10% + Zinc 1% Review
Where to buy: Deciem / E-Bay – dream.forecast


3. MISSHA Time Revolution The First Treatment Essence Rx
Another favorite product of mine! The level of hydration this provides to my skin is insane. I can simply use one layer of this essence and the skin immediately becomes more plump and softer. Don't be fooled by its watery consistency. Despite it being thinner than the niacinamide serum, it was okay to use this after that one. It relieved any tight feeling and smoothed out skin flakes even further. Those that suffer from fungal acne should be wary of skincare containing fermented ingredients (The COSRX cleanser has Saccharomyces Ferment as an ingredient, as well). It does contain niacinamide though, so again, one of my favorite ingredients to treat acne. I have the full review of the Intensive [Moist] version below, but I think both versions perform the same so I didn't make a separate one for the Rx.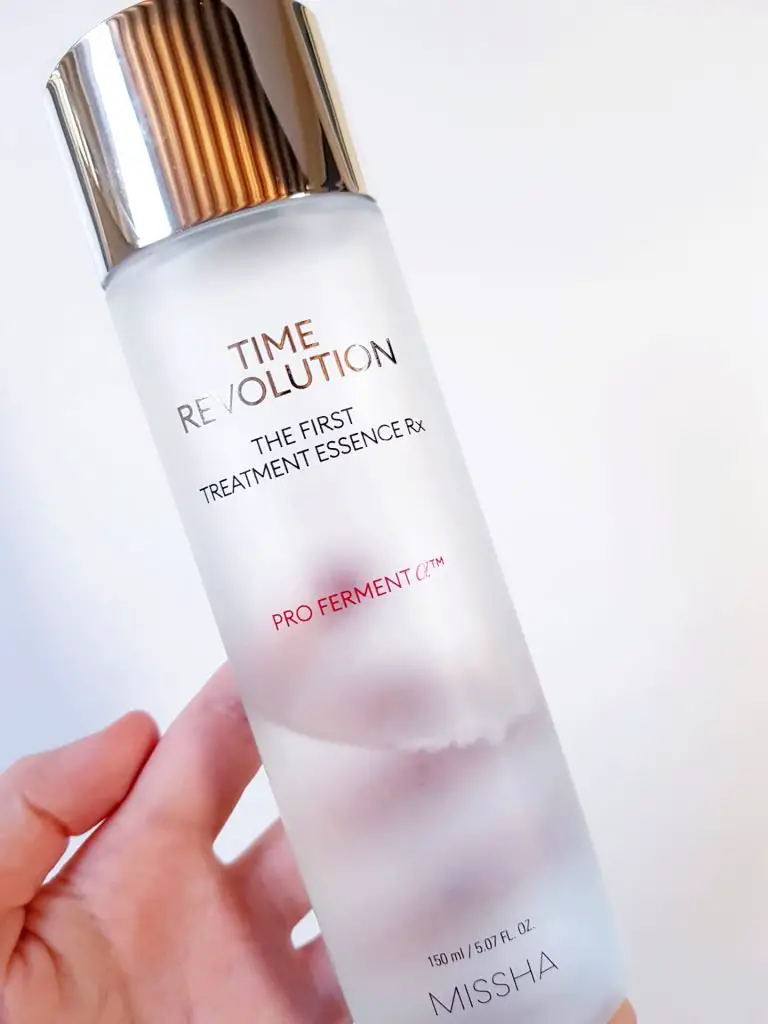 Read full review here: MISSHA Time Revolution The First Treatment Essence Intensive [Moist]
Where to buy: Yesstyle* / Stylevana* / Stylekorean* / Jolse*


4. Skin Watchers Green Snail Intensive Emulsion
If you've followed my blog before, you know that I've gone through a couple of bottles of this emulsion already. It's THAT good! It's lightweight, hydrating, spreads like a dream, doesn't clog pores, works well under makeup and it's safe for acne prone and sensitive skin, too. It noticeably reduces my redness. I love it! On days when my skin needed even more hydration I would actually mix this with the MISSHA Essence after having done a layer of the essence first. They mix so well together. Normally this is how many steps I do in my skincare routine, but I had some severe dehydration this month for the aforementioned reason. I felt that even more on my hands to be honest, because I've used so much hand sanitizer during this time.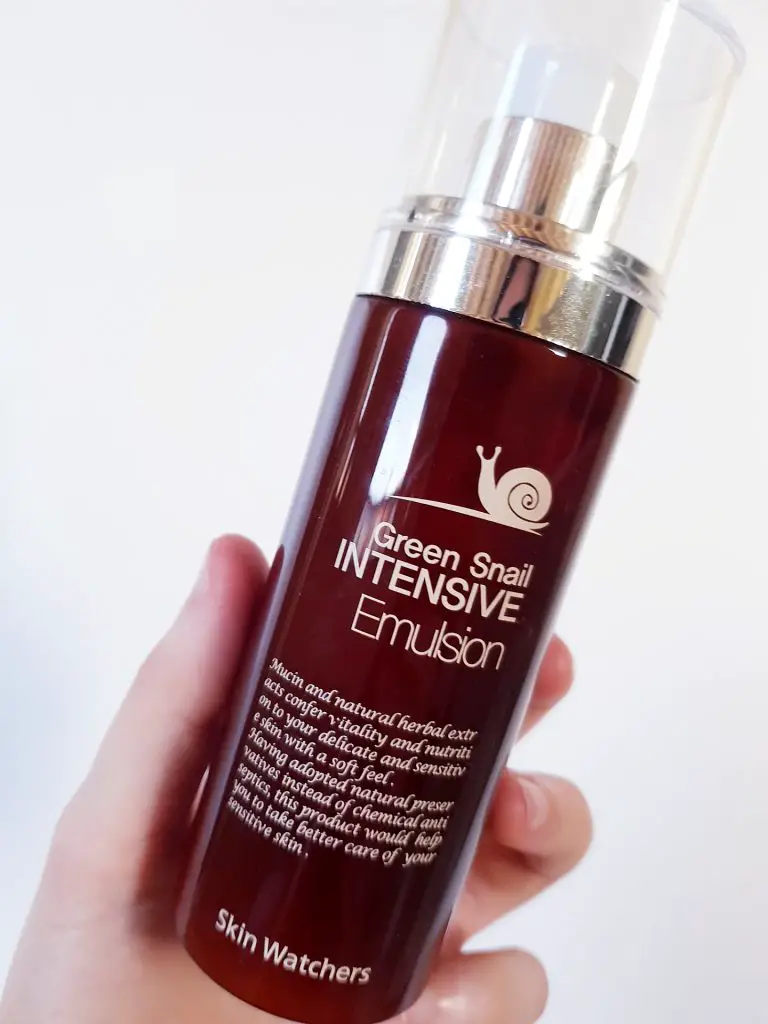 Read full review here: Skin Watchers Green Snail Intensive Emulsion Review
Where to buy: Jolse* / Cosmetic Love


5. THE LAB by blanc doux Oligo Hyaluronic Acid Calming+ Cream
One of the most recent additions to my skincare stash, which did not disappoint. Using too many products can actually congest my skin, so I'm very picky when it comes to cream formulations. There are creams that feel very occlusive on the skin and others that feel like they disappear into thin air. And I'm not a fan of either of them. This one on the other hand, feels moisturizing, but the "film" it leaves on the skin is super smooth and not heavy at all. It's not sticky and feels pretty calming. Layers so well over all the products I use under it. It didn't make my niacinamide serum pill.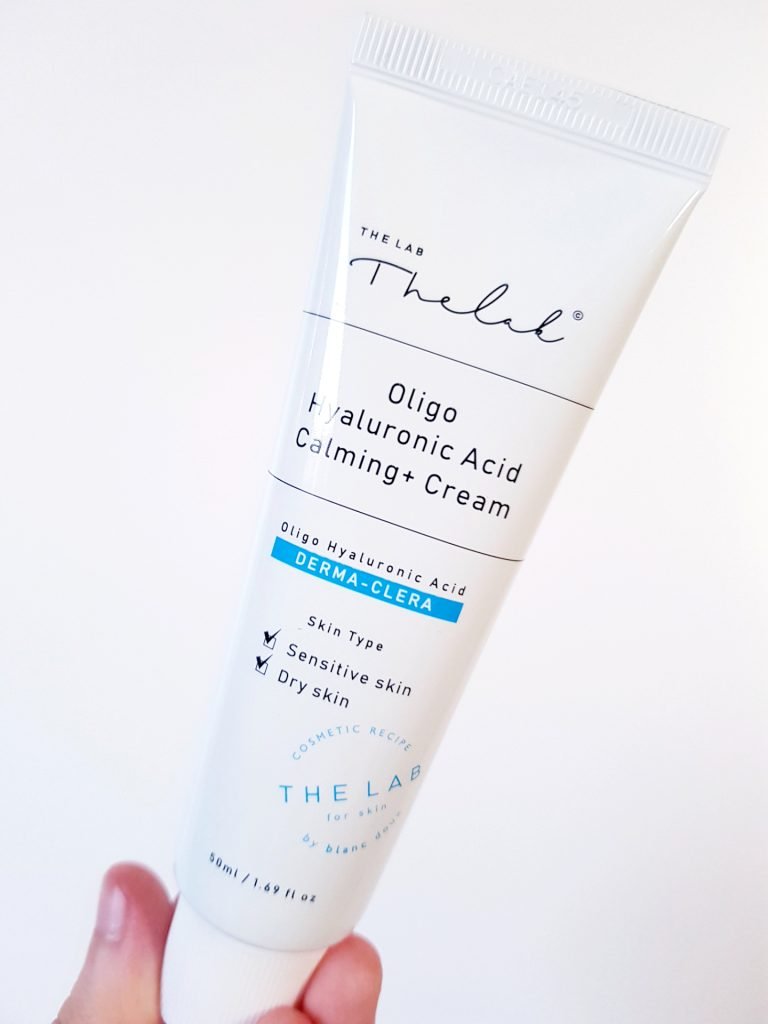 Read full review here: The Lab Oligo Hyaluronic Acid Calming+ Cream Review
Where to buy: Yesstyle* / Stylevana* / Jolse*


Before and After Pictures of My PM Skincare Routine
When I tell you I have large visible pores, I'm not joking or exaggerating out of insecurity. Pores are mostly genetic, so what's left for me to do is just try to take care of them, keep them clean and hydrated, because they do look smaller that way. In my teens I haven't done a good job in caring for them, so unfortunalely, some have lost their shape and look uneven. I used to pick at my acne a lot as well. I don't know why we do that, although we know we shouldn't…
The 1st pic was taken under terrible lighting at night so excuse that, but regardless, you can clearly see on the photos when the inflammation is there and when it has died down. The 1st and 2nd pic are taken 4 days apart. You can see that acne at the bottom which is the most inflammed has almost completely disappeard. While the other 3 that looked more like congestion have come to the surface. The 3rd one was taken the next day early in the morning and the redness has completely gone down.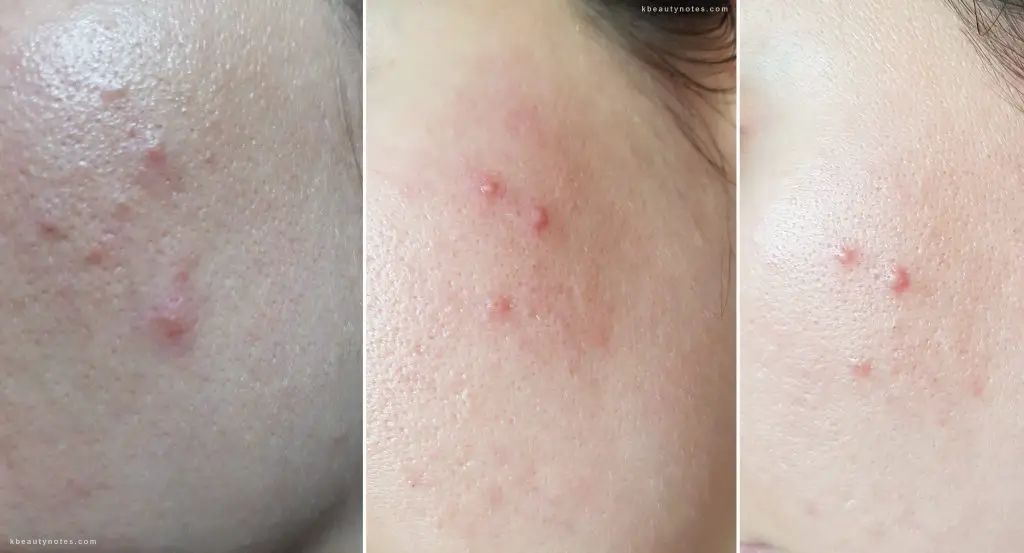 4th pic is the day after. You can notice very little changes, but the pimples look slightly more tamed. The 5th pic has been taken 6 days after the 4th.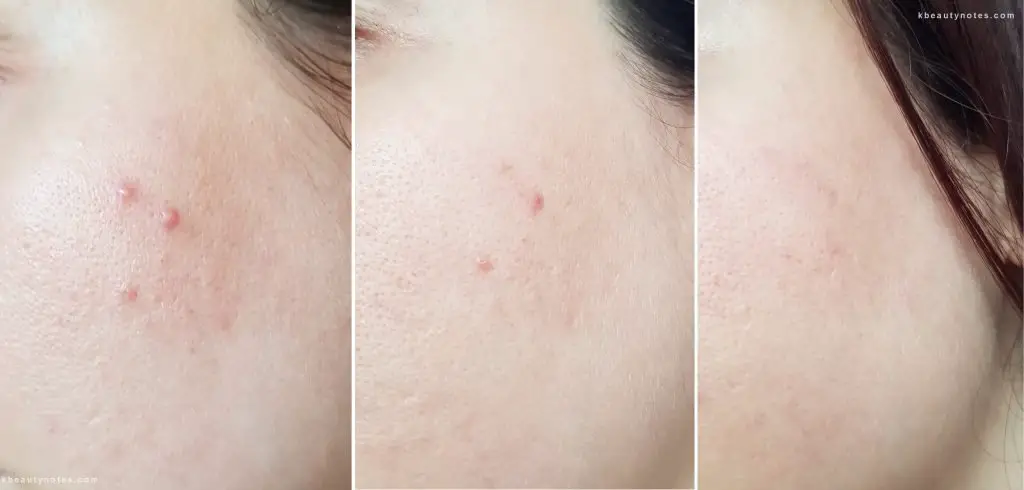 I had a few pimples on the other parts of my face, too, like near my upper lip, forehead, and jaw, but this side was the most agravated part and the easiest to show as I'm camera shy (the 2nd day looked even more inflammed).
I hope you found my simplified Korean skincare routine somewhat helpful. This is just my experience, so if you suffer from chronic acne please consult a professional.
Does it mean my skin will remain acne free from now on? Of course not! My skin is far from perfect. I have broken capillaries, large pores and many other skin concerns to deal with. Just remember that this is a journey and we're not aiming for perfect skin, but healthy skin! Wherever you are in your journey right now, it's completely fine. 🙂


Let me know if you've tried any of the skincare that I mentioned in this simplified 5 step Korean skincare routine! Do you have any favorites?


---

*Affiliate links. It means I earn a small commission when you purchase a product through the links I have provided. You will not be charged extra if choosing to do so. I have purchased the products with my own money and I will always share my honest opinion and experience. Sincerely thankful to all of you that support my blog! For more information, see Disclosure Policy.
Related posts
Follow blog via Email
Get the latest posts from this blog delivered to your inbox!
About Me
Hi and welcome to Kbeauty Notes! :) I'm Ledia and I'm very passionate about everything skincare. I created this blog to share my thoughts and experience with many amazing and not so great products out there, hoping to help you make better decisions regarding your skin. I'm very happy to bring you on this journey with me and I hope you enjoy it! <3

My Skin Type: Oily, acne prone, dehydrated, a little sensitive, large pores.

Skincare Concerns: hydration, pore care, anti-ageing, PIE (acne marks), brightening.

Contact: kbeautynotes@gmail.com