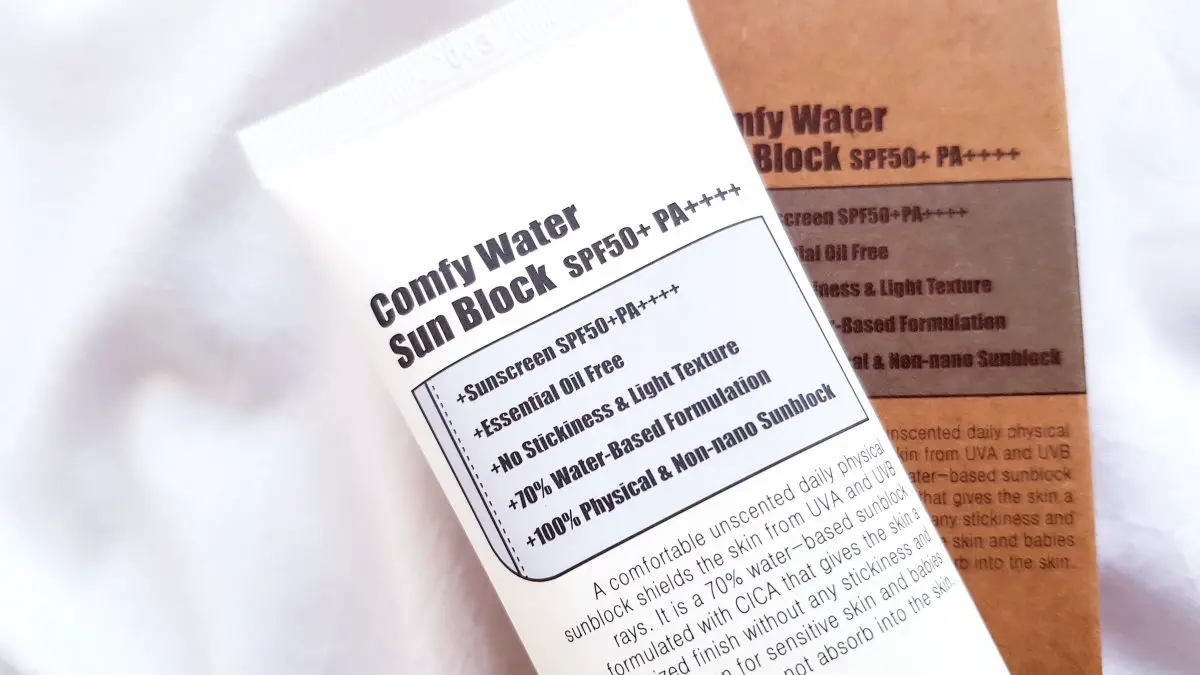 I've had the worst experience with physical (inorganic) sunscreens, so I've stayed away from them all this time. The very first one I've tried was a sunscreen from a german brand called Lavera and… it was terrible! It was thick, pasty and impossible to spread on the face. The only scenarios that I can think I would be willing to use that kind of sunscreen are: either to engage in extreme water sports, or if I'm left stranded on a tropical island where there is no shade from the sun.. xD
So, I've seen that this PURITO sunscreen has been hyped for quite some time now and this made me interested in giving this mineral sunscreen a chance. So, here comes my PURITO comfy water sunblock review!
If you're interested in more reviews from Purito:

PURITO Centella Green Level Eye Cream
PURITO Centella Green Level Buffet Serum
PURITO Sea Buckthorn Vital 70 Cream Review


What is the PURITO Comfy Water Sun Block?
This is a 100% mineral (physical) non-nano sunblock with a 70% water-based formulation. It has SPF50+ and PA++++ rating for UV protection. Light non-sticky texture and is free of essential oils. The sunblock comes in a 60ml squeeze tube.


Application
Shake the bottle a couple of times times before using. Apply the sunscreen after your skincare routine in the morning. Make sure everything is absorbed.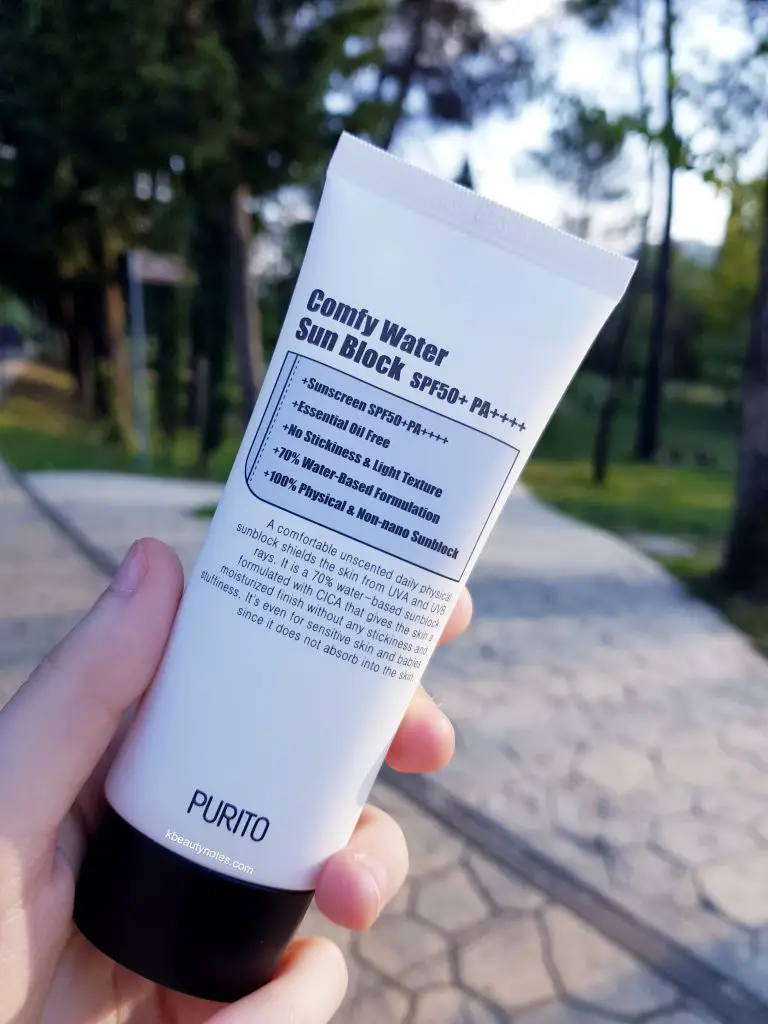 Consistency
It's a lightweight cream type sunscreen that dries down to an almost matte finish. The first physical sunscreen that spreads so well and doesn't set fast so you have time to work it on the skin.


Performance
If you've read reviews of this sunscreen before, you most likely know that many people say that this pills on them. It could be probably because it also contains silica. If I saw them earlier I wouldn't have bought it, but it was already shipped at that point. So, I was expecting that this would pill on me and I would try to repurpose it, so it wouldn't go to waste. Maybe only use it on my neck, shoulders or the back of my hands.
When it arrived, I tried it on my hand, rubbed it in with some pressure to see how it would blend and apply. Then, I rubbed it and it pilled. I did this just to see how bad the pilling would be because honestly many sunscreens would do that if you were to rub them forcefully (check the photo below). Anyway, I felt a bit discouraged so I decided to try out the Etude House Sunprise Mild Watery Light SPF50+ first, and then see what to do with this one.
Fast forward, it was time to try out the PURITO Comfy Water Sun Block and I had no expectation at all. BUT, it didn't pill on my face! Neither during the application nor it did during the day. After some time that I returned home, I rubbed my cheeks just to see if it would come off and nothing happened.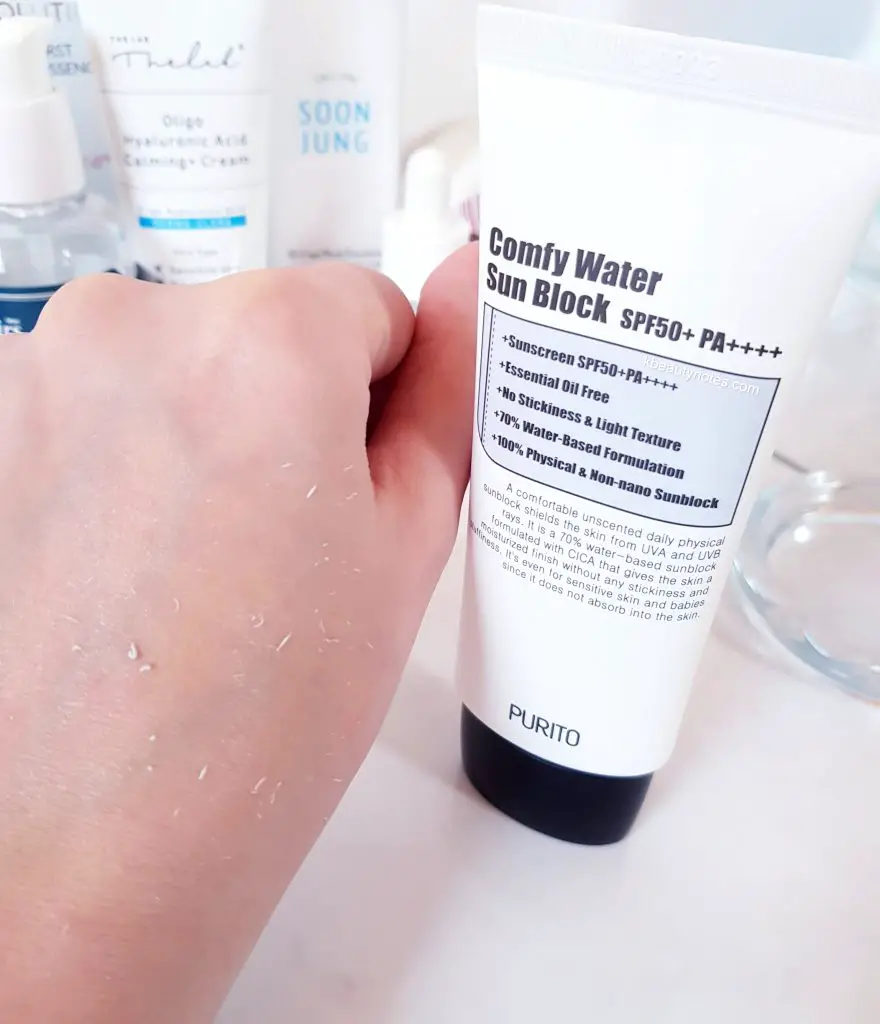 The finish was pretty smooth and it's almost matte if used on its own. But since I always have skincare under, the skin has a subtle sheen. The application was great, it was blended evenly and allowed for some time to set. Spreads so well and takes some time to dry down, so it allows you to work it on the skin. I don't like it when the sunscreen sets too fast and you can't move it around to apply it properly.
Let's get to whitecast. It does leave a very slight whitecast on my skin when fist applied. After 30 min or so it's completely undetectable, no matter in which lighting I look at my face. My skin is on the light side, but I've seen on YouTube that this leaves a very minimal whitecast on dark skin. Mostly people seem to like it.
It does not dry me out or make my skin feel tight. I didn't experience any kind of irritation or breakouts from this. Really happy about it since my skin is acne-prone. Also, no stinging when applied close to the eyes.
Regarding makeup, I have only been able to test this with light makeup applied with patting motion and haven't had an issue. But if you wear full makeup everyday I'm not sure how this would work out.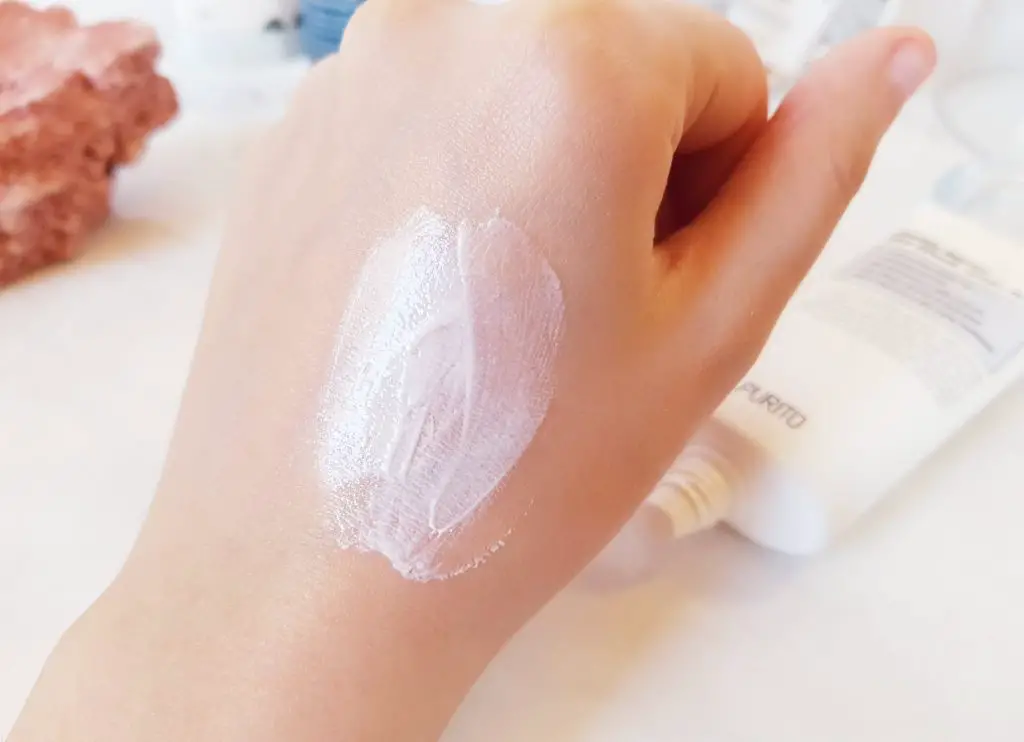 Some reasons that this sunscreen may be pilling for others:
Skin could be too dry / you're applying it directly onto (dry) skin. I did test this directly on the skin with no other products and it pills just like it did on the back of my hand. If the skin feels dry and tight and the sunscreen being close to matte it could perhaps cause it to crack and roll. It also will cling onto dry patches. Make sure to moisturize your skin well with mainly water based products.
Skincare that is too moisturizing. You could be using skincare that is way too heavy (oily) and it's not allowing the sunscreen to adhere properly to the skin to form a film.
Makeup (oil-based). Just like sebum from the skin or oil from skincare, this too may cause the sunscreen to pill and ball up.
Humid weather and oily skin. During the summer my skin gets way more oily than in cold weather and we also sweat, so it could be that the oils come through the skin and make the sunscreen pill. This is if your sunscreen starts to pill during the day.


Ingredients
The UV filters of this sunscreen: Zinc Oxide and Titanium Dioxide.
Other notable ingredients are: Niacinamide – One of my favorite ingredients to combat acne. It also includes all 4 active components of Centella Asiatica: Madecassoside, Asiaticoside, Madecassic Acid, Asiatic Acid. Great to add soothing, healing and antioxidant properties. Adenosine – is good for soothing and has anti-wrinkle benefits.
I do have other products that I use separately with Niacinamide or Centella, so they're not needed that much in my sunscreen. However, what this tells me is that the sunscreen would not be irritating and would be potentially safe to use for sensitive skin.
The previous version of this sunscreen which contained essential oils has been discontinued. The formula is now alcohol-free, fragrance & essentialoil-free.
Water, Cetyl Ethylhexanoate, Butylene Glycol, Glycerin, Dipropylene Glycol, Zinc Oxide, Silica, Niacinamide, 1,2-Hexanediol, Polyglyceryl-3 Methylglucose Distearate, Titanium Dioxide(Ci 77891), Sodium Polyacryloyldimethyl Taurate, Cetearyl Olivate, Sorbitan Olivate, Madecassoside, Asiaticoside, Madecassic Acid, Asiatic Acid, Stearic Acid, Lauroyl Lysine, Disodium EDTA, Acrylates/​C10-30 Alkyl Acrylate Crosspolymer, Adenosine, Hydroxyethyl Acrylate/​Sodium Acryloyldimethyl Taurate Copolymer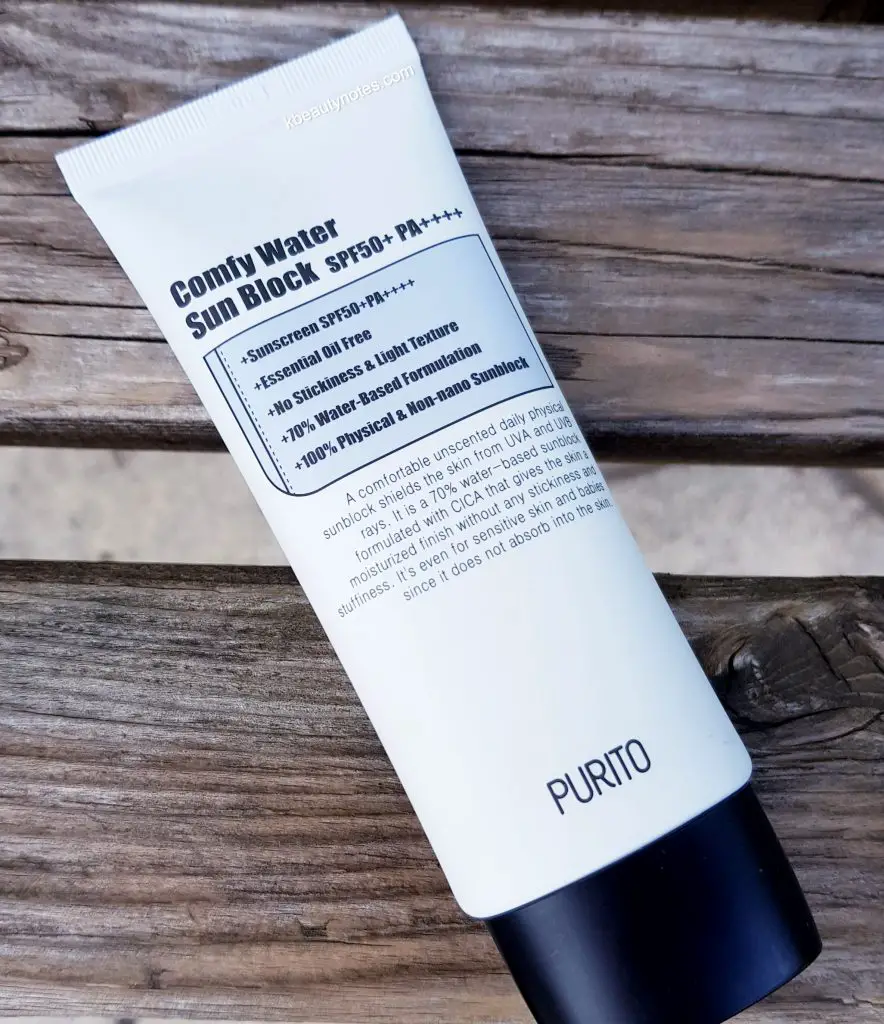 Final Verdict
Pros
Would work well for most skin types.
It has almost a matte finish on its own, but doesn't dry out the skin.
It doesn't pill on me.
Causes no stinging when applied close the eye area.
No irritation or breakouts.
It doesn't smell like anything.
Free of alcohol, fragrance or essential oils.
Vegan & Cruelty-free.
Cons
Could possibly pill when re-applied.
It could cling to dry patches.
Not water-resistant.
Minimal whitecast for darker skin.
Again, another good everyday sunscreen with an elegant texture that doesn't feel heavy or sticky. The ingredients list is pretty short with some goodies in there for those with sensitive skin. I would say it's suitable for all skin types, but those with dry skin should moisturize well. Many say that it pills, (I also tested it on the back of my hand and on dry skin, so it does have a tendency to do that) but I hope that you find my tips somewhat helpful to prevent pilling. They probably won't work for anyone so you won't know for sure until you try it yourself. It is worth giving it a try if you can only use mineral sunscreens. I'm using this now in colder weather and I'm mostly indoors. I don't know how this would work in hot climates (personally I wouldn't rely on it), but keep in mind that it is not water-resistant! I love that it doesn't break me out.

Where to buy: Interested in buying the PURITO Comfy Water Sun Block? You can find it on Stylevana* and Yesstyle* for $14.39 and $14.95 respectively.
This was my Purito Comfy Water Sunblock review. Let me know if you've tried this sunscreen before or if you have any questions! Also, drop your holy grail and skin type 😉


---

*Affiliate links. It means I earn a small commission when you purchase a product through the links I have provided. You will not be charged extra if choosing to do so. I've purchased this product myself and I'll always share my honest opinion and experience. Sincerely thankful to all of you that support my blog! For more information, see Disclosure Policy.
Related posts
Follow blog via Email
Get the latest posts from this blog delivered to your inbox!
About Me
Hi and welcome to Kbeauty Notes! :) I'm Ledia and I'm very passionate about everything skincare. I created this blog to share my thoughts and experience with many amazing and not so great products out there, hoping to help you make better decisions regarding your skin. I'm very happy to bring you on this journey with me and I hope you enjoy it! <3

My Skin Type: Oily, acne prone, dehydrated, a little sensitive, large pores.

Skincare Concerns: hydration, pore care, anti-ageing, PIE (acne marks), brightening.

Contact: kbeautynotes@gmail.com