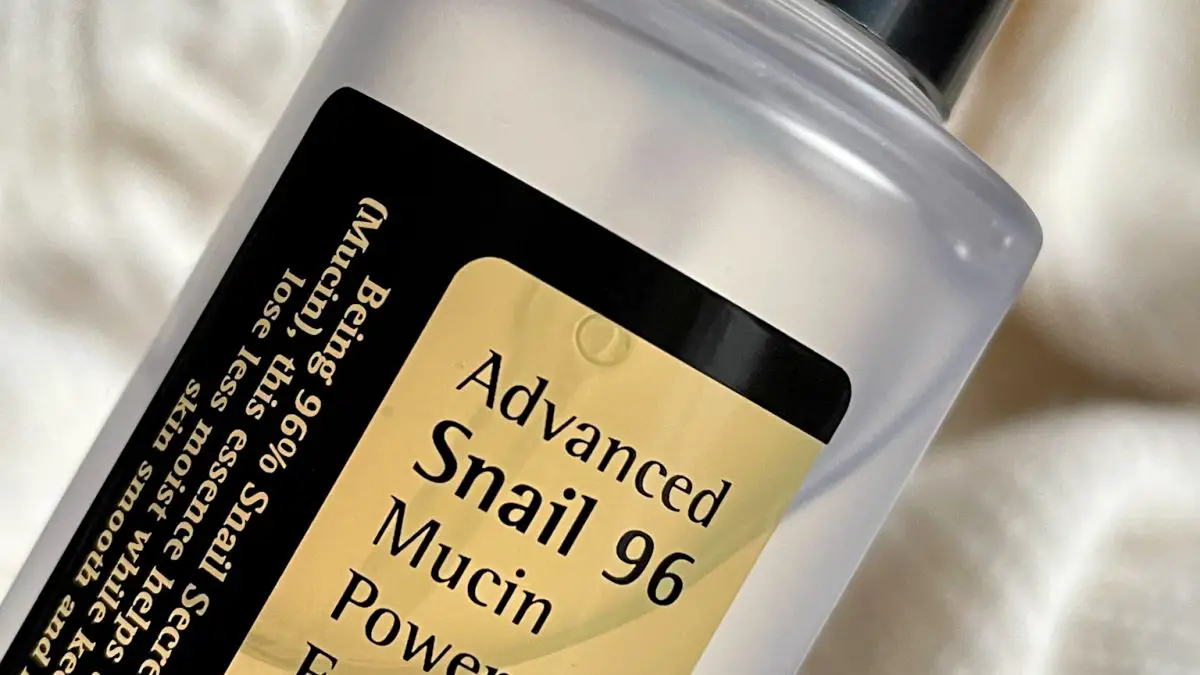 The snail mucin skincare trend seems to have made a return recently thanks to tiktok. I'm not on tiktok a lot myself, but it seems like many are discovering the great benefits of snail through the COSRX Advanced Snail 96 Mucin Power Essence. Why did it take me so long to try this out as a K-beauty fan?
Many years ago, even before Cosrx launched, I found an amazing snail product from the Korean brand Skin Watchers which I have repurchased multiple times. It worked so well for me that I wasn't even tempted to try anything else to be honest.
However, the product is not as easily accessible anymore and has become very expensive for me. So, at this point, I had to look for alternatives and I knew I couldn't pass up the chance to try the Cosrx snail essence!


Where to buy: This essence is available at Yesstyle (reward code: KBEAUTYNOTES for 5% off your order, can be used together with other coupons), Stylevana, StyleKorean, and Jolse.
Price: $13-$25
Volume: 100ml (3.38 fl.oz.)
Packaging: Simple plastic bottle with a pump dispenser.


What is the COSRX Advanced Snail 96 Mucin Power Essence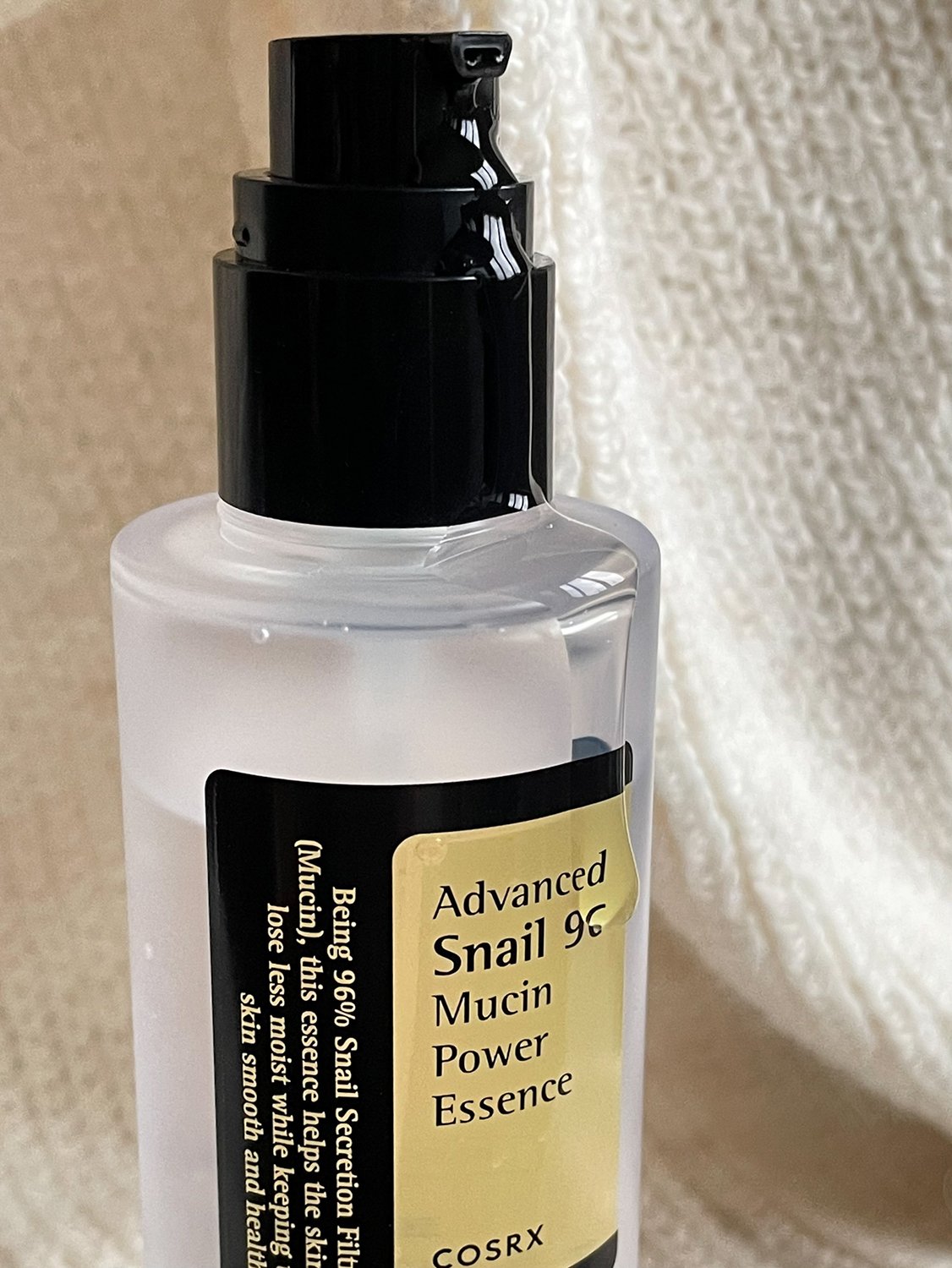 CosRx Advanced Snail 96 Mucin Power Essence is formulated with 96.3% Snail Secretion Filtrate, Sodium Hyaluronate, and two skin soothing ingredients: Allantoin and Panthenol. It promises to rejuvenate the skin, deeply hydrate, soothe and improve texture together with pigmentation.
According to Cosrx, the snails are not harmed during the process of obtaining the snail mucin.


How to use
Apply an appropriate amount of the essence after cleansing and/or toning the skin.
TIP: Follow with the essence while your skin is still damp from toner!
Massage to spread and then pat lightly to help with absorption.
Follow with your next skincare steps, like moisturizer and/or sunscreen in your morning routine.


Consistency
It has that stringy consistency of snail products, gel-like and viscous, but super lightweight and easily spreadable. Minimal tackiness before it sets in a smooth finish. Takes a bit of time until it sinks into my skin though.


Scent
It doesn't have any scent since it's free of fragrance and essential oils.


Performance
Immediate improvement in skin texture as it makes my skin feel super smooth! The thing is though that it's not that hydrating on its own for me as I don't see my fine lines get plumped like with other essences and toners. The desired hydration level can easily be fixed by layering products, which is something I usually do, however, my skin got 2-3 congestion spots on 3 different times that I tested it.
So, sadly I had to stop using it and gave it to my mom. She doesn't have acne prone skin like mine so just as I was expecting, no congestion occurred. Maybe using it less frequently and in combination with different products would avoid it, but I was not ready to risk more breakouts.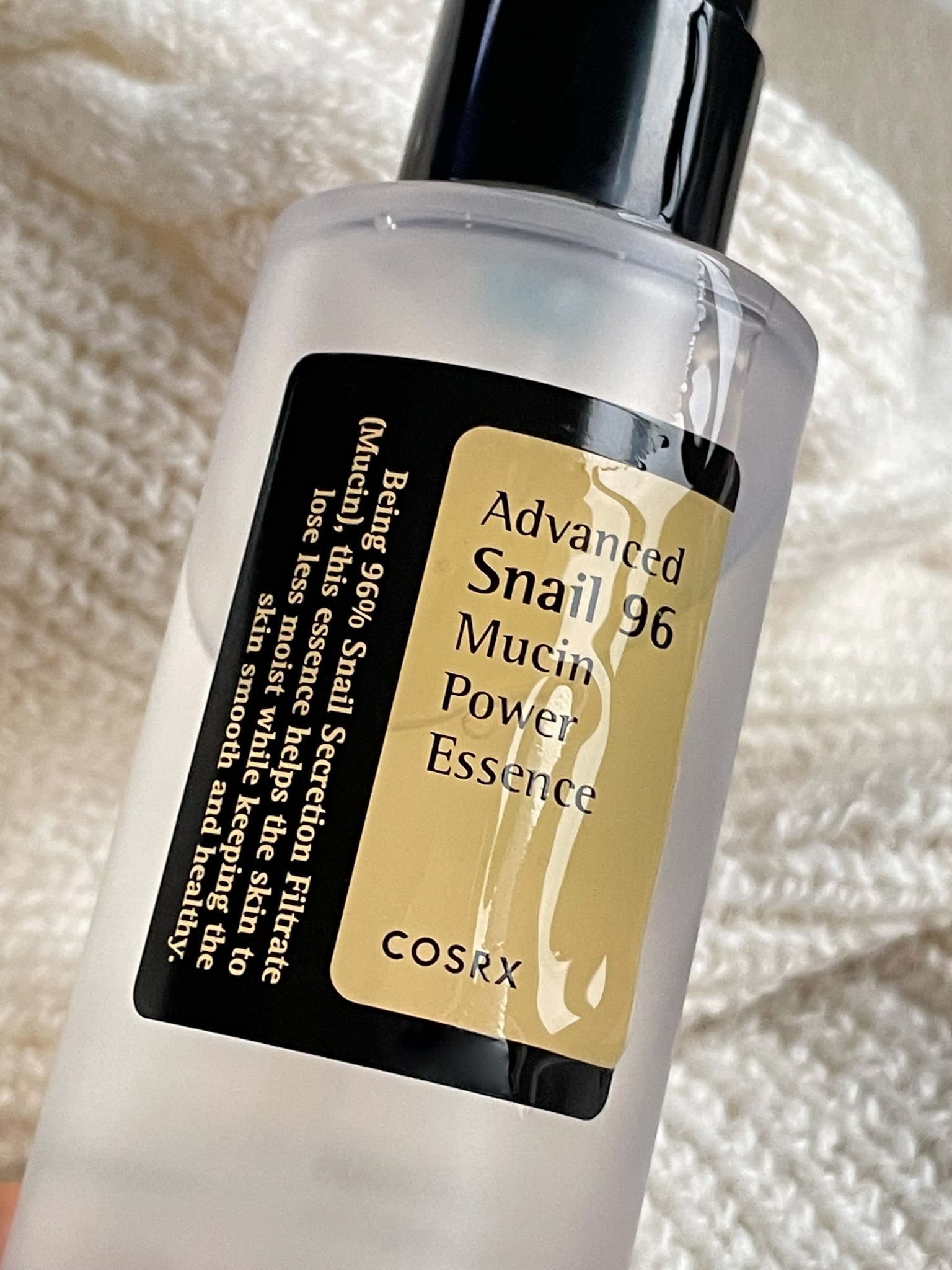 Despite these two issues, there are some great things about this essence. It creates a protective moisture barrier on the skin that it's important for barrier repair on damaged skin and to prevent water loss. The barrier it creates is pretty long lasting too. I noticed its effects the next morning as well.
Those with skin concerns like dry areas may notice a difference with consistent use.
This type of essence goes so well in a routine with active ingredients because it keeps the skin in a healthy state. The ingredients list is minimal and the ingredients themselves would benefit those with easily irritated skin.
I wish I could tell you about its long-term effects on improving dark spots and existing acne spots, but I only used it a few times.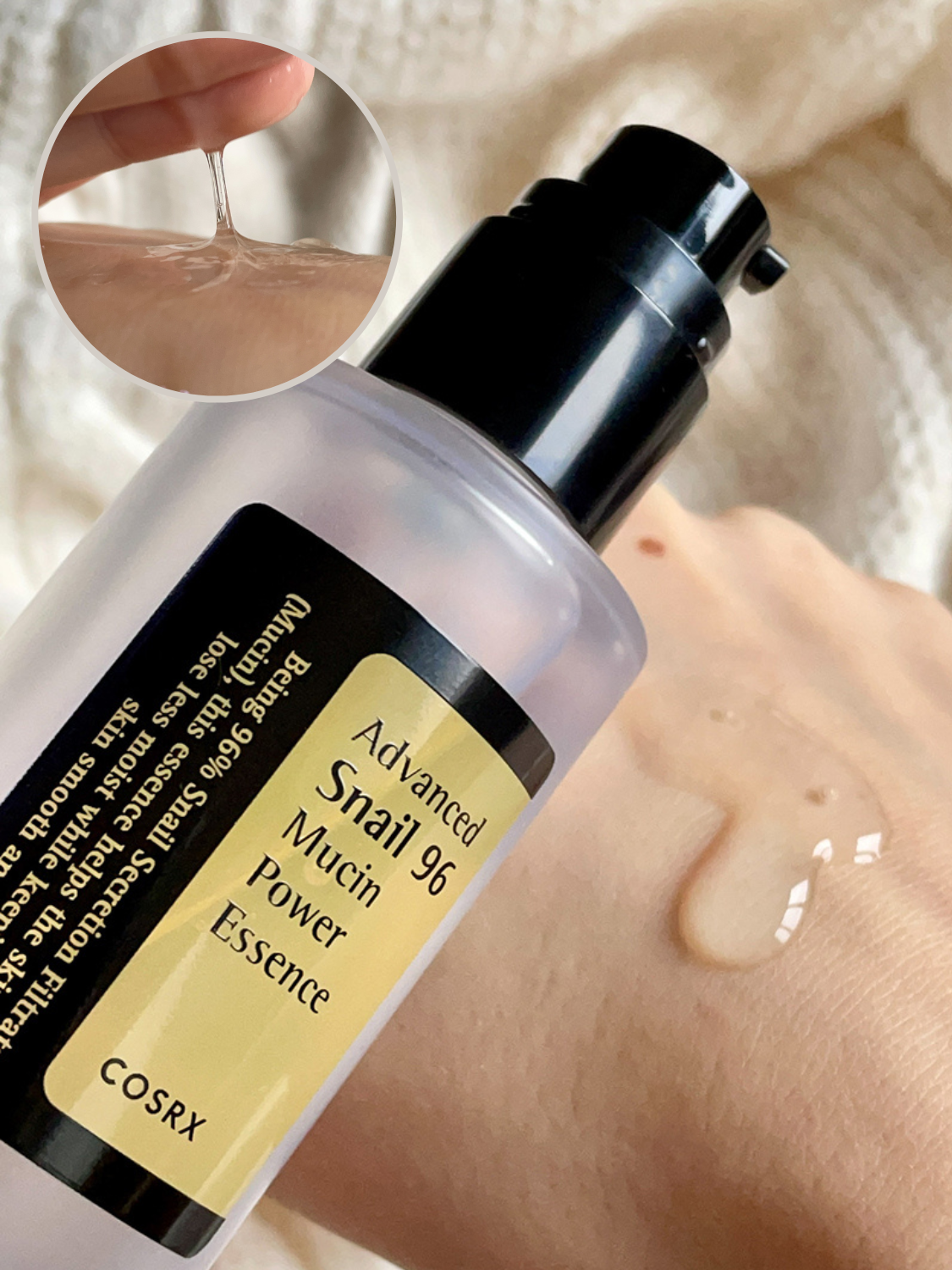 Although I feel like this has too much hype, it's a nice product in itself (if it doesn't break you out).
If you have tried it but it didn't feel enough moisturizing or you cannot bring yourself to use snail mucin, I would highly recommend you check out the Vegreen Nature Mucin line. They use wild yam extract as a vegan alternative to snail and it works great!


Ingredients
96.3% Snail Secretion Filtrate – it's packed with skin loving ingredients like hyaluronic acid, copper peptides, antimicrobial peptides, zinc etc. Antioxidant and regenerative properties.
Arginine (NMF – Natural moisturizing factor), Sodium Hyaluronate (moisturizer), Panthenol (Pro-Vitamin B5, anti-inflammatory, skin protecting and wound healing properties), Allantoin (soothing, skin-softening, and protecting).
Free of alcohol, fragrance and EOs.
Snail Secretion Filtrate (96.3%), Betaine, Butylene Glycol, 1,2-Hexanediol, Sodium Polyacrylate, Phenoxyethanol, Sodium Hyaluronate, Allantoin, Ethyl Hexanediol, Carbomer, Panthenol, Arginine

Final Verdict on the COSRX Snail Mucin Power Essence
Pros
Lightweight texture.
Dries in a smooth finish.
Barrier protecting and repair.
Antioxidant.
Prevents TEWL.
Great for easily irritated skin.
No alcohol, fragrance, or EOs.
Cruelty-free.
Cons
Broke me out.
Not hydrating enough for dry/very dry skin.
Since this broke me out, I would not repurchase it. I'm sure it's not the snail mucin causing it. So, if you experience the same, I wish you don't give up on the ingredient just because this product didn't work out for you. This would work fine if you're not acne prone (based on my experience), and your skin feels damaged and irritated from external factors or the overuse of actives.

Did you find the COSRX Advanced Snail 96 Mucin Power Essence Review helpful? Have you tried this essence before?

---
*Affiliate Links – It means I may earn a small commission when you purchase a product through the links I have provided, at no extra cost to you. I have purchased this product myself.
Related posts
Follow blog via Email
Get the latest posts from this blog delivered to your inbox!
About Me
Hi and welcome to Kbeauty Notes! :) I'm Ledia and I'm very passionate about everything skincare. I created this blog to share my thoughts and experience with many amazing and not so great products out there, hoping to help you make better decisions regarding your skin. I'm very happy to bring you on this journey with me and I hope you enjoy it! <3

My Skin Type: Oily, acne prone, dehydrated, a little sensitive, large pores.

Skincare Concerns: hydration, pore care, anti-ageing, PIE (acne marks), brightening.

Contact: kbeautynotes@gmail.com