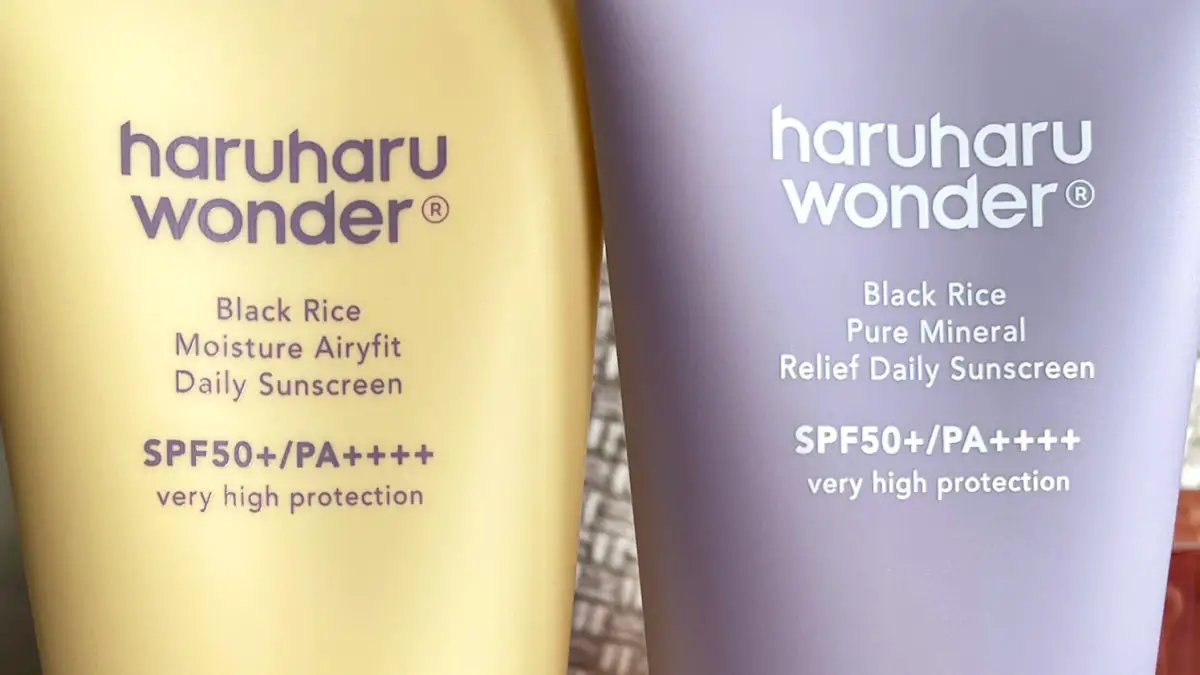 K-beauty has been a true gift to skincare enthusiasts around the world, bringing us wonderful products like BB creams, snail mucin, toners, essences, and much more. However, one of the standout stars in the K-beauty scene has to be sunscreen. Once you've experienced the magic of a Korean sunscreen, it's hard to imagine going back to anything else.
In this post, I'm thrilled to introduce you to two new sunscreens from Haruharu Wonder: the Black Rice Moisture Airyfit Daily Sunscreen and the Black Rice Pure Mineral Relief Daily Sunscreen.
For those who don't know, Haruharu Wonder is a Korean vegan skincare brand, and their entire line is centered around their patented ingredient: fermented black rice. These two sunscreens are no exception, boasting the goodness of black rice ferment, in addition to offering excellent sun protection.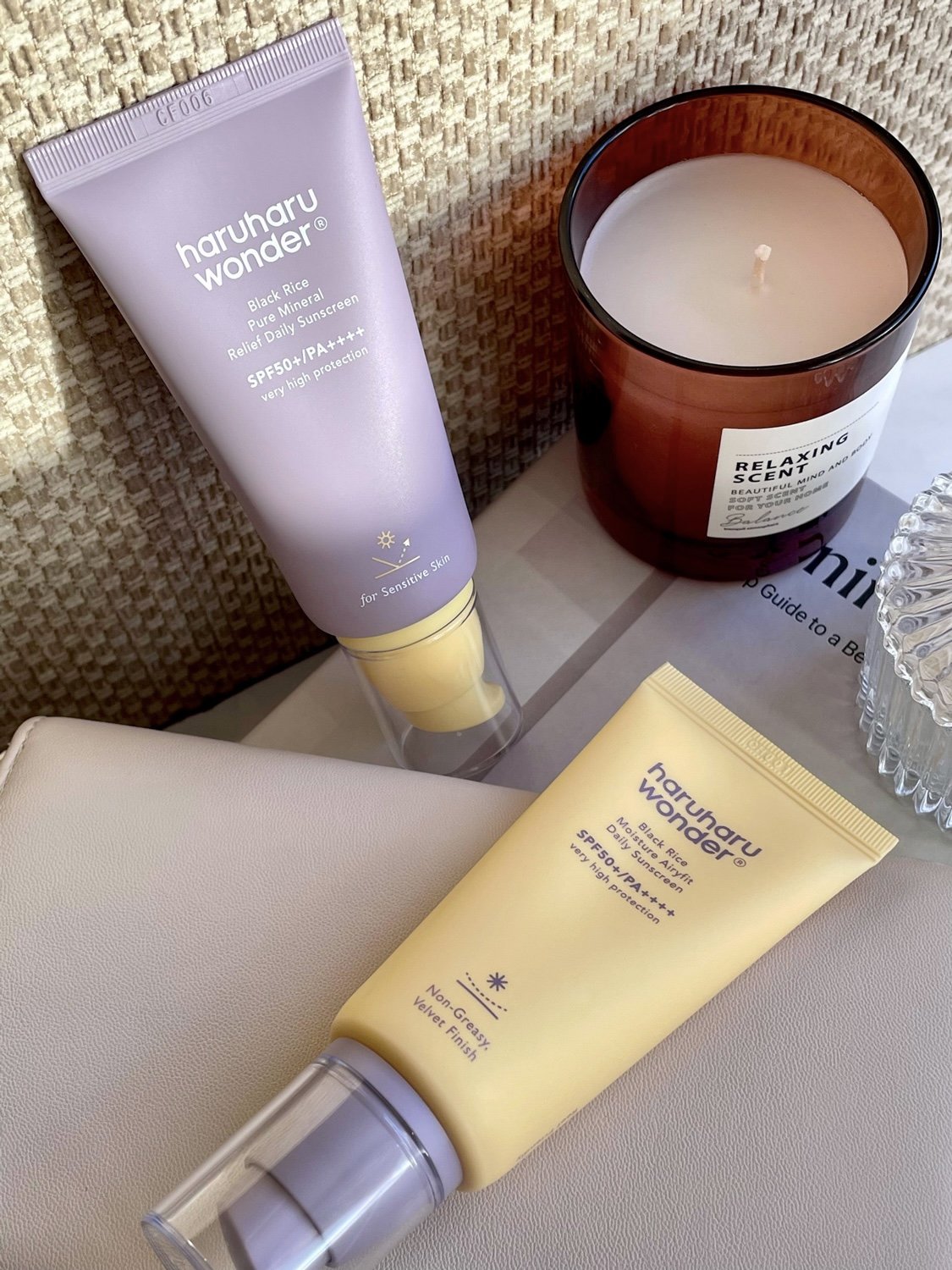 About the Haruharu Wonder Sunscreens
A common question that arises is whether Haruharu Wonder sunscreen is mineral or chemical.
The Black Rice Moisture Airyfit Daily Sunscreen falls into the category of chemical sunscreen. On the other hand, the Black Rice Pure Mineral Relief Daily Sunscreen is a mineral sunscreen. This deliberate choice ensures that individuals have the freedom to select the sunscreen that best aligns with their specific needs and preferences.
Where to buy: You can purchase them at Yesstyle – Moisture Airyfit and Pure Mineral Relief (use reward code: KBEAUTYNOTES for an extra 2-5% OFF your order), Stylevana – Moisture Airyfit and Pure Mineral Relief (discount code: INF10LED).
Price: $15-$22
Volume: 50ml (1.69 fl.oz.)
PAO: 12 months after opening.
Packaging: When it comes to packaging, both of these Haruharu Wonder sunscreens offer a user-friendly experience. They come in tube packaging with a convenient pump mechanism. What adds an extra touch of delight is the thoughtful color scheme.
The Black Rice Moisture Airyfit Daily Sunscreen comes in a charming yellow tube, accentuated by a vibrant purple pump. In contrast, the Black Rice Pure Mineral Relief Daily Sunscreen takes the opposite approach, presenting a purple tube with a cheerful yellow pump.
These eye-catching color choices not only make these sunscreens easy to distinguish but also add a fun and playful element to your skincare routine. It's a small detail, but it certainly enhances the overall user experience.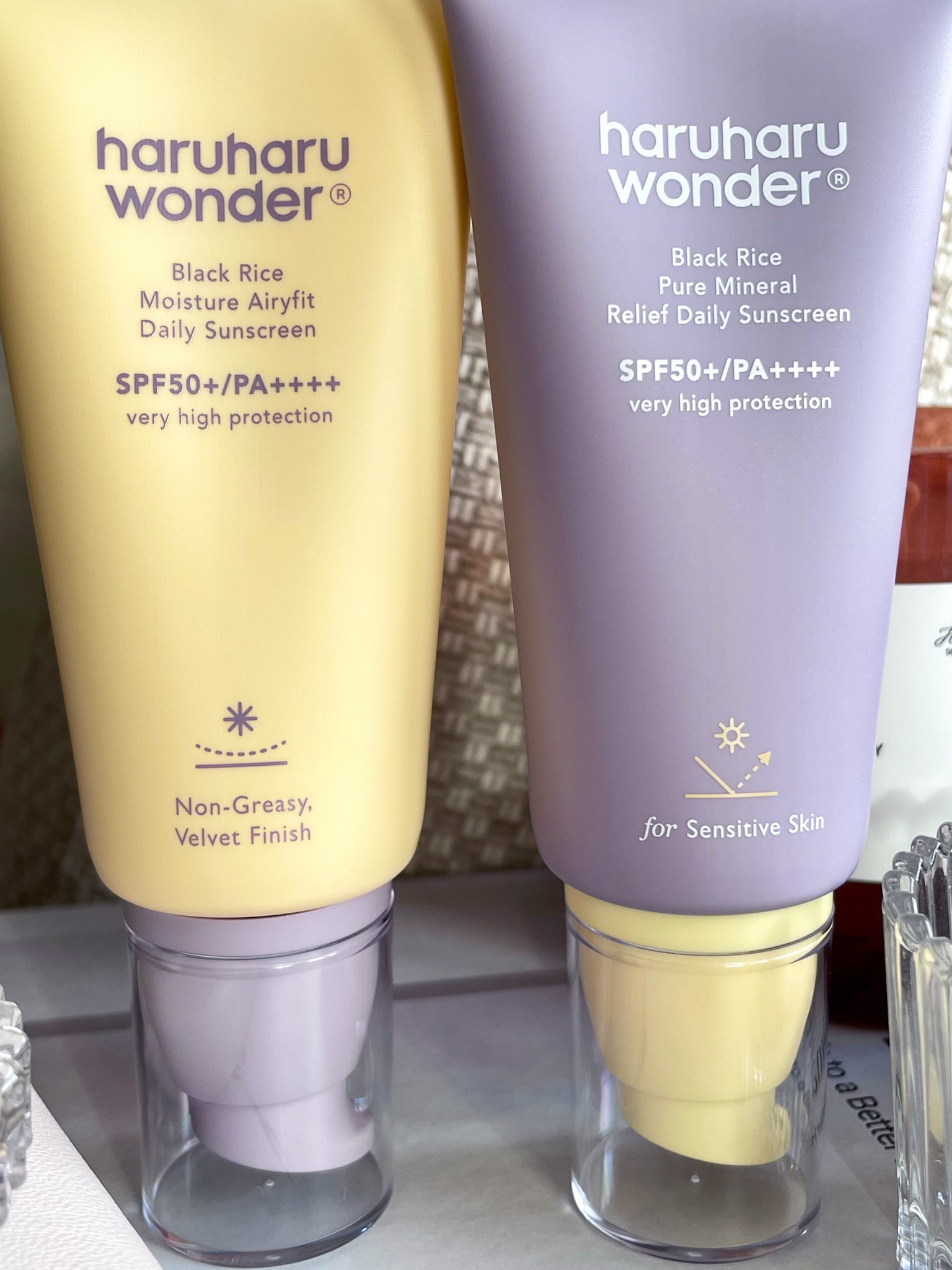 How do the Black Rice Moisture Airyfit and Black Rice Pure Mineral Relief Daily Sunscreen SPF50+ PA++++ perform
Protection:
Both products offer high UV protection of SPF 50+, PA++++.
Texture and finish:
The Moisture Airyfit sunscreen boasts a lovely lotion-like texture, making it a breeze to apply without any undesirable stickiness. The finish can range from a satiny glow to a dewy radiance, depending on your skin type and prior skincare products. In fact, for most skin types, you might find that you can skip a separate morning moisturizer when using this sunscreen.
On the other hand, the Pure Mineral Relief sunscreen feels slightly creamier while remaining lightweight. To my surprise, it spreads easily, unlike some other mineral sunscreens. It imparts a natural glow to the skin, and there's no stickiness from the beginning to the end of the day.
Does it contain alcohol?
Both of these sunscreens are alcohol-free, making them suitable for a wider range of users.
Fragrance/Scent?
These sunscreens are also fragrance-free, ensuring that even those with fragrance sensitivities can enjoy them.
Is it drying?
Neither of these sunscreens is drying. The Moisture Airyfit provides moisture and doesn't cause any dryness. The Pure Mineral Relief, to my surprise, feels moisturizing as well. You can even apply it directly on your skin without any toner or serum underneath, and it feels comfortable.
It may start to mattify over time, but your skin won't end up feeling tight, as is sometimes the case with mineral-based sunscreens.
Does it leave a white cast?
The chemical sunscreen leaves zero white cast, while the mineral sunscreen gives a subtle tone-up effect while maintaining a natural appearance. (For reference, I'm shade no. 21 in Korean foundations.)
Irritation or breakouts?
Neither of these sunscreens blocked my pores or irritated my skin.
How does it work with makeup?
The Moisture Airyfit pairs wonderfully with makeup – that's a no-brainer. However, the Pure Mineral Relief performs just as impressively. It's worth noting that the formula of the mineral sunscreen doesn't contain silica, an ingredient that can lead to formula balling up and pilling in some cases. This sunscreen doesn't have that issue, which is a significant plus.
Does it sting the eyes?
Neither of these sunscreens caused any irritation for my eyes.
Easy to re-apply?
Both are user-friendly when it comes to reapplication.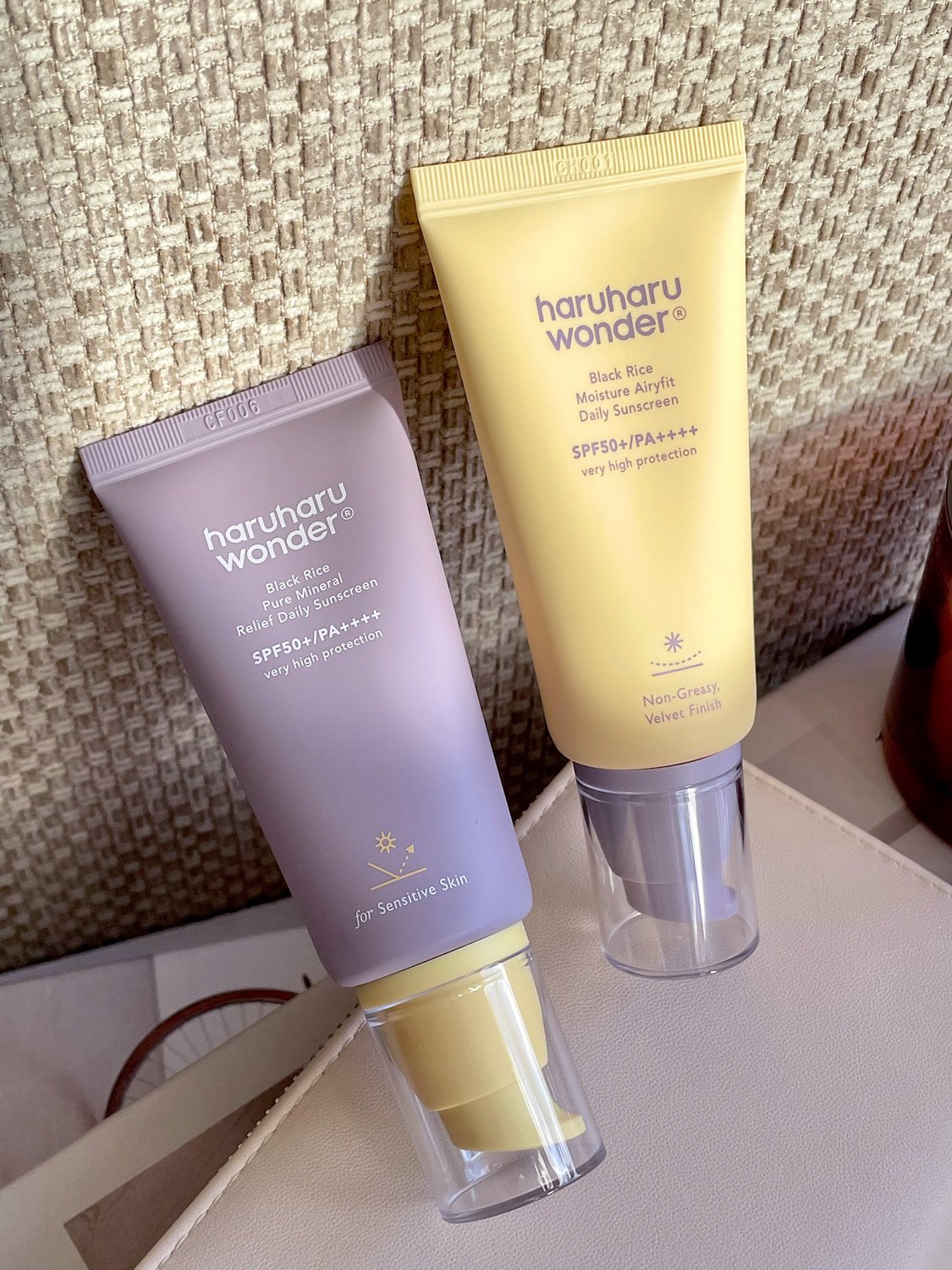 Is Haruharu sunscreen good for sensitive skin, dry skin, or oily skin?
First, both sunscreens are particularly well-suited for those with sensitive skin, as they do not contain ingredients that are known to trigger skin reactions.
The Moisture Airyfit sunscreen is an excellent option for all skin types, even for those with oily skin during the winter, as it can be used without the need for an additional morning moisturizer.
The Pure Mineral Relief sunscreen would be a great option for most skin types too. It's well-suited for dry skin, as it doesn't leave the skin feeling tight and remains comfortable when used in conjunction with hydrating skincare products. Those with oily skin can also experiment with this sunscreen, particularly during colder months, and assess its performance in humid conditions.

Ingredients
These are the UV filters in the Haruharu Wonder sunscreens:
The Black Rice Moisture Airyfit Daily Sunscreen contains 5 organic UV filters: Uvinul T 150 (UVB), Mexoryl SX (UVA), Uvinul A Plus (UVA), Polysilicone-15 (UVB), Tinosorb S (new generation, broad-spectrum and very photostable).
The Black Rice Pure Mineral Relief Daily Sunscreen contains the inorganic filter with the broadest spectrum – Zinc Oxide.
The sunscreens also share these skincare ingredients: Black Rice Extract, Niacinamide, Phytosphingosine, Houttuynia Cordata Extract, Ceramide NP.
Full ingredients list HERE.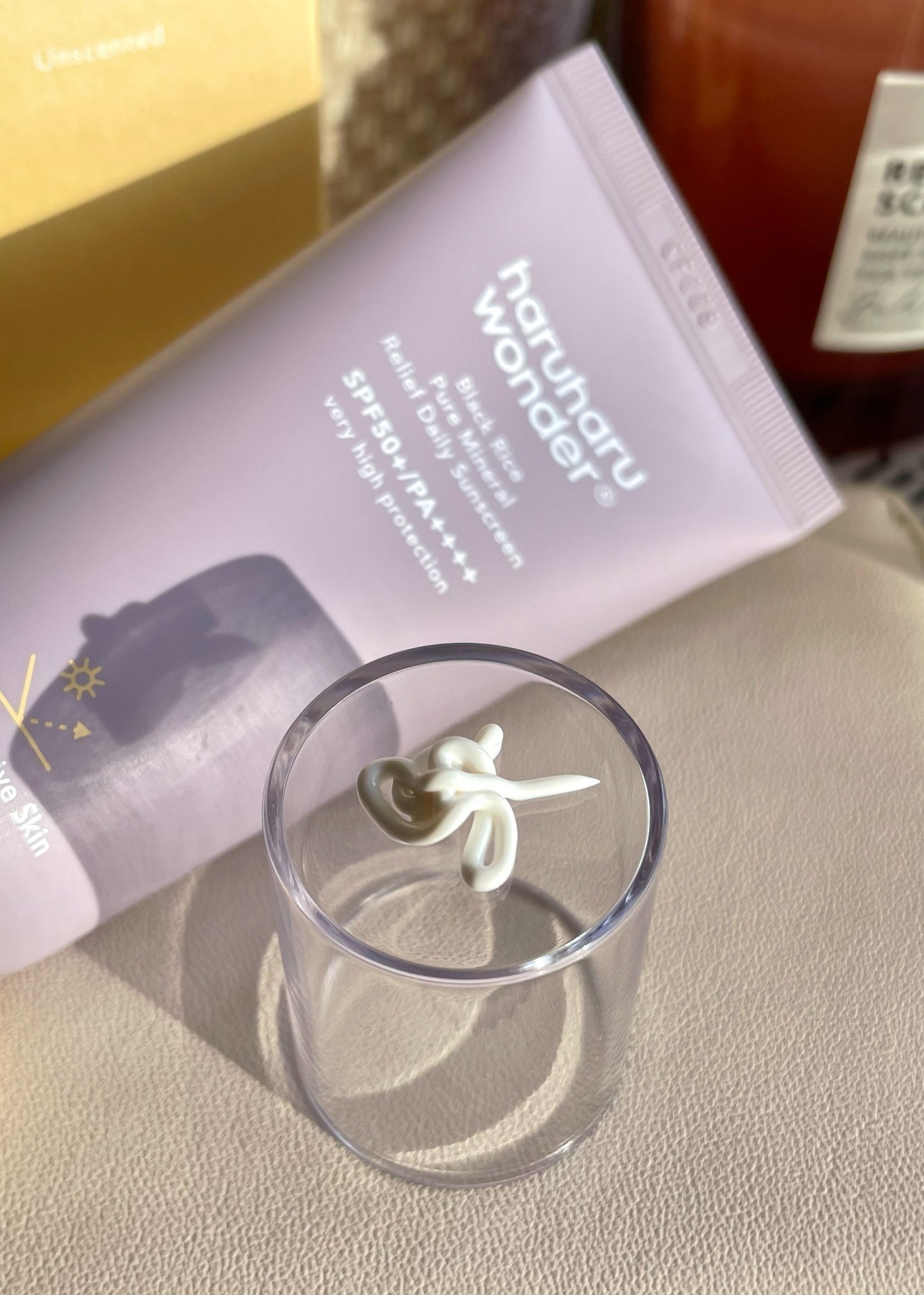 Final Verdict – Which Haruharu Wonder Sunscreen is Better?
Pros
SPF 50+, PA++++.
Lightweight consistency.
Natural finish, non-sticky or greasy.
Neither of them pills.
No irritation/breakouts.
These work great as a makeup base.
Suitable for all skin types depending on the season.
Free of alcohol, fragrance, and EOs.
Cruelty-free and Vegan.
Cons
The Pure Mineral Relief Daily Sunscreen may not be suitable for those with deeper skin tones than nr.23, unless you apply makeup on top.
In conclusion, these two have certainly lived up to their expectations! Both formulas are elegant and comfortable on the skin, all while avoiding any irritation or eye discomfort. What more could one ask for? If you're wondering which Haruharu Wonder Sunscreen is for you, it ultimately comes down to personal preference. If you have a preference for chemical sunscreens, the Moisture Airyfit Daily Sunscreen is the choice for you. On the other hand, if you require a mineral sunscreen for any reason, the Pure Mineral Relief Daily Sunscreen is a fantastic option that won't disappoint.

Did you find this review on the Haruharu Wonder Sunscreens helpful? Share your favorite sunscreen below!

---
*Sponsored – by Haruharu Wonder, but all opinions are entirely my own.
*Affiliate Links – It means I may earn a small commission when you purchase a product through the links I have provided, at no extra cost to you.
Review: Haruharu Wonder Black Rice Moisture Airyfit and Black Rice Pure Mineral Relief Daily Sunscreen
Related posts
Follow blog via Email
Get the latest posts from this blog delivered to your inbox!
About Me
Hi and welcome to Kbeauty Notes! :) I'm Ledia and I'm very passionate about everything skincare. I created this blog to share my thoughts and experience with many amazing and not so great products out there, hoping to help you make better decisions regarding your skin. I'm very happy to bring you on this journey with me and I hope you enjoy it! <3

My Skin Type: Oily, acne prone, dehydrated, a little sensitive, large pores.

Skincare Concerns: hydration, pore care, anti-ageing, PIE (acne marks), brightening.

Contact: kbeautynotes@gmail.com