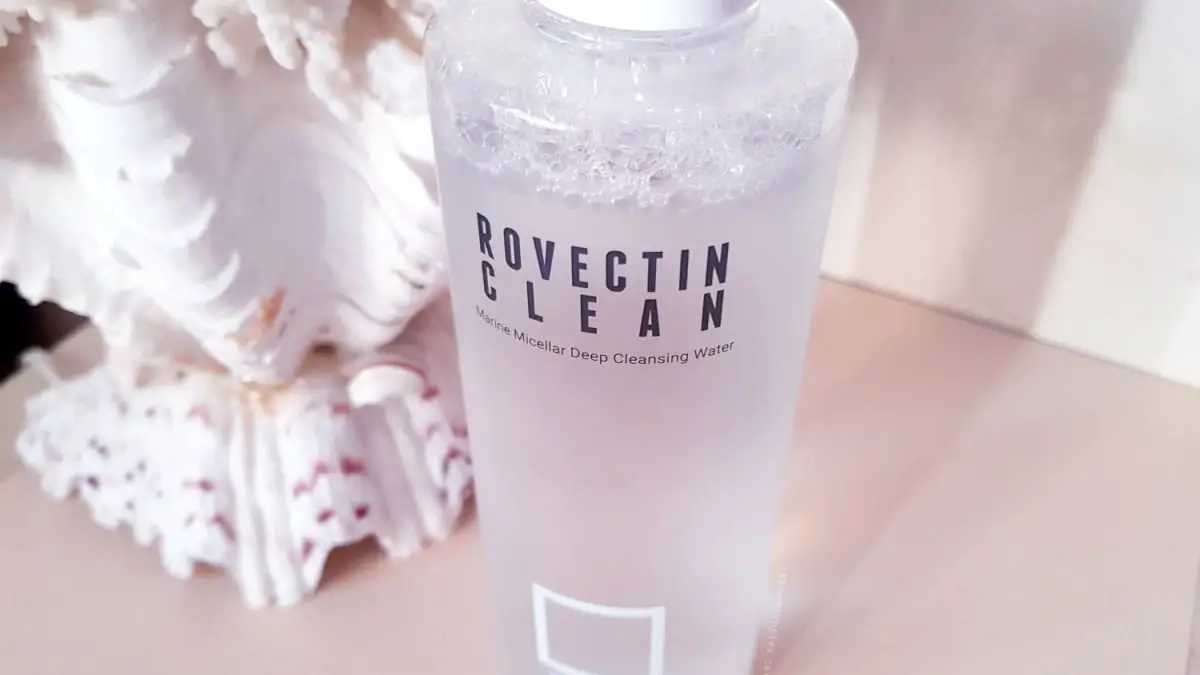 I've mostly used balm or oil cleansers as part of my double cleansing routine and to remove makeup. Everything is removed effortlessly without me having to rub the skin with a cotton pad and they get into pores very well, in this way helping keep them clean. However, I know that micellar water is preferred by many because it's very convenient and it does work better for some. I haven't used any before, so I don't have any other product to compare it to, but I'll try my best to describe my experience with it. Let's jump into the Rovectin Micellar Deep Cleansing Water Review!


What is the Rovectin Clean Marine Micellar Deep Cleansing Water
The Rovectin Clean Marine Micellar Deep Cleansing Water is the 3rd item I'm reviewing for Try me, Review me.
Claims: This is a low pH (slightly acidic formula) micellar cleansing water suited for all skin types. Rovectin's Pure Marine Complex contains sea salts rich in minerals and nutrients. It contains various weights of Hyaluronic Acid keep your skin hydrated after use. 100% vegan ingredients.
Size: 400ml ( 14.0 fl. oz. )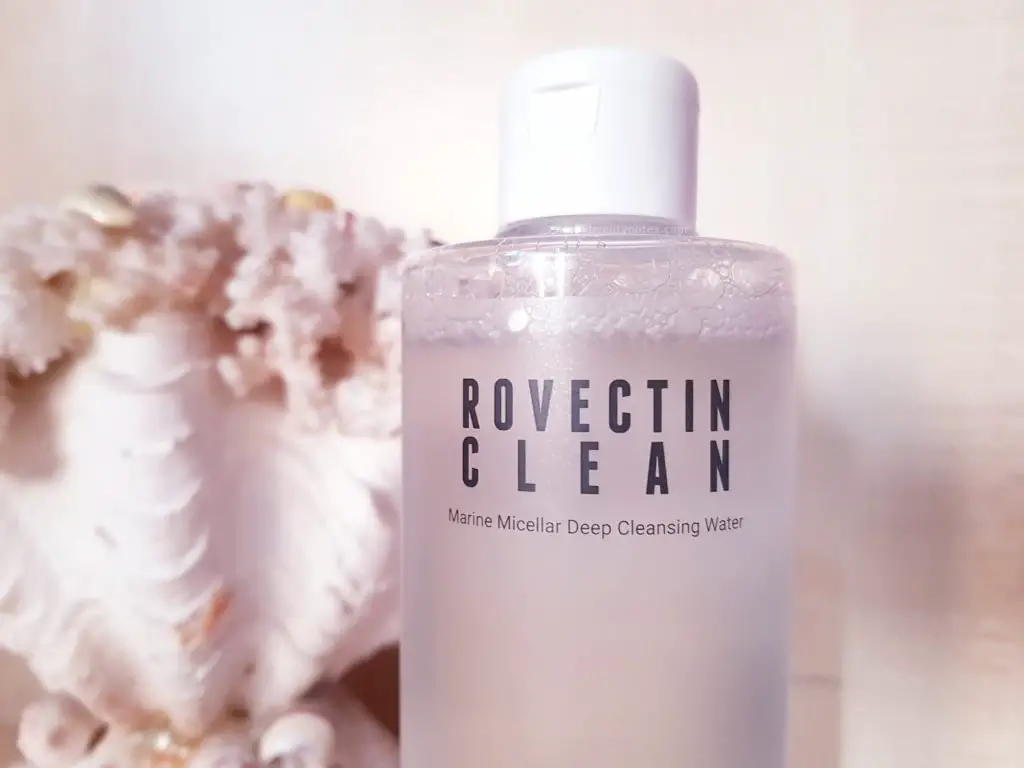 Application
Soak a cotton pad and gently wipe your skin to cleanse or remove makeup. For eye makeup, leave the cotton pad on the eyelids for a couple of seconds before wiping. Micellar water contains gentle surfectants in it to cleanse the skin, so I recommend washing it off. Rinse the skin with lukewarm water or follow with a second cleanser if necessary.


Scent
The micellar water is fragrance-free, so it doesn't have any scent. Great for sensitive skin types.


Performance
I did find this cleansing water to do a good job at removing sunscreen, light everyday makeup, eyeshadow and eyeliner. Had to work it just a little to remove the eyeliner. I rarely use waterproof makeup so I don't know how it would work in that case, but I doubt it's that strong and probably would require some effort.
It really cleansed my pores well, which was something I was concerned about. I would normally follow up with a second cleanser, however, it didn't feel necessary on days I weren't wearing any makeup.
There is no film or residue left on the skin. I cannot say that it was moisturizing, but it didn't feel stripping or cause any dryness. At first, it feels a bit tacky but give it a few seconds and it goes away quickly. The finish is matte. Again, I recommend rinsing it off and not leaving it on the skin.
What I really loved is that it didn't sting my eyes. Although I was worried when I put the soaked cotton pad on my eyelids, I didn't feel any stinging at all!
Cleansing the skin twice a day sometimes can be a bit much for some skin types. It would be ideal to use only water in the morning, but we're not all so lucky. This cleansing water would be a very good choice for people who'd prefer a simple gentle cleanse instead. As I mentioned, it does get in the pores well, so it would remove the excess sebum produced at night with ease.
I didn't experience any irritation or breakouts from using this.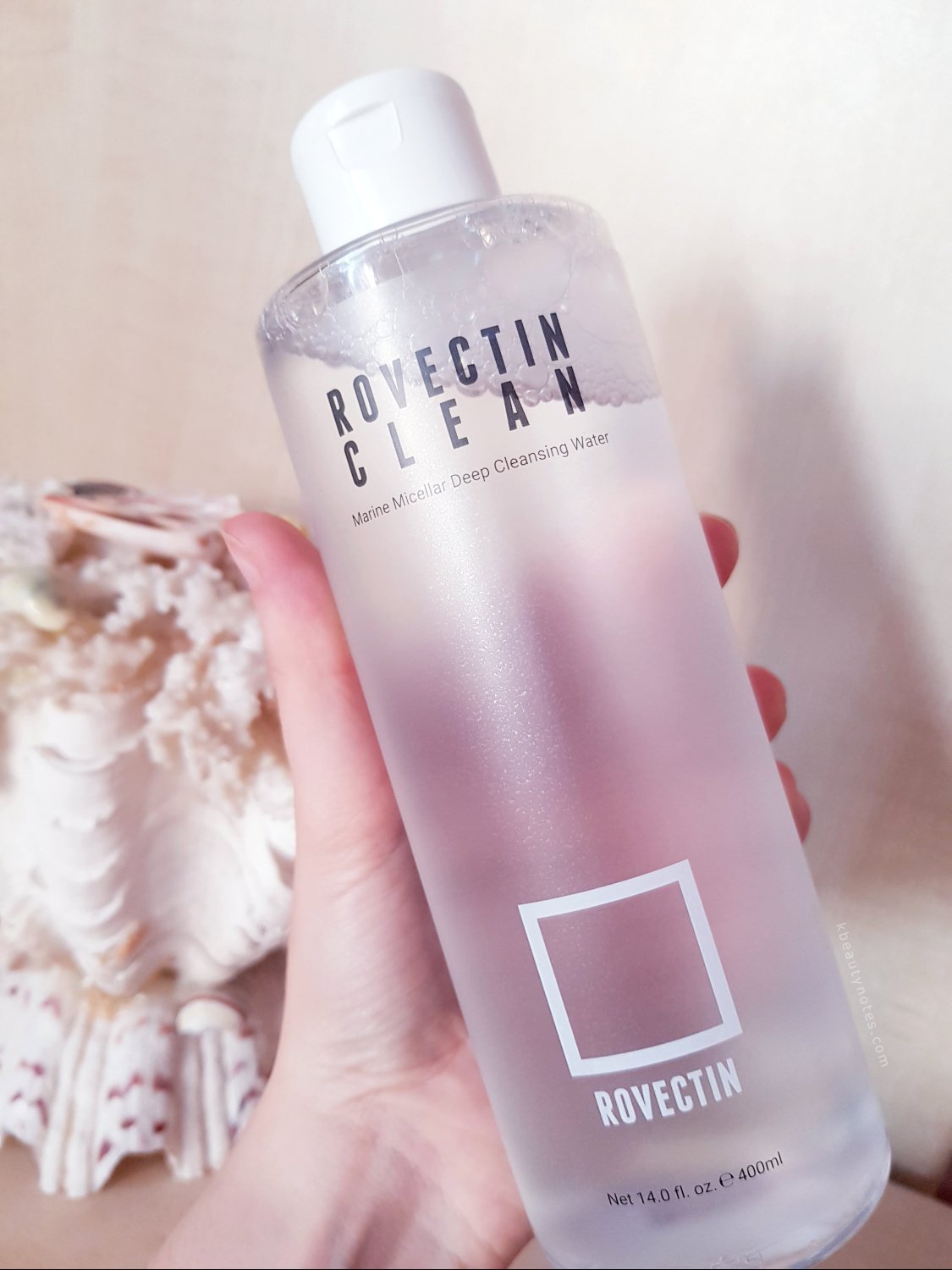 Ingredients
The formula contains various marine plant extracts and 7 variations of Hyaluronic Acid to help keep the skin moisturized.
Free of alcohol, fragrance and essential oils.
Water, Dipropylene Glycol, 1,2-Hexanediol, Disodium Cocoamphodiacetate, Sea Water, Sodium Hyaluronate, Sea Salt, Hyaluronic Acid, Macrocystis Pyrifera (Kelp) Extract, Chlorella Vulgaris Extract, Sodium Chloride, Fucus Vesiculosus Extract, Gelidium Cartilagineum Extract, Laminaria Japonica Extract, Propanediol, Cellulose Gum, Hydroxypropyltrimonium Hyaluronate, Hydrolyzed Hyaluronic Acid, Sodium Acetylated Hyaluronate, Sodium Hyaluronate Crosspolymer, Sodium Citrate, Potassium Hyaluronate, Ethylhexylglycerin, Codium Fragile Extract, Disodium EDTA, Hexylene Glycol, Citric Acid, Hizikia Fusiforme Extract, Laminaria Cloustoni Extract, Ulva Lactuca Extract.
Final Verdict
Pros
Does a good job at cleansing.
Suitable for all skin types, including sensitive skin.
Doesn't sting the eyes at all.
Didn't break me out.
Doesn't leave any film on the skin.
There was no skin irritation/redness.
Cruelty free & Vegan.
Cons
On the pricey side.
Not strong enough for waterproof makeup.
A slightly acidic cleansing water which I see working for all skin types. Very effective at cleaning pores and removing sunscreen and light everyday makeup. It has a simple ingredients list and doesn't contain any fragrance which makes it gentle for sensitive skin to use. Moreover, it did not sting my eyes at all and didn't cause any acne. Probably not strong enough to remove waterproof makeup though. On the pricey side for micellar water, but it comes in a 400ml format.


Where to buy: If you're interested in purchasing this cleansing water, you can find it at Stylekorean:
[Rovectin] Clean Marine Micellar Deep Cleansing Water 400ml for the regular price of $23. Check out their Shipping Info to make sure they ship to your country.


Was this Rovectin Clean Marine Micellar Deep Cleansing Water Review helpful? Have you tried this before? Please feel free to share.


---
*PR Sample – kindly gifted, but opinions are completely my own.
*Affiliate Links – For more information, see Disclosure Policy.

Related posts
Follow blog via Email
Get the latest posts from this blog delivered to your inbox!
About Me
Hi and welcome to Kbeauty Notes! :) I'm Ledia and I'm very passionate about everything skincare. I created this blog to share my thoughts and experience with many amazing and not so great products out there, hoping to help you make better decisions regarding your skin. I'm very happy to bring you on this journey with me and I hope you enjoy it! <3

My Skin Type: Oily, acne prone, dehydrated, a little sensitive, large pores.

Skincare Concerns: hydration, pore care, anti-ageing, PIE (acne marks), brightening.

Contact: kbeautynotes@gmail.com