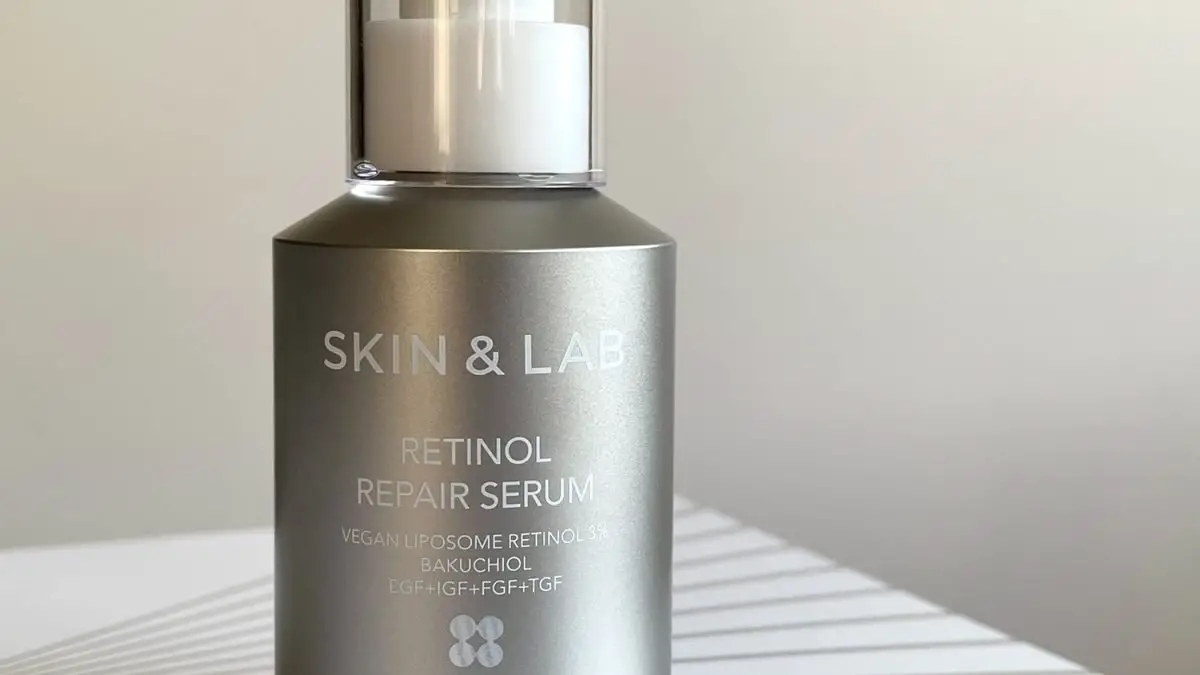 Hey there, skincare junkies! Are you ready to dive into this review of the Skin&Lab Retinol Repair Serum? If you're on a mission to improve the look of fine lines, wrinkles, and uneven tone, there's nothing better than retinoids to do the job. These little miracle workers are the holy grail of anti-aging ingredients, and they mean serious business. However, it's important to note that retinoids come with a few drawbacks. So, buckle up, and let's get down to the nitty-gritty of this retinol serum.


Where to buy: You can find this at Yesstyle (use reward code: KBEAUTYNOTES for % off your order) and Stylekorean.
Price: $20-$25
Volume: 50ml (1.69 fl.oz.)
PAO: 12 months.
Packaging: A gray colored plastic serum bottle with a convenient pump and a cap. I really like the design because it looks very sleek.

What is the Skin&Lab Retinol Repair Serum
A vegan serum enriched with Liposome Retinol 3%, Bakuchiol, and 9 types of peptides that target fine lines and wrinkles and also helps to refine the overall texture of your skin. The fluid, creamy texture glides effortlessly onto your skin, absorbing quickly and leaving behind a refreshing finish.
Application
We should always pay extra attention to how we apply retinoids to avoid any potential irritations.
Apply a pea size amount in your PM routine, starting slowly – every three days and increasing the frequency of use as your skin adapts to the ingredient. Use directly on cleansed skin or after your toner/another serum while allowing 20 minutes before applying retinol to minimize the risk of irritation.
Consistency
Typical serum texture, which is slippery and applies in a thin layer. Feels very smooth, and it's non-sticky. It seems rich at first, but it absorbs well after a couple of minutes.
Scent
The serum is fragrance-free, meaning no additional artificial fragrances or perfumes have been added. Any aroma you detect results from the natural scent inherent in the ingredients themselves.
Performance
I must say, I really like the silky smooth texture of this serum on my skin. However, when used on its own, I find it doesn't provide the level of hydration I prefer. That's why I use it after applying a lightweight toner, once the toner has fully dried. This ensures my skin feels adequately hydrated.
It's worth noting that the products you use prior to applying the serum should have a lighter consistency. This helps with the absorption of the serum, allowing its potent ingredients to penetrate into the skin.
During the initial few applications, I did experience a mild tingling sensation around my nose area, which tends to be more sensitive. However, the sensation quickly dissipated, and I did not encounter any subsequent irritation or redness on my nose or the rest of my face. It's always reassuring when a product proves gentle and non-irritating, especially when targeting sensitive areas.
One of the first things I notice when I use retinoids is a more refined skin texture, thanks to their remarkable ability to accelerate cell turnover. Changes in fine lines and hyperpigmentation will take a bit longer to notice and will vary depending on factors such as skin type, product concentration, and frequency of use.
Speaking of consistency, this serum is suitable for various skin types, be it oily, combination, or dry, regardless of the season.
I find it gentle enough for daily use, but I've chosen to use it every other day, just to err on the side of caution and ensure my skin remains in its happy, balanced state.
Skin&Lab Retinol Repair Serum Ingredients
Liposome Retinol 3% (encapsulation method that helps improve the delivery and stability of retinol), Bakuchiol (promising anti-aging and anti-acne effects, also helps stabilize retinol), 9 types of Peptides – EGF+IGF+FGF+TGF (stimulate skin renewal), Adenosine, Panthenol (soothing, barrier protecting), Beta-Glucan, Squalane.
Free of alcohol, fragrance, & essential oils.
Find the full ingredients list HERE.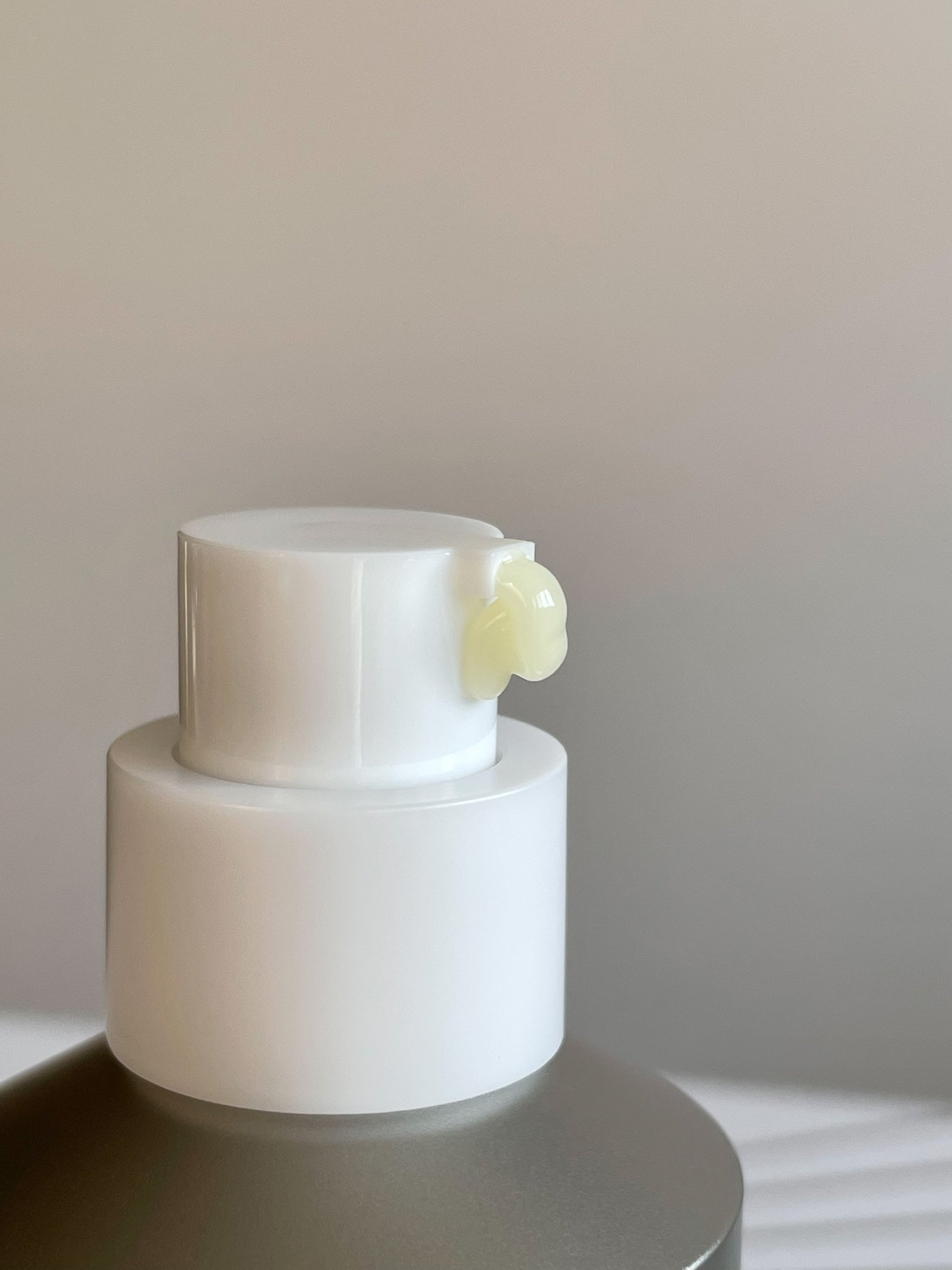 Final Verdict on the Skin&Lab Retinol Repair Serum
Pros
Typical serum consistency.
Applies thinly.
It leaves the skin feeling soft without stickiness.
Antiaging properties.
Gentle and non-irritating.
It didn't break me out.
Suitable for all skin types.
Free of alcohol, fragrance, and essential oils.
Cruelty-free & Vegan.
Cons
Not enough hydrating on its own for drier skin.
If you're at least 27 years old and contemplating the inclusion of retinol in your skincare routine, I highly recommend it. Around this time, our collagen levels start to decline, making it an ideal moment to prioritize anti-aging measures, particularly for tackling fine lines and wrinkles. By incorporating retinol as a preventative measure, you can proactively address these concerns and maintain a youthful complexion.

Did you find the Skin&Lab Retinol Repair Serum Review helpful? What products have you tried from this brand?
---
*PR Sample – kindly gifted by Skin&Lab, but opinions are completely my own.
*Affiliate Links – It means I may earn a small commission when you purchase a product through the links I have provided at no extra cost to you.
Related posts
Follow blog via Email
Get the latest posts from this blog delivered to your inbox!
About Me
Hi and welcome to Kbeauty Notes! :) I'm Ledia and I'm very passionate about everything skincare. I created this blog to share my thoughts and experience with many amazing and not so great products out there, hoping to help you make better decisions regarding your skin. I'm very happy to bring you on this journey with me and I hope you enjoy it! <3

My Skin Type: Oily, acne prone, dehydrated, a little sensitive, large pores.

Skincare Concerns: hydration, pore care, anti-ageing, PIE (acne marks), brightening.

Contact: kbeautynotes@gmail.com