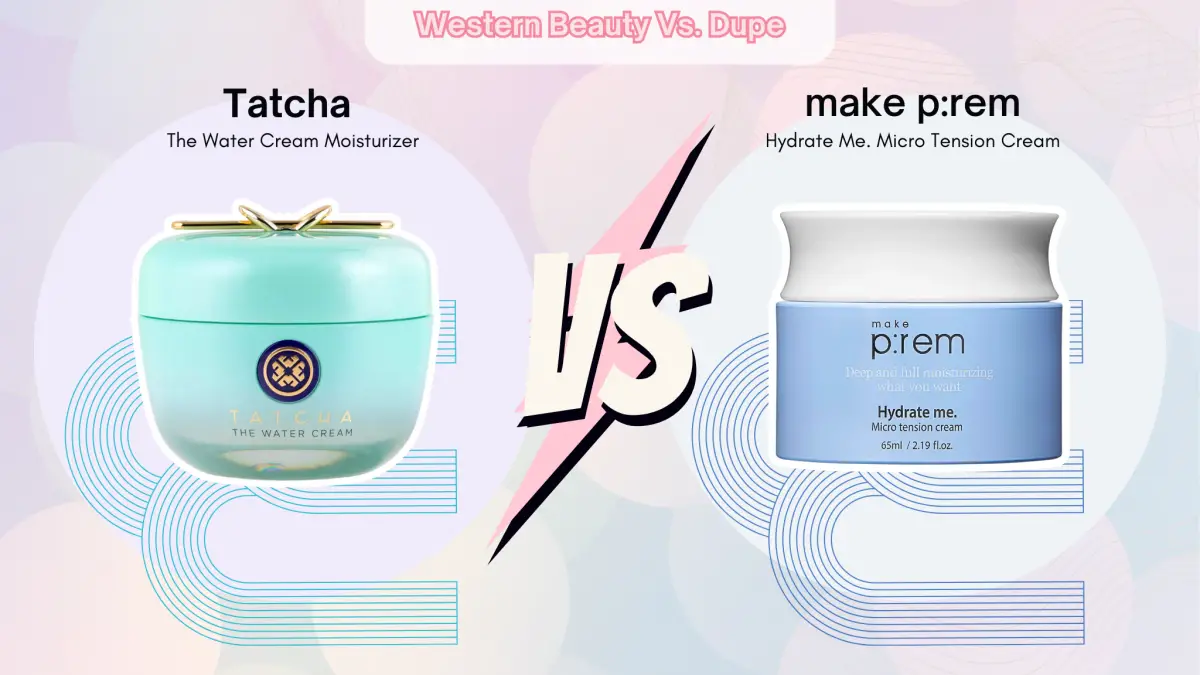 Welcome to another exciting post where we discover budget-friendly alternatives in K-Beauty that match the effectiveness of popular Western skincare products. If you've found yourself pondering the age-old question of which moisturizer to invest in, you're not alone. One moisturizer that has earned a cherished place in the hearts of many beauty aficionados is the Tatcha Water Cream. But what if I told you there's a K-beauty contender that can be a great Tatcha Water Cream dupe and deliver comparable results without burning a hole in your pocket? And that is the Make P:rem's Hydrate Me Micro Tension Cream.
If you want to get your hands on Make P:rem's Hydrate Me Micro Tension Cream and explore more K-beauty gems, look no further than Yesstyle. New customers can enjoy an extra 10% discount for orders exceeding US$35 using the code "YESSTYLE". What's more, apply the reward code 'KBEAUTYNOTES' to stack on an additional 2-5% discount on top of your savings!
What is the Tatcha Water Cream
This luxurious cream is part of Tatcha's skincare line, which draws inspiration from traditional Japanese beauty rituals and ingredients. The Water Cream is formulated to promote healthy aging by delivering essential nutrients to the skin, all while maintaining a lightweight and refreshing texture.
K-Beauty Dupe: Make P:rem Hydrate Me Micro Tension Cream
A watery-gel cream that delivers deep hydration, leaving the skin visibly moisturized and noticeably firmer. Infused with the goodness of Arctic Berry Extract and nourishing plant oils, this cream not only replenishes your skin's moisture levels, but also works to fortify your skin's natural barrier and enhance elasticity.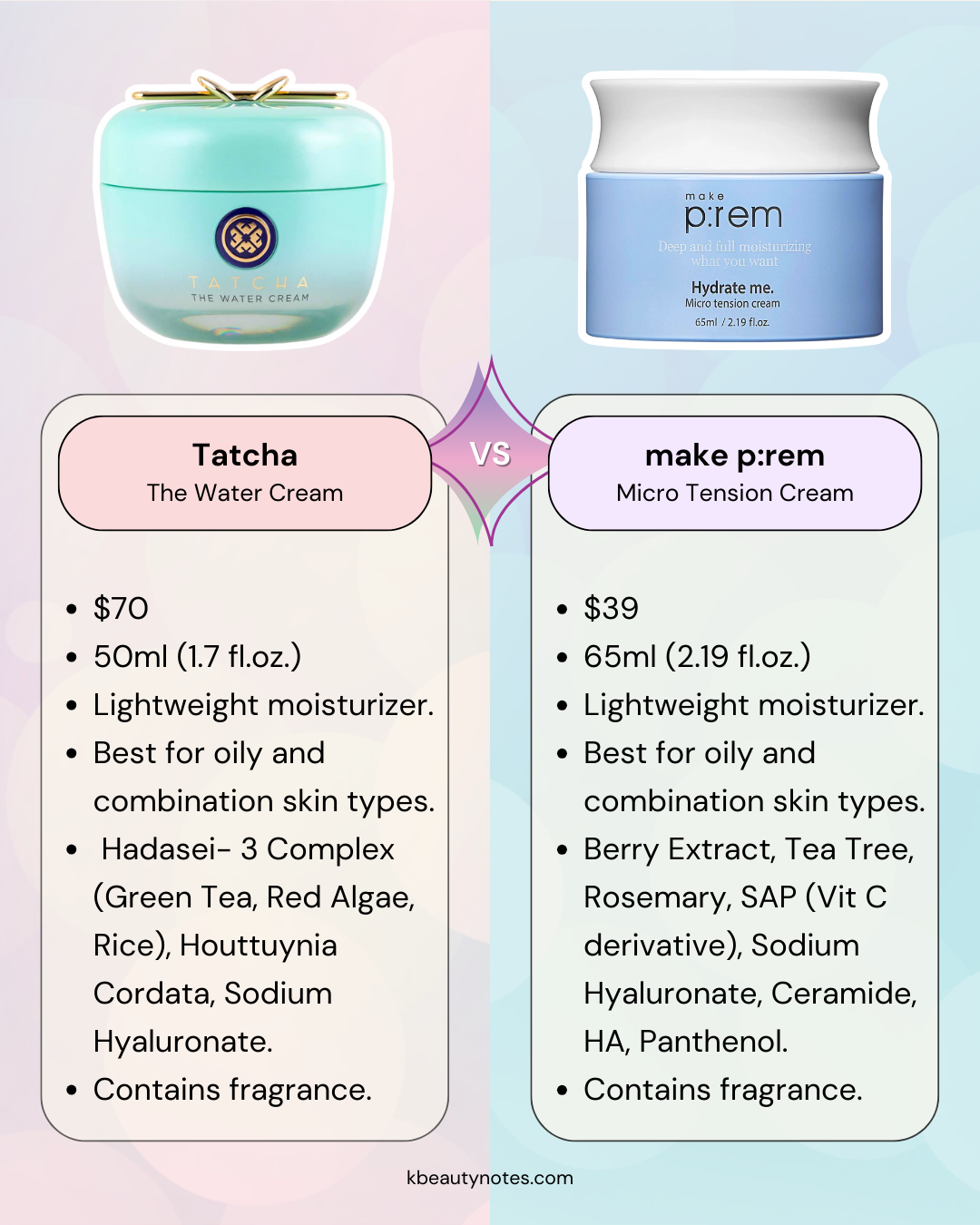 Comparing Ingredients: Tatcha vs. Make P:rem
Tatcha's Water Cream and Make P:rem's Hydrate Me Micro Tension Cream may have different ingredient lists, but they share similarities in their intended functions and textures. Both products prioritize skin hydration and offer antioxidant benefits.
Ingredients Unique to Tatcha Water Cream
Hadasei-3 Complex: Tatcha's trademarked superfluid that includes a blend of Green Tea, Rice, and Algae. This unique liquid is obtained through a fermentation process.
Green Tea has excellent anti-oxidant and anti-inflammatory properties, Rice provides essential nutrients and nourishment to the skin, and Algae helps maintain moisture levels.
Japanese Wild Rose – Known for its pore-minimizing properties.
Japanese Leopard Lily: Helps control excess oil and clarify the skin.


Ingredients Unique to Make P:rem Hydrate Me Micro Tension Cream
Arctic Berry Extract: rich in antioxidants, which help combat free radicals that can damage skin cells and accelerate signs of aging. It also strengthens the skin's barrier for improved resilience.
Tea Tree Leaf Oil – One of the best ingredients known for its for its antiseptic and anti-inflammatory actions.
Sodium Ascorbyl Phosphate – A promising Vitamin C derivative with great photo-protective, brightening, and antimicrobial properties.
Botanical Oils: Nourish the skin and enhance elasticity.
Ceramides: Support skin barrier function and moisture retention.


It's important to note that neither Tatcha's Water Cream nor Make P:rem's Hydrate Me Micro Tension Cream are fragrance-free, which could potentially be a concern for individuals with sensitivities or allergies.
Additionally, both products contain alcohol, but its presence at the end of the ingredients lists suggests that it's unlikely to cause dryness for most users, though those with particularly sensitive skin should exercise caution.
Packaging
Tatcha is known for its luxurious and elegant packaging. The Water Cream comes in a glass jar with a unique, beautifully designed lid. The jar is sturdy and visually appealing, reflecting the brand's commitment to Japanese aesthetics and skincare traditions. The packaging is not only functional but also adds a touch of sophistication to your skincare routine.
Make P:rem often opts for minimalist and practical packaging. The Hydrate Me Micro Tension Cream is usually housed in a sleek plastic container with a clean, modern design. The packaging is lightweight and user-friendly, making it easy to dispense the product without any fuss. While it may not have the same luxurious aesthetic as Tatcha, it is practical and travel-friendly.
Both brands prioritize hygiene by including a spatula. This thoughtful addition only ensures that the products remain free from contaminants and it also makes the application process more convenient and sanitary.
Examining Performance:
Application
Both products are versatile and can be used morning and night as the final step in your skincare routine.
Hydration & Texture
Tatcha's Water Cream has a lightweight, gel-like texture that's known for its quick absorption, leaving the skin feeling refreshed and matte.
Make P:rem's Hydrate Me Micro Tension Cream features a unique jelly-like texture that's both lightweight and elegant, offering deep hydration without a heavy or greasy feel.
Suitability For Different Skin Types
Tatcha's Water Cream is oil-free, making it an excellent choice for those with oily or combination skin who seek hydration without adding extra oil to their complexion. Its lightweight formula is designed to provide moisture without feeling heavy on the skin.
Make P:rem's Hydrate Me Micro Tension Cream, on the other hand, contains botanical oils, which might lead one to assume it could be heavier. However, it is formulated with an elegant and lightweight texture, demonstrating that it's possible to incorporate oils without compromising the cream's lightness. This feature makes it suitable for a broader range of skin types, including those with dry or dehydrated skin.
Also Read: Meet Your Clinique Take the Day Off Cleansing Balm Dupe – Heimish All Clean Balm
Value for Price
Tatcha's Water Cream, priced at $70 for 50ml, comes at a higher cost per milliliter compared to Make P:rem, which costs $39 for a larger 65ml container. And you can usually find the latter on sale for way less on Yesstyle. In terms of the quantity you receive for the price, Make P:rem provides better value.
Conclusion: Is Make P:rem Hydrate Me Micro Tension Cream a Worthy Tatcha Water Cream Dupe?
In conclusion, Make P:rem's Hydrate Me Micro Tension Cream offers a compelling alternative to Tatcha's Water Cream, especially for those seeking a more budget-friendly option. While the two products differ in ingredient lists and pricing, they share a common goal of delivering hydration and promoting well-aging.
Make P:rem's Hydrate Me Micro Tension Cream stands out for its lightweight formula, versatility across different skin types, and the inclusion of skin-strengthening ingredients like arctic berry extract and ceramides. It also comes at a more affordable price per milliliter.
However, Tatcha's Water Cream remains an excellent choice for those specifically looking for oil-free hydration, with the added luxury and brand experience that Tatcha is known for.
Ultimately, the choice between the two comes down to your skin's unique needs, budget, and personal preferences. Both products have their merits and can contribute to a healthy and hydrated complexion, so you can confidently choose the one that aligns best with your skincare goals.
---
*Sponsored – by YesStyle, but opinions remain my own.
*Affiliate Links – It means I may earn a small commission when you purchase a product through the links I have provided, at no extra cost to you.
Related posts
Follow blog via Email
Get the latest posts from this blog delivered to your inbox!
About Me
Hi and welcome to Kbeauty Notes! :) I'm Ledia and I'm very passionate about everything skincare. I created this blog to share my thoughts and experience with many amazing and not so great products out there, hoping to help you make better decisions regarding your skin. I'm very happy to bring you on this journey with me and I hope you enjoy it! <3

My Skin Type: Oily, acne prone, dehydrated, a little sensitive, large pores.

Skincare Concerns: hydration, pore care, anti-ageing, PIE (acne marks), brightening.

Contact: kbeautynotes@gmail.com