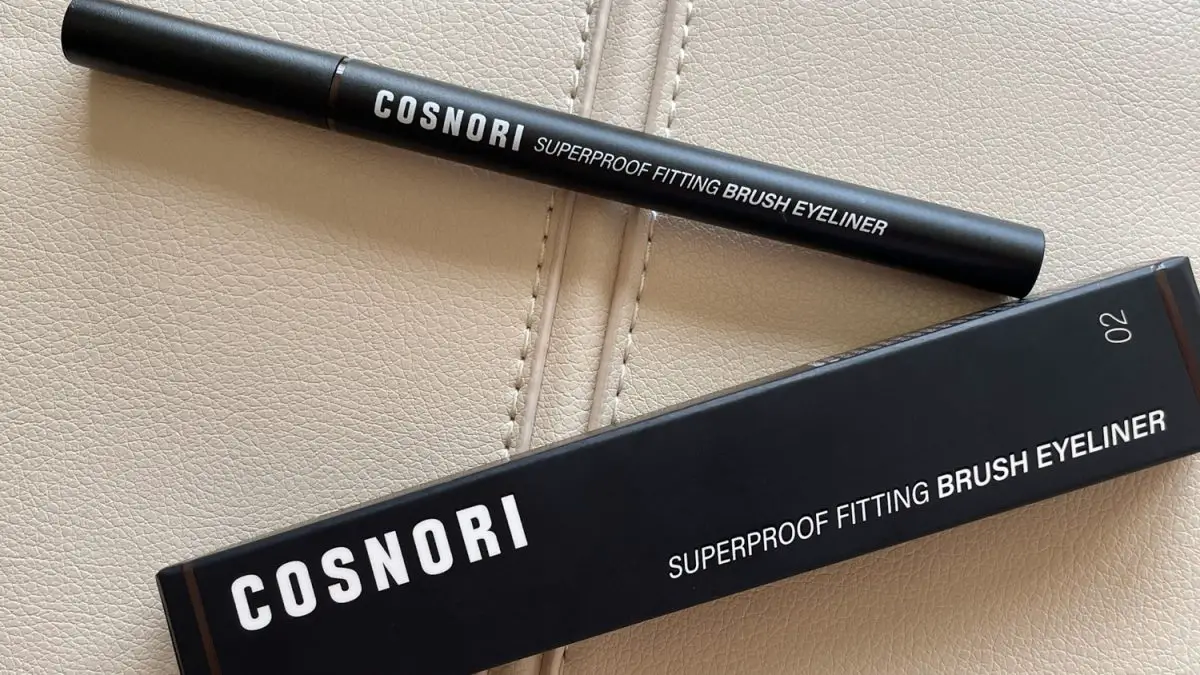 We have an eyeliner WIN here! After a disappointing experience with the Etude 2X Tinting, my quest for the perfect brown liquid eyeliner led me to the COSNORI Super Proof Fitting Brush Eyeliner. This doesn't have a lot of reviews, but it looked promising so I picked it up.
Where to buy: You can purchase the COSNORI eyeliner at JOLSE.
Price: $16.50
Volume: 0.6g
Packaging: It's the same as the Etude one, but it comes in black packaging. It looks sleek.
COSNORI Super Proof Fitting Brush Eyeliner
The COSNORI Super Proof Fitting Brush Eyeliner has a fine brush tip that lets you create lines with high precision. It's supposed to be resistant to sweat and sebum, and has a quick drying formula that sets in 30 seconds.
It's available in 3 shades:
01 Black
02 Black Brown (The one I chose.)
03 Brown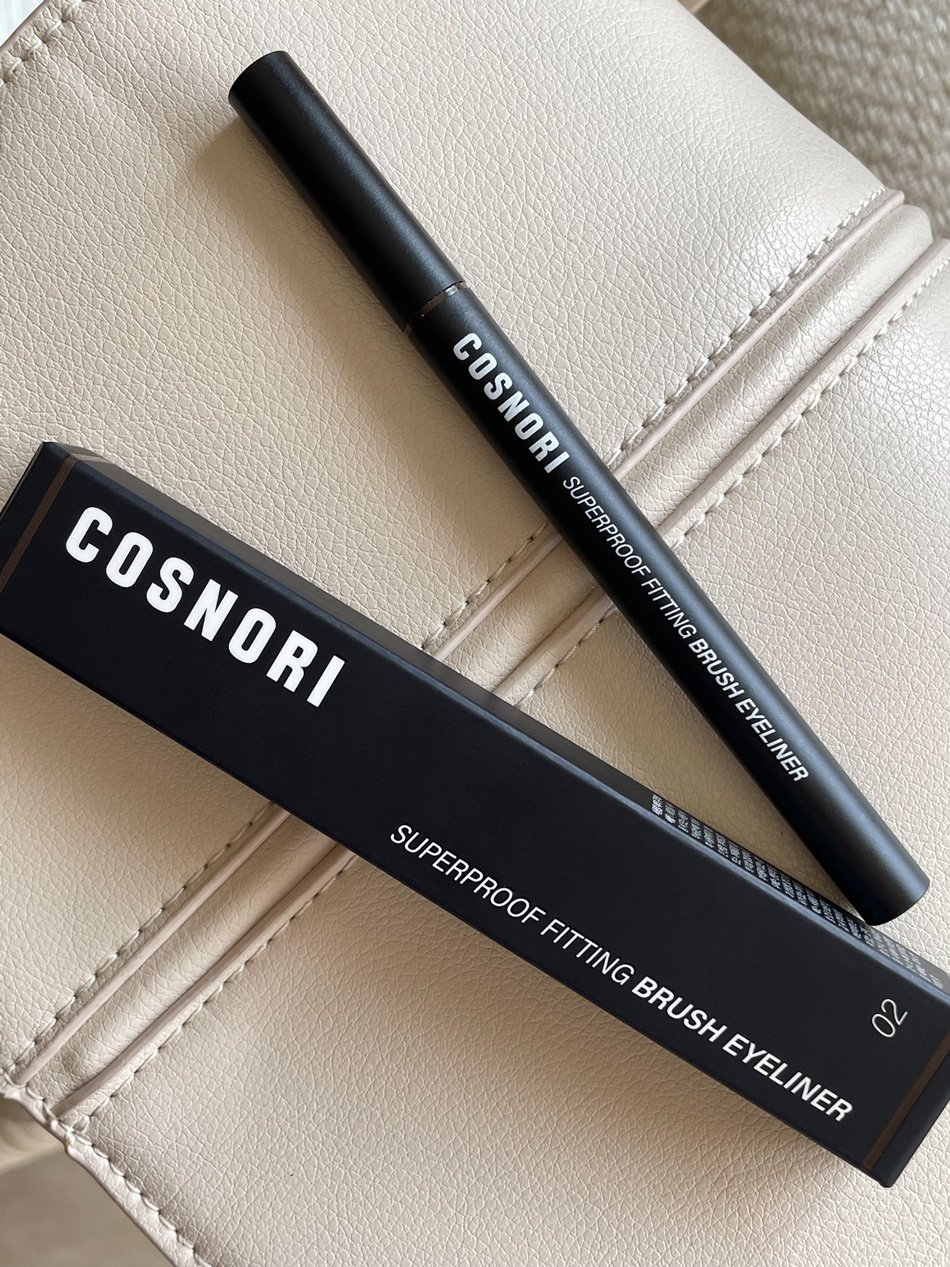 My Impressions
I chose the 02 Black Brown shade just to be safe, thinking it might be similar to the Etude formula, but this one's color payoff is really impressive. See the swatch below.
It's still not as harsh as black, so I do not regret my decision of going for the 02. It delivers impressive pigmentation and coverage in just one smooth stroke.
A single application is often sufficient to achieve the desired intensity and definition, unlike some eyeliners that necessitate layering to achieve a bold look. This not only simplifies your makeup routine but also saves product, ensuring that your eyeliner lasts longer.
The brush is soft and doesn't scratch the eyes like a felt tip does. Some eyeliners tend to dry out or accumulate excess product at the brush tip, but this remains smooth and doesn't clump. It allows for precise application and beautifully accentuates the eyes. A couple of shakes suffice to ensure the product is ready to apply flawlessly.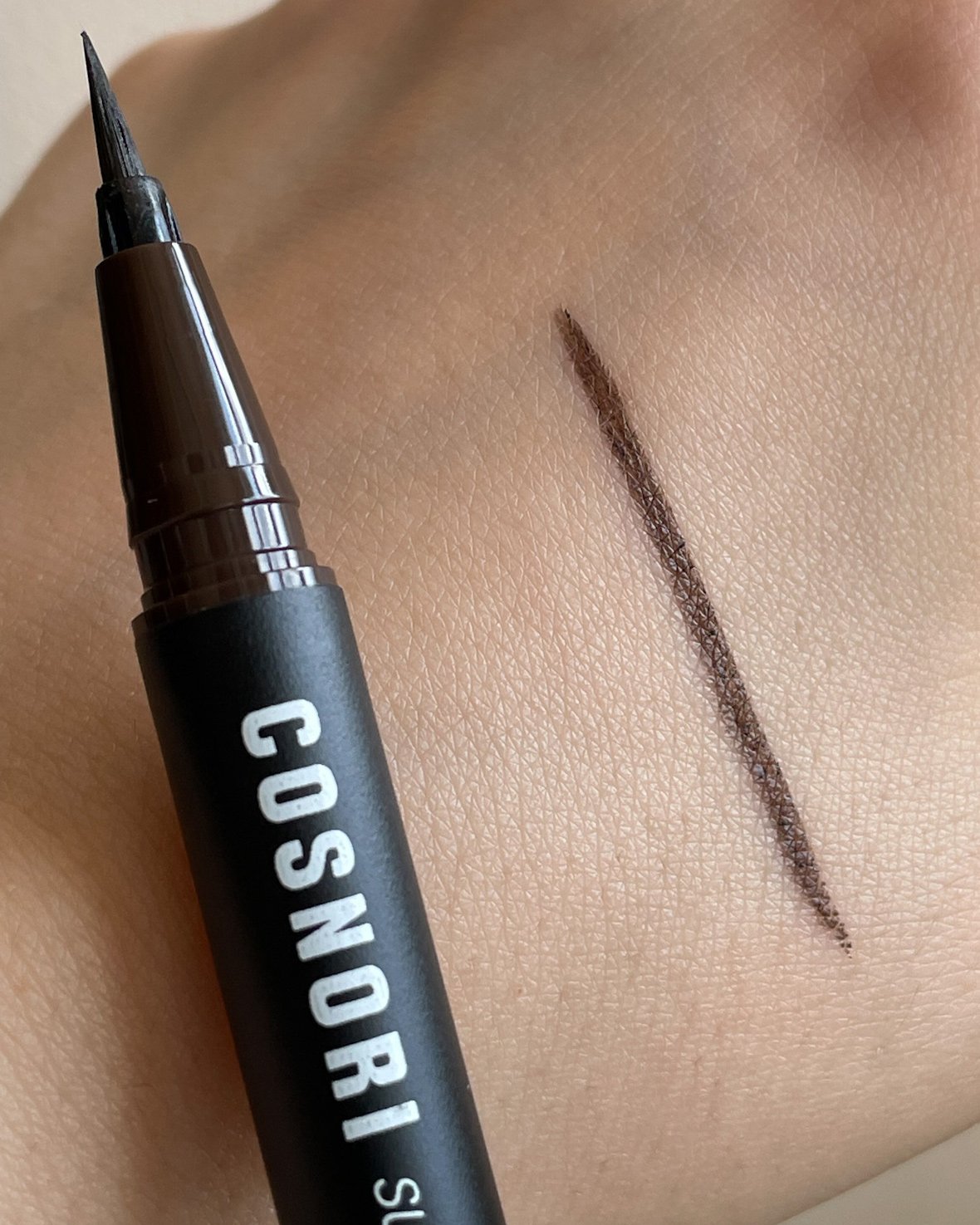 Unlike the Etude 2X eyeliner, the COSNORI doesn't lift off the skin or become patchy upon retouching, which is a huge plus! You can easily go back and fill in any spots you miss without ruining the whole eye look. This saves both time and frustration.
As you can see from the swatch, it also doesn't feather but makes a very clean line every single time. It doesn't smudge or smear on me, although I'm not sure how it would work on monolids.
Unless your eyelids are very oily, this stays in place for hours! Mattifying the lids is always a good idea when using an eyeliner to extend its wear time as it adheres better to the skin and doesn't fade easily.
This eyeliner is a great choice not only for makeup enthusiasts but also for beginners, enabling them to achieve clean and consistent lines without the intimidation factor often associated with liquid eyeliners.
You can take this in your makeup bag for touch-ups to maintain flawless eye makeup throughout the day with minimal effort.
The eyeliner easily dissolves with the use of an oil-based cleanser or micellar water.
Final Thoughts on this Amazing Brown Liquid Eyeliner
Without a doubt, this has claimed its place as my go-to brown liquid eyeliner. The more I use it, the more evident it becomes that it outshines the Etude 2X Tinting eyeliner in every aspect. From pigmentation to application ease, from the overall formulation to the brush's performance, the COSNORI eyeliner is a far superior option across the board. I highly recommend it if you're looking for a good Korean eyeliner!
Did you find the COSNORI Super Proof Fitting Brush Eyeliner Review helpful? What is your favorite brown liquid eyeliner?
---
*PR – provided by Jolse, but opinions remain my own.
*Affiliate Link – It means I may earn a small commission when you purchase a product through the links I have provided at no extra cost to you. I greatly appreciate your support for the blog!
Related posts
Follow blog via Email
Get the latest posts from this blog delivered to your inbox!
About Me
Hi and welcome to Kbeauty Notes! :) I'm Ledia and I'm very passionate about everything skincare. I created this blog to share my thoughts and experience with many amazing and not so great products out there, hoping to help you make better decisions regarding your skin. I'm very happy to bring you on this journey with me and I hope you enjoy it! <3

My Skin Type: Oily, acne prone, dehydrated, a little sensitive, large pores.

Skincare Concerns: hydration, pore care, anti-ageing, PIE (acne marks), brightening.

Contact: kbeautynotes@gmail.com