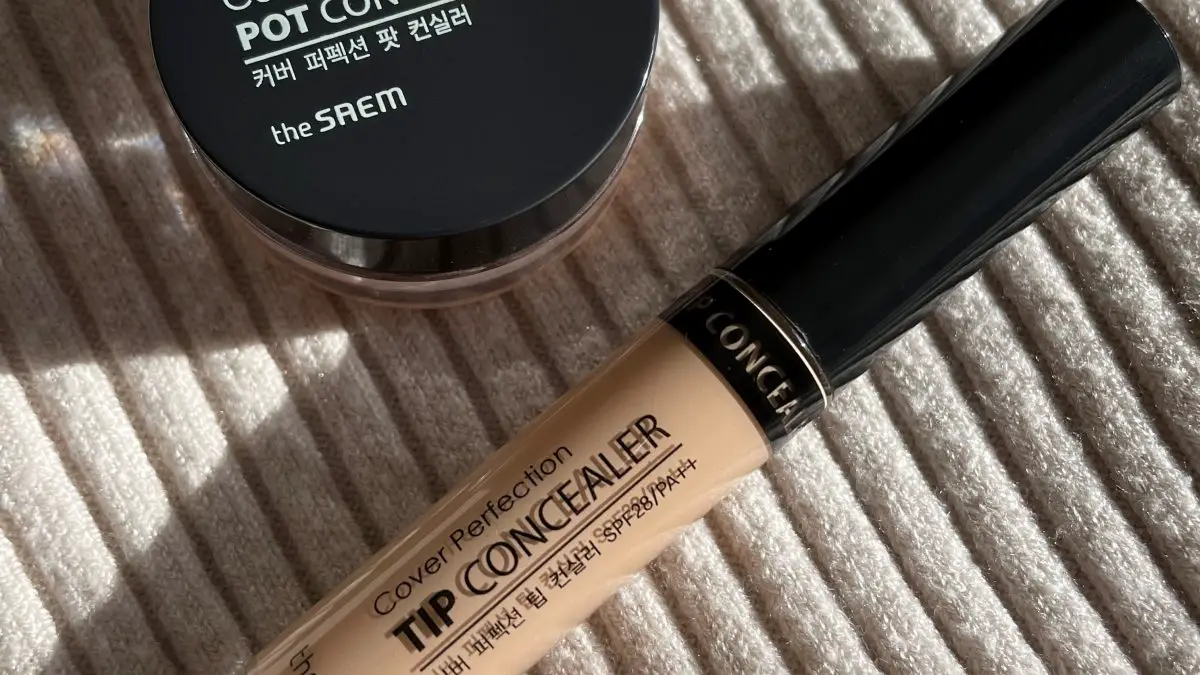 Have you heard of the concealers from The Saem? They're extremely popular due to their formulation and affordable price. I've done a review on The Saem Cover Perfection Pot Concealer more than a year ago, but this time I wanted to try out their Cover Perfection Tip Concealer and see how they compare.
Where to purchase: You can find this on Yesstyle (You can use reward code KBEAUTYNOTES for extra discount on your order). It's also available at Stylevana US Link / EU Link, and Stylekorean currently on sale.
Price: $3.99 – $8
Volume: 6.5g
What is it: A liquid type concealer which comes in a small tube with a tip applicator.


Shade Range
The Cover Perfection Tip Concealer comes in 6 shades and 4 separate "shades" for brightening, color correcting and contouring:
#0.5 Ice Beige
#01 Clear Beige
#1.25 Light Beige
#1.5 Natural Beige (the one I have)
#1.75 Middle Beige
#02 Rich Beige
#Brightener
#Contour Beige
#Green Beige
#Peach Beige
I got mine in the shade #1.5 Natural Beige because I read somewhere that it is similar to the shade #01 Clear Beige of the Pot Concealer (4g), but actually the tip concealer has a warmer color and it's clearly yellow based which would suit warm undertones better. Whereas the pot one would be more suitable for neutral/cool undertones. The pot one matches my skin tone more, but the tip doesn't look overly yellow on my face either. They both have the same level of brightness, but are different undertones if that makes sense. Next time I'll probably go with a lighter shade, the #1.25 Light Beige.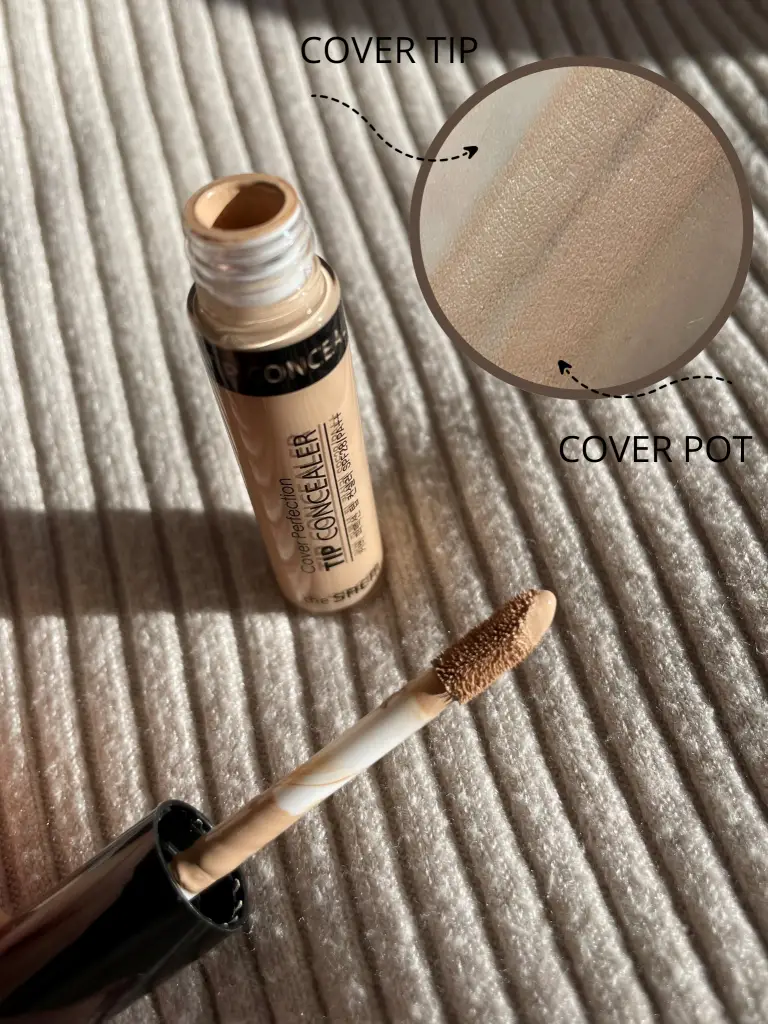 Application
Depending on the method/tools you use to apply your concealer things like coverage, finish and lasting power will vary. With the pot concealer that has a cream consistency, the best way for me to apply it was with a concealer brush (like the Real Techniques concealer brush) so it could blur my large pores. To spot conceal, a flat brush would work better since it won't blend as much and give more coverage.
The tip concealer is in a liquid form and I think any tool that would press it on the skin would work fine (including fingers but not on textured skin or large pores unless the skin is very well prepped with skincare).


Performance
Texture: The Cover Perfection Tip Concealer is a liquid type concealer that feels like skin when applied and spreads effortlessly. It can be easily moved around using just your fingers without compromising its coverage. It really feels like you don't have any product on.
Finish: Semi-matte to matte finish (a bit powdery), but it's not drying. Velvety skin feel without any stickiness. It's non greasy so all skin types will be able to use it with no issue, but mainly oily and combo. If you have dry skin make sure to moisturize the skin well just like you'd do with any makeup base product, so it won't cling to dry patches or skin flakes.
Coverage: Considering how thinly this applies I was surprised to see that it is full coverage. It is buildable due to its consistency, however I don't feel the need to go for an extra layer with it. My dark circles are covered 90% and the undereye area looks much brighter.
Lasting Power: It's very long lasting. Even more if you usually go for a matte look. I like my face to have a sheen so I never do my makeup on the matte side. Still lasts a good 4-5 hours. Due to the method of application it's more long lasting on me than the pot one.
While I enjoyed using the Pot concealer to apply it all over (with a brush) and even out my skin tone and blur pores, I prefer the Tip concealer to mainly cover my dark circles, brighten the undereye area and other parts of the face, as well as spot conceal.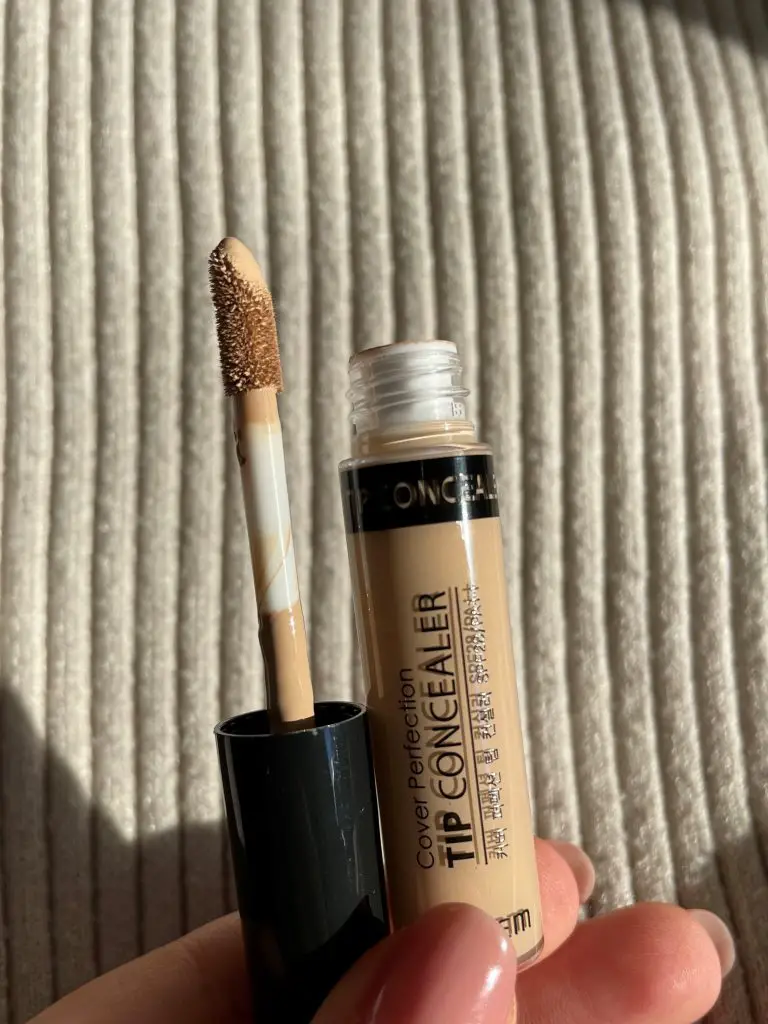 Final Verdict on The Saem Cover Perfection Tip Concealer
Pros
Full coverage.
Applies thinly, velvety finish, semi-matte to matte.
Non greasy/sticky.
Suitable for all skin types.
Covers dark circles so well and brightens the undereye area.
Doesn't crease.
Long-lasting.
SPF 28/PA++
Very affordable.
Cons
Dry skin should prep the skin well to avoid this clinging onto dry patches.
What makes this concealer so great is the fact that it applies thinly and it still remains high coverage. The finish is super smooth/non sticky and sets to a semi-matte/matte finish. I think oily, combo and normal skin would like this better. Dry skin would have to prep well or simply opt for another more suitable option. It also has SPF which is always nice to have in a product. I love how well this covers my dark circles (one of the mains reasons I use it) and brightens the area. The shade range is pretty good for a korean makeup product. But above all, you simply cannot beat the price! It's very affordable. I'd say it's worth trying!


Did you find The Saem Cover Perfection Tip Concealer Review helpful? Have you tried any product from this brand before?


---

This post contains affiliate links. It means I may earn a small commission when you purchase a product through the links I have provided at no extra cost to you. I've bought this product myself and I will always share my honest opinion and experience. Sincerely thankful to all of you that support my blog! For more information, see Disclosure Policy.

Related posts
Follow blog via Email
Get the latest posts from this blog delivered to your inbox!
About Me
Hi and welcome to Kbeauty Notes! :) I'm Ledia and I'm very passionate about everything skincare. I created this blog to share my thoughts and experience with many amazing and not so great products out there, hoping to help you make better decisions regarding your skin. I'm very happy to bring you on this journey with me and I hope you enjoy it! <3

My Skin Type: Oily, acne prone, dehydrated, a little sensitive, large pores.

Skincare Concerns: hydration, pore care, anti-ageing, PIE (acne marks), brightening.

Contact: kbeautynotes@gmail.com