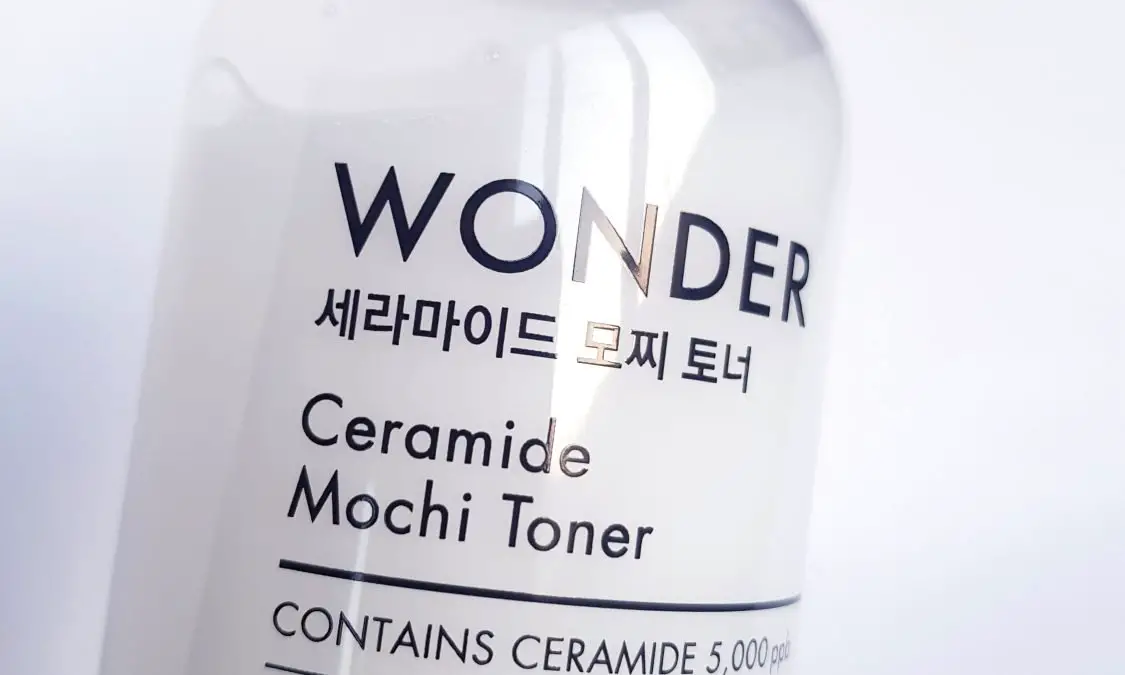 I bought this TONYMOLY Wonder Ceramide Mochi Toner a while ago, but since I had a lot of skincare to try, I only got to consistently use it this month. It was supposed to be a product for the colder months…haha I have tried a few products from TonyMoly during the years, but without any luck. I really liked their Tomatox Magic Massage Pack and I still remember how it left my skin feeling silky smooth! Unfortunately, I had an allergic reaction to it so I had to stop using it.
What attracted me to this toner are ceramides and the texture! This looked like a good choice for taking care of the skin barrier and reducing my skincare steps.


What is the TONYMOLY Wonder Ceramide Mochi Toner
Claims and description: A multi-use, value-sized toner that works wonders? Meet our Wonder Ceramide Mochi Toner, a hydrating, skin-repairing toner that nourishes weak, dry skin with a hydrating viscous texture so skin looks and feels stronger and healthier. Formulated with ceramides that help reinforce skin's moisture barrier and EWG Green ingredients, our gentle, hypoallergenic toner provides daily care that helps strengthen, hydrate, and protect skin so you can achieve smooth, bouncy, mocchi-like skin!
It comes in a 500ml (16.9 fl.oz.) plastic bottle with a twist cap.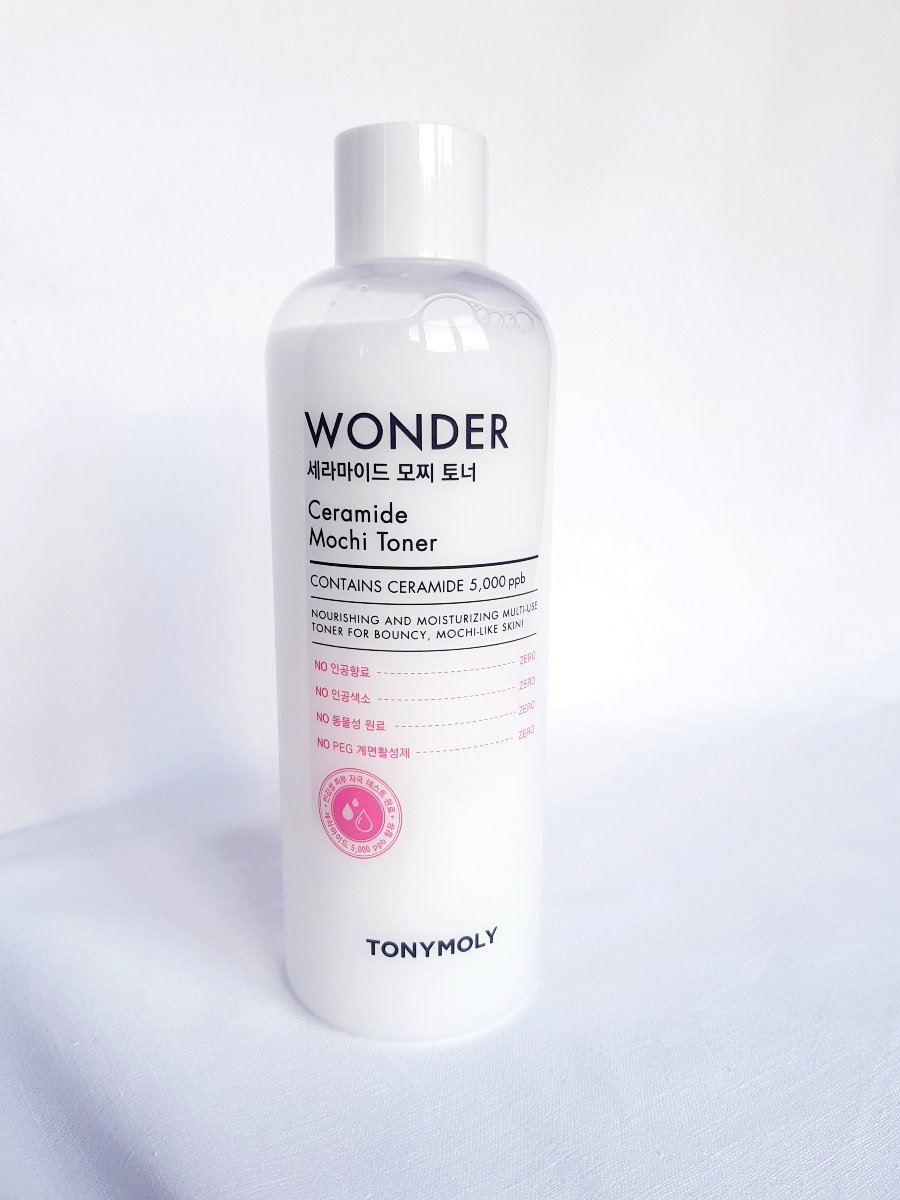 Application
I know that because this is a toner, you'd think it should come as a step right after cleansing. However, toners come in many forms now with various properties and textures. As someone with oily skin, I use this as the last step of my skincare at nighttime now in the summer due to its consistency and moisturizing power. Apply it as you would with any toner. I pour a couple of drops into the palm of my hand, rub the hands together and press it on my skin.
Depending on how my skin is feeling I may go for a second layer, too. Whereas dry skin types may have no problem using this directly after cleansing, doing more layers and even follow with a separate moisturizer.


Consistency
In the bottle the texture looks very viscous, but it is actually light and runny. However, it has some really good slip to it which makes it feel moisturizing!


Scent
The lemony scent is something that I don't really like about it. I wish they'd either change it or remove it. However, now I'm kind of used to it and it doesn't bother me to the point of not using the toner. But, for those of you that are sensitive to scents, I'm not sure whether you'll like it.


Performance
I love how this gives a cushiony feel to the skin. Spreads so easily and there is a tad bit of tackiness before it dries down, but it goes away completely after a few seconds. It improves texture by smoothing out flaky skin and making it feel well moisturized. My face feels comfortable and without any tight feeling if I use it on its own, but layering some lighter products under it makes the skin feel fully hydrated. I usually go for a lighter toner, essence or a watery ampoule which absorb a bit more into the skin. And this would be the last product to seal that in and keep the skin soft and supple. I don't wait for the previous product to fully absorb before applying this.
I seriously do not need to use a separate emulsion or moisturizer if I'm using this toner now that it's summer. It does the job as the last step for me. Dry skin types would not have a problem using it as a morning toner. But, my skin would get oily so right now it's only used in the PM routine in place of a moisturizer.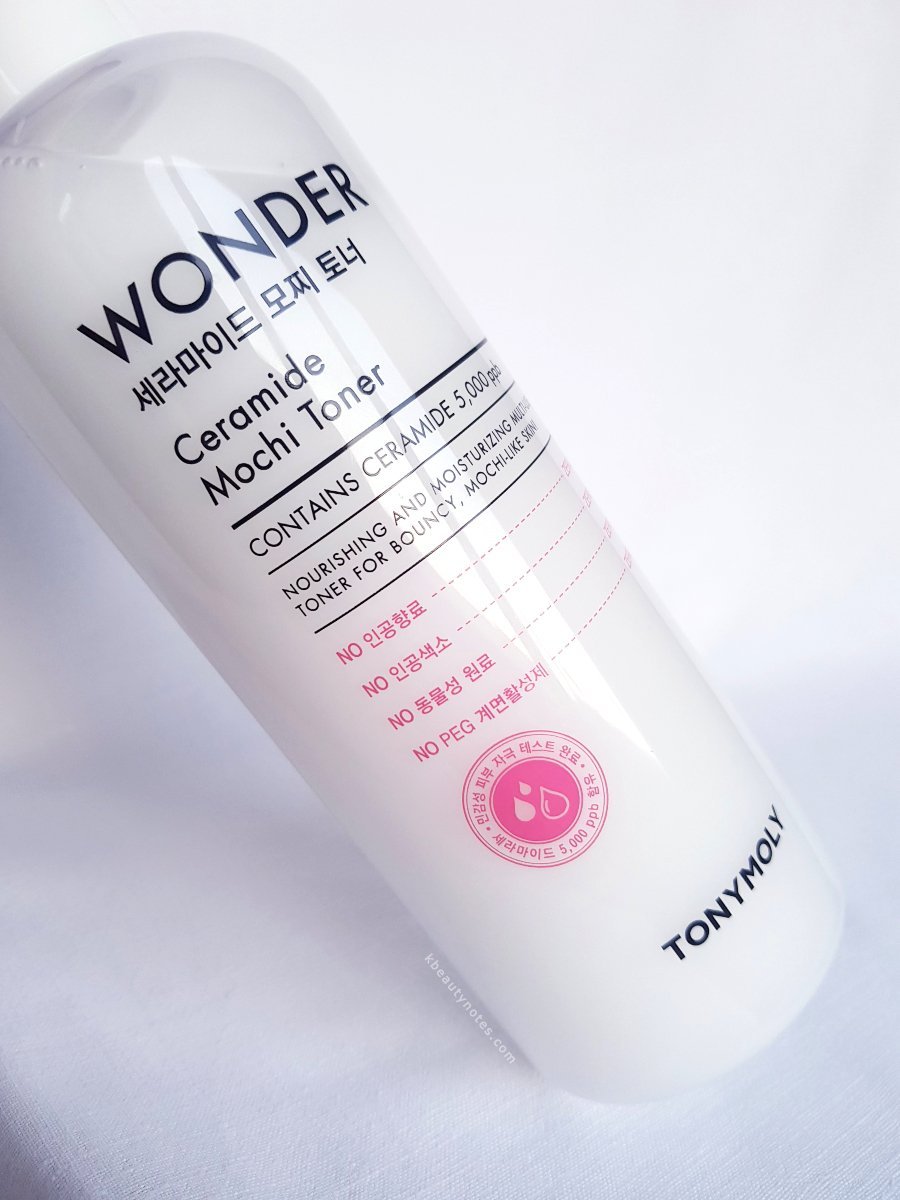 This may look similar to the Laneige Cream Skin Refiner, but it feels a bit different. The Cream Skin Refiner feels like a liquid moisturizer and has more of an oily slip to it than this one. The Mochi Toner is a bit less moisturizing, but still great for combating dryness! I can layer this more easily as The Cream Skin could get a bit sticky with more than 1-2 layers. Also, many compare it to the I'm from Rice Toner, but I haven't opened that one yet. I will definitely make a comparison later.
Works really good with makeup. It preps the skin and I particularly like using it with makeup that's more matte since it balances it and won't look cakey.
My cheeks turned a bit rosy when I used this directly on the skin as the first step for the first two times. Didn't experience any tingling sensation though. This hasn't persisted anymore and I'm using it with no issue since. I've seen comments from people that like this toner and actually recommend it for sensitive skin. If you know your triggers I'd say have a look at the ingredients below.
It hasn't broken me out or caused any skin congestion.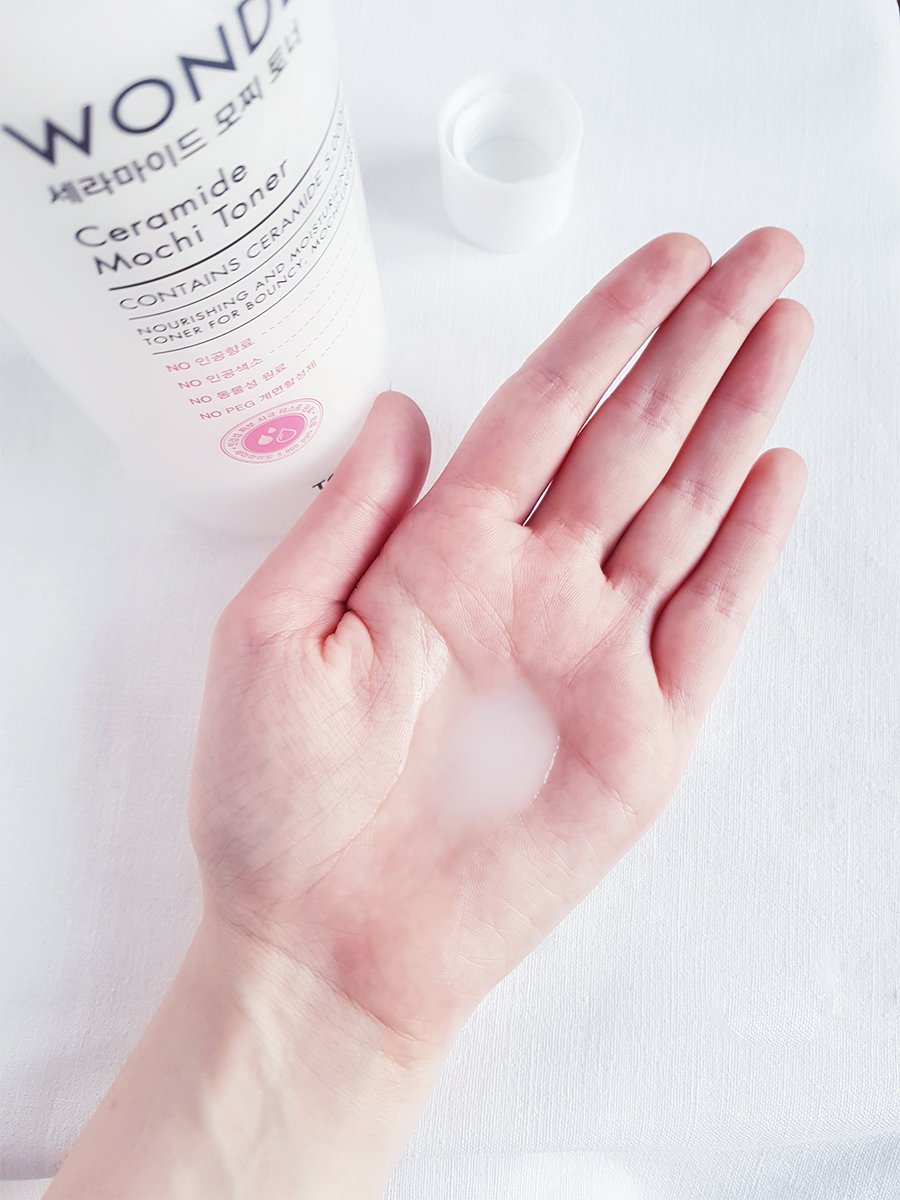 Ingredients
TONYMOLY Wonder Ceramide Mochi Toner key Ingredients:
Centella Asiatica (Gotu Kola) Extract (antioxidant and soothing), Glycerin (humectant), Ceramide NP (supporting the skin barrier and keeping the skin hydrated), Sodium Hyaluronate (humectant).
Allantoin (not only soothing but also skin-softening and protecting), Panthenol (pro-vitamin B5 which moisturizes and can help our skin to produce more lipids for a healthy skin barrier).
Macadamia Seed Oil (easily absorbed and loaded with emollient and nourishing fatty acids which makes it ideal for dry skin types)
#alcohol-free, but not fragrance-free. It contains EOs like: Rosewood Oil and Lemon Seed Oil.

Water, Dipropylene Glycol, Glycerin, Pentaerythrityl Tetraisostearate, Glycereth-26, 1,2-Hexanediol, Macadamia Ternifolia (Macadamia) Seed Oil, Phenyl Trimethicone, Hydroxyethyl Acrylate/​Sodium Acryloyldimethyl Taurate Copolymer, Styrene/​Vp Copolymer, Ethylhexylglycerin, Centella Asiatica (Gotu Kola) Extract, Acrylates/​C10-30 Alkyl Acrylate Crosspolymer, Tromethamine, Caprylic/​Capric Triglyceride, Allantoin, Hydrogenated Lecithin, Propanediol, Panthenol, Phytosteryl/​Octyldodecyl Lauroyl Glutamate, Ceramide NP, Sodium Hyaluronate, Aniba Rosodora (Rosewood) Wood Oil, Citrus Limon (Lemon) Seed Oil, Disodium EDTA, Linalool, Limonene

Final Verdict
Pros
A bit hydrating, but more on the moisturizing side.
Doesn't feel sticky.
Makes the skin feel soft and bouncy.
Improves skin texture by smoothing out skin flakes.
Mostly suitable for normal, combo, and dry skin types (oily skin for PM or winter).
It doesn't break me out.
Great value – Affordable.
Cons
I'm not a fan of the scent.
It contains Essential Oils for those that react to them.
A toner that lives up to its description and claims which really gives you super soft mochi-like skin! Doesn't feel sticky/heavy and you can layer it as per your needs. Just like the Cream Skin this works great on its own to moisturize my skin. If you have oily skin, you won't need to follow with a separate product as this can be the last step in your routine. More suited for those who'd like to combat dryness though! There's nothing fancy included in the ingredients, but they're pretty straight to the point and do the job well. Makes it a great choice for those who use a lot of actives since its main point is to moisturize. The only thing I don't like about this is the lemony scent, but I'm used to it by now.

Let's not forget: Great value! The 500ml bottle is huge and will last you for a really long time. You can even use this on your body. I would definitely grab this if you're on a budget.



Where to buy:
If you'd like to buy the TONYMOLY Wonder Ceramide Mochi Toner, you can find it at Stylekorean* for currently 50% off at $11.50. It is also available at Stylevana*. The toner is currently out of stock on Yesstyle, but once it becomes available I'll update it.


Did you find my TONYMOLY Wonder Ceramide Mochi Toner review helpful? Have you tried this toner before? Please share how this worked out for you or your favorite products from TONYMOLY!


---
This post contains affiliate links. It means I may earn a small commission when you purchase a product through the links I have provided. I've bought this product myself and I will always share my honest opinion and experience. Sincerely thankful to all of you that support my blog! For more information, see Disclosure Policy.


Related posts
Follow blog via Email
Get the latest posts from this blog delivered to your inbox!
About Me
Hi and welcome to Kbeauty Notes! :) I'm Ledia and I'm very passionate about everything skincare. I created this blog to share my thoughts and experience with many amazing and not so great products out there, hoping to help you make better decisions regarding your skin. I'm very happy to bring you on this journey with me and I hope you enjoy it! <3

My Skin Type: Oily, acne prone, dehydrated, a little sensitive, large pores.

Skincare Concerns: hydration, pore care, anti-ageing, PIE (acne marks), brightening.

Contact: kbeautynotes@gmail.com