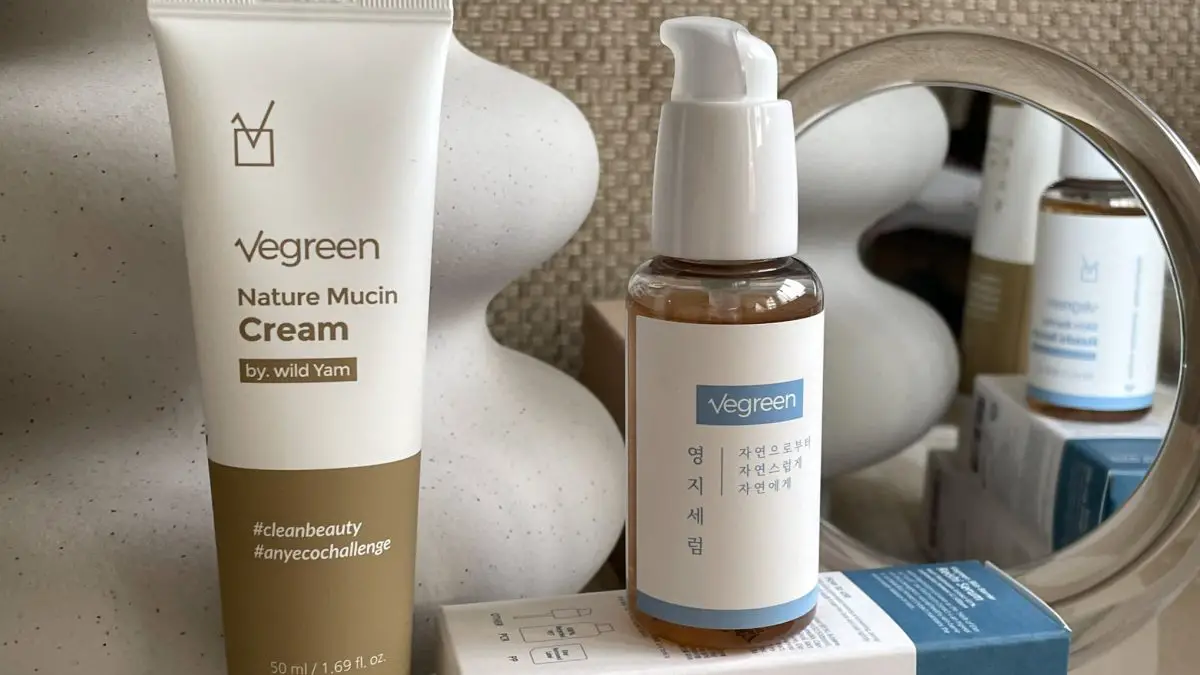 Vegreen has become one of my favorite K-Beauty brands since I first tried their Nature Mucin line and the Cica serum. Their products deliver so much hydration to the skin which even some popular products that contain snail mucin fail to do so. The formulations are simple, yet effective. Also, they cater for sensitive skin too, as none of their products contain fragrance or essential oils.
The brand has recently launched some new products, and the ones I'm reviewing here are the Vegreen Nature Mucin Cream and Skin Barrier Reishi Serum. I was drawn to the serum because it contains a mushroom extract, and the cream is part of my favorite line.


Where to buy: Available at Vegreen's Amazon Store, Stylevana, and Jolse. You can also find them at Oshen Skin (15% OFF regular priced items).
Price: $18-$21
Volume: 50ml (1.69 fl.oz.)
PAO: 12 months after opening.
Packaging: Normal plastic bottle with a pump dispenser.


Vegreen Skin Barrier Reishi Serum Review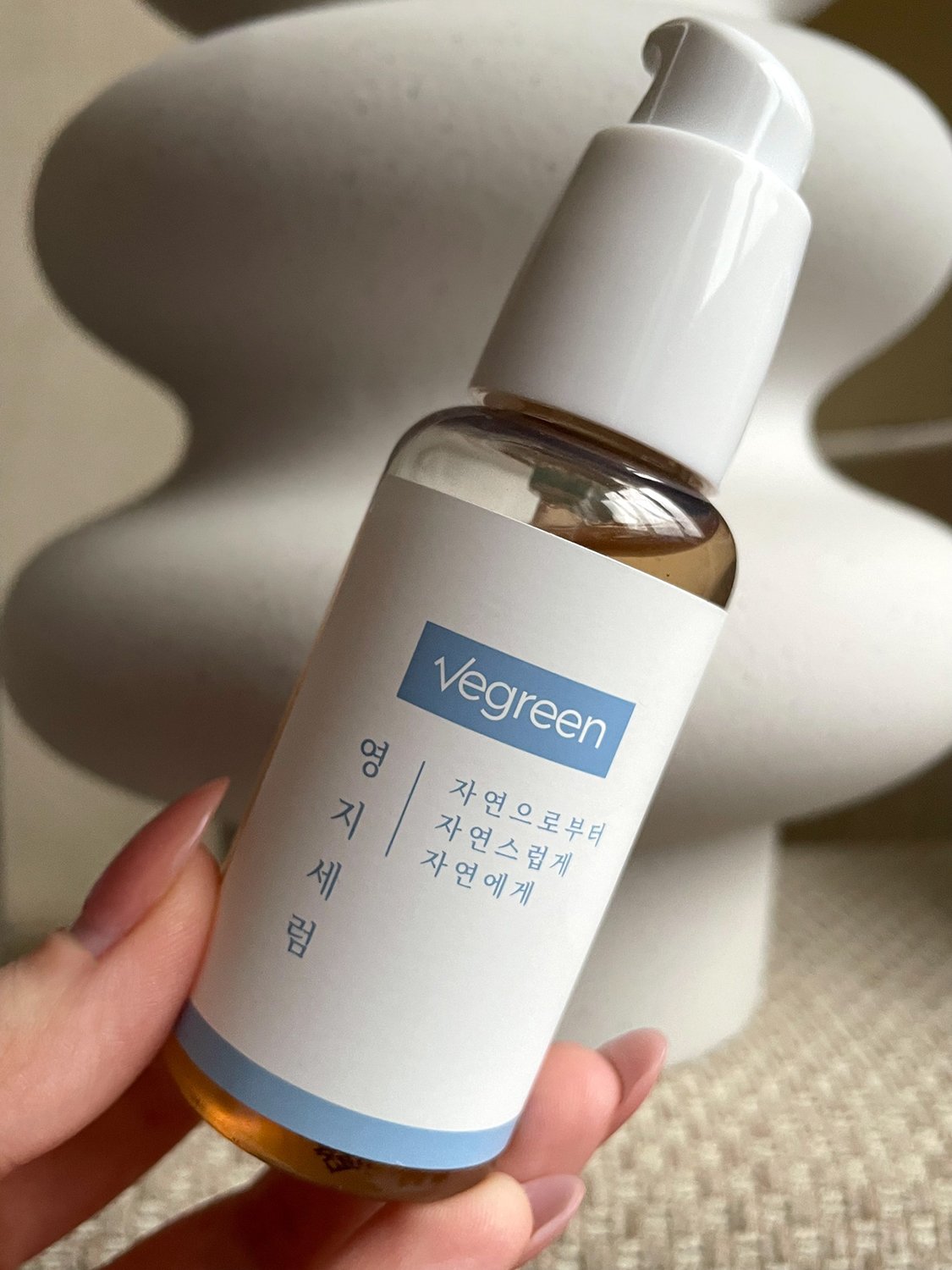 This is the first product I've used that is formulated with 65% Ganoderma Lucidum (Reishi Mushroom) Extract, a species of mushroom used in traditional medicine. It contains a component called ganodermanondiol which can interrupt the enzyme tyrosinase to reduce some kinds of skin discoloration.
Moreover, the extract can improve skin's supportive barrier while reducing irritation. As with other mushrooms, its antioxidant properties are also good.
In addition, it has 3.25% Lactobacillus ferment, a probiotic ingredient with skin protection, anti-microbial, anti-inflammatory, and anti-acne effect as it helps create a healthy balanced microflora.
Sounds interesting so far, right? But that's not all. Some other ingredients that I like are included, such as Niacinamide, Green Tea, Adenosine, Dipotassium Glycyrrhizate.

Advertised as suitable for all skin types.


Application
Apply 1-3 pumps of serum depending on your skin type on cleansed skin or after toner. Spread and pat lightly until it absorbs. The serum can be used both morning and night.


Consistency
Runny consistency, but not watery. There's some viscosity and slip to it that helps you spread it around the face easily. Slightly tacky at first, but it goes away after some minutes. I don't usually wait for it to set completely before following with my moisturizer.


Scent
Like all Vegreen products, this too, is fragrance-free and doesn't contain any essential oils.


Performance
What can I say, another product that I absolutely love from this brand. The Skin Barrier Reishi Serum feels both hydrating and emollient at the same time. I don't mind not using a lighter type of toner or essence under it as it feels comfortable on the skin on its own.
At the same time, it makes the skin surface soft and forms a protective layer that is great for barrier repair. I say this because there are some products that only stay as a film on top, but the skin still feels tight. And in those cases, for me a toner would be necessary.
I'd say it's suited for all skin types as advertised. Oily skin can use it as a nourishing night serum, whereas dry skin types can layer it together with other hydrating products as needed.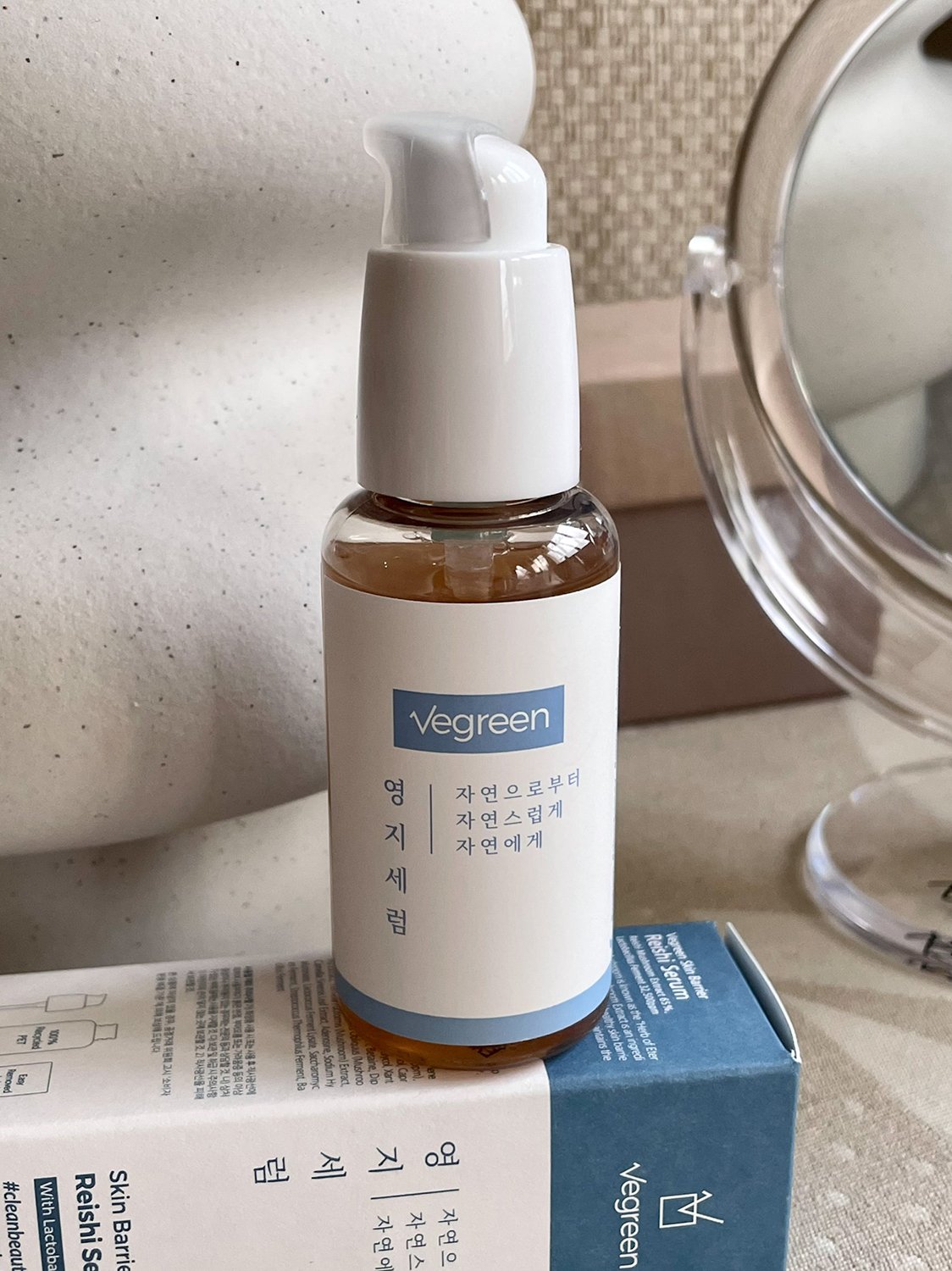 This is a great serum for anyone that has a minimalistic routine and wants a hydrating and antioxidant serum that does not contain any potential irritating ingredients. You can use it in the same routine as your retinoids or other actives. Even on days when you take a break from active ingredients and focus on repairing your skin barrier and lessening irritation.
I don't notice any brightening effect from it, but it's not something it claims to do anyway. It makes the skin look bouncy and gives a healthy glow.
It doesn't break me out or cause any bumps under the skin.


Ingredients
Key ingredients: 65% Reishi Mushroom Extract (antioxidant, barrier repair, anti-inflammatory etc), 3.25% Lactobacillus Ferment (skin protection against environmental aggressors, anti-acne).
Niacimande (anti-aging, skin lightening, anti-inflammatory), Green Tea (antioxidant/soothing), Adenosine (wound healing, anti-inflammatory, improves skin firmness and elasticity), Dipotassium Glycyrrhizate (soothing).
Free of alcohol, fragrance and EOs.
Ganoderma Lucidum (Mushroom) Extract(65%), Butylene Glycol, Glycerin, Lactobacillus Ferment (32,500ppm), Water, Niacinamide, Glycereth26, 1,2-Hexanediol, Caprylyl glycol, Hydroxyacetophenone, Pentylene Glycol, Xanthan gum, Ethylhexylglycerin, Allantoin, Betaine, Dipotassium Glycyrrhizate, Inonotus Obliquus (Mushroom) Extract, Tremella Fuciformis (Mushroom) Extract, Camellia Sinensis Leaf Extract, Adenosine, Sodium Hyaluronate, Lactococcus Ferment Lysate, Saccharomyces Ferment, Streptococcus Thermophilus Ferment, Bacillus Ferment

Vegreen Nature Mucin Cream Review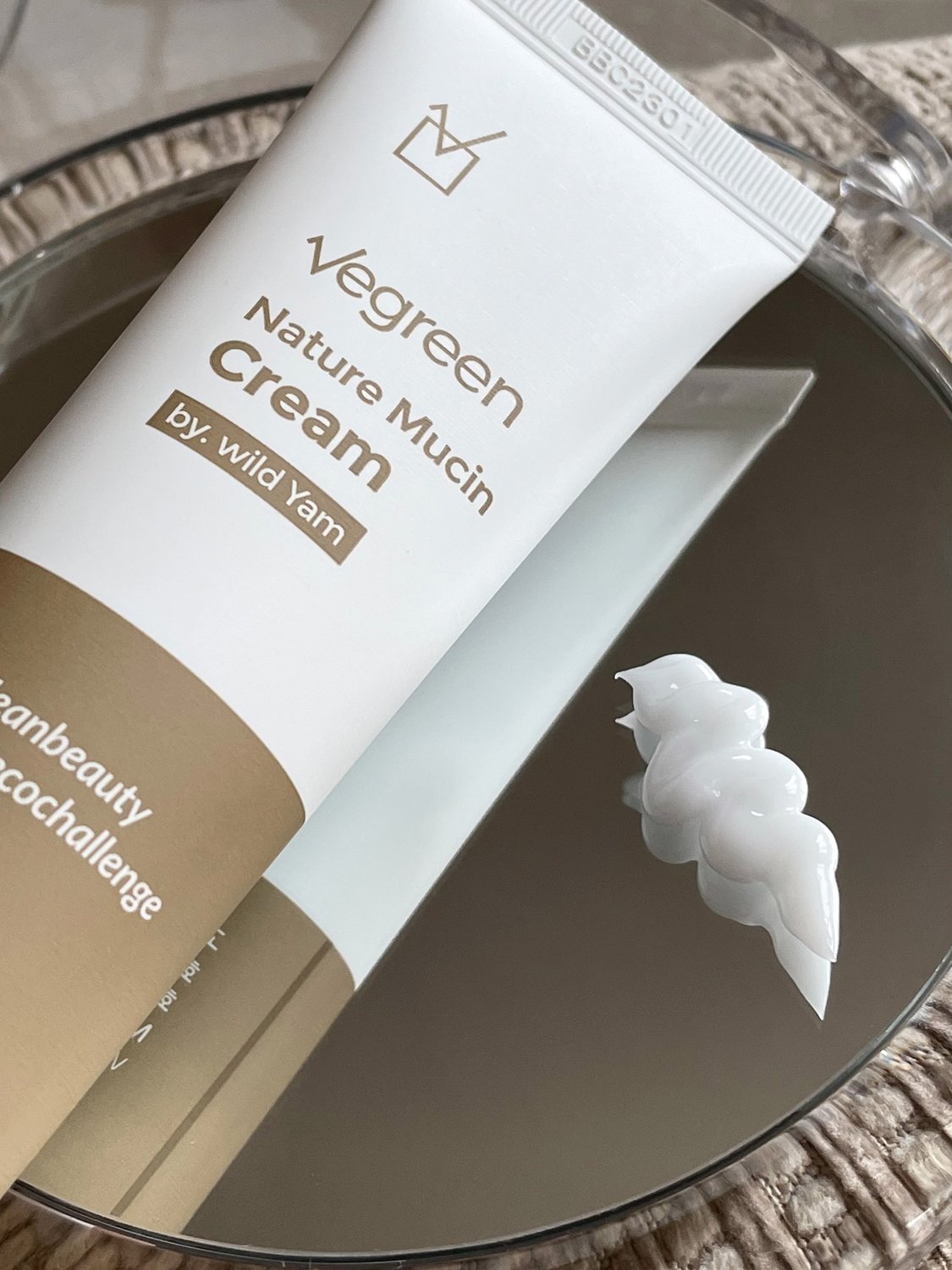 Price: $18-$21
Volume: 50ml (1.69 fl.oz.)
PAO: 12 months after opening.
Packaging: Plastic squeeze tube with a cap.


The Vegreen Nature Mucin Cream is a face moisturizer made for dry and sensitive skin types. It is formulated with 59% Wild Yam Root Extract which the brand uses as a vegan alternative to snail mucin to deeply moisturize the skin. Two other hydrators include Glycerin and Arginine (NMF – natural moisturizing factor). No frills minimal formula that excludes fragrance, silicones, and essential oils.


Application
Apply an appropriate amount as the last step of your skincare routine. You can reapply on areas that feel extra dry.


Consistency
Dense gel-cream texture with a beautiful slip. Feels a bit rich and emollient but not occlusive or heavy. The initial tackiness goes away and feels velvety smooth on the skin. The finish is on the dewy side for me.


Scent
No discernable scent since it's a fragrance-free formula.


Performance
This is definitely a moisturizer best suited for normal to drier skin types, just as advertised, to help prevent loss of moisture and soften peeling skin. Immediately relieves dryness and makes the skin feel more comfortable. I can feel that it is a bit rich on my oily dehydrated prone skin, so I opt using it only in my night-time routine.
This is not suited for oily skin types or easily congested skin. I did get some little bumps when I used this together with other nourishing products. Although when used on its own and applied in a thin layer it doesn't pose a problem.
My mom on the other hand, has been using this too with no issue whatsoever as she has normal skin that's sometimes prone to dryness.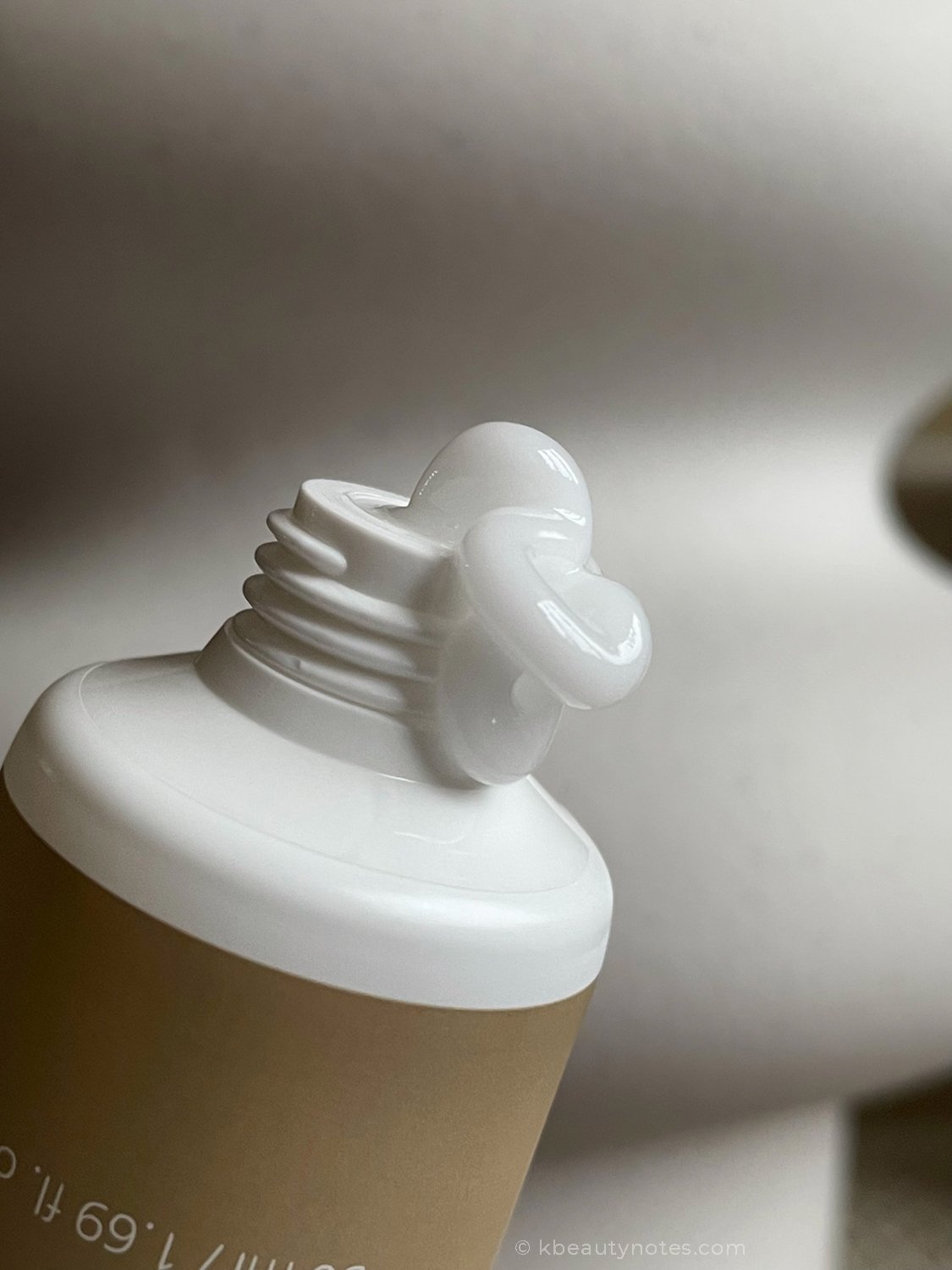 Whereas for dry skin, it's perfect to be used together with the Skin Barrier Reishi Serum for added hydration. Or even one of the products from the Nature Mucin line. Wild Yam Root Extract has proved to be very effective in combating dehydration/dryness for me.
By providing a topical barrier, the mucin cream will help shield against potential irritants. Also, great to use when you think you've damaged your skin to help restore it. It doesn't contain any fragrance so it's a good choice for irritated and sensitive skin types.
For dry skin in harsh weather conditions this could work well as a morning moisturizer too.
Compared to the Vegreen 730 Daily Moisture cream, I'd say this cream feels a bit more nourishing.


Ingredients
59% Dioscorea Villosa (Wild Yam) Root Extract, Glycerin, Arginine, and a couple of emollients.
Free of alcohol, fragrance and EOs.
Dioscorea Villosa (Wild Yam) Root Extract (59%), Glycerin, Dipropylene Glycol, Caprylic/Capric Triglyceride, Propanediol, 1,2-Hexanediol, Cetearyl Alcohol, Butylene Glycol Dicaprylate/Dicaprate, Cetyl Phosphate, Glyceryl Stearate, Arginine, Ammonium Acryloyldimethyltaurate/VP Copolymer, Ethylhexylglycerin

Final Verdict on the Vegreen Nature Mucin Cream & Reishi Serum & Nature Mucin Cream
Again, not disappointed by Vegreen! Both products work as they are advertised. The Skin Barrier Reishi Serum has been added to my favorites. It's such a good winter-time serum for me to help effectively moisturize and protect my skin from drying out. The Nature Mucin Cream is definitely more suited for normal to dry skin types as it's nourishing but without feeling heavy. Might cause skin bumps to those that are prone to congestion due to the consistency. Other than that, it doesn't have any downsides.

Did you find the Vegreen Skin Barrier Reishi Serum and Nature Mucin Cream Review helpful? What products would you like to try from the brand?


---
*Sponsored – by Vegreen, but opinions are completely my own.
*Affiliate Links – It means I may earn a small commission when you purchase a product through the links I have provided, at no extra cost to you.


Related posts
Follow blog via Email
Get the latest posts from this blog delivered to your inbox!
About Me
Hi and welcome to Kbeauty Notes! :) I'm Ledia and I'm very passionate about everything skincare. I created this blog to share my thoughts and experience with many amazing and not so great products out there, hoping to help you make better decisions regarding your skin. I'm very happy to bring you on this journey with me and I hope you enjoy it! <3

My Skin Type: Oily, acne prone, dehydrated, a little sensitive, large pores.

Skincare Concerns: hydration, pore care, anti-ageing, PIE (acne marks), brightening.

Contact: kbeautynotes@gmail.com