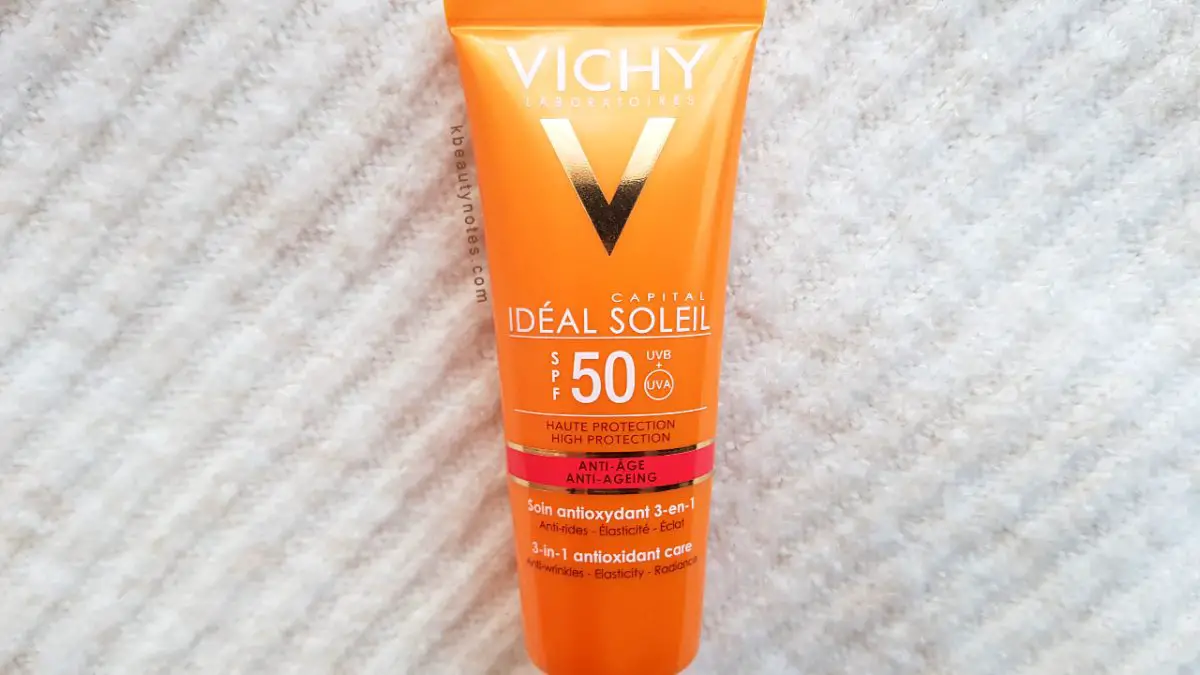 Vichy Idéal Soleil Anti-Ageing 3-in-1 Antioxidant Care is a chemical (organic) sunscreen formulated for "mature skin" of 30+. It's suitable for combination, oily and sensitive skin types. Labeled SPF 50 and has a great UVA protection of at least PPD 16 or PA++++ to help protect against the causes of photoageing. This is indicated by the UVA circle symbol on the tube. Good UVA protection is essential for preventing wrinkle and hyperpigmentation.


Application
Apply directly on cleaned face or after your toner/day serum. Wait for the skincare to fully absorb before going in with the sun cream.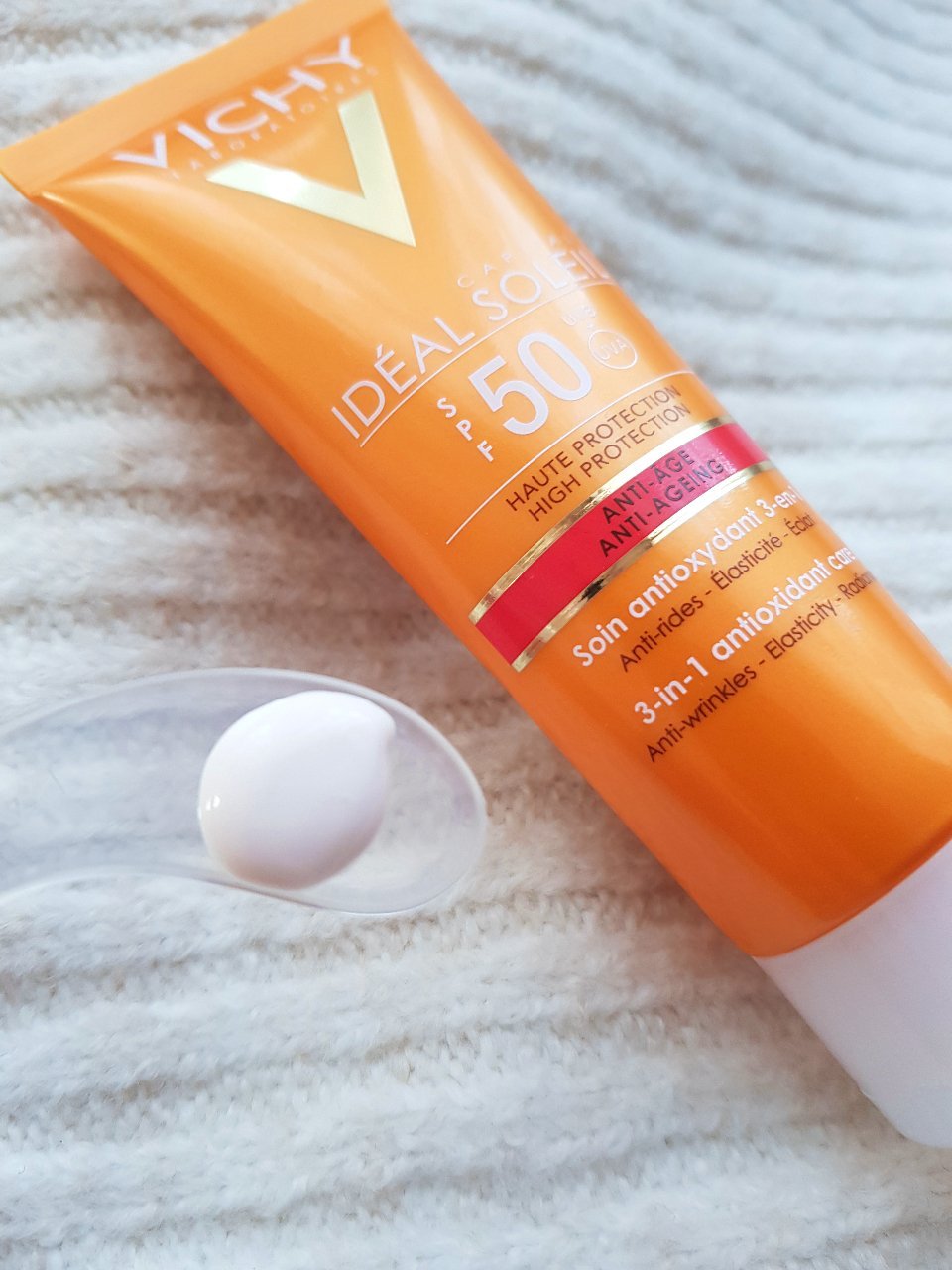 Texture
I like the non-greasy texture of this sunscreen. It's light, creamy and spreads very easily. Sticks well to the skin and leaves almost no white cast. Dries down to a semi matte-matte finish.


Scent
The formula is not fragrance free and it's halfway on the ingredients list. I kinda like the scent and although my skin is sensitive I have not experienced any irritation whatsoever. But, it's something to keep in mind.


Performance
Sits very well on oily skin and it's suitable for sensitive skin types as well. It looks a bit glowy upon application and then after a couple of minutes it absorbs completely.
However, when you apply it you need to work it on the skin fast and avoid over rubbing since it can pill. This is probably because it contains Silica.
I've had that happening a couple of times, especially if I don't wait for the previous product to fully absorb.
It also depends on the texture of what products you're using prior and how many layers you're applying.
This is also true if you don't wait for the sunscreen to fully absorb before jumping to makeup. This is something to consider if you wear makeup daily. A fix for this can be patting the base makeup onto the skin with a sponge, avoiding using a brush which can make the sunscreen move or pill.
Despite this, I personally like it and I use it frequently. It's great on the skin and doesn't feel sticky or oily. Lightweight, smooth texture and has a pleasant smell (although not everyone is going to like it).

*Haven't tested this during humid summer weather yet.


Ingredients
Active ingredients / Filters: Homosalate, Octisalate, Uvinul T, Mexoryl XL, Avobenzone, Octocrylene.
Vichy Idéal Soleil contains antioxidants such as Black Tea Ferment and Camu Camu Extract with concentrated vitamin C.
It also has Ginger Root Extract ( skin elasticity, anti-oxidant and anti-inflammatory ), Sanguisorba officinalis root extract ( anti wrinkle and elasticity ), Cinnamomum Cassia Bark Extract ( antibacterial, antioxidant, anti-inflammatory ).
Formulated without Parabens.


Final Verdict
Pros
Lighweight, non greasy and non sticky.
Almost no white cast.
Very easy to spread and smooth finish.
Great for combo-oily skin types (semi matte-matte finish).
Suitable for all skin types.
Great UVA protection.
Great sunscreen for oily skin types due to its semi matte-matte finish and doesn't dry out the skin. Offers great UVA and UVB protection. The pilling thing bothered me at first but after figuring out how to apply it, it's working well for my skin now. Those of you who apply many layers of skincare and makeup should be aware of this and probably opt for another sunscreen. Personally, I would repurchase this again.


Have you tried Vichy Idéal Soleil Anti-Ageing 3-in-1 Antioxidant Care SPF50? How did it work for you?

Also read:
Bioderma Photoderm MAX Cream spf 50+ Review
Vichy Dercos Energising Stimulating Shampoo
---
I've bought this product myself and I will always share my honest opinion and experience. Sincerely thankful to all of you that support my blog! For more information, see Disclosure Policy.



Related posts
Follow blog via Email
Get the latest posts from this blog delivered to your inbox!
About Me
Hi and welcome to Kbeauty Notes! :) I'm Ledia and I'm very passionate about everything skincare. I created this blog to share my thoughts and experience with many amazing and not so great products out there, hoping to help you make better decisions regarding your skin. I'm very happy to bring you on this journey with me and I hope you enjoy it! <3

My Skin Type: Oily, acne prone, dehydrated, a little sensitive, large pores.

Skincare Concerns: hydration, pore care, anti-ageing, PIE (acne marks), brightening.

Contact: kbeautynotes@gmail.com