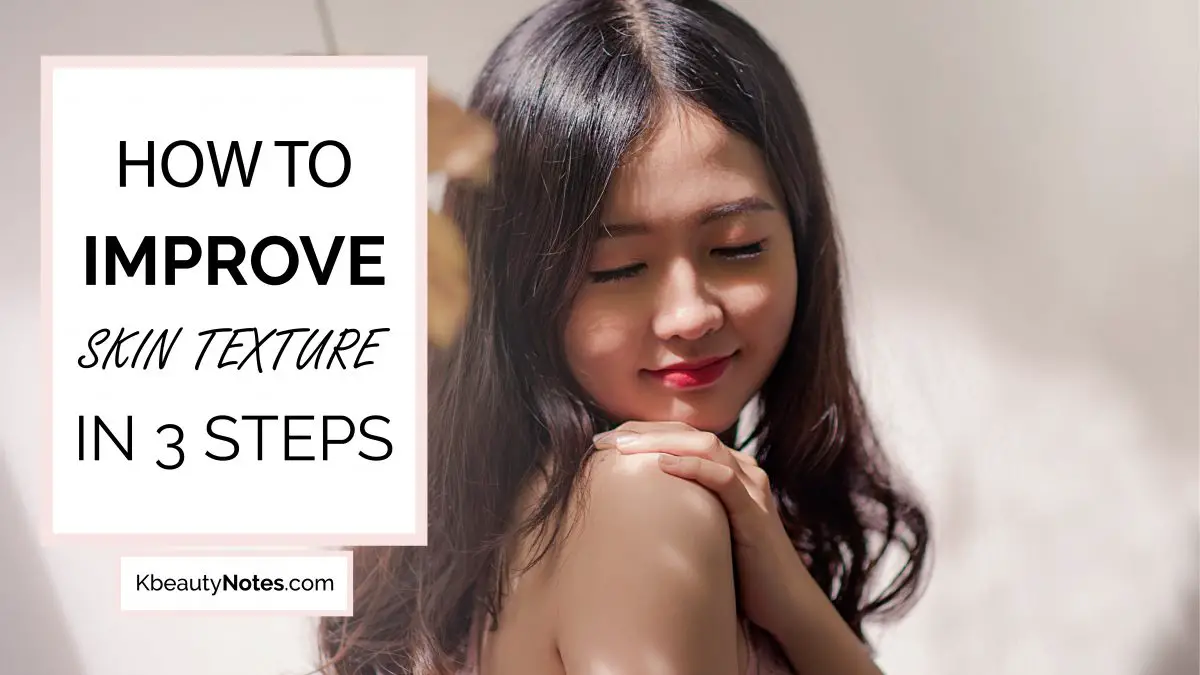 Struggling with rough, flaky skin and want to learn how to improve skin texture? Then keep reading 🙂
I've always had skin texture problems and only a couple of years ago I learned how to properly take care of it. I have oily skin which gets dehydrated easily due to the skin barrier not functioning well. And this has come as a result of not knowing exactly what my skin needed, sometimes neglecting it and using the wrong products.
What are some characteristics of oily skin? Those with oily skin produce excessive sebum and have large pores. They are more likely to develop acne and makeup gets smudged easily. Dirt can stick onto the face which can lead to bacterial acne. The outer skin feels rough and flaky, because of accumulated dead skin cells. The skin is left looking dull, greasy and lifeless. Sounds familiar?
Here I will share with you 3 steps that have helped me improve my skin texture:


1. Cleansing
Avoid using harsh alkaline cleansers on your face (high pH levels). You may already know that alkaline cleansers strip your skin of moisture, but they also damage your skin barrier. When I was using alkaline cleansers my skin always felt rough and flaky afterwards. A face cleanser should have a pH similar to that of skin (4.5-5.5). This way it won't interfere with the skin's microflora.

I like using a balm/oil cleanser (or a gentle gel cleanser with a 5.5 pH level when I'm not using makeup) as a first step of my routine, because not only it's gentle and doesn't strip your skin, but it also removes dead skin cells and melts the sebum on the surface very effectively. You know those blackheads that feel bumpy to the touch? They will be gone. The surface of your skin will be very smooth and with very few dead skin cells, which brings us to the next step:
Recommendations:

Heimish All Clean Balm / Banila Co Clean It Zero
COSRX Low pH Good Morning Gel Cleanser
Skin Watchers Enzyme Powder Wash
---
2. Exfoliating
Depending on your skin type using a gentle chemical exfoliator like AHAs (alpha hydroxy acids) is crucial to removing those dead skin cells on the surface. Personally I'm not a fan of physical exfoliators like scrubs. I have yet to find one that is gentle enough and I think chemical exfoliators do a much better job at evenly exfoliating the top layer of the skin.

AHAs are also hydrophilic (attracts water molecules) which help skin with hydration as well. Types of AHAs include: Glycolic acid, Lactic acid, Mandelic acid etc, with Glycolic acid being the more potent due to the smaller size of molecules which penetrate deeper. Contentration also plays a role. For sensitive skin I would recommend starting off with a gentler exfoliator like mandelic acid and if you can tolerate it, you can try other types.
I personally exfoliate 1 time a week depending on my skin condition at that time. Simply wet a cotton pad and gently wipe your face.
Please note that AHAs make your skin much more sun sensitive, so I would be cautious during the summer and ALWAYS apply sunscreen! Otherwise you'll do more damage from sun exposure.
Tip: Galactomyces Ferment Filtrate also helps to exfoliate dead skin cells and improve skin texture. However, some people may be sensitive to fermented ingredients.
Recommendations:

Mandelic Acid 5% Skin Prep Water By Wishtrend
KraveBeauty Kale-lalu-yAHA : 5.25% Glycolic Acid Treatment
---
3. Hydration
The 3rd step is hydration. It will balance the oil production and will keep your skin smooth. With proper hydration you won't need to exfoliate your skin just as often. Even on days when the skin appears to be a little flaky, keeping it hydrated will flat out those flakes and even your makeup will go on more smoothly. Seek out products with Hyaluronic acid, Tamanu oil or 'Panthenol and Madecassoside' for those with damaged skin barrier like me.
Recommendations:

ETUDE HOUSE SoonJung 10-Free Moist Emulsion (For oily skin types)
KraveBeauty Great Barrier Relief


Was this post helpful? How do you take care of your skin texture? Please share in the comments 😊🖤
Related posts
Follow blog via Email
Get the latest posts from this blog delivered to your inbox!
About Me
Hi and welcome to Kbeauty Notes! :) I'm Ledia and I'm very passionate about everything skincare. I created this blog to share my thoughts and experience with many amazing and not so great products out there, hoping to help you make better decisions regarding your skin. I'm very happy to bring you on this journey with me and I hope you enjoy it! <3

My Skin Type: Oily, acne prone, dehydrated, a little sensitive, large pores.

Skincare Concerns: hydration, pore care, anti-ageing, PIE (acne marks), brightening.

Contact: kbeautynotes@gmail.com