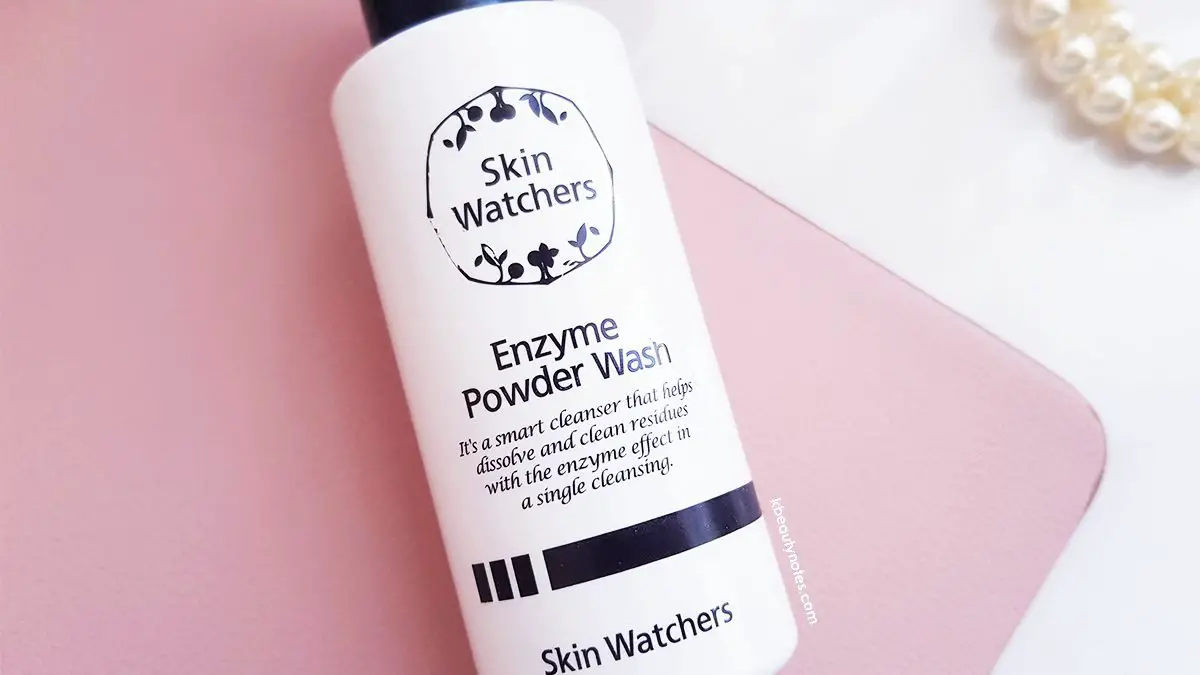 Here's a review of another product from Skin Watchers that I have thoroughly enjoyed using over the years; the Enzyme Powder Wash. Check out my post on the Skin Watchers Green Snail Intensive Emulsion if you haven't already. I've actually repurchased this powder wash at least 3 times and I've kept the bottle, because I knew I would come back to it someday. This cleanser came to my attention many years ago when I was transitioning from alkaline cleansers to a lower pH cleanser.


Description
The Skin Watchers Enzyme Powder Wash is a Papaya based enzyme powder wash that activates upon contact with water to release the botanical enzyme Papain to help remove sebum and other impurities from your skin. 
It is formulated with Corn Starch Extract for sebum removal and moisturizing effects, Papain Extract for a deep cleansing effect and oil-to-water skin balance, and Allantoin Extract for calming the skin. The AHA from the natural papaya also helps to exfoliate by gently removing dead skin cells. This cleanser can be used daily in the morning and at night. It can also be used as an enzyme bubble pack.


Application
The way I like to use it is by wetting my face first. Then I wet my hands and pour a quarter-sized amount (or even less) of powder on the palm of my hand. Rub the hands together until it foams up and the granules melt. I found that this works best for me and I use just as much product as I need, without wasting it. It has lasted me for a long time this way. But, you can adjust the amount or add some extra water to the powder if you'd like. Make sure the water is not cold, but close to skin temperature.
You can also use this wash as an enzyme bubble pack. How? Create a rich leather and apply it on the face avoiding the mouth and eye area. Leave it on for 3 minutes and rinse with lukewarm water. I've mostly used it as a cleanser, but you can give it a try and see how it'll work as a bubble pack for you.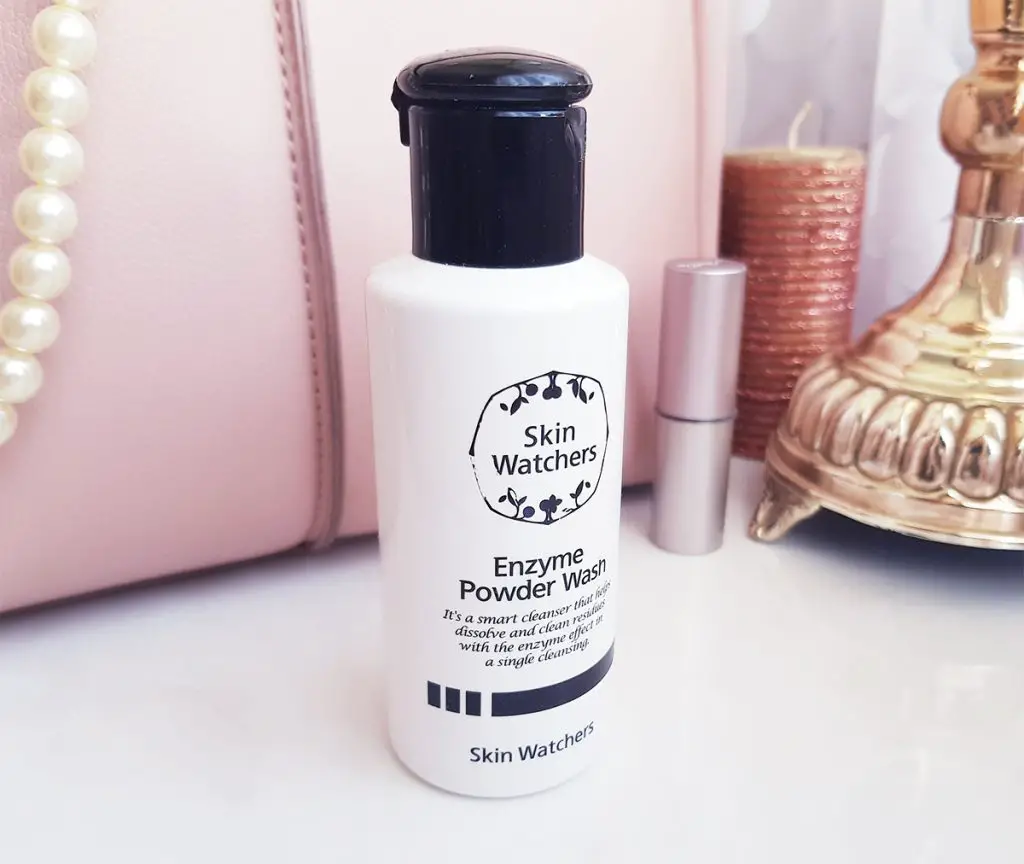 Performance
The enzyme powder wash has a pH 5.5 and is very gentle on my skin. I like that it leathers quite well and a little goes a long way. I have always used this as a morning cleanser or a second step cleanser (not to remove makeup). It doesn't feel stripping and even after going through a couple of bottles, it didn't make my skin drier, which is great.
The sebum and impurities are removed very effectively. Also, my skin feels smooth to the touch and it removes dead skin buildup thanks to the mild skin exfoliation of the Papain enzyme. Of course it's not as strong as an AHA toner would be, but it would be suitable for those that have sensitive skin and don't react well to strong exfoliators. This will gently shed the dead skin without irritation.
Apart from oil/balm cleansers, this is the only (type of) cleanser that has reduced my blackheads significantly with continuous use. I have noticed my skin become temporary brighter after cleansing my face with this powder wash. I like it because it makes the skin look more refreshed and not dull as you start your morning. No one could tell me I looked tired. Haha.
I didn't experience any irritation or breakouts. On the contrary, I felt the cleanser to be soothing. I don't remember if this stings the eyes or not, but I prefer to only remove eye makeup with a balm cleanser and don't use the second step cleanser on my eyes at all.


Ingredients
Natural amino acid surfactants derived from coconut: Sodium Cocoyl Isethionate and Sodium Lauroyl Glutamate. Zea Mays (Corn) Starch: absorbs sebum and cleanses.
Papain enzyme: gently dissolves dead skin cells.
Contains 2 patented ingredients: Ixeris Dentata and Pollen Extract which moisturize and suppress inflamation, and some plant extracts.
Zea Mays (Corn) Starch, Sodium Cocoyl Isethionate, Sodium Lauroyl Glutamate, Papain, Betain, Aloe Barbadensis Leaf Juice, Chamomilla Recutita (Matricaria) Extract, Portulaca Oleracea Extract, Morus Alba Bark Extract, Calendula Officinalis Flower Extract, Ixeris Dentata, Oputia Ficus-Indica Extract, Allantoin, Collagen, Sorbitol, Isopropyl Palmitate, Ascorbyl Palmitate, Chito Oligosaccharide, Citrus Grandis (Grapefruit) Seed Extract, Pollen Extract, Titanium Dioxide, Citric Acid, Disodium EDTA, Fragrance

Final Verdict
Pros
Effective.
Mildy acidic at a pH of 5.5.
Cleans out the pores.
Gentle for everyday use.
Mild exfoliation – Improves skin texture, leaves the skin smooth and brighter.
Didn't dry out my skin.
Suitable for all skin types.
Didn't cause me irritation or breakouts.
Good for travel as it is in a powder form.
Cruelty-Free.
The Enzyme Powder Wash, together with the Skin Watchers Green Snail Intensive Emulsion are easily two of my favorite products that I have repurchased more than once. Hence, I would totally recommend this cleanser! It's gentle and effective, improves texture and cleans pores. In my opinion it would be suitable for all skin types, and even better, it's cruelty-free! I don't know why I haven't tried more from this brand as these two products have worked sooo well for my skin! They're seriously underrated. I'm eyeing their All New Ceramizing Essence Toner next.

Where to buy: Want to try the Skin Watchers Enzyme Powder Wash? You can find it at Yesstyle* for currently $15.90, and Jolse* has it for $17.

Have you tried any skincare from Skin Watchers before? Let me know if you've used any of their products or if you'd like to try them out!


---

*Affiliate links. It means I earn a small commission when you purchase a product through the links I have provided. You will not be charged extra if choosing to do so. The product has been purchased with my own money and I will always share my honest opinion and experience. Sincerely thankful to all of you that support my blog! For more information, see Disclosure Policy.


Related posts
Follow blog via Email
Get the latest posts from this blog delivered to your inbox!
About Me
Hi and welcome to Kbeauty Notes! :) I'm Ledia and I'm very passionate about everything skincare. I created this blog to share my thoughts and experience with many amazing and not so great products out there, hoping to help you make better decisions regarding your skin. I'm very happy to bring you on this journey with me and I hope you enjoy it! <3

My Skin Type: Oily, acne prone, dehydrated, a little sensitive, large pores.

Skincare Concerns: hydration, pore care, anti-ageing, PIE (acne marks), brightening.

Contact: kbeautynotes@gmail.com