Ready for the SoonJung 10 Free Moist Emulsion Review? As someone with oily skin, emulsions are one of my favorite skincare products as they moisturize the skin without the heaviness of regular cream moisturizers. Etude House came out with the SoonJung line in 2017 and this line is targeted specifically at people with sensitive skin. This range has a total of 13 products now with the SoonJung Relief Toner, 2x Barrier Repair Cream and the Hydro Barrier Cream being the most popular. The emulsion stood out to me, because the weather is getting a bit cooler and it would be great to layer on top of a hydrating toner or essence during the day.
The SoonJung 10 Free Moist Emulsion comes in 120ml (4.05 fl. oz.). The bottle is plastic and has a pump which makes it super easy to dispense the product.


Application – How to use the SoonJung 10 Free Moist Emulsion
Apply the emulsion after using your cleanser, toner, essences, serums or skin treatments and before creams, if you'd want to layer it. Make sure to drag the product down your neck as well. 3-4 pumps would be enough for the whole face. It can be used day and night, but if you'll use it during the day, don't forget to follow up with sunscreen.


Consistency
The consistency of this emulsion is light and milky. There is no greasy feeling and absorbs fast without leaving any tackiness after it dries down. Because my skin is prone to dehydration, it's able to handle two layers of this without issue. Once you start to massage it in, it spreads very easily which is one of the things that I love about emulsions. There is no noticeable scent to this product, so it's great for those of you who are sensitive to fragrances.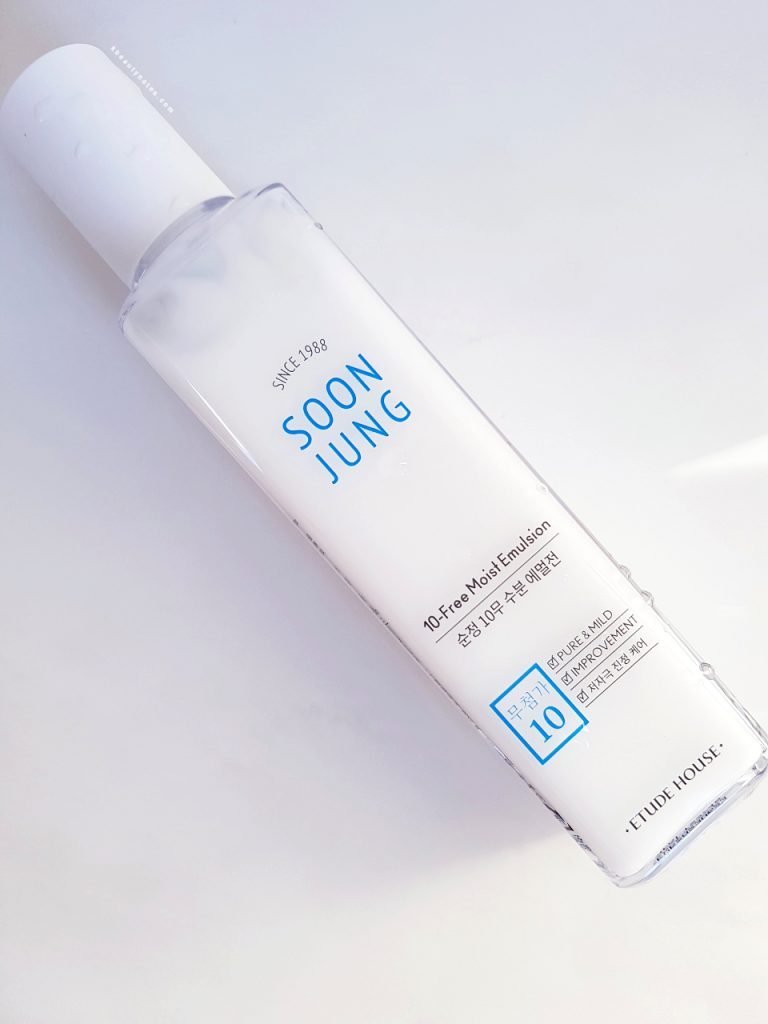 Performance
I avoided using this in the morning during summer weather. A few layers of toner, essence or serum and sunscreen were enough for my oily skin. But the past 2-3 weeks the weather has gotten much cooler and using this as a part of my morning routine hasn't made my skin greasy – please note that my skin is also prone to dehydration. I can say that up until now my experience with this emulsion has been pretty positive overall.
I like that it's lightweight, so my sunscreen adheres well to the skin and doesn't move around. You'll have to let it dry down completely though.
It may be a bit much for oily skin if you live in humid climate. If that's the case, you can easily readjust and use it at night as your last skincare step. Whereas, the lightweight consistency of this emulsion would not be enough for dry skin. Although, it could work as a day moisturizer and add an extra layer under a moisturizing sunscreen.
It would be suitable for most skin types in my opinion, mainly for oily, sensitive and acne prone skin, with the only difference that different skin types will incorporate it differently in their routine. For some it can be enough on its own, while dehydrated/drier skin types can use it as a day moisturizer in summer or may need to layer a heavier moisturizer on top. In case your skin is very dry, I would not bother with an emulsion at all and stick to creams.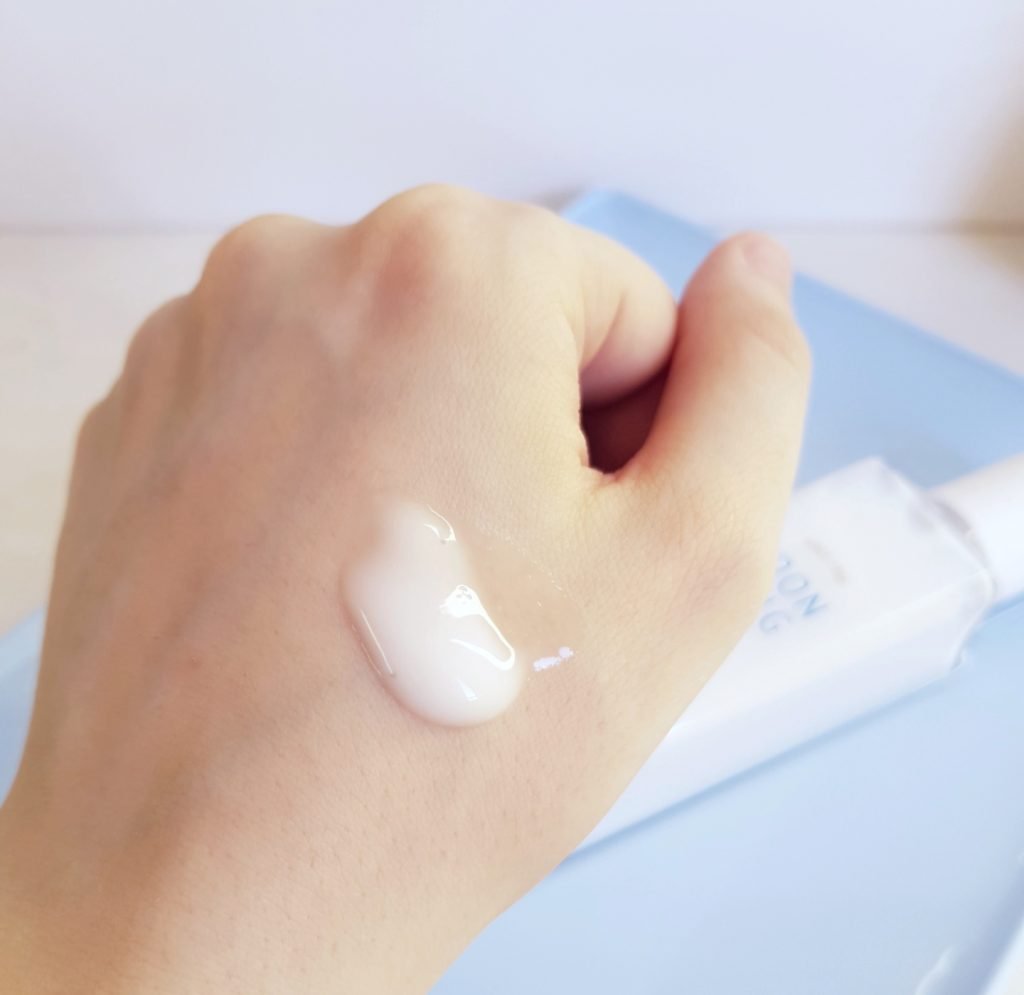 There was a noticeable effect of this emulsion on reducing the redness around my cheeks. I tried using it many times only after one layer of toner and after a couple of minutes I would look in the mirror and all the redness on my skin was gone!
In addition, what I absolutely love about this is that it didn't cause me any breakouts or skin bumps. So, I would describe it as non-comedogenic and safe to use for ance prone skin.
Is it good to use with makeup? I think for most skin types it would be absolutely fine. I didn't get to test it in high temperatures, because I know that it would end up in disaster for my oily skin. Emulsion + sunscreen + makeup is not the best combination for my skin type during summer.


Ingredients
The Etude House SoonJung 10 Free Moist Emulsion formula has many goodies like Glycerin and Squalane to moisturize, Panthenol and Madecassoside (PanthensosideTM – A great combo for a damaged skin barrier). Madecassoside is one of the active components in Centella Asiatica, and together with Green Tea offer great antioxidant and anti-inflammatory benefits.
The pH is 5.5 which is similar to our skin's natural pH.
This emulsion is free of animal-derived ingredients, mineral oil, color additives, fragrance, polyacrylamide, silicones, imidazolidinyl urea, triethanolamine, surfactant and parabens. It also doesn't contain alcohol or essential oils.
Water, Glycerin, Propanediol, Pentaerythrityl Tetraethylhexanoate, Squalane, Panthenol, Madecassoside, Camellia Sinensis Leaf Extract, Cetearyl Alcohol, Bis-diglyceryl Polyacyladipate- 2, Ammonium Acryloyldimethyltaurate/vp Copolymer, Polyglyceryl-3 Methylglucose Distearate, Glyceryl Stearate, Stearic Acid, Hydrogenated Lecithin, Glyceryl Caprylate, Xanthan Gum, Ethylhexylglycerin, Hydroxypropyl Starch Phosphate, Butylene Glycol, Disodium Edta

Final Verdict
Pros
Feels moisturizing, but doesn't make my skin greasy.
Suitable for oily, combo, normal, sensitive and acne prone skin.
Suitable for those with a damaged skin barrier.
It didn't break me out, cause irritation or congest my skin.
Works well under makeup.
No Scent.
Alcohol, Fragrance and Essential Oil-free.
Cons
It's an emulsion so it would not be enough on its own to moisturize dry skin.
Great lightweight emulsion for oily, normal, combo skin, and those who are looking to restore their skin barrier thanks to PanthensosideTM. I would so recommend this for those who get congestion from regular cream moisturizers, too. This didn't break me out or cause any bumps, and reduced my redness significantly. Perfect for sensitive skin as its formula is free of potential irritants. Not all react to the same things, so check out the ingredients list anyways.
Honestly, there is simply nothing not to like about this emulsion. I see myself coming back to this product after I finish it!

Where to buy: If you'd like to purchase this emulsion you can find it at Stylevana* currently on sale for $11.99. It's also available at Stylekorean*, Jolse* and Yesstyle*.
Have you tried anything from the Etude House SoonJung line? Please share your favorites in the comments!


---

*Affiliate links. It means I earn a small commission when you purchase a product through the links I have provided. You will not be charged extra if choosing to do so. The product has been purchased with my own money and I will always share my honest opinion and experience. Sincerely thankful to all of you that support my blog! For more information, see Disclosure Policy.
Related posts
Follow blog via Email
Get the latest posts from this blog delivered to your inbox!
About Me
Hi and welcome to Kbeauty Notes! :) I'm Ledia and I'm very passionate about everything skincare. I created this blog to share my thoughts and experience with many amazing and not so great products out there, hoping to help you make better decisions regarding your skin. I'm very happy to bring you on this journey with me and I hope you enjoy it! <3

My Skin Type: Oily, acne prone, dehydrated, a little sensitive, large pores.

Skincare Concerns: hydration, pore care, anti-ageing, PIE (acne marks), brightening.

Contact: kbeautynotes@gmail.com