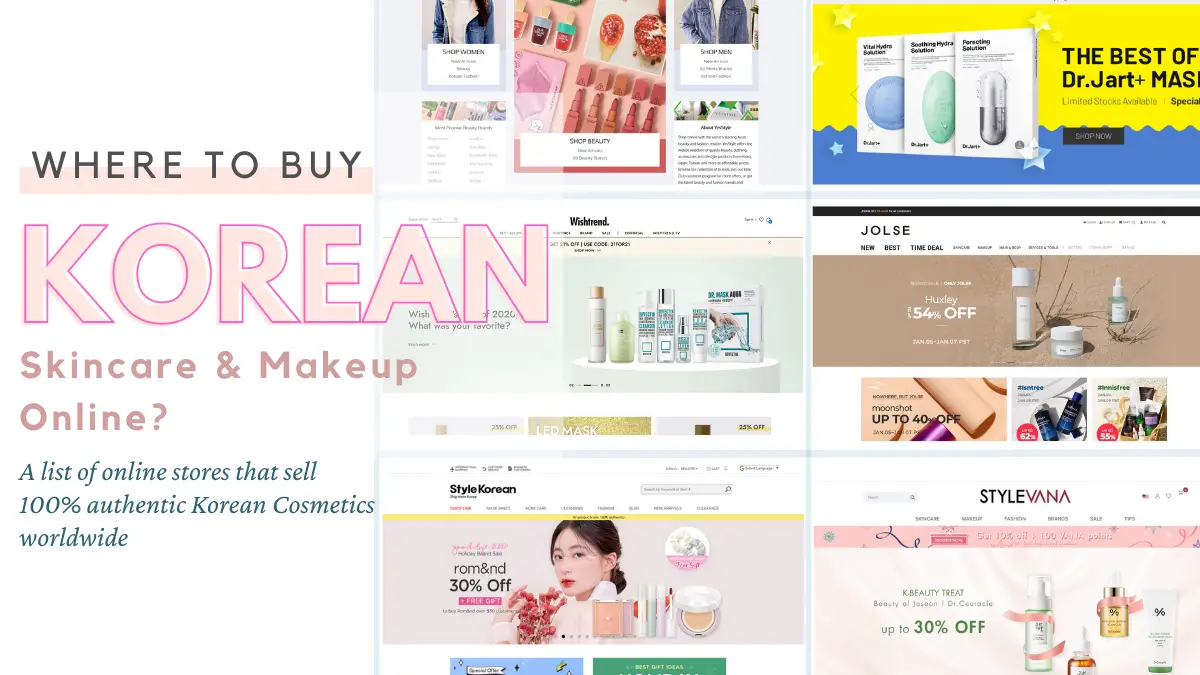 Want to know where to buy korean skincare online? In 2013 when I got into Korean Skincare, I thought it was already pretty popular internationally as there was already a lot of demand for K-Beauty products. But, fast forward to 2020 and you can clearly see that Korean cosmetics are becoming very in-demand everywhere. Even people around me who had no idea about K-Beauty brands, now seem to be curious and willing to try them.
However, sometimes even if you can find them available in physical stores in the west, the price could be considerably higher. That's why I've personally always shopped online so I could get them directly from Korea, and in this post I want to share with you some stores where you, too, can purchase Korean skincare and makeup.
Most of the stores offer worldwide shipping, but due to the global situation in 2020, there have been some restrictions. So before ordering, please make sure that they currently ship to your country. Also, shipping rates will vary according to your location and it'll take a bit longer than usual for packages to arrive. I understand that the stores are working with less staff so I try to be a bit more patient. In addition, all products from these stores are 100% authentic, so you don't need to worry at all about fake ones. Buy with confidence!
Since starting my blog, I've become an affiliate for a lot of K-beauty stores, so there are some affiliate links (which means I may receive a small commission, at no cost to you, if you make a purchase through a link) and non affiliates included here. The sites are not listed in any particular order. You can purchase from whichever you can find a better deal. So, here's some of the best websites where to buy kbeauty.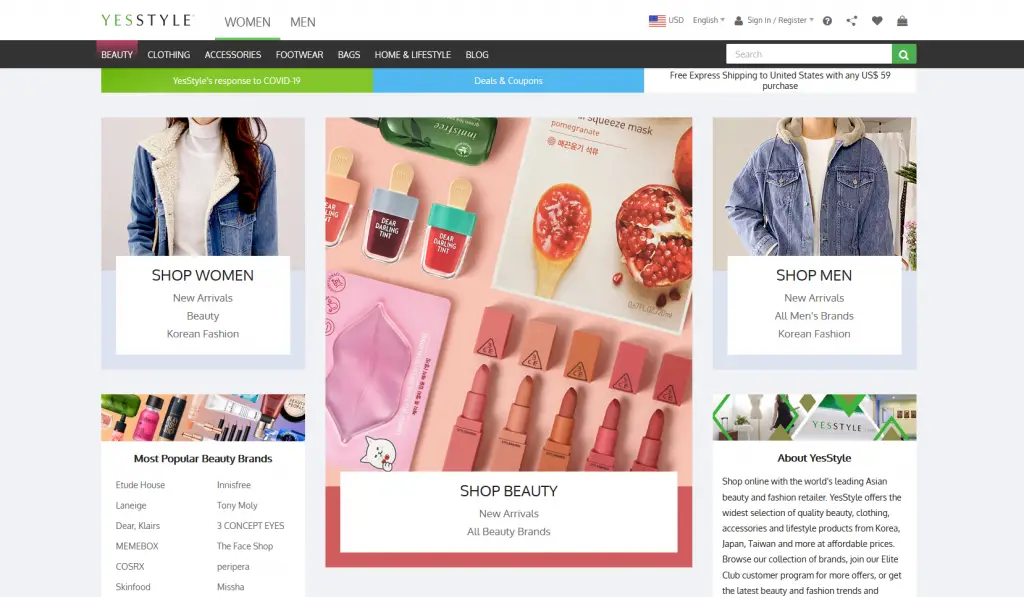 Yesstyle (up to 15% OFF code: KBEAUTYNOTES (rewards code field, no minimum) + coupon code YESSTYLE – minimum order $35 ) was launched in 2006 and is a super popular online store not only for K-beauty, but for Japanese and Taiwanese Cosmetics, too. I've ordered numerous times from Yesstyle and never had a problem with my orders. Love that they include samples, but most of the other stores do, as well. Right now you get Free Express Shipping to United States with a $59 purchase.
What's special about Yesstyle is that they also sell K-Fashion which I love! Although, I never bought any clothing items here, but I see a lot of awesome hauls especially from the korean twins Q2HAN (Any other Qtees here?!). I don't buy clothing items if I don't actually see real life photos/videos from people who have purchased the items. So hauls and reviews are super important for me when it comes to clothing pieces.
If you use the reward code KBEAUTYNOTES you'll get an extra 2% OFF your order if you've shopped before on Yesstyle. If you're a new customer you'll get 5% discount. There are also other discount codes which you can combine it with, which Yesstyle issues frequently.
You can also buy wholesale Korean Cosmetics from Yesstyle.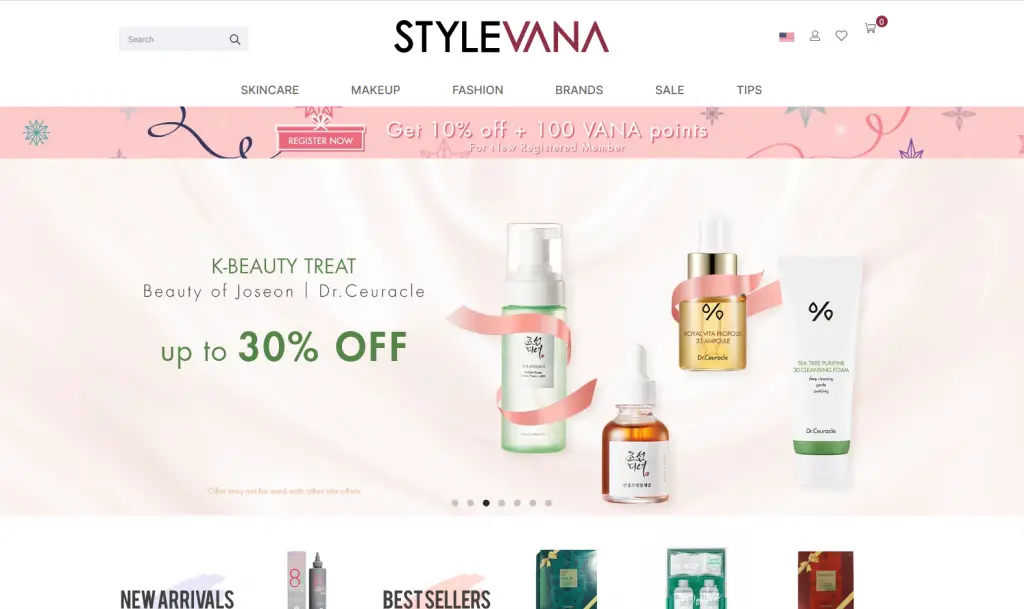 Stylevana (10% OFF code on the entire order: INF10LED / 15% OFF if purchase amount exceeds: USA: $59 USD Canada: $75 CAN UK: £43 Australia: $77 AUD FR/EU: €48) is a relatively new online K-Beauty store, but has become very well known in the beauty community in a short period of time. If you're from UK here's the link for the UK website. Prices are competitive and I was really impressed by the range of the brands that they carry! Just click on the brands section and you'll see what I mean. I also discovered that they carry Krave Beauty, for all of you that were asking Krave for international shipping.
They're currently shipping to these countries: US, Canada, UK, Greece, Malaysia, Singapore, Germany, Spain, Sweden, Italy, Czech Republic, Hungary, Poland, Slovakia, Austria, Denmark, Portugal, Slovenia. For many of them they provide FREE Shipping if you order over a certain amount (check shipping info as it's different depending on the country – US has free shipping over $53).
There are often many promotions running so you'll find great deals here.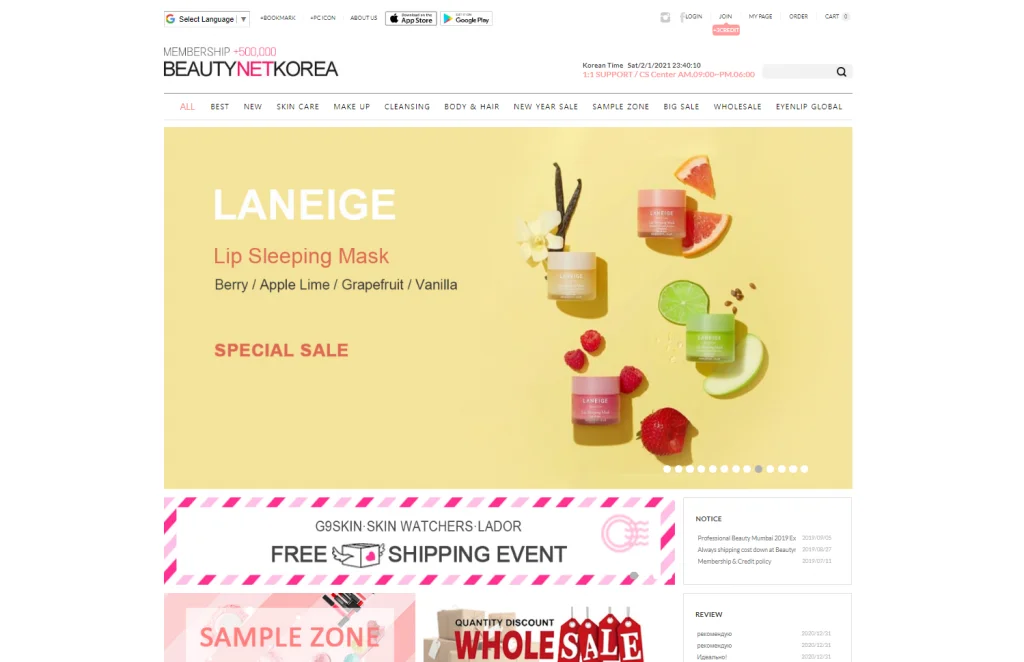 Another Korea-based online store for K-beauty items which offers worldwide shipping and great prices for their products is BeautyNetKorea ( use code BNKLEDIA for extra discounts! ) I haven't purchased from their website before, but I have shopped numerous times from their Ebay store which I will link below. I like that they have a sample zone, where you can purchase samples from brands like Missha, Laneige, Purito, Real Barrier etc, before deciding to commit to the full size product. They carry a lot of Korean Makeup products as well.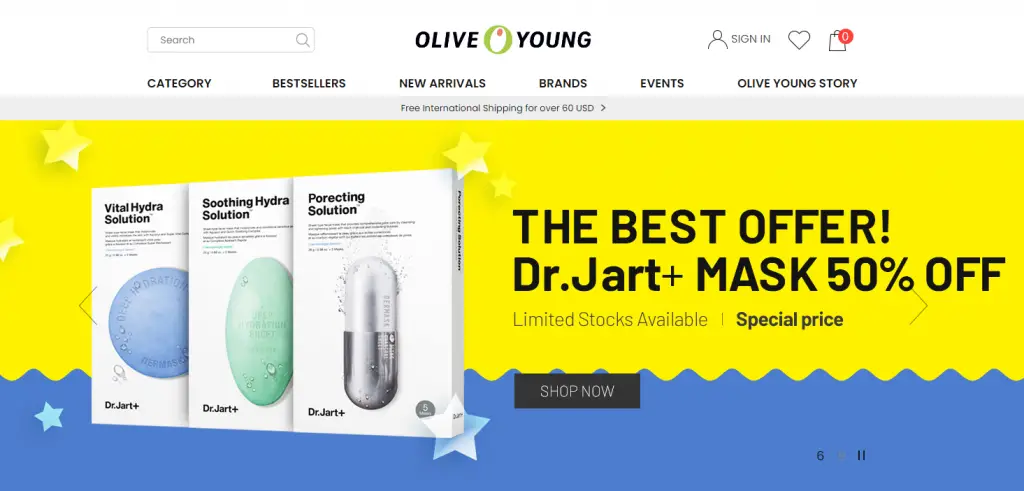 If you've been to Korea there's no way you haven't seen Olive Young. To put it simply, it would be like Sephora in the US. With the link above or the reward code: KBNOTES10 you can get 5% OFF your order!
They have a global version of their website for the international audience and they offer Free International Shipping for orders over $60. Carefully see on the site if shipping has temporarily stopped for your country. Their domestic site has a bigger selection of products, so I really hope the global one keeps expanding. I would purchase here items that are not easily accessible elsewhere as the prices are not exactly the cheapest.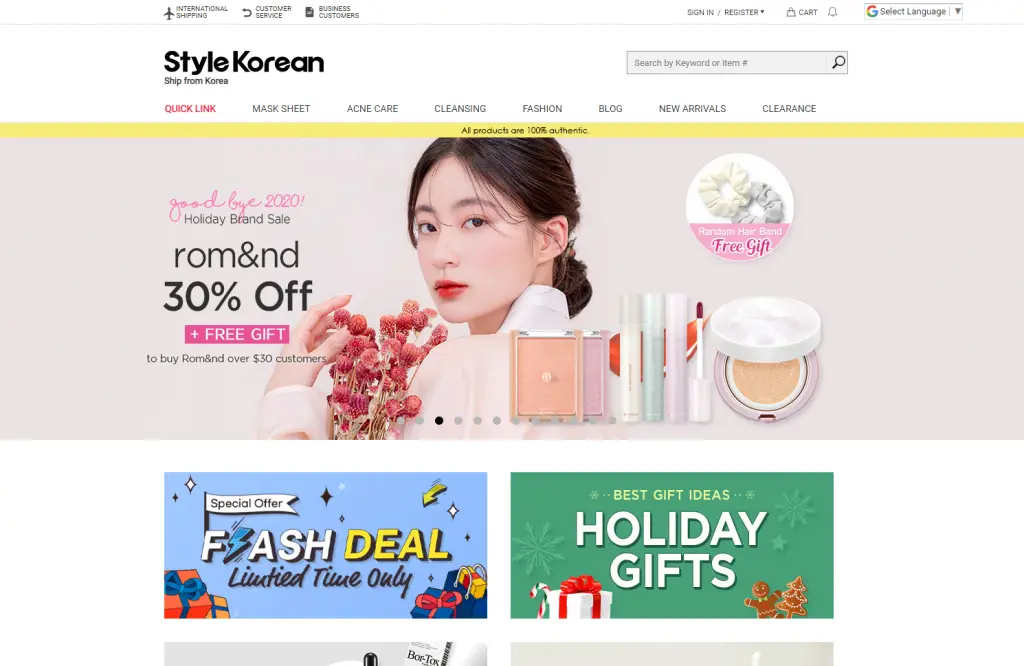 Stylekorean (code KBEAUTY10 for 10% OFF – min order $70) is another popular online store for Korean beauty products! Here, not only you can find a huge selection of skincare brands, but also popular makeup brands like 3CE, Rom&nd and many others. FREE Shipping is available only for a list of countries/locations (US, Australia, Canada, Malaysia, Philippines, Singapore, UK, New Zealand etc) if you purchase over a certain amount.
For other countries you can see what method of shipping is available for you by selecting your location and the total weight of package is calculated at checkout. If you reside in the countries where you can get free shipping I think it's a great choice, as Stylekorean has amazing promotions for their products. Or you could split the shipping cost with friends!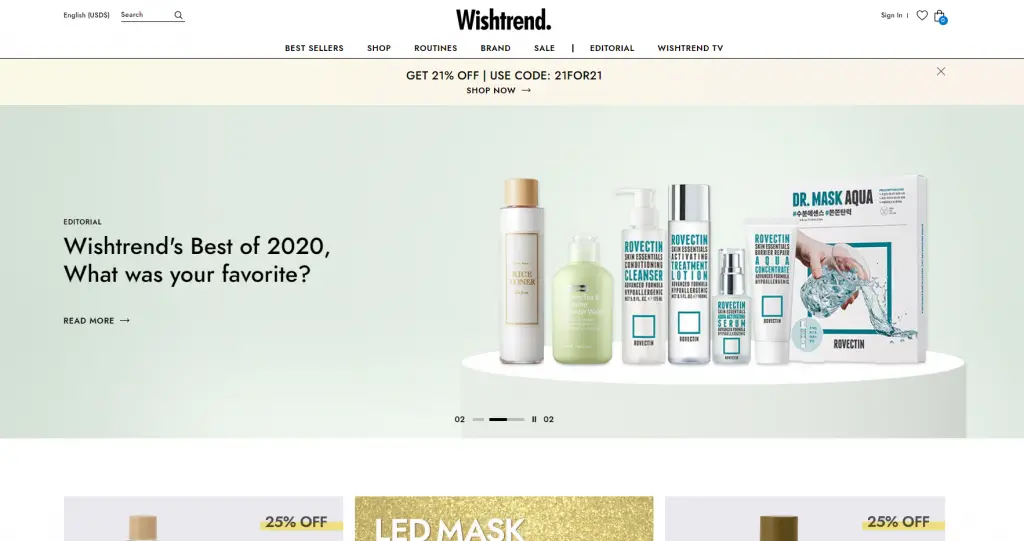 Who hasn't heard of Wishtrend? Here I've discovered one of my favorite brands: Dear, Klairs and my HG toner – the Supple Preparation Facial Toner! Other brands they carry are: I'm From, Cosrx, Skin & Lab, Rovectin, Eclair, and their in-house brand By Wishtrend. Again, there are some restrictions to shipping right now, which hopefully will resume as normally soon. Packages I've ordered from Wishtrend have always had the fastest (standard) shipping from all the stores listed here (for EU).
You currently get free Expedited shipping for orders over $150. In addition, there's a site wide 21% off deal on all the skincare for the new year with the code 21FOR21. What I also like about them is that they have curated routines for different skin concerns. So, you can purchase the routine almost always at a discounted rate, than what it would cost by purchasing the products one by one. For instance, they have a Calming set, Antiageing set or the Oily Acne Prone set.
Also keep an eye for influencer promotion boxes that they arrange from time to time from influencers like Michelle from Lab Muffin, Megan Bowen, Soo Beauty, EuniUnni, and many others.
Their customer support is great and very responsive, too.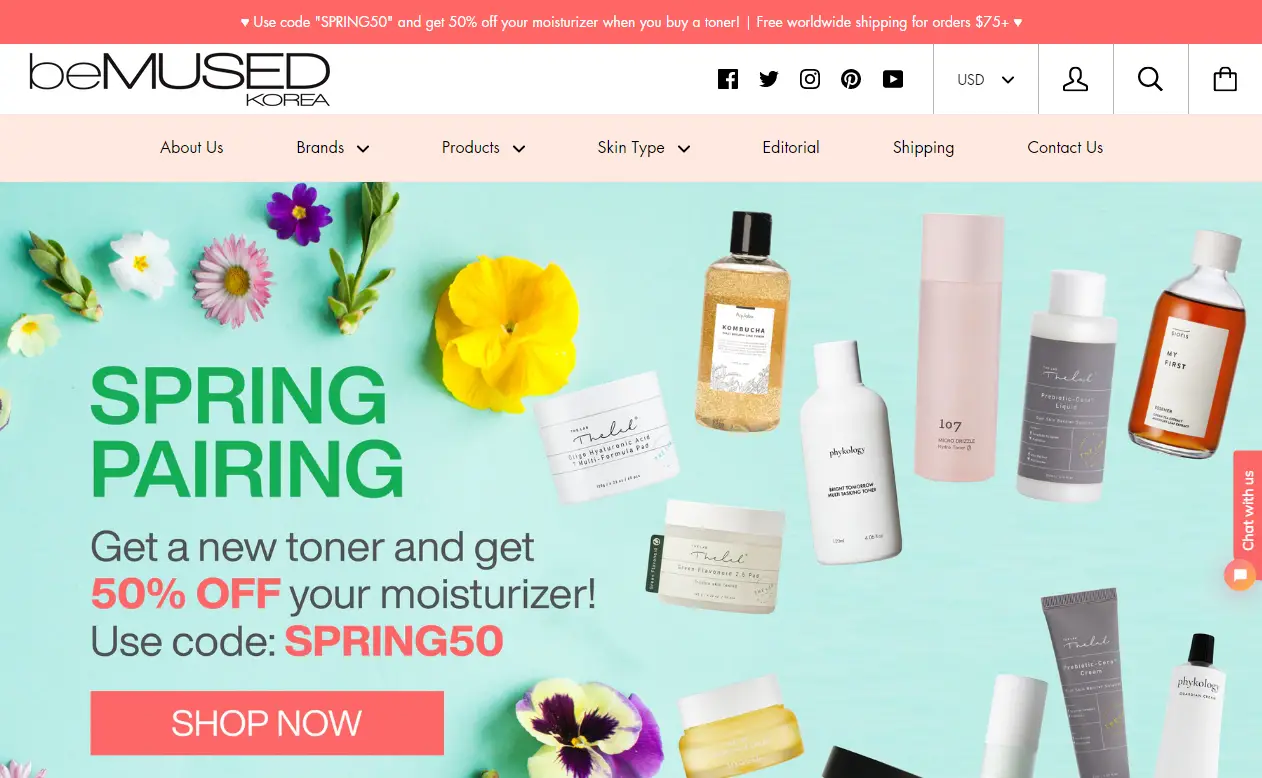 Be Mused Korea (15% OFF code: KBN15 on all regular priced items) is a Seoul-based online curation shop. The brands they curate are cruelty-free and you can find a lot of vegan-friendly products from these brands. To list a few of them: Celimax, Hyggee, Sioris, Thank You Farmer etc. The products are also categorized by skin type so it'll be easier for you to choose products that will match your skin.
Be Mused Korea offers FREE worldwide standard shipping for orders over $75 and FREE express shipping for orders over $250. Of course that for countries that don't have a Standard shipping option, the first offer won't apply for the time being. However, shipping to most countries is available and for each country there's the shipping method and cost stated. They've recently began to have some great deals, too. Support is very responsive and friendly.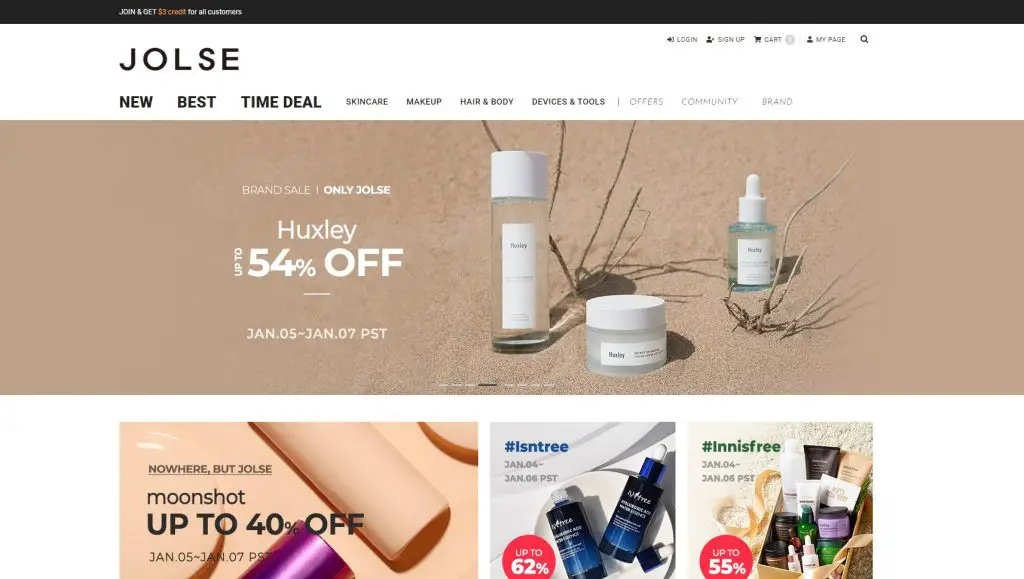 I've shopped at Jolse since their store opened 7+ years ago and I get the lowest shipping rate for my country from them. It used to be a flat fee of $2.50 with Standard Shipping before 2020. But now, from time to time they have FREE Shipping events which you should definitely take advantage of! They ship directly from Korea. Great range of brands like Cosrx, Etude House, Neogen, Isntree, Dr Jart+, and they keep adding new ones every now and then. Never had any issue with my orders. It always takes about 2-3 weeks max for the packages to arrive. But, that's approximately how much it takes for other stores as well (for standard shipping – I'm cheap ok? lol), so for me the deciding factor is the shipping cost.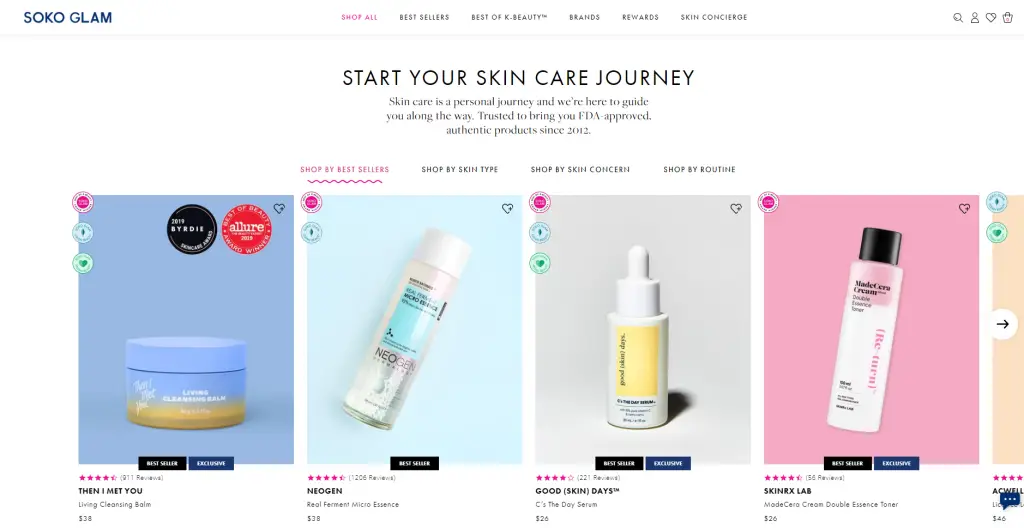 Soko Glam is a US-based online shop for Korean Skincare products, founded by Charlotte Cho in 2012. US orders over $35 and Canada orders over $75 get FREE Shipping and packages are shipped from the US. For this reason some brands can be more expensive since they're imported. It only makes sense to purchase if depending on your location it'll be better as far as cost is concerned. But it can be a good choice if you're in US and would like to receive your order faster.
It does has a nice curated selection of brands although not as many as the other sites. But, here you can find their own brand – Good (Skin) Days (created by Soko Glam Labs) and Charlotte Cho's Then I Met You. International shipping is also available for around 30 countries.


Ebay
I've purchased plenty K-Beauty on Ebay prior 2020 when the shipping was mostly free. There are many trustworthy shops that carry genuine Korean Skincare which ship directly from Korea. Right now some of them have stopped selling altogether and removed their products due to the global situation. But I'm sharing them anyway in case there'll be changes in the future. Here are the ones I've purchased from myself: Sing-Sing-Girl's Shop, dream.forecast, Beauty2Lounge, kr.cfactory (Wishtrend's official ebay store), F2plus1 (BeautyNetKorea), RoseRoseShop. Make sure to contact the stores before purchasing if they currently ship to your country and what the rates are.


What's the best place to buy Korean Skincare online?
There are a lot of Korean online stores where you can buy K-Beauty products, but to decide which one is the best for you it will depend on your location and the shipping costs. And of course, if the store carries the products that you're looking for and the promotions they have going on at that moment. In addition, almost all the stores offer some kind of membership/reward system where you can earn points and discounts so check them out.
As I mentioned, rest assured that these websites sell 100% authentic korean skincare and makeup products. If you have any questions about a product or you have difficulty understanding what's written in korean, feel free to contact me. I remember when I started out where people were unsure about the expiration dates as many korean brands printed the manufacture date on the packaging. (제조 – date of manufacture, 까지 – 'good to use until' date.). Also, some brands may have different packaging of their products for different countries, for instance like the Laneige Lip Sleeping Mask.


I hope you found this post helpful. Also, please let me know what's your favorite online store where you purchase your K-Beauty products and where you're from! Any other suggestions are welcome!


---

This post contains affiliate links. It means I earn a small commission when you purchase a product through the links I have provided, at no extra cost to you. Sincerely thankful to all of you that support my blog! For more information, see Disclosure Policy.


Related posts
Follow blog via Email
Get the latest posts from this blog delivered to your inbox!
About Me
Hi and welcome to Kbeauty Notes! :) I'm Ledia and I'm very passionate about everything skincare. I created this blog to share my thoughts and experience with many amazing and not so great products out there, hoping to help you make better decisions regarding your skin. I'm very happy to bring you on this journey with me and I hope you enjoy it! <3

My Skin Type: Oily, acne prone, dehydrated, a little sensitive, large pores.

Skincare Concerns: hydration, pore care, anti-ageing, PIE (acne marks), brightening.

Contact: kbeautynotes@gmail.com