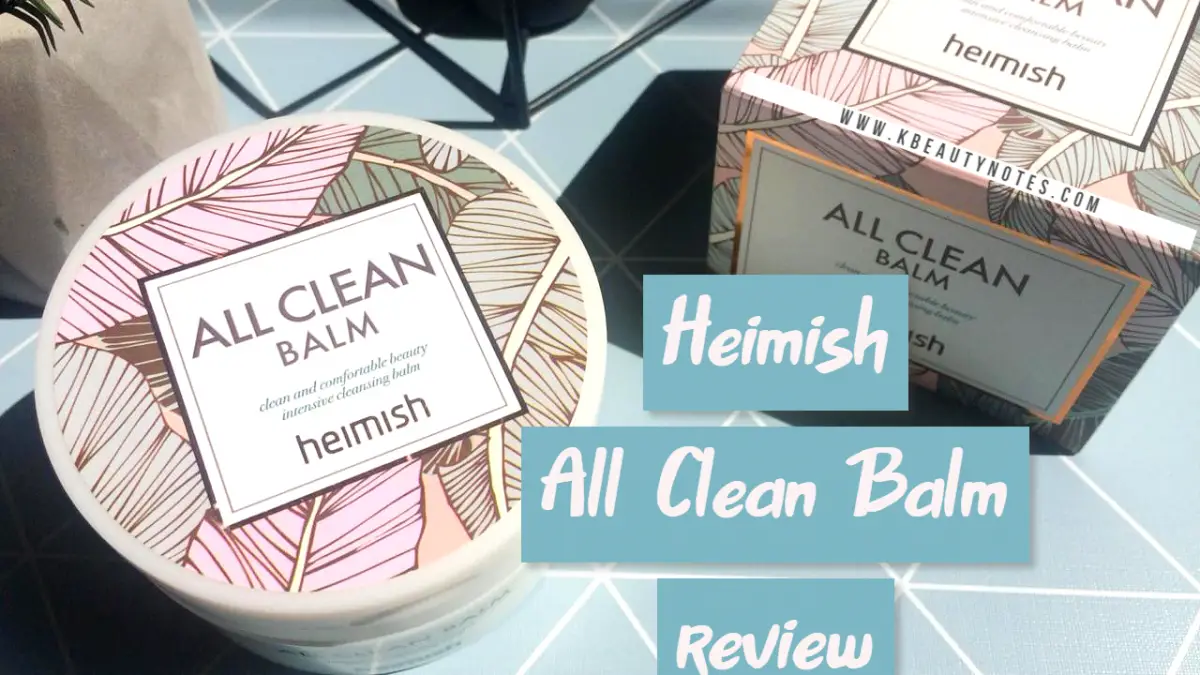 Is there any Kbeauty enthusiast that hasn't heard of the Heimish All Clean Balm already? I don't think so 😉 Since the korean double cleanse routine emerged and I started using it, I have never gone back to the way I used to cleanse my skin before. For those of you who are not familiar with it, the double cleansing method consists of first using an oil based cleanser such as a cleansing oil/balm and following up with a water based cleanser (foam or gel). There are so many benefits to this method and this explains why it has become so popular recently. In this post I'm going to review one of my favorite balm cleansers: the Heimish All Clean Balm. But before diving into it, let's talk about what the benefits are.
I also have a review on the Banila Co Clean it Zero Cleansing Balm. Check it out if you're curious to learn how these two cleansing balms compare.


Where to buy: If you'd like to purchase the Heimish All Clean Balm cleanser, you can find it at Yesstyle* for $17.16 (You can use KBEAUTYNOTES for 2-5% off your order), but it's also currently on sale on Stylevana* and Stylekorean*.
Price: $15-$20 (depends on the site and sales)
Volume: 120ml (4.05 fl oz)


How do cleansing oils and balms work?
Cleansing the face with oils is a great way to gently remove makeup, dirt, dead skin cells and oil. It easily melts away everything such as: foundation, eyeliner, sunscreen and lifts excess sebum. Being as gentle as possible to your skin, especially when cleansing is very important for your skin health. Using oils helps protect the natural lipid layer of the skin, unlike harsh traditional soap or detergent cleansers.
Before cleansing oils became popular, I was using very harsh cleansers with high pH levels, which left my skin feeling so dry, rough and flaky. And I had this misconception that because my skin was oily and acne prone, using oils would break me out.
With that being said, let's get to Heimish All Clean Balm Review and the reasons why it's such a great cleanser.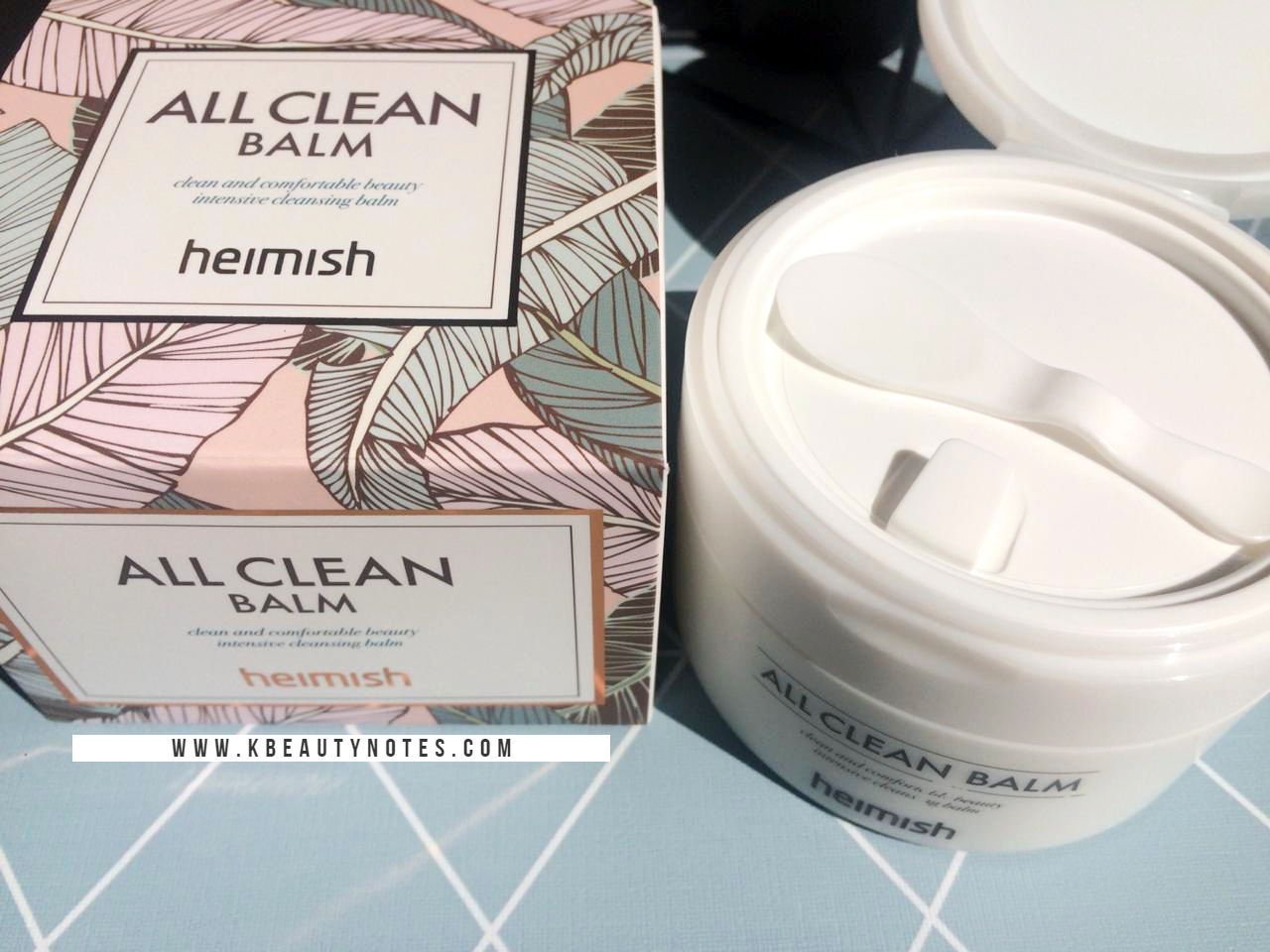 Application
The balm comes with a spatula, so scrape some of the product and apply it on dry skin. The reason I'm saying scrape instead of scoop is because I think you can have more control over the amount that you use. The balm has lasted me much longer doing it this way (if that's something you care about).

Gently spread and massage the balm on your face for a couple of seconds to melt your makeup, impurities and sebum. Then, simply rinse with lukewarm water and pat dry.


Performance
It's very gentle and it does not strip your skin of moisture. I have dehydrated sensitive skin that always felt tight and dry when I was using foam cleansers with high pH in the past. But with this one I know I'm not damaging the skin barrier and my skin feels comfortable afterwards.
Effectiveness: Removes makeup and sebum really well: I'm not a heavy makeup user, but I do have oily skin. Those who have oily skin know that when your face gets oily and you touch your T zone area, those blackheads (sebum) can be felt and they create this bumpy texture which is very annoying.
This balm takes care of that! If this is something you experience, too, simply massage the area where you can feel the blackheads a bit longer than usual and you will feel it melt and will be left with very smooth skin.


Texture
The texture is very soft and lightweight, spreads easily on the skin. It's so easy to remove with water and does not clog pores or leave any residue. I don't like textures that feel very heavy, because the application doesn't feel pleasant and they're hard to massage and remove.
I don't like cleansers that you need to remove with a washcloth either. What? Rubbing the skin? No, thank you. Exactly one of the reasons why cleansing wipes are not preferred, because you're tugging the skin which causes loss of elasticity and premature aging.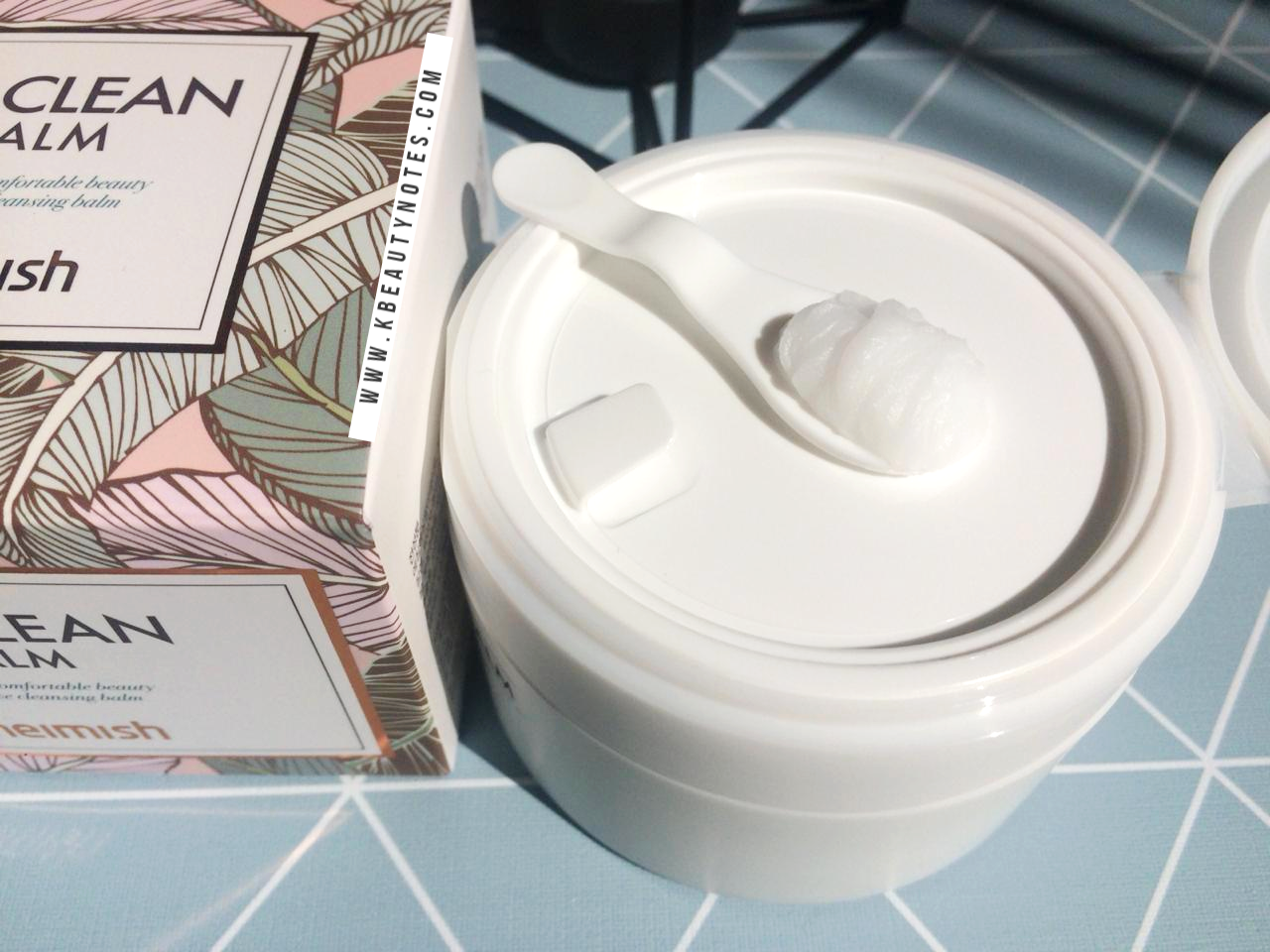 Scent
It has this floral and citrus scent, but without being overpowering and it may sting your eyes a little if it gets inside. It's not a deal breaker for me though, but it can be for some. To avoid this from happening I recommend you always apply it on the eyes last, massage them with what's remaining of the balm on your hands.


Ingredients
This balm does contain essential oils. Although my skin is generally sensitive, I'm not particularly sensitive to essential oils. It also depends on formulation. Those of you who are sensitive, please keep this in mind.
It is however: Paraben-Free, Sulfate-Free, Alcohol-Free, Silicone-Free, EU Allergen-Free and mineral oil free.

Ethylhexyl Palmitate, Cetyl Ethylhexanoate, PEG-20 Glyceryl Triisostearate, Polyethylene, PEG-8 Isostearate, Shea Butter, Cocos Nucifera (Coconut) Fruit Extract, Lime Extract, Freesia Refracta Extract, Prunus Serrulata Flower Extract, Jasmine Extract, Lily Extract, Edelweiss Extract, Nelumbium Speciosum Flower Extract, Rose Extract, Orange Peel Extract, Lavender Oil, Pelargonium Graveolens Flower Oil, Amyris Balsamifera Bark Oil, Grapefruit Peel Oil, Eucalyptus Leaf Oil, Tea Tree Leaf Oil, Mexican Juniper Oil, Boswellia Carterii Oil, Citrus Aurantium Bergamia (Bergamot) Fruit Oil, Tocopheryl Acetate, 1,2-Hexanediol.

Final Verdict on the Heimish All Clean Balm
Feels lightweight and spreads easily.
Rinse off completely without any residue.
Removes makeup, sunscreen and sebum effectively.
Improves skin texture.
Doesn't strip the skin of moisture.
Didn't break me out or cause irritation.
Affordable.


May sting your eyes.
Contains essential oils (sensitive skin types may react to them).
A must-try! This is a Holy Grail cleansing balm for me. Effective, lightweight and easy to remove while still being gentle enough to not damage your skin barrier. Would totally recommend it for all skin types (dry, oily, dehydrated, acne prone), except for those with very sensitive skin that know for sure they can react to essential oils. I'm on my third jar so far and I will keep repurchasing it!


Did you find this Heimish All Clean Balm review helpful? Have you tried this cleansing balm before? I'd love to hear your thoughts, so please share them below.


---

*Affiliate links. It means I earn a small commission when you purchase a product through the links I have provided. You will not be charged extra if choosing to do so. The product has been purchased with my own money and I will always share my honest opinion and experience. Sincerely thankful to all of you that support my blog! For more information, see Disclosure Policy.


Related posts
Follow blog via Email
Get the latest posts from this blog delivered to your inbox!
About Me
Hi and welcome to Kbeauty Notes! :) I'm Ledia and I'm very passionate about everything skincare. I created this blog to share my thoughts and experience with many amazing and not so great products out there, hoping to help you make better decisions regarding your skin. I'm very happy to bring you on this journey with me and I hope you enjoy it! <3

My Skin Type: Oily, acne prone, dehydrated, a little sensitive, large pores.

Skincare Concerns: hydration, pore care, anti-ageing, PIE (acne marks), brightening.

Contact: kbeautynotes@gmail.com