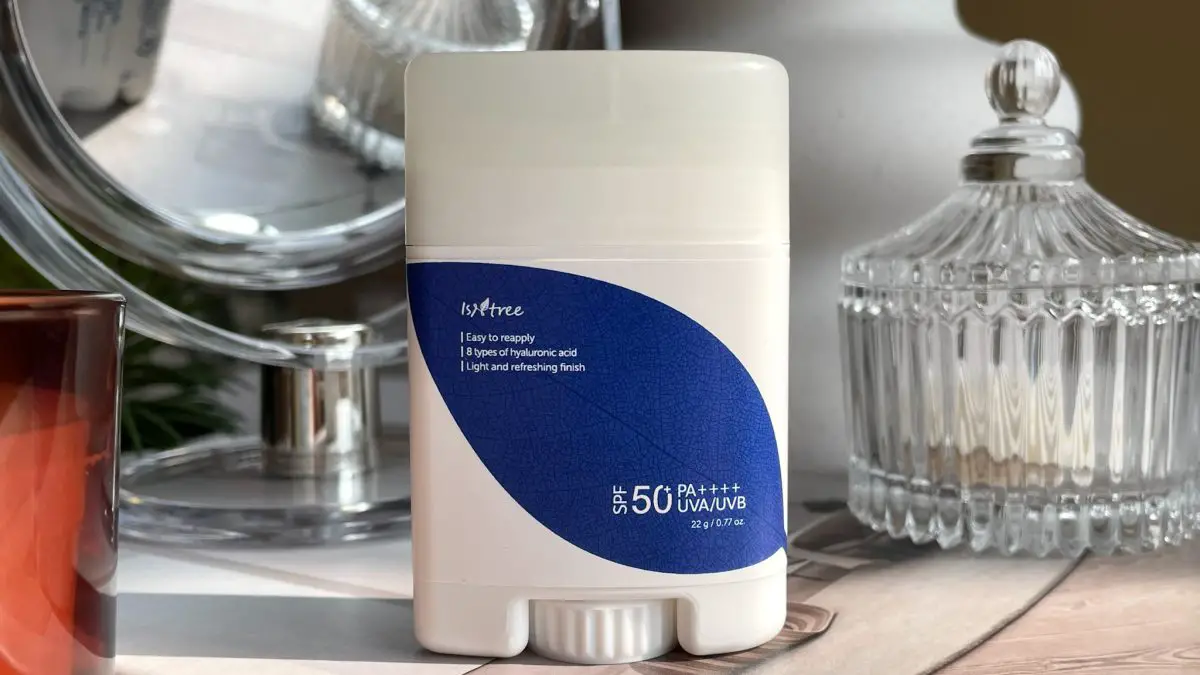 When it comes to sunscreens, Korean beauty brands are renowned for their innovative and effective formulations. Today, we delve into the world of sun sticks, focusing on the ISNTREE Hyaluronic Acid Airy Sun Stick SPF50+ PA++++. This compact and portable sunscreen has been making waves in the K-beauty community, promising a lightweight and moisturizing solution to shield our skin from the sun's harmful UV rays.
If you are new to my blog, the brand's Hyaluronic Acid Watery Sun Gel is one of my all-time favorite sunscreens. So, I had high hopes for their new release. In this blog post, we'll explore the key features of the ISNTREE sunscreen stick and discuss its application, performance, and suitability for different skin types.


What is it: An organic (chemical) sunscreen.
Where to buy: Available at Yesstyle (reward code: KBEAUTYNOTES for 5% off your order, can be used together with other coupons), Stylevana (code INF10LED), and StyleKorean.
Price: $19-$33 (depending on sales)
Volume: 22g (0.77 oz).
PAO: 12 months after opening.
Packaging: It comes in a compact, twist-up tube format. Smaller than I expected, but it's cute. Also, the metallic writing on the tube rubbed off very quickly.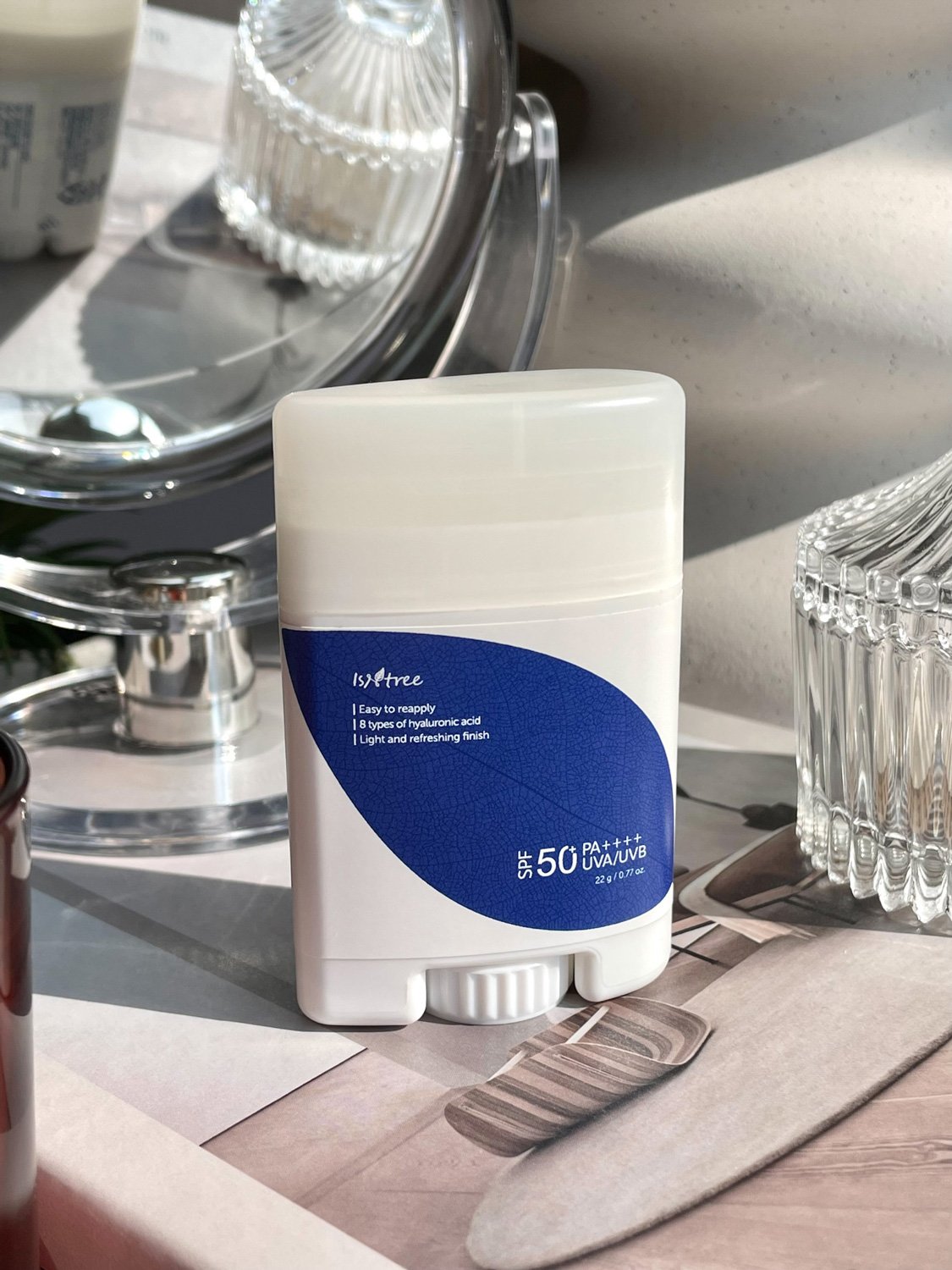 Application
I would use this type of sunscreen ONLY for re-application rather than as a primary sunscreen because it's difficult to know if you've applied the required amount to reach the labeled protection.
The shape of the sun stick is excellent to apply on difficult spots like the corners of the eyes and around the nose.
Tip: To slightly melt the product's surface so it doesn't drag around the skin, I start applying it on my forehead, chin, and then the rest of my face.
How does the ISNTREE Hyaluronic Acid Airy Sun Stick SPF50+ PA+++ perform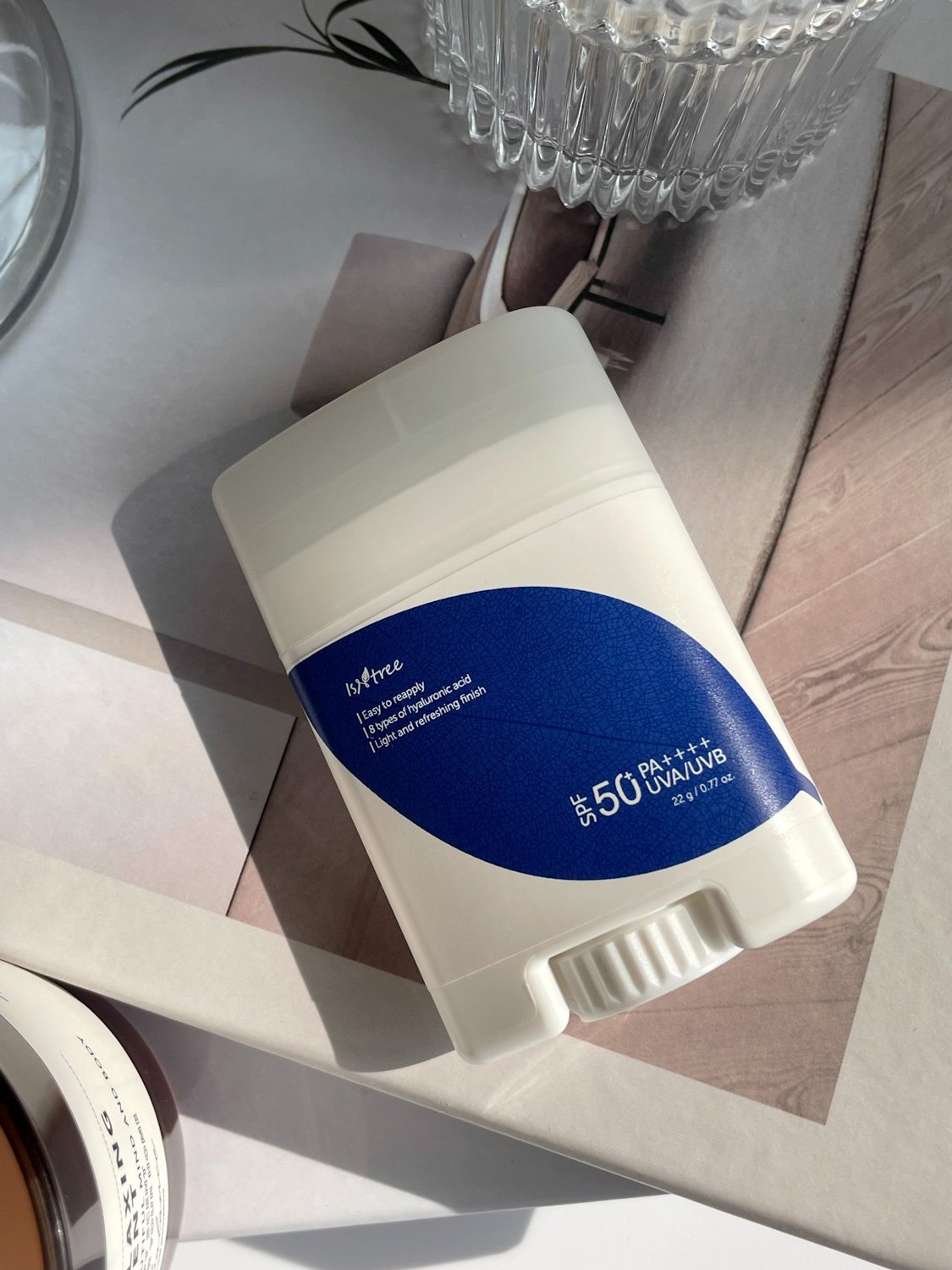 Protection:
SPF50+ PA++++
Texture and finish:
The ISNTREE sunscreen stick has a very interesting texture. Feels soft and leaves a beautiful satin finish. It's not heavy on the skin, but if you apply more than 4-5 layers on the same area, which you are supposed to do, it can feel slightly oily.
Does it contain alcohol?
No.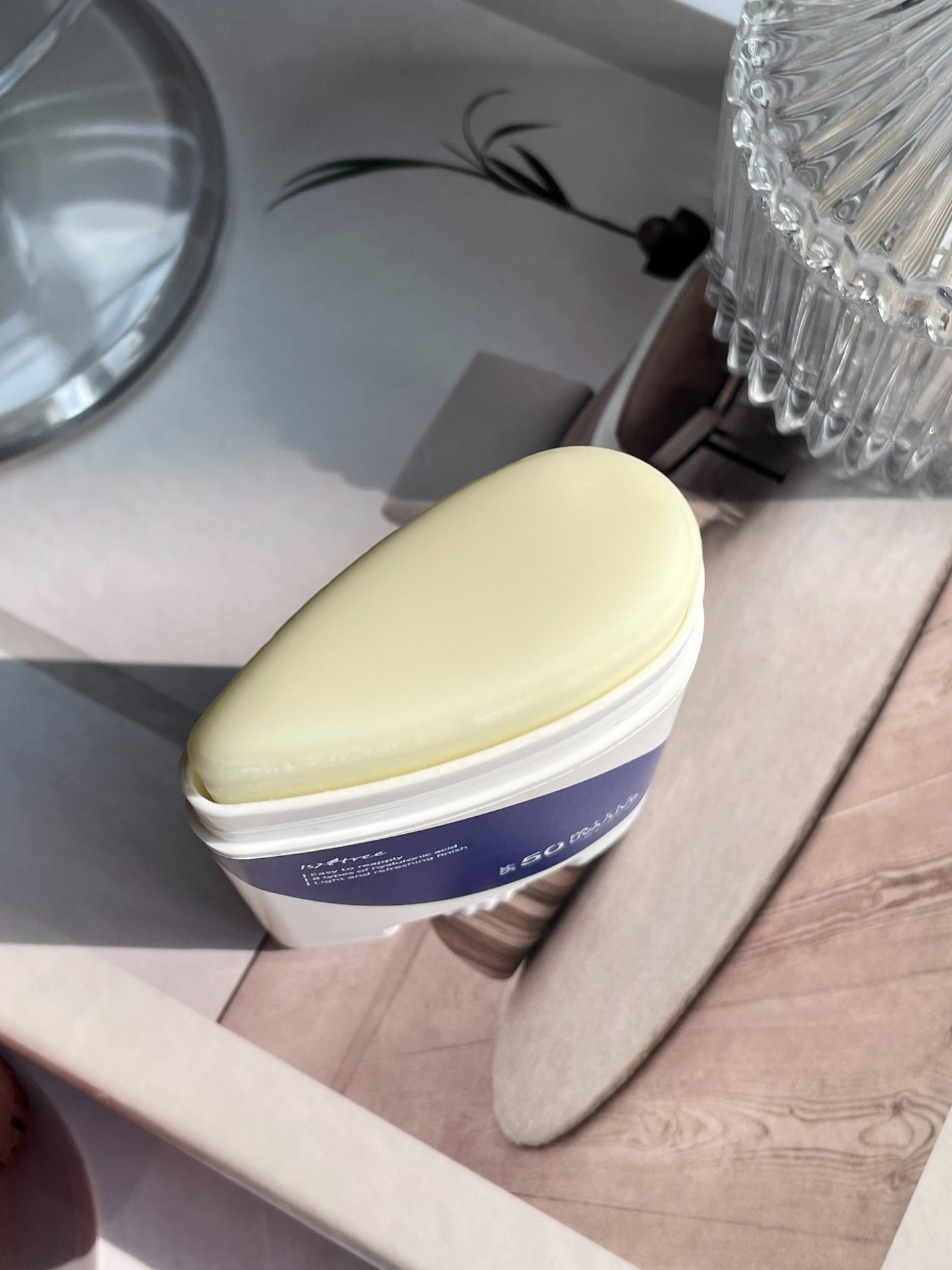 Fragrance/Scent?
No.
Is it drying?
This is a moisturizing sunscreen that keeps the skin hydrated throughout the day without causing dryness or discomfort.
Does it leave a white cast?
There is no white cast, so those with deeper skin tones can also use it.
Irritation or breakouts?
It didn't clog my pores or cause acne. This is designed with sensitive skin in mind, so no irritation occurred for me either.

How does it work with makeup?
I have tried it once over makeup (bb cream), and it did remove it slightly, or best to say, the bb cream melted in my pores. If you only do one swipe, nothing happens. However, you're supposed to do multiple passes, and because of the moisturizing formula, it will disturb the makeup to some extent.
Does it sting the eyes?
No. While it's easy to apply the sunscreen close to the bottom lashline, it's not as easy on the eyelids because of the rigid formula, so it removes the chances of it getting inside the eyes.
Easy to re-apply?
Yes, although it may feel a bit heavier upon re-application, it starts to mattify and become lighter with time.
Who is it for?
The sun stick would suit combination and dry skin types better. Although it mattifies, the base remains moisturizing and can start looking greasy on oily skin in hot, humid weather.

Ingredients
The UV filters of the ISNTREE sunscreen stick:
Homosalate (UVB), Octinoxate (UVB), Ethylhexyl salicylate (UVB), Uvinul A Plus (UVA), Tinosorb S (broad spectrum).
Other ingredients: 8 types of Hyaluronic Acid, Niacinamide, Aloe Extract, Pycnogenol, Ceramide NP.
Full list of ingredients HERE.

Final Verdict on the ISNTREE Hyaluronic Acid Airy Sun Stick
Pros
SPF 50+, PA++++
Moisturizing.
Satin finish, non-sticky.
Non-drying.
No pilling.
It doesn't sting the eyes.
Suitable for normal, combination, dry, and sensitive skin types.
Free of alcohol, fragrance, and EOs.
Cruelty-free.
Cons
Not ideal for oily skin in hot, humid climate.
Not waterproof.
My experience with this sun stick was very positive! But, when it comes to my daily sun protection routine, I prefer to reserve sun sticks for re-application throughout the day. Their portable and compact design makes them ideal for on-the-go touch-ups, ensuring I maintain a consistent shield against the sun's harmful rays. For my initial application, however, I always opt for liquid sunscreens that provide a more precise and controlled application.
With that being said, this sunscreen stick is most suitable for those with sensitive skin types, as well as individuals with drier skin concerns. Formulated without fragrance or alcohol, it minimizes the risk of irritation. And it's packed with nourishing ingredients to deliver much-needed moisture and hydration to the skin.

Did you find this ISNTREE Hyaluronic Acid Airy Sun Stick Review helpful?

---
*PR – gifted by Isntree, but all opinions are my own.
*Affiliate Links – It means I may earn a small commission when you purchase a product through the links I have provided, at no extra cost to you.
Related posts
Follow blog via Email
Get the latest posts from this blog delivered to your inbox!
About Me
Hi and welcome to Kbeauty Notes! :) I'm Ledia and I'm very passionate about everything skincare. I created this blog to share my thoughts and experience with many amazing and not so great products out there, hoping to help you make better decisions regarding your skin. I'm very happy to bring you on this journey with me and I hope you enjoy it! <3

My Skin Type: Oily, acne prone, dehydrated, a little sensitive, large pores.

Skincare Concerns: hydration, pore care, anti-ageing, PIE (acne marks), brightening.

Contact: kbeautynotes@gmail.com