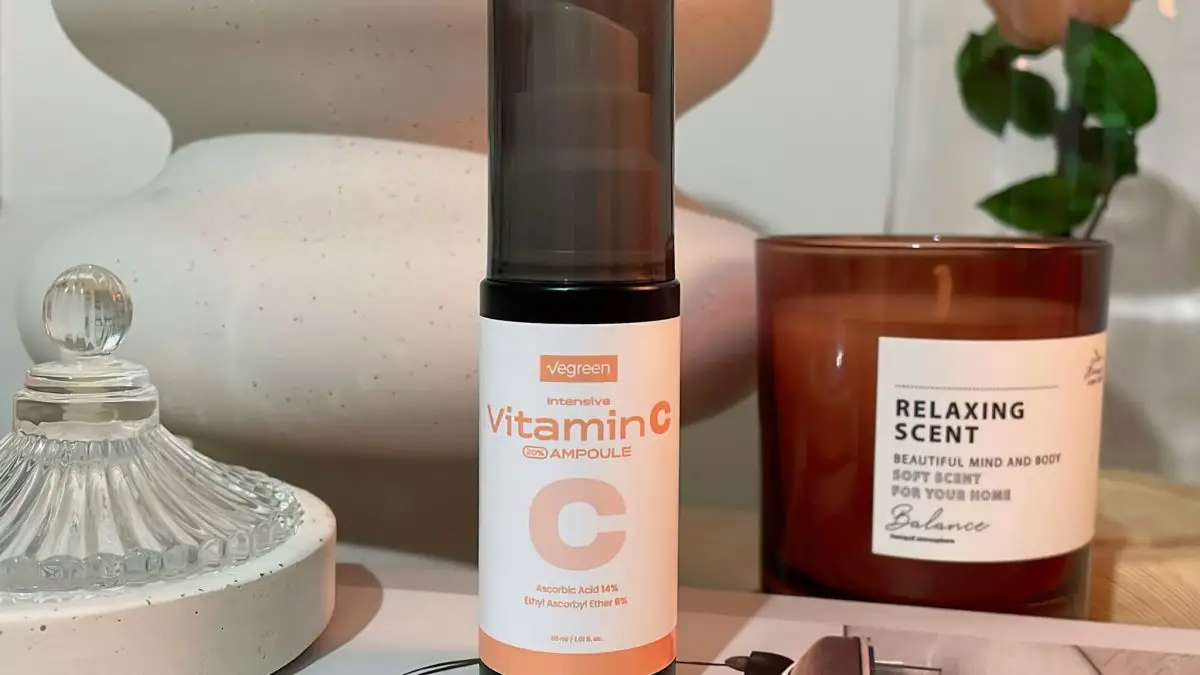 Get ready to dive into this review featuring a new addition to the world of skincare: The Vegreen Intensive Vitamin C 20% Ampoule. When it comes to brightening and rejuvenating your skin, few ingredients possess the remarkable power of vitamin C. It has the ability to revitalize and transform the skin, offering a plethora of benefits ranging from diminishing dark spots and hyperpigmentation to promoting a youthful glow.
Where to buy: You can currently purchase this on Ebay and Stylevana.
Price: $29
Volume: 30ml (1.01 fl oz)
PAO: 12 months, but on the packaging it says that it's best to use within 3 months after opening.
Packaging: It comes in a dark plastic bottle with a pump. By shielding the product from light, the packaging helps maintain the integrity and efficacy of the vitamin C formulation. Store it in the fridge to make sure that the vitamin C remains potent and active for a longer period.
What is the Vegreen Intensive Vitamin C 20% Ampoule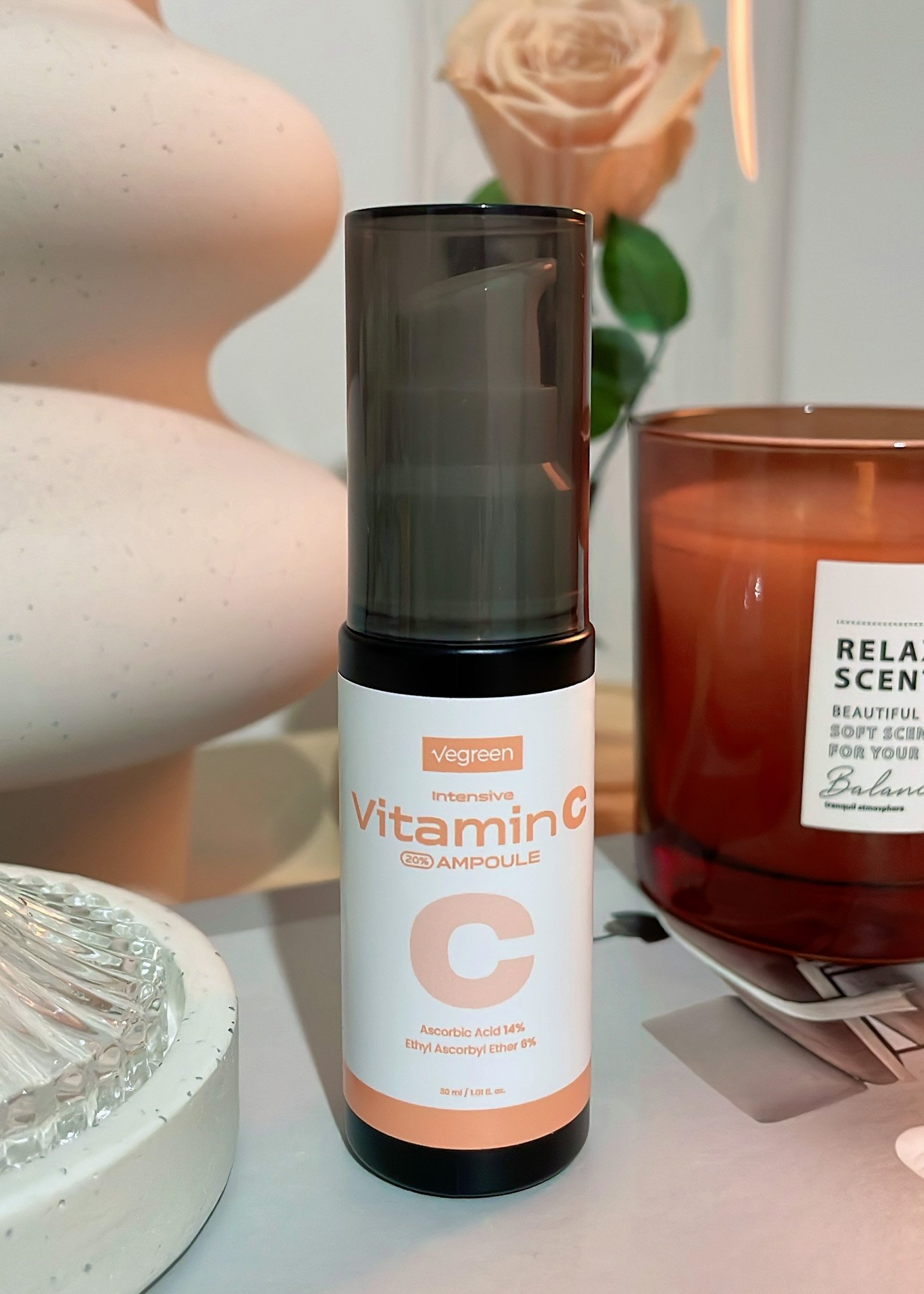 With its potent formulation and 20% vitamin C content, the Vegreen Vitamin C Ampoule aims to address skin concerns and boost collagen synthesis for firmer, more radiant skin.
It contains a high concentration of vitamin C in the form of L-ascorbic acid (14%) and Ethyl Ascorbyl Ether (6%), the later being a stable and oil soluble form of Vitamin C.
Just like ascorbic acid, it possesses potent antioxidant properties and acts as a tyrosinase inhibitor, which effectively helps in reducing hyperpigmentation. Its ability to dissolve in oil allows for deeper penetration into the skin compared to some other vitamin C derivatives.
Application
Apply only 1-2 drops on the whole face after cleansing, in your AM or PM routine. If your skin can tolerate it, using it twice a day is also recommended.
Gently massage and pat in until it's absorbed. Then follow with the rest of your skincare steps and don't forget to finish with sunscreen in the morning.
*Important: When incorporating a Vitamin C product into your routine, it's important to start with a patch test and gradually introduce it to your regimen to ensure that it's compatible with your skin.
Consistency
The formula is waterless and transparent in color. When applied, the ampoule has a slight oily feel, but it quickly absorbs without leaving a heavy or greasy residue. This type of consistency helps with spreadability while leaving the skin feeling silky-smooth.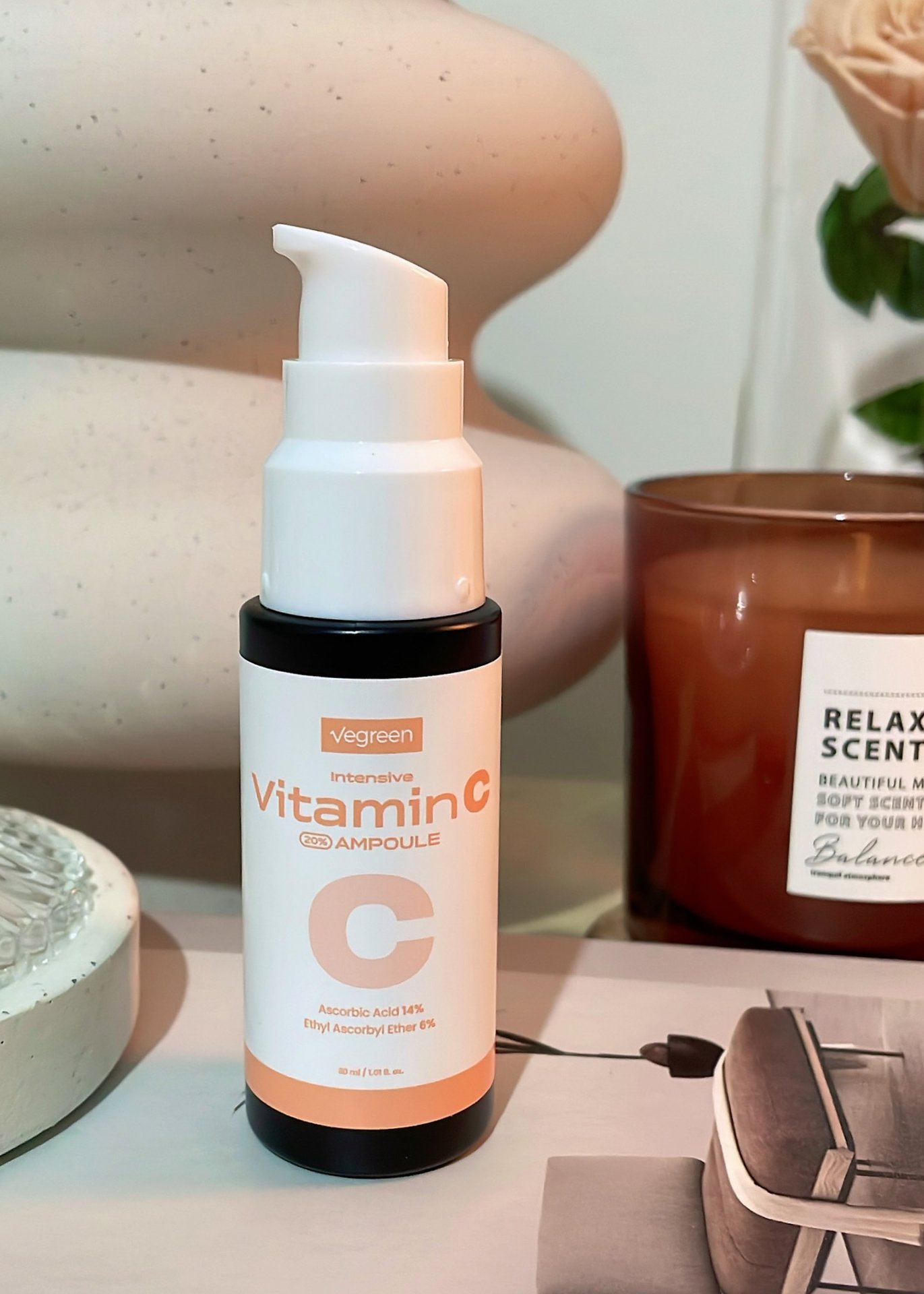 Scent
Typical citrusy scent of Vitamin C products. But, it's subtle and goes away pretty quickly. Also, it does not contain alcohol or fragrance.
Performance
Not knowing the consistency, the first time I applied 1 full pump or more and it took a long time to absorb. My skin also turned greasy fast. However, 1-2 drops or a pea size amount is really all you need to use.
Not only for how the product feels on the skin, but also because vitamin C is a potent ingredient (especially at this concentration), and using too much can potentially cause skin irritation or sensitivity. Luckily, I didn't experience any of that.
After using the recommended amount, I had a more pleasant experience. The inital oiliness goes away quite fast, leaving behind a smooth and non-sticky finish. I am also able to apply comfortably a lightweight moisturizer after it without turning oily for hours.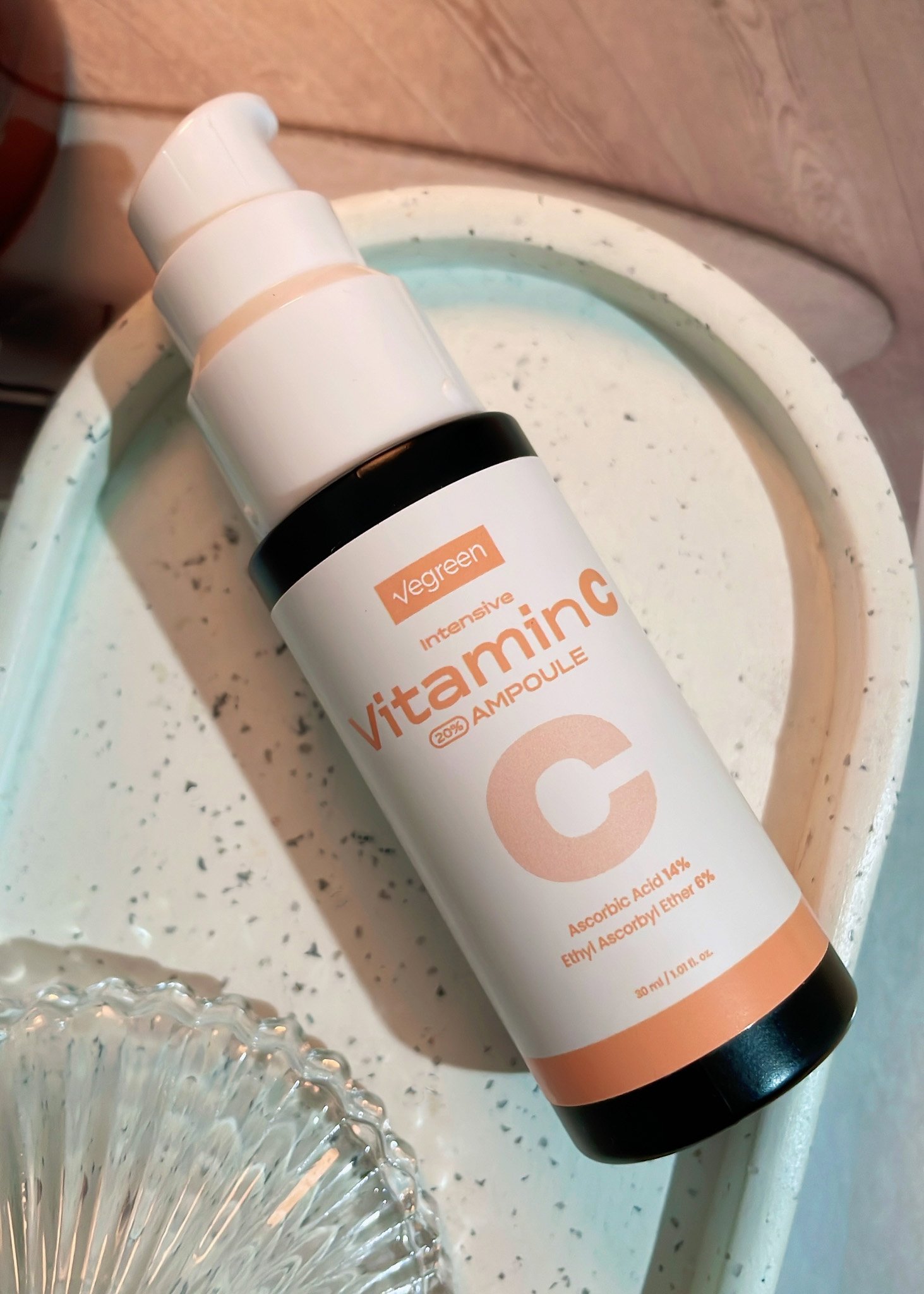 When used in the AM, vitamin C helps enhance the efficacy of sunscreen, however, I get more oily during the warmer months so I incorporate this in my PM routine only. The next morning my skin looks noticeably fresher and brighter. And it works great for restoring the skin's suppleness due to the emollient consistency.
Another thing that has caught my attention is the noticeable boost in firmness. I've noticed that my pores appear tighter, and my overall skin texture feels noticeably firmer and smoother.
Vegreen Vitamin C Ingredients
Except for Ascorbic Acid(14%) and Ethyl Ascorbyl Ether(6%), the formula is also infused with Centella Asiatica, Green Tea, and one of the active parts of Chamomile that has anti-inflammatory properties.
Propanediol, Ascorbic Acid(14%), Pentylene Glycol, Butylene Glycol, Ethyl Ascorbyl Ether(6%), Camellia Sinensis Leaf Extract, Centella Asiatica Extract, (-)-Alpha-Bisabolol, 1,2-Hexanediol, Ethylhexylglycerin

Final Verdict on the Vegreen Intensive Vitamin C Ampoule
Pros
Feels like a lightweight oil.
Great spreadability.
Leaves the skin looking fresh and brighter.
Boosts firmness and improves the look of pores.
Anti-aging.
Best suitable for normal, combination, dry, and mature skin.
Alcohol and fragrance-free.
Cruelty-free & Vegan.
Cons
Not suitable for beginners of Vitamin C or sensitive skin types, skin prone to redness, and those with rosacea.
In my opinion, combination and dry skin types would find the emollient texture of the ampoule more enjoyable than oily skin. Moreover, since it contains a high percentage of Vitamin C, it would be a better choice for resilient or well-adjusted skin that has gradually built tolerance to the ingredient. I would not recommend it for individuals with more sensitive or reactive skin types as it could potentially exacerbate the condition.

Otherwise, if your skin concerns are dullness, loss of elasticity, and hyperpigmentation, this ampoule could become your new go-to Vitamin C for achieving a vibrant and radiant complexion.

Did you find the Vegreen Intensive Vitamin C Ampoule Review helpful? Have you tried the brand before?

---
*Sponsored – by Vegreen, but opinions are completely my own.
*Affiliate Links – It means I may earn a small commission when you purchase a product through the links I have provided, at no extra cost to you.
Related posts
Follow blog via Email
Get the latest posts from this blog delivered to your inbox!
About Me
Hi and welcome to Kbeauty Notes! :) I'm Ledia and I'm very passionate about everything skincare. I created this blog to share my thoughts and experience with many amazing and not so great products out there, hoping to help you make better decisions regarding your skin. I'm very happy to bring you on this journey with me and I hope you enjoy it! <3

My Skin Type: Oily, acne prone, dehydrated, a little sensitive, large pores.

Skincare Concerns: hydration, pore care, anti-ageing, PIE (acne marks), brightening.

Contact: kbeautynotes@gmail.com