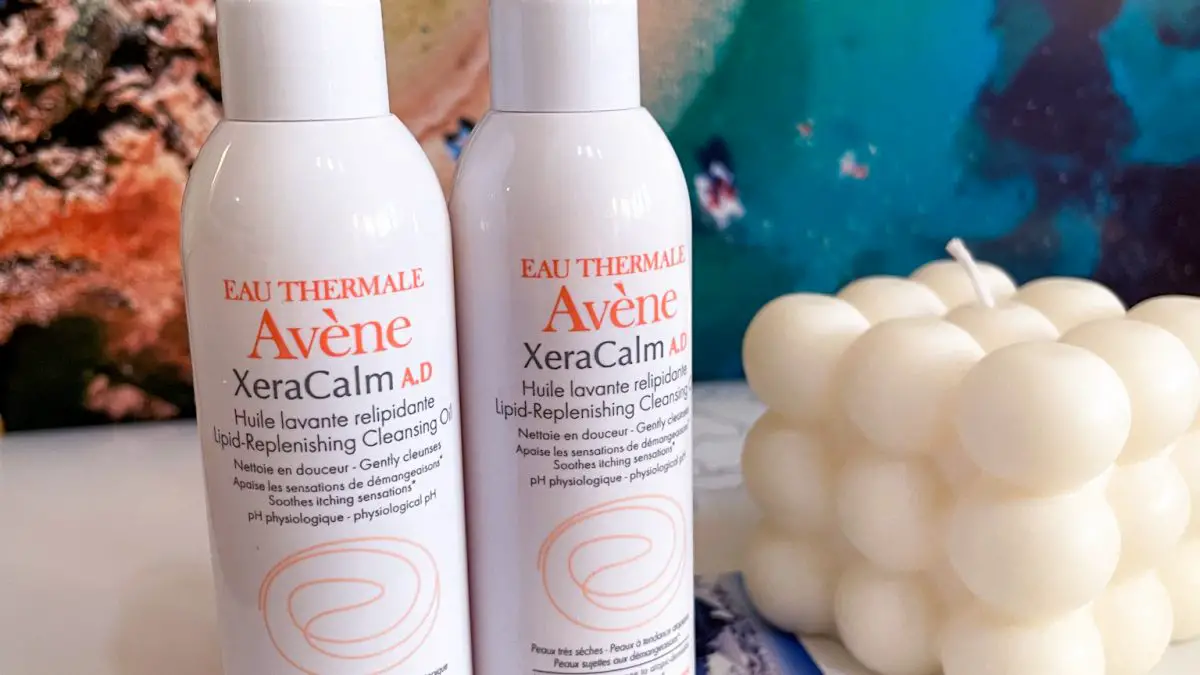 I received these two samples of the Avene XeraCalm A.D Lipid-Replenishing Cleansing Oil from my mom. I'm always curious about oil based cleansers so I was super excited to try it and use it for double cleansing, but it wasn't what I was expecting at all.


What is the Avene XeraCalm A.D Lipid-Replenishing Cleansing Oil
Claims: XeraCalm A.D Lipid-Replenishing Cleansing Oil gently cleanses and soothes very dry skin prone to itching. Soap-free and with a physiological pH, this cleansing oil has lipid-replenishing power. Can be used as the first step in a caring routine to prevent dryness and itching. It leaves the skin soft and comfortable. Its formula combines the first post-biotic active ingredient derived from Avène Thermal Spring Water, I-modulia®, which reduces sensations of itching*, and fights against irritation caused by dryness, but also Cer-omega, skin-like lipids active ingredient that acts on dryness and restores the skin's barrier, and finally Avène Thermal Spring Water, which is naturally softening, soothing, and anti-irritation. Fragrance-free and non-comedogenic, XeraCalm A.D Lipid-Replenishing Cleansing Oil is ideal for the skin of infants, children and adults.
The original size is 400ml and comes in a pump bottle.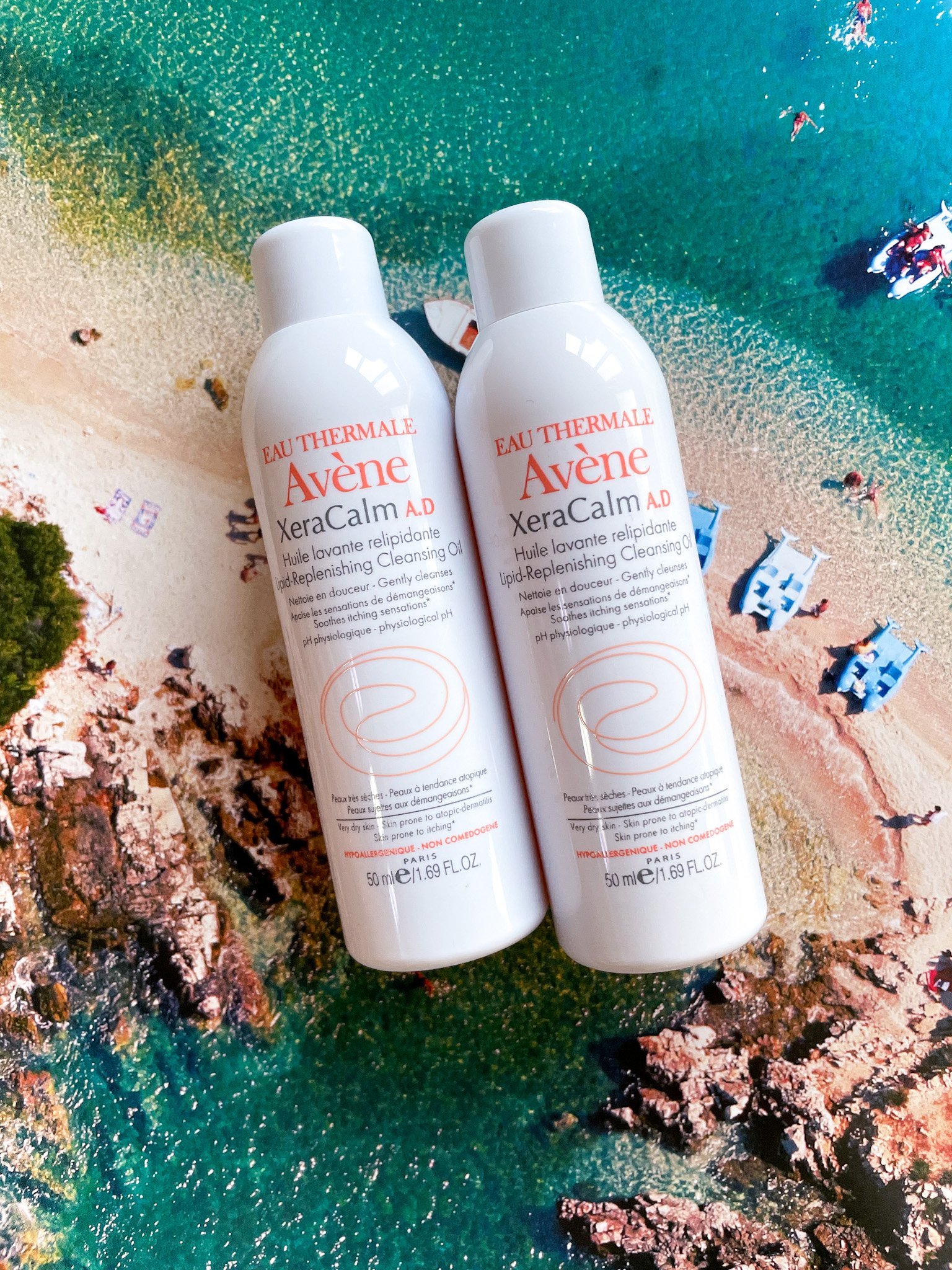 Application
Here are the directions on how to use it by the brand: In the shower, lather in hands before applying to the skin. In the bath, pour the equivalent of 5 pumps into running bath water. Rinse and gently pat dry.
I know what you're thinking. Wait, aren't we supposed to use cleansing oils on dry skin, massage and then emulsify with water?


Consistency
Moreover, the consistency of this cleanser is thick and gel-like, very far from the texture of a cleansing oil. Hence, I was a bit disappointed and I think that naming it "Cleansing Oil" is misleading, especially when even the brand itself doesn't say to use it like one.


Scent
It's fragrance-free and it just has the smell of the ingredients. It's not very pleasant to me, but it doesn't put me off to the point of not wanting to use the product either. So, I'd say it's tolerable.


Experience
At first, although the texture was not similar to that of a cleansing oil I did try using it as one. Surprisingly, it melted off my bb cream and eye makeup (not waterproof) with ease. I followed with a cotton pad soaked in micellar water and there was no trace of makeup left!
However, the consistency which resembles that of honey is a bit hard to spread around. Not as pleasant to use as an oil. Despite the great results, the second thing I did not like was that when it got into my eyes it stung a LOT! Thankfully, it wasn't as challenging as I thought to rinse. It emulsified well and got removed completely without leaving any residue.
Then, I used the cleanser as per brand's directions, but immediately knew this was not for oily skin. It doesn't do a very good job at lifting off oil. I had to use a second cleanser after it because I felt like I still had a weird layer of oil on my skin. So, this cleanser is definitely suited for drier skin types just as advertised! And naming it Lipid-Replenishing is appropriate.
I didn't feel like this added moisture, but it's not drying either and feels very gentle. Also, it feels somewhat soothing and makes the skin soft.


Who is it for?
This cleanser is exactly for those that it is targeted for: Dry and very dry skin, itching skin, Dry skin prone to (atopic) eczema. I don't have eczema so I can't personally comment on that, but I've only seen positive reviews regarding it. I can see this working well as a normal cleanser for those with sensitive skin and rosacea too.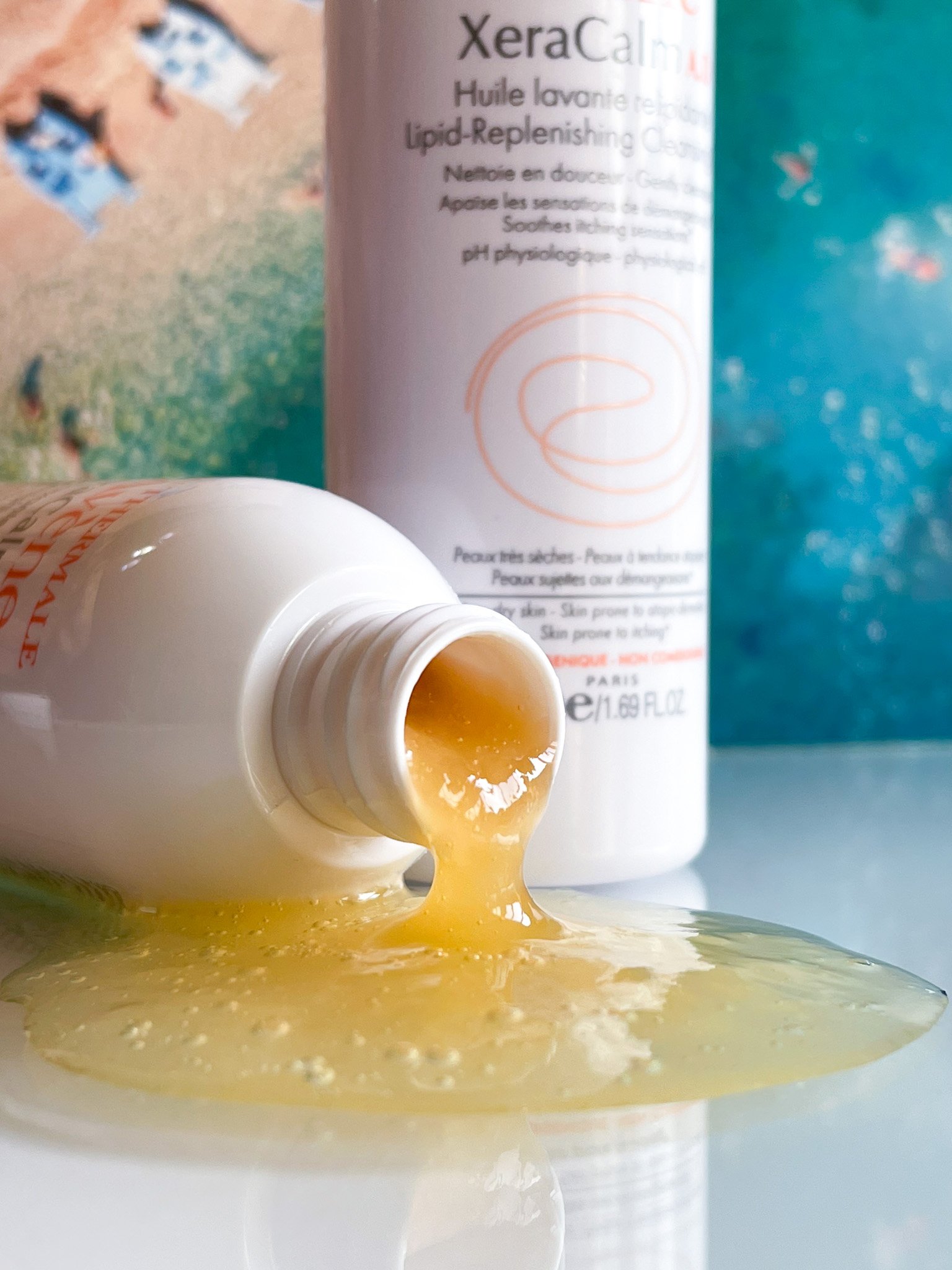 Ingredients
Avène Thermal Spring Water, Glycerin, PEG-7 Glyceryl Cocoate, Disodium Laureth Sulfosuccinate, Sodium Cocoamphoacetate, PEG-25 Hydrogenated Castor Oil, Ceteareth-60 Myristyl Glycol, PEG-200 Hydrogenated Glyceryl Palmate, Laureth-3, Coco-Glucoside, Aquaphilus Dolomiae Extract, Arginine, Caprylyl Glycol, Citric Acid, Evening Primrose Oil, Sorbic Acid, Tocopherol
I-modulia® – The first biotechnological active ingredient derived from Avène Thermal Spring Water, I-modulia is a natural active ingredient that reduces itching and stimulates the skin's defences.
Cer-Omega is a complex of Lipids: Omega 6, Ceramides and Sterols (plant-based cholesterol). The complex contains Evening Primrose Oil and is rich in Omega-6 and Ceramides to provide exception hydration and to restore the skin's epidermal barrier.
Glycerin – Great natural moisturizer and skin-identical ingredient. Arginine – A natural moisturizing factor and might also help to speed up wound healing.

#alcohol-free, #fragrance and essential oil-free.


Final Verdict on the Avene XeraCalm A.D Lipid-Replenishing Cleansing Oil
Pros
Gentle.
Doesn't strip the skin from moisture.
Suitable for dry, very dry skin types and sensitive skin.
Leaves the skin feeling soft.
Feels soothing.
Free of alcohol, fragrance & EOs.
It didn't break me out.
Cons
Not a traditional oil cleanser.
Stings the eyes a lot if used like one.
Not suitable for oily skin as it doesn't lift oil well.
If you're looking for an oil cleanser to remove makeup and use as the first step in double cleansing, this is not it! Simply don't get it because you'll be disappointed. Despite the consistency that's hard to spread and the eye stinging, it does a good job if massaged directly onto the skin, but there are far better options out there in my opinion.
Think of this as a normal gel-like cleanser that's gentle and non-stripping. I like that it emulsifies well. It would be great for drier skin types that need emollients to prevent transepidermal water loss and those with sensitive skin/itchy skin since it contains ingredients like I-modulia® and Cer-Omega. The size is also very generous at 400ml.
---
Did you find the Avene XeraCalm Cleansing Oil review helpful? Have you tried this cleanser? Kindly share your experience in the comments!
Also read: Avene Very High Protection Dry Touch Fluid SPF 50+ Review


Related posts
Follow blog via Email
Get the latest posts from this blog delivered to your inbox!
About Me
Hi and welcome to Kbeauty Notes! :) I'm Ledia and I'm very passionate about everything skincare. I created this blog to share my thoughts and experience with many amazing and not so great products out there, hoping to help you make better decisions regarding your skin. I'm very happy to bring you on this journey with me and I hope you enjoy it! <3

My Skin Type: Oily, acne prone, dehydrated, a little sensitive, large pores.

Skincare Concerns: hydration, pore care, anti-ageing, PIE (acne marks), brightening.

Contact: kbeautynotes@gmail.com