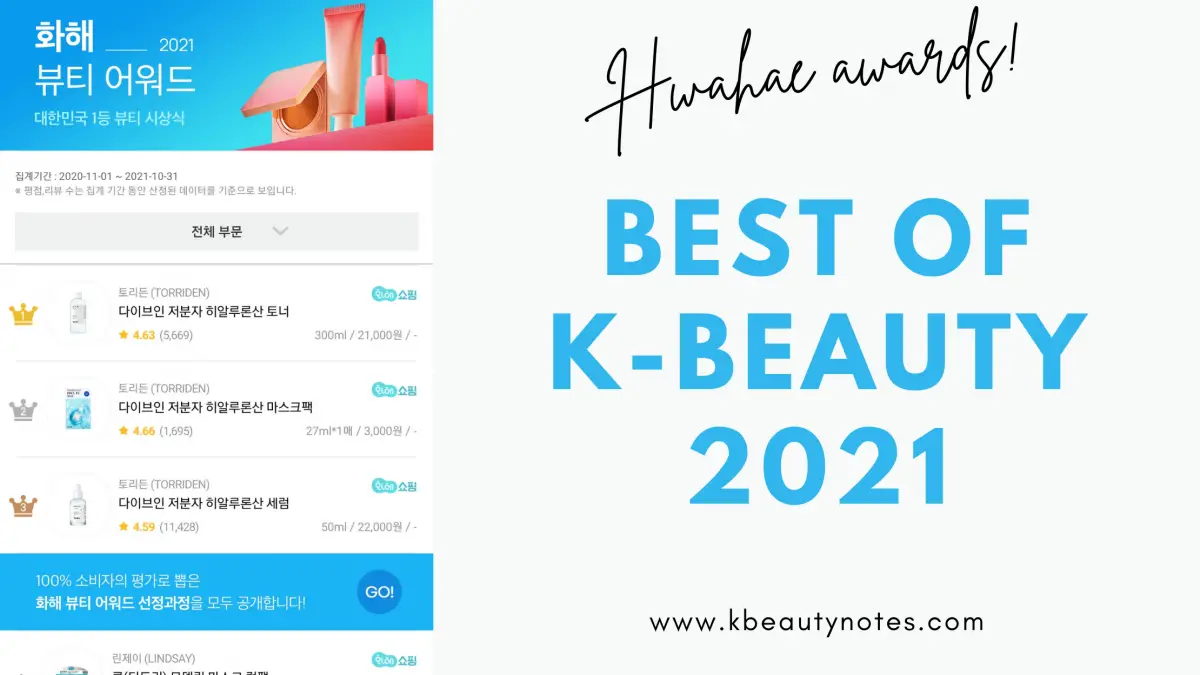 As beauty reviewers or "influencers", we get to try a lot of products and by sharing our experience, we want to help our audience make better and more informed choices regarding products they're considering to purchase. However, the number of beauty brands that exist out there is ginormous and one person can't possibly try all of them.
Here's when tools like Hwahae (화해) come in handy. Hwahae is the abbreviation for 화장품을 해석하다 which means "to analyse cosmetics". This is a Korean beauty app that was created in 2013 with the purpose to give consumers detailed information regarding K-beauty products. Products can be filtered by categories such as product type, age, skin type ect to make it even easier for people to find something suitable for their skin. It also ranks beauty items based on consumer reviews!
The platform has gained so much popularity due to its reliability and it hosts its own beauty awards twice a year. I'm sure you must have seen their award sticker on products you have purchased before.
I've mentioned in a previous post that the K-beauty items that become popular in the west, are not necessarily what's popular in Korea. So the app really helps us see what the current trends in Korea really are! The only downside is that content is in Korean and you'll have to use a translating tool to actually know what to look for.
In this post I'm going to share the results of Hwahae Awards for 2021. There are a lot of categories, so I'm only sharing the ones I think would be the most requested.


What are the best K-beauty products of 2021?
Best Sunscreen
(For Yesstyle feel free to use my code KBEAUTYNOTES for an extra 2-5% off.)
Best Cleansers
Best Toner
---
Best Essence, Serum, Ampoule
---
Best Emulsion, Lotion
---
Best Face Cream
---
Best Eye Cream
---
Best Face Masks
Best Makeup


Notice any product you have tried or would like to try from these? Any new brand that caught your attention?
As you can see there are some brands that you don't often see around on social media. But, they're also not very easily accessible so it's understandable that they don't get as much exposure.
Let me know in the comments which ones you are adding to your wishlist.


---
*This post contains affiliate links. It means I may earn a small commission when you purchase a product through the links I have provided at no extra cost to you. Sincerely thankful to all of you that support my blog! For more information, see Disclosure Policy.


Related posts
Follow blog via Email
Get the latest posts from this blog delivered to your inbox!
About Me
Hi and welcome to Kbeauty Notes! :) I'm Ledia and I'm very passionate about everything skincare. I created this blog to share my thoughts and experience with many amazing and not so great products out there, hoping to help you make better decisions regarding your skin. I'm very happy to bring you on this journey with me and I hope you enjoy it! <3

My Skin Type: Oily, acne prone, dehydrated, a little sensitive, large pores.

Skincare Concerns: hydration, pore care, anti-ageing, PIE (acne marks), brightening.

Contact: kbeautynotes@gmail.com