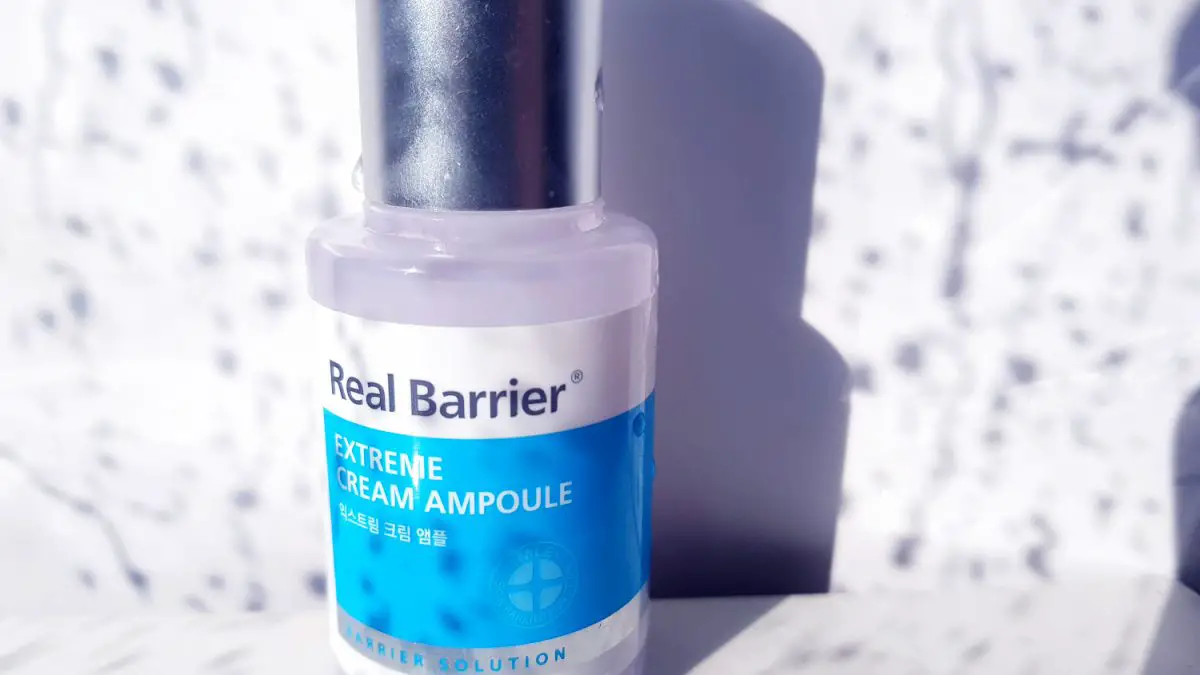 Have you noticed that with the increased use of active ingredients in skincare, the focus on skincare products that help with the skin barrier has gone up as well? This is exactly the goal of the the K-Beauty Brand Real Barrier; to reinforce and support the skin's natural barrier, which plays a crucial role in protecting our skin from external factors and preventing transepidermal water loss. The whole line is made specifically for dry and sensitive skin types. In today's post I'll review the Real Barrier Extreme Cream Ampoule which was included in the Stylekorean box I received a while back.


What is the Real Barrier Extreme Cream Ampoule
Claims: The Real Barrier Extreme Cream Ampoule is formulated with MLE (multi-lamellar emulsion) Skin Barrier technology, which works by mimicking the lamellar structure of the natural skin lipids to restore the protetctive barrier system. It also combines two patented ceramides for barrier strengthening, and helps to manage roughness, reduce flakiness and smooth the skin. The Ampoule comes in a 30ml (1.01 fl.oz.) plastic bottle with a dropper. When you twist the cap, the top goes up like a pump and you can press it to dispense the product.


Application
I would suggest applying the ampoule after your hydrating products and before cream moisturizer if your skin is on the drier side. I press the applicator 2-3 times on my forehead and cheeks and gently massage the product around.


Consistency
This feels more like a lightweight milky emulsion. And that's where I'd place it as a step in my routine. It applies clear when spread on the skin.


Scent
It has a noticeable scent, but to me it smells fresh, so it's not bothersome. It does contain Essential Oils like Mandarin Orange Peel Oil, Rose Geranium, Thyme and Eucalyptus.


Performance
I read this would be suitable for those prone to dehydration. At first, I tested this directly after cleansing, but it felt like I put on a mask and the skin under just kept feeling dry. I had to wash my face and start over doing my normal routine. So, I would call this a moisturizing ampoule rather than hydrating! It doesn't absorb like watery ampoules do, and it takes a while for it to properly sink in (20 minutes). Alas, products that are rich in texture do take longer to absorb for those with oilier skin.
Right after application it feels a bit tacky and has an oily slip to it, which I don't think oily skin types like mine will appreaciate. But once it has set completely, the finish becomes much smoother and that oil-like slip goes away like 80%. I've incorporated this only in my nighttime routine as I don't have time for it to set and then continue with makeup if I'm going out. For me this is enough as my last step of skincare and I don't need to follow with a cream.
It could work for oily skin types during winter, but it's most suitable for normal, combination and slightly drier skin types in my opinion. However, if your skin is very dry it can benefit much more from the Real Barrier Extreme Cream, which is the most popular product of the brand thanks to its great moisturizing effect.
This didn't reduce neither worsen the redness on my cheeks. I normally don't mind essential oils or fragrance in skincare, because it really depends on how the product is formulated. This one does contain EOs and those with sensitive skin should keep this in mind if they react to them.
Sadly, I did notice some congestion on my jaw where my skin is oilier and tends to break out the most, so I stopped applying it on that area.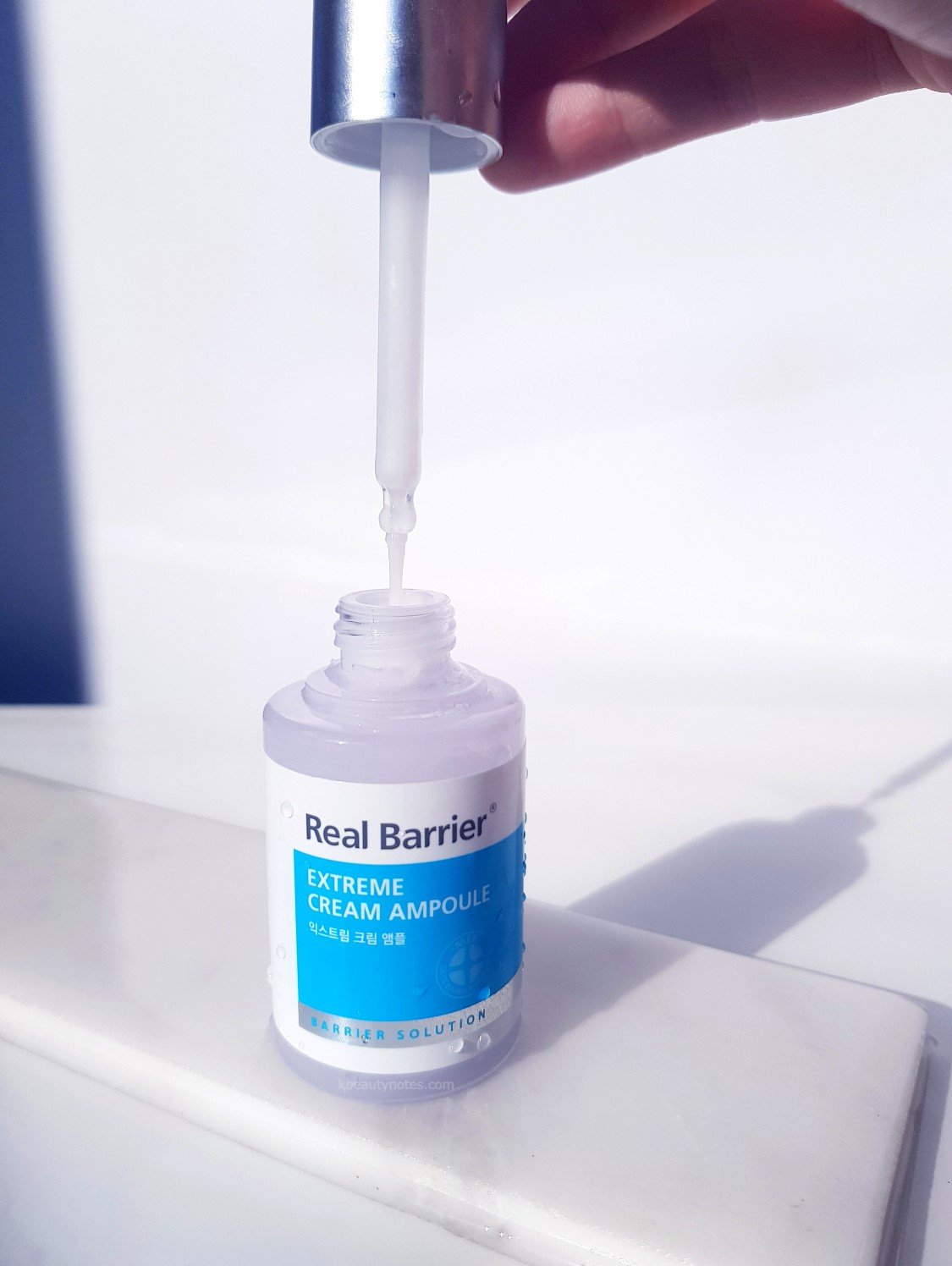 Ingredients
The ampoule contains humectants/moisturizing agents such as Glycerin, Squalane, and Sodium Hyaluronate. Barrier protecting and repairing ingredients include: Ceramide NP and Panthenol (Pro-Vitamin B5). It also contains Madecassoside which is one of the active components of Centella Asiatica and has antioxidant properties.
It is alcohol-free, but contains Essential Oils like: Mandarin Orange Peel Oil, Rose Geranium EO, Thyme Oil, and Eucalyptus EO.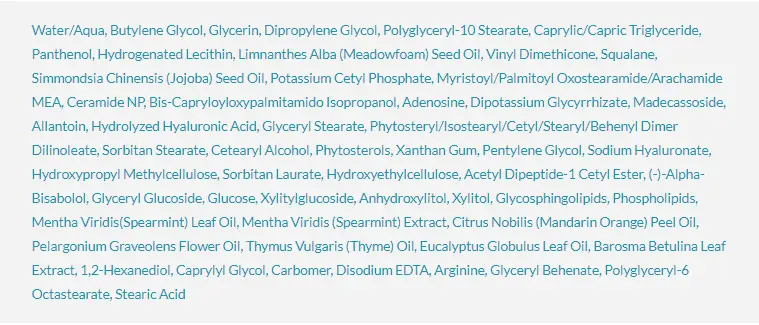 Final Verdict
Pros
Moderately moisturizing.
Makes the skin feel soft and smooth.
Most suitable for normal, combination and drier skin (better used during summer).
Great if you're looking specifically for a barrier product.
Cons
Takes a while to sink in for my skin (oily).
Not ideal for sensitive skin that reacts to EOs.
Noticed a bit of congestion on the jaw area where I tend to break out the most.
This is not formulated for my skin type in the first place, so I'm not that mad that it doesn't work that well for me. Actually, I'd say this is the least suitable for my skin type: oily and prone to dehydration! You can supply hydration, but due to its consistency, if there are too many layers it can start feeling a bit heavy if you're oily and potentially lead to congestion. So, it'll be more suitable for normal, combination and drier skin. In terms of effects, I see this exactly as a barrier product. As it is supposed to nourish the surface and form a lightweight protective moisturizing film on the skin. It makes the skin feel soft and smooth, which is something that I like.


Where to buy: If you're interested in purchasing this ampoule, you can find it at Stylekorean:
[Real Barrier] Extreme Cream Ampoule 30ml for the regular price of $35. Check out their Shipping Info to make sure they ship to your country.


Did you find this Real Barrier Extreme Cream Ampoule Review helpful? Have you tried this ampoule before or any other skincare product from Real Barrier? If yes, please share your thoughts and skin type!


---
*PR Sample – kindly gifted, but opinions are completely my own.
*Affiliate Links – For more information, see Disclosure Policy.

Related posts
Follow blog via Email
Get the latest posts from this blog delivered to your inbox!
About Me
Hi and welcome to Kbeauty Notes! :) I'm Ledia and I'm very passionate about everything skincare. I created this blog to share my thoughts and experience with many amazing and not so great products out there, hoping to help you make better decisions regarding your skin. I'm very happy to bring you on this journey with me and I hope you enjoy it! <3

My Skin Type: Oily, acne prone, dehydrated, a little sensitive, large pores.

Skincare Concerns: hydration, pore care, anti-ageing, PIE (acne marks), brightening.

Contact: kbeautynotes@gmail.com