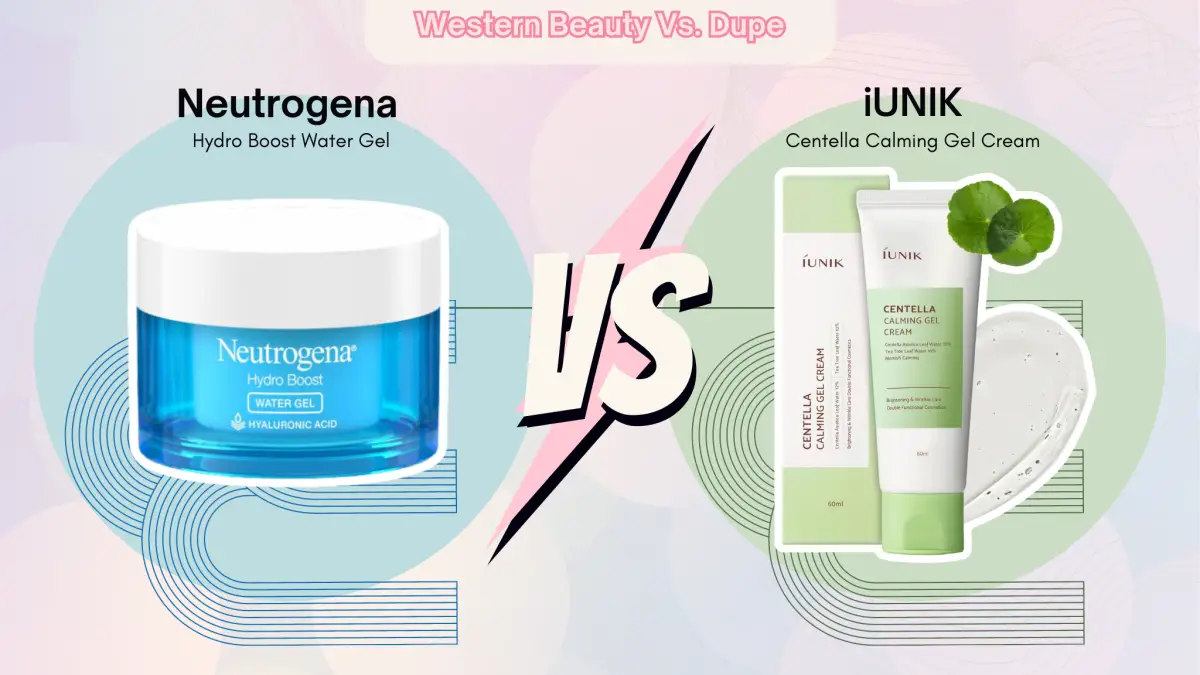 Get ready for the ultimate face-off: Neutrogena Hydro Boost Water Gel Vs. iUNIK Centella Calming Gel Cream.
Hey there, beauty lovers! Exciting news: I'm kicking off a fresh blog series in collaboration with Yesstyle – And here's an exclusive offer for new customers: Get an extra 10% OFF orders over US$35 with the code "YESSTYLE." Plus, don't forget, the reward code "KBEAUTYNOTES" can save you an extra 2-5% on top of everything.
This series – Western Beauty Vs. K-Beauty Dupe – will be all about discovering those fantastic K-Beauty dupes of popular Western beauty products. Yep, you heard it right – it's time for some K-Beauty magic to meet the West!
Now, let's be real – finding two identical products is not possible unless they're manufactured in the same place. However, we can find alternatives that can get pretty close in terms of function, texture, or shade (for makeup).
And hey, I'll tell you what – when K-Beauty comes into play, I'm confident that we can uncover something that's not only on par but could outshine the "original".
What is the Neutrogena Hydro Boost Water Gel
The Neutrogena Hydro Boost Water Gel is an oil-free non-comedogenic gel-type moisturizer formulated with Sodium Hyaluronate (the salt form of Hyaluronic Acid) to help bind water to the skin and deliver intense hydration.
K-Beauty Dupe: iUNIK Centella Calming Gel Cream
The best Neutrogena Hydro Boost dupe is none other than the iUNIK Centella Calming Gel Cream ( available at Yesstyle for $17 – regular price ). The Calming Gel Cream is also a gel-type moisturizer that has sodium hyaluronate in its formula to help hydrate the skin and relieve dryness.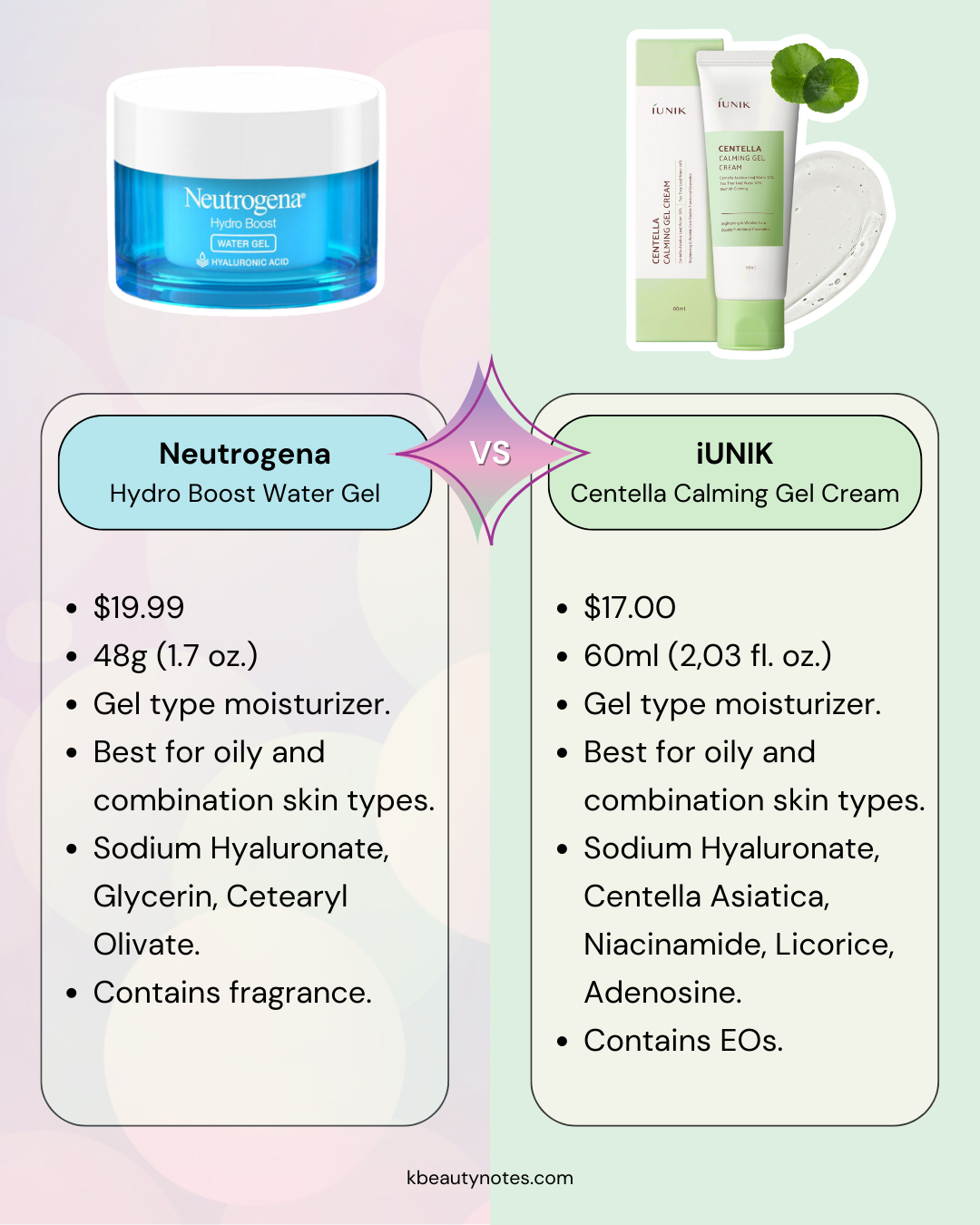 But the iUNIK gel cream doesn't just stop at hydration – it's got a few extra tricks up its sleeve that make it an even better choice than the Neutrogena. Loaded with skincare goodness, this gem boasts a powerful combo – 72% Centella Leaf Water and 10% Tea Tree Leaf Water, which team up to clarify and refresh the skin.
Other ingredients include Niacinamide, Centella, Licorice, and other plant extracts, that offer a dose of antioxidant action, nourishing care, and brightening effects.
Comparing Ingredients: Neutrogena vs. iUNIK
What's the same in both formulas: Sodium Hyaluronate (the salt form of HA) – a huge polymer that is naturally found in our skin with great water holding capacity as it can bind up to 1000 times its own weight in water. This is one of the best skin hydrators in the world of skincare.
Ingredients Unique to Neutrogena Hydro Boost
Glycerin – although it doesn't sound as exciting as other ingredients, glycerin is a great humectant that is found in the outer layer of our skin and helps with barrier function.
Cetearyl Olivate – is an emulsifier in the formula, but it also has significant moisturizing, barrier-repairing, and soothing properties.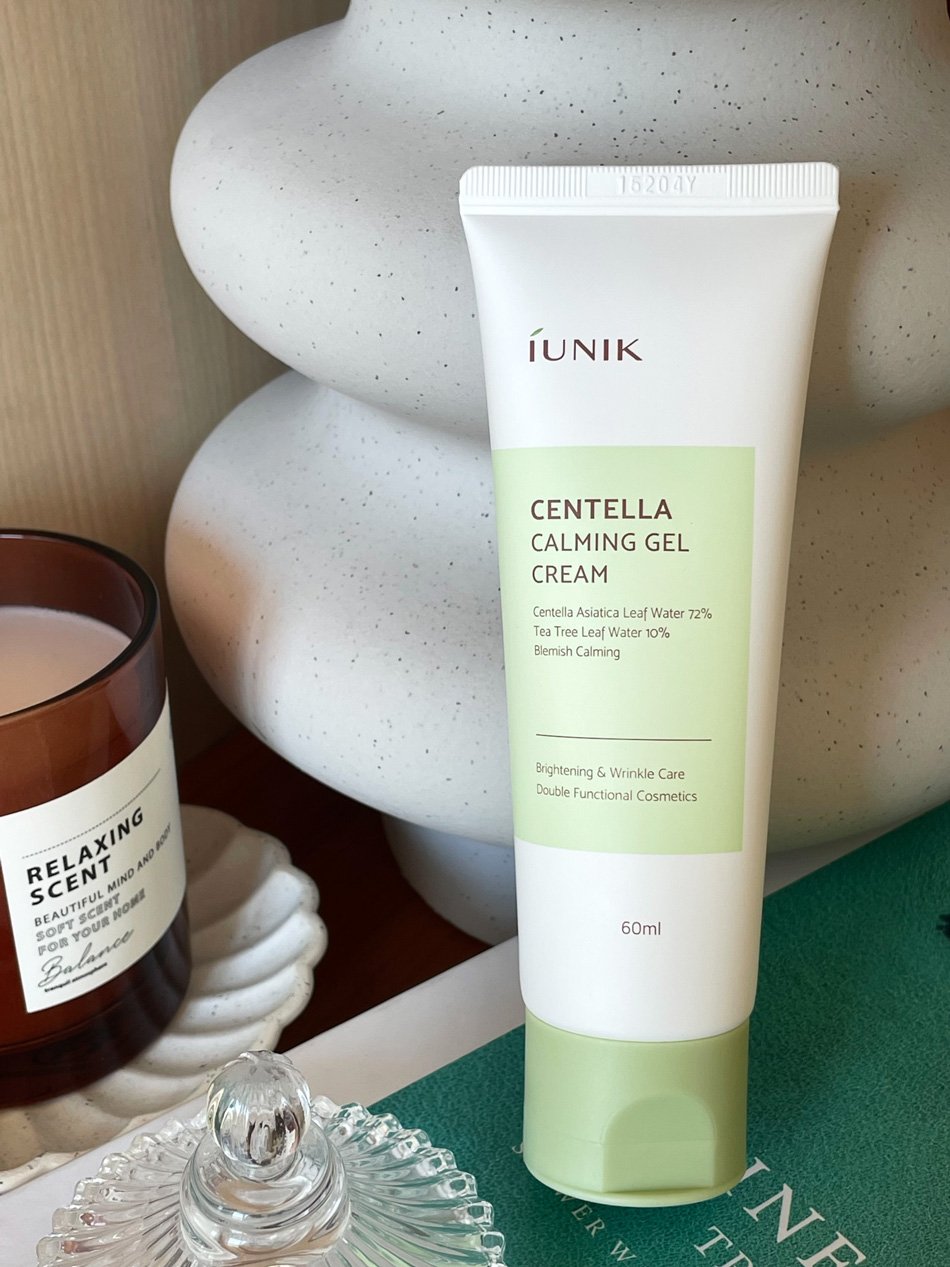 Ingredients Unique to iUNIK Calming Gel Cream
While the Hydro Boost Water Gel is a solid moisturizer, the iUNIK contains some extra standout ingredients that offer more than just hydration to the skin:
Niacinamide – multi-functional ingredient with anti-aging, brightening, anti-acne, and barrier-repair properties.
Centella Asiatica Extract – a.k.a Gotu Kola or Cica, acts as an antioxidant and lowers inflammation in the skin.
Licorice Root Extract – has potent anti-inflammatory and depigmenting properties.
Dipotassium Glycyrrhizate – one of the ingredients in the licorice plant that helps soothe the skin and regulate sebum production.
Arginine – amino acid – NMF (natural moisturizing factor – hydrator).
Adenosine – anti-inflammatory and might even help with improving skin firmness and elasticity.
Allantoin – soothing agent.
Both are fragranced. This is something to keep in mind only for those that have real sensitivities to fragrance.
Packaging
Neutrogena comes in a tub, while iUNIK opts for a squeeze tube with a cap. The hygiene factor tilts in favor of iUNIK, but your personal preference also plays a role.
Examining Performance:
Application
These moisturizers can be applied morning and night or as many times as needed at the end of your skincare routine.
Hydration & Texture
Both products rock lightweight gel formulas that absorb fast into the skin, dishing out hydration without the heavy or greasy feel. They help relieve inner skin dryness and bring back that coveted supple, well-moisturized glow. Also, the feel of gel moisturizers on the skin is something else. They're like a cool breeze on your skin, instantly invigorating and oh-so-soothing.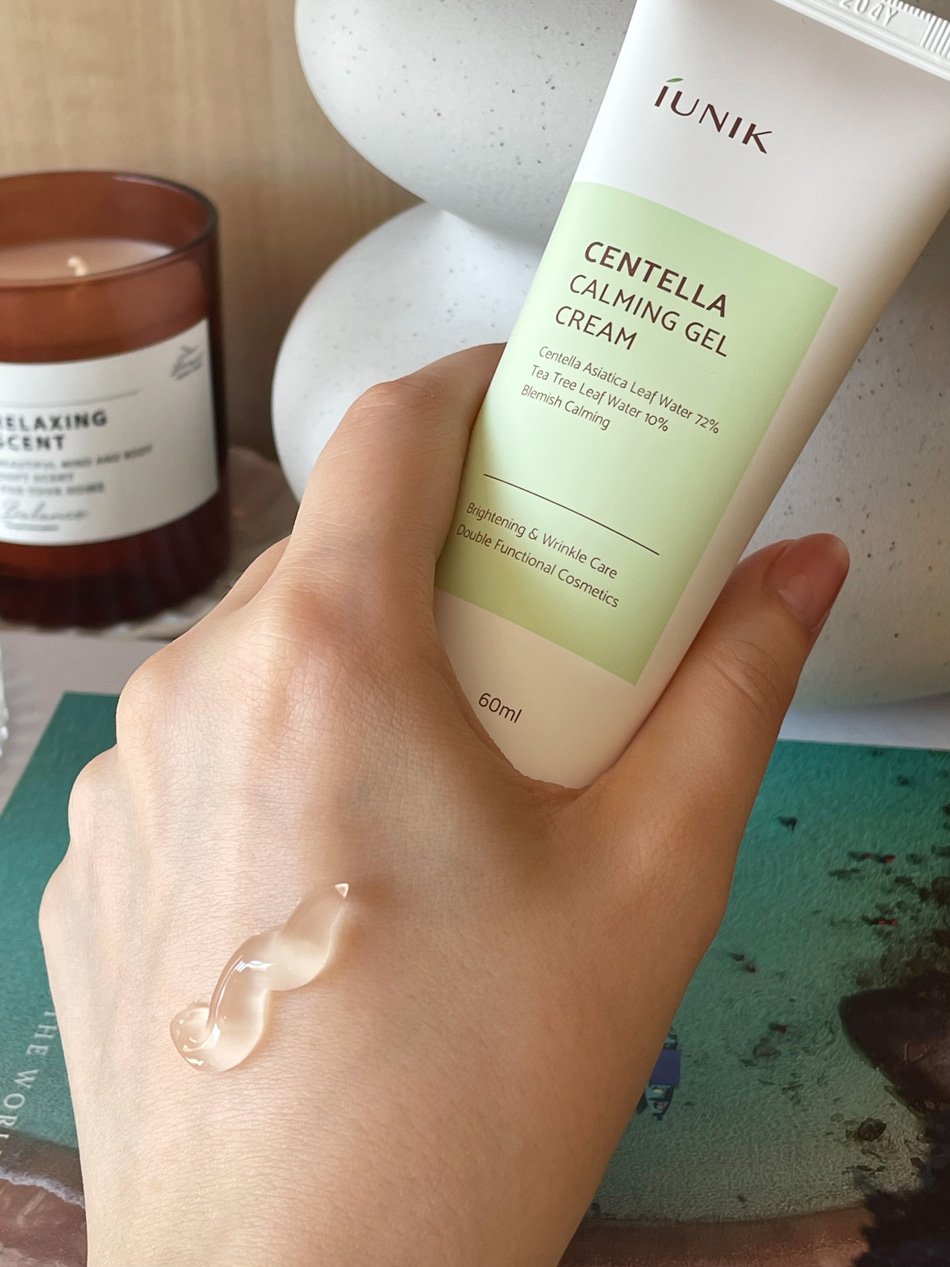 Suitability For Different Skin Types
Because of their gel textures, these moisturizers are a perfect match for folks with oily, combination, and acne-prone skin. No worries about clogged pores here! You don't need to worry about your makeup either because these don't leave any residue on the skin.
Those with dry skin should consider a moisturizer with more emollients in it.
Value for Price
Hydro Boost Water Gel –

48g

/

USD 19.99
iUNIK Calming Gel Cream –

60ml

/

USD 17
I love finding top-notch products that won't drain your wallet. When comparing sizes and prices, the iUNIK takes the spotlight. The Neutrogena Hydro Boost Water Gel is not an expensive option, however, the iUNIK takes the crown effortlessly, as it's more cost-effective.
With a generous 60ml volume and a price tag of $17, it's hard to overlook the value it brings. And here's the icing on the cake – the iUNIK is often up for grabs at a discounted price, making it even more of a steal.
Conclusion: Is iUNIK Centella Calming Gel Cream a Worthy Neutrogena Hydro Boost Dupe?
After diving into the specifics and comparing the two, I think the iUNIK Centella Calming Gel Cream is an even better alternative to the Neutrogena Hydro Boost Water Gel. Here's why:
Ingredients: While Neutrogena can certainly provide a hydrating punch, some might find this product a bit basic. It's like a reliable classic, but for those seeking a bit more in their skincare routine, the iUNIK is the better choice. The gel cream brings a whole squad of ingredients that team up to tackle a variety of skin concerns. It's like a multitasking wizard, working its magic on more than one front. So, while it quenches your skin's thirst, it's also busy addressing other issues like dull skin, pigmentation, and signs of aging.


Affordability: Score a double win with iUNIK! Not only is it cheaper, but also boasts a larger quantity. A clear win for your wallet.

Did you find this Western Beauty Vs. K-Beauty Dupe post helpful? Have you tried either one of these moisturizers? Let me know your thoughts.
Also Read: Best K-Beauty Dupes for High-End Products at YesStyle
---
*Sponsored – by YesStyle, but opinions remain my own.
*Affiliate Links – It means I may earn a small commission when you purchase a product through the links I have provided, at no extra cost to you.
Related posts
Follow blog via Email
Get the latest posts from this blog delivered to your inbox!
About Me
Hi and welcome to Kbeauty Notes! :) I'm Ledia and I'm very passionate about everything skincare. I created this blog to share my thoughts and experience with many amazing and not so great products out there, hoping to help you make better decisions regarding your skin. I'm very happy to bring you on this journey with me and I hope you enjoy it! <3

My Skin Type: Oily, acne prone, dehydrated, a little sensitive, large pores.

Skincare Concerns: hydration, pore care, anti-ageing, PIE (acne marks), brightening.

Contact: kbeautynotes@gmail.com