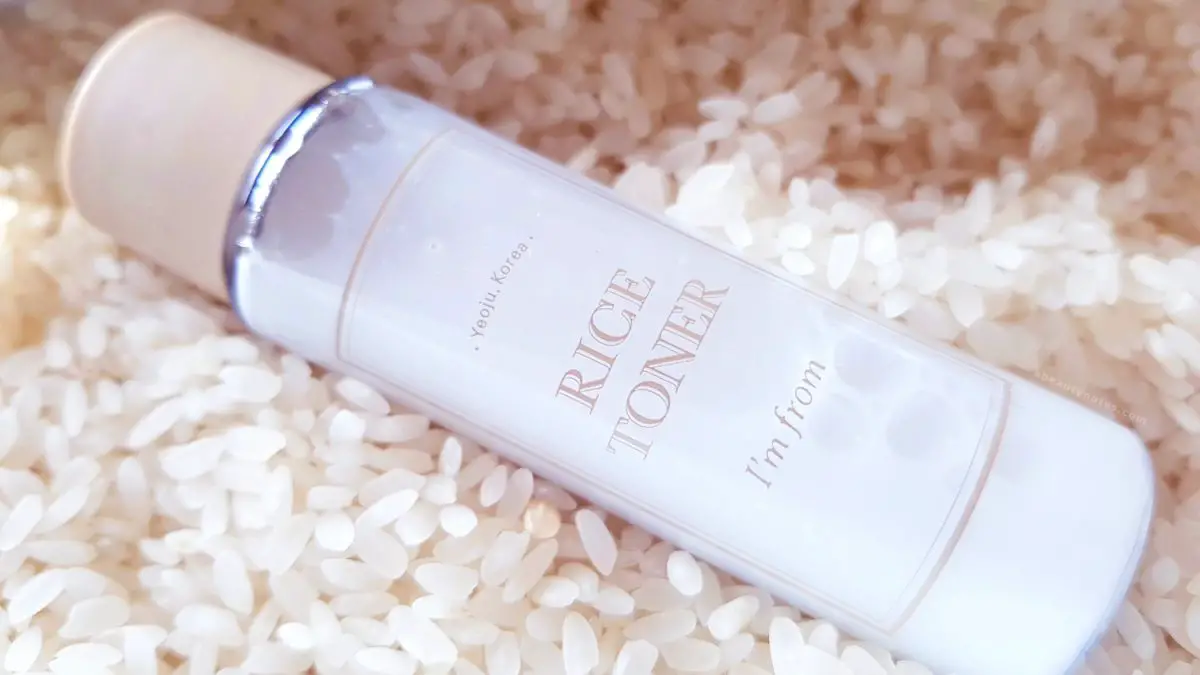 In this post we're diving into the I'm From Rice Toner review! I'm From is a K-Beauty brand that is known for its high quality plant-based ingredients and each of their skincare lines revolves around a star ingredient. I got the 3 mini versions of the Rice Toner, Mugwort Essence, and Fig Essence to try and decide which ones would be more suitable for my skin before committing to the full size. In my previous post I have already reviewed the Mugwort Essence, so feel free to check it out.
I really like the idea of rice in skincare as it has plenty of skin-loving components such as amino acids, vitamins and minerals, so this toner was the one I was most exited about.


What is the I'm From Rice Toner
The I'm From Rice Toner is formulated with 77.78% Rice Extract that brightens, hydrates and helps skin retain moisture, resulting in a softer, smoother texture. Rice is sourced from Yeoju in Gyeonggi Province, South Korea. The toner forms a protective layer on the skin to prevent transepidermal water loss, remove dead skin cells and moisturize. Perfect for dry, dull and irritated skin types. Other notable ingredients include: Niacinamide, Purslane Extract and Adenosine.
The mini version comes in 30ml and the full size of the toner in 150ml. Both come in plastic bottles.


Application
Shake the bottle well before use to mix the separated layers together. Depending on your skin condition or type, you can either use this directly after cleansing or after lighter consistency toners, essences or ampoules. Cotton pads can also be used. I prefer applying it with my hands and gently patting the toner onto the face. You can incorporate it both in your AM and/or PM routine.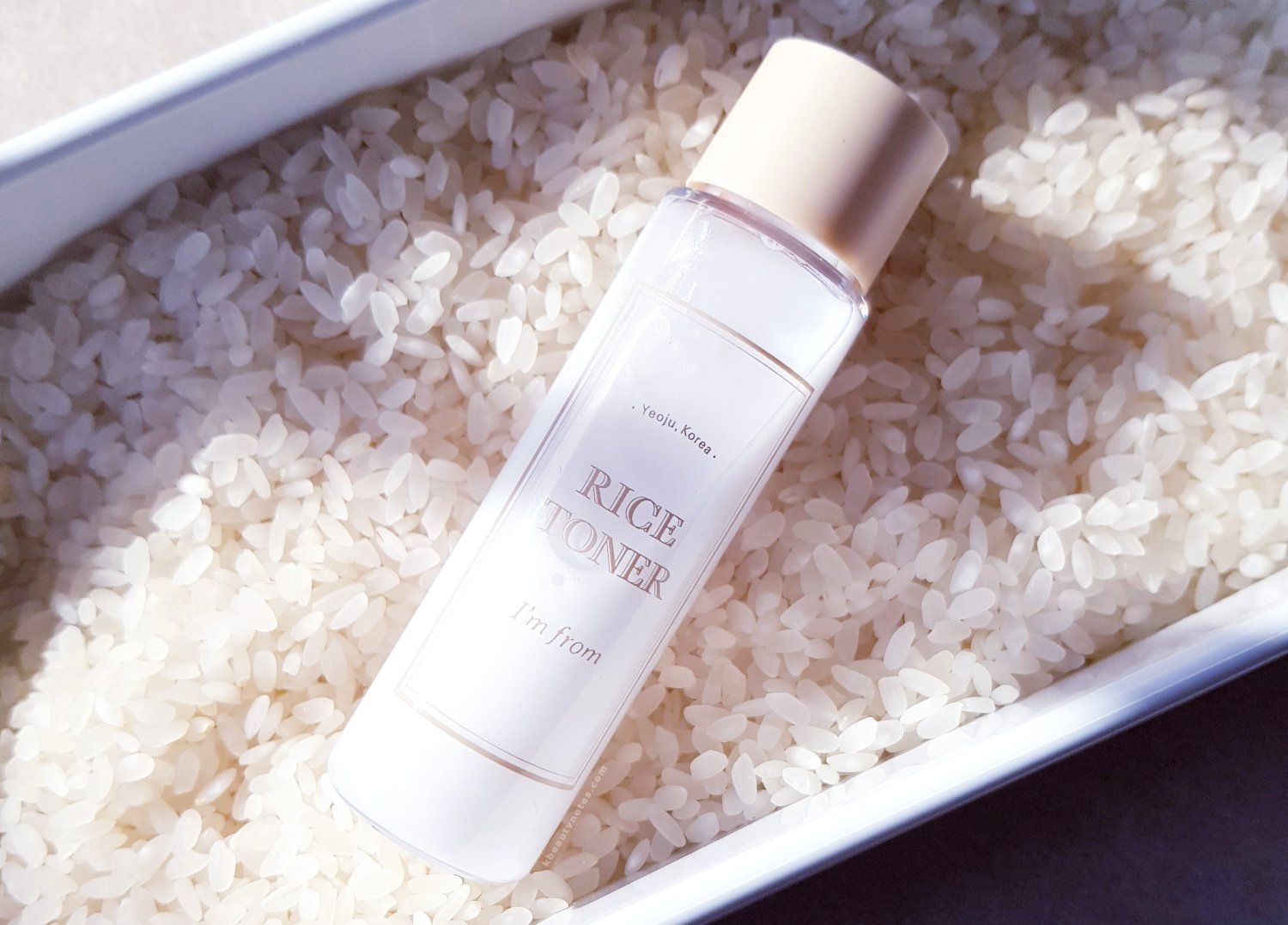 Consistency
The consistency is light and runny, but has a good slippery feel which makes the application very easy and enjoyable. I personally absolutely love this kind of texture. It doesn't get sticky on me even when layered. Leaves a slight healthy sheen on the skin.


Scent
It has a very subtle clean scent that comes from the ingredients, as this toner doesn't contain any fragrance or essential oils. This makes it great for sensitive skin that reacts to fragrance.


Performance
I have to say right off the bat that this toner lives up to the hype! Its elegant texture makes the application process such a delight. As you may have noticed, I am big on textures. I usually tolerate a product with not so good consistency only if I'm getting another significant benefit from it. This goes on so smoothly since it has that slippery feel. But, surprisingly, it doesn't make me greasy. It leaves a beautiful sheen on the skin and makes it very soft!
Smooths out any flaky pieces and feels moisturizing. If the inner layers of your skin feel dry (your skin is dehydrated), I'd suggest you use this after other hydrating products to make it sit completely comfortably on the skin. You'd know this if it usually feels that skincare sits on top of your skin like a mask.
If you don't have this issue, it can be easily used as your first step in your routine. I like using a hydrating toner or a light ampoule under it. For my oily skin this toner would come as a last step in my PM skincare routine now that is summer. I usually do 2 layers and it doesn't get sticky (there's just a tad bit of tackiness that goes away very quick)!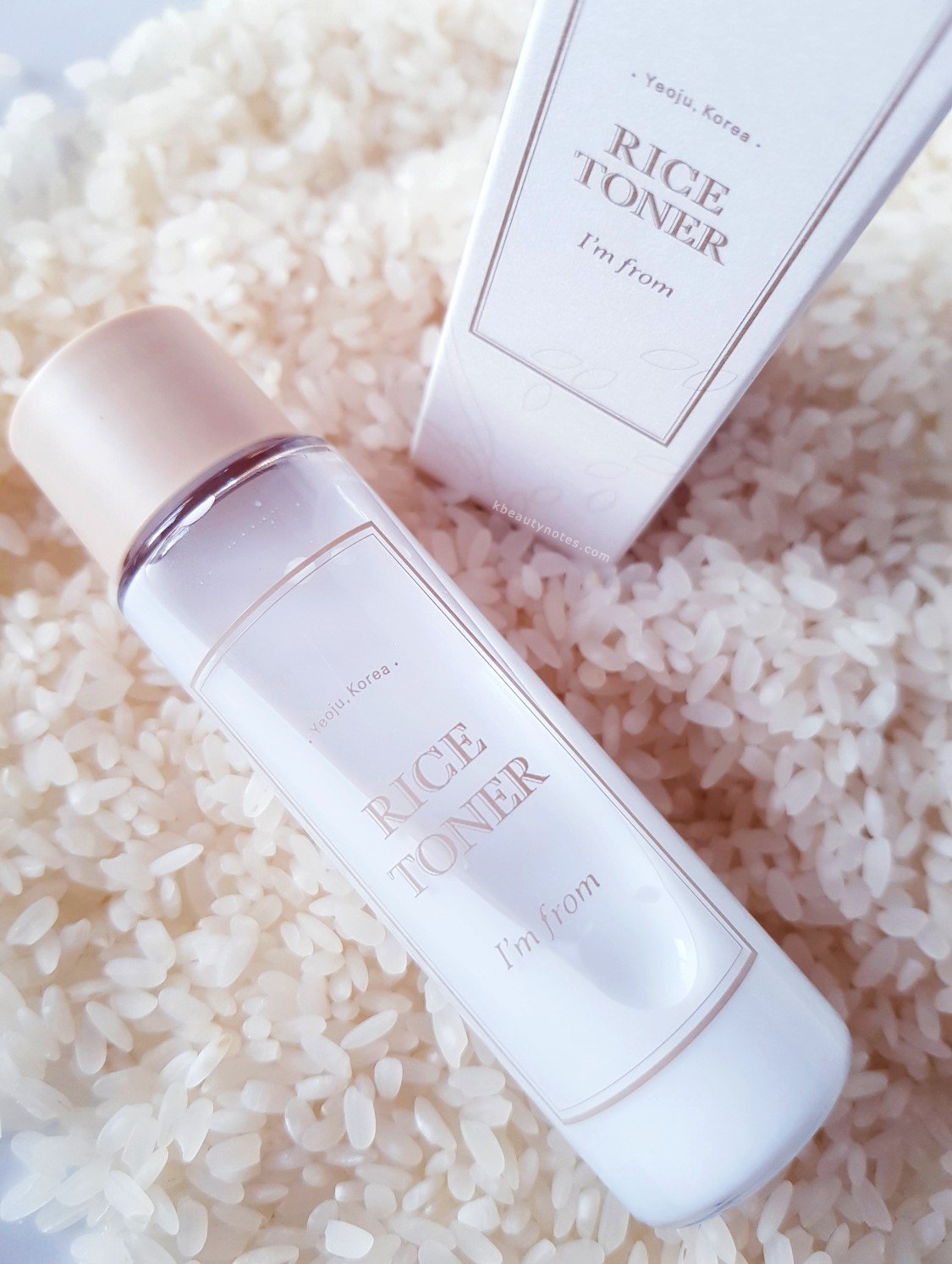 Genereally, it would be more suitable for dry skin, but depending on how dry or in what climate you live, you'd either have to layer this itself or layer other richer creams on top. This still has a light consistency, so it's not heavily moisturizing.
The toner hasn't caused any skin irritation or breakouts. I love that it contains Niacinamide since it's an ingredient that really helps me with my acne! It would also be perfect for sensitive skin types because it's free of fragrance and EOs.
Layers well with other products and makes the makeup sit beautifully on the skin. I don't use this in the AM since it would be a bit much for oily skin in humid weather, so I haven't tested how it works with susncreen, but I'm sure it does just fine.

Regarding brightening effects, I haven't noticed any so far.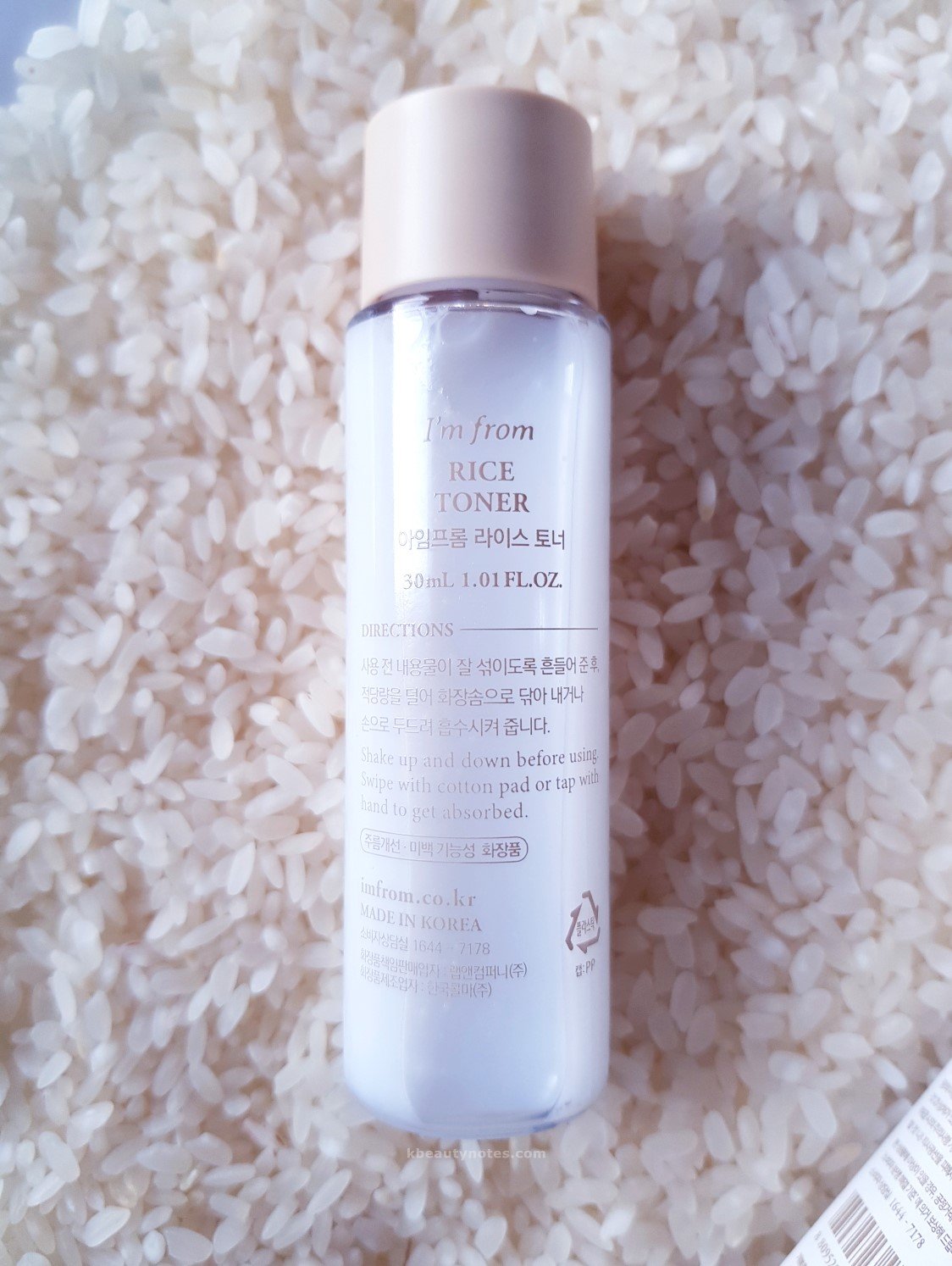 Ingredients
Oryza Sativa (Rice) Extract (77.78%) – Rice is rich in Vitamin E and B, minerals, antioxidants and amino acids.
Niacinamide – Great multi-functional ingredient. Skin brightening, anti-inflammatory, anti-acne and barrier repair properties.
Purslane Extract – A traditional Korean medicinal plant which has skin-soothing and antioxidant properties.
Japanese Elm Bark – humectant, anti-inflammatory and photoprotective properties.
Adenosine – A cell-signalling ingredient that works as an anti-inflammatory and barrier repair/protection agent, It may also help with skin firmness and elasticity.
Free of alcohol, fragrance and essential oils.
Oryza Sativa (Rice) Extract (77.78%), Methyl Propanediol, Triethylhexanoin, Hydrogenated Poly (C6-14 olefin), Niacinamide, Pentylene Glycol, Portulaca Oleracea Extract, Oryza Sativa (Rice) Bran Extract (0.1%), Ulmus Davidiana Root (Japanese elm bark) Extract, Amaranthus Caudatus Seed Extract, Hydrogenated Lecithin, Water, Polyglyceryl-10-Myristate, Butylene Glycol, Adenosine, Cellulose Gum, Ethylhexylglycerin, 1,2-Hexanediol

Final Verdict on the I'm From Rice Toner
Pros
A bit hydrating, but mostly moisturizing.
Makes the skin very soft.
It doesn't become sticky even when layered.
Suitable for all skin types, but especially dry/flaky, combo and sensitive skin (oily skin for PM).
Didn't break me out, which would probably be suitable for acne prone skin, too.
Works great as a makeup base.
Free of alcohol, fragrance & essential oils.
Vegan and cruelty-free.
Cons
I haven't notice any brightening effect so far.
I can see why so many people love the I'm From Rice Toner. It has such beautiful consistency, makes the skin feel very smooth and soft while not being sticky. All skin types can enjoy it, although application and how you incorporate it in your routine will vary. Great for those who'd like to take care of their skin barrier, those with sensitive skin and those that are using actives since it doesn't contain any potential irritants. I love that it didn't break me out, and also contains niacinamide to aid with the existing acne. Aside from improving skin texture and moisturizing, I didn't experience any brightening effect.
Still, such a great product that is very pleasant to use. I highly recommend it and I would definitely repurchase this! 5/5*



Where to buy:
🛒 If you're interested in purchasing the I'm From Rice Toner, you can find it at Yesstyle (use KBEAUTYNOTES for an extra 2-5% off) :
I'm From – Rice Toner MINI – 30ml
I'm From – Rice Toner Full Size – 150ml


The two other Minis:
I'm From – Mugwort Essence MINI – 30ml
I'm from – Fig Boosting Essence MINI – 30ml


🛒 You can also find them available at Wishtrend:
I'm From Minis (Mugwort Essence, Rice Toner, Fig Essence)
I'm From – Rice Toner Full Size – 150ml


Did you find this I'm From Rice Toner Review helpful? Have you tried this toner before or any other skincare product from this brand? Feel free to share your experience!


---

This post contains affiliate links. It means I may earn a small commission when you purchase a product through the links I have provided. I've bought this product myself and I will always share my honest opinion and experience. Sincerely thankful to all of you that support my blog! For more information, see Disclosure Policy.


Related posts
Follow blog via Email
Get the latest posts from this blog delivered to your inbox!
About Me
Hi and welcome to Kbeauty Notes! :) I'm Ledia and I'm very passionate about everything skincare. I created this blog to share my thoughts and experience with many amazing and not so great products out there, hoping to help you make better decisions regarding your skin. I'm very happy to bring you on this journey with me and I hope you enjoy it! <3

My Skin Type: Oily, acne prone, dehydrated, a little sensitive, large pores.

Skincare Concerns: hydration, pore care, anti-ageing, PIE (acne marks), brightening.

Contact: kbeautynotes@gmail.com