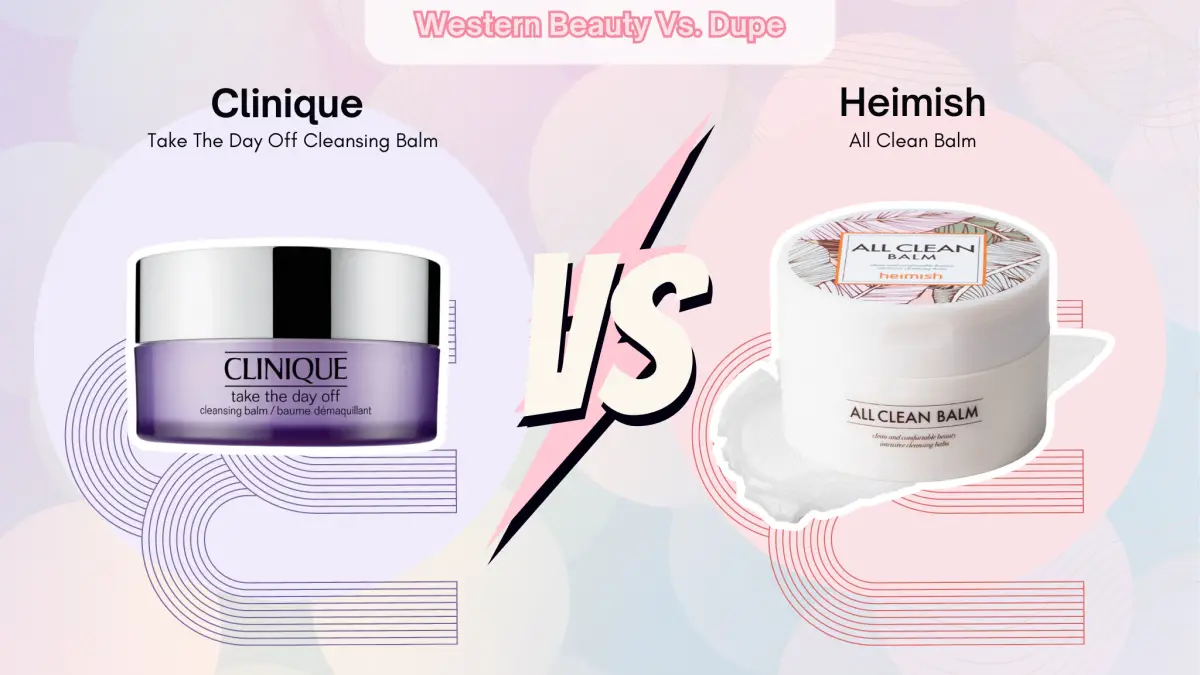 Cleansing balms have become a staple in skincare routines in recent years, offering a very effective way to melt away makeup, dirt, and impurities at the end of a long day. It's been so many years since I first started using one and I have never looked back. And if we're giving credit where it's due, we owe a substantial nod of gratitude to the world of K-Beauty. Today's post is centered around two remarkable cleansing balms: the luxurious Clinique Take the Day Off Cleansing Balm and the K-beauty gem, Heimish All Clean Balm – a personal favorite!
As you immerse yourself in the world of cleansing balms, don't miss the opportunity to make your skincare journey even more delightful. Yesstyle has a special treat for you! If you are a new customer, you can enjoy an extra 10% OFF for orders above $35 when you use the code 'YESSTYLE' at checkout. And for even more savings, don't forget to apply my reward code 'KBEAUTYNOTES' to enjoy an additional 2-5% discount on top of your purchase!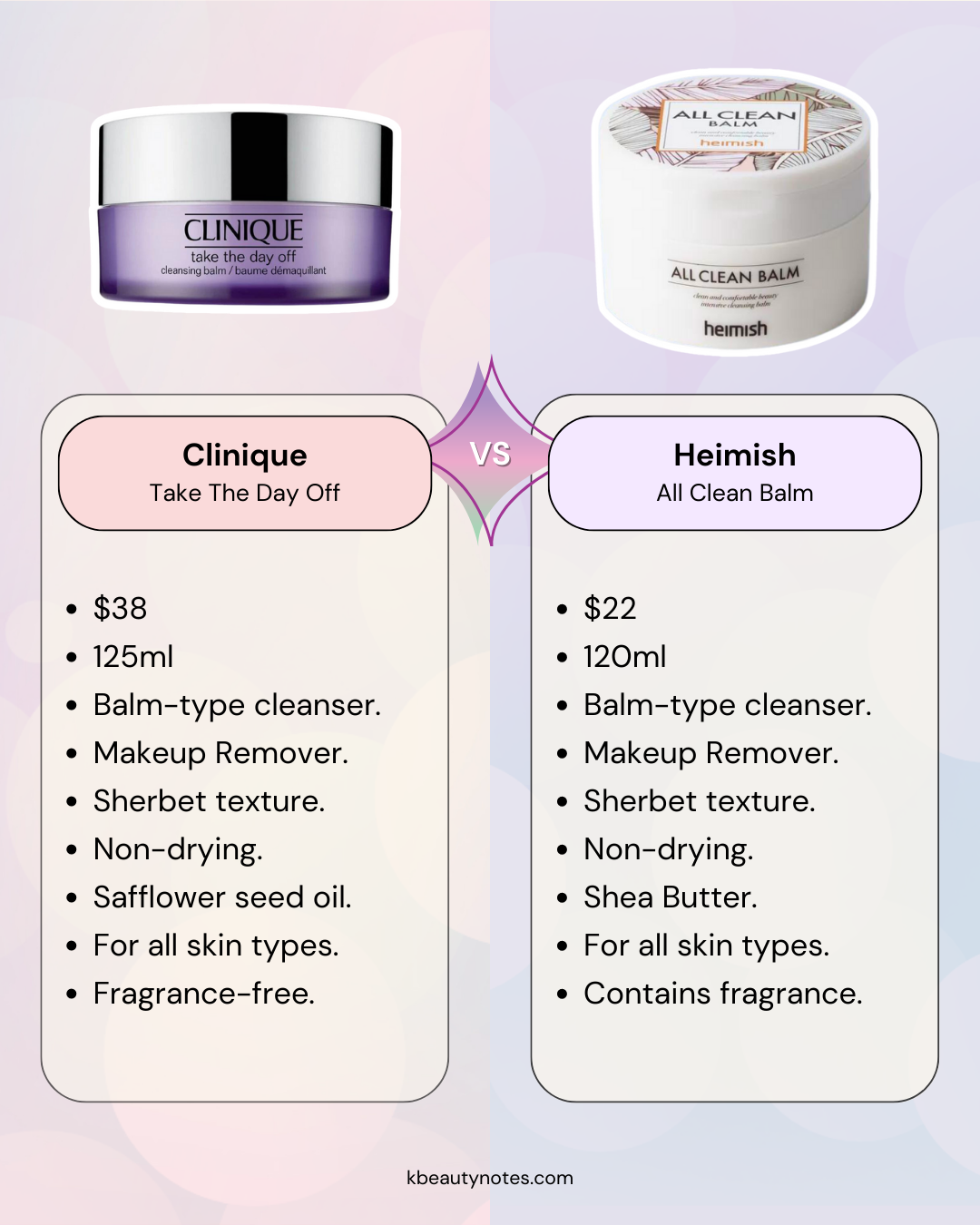 What is the Clinique Take the Day Off Cleansing Balm
The Clinique Take the Day Off Cleansing Balm is a makeup remover and cleanser in one product. It comes in a balm texture that melts upon contact with the skin, transforming into a silky oil. As it is massaged onto the face, it effortlessly dissolves makeup, including stubborn waterproof formulas, and clears away the day's buildup, leaving the skin clean and refreshed.
What is the Heimish All Clean Balm
Much like its high-end counterpart, the Clinique Take the Day Off, the Heimish All Clean Balm ($22 – regular price) is formulated as a cleansing balm that works for both makeup removal and cleansing the skin. This balm is designed to provide a thorough and gentle cleanse and effectively dissolve makeup, all while ensuring that the skin's natural moisture balance remains intact.
Packaging
The Clinique Take the Day Off Cleansing Balm comes in an elegant plastic tub with a beautiful shade of purple and a metallic-colored screw cap. The design is both sleek and sophisticated, exuding a sense of luxury.
On the other hand, the Heimish All Clean Balm takes a different approach with its packaging. It comes in white packaging, but what truly sets it apart is the beautiful pattern adorning the top of the tub, adding an artistic touch that immediately draws attention. However, it's not just about aesthetics for Heimish. Opening the cap reveals an invaluable addition – a spatula. This thoughtful inclusion promotes hygienic usage by allowing you to scoop out the product without directly touching it, thus preserving its integrity.
Application
The method of application is the same for both products. You apply the balm on dry skin and gently massage it using circular motions. After massaging the balm for a minute or two, wet your hands slightly and continue massaging. This will emulsify the balm, turning it into a milky consistency that helps lift away impurities.
Rinse your face with lukewarm water, continuing to massage as you do so. The water will help wash away the emulsified balm along with makeup and impurities. Follow with a water-based cleanser to ensure a thorough cleanse, especially when you're wearing makeup and water-resistant sunscreen.
Also Read: Liquid Blush Dupe Alert: A'PIEU Juicy Pang vs. Rare Beauty Soft Pinch Blush
Consistency
Consistency-wise, both products share a common trait – a luxurious sherbet-like texture that transforms into a silky oil upon contact with the skin. This unique characteristic allows them to effectively melt away makeup, sebum, and the day's residue with ease.
When you add water, these balms emulsify, turning into a milky lotion that effortlessly rinses away, leaving no trace behind. The texture is not only a delight to the senses but also an essential feature in their ability to provide a thorough yet gentle cleanse.
Ingredients
The common ingredient in both cleansing balms that gives them their unique texture is Polyethylene. Clinique also includes Safflower Seed Oil as an antioxidant and emollient. Notably, the Take the Day Off balm is free from fragrance.
Heimish incorporates Shea butter, a nourishing ingredient known for its moisturizing benefits. While this ingredient can be considered comedogenic in its natural state, the formula itself is non-comedogenic. As a result, even individuals with acne-prone skin can confidently use this balm without fear of exacerbating breakouts or clogging pores.
Heimish All Clean Balm infuses its formula with a selection of plant extracts and essential oils, contributing to its sensory appeal. While this aromatic blend enhances the overall experience, individuals with sensitivity to fragrances should take this into consideration.
I, personally, have used the Heimish All Clean Balm for years without experiencing any sensitivities or irritation.
Value for Price
The Clinique Take the Day Off Cleansing Balm has a price point of $38 for a 125ml container. This places it in the higher range of the market due to its high-end positioning and established brand reputation. For those who seek an ample supply, Clinique also offers a jumbo size at $51. However, even with the jumbo size option, the Clinique balm remains on the pricier side when compared to its K-beauty counterpart.
On the other side, the Heimish All Clean Balm presents a notably budget-friendly option, priced at $22 for a 120ml tube. It's essential to highlight that this balm is often on sale and you can get it for even less. This affordability, combined with its effective formulation, has made the Heimish balm an extremely popular choice among skincare enthusiasts.


So, to all those who've been on the lookout for a Clinique Take the Day Off Cleansing Balm Dupe – Would you give Heimish All Clean Balm a try?
---
*Sponsored – by YesStyle, but opinions remain my own.
*Affiliate Links – It means I may earn a small commission when you purchase a product through the links I have provided, at no extra cost to you.
Related posts
Follow blog via Email
Get the latest posts from this blog delivered to your inbox!
About Me
Hi and welcome to Kbeauty Notes! :) I'm Ledia and I'm very passionate about everything skincare. I created this blog to share my thoughts and experience with many amazing and not so great products out there, hoping to help you make better decisions regarding your skin. I'm very happy to bring you on this journey with me and I hope you enjoy it! <3

My Skin Type: Oily, acne prone, dehydrated, a little sensitive, large pores.

Skincare Concerns: hydration, pore care, anti-ageing, PIE (acne marks), brightening.

Contact: kbeautynotes@gmail.com