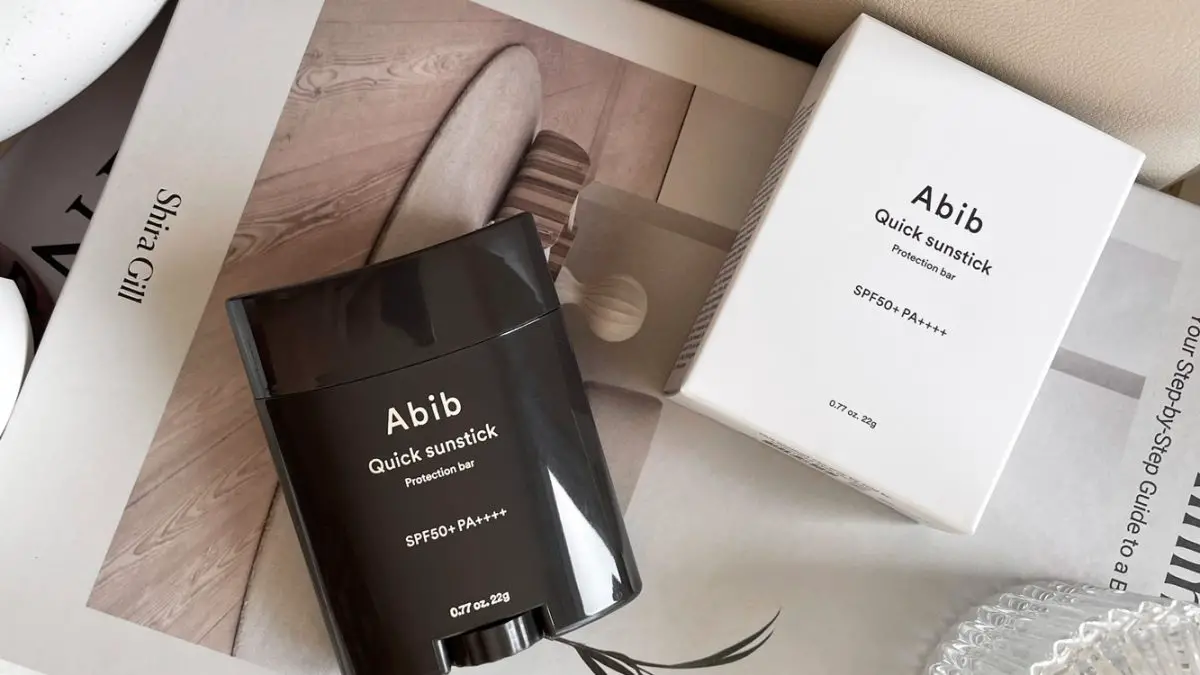 The rising popularity of sun sticks can be attributed to their sheer brilliance when it comes to ease of use and practicality. With a simple twist and glide, sunscreen sticks effortlessly deliver a mess-free application. Compact, portable, and ready for action, they slip seamlessly into any bag or pocket. This Abib sun stick has become a go-to for quick touch-ups throughout the day for many. But let's get down to the nitty-gritty and find out how it performs.


What is it: An organic (chemical) sunscreen.
Where to buy: Available at Yesstyle (reward code: KBEAUTYNOTES for 5% off your order, can be used together with other coupons), Stylevana (INF10LED), StyleKorean, and Frmadcos.
Price: $15-$28 (depending on sales).
Volume: 22g (0.77 oz).
PAO: 12 months after opening.
Packaging: Typical twist-up tube format. I really like the sleek dark design.
Application
For liquid sunscreen formulas, we know that we should apply 2mg/cm2 of product to reach the labeled protection. But, when it comes to sunscreens that come in a stick format, it's difficult to know how much you are applying.
Multiple passes are required over the same area, although we don't know how many exactly are needed to reach SPF50+.
Hence I always use a sun stick for re-application only.
How does the Abib Quick Sunstick Protection Bar SPF50+ PA++++ perform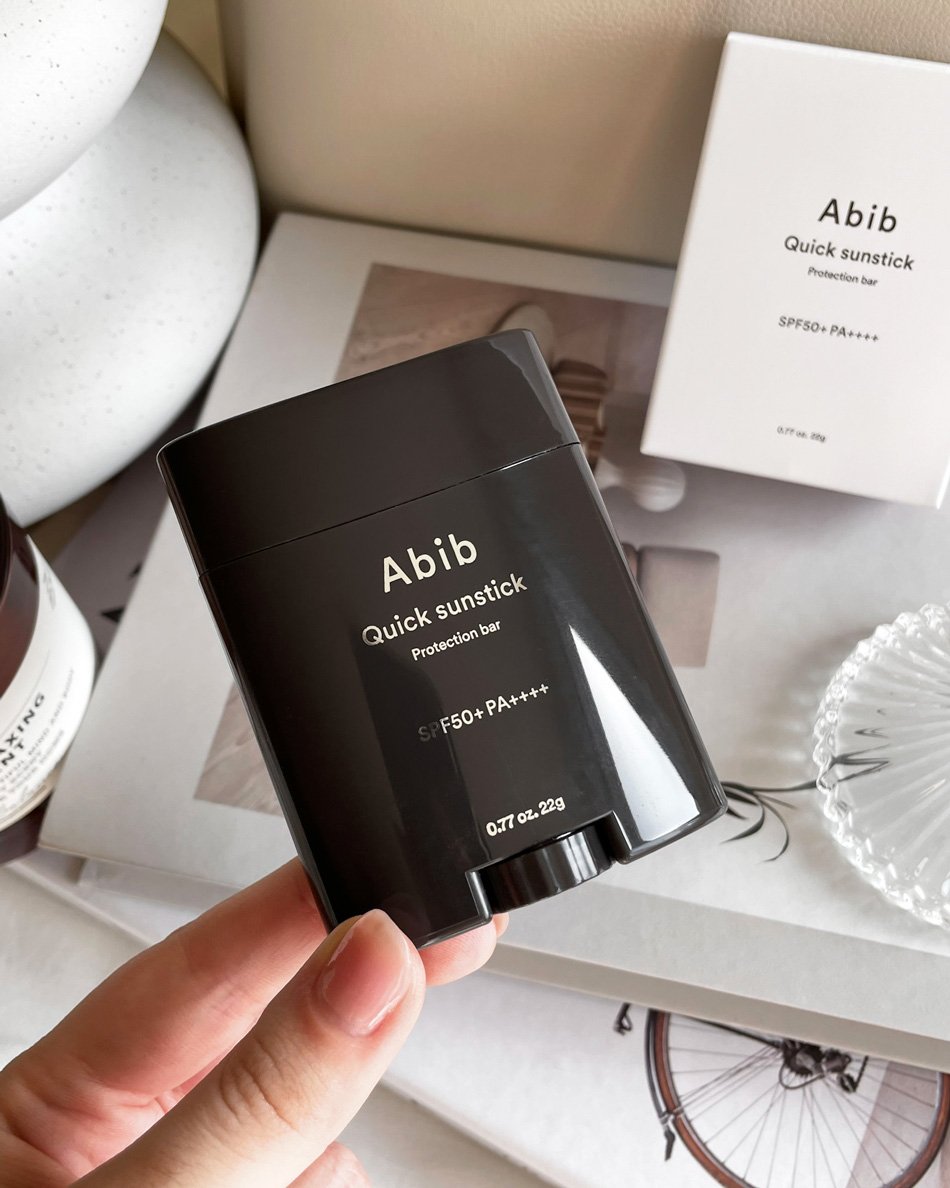 Protection:
SPF50+ PA++++
Texture and finish:
Right off the bat, I can say that this is not for combination or oily skin folks. As you can see from the swatch in my Abib reel, the finish is DEWY. And on these skin types, it can look and feel straight-up greasy. You will not notice a big difference with a single glide on the skin, but you're supposed to glide it over multiple times, and that's where you start to see that it can look oily.
The formula is very emollient and leaves a very smooth film on the skin. There is a tiny bit of tackiness, but it doesn't feel sticky or uncomfortable.
Does it contain alcohol?
No.
Fragrance/Scent?
No.
Is it drying?
No. This is a nourishing emollient sunscreen that keeps the skin moisturized and comfortable for hours.
Does it leave a white cast?
It's a chemical sunscreen, so it doesn't leave that dreaded white cast we all know too well. It's suitable for any skin tone.
Irritation or breakouts?
It didn't break me out, and I didn't experience any skin stinging.
How does it work with makeup?
I have not tested this on makeup, but judging from the formula, I'm sure this will melt off your makeup if used on top. Again, if you glide it only once, it may not have any impact, but multiple passes will cause bb cream/foundation to break down.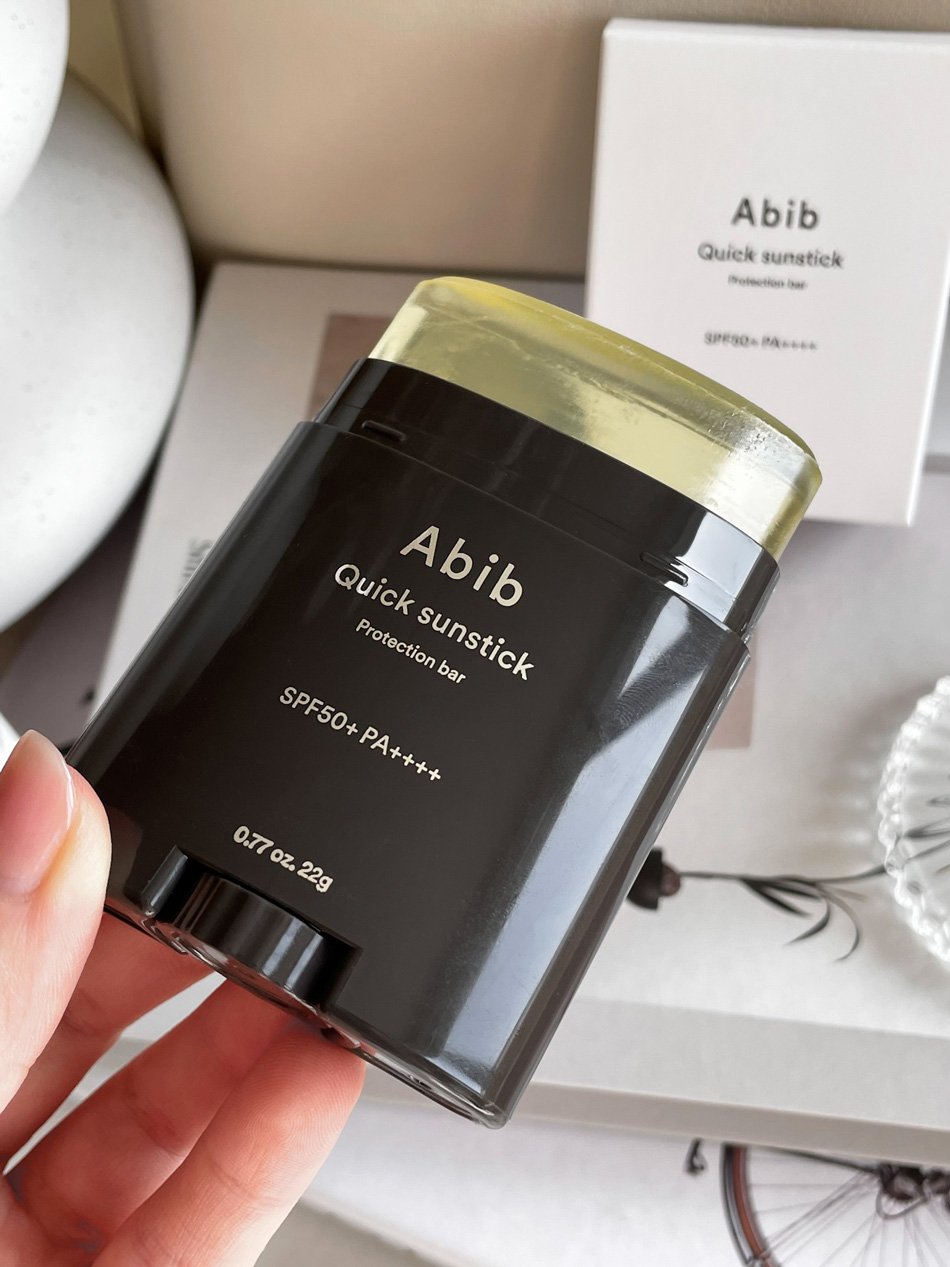 Does it sting the eyes?
No. And this is because of the sunscreen's format. You can get close to the lash line, but it will not migrate into the eye.
Easy to re-apply?
Since it feels nourishing on the first use, it will likely become heavier with re-application. A blotting paper can come in handy in this case. I like that it glides effortlessly without tugging the skin, though.
Who is it for?
The Abib sun stick would be more suitable for dry and very dry skin types (even more so when the weather gets cold) since it will provide that nourishing and protective layer that dry skin lacks. It will feel silky smooth on the skin and prevent transepidermal water loss, too.
Ingredients of the Abib Sun Stick
UV filters: Octinoxate (UVB), Ethylhexyl Salicylate (UVB), Uvinul A Plus (UVA), Tinosorb S (broad spectrum), Octocrylene (UVB & UVA II).
Other ingredients with antioxidant and soothing properties: Green Tea, Aloe, Centella, Cucumber Fruit Extract Ceramide NP.
Free of alcohol, fragrance, & essential oils.
Octyldodecanol, Butylene Glycol Dicaprylate/​Dicaprate, Ethylhexyl Methoxycinnamate, Dibutyl Ethylhexanoyl Glutamide, Dibutyl Lauroyl Glutamide, Diisostearyl Malate, Ethylhexyl Salicylate, Diethylamino Hydroxybenzoyl Hexyl Benzoate, Bis-Ethylhexyloxyphenol Methoxyphenyl Triazine, Dextrin Palmitate, Octocrylene, Camellia Sinensis Leaf Extract, Centella Asiatica Extract, Aloe Barbadensis Leaf Juice, Cucumis Sativus (Cucumber) Fruit Extract, Aloe Barbadensis Leaf Extract, Glycerin, Water, Butylene Glycol, Saccharide Isomerate, Maltodextrin, Hydrolyzed Vegetable Protein, Caprylic/​Capric Triglyceride, Hydrogenated Lecithin, Ethyl Hexanediol, Ceramide NP, Citric Acid, Sodium Citrate, Ethylhexylglycerin, Phenoxyethanol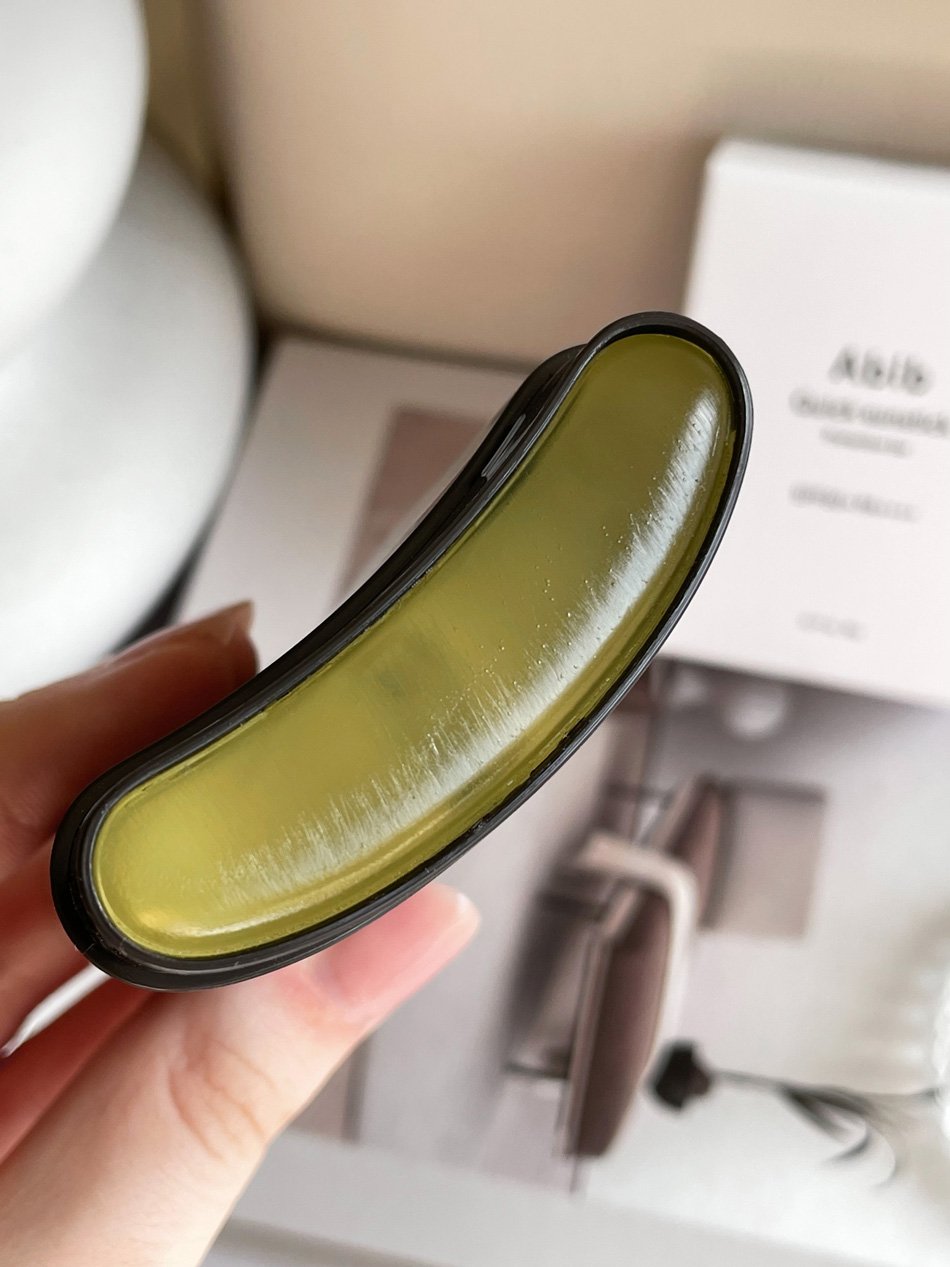 Final Verdict on the Abib Quick Sun Stick Protection Bar
Pros
Nourishing.
Emollient texture.
Smooth finish.
No pilling.
It doesn't sting the eyes.
Suitable for dry, very dry, and sensitive skin types.
Free of alcohol, fragrance, and EOs.
Cruelty-free.
Cons
Not for oily/combination skin as it can feel greasy and heavy.
Not water resistant.
Unfortunately, this didn't work well for my skin type, especially now that the temperatures are too high (35°C/95°F). It looked too shiny on me and felt greasy. I will give this another chance when the weather gets colder and see if it feels different on the skin. Meanwhile, I'm only using it on the neck and back of my hands.

This would work better for those with dry and very dry skin that can also be sensitive, as it has a bunch of soothing ingredients for sensitized skin. It will also stay moisturizing for a long period of time, preventing the skin from drying out.

Did you find this Abib Sun Stick Review helpful? Do you use sun sticks? What's your favorite method for re-applying sunscreen?

---
*PR – gifted, but all opinions are my own.
*Affiliate Links – It means I may earn a small commission when you purchase a product through the links I have provided, at no extra cost to you.
Related posts
Follow blog via Email
Get the latest posts from this blog delivered to your inbox!
About Me
Hi and welcome to Kbeauty Notes! :) I'm Ledia and I'm very passionate about everything skincare. I created this blog to share my thoughts and experience with many amazing and not so great products out there, hoping to help you make better decisions regarding your skin. I'm very happy to bring you on this journey with me and I hope you enjoy it! <3

My Skin Type: Oily, acne prone, dehydrated, a little sensitive, large pores.

Skincare Concerns: hydration, pore care, anti-ageing, PIE (acne marks), brightening.

Contact: kbeautynotes@gmail.com