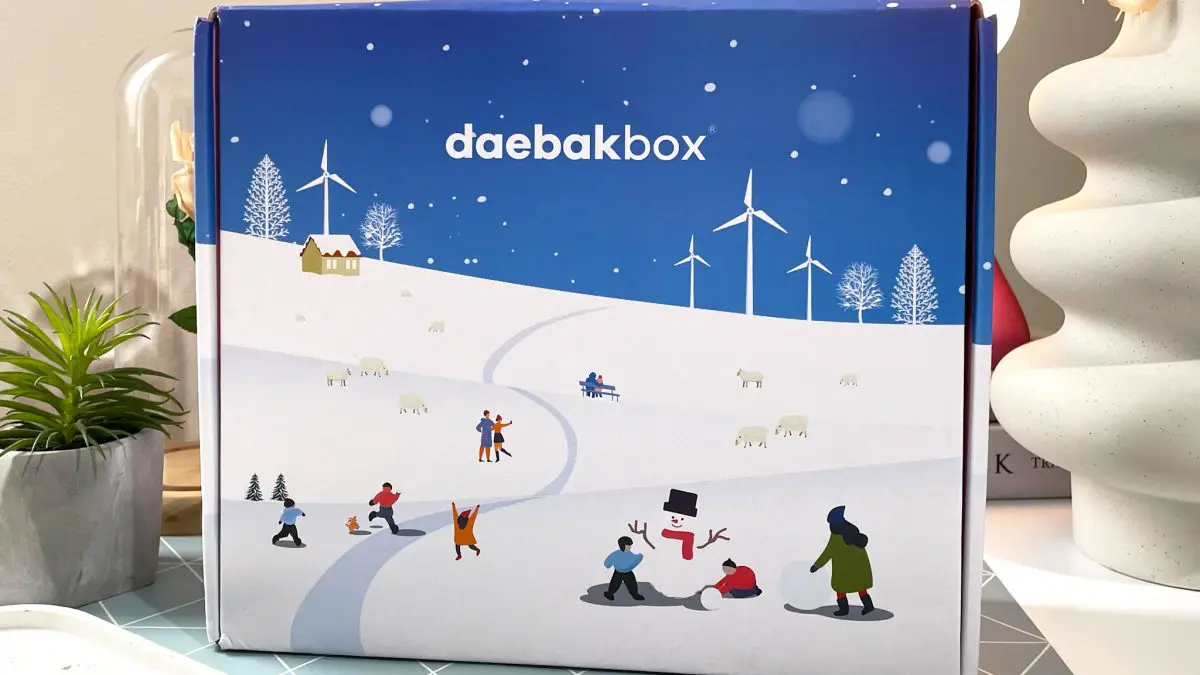 Are you a fan of Korean culture? This subscription box might be the perfect way to indulge in your interests and learn more about Korea. The Daebak Box delivers a curated selection of Korean products ranging from K-pop items and lifestyle goods to cosmetics, snacks, stationery, and more! It is available on the Daebak website – Get 5% EXTRA discount with the code KBN5, as a seasonal or annual subscription, or as a one-time purchase.
There are 4 boxes you can get in a year which are delivered quarterly and the contents of the box change each season, so you never know what surprises you might receive.
Let's have a look at the goodies I received in the seasonal Winter 2022 Daebak Box! (Instagram unboxing video: here.)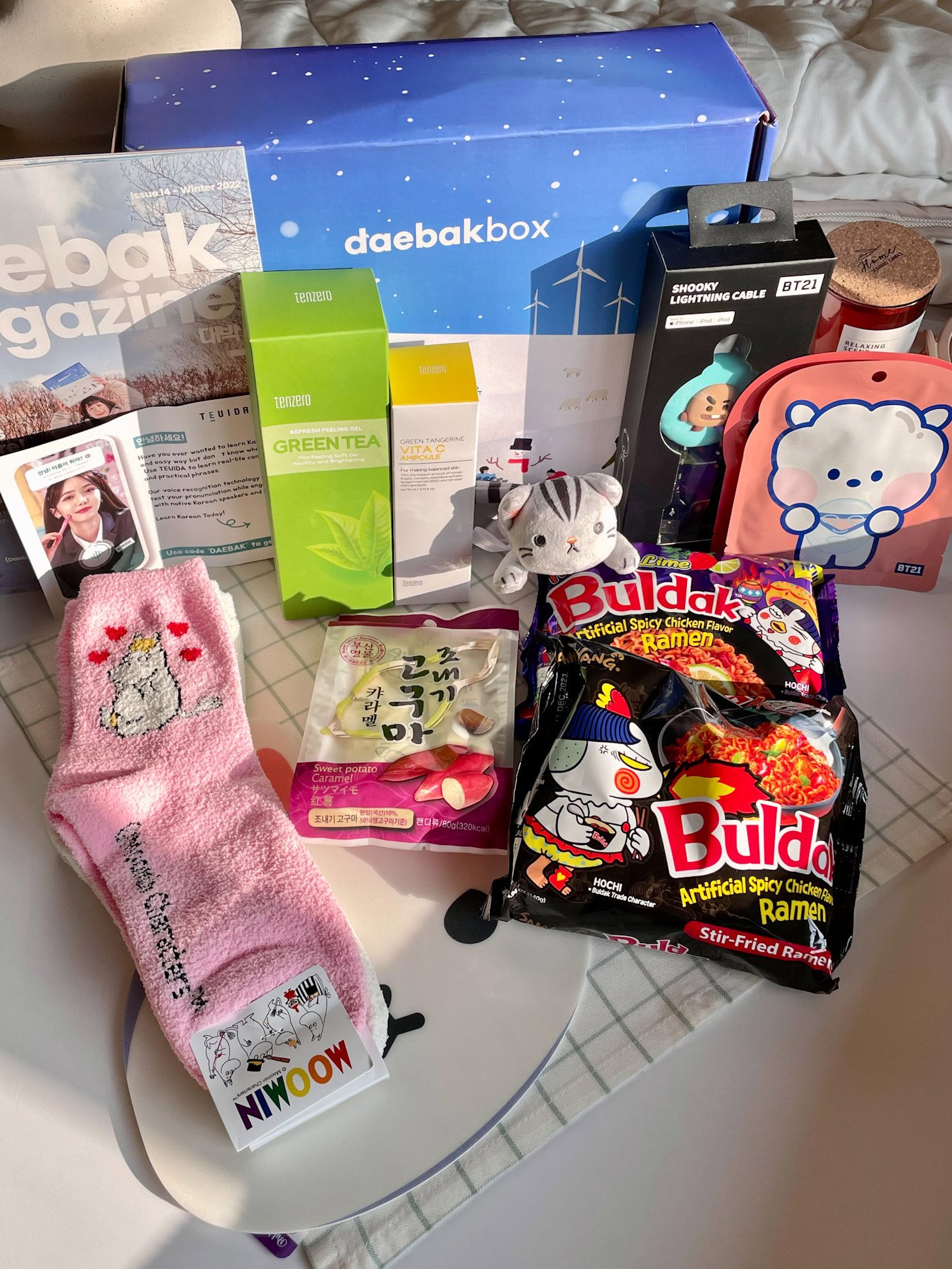 The Daebak Magazine
Winter themed Daebak Magazine where you can find more details about what the box includes. It also has some great information about what activities you can do in Korea during the wintertime, like Korean winter festivals, movies and K-dramas recommendations for the holiday season, and the best winter vacation spots in Korea.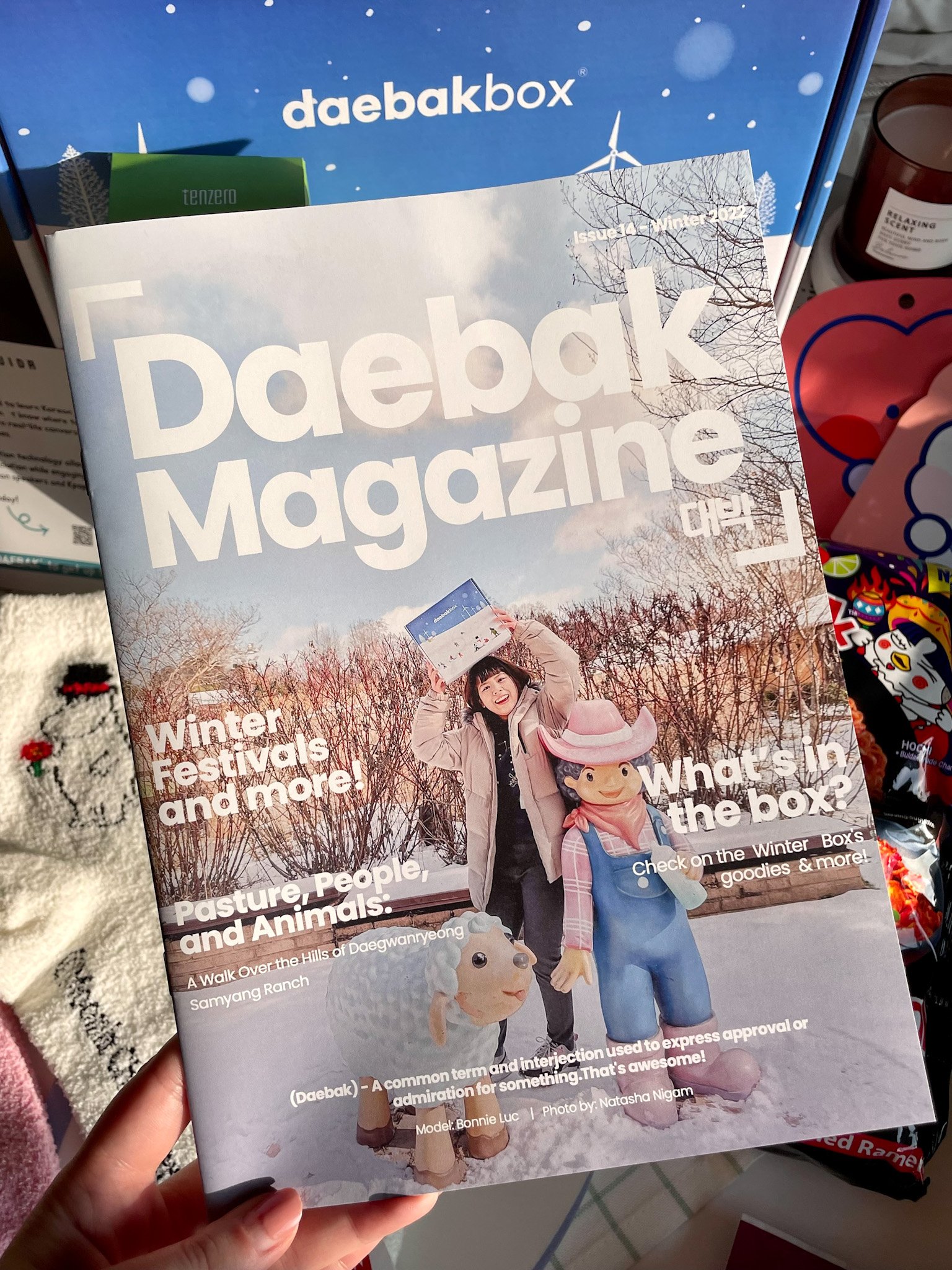 Teuida Discount – Korean Language Learning App
A separate discount code was included for a Korean Language Learning app called Teuida (트이다). As someone who has learned Korean on and off for years, one of the most important things when it comes to learning quickly and efficiently is to practice speaking.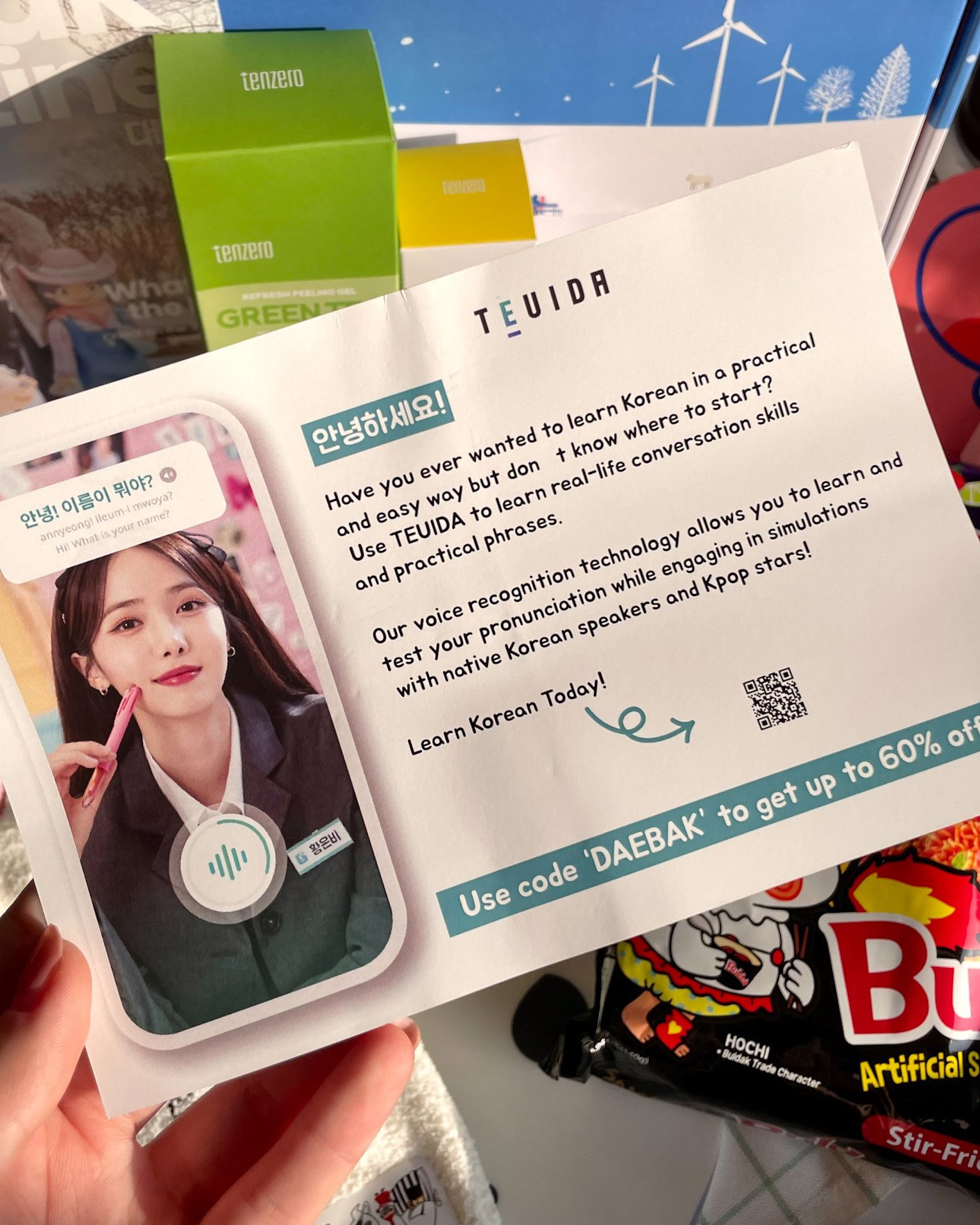 Teuida is a language-learning app that simulates conversations so you can get a lot of speaking practice and improve pronunciation. I really liked the interactive interface of the app as it was very engaging. It also teaches a lot of useful conversational phrases.
If you're a beginner and mostly a visual learner, you're going to find it helpful. The frequent ads were a bit annoying though, so it's better to go for the premium version. It's priced at $9.99/month but you get 60% OFF with the code "DAEBAK".


BT21 Charge and Data Lightning Cable SHOOKY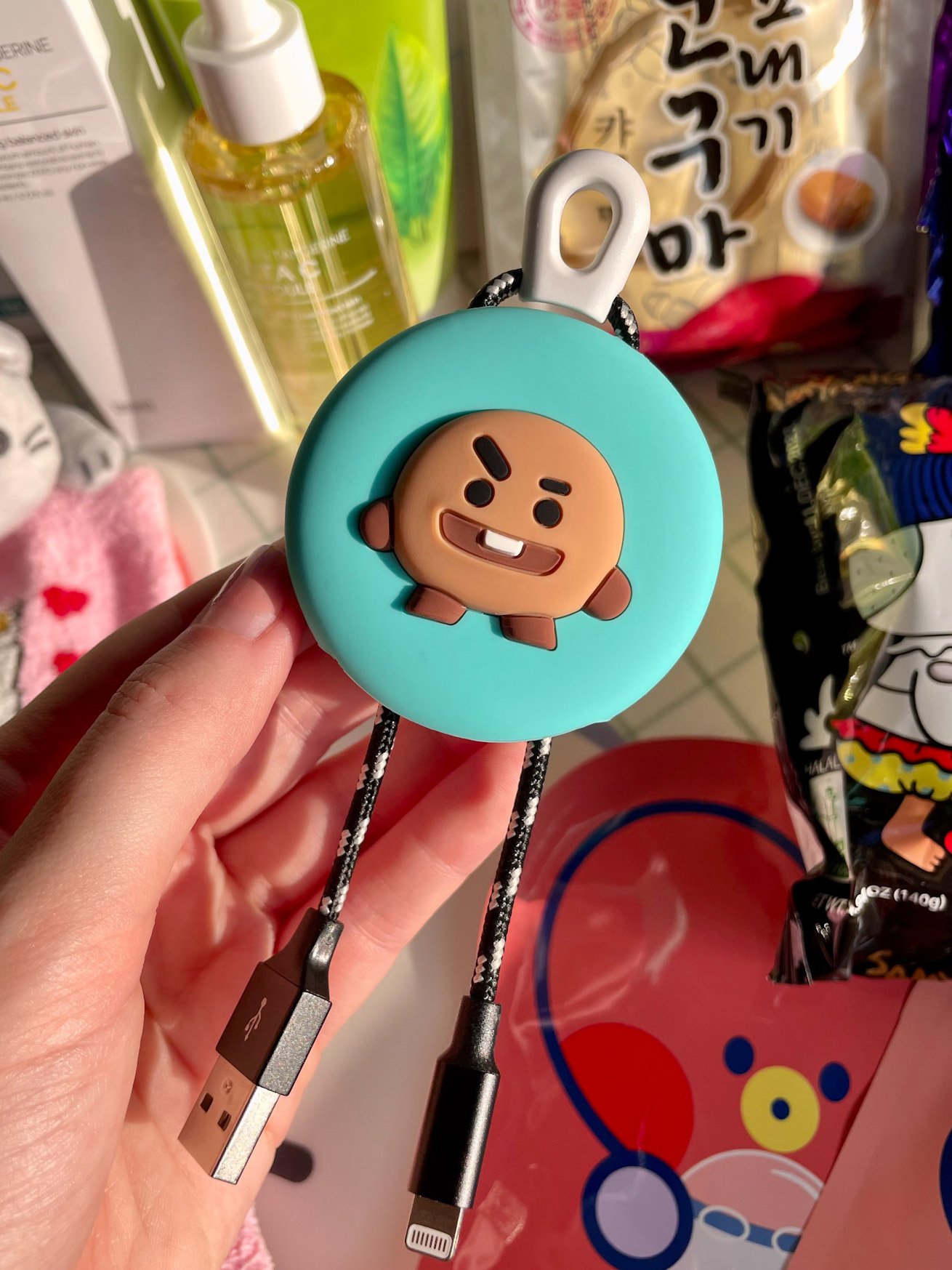 My first BTS merch! A charging and data transfer cable with Suga's character SHOOKY which they have created in collaboration with Line Friends. I love it! The connector (8pin) works only for Apple products though – iPhone, iPad, and iPod.
I wish the cable was longer too, so I could connect it easily with my desktop. But, on the other hand I like that it's compact and I can carry it in my bag without creating clutter. Also, works great for connecting my phone to the laptop.


Korean Skincare Items
On the Daebak site, they have a section dedicated only to K-Beauty products as well. You may find some limited edition gems there.


BT21 Minini Essence Sheet Mask
BTS themed skincare? Yes, please! These two adorable sheet masks feature RJ and TATA, two characters designed by Jin and Taehyung. Each characters' mask addresses a different skin concern: RJ is formulated with Houttuynia Cordata Extract which helps soothe skin that's prone to irritation and acne prone skin.
Whereas Tata addresses elasticity and contains Broccoli Extract to make the skin supple and retain moisture for a long time.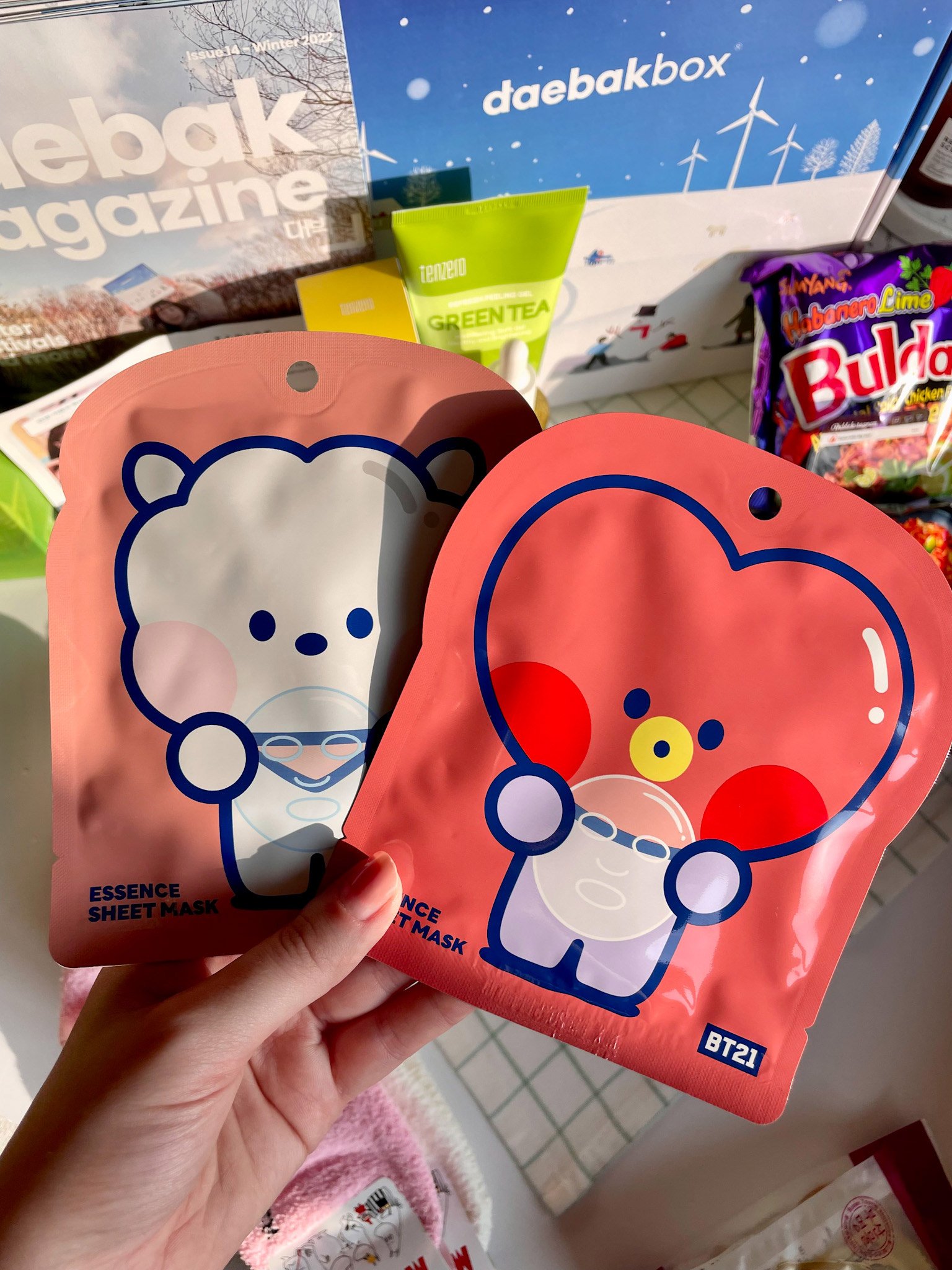 Both masks are very comfortable on the skin and are drenched in essence. They also deliver what they claim. I didn't have very high expectations at first, but they're of great quality like most other K-beauty masks.


In the box, there were also included 2 full-size skincare products! A peeling gel and an ampoule from the Korean brand Tenzero.

Tenzero Green Tea Refresh Peeling Gel
A peeling gel formulated with Green Tea Extract which is designed to remove dead skin cells for a smoother looking skin. Enough to use once per week.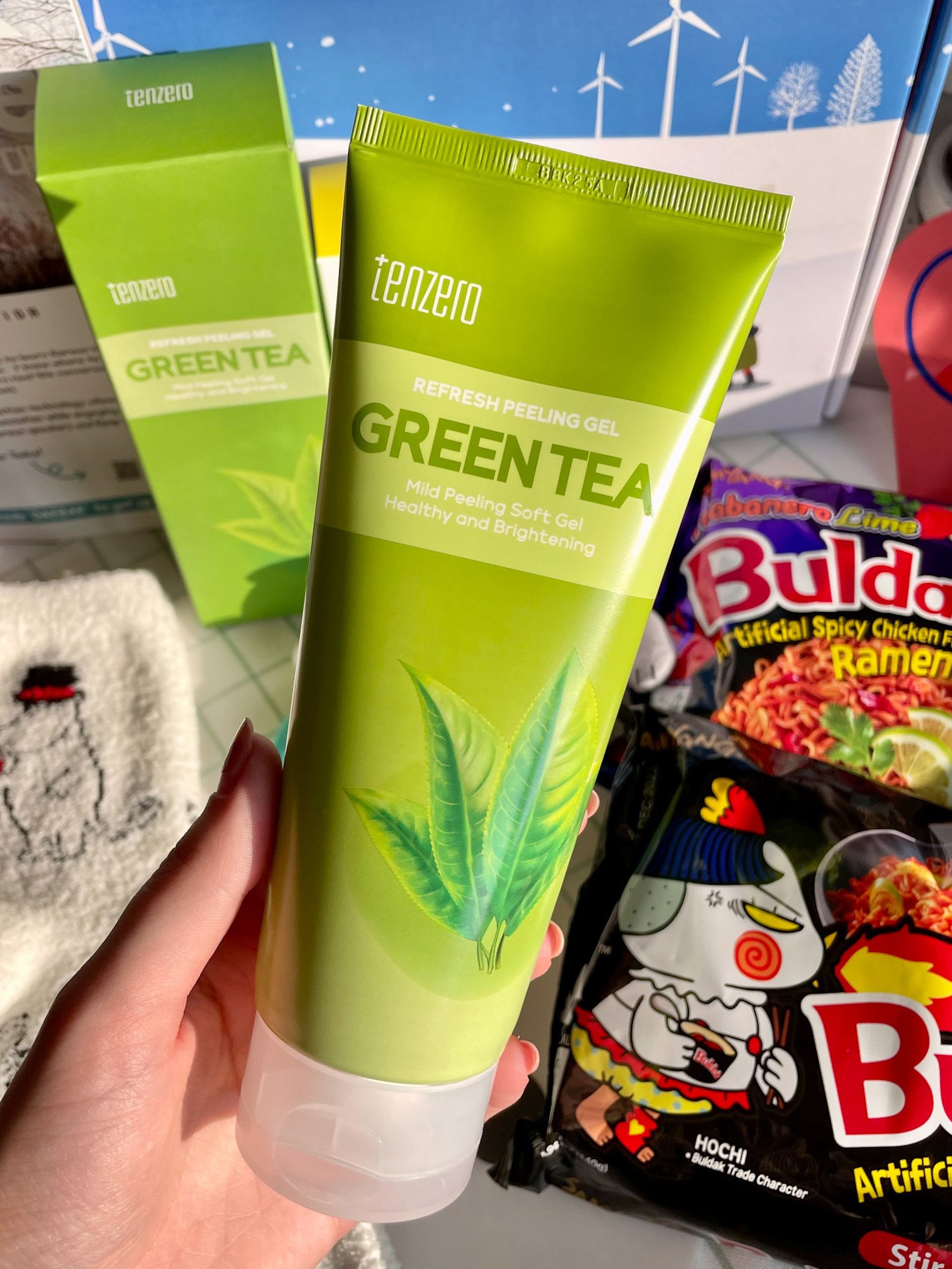 I don't normally use a peeling gel but this was quite refreshing. Just like all peeling gels, it starts to ball up while you're massaging it. This is a property of the product itself, mixed with a bit of dead skin cells from your skin from the rubbing motion. Be careful not to rub the skin too hard though as it's not necessary. It left my skin feeling very soft and it's non drying.


Tenzero Green Tangerine Vita C Ampoule
A generous size (110 ml – 3.72 fl.oz.) ampoule formulated with Tangerine Fruit Extract and Ascorbic Acid (Vitamin C) to restore radiance to the skin.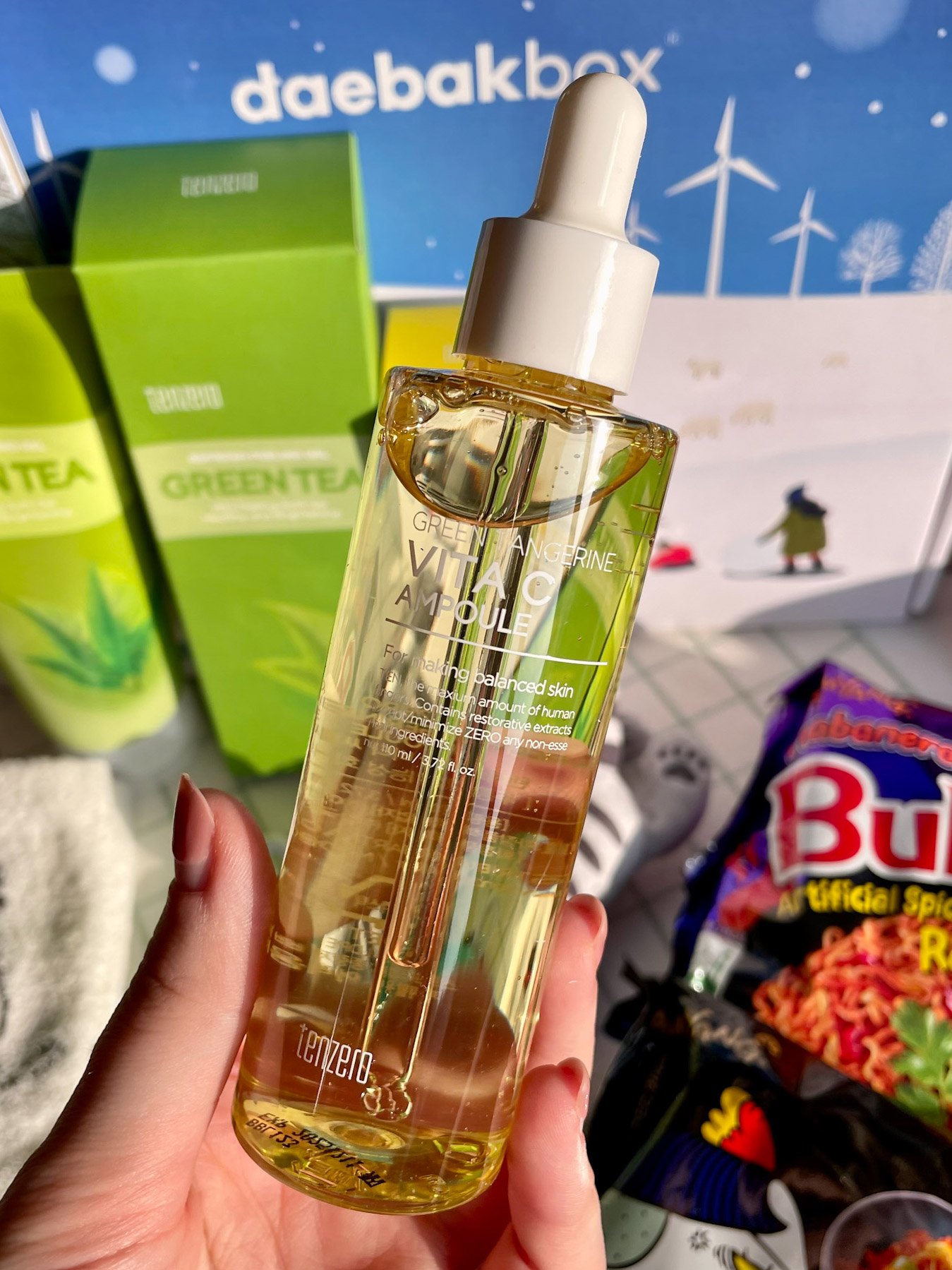 The formula is lightweight and fast absorbing which would be suitable to use for all skin types in terms of consistency. It didn't leave any sticky feeling and improved my texture by smoothing out the skin surface. Great to use in my AM routine under sunscreen for added antioxidant effect. The citrusy scent is noticeable but pleasant. Since it contains essential oils, it's not sensitive skin friendly though.


Food and Snacks
Jonaegi Sweet Potato Caramel Snack
These sweet potato and caramel treats have a very interesting flavor but are delicious. I have never tried any other snack that is similar in taste to these. The texture is chewy but soft and they really don't stick to your teeth.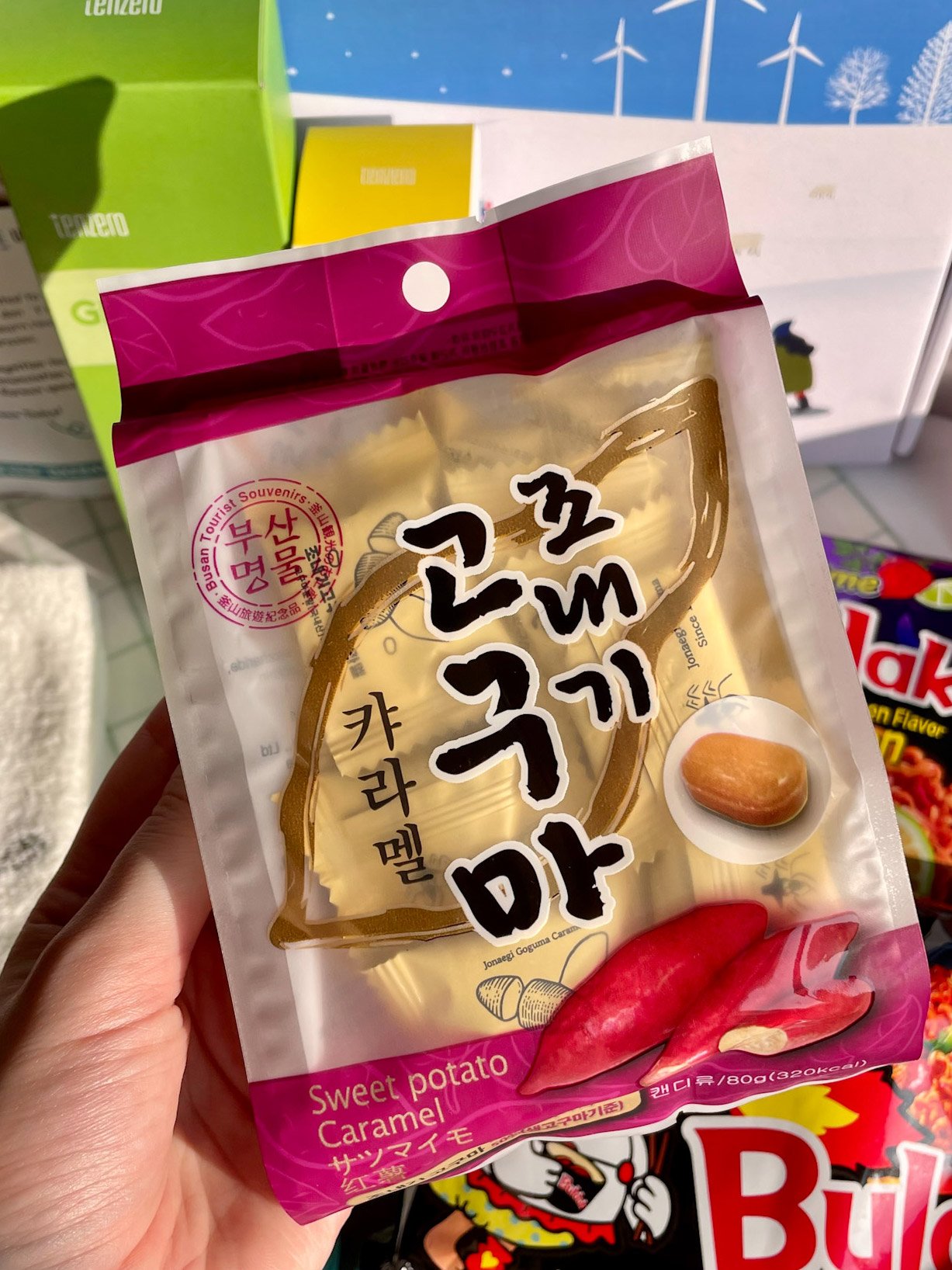 Samyang Buldak Hot Chicken Flavor Ramen and Habanero Lime Buldak
Do you remember the Fire Noodle Challange that took over Youtube a couple of years ago? The Samyang Buldak Hot Chicken Ramen is what started it.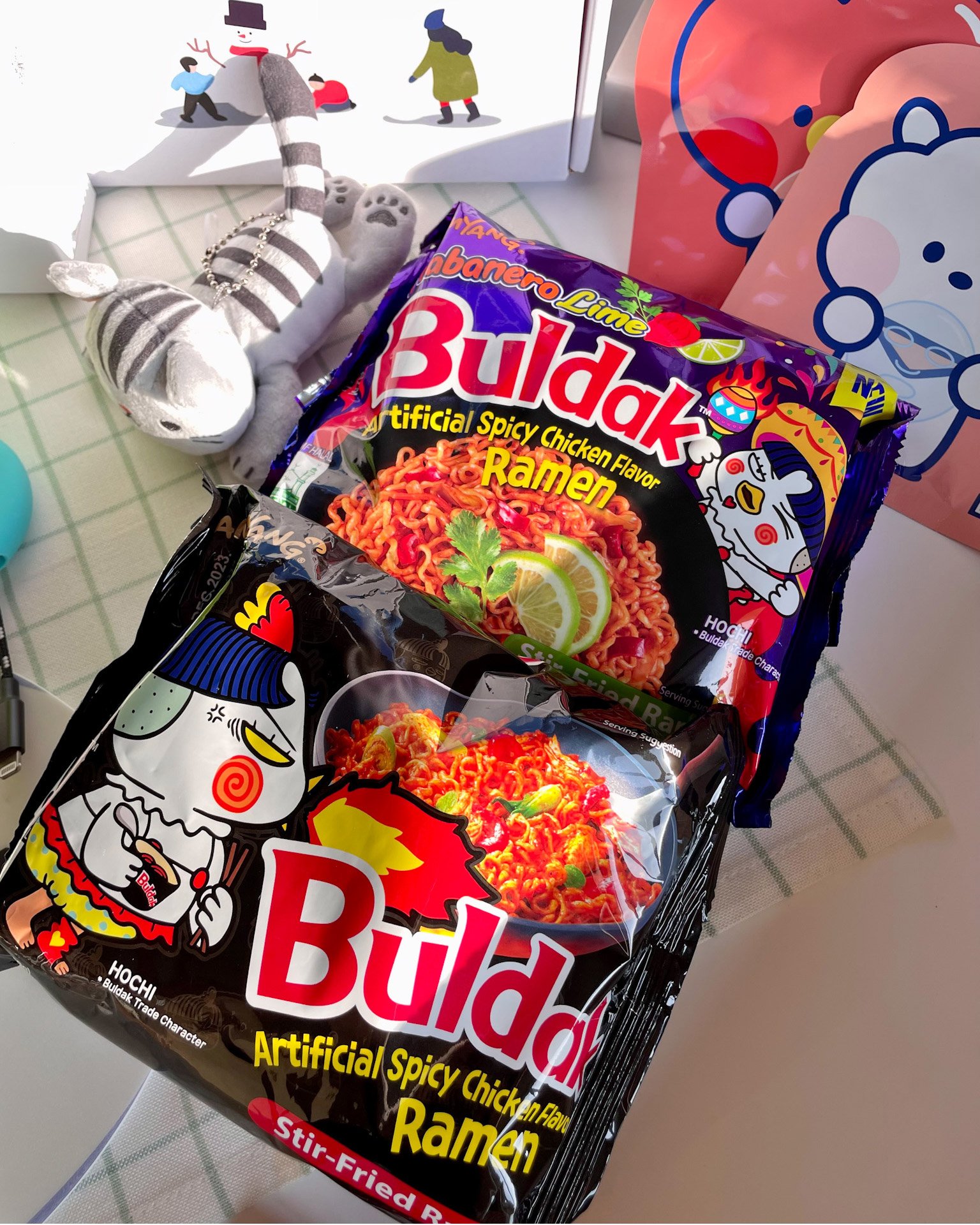 I have tried this in the past and did the challenge with my friends! It was so fun. But this time, I decided to enjoy them alone and pouring in even less than half of the packet inside, because I cannot handle this level of spiciness in full swing. I'm also curious about the Habanero Lime Buldak since it's a new flavor that the brand has recently released.


Moomin Characters Fluffy Socks
You cannot deny that Korean socks have some of the cutest designs out there. From designs featuring your favorite K-pop idol to others that are based on various characters like the ones I received. Moomin is actually a Finnish character but is very well known and popular in Korea.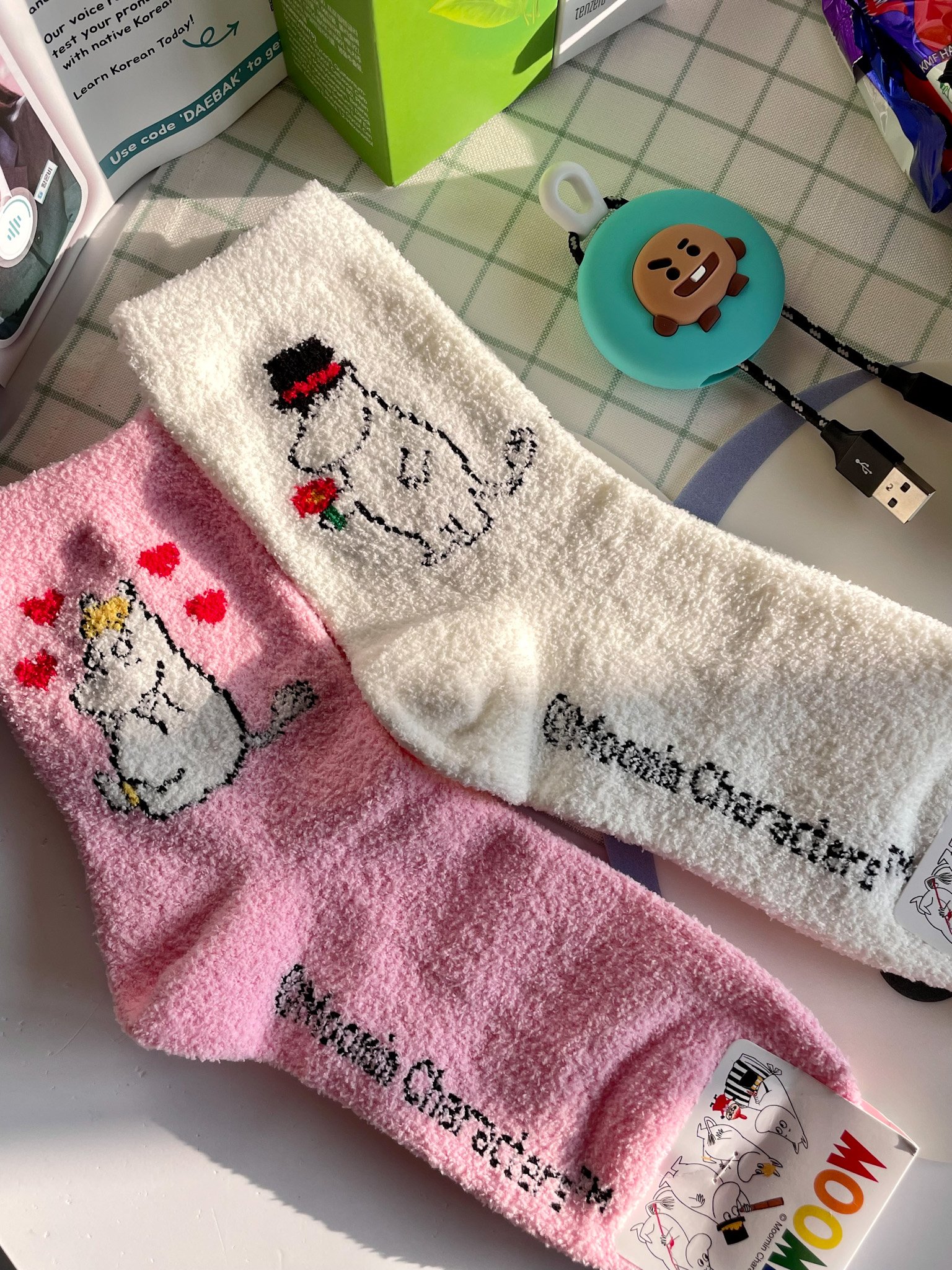 I didn't know I'd be this excited to see these two pairs of socks inside the box. Not only are they extremely cute, but they're also made of the softest material. And they are very comfortable too! Now I'm fully convinced that I need more cute socks like these in my life. And I cannot wait to wear them once the weather starts to get colder again.


Cream Heroes Plush Keychain TT and Mouse Pad Coco
At first glance I thought these were a random cat keychain and mouse pad, but then I checked the label and it's from CreamHeroes!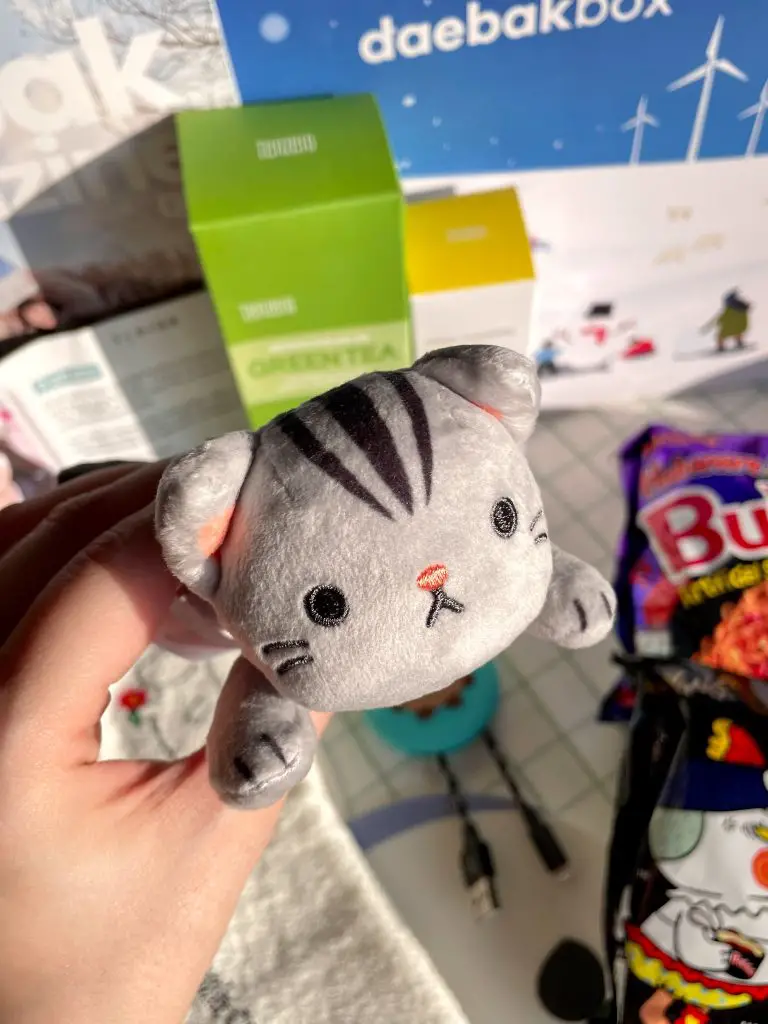 It's the popular Youtube channel where seven adorable cats go through different challenges. You may have come across their other channel as well – Kittisaurus. As a cat lover, I watch their videos often. Here I got the TT keychain and Coco mouse pad. The keychain looks too cute on my backpack.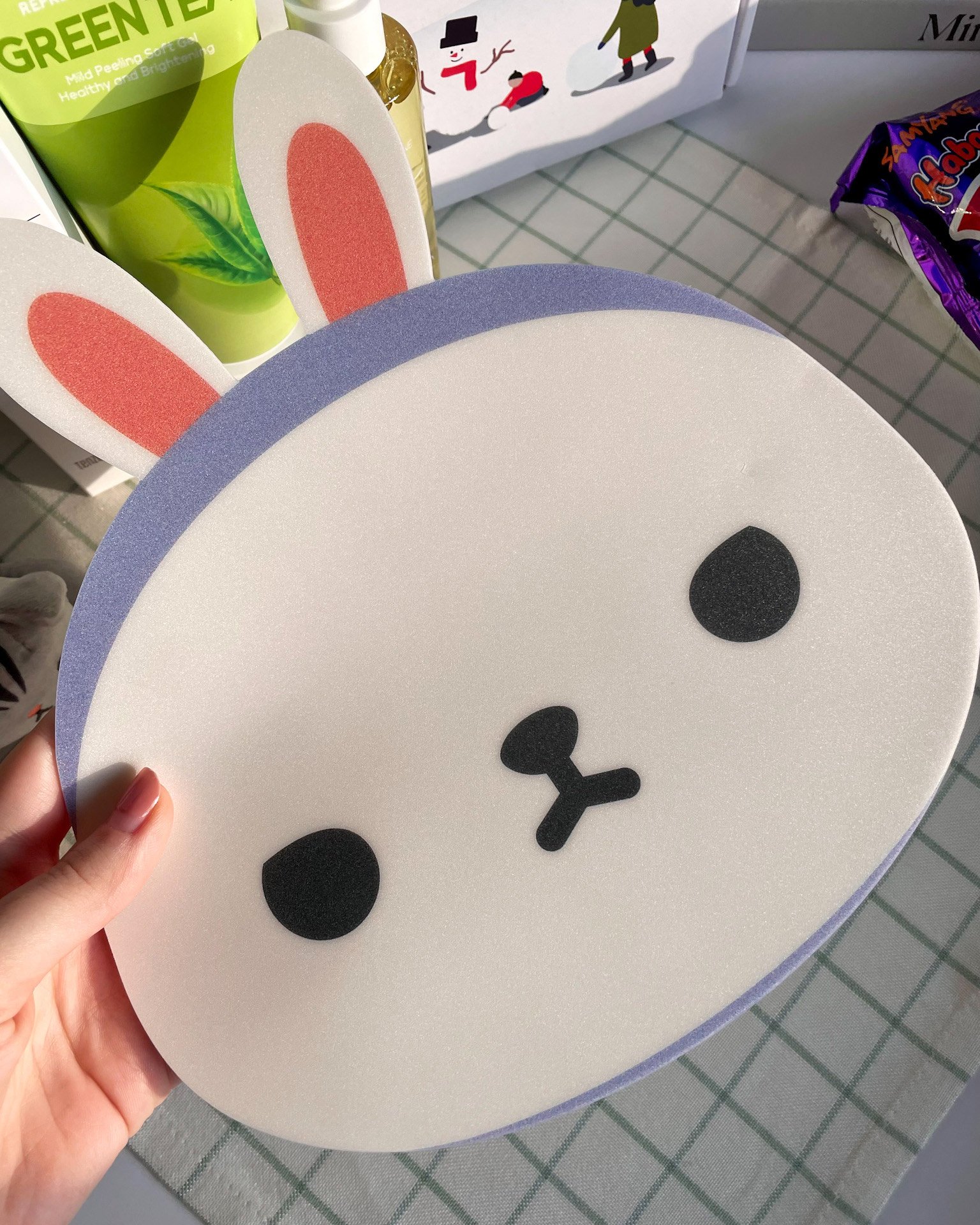 Is the Daebak Box worth it?
As someone that loves K-Culture, food, and entertainment, the Daebak Box was a delight to receive. Not knowing the selection of items beforehand, makes for such a fun unboxing experience.
Most Korean stuff is not that easily accessible for me, so this box allowed me to experience more from Korea. I really liked the variety and quality of the items that were included. There are plenty of products on the website you can purchase separately too.
Everything inside the box was carefully packed and nothing was damaged during shipping.
This box will also make a great gift for a friend or a loved one that loves Korean goodies. I guarantee they'll be happy to receive such a thoughtful gift.


Did you find this Daebak Box Review helpful? What goodies are you most excited to receive? K-pop merch, snacks, or cosmetics? Let me know in the comments!
---
*Sponsored– by Daebak Box, but opinions are completely my own.
*Affiliate Links – It means I may earn a small commission when you purchase a product through the links I have provided at no extra cost to you.
Related posts
Follow blog via Email
Get the latest posts from this blog delivered to your inbox!
About Me
Hi and welcome to Kbeauty Notes! :) I'm Ledia and I'm very passionate about everything skincare. I created this blog to share my thoughts and experience with many amazing and not so great products out there, hoping to help you make better decisions regarding your skin. I'm very happy to bring you on this journey with me and I hope you enjoy it! <3

My Skin Type: Oily, acne prone, dehydrated, a little sensitive, large pores.

Skincare Concerns: hydration, pore care, anti-ageing, PIE (acne marks), brightening.

Contact: kbeautynotes@gmail.com