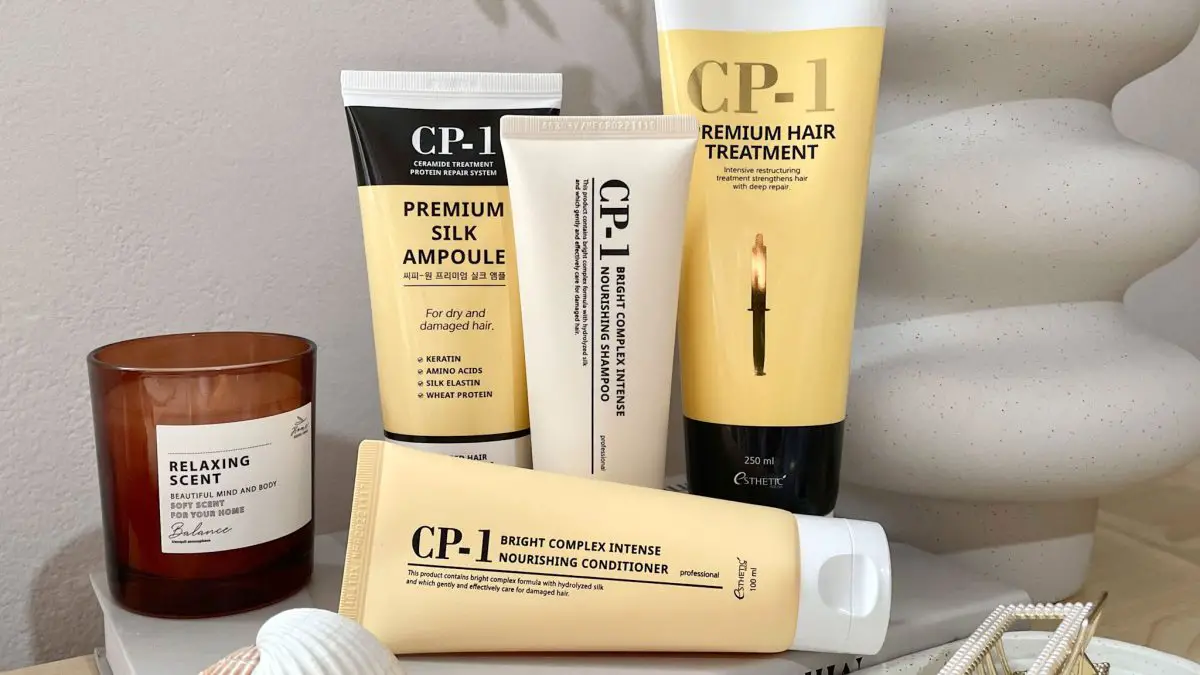 This year I'm really taking much better care of my hair that I used to. I have now added some very needed steps to my hair care routine that have made a significant difference. I will share my routine soon, so keep an eye out for it. The CP-1 Damaged Hair Care Set that I received from Stylekorean as part of their Try Me Review Me event, is what I have been testing recently.
This line is created by a Korean brand called Esthetic House which creates salon-quality hair products. CP-1 is designed for dry and damaged hair and this set includes a shampoo, conditioner, leave-in ampoule and a hair treatment.
Where to buy: You can find the set and the individual full sizes at Stylekorean.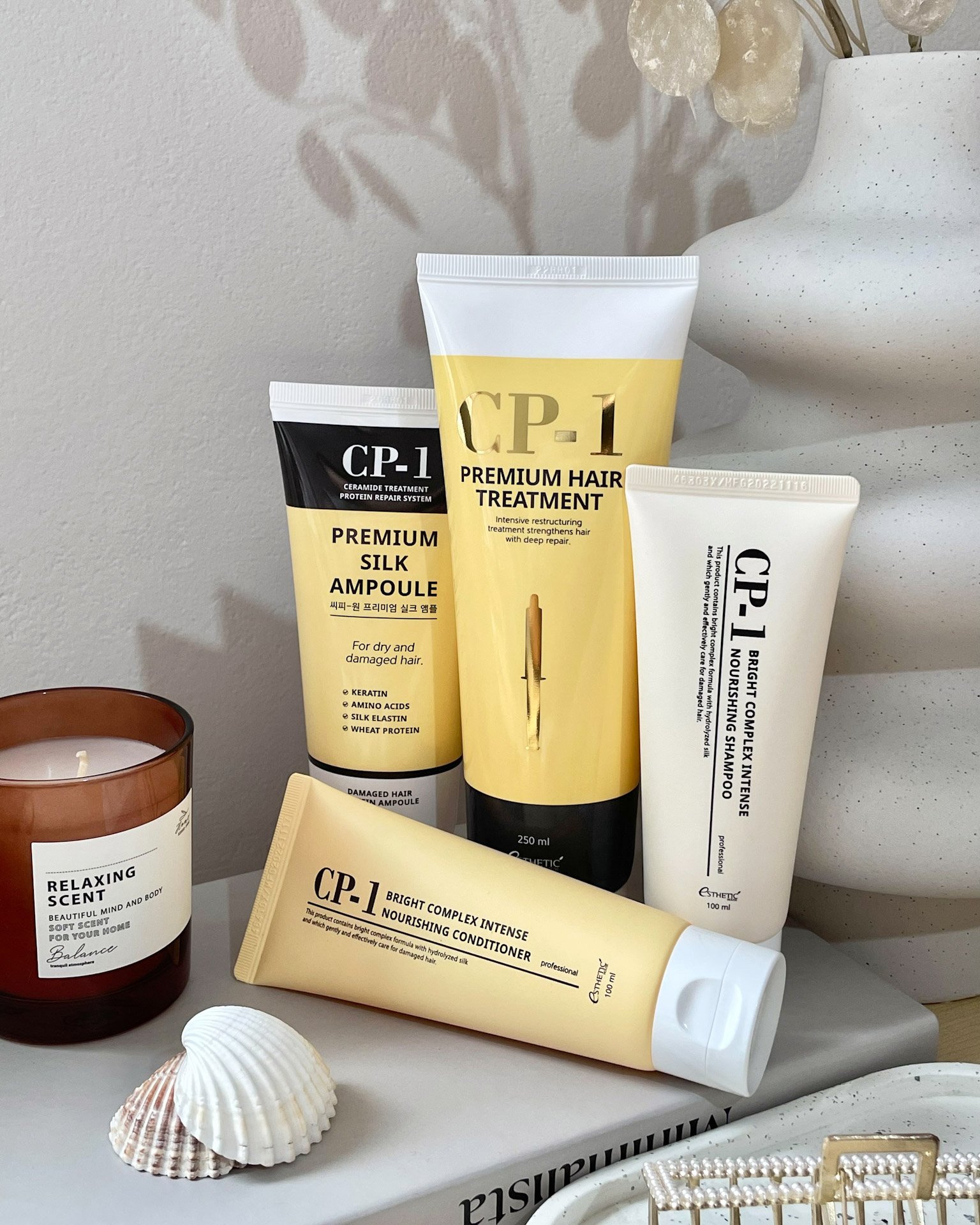 CP-1 Bright Complex Intense Nourishing Shampoo
What it is: A sulfate-free nourishing shampoo that is packed with natural oils, amino acids, keratin, and ceramide to treat damaged hair and dry scalp.
Volume: It comes in 100ml and 500ml.
How to use: Wet your hair thoroughly with warm water and massage the shampoo focusing on the roots. Repeat and rinse.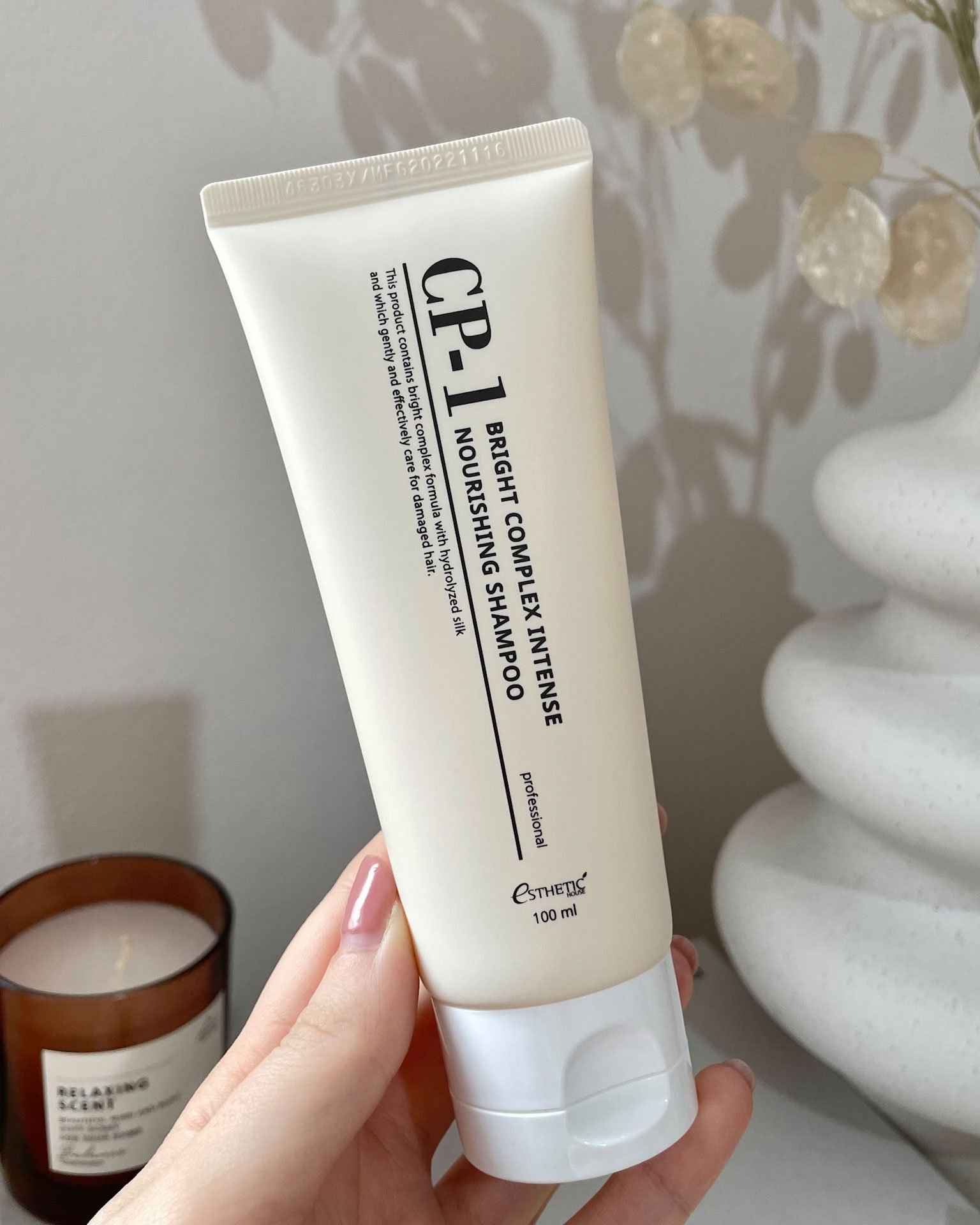 My impressions: Although it sounds great on paper, unfortunately, this shampoo didn't work out for me. The hair looked shiny and healthy but it made my roots greasy very fast. I had to wash my hair again the next day, whereas normally I wash it every other day. It felt lightweight though.
Also, my scalp started itching in some places so I stopped using it after the third wash. It could work better for someone with dry scalp (as it's advertised) that doesn't experience buildup easily.


CP-1 Bright Complex Intense Nourishing Conditioner
What it is: A nourishing conditioner formulated with hydrolyzed silk which gently and effectively cares for damaged hair.
Volume: It comes in 100ml and 500ml.
How to use: Apply a generous amount after shampooing, leave on for 2-3 minutes, and rinse with lukewarm water.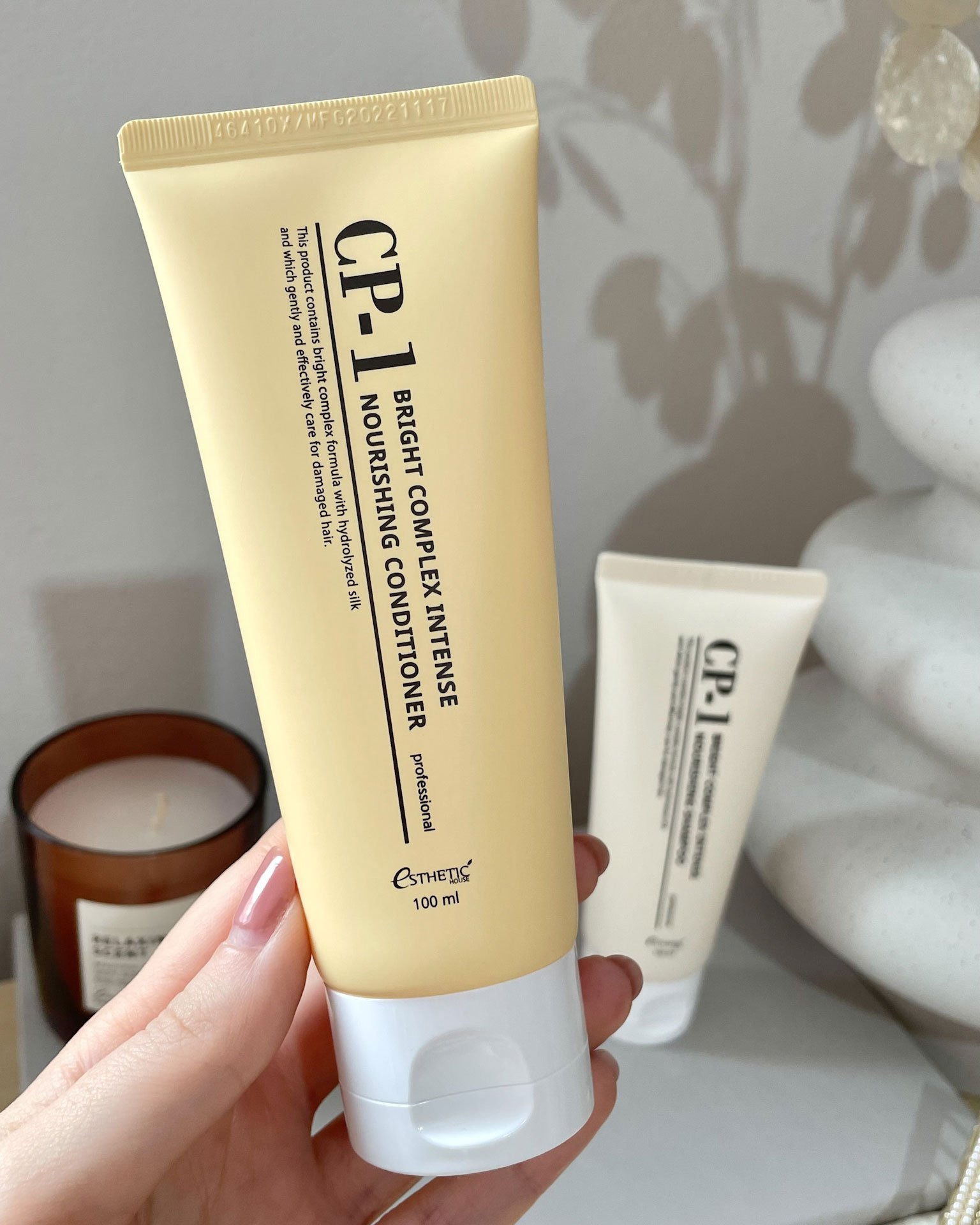 My impressions: The conditioner was actually nice and worked well for me. That's because except for my scalp, the rest of my hair tends to become dry and brittle due to blow drying it often. It made my hair more manageable while wet and a lot softer to the touch.
I used a very generous amount because my hair is getting very long. It helps a lot with detangling and I didn't get as much breakage while brushing. Frizz is reduced by half. I definitely need to follow with other richer products for my 2B/2C hair type after it.


CP-1 Premium Silk Ampoule
What it is: This leave-in ampoule is a concentrated protein care that prevents breaking and split ends. Especially for those that suffer from damaged hair because of excessive styling and heating.
Volume: It comes in 150ml.
How to use: Apply an adequate amount after towel drying your hair while it's wet and/or after styling.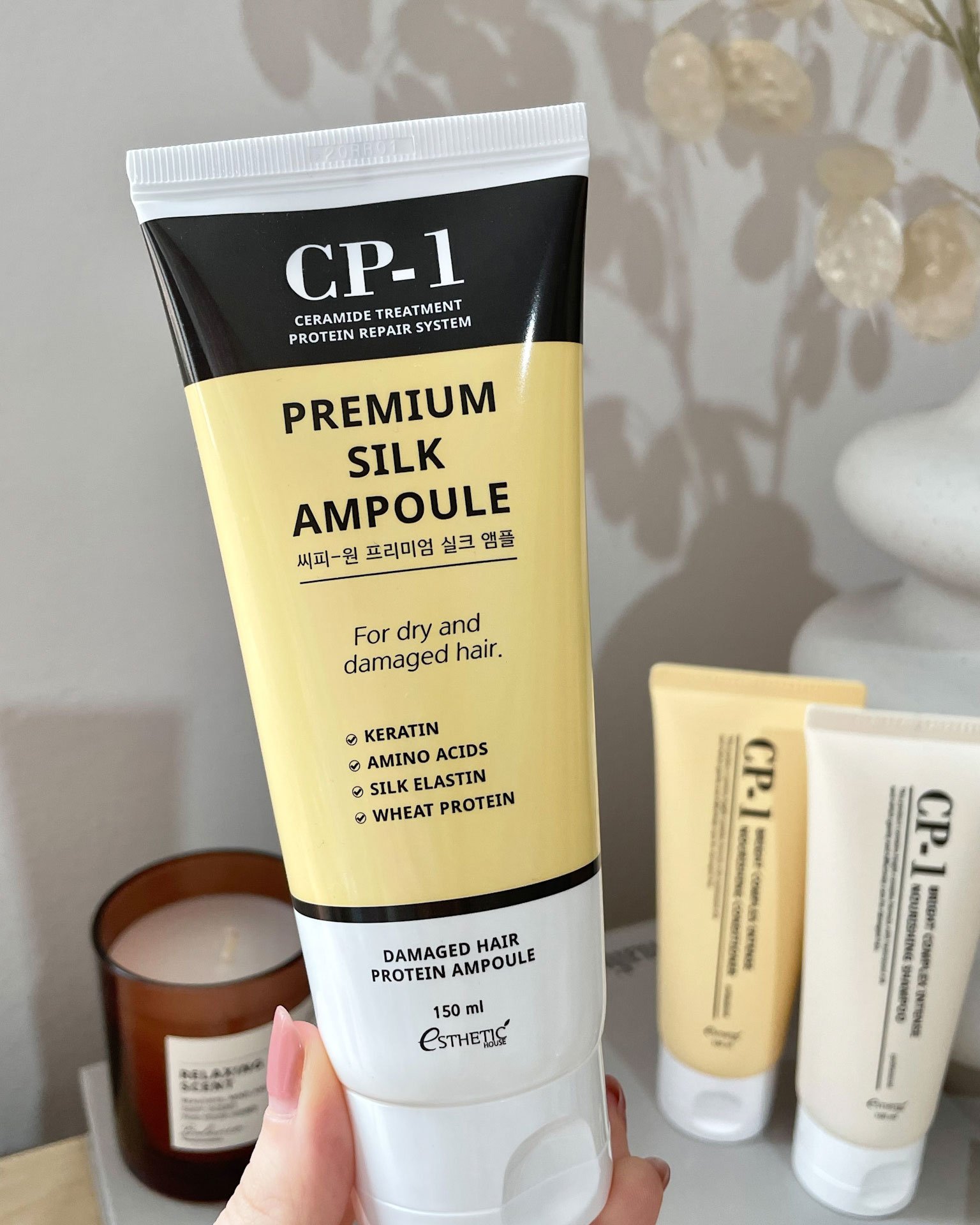 My impressions: The creamy formula feels weightless on my hair while making my strands very smooth. I really like using this as a second step after the conditioner both on wet hair and after blow-drying. The shine it adds is very beautiful.
Frizz is reduced even further too. However, the hair still manages to tangle despite both these steps. Especially when it's humid and my hair tends to go back to its wavy pattern.



CP-1 Premium Hair Treatment
What it is: An intensive deep conditioning and repairing treatment for damaged, over-processed hair of all textures with Ceramide, Protein, Keratin and natural oils to treat the hair from inside out.
Volume: It comes in 250ml.
How to use: Apply on wet hair and leave on for 5-10 minutes (10 minutes if your hair is very damaged) before rinsing. Use 1-2 times per week.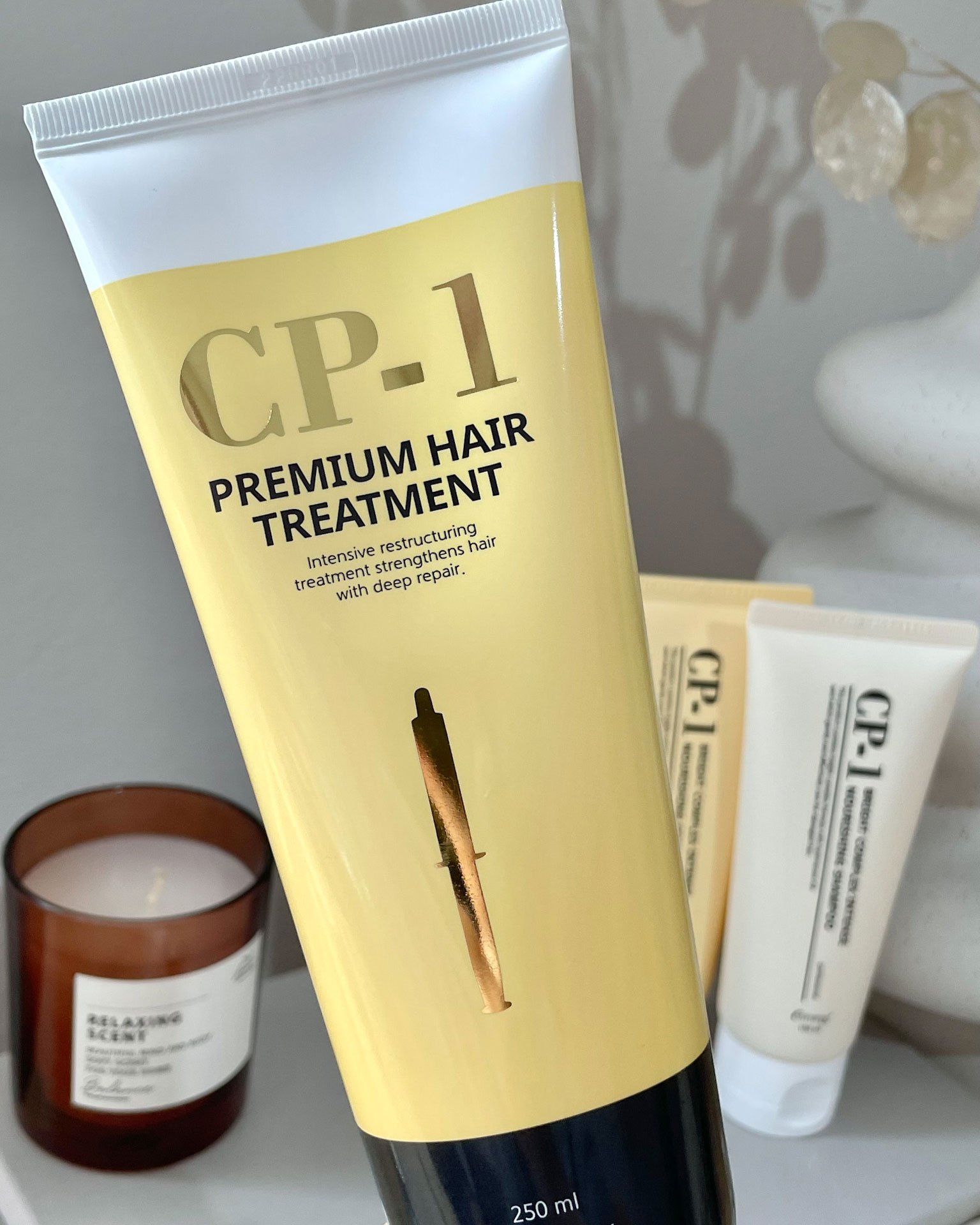 My impressions: I had high hopes for this but it was underwhelming. It gives similar effects to the products above but I don't notice anything extra as an intensive treatment. It's not a bad product per se, but doesn't suit my hair type and needs. Shine and smoothness is there but it's not very conditioning. Plus it doesn't keep the hair tangle-free for long.
I must use an oil or serum after these products to help close the cuticles because my hair struggles with moisture retention. The ingredients are great, but it's the texture that doesn't perform its best on my hair type.
Judging form the consistency of the products, they could be better suited for straight hair like Asian hair and fine hair types.


Did you find the CP-1 Damaged Hair Care Set Review helpful? Have you tried this brand?
---

*PR – by Stylekorean, but opinions are completely my own.
*Affiliate Links – It means I may earn a small commission when you purchase a product through the links I have provided at no extra cost to you.
Related posts
Follow blog via Email
Get the latest posts from this blog delivered to your inbox!
About Me
Hi and welcome to Kbeauty Notes! :) I'm Ledia and I'm very passionate about everything skincare. I created this blog to share my thoughts and experience with many amazing and not so great products out there, hoping to help you make better decisions regarding your skin. I'm very happy to bring you on this journey with me and I hope you enjoy it! <3

My Skin Type: Oily, acne prone, dehydrated, a little sensitive, large pores.

Skincare Concerns: hydration, pore care, anti-ageing, PIE (acne marks), brightening.

Contact: kbeautynotes@gmail.com