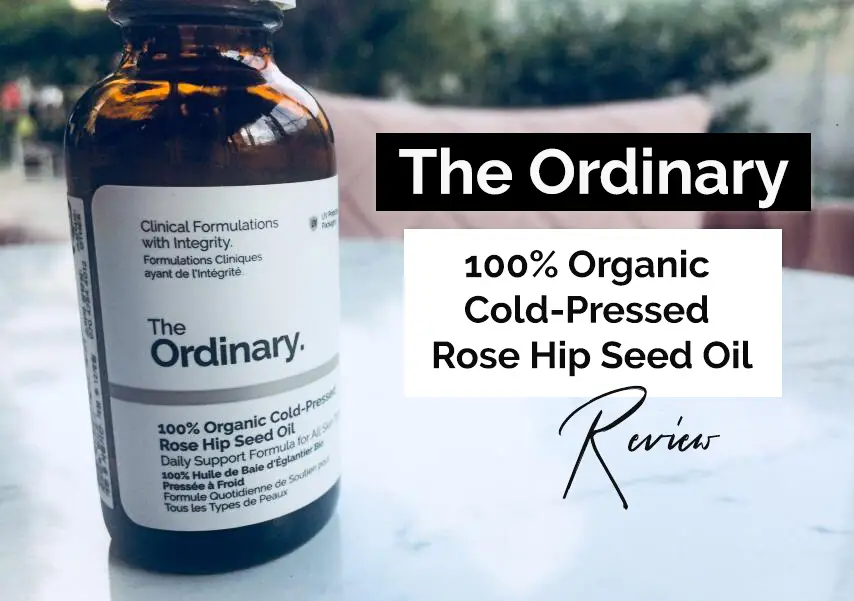 What are the skin benefits of Rosehip oil?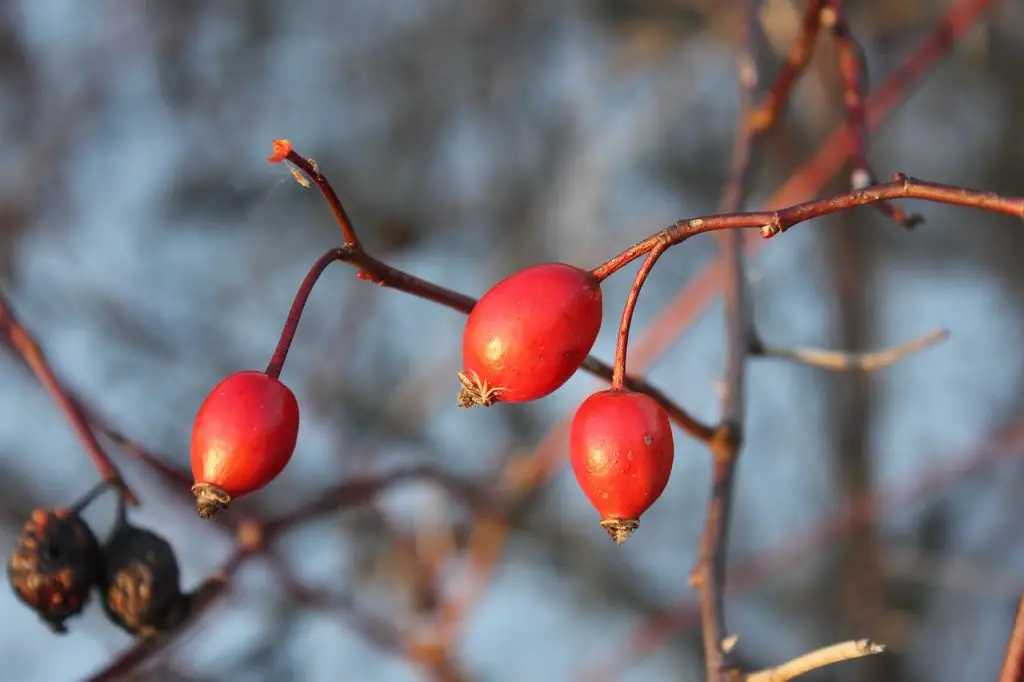 Before jumping to the The Ordinary RoseHip Oil review let's briefly see what it is first.
Rosehip oil is harvested from the seeds of rose bushes. It is considered a lightweight dry oil and is full of vitamins, antioxidants, and has a high concentration of fatty acids, like linoleic and oleic acid.
It is said to help with moisturizing, improving skin texture, treating wrinkles, brightening and exfoliating, fading scars etc. That's because rosehip oil is high in vitamin A (which encourages skin cell turnover) and vitamin E, C, and D.


The Ordinary RoseHip Oil – Application
Directions: Apply once a day to the face, ideally at bedtime after application of water-based treatments.
I always apply oils only at nighttime, since in the morning you're probably going to use makeup and most importantly – sun protection! Sunscreen needs to adhere well to the skin. You should also avoid using heavy creams under sunscreen that tend to form a film on the skin surface.
Application will vary whether you have oily/dry skin and the type of moisturizer you're using. If you have oily skin and currently using a light moisturizer the oil can come after, and if you have dry skin and you're using a rich nourishing cream, the oil can come before.
In case this is confusing you can always MIX 2-3 drops of oil with your moisturizer! Experiment a little and see what works best for you.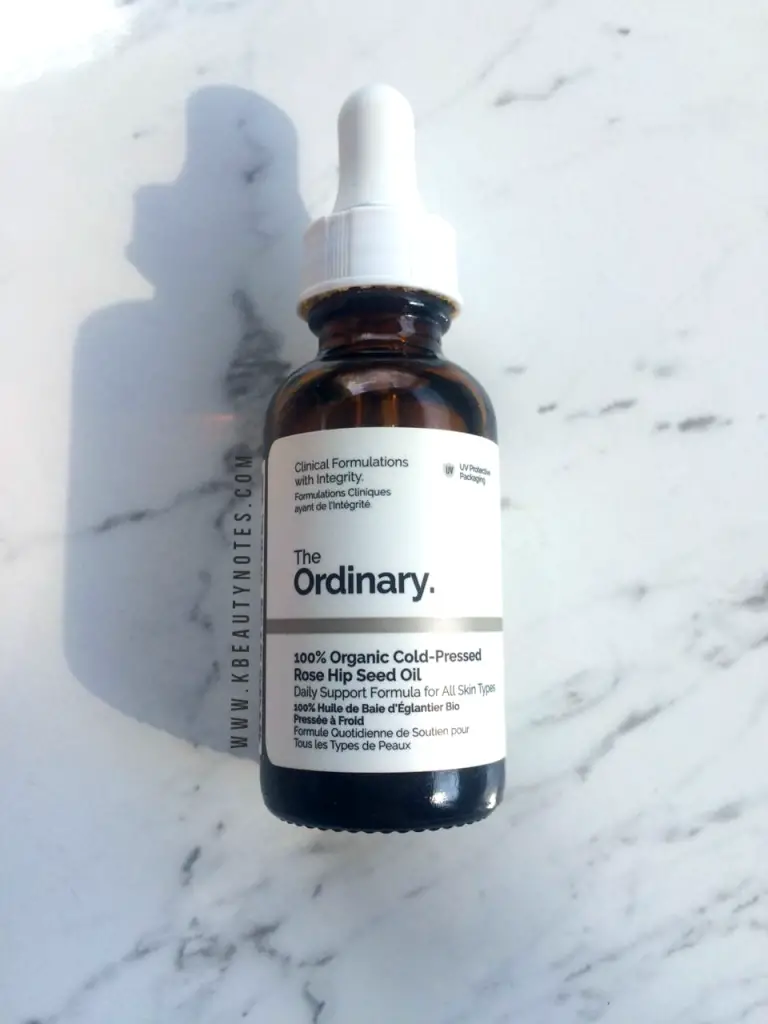 Performance
I have dehydrated oily skin so before applying this I must really hydrate my face very well with toner/essence and serum or else it will feel like I just have this film on top of it. And it feels kind of uncomfortable. So using this directly onto the skin is a no-no. Sometimes I use it on its own on the face after hydration and other times I mix some drops with my emulsion or cream and I'd say it feels nourishing. I have noticed that when used on its own it doesn't absorb/sit well on the skin though.
The next day, the skin definitely looks brighter and feels softer. When I was experimenting on how to use it and applied it directly on the face after cleansing, it did have the same effect but my skin still felt like it was lacking moisture.
I tend to use it when my skin feels particularly dehydrated (because of the use of actives), mostly when I'm focusing more on just hydrating my skin heavily and combined with moisturizer helps to seal all that in.
*Tip: Keep in mind that using an oil on top of niacinamide can make it pill.
However, this oil also broke me out. I would have 1–2 painful big spots on my face everytime after using it. I mentioned in my MISSHA The First Treatment Essence Review that I suspected I was sensitive to fermented ingredients, but now I'm sure it was the Rosehip oil.
So overall, I would not recommend it for acne prone skin speaking from my own experience, although there are many people with acne prone skin who are using it and it's not causing them to break out. (If you're one of them please let me know in the comments!)


Ingredients
Rosa Canina Seed Oil.

Final Verdict
Pros
Brightens and softens the skin.
Feels nourishing, but not heavy.
Vegan, Organic & Cold pressed .
Non irritating.
Affordable.
Cons
Not suitable for acne prone skin – can cause breakouts.
Some people may not like the scent.
This is actually the first time I've used Rosehip oil, so I'm not sure if any product containing Rosehip oil will cause me to break out. I don't think I will be repurchasing it, but I see that the oil could be beneficial for those who are are not prone to breakouts. It works best and can be more nourishing for dry skin types when added into a moisturizer. And it feels very rich and soft on the skin. Its brightening effects are very noticeable. As far as helping with fine lines or not, I didn't notice any change since I didn't use it enough to test it out.


What are your thoughts on the The Ordinary Rosehip Oil? How does it work for your skin? Let me know below! <3


Also Read:

The Ordinary Niacinamide 10% + Zinc 1% Review
The Ordinary Buffet Review


Related posts
Follow blog via Email
Get the latest posts from this blog delivered to your inbox!
About Me
Hi and welcome to Kbeauty Notes! :) I'm Ledia and I'm very passionate about everything skincare. I created this blog to share my thoughts and experience with many amazing and not so great products out there, hoping to help you make better decisions regarding your skin. I'm very happy to bring you on this journey with me and I hope you enjoy it! <3

My Skin Type: Oily, acne prone, dehydrated, a little sensitive, large pores.

Skincare Concerns: hydration, pore care, anti-ageing, PIE (acne marks), brightening.

Contact: kbeautynotes@gmail.com