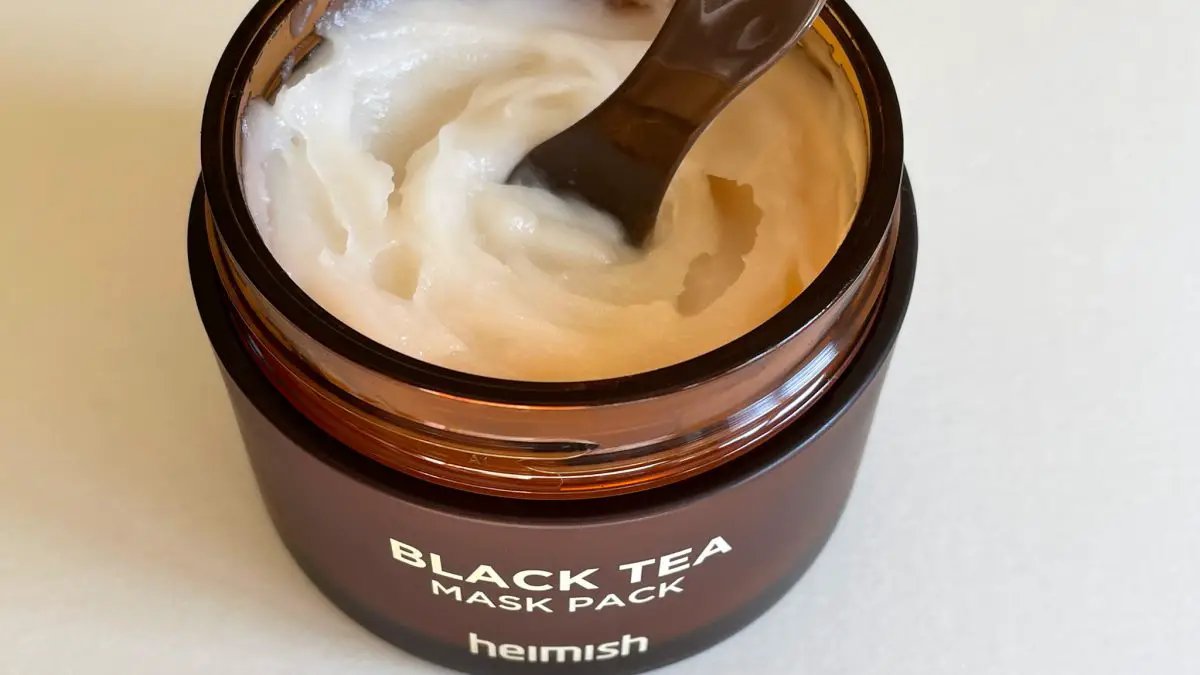 Are you into wash-off masks? Personally, although I like them, I'm a bit lazy when it comes to using masks because they require time and I don't usually have the patience. But, this Heimish Black Tea Mask Pack piqued my interest because of this fabulous sounding ingredient: Black Tea!

Where to buy: This is available at Yesstyle (Use code KBEAUTYNOTES for % off your order), Stylevana US / Stylevana EU, Stylekorean.
Price: $15-$25 (depends on site and sales)
Volume: 110ml (3.7 fl.oz.)
Packaging: It comes in a plastic tube and contains a spatula to scoop out the product hygienically.


What is the Heimish Black Tea Mask Pack
An antioxidant-rich wash-off mask that's made to rejuvenate tired skin, reduce morning puffiness and offer an instant cooling effect. The star ingredient here is Camellia Sinensis Leaf Water ( both green and black tea are made from the leaves of this plant) which has potent antioxidant and skin-soothing properties. Other plant extracts with similar properties are included as well, such as Centella Asiatica, Coptis Japonica, and Aloe Vera.


Application
After cleansing, apply an appropriate amount on dry skin and leave it on for 5-10 minutes. Avoid the eye area. Rinse with lukewarm water and follow with the other steps in your routine like toner / essence / serum etc. This is a mask that can be used everyday if you'd prefer so. Also it's recommended to be used in the morning so you can combat puffiness and dull-looking skin. It's fine for the evenings too.


Consistency
It has a buttery smooth consistency, but very fluffy and airy at the same time. It just feels amazing on the skin when you apply it. I'm kind of obsessed with its texture.


Scent
It has a herbaceous scent which is on the strong side but I find it pleasant (the brand says it's a mix of cedarwood and floral). Note that it contains perfuming ingredients in case that's something you don't prefer.


Performance
First, this mask is a dream to apply due to its beautiful fluffy and soft texture. I don't use facial masks often, but for me this one is the most pleasant to use so far. You don't need a lot to cover the whole face and it can be spread out thinly. In contrast with clay masks which you need to put on a lot so they don't dry down fast, with this mask that's not required. This way it will also last longer even if you use it daily.
Spreads with ease and doesn't move around or drip, which means you can do something else for 10 minutes while you wait to rinse it. It washes off completely without leaving any residue behind. I love this because you're supposed to follow with the rest of your skincare routine and we certainly don't want any barrier on the skin that would prevent the other products to absorb properly.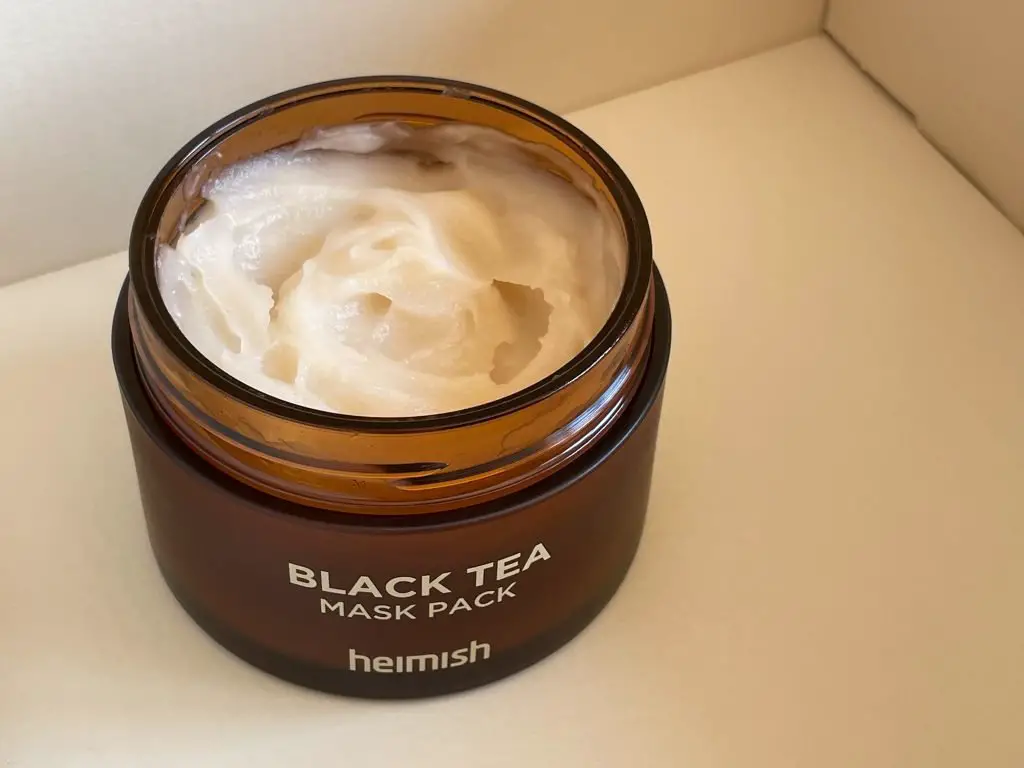 As for results, the mask feels very cooling on the skin, so it's perfect to use on a hot day. It leaves the skin feeling very refreshed and makes the surface feel smooth. It's great to incorporate in a routine to combat tired and dull-looking skin. This also claims to reduce puffiness, but I do not usually get noticeably puffy in the morning, so I cannot comment on that.


Who is it for
I'd say due to being lightweight this would work well for most skin types. Not that hydrating for dry skin, but you'll do your routine either way, so for me it's not a requirement in this mask.
I'm not so sure if it would be the best for sensitive skin though. Now, generally, I'm not sensitive to fragrance in skincare (although it depends on the formulation and what's actually used as fragrance in the product). BUT, I experienced a slight tingling senstation which I'm sure it's not supposed to happen. The good thing is that it did not cause any redness.
The mask does include some extracts that are not as widely used in other skincare I've come across like Cinnamomum Zeylanicum Bark Extract, Sanguisorba Officinalis Root Extract, Pelargonium Graveolens Extract, Nelumbo Nucifera Flower Extract, Uncaria Gambir Extract.
It's not easy to tell the cause and every skin is different. But if you have overly sensitive skin and you usually avoid fragranced products, it's safer to avoid this too.
The cause for me could also be because I'm currently using retinal which increases skin sensitivity.
It didn't break me out.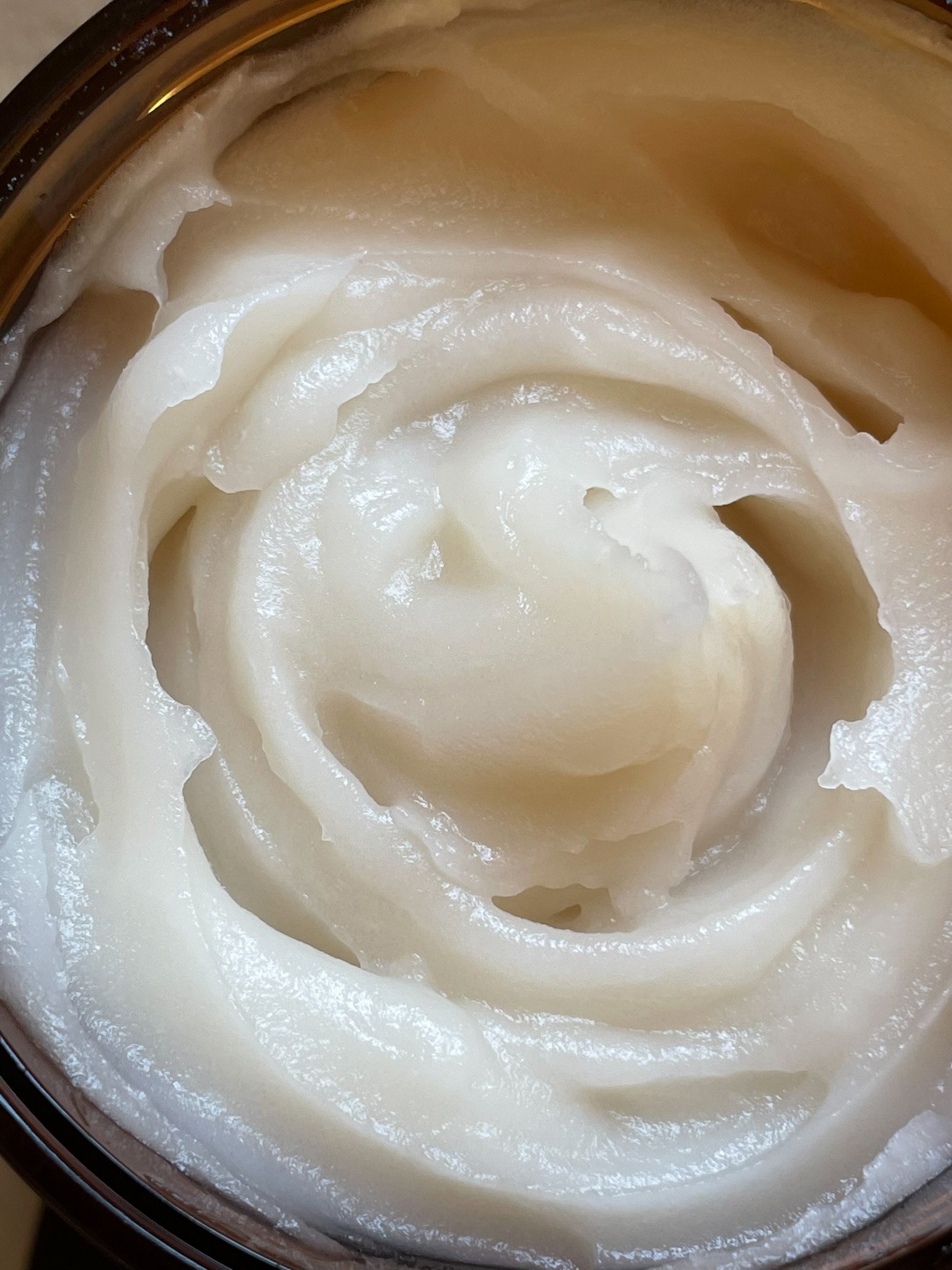 Ingredients
This mask pack contains a bunch of antioxidant ingredients: Centella Asiatica Extract, Cinnamomum Zeylanicum Bark Extract, Coptis Japonica Root Extract, Theobroma Cacao (Cocoa) Seed Extract.
Some also work to soothe the skin and reduce redness: Aloe Barbadensis Leaf Extract, Centella Asiatica Extract, Coptis Japonica Root Extract.
Glycerin and Sodium Hyaluronate act as humectants.
The formula is alcohol free, but it contains Fragrance (they're at the end of the ingredients list below).
Water, Propanediol, Glycerin, Caprylic/​Capric Triglyceride, Camellia Sinensis Leaf Water (95ppm), Litchi Chinensis Fruit Extract, Aloe Barbadensis Leaf Extract, Centella Asiatica Extract, Cinnamomum Zeylanicum Bark Extract, Sanguisorba Officinalis Root Extract, Pelargonium Graveolens Extract, Nelumbo Nucifera Flower Extract, Uncaria Gambir Extract, Dimethicone, Sodium Polyacrylate Starch, Cetearyl Olivate, Sorbitan Olivate, Ammonium Acryloyldimethyltaurate/​VP Copolymer, Sodium Acrylates Crosspolymer-2, Coptis Japonica Root Extract, Butylene Glycol. Coccinia Indica Fruit Extract, Eclipta Prostrata Extract, Theobroma Cacao (Cocoa) Seed Extract, Silica, Dextrin, Sodium Hyaluronate, Disodium EDTA, Phenoxyethanol, Chlorphenesin, Ethylhexylglycerin, Caprylyl Glycol, 1,2-Hexanediol, Fragrance, Limonene, Benzyl Benzoate, Hexyl Cinnamal, Linalool, Citronellol, Geraniol, Citral

Final Verdict on the Heimish Black Tea Mask Pack
Pros
Lighweight fluffy buttery smooth texture.
Spreads very easily.
It doesn't drip, so it's not messy.
Feels cooling.
Leaves the skin feeling soft and refreshed.
Easy to wash off without having to tug the skin or use a tool.
It does not leave any residue or weird film on the skin.
Cons
I felt a little tingling sensation when I used it, but didn't cause redness.
It contains fragrance for those that are sensitive to it.
A really nice wash-off mask packed with antioxidants. Lovely texture, not messy and leaves no residue. It's great if you're looking for a refreshing mask to combat dull and lifeless looking skin. The cooling effect is a plus on a hot day. Perfect to use in the morning and can be used daily. It would suit most skin types, except for those with overly sensitive skin or who don't like strongly scented products. I don't think masks are absolutely necessary in skincare, but if you like using them, then this is a nice one to try.


Did you find the Heimish Black Tea Mask Pack Review helpful? What products have you tried from this brand?
---
*PR Sample – Product provided by Heimish, but opinions are completely my own.
*Affiliate Links – It means I may earn a small commission when you purchase a product through the links I have provided at no extra cost to you. See Disclosure Policy.


Related posts
Follow blog via Email
Get the latest posts from this blog delivered to your inbox!
About Me
Hi and welcome to Kbeauty Notes! :) I'm Ledia and I'm very passionate about everything skincare. I created this blog to share my thoughts and experience with many amazing and not so great products out there, hoping to help you make better decisions regarding your skin. I'm very happy to bring you on this journey with me and I hope you enjoy it! <3

My Skin Type: Oily, acne prone, dehydrated, a little sensitive, large pores.

Skincare Concerns: hydration, pore care, anti-ageing, PIE (acne marks), brightening.

Contact: kbeautynotes@gmail.com