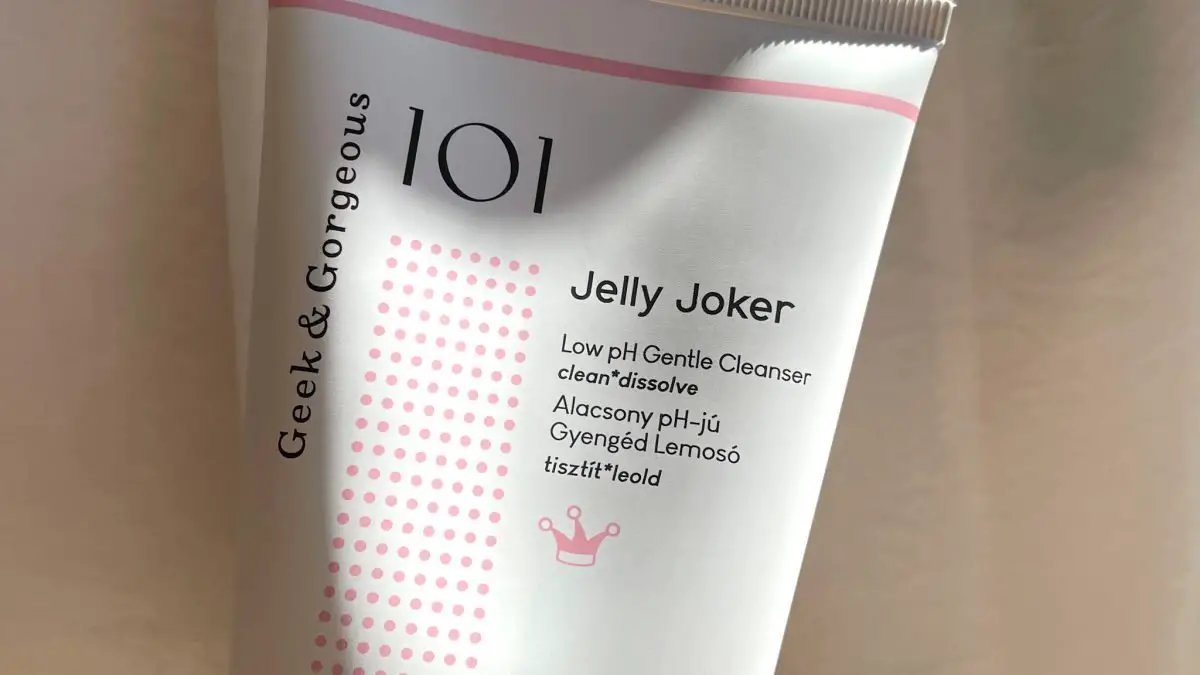 Before we jump into the Geek & Gorgeous Jelly Joker Low pH Gentle Cleanser review, did you know that Geek & Gorgeous is a Hungarian brand? Their focus is science-based skincare with clinically proven active ingredients. They also come at very affordable prices which is a big plus! Non-expensive skincare that works? I'm all for it!
I have already reviewed their A-Game 5 Retinal Serum and C-Glow Vitamin C Serum which is considered a dupe for the SkinCeuticals C E Ferulic due to the similar formula.


Where to buy: You can purchase this cleanser on the G&G website. They offer free shipping for Europe for orders over €50 and US for orders over $60.
Price: $9 (€8.80)
Volume: 150ml (5.07 fl oz)
Packaging: It comes in a plastic squeeze tube with a cap.
PAO: 12 months after opening.


What is the Geek & Gorgeous Jelly Joker Cleanser
The Geek & Gorgeous Jelly Joker Low pH Gentle Cleanser is a non-foaming rich gel cleanser that is designed to cleanse the skin thoroughly without disrupting its protective barrier or drying it out. It has a low pH of 5-5.4 and it doesn't contain any fragrance or essential oils so it suits all skin types, including sensitive and redness-prone skin.
It's mentioned on the website that this cleanser is also malassezia-safe.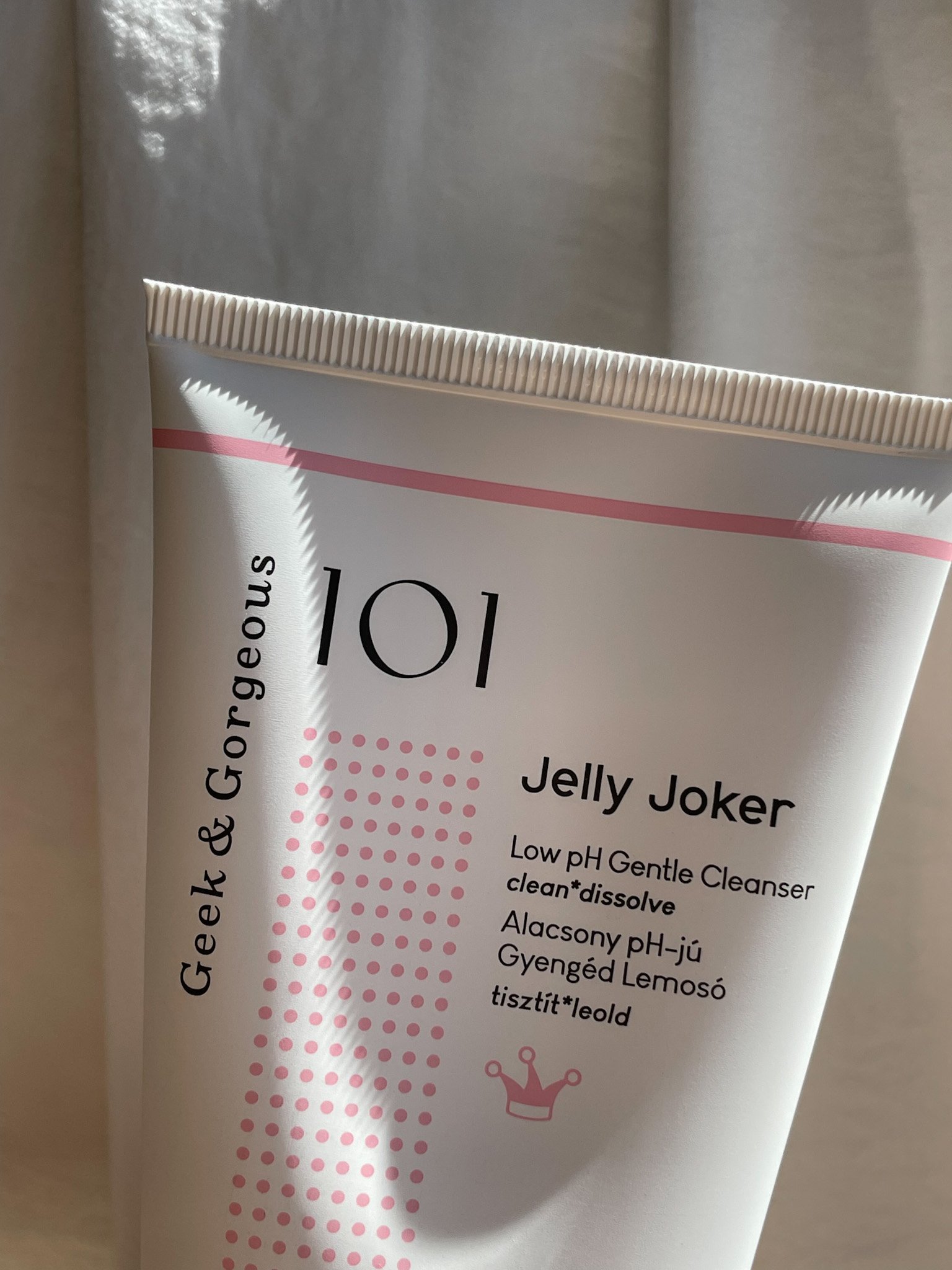 Application
As with all water-based cleansers, first wet your face, squeeze out an appropriate amount and thoroughly massage the skin. You can use this as your morning cleanser or as a second step of cleansing in the PM routine. It says on the website that it dissolves (water-soluble) makeup, but I always use an oil-based cleanser for that purpose.


Consistency
This cleanser has a translucent color and dense gel-like texture that spreads effortlessly on the skin. Feels smooth and removes completely without leaving any residue.


Scent
There is no added fragrance or EOs in the formula, so it's great to use by anyone and those with skin troubles and sensitivities.


Performance
First, I know what you may be thinking. A non-foaming cleanser? Does it actually cleanse? The answer is: YES, it does! I have used gel cleansers in the past that didn't actually cleanse my skin that well and I could still feel like a layer of my face oils not dissolved and removed properly.
I'm sure you may have had the same experience. But, this one is different. To my surprise, it actually does a thorough cleanse, so don't be put off by the fact that it doesn't foam.
Also, fun fact: Did you know that your cleanser doesn't need to foam to clean? The amount of foam doesn't affect the cleaning ability of the cleanser. And this has proved to be true for the G&G Jelly Joker. Personally, I've also used foam cleansers in the past that didn't do a good job at cleansing.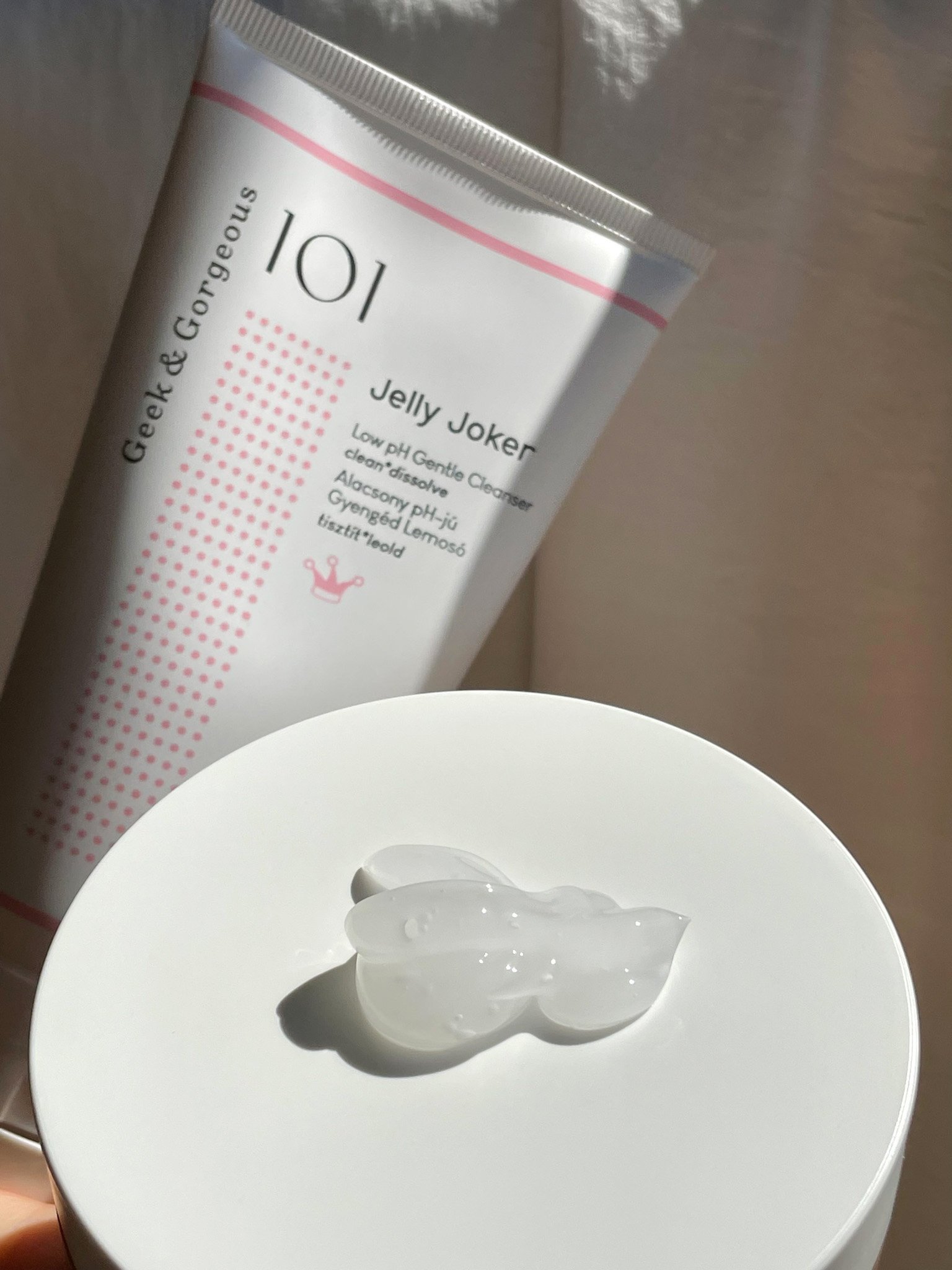 The texture is super satisfying and I love it. It has a silky smooth feel which makes the experience of massaging it on the skin very pleasant. You don't see any foam, but you know everything is removed after you rinse it as it doesn't leave anything behind.
I see this working for all skin types, especially oily and combination. It's great at dissolving sebum, but at the same time it doesn't make my face feel tight. Not "hydrating" but it doesn't overly strip the skin. It's okay for dry skin types, but not perfect. If you already use something that feels hydrating I wouldn't trade it for this one.
Great to use as a morning cleanser for those that cannot skip it and as a second step in double cleansing.
This is fine to use to remove your daily sunscreen on its own. Regarding makeup, it helps remove it way better than a lot of other cleansers but its not nearly perfect, so I still prefer an oil based cleanser for that as it's simply effortless.
No irritation or breakouts occurred.


Ingredients
It uses two gentle and effective surfectants: PEG-6 Caprylic/Capric Glycerides and Poloxamer 184 which are also present in micellar waters.
3 sugar based humectants include Xylitylglucoside, Anhydroxylitol, and Xylitol.
Soothing: Panthenol, Allantoin.
Free of alcohol and fragrance.
Water, PEG-6 Caprylic/Capric Glycerides, Propanediol, Methyl Gluceth-20, Poloxamer 184, Caprylic/Capric Triglyceride, Hydroxyethyl Acrylate/Sodium Acryloyldimethyl Taurate Copolymer, Ammonium Acryloyldimethyltaurate/VP Copolymer, Panthenol, Allantoin, Xylitylglucoside, Anhydroxylitol, Xylitol, Citric Acid, Phenoxyethanol, Ethylhexylglycerin.

Final Verdict on the Geek & Gorgeous Jelly Joker Cleanser
Pros
Very effective.
Removes sebum and impurities thoroughly.
pH of 5-5.4.
Most suitable for oily, combination, sensitive and acne prone skin.
No fragrance or essential oils.
Cruelty-free and Vegan.
Affordable.
Cons
Not hydrating for dry skin.
Not very effective at removing makeup.
Solid water-based cleanser at an unbeatable price! What I love most about it is the thick jelly texture that's effortless to work on the skin and feels super smooth. Non-foaming but does a great job at cleansing the skin from oils, impurities and removing your daily sunscreen.

Not very effective at removing makeup though, so as always I recommend an oil based cleanser for that. I think this would be more suitable for oily and combination skin types. It's not overly stripping, but doesn't feel hydrating so it's not ideal for dry skin types especially in winter I'd say.

Great for sensitive and redness-prone skin because it's free of fragrance and essential oils. It's also vegan and cruelty-free if this is something you look for in cosmetics.

Did you find the Geek & Gorgeous Jelly Joker Cleanser Review helpful? What products have you tried from this brand?

---
*PR Sample – Product provided by Geek & Gorgeous, but opinions are completely my own.
*Affiliate Links – It means I may earn a small commission when you purchase a product through the links I have provided at no extra cost to you. See Disclosure Policy.


Related posts
Follow blog via Email
Get the latest posts from this blog delivered to your inbox!
About Me
Hi and welcome to Kbeauty Notes! :) I'm Ledia and I'm very passionate about everything skincare. I created this blog to share my thoughts and experience with many amazing and not so great products out there, hoping to help you make better decisions regarding your skin. I'm very happy to bring you on this journey with me and I hope you enjoy it! <3

My Skin Type: Oily, acne prone, dehydrated, a little sensitive, large pores.

Skincare Concerns: hydration, pore care, anti-ageing, PIE (acne marks), brightening.

Contact: kbeautynotes@gmail.com