When it comes to sunscreen application, most of us are guilty of skimping on the amount we truly need. The reality is that we often use far less sunscreen than is necessary to attain the full labeled protection. If we were to use the recommended amount (2mg/cm2), we would end up going through sunscreens way faster, and the cost would undoubtedly add up quickly. However, what if I told you there's an incredible solution to this sunscreen conundrum – one that doesn't break the bank yet still offers exceptional protection? Say hello to the EYENLIP Pure Perfection Natural Sun Cream, the best affordable Korean sunscreen in the market.


What is it: Hybrid sunscreen with organic (chemical) & inorganic (physical) filters.
Where to buy: Available at BeautyNetKorea (discount code BNKLEDIA for 5% extra off your order).
Price: $5.22 (It goes as low as $3 when on sale, and with the code you can get it even for less).
Volume: 50ml (1.69 fl.oz.)
PAO: 12 months after opening.
Packaging: Plastic squeeze tube.
How does the EYENLIP Pure Perfection Natural Sun Cream SPF50+ PA++++ perform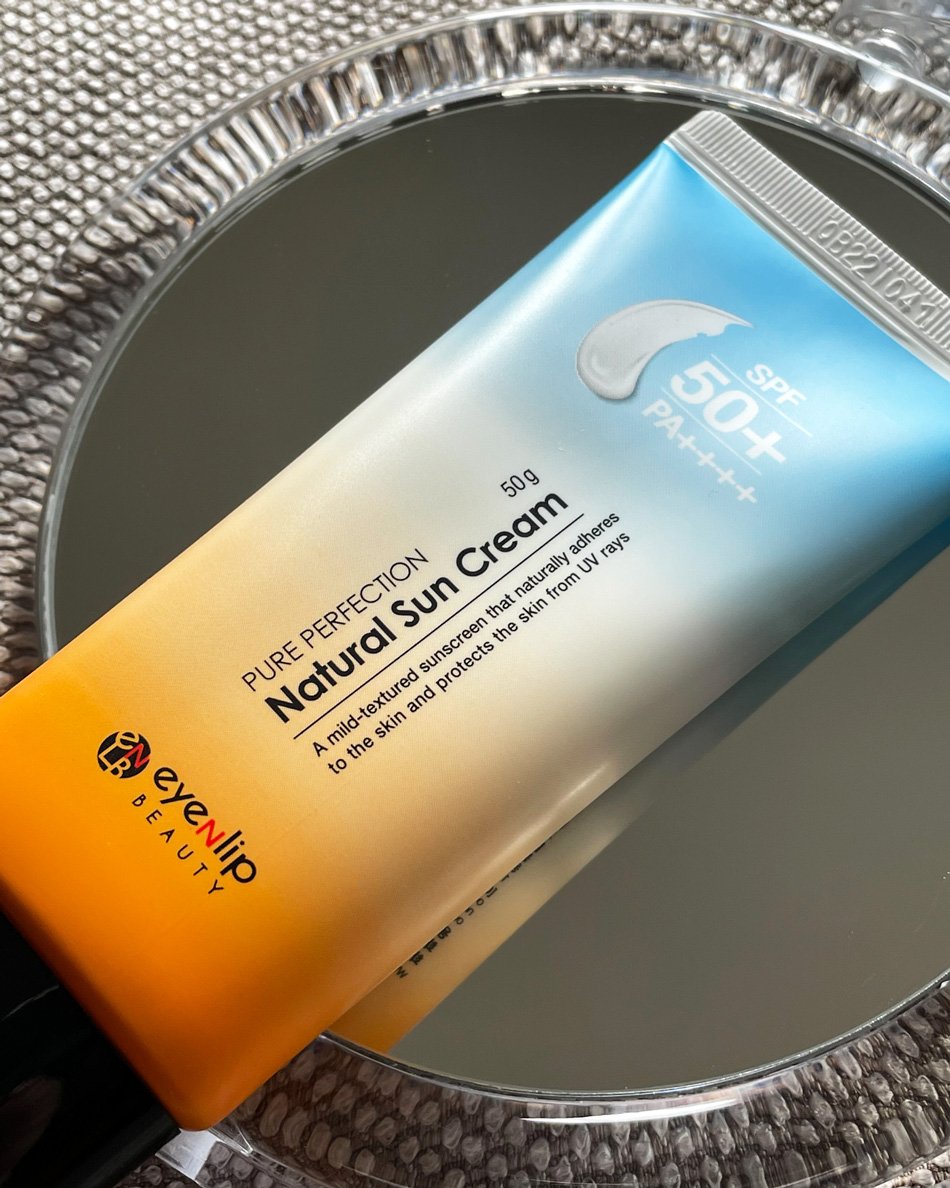 Protection:
SPF 50+, PA++++
Texture and finish:
A slightly thicker lotion texture than usual Korean sunscreens, but still remains lightweight. Once I have it on, there isn't much of a difference from the other elegant sunscreens that I have to be honest.
Upon application, you notice how effortlessly it glides onto your skin and applies thinly. Initially, you might detect a slight tackiness. This sensation quickly subsides as the sunscreen dries down, revealing a velvety smooth finish. It feels moisturizing and looks dewy, but it's not greasy at all.
Does it contain alcohol?
No.
Fragrance/Scent?
Yes. The scent is mild and pleasant. It didn't sensitize my skin.
Is it drying?
No. Despite the inclusion of Titanium Dioxide, the inorganic UV filter that has earned a reputation for potential dryness, this sun cream remains moisturizing throughout the day without causing any tightness or discomfort. At the same time, my skin doesn't get shinier as hours pass.
Does it leave a white cast?
After application, it leaves a slight white cast but it goes down over time. On my skin tone it works more like a tone up cream and my complexion livens up and looks brighter. However, it could be more noticeable and look a bit ashy on deeper skin tones.
Irritation or breakouts?
No.
How does it work with makeup?
This works nicely with makeup. I didn't experience any pilling.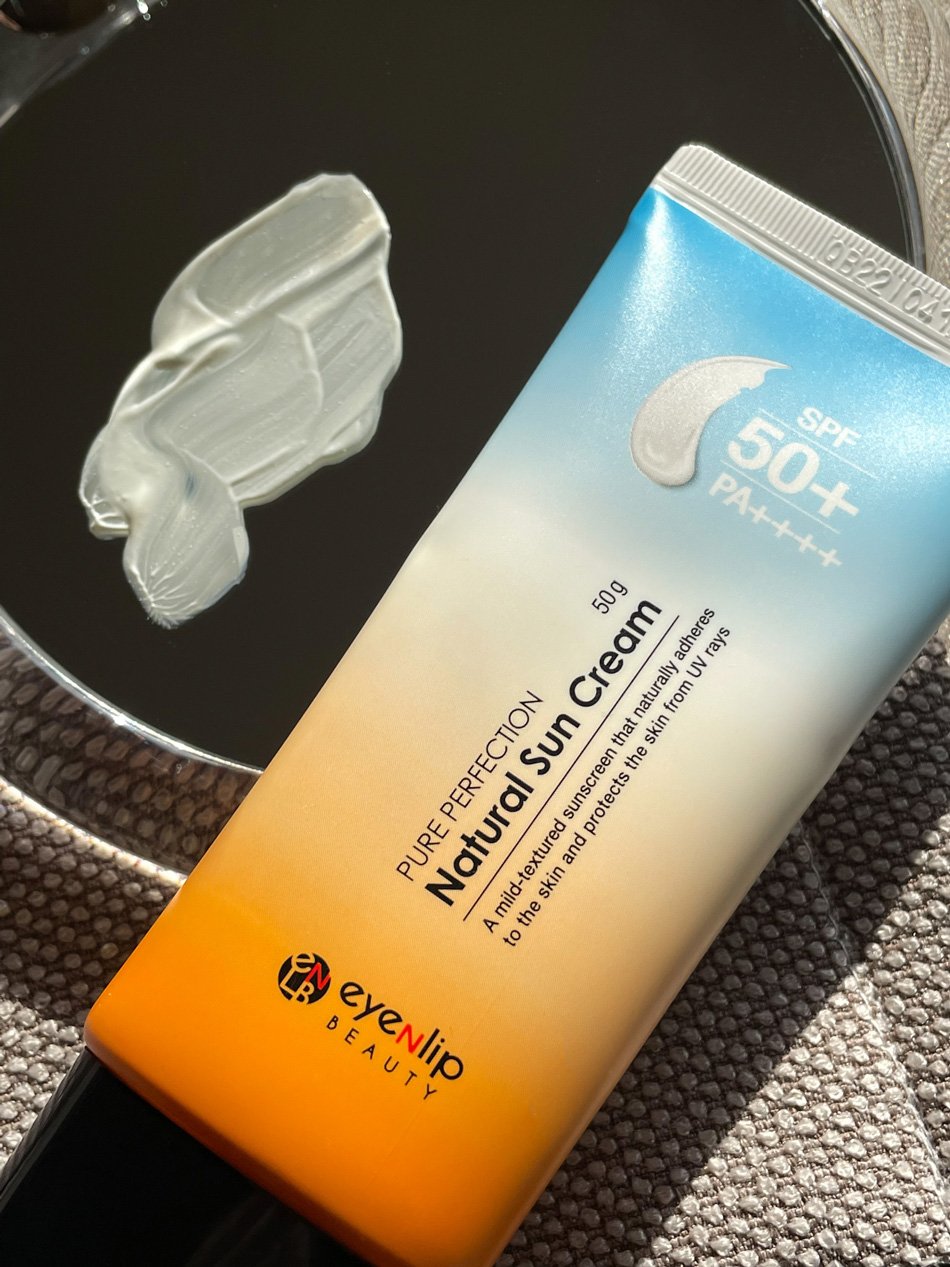 Does it sting the eyes?
Yes. When this gets into my eyes it does sting and feels uncomfortable. And the culprit behind this stinging sensation is likely the UV filter Octocrylene (although, fragrance could be a factor, too). To avoid this, I never apply it close to the lash line.
Easy to re-apply?
Yes. It doesn't get heavier on the skin with re-applications. It may feel like it at first, but within a few minutes it feels lighter and remains like that during the day.
Who is it for?
If you have normal, combination, or drier skin, you're in for a treat with the EYENLIP Pure Perfection Natural Sun Cream.

EYENLIP Natural Sun Cream Ingredients
These are the UV filters in the EYENLIP sunscreen:
Organic: Octinoxate (UVB), Octocrylene (UVB & UVA II), Ethylhexyl Salicylate (UVB), Uvinul A Plus (UVA), Tinosorb S (broad-spectrum and very photostable).
Inorganic: Titanium Dioxide (broad spectrum and good stability).
Other ingredients: Niacinamide, Centella, Green Tea, Chamomile, Rosemary leaf extract, Aloe, Licorice.
Free of alcohol, but it contains fragrance.
Full ingredients list HERE.

Final Verdict on the Best Affordable Sunscreen – EYENLIP Pure Perfection Natural Sun Cream SPF50 PA++++
Pros
SPF 50+, PA++++.
Lotion consistency.
Moisturizing, but not heavy.
Satin/dewy finish, non-sticky or greasy.
No pilling.
It didn't irritate my skin or cause acne.
Works well with makeup.
Suitable for normal, combination, and dry skin types.
Cruelty-free.
Cons
It stings the eyes.
Not for those with fragrance sensitivities.
It could leave a white cast on dark skin.
Except for the eye stinging, the formula of this sunscreen is impressive. Fragrance and the infamous white cast can be potential deal-breakers for some, but not for me. Personally, I find the fragrance quite pleasant, and I enjoy the subtle brightening effect it provides. Last but not least, the price point is simply unbeatable. So, if you're on the hunt for a sunscreen that won't break the bank, yet delivers on both quality and results, I recommend giving this affordable gem a try.

Did you find this review on the best affordable Korean sunscreen helpful? Share your favorite sunscreen below!

---
*PR – gifted by BeautyNetKorea, but all opinions are entirely my own.
*Affiliate Links – It means I may earn a small commission when you purchase a product through the links I have provided, at no extra cost to you.
Related posts
Follow blog via Email
Get the latest posts from this blog delivered to your inbox!
About Me
Hi and welcome to Kbeauty Notes! :) I'm Ledia and I'm very passionate about everything skincare. I created this blog to share my thoughts and experience with many amazing and not so great products out there, hoping to help you make better decisions regarding your skin. I'm very happy to bring you on this journey with me and I hope you enjoy it! <3

My Skin Type: Oily, acne prone, dehydrated, a little sensitive, large pores.

Skincare Concerns: hydration, pore care, anti-ageing, PIE (acne marks), brightening.

Contact: kbeautynotes@gmail.com